Lettering is Flourishing!
Tuesday, July 7, 2015
Hi Everyone,
I'm nearing the finish line on the two new Zenspirations® Create, Color, Pattern & Play books… they are due next week! I'm still polishing pages and have quite a few images yet to create… so it is a blessing to know that while I stay focused on the art, my awesome team of coloring enthusiasts are busy creating inspiration pages for the books. IF YOU ARE A COLORING ENTHUSIAST WHO DID NOT GET PAGES TO COLOR AND COULD STILL GET THEM DONE BY THURSDAY, PLEASE LET ME KNOW ASAP and I will e-mail you a couple of pages to do. In case you are new to the blog, submitting pages is not a guarantee that they will be selected for inclusion, but I need more than a dozen pieces for each book, and am hoping to feature Zenspirational artists from around the world. It's really exciting to be able to see all the different things people are doing with my designs. Below is one I got this afternoon from Tombow Design Team member Jennifer Priest, who used Tombow tools to color the design.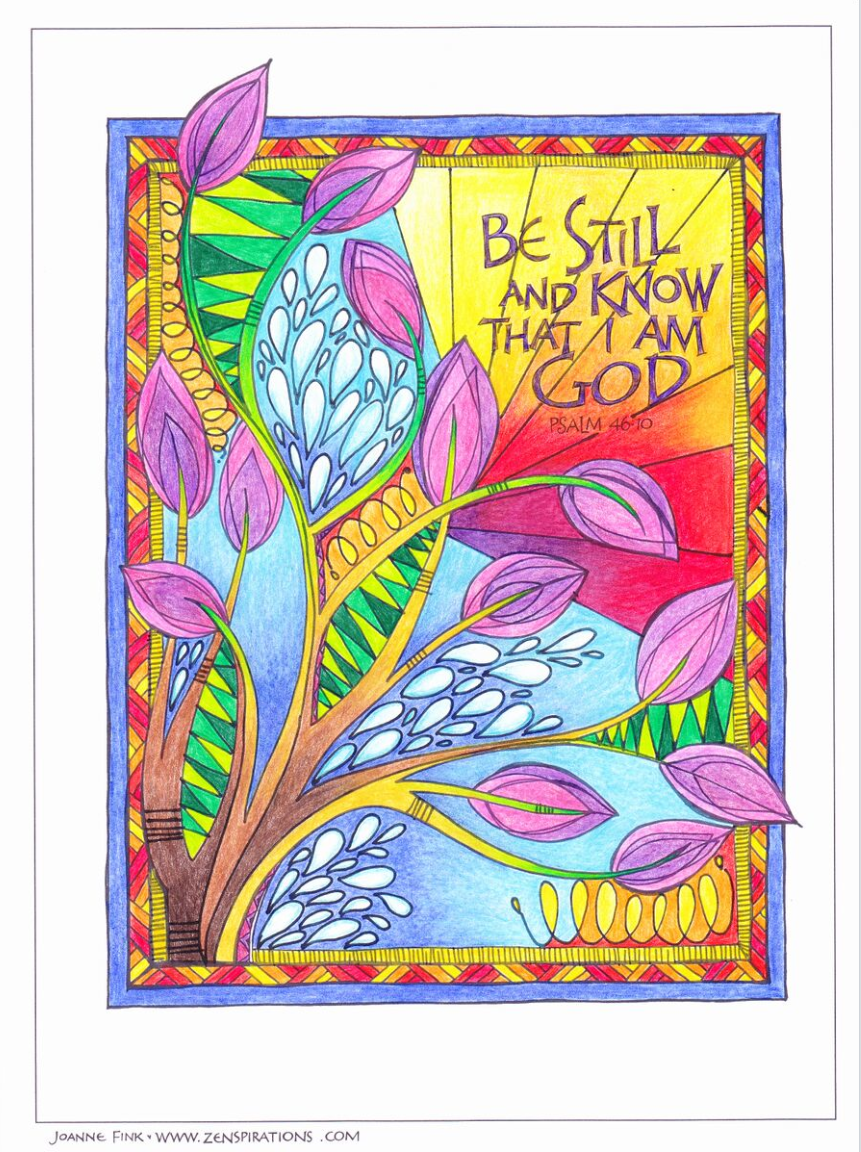 Over the past two years, Jennifer, who is my social media coach, set up my blog, Pinterest page, Zenspirations by Joanne Fink Facebook page, and Instagram! As of last month I even have a Twitter account (although I haven't used it yet). I'm still happily learning how to use Instagram– following lettering artists, designers and coloring enthusiasts all over the world. I am continually awed by the incredible work people share. Social media is a wonderful way for me to get (and hopefully give) inspiration. I especially enjoy seeing what people are doing with the techniques I teach and the Zenspirations® Create, Color, Pattern & Play pages they embellish. If you are posting a Zenspiration design, please use the #Zenspirations. (For those who aren't on Instagram, the '#' is a 'hashtag' and helps you search for topics of interest.) If you are on Instagram, I'd love to connect: www.instagram.com/zenspirations. If you aren't on Instagram, I'd recommend it! Here are a few of the things I've posted to Instagram this week: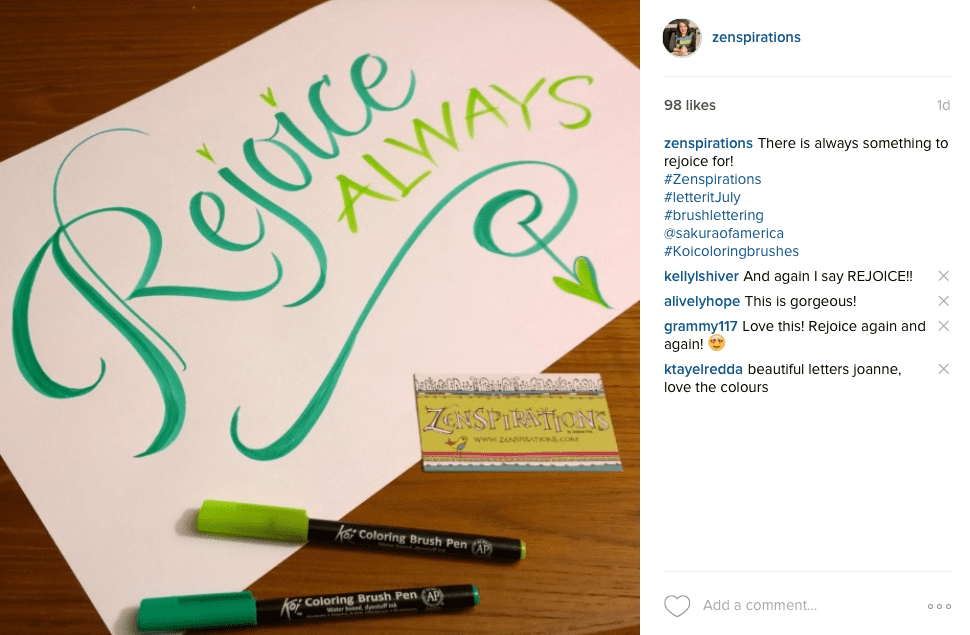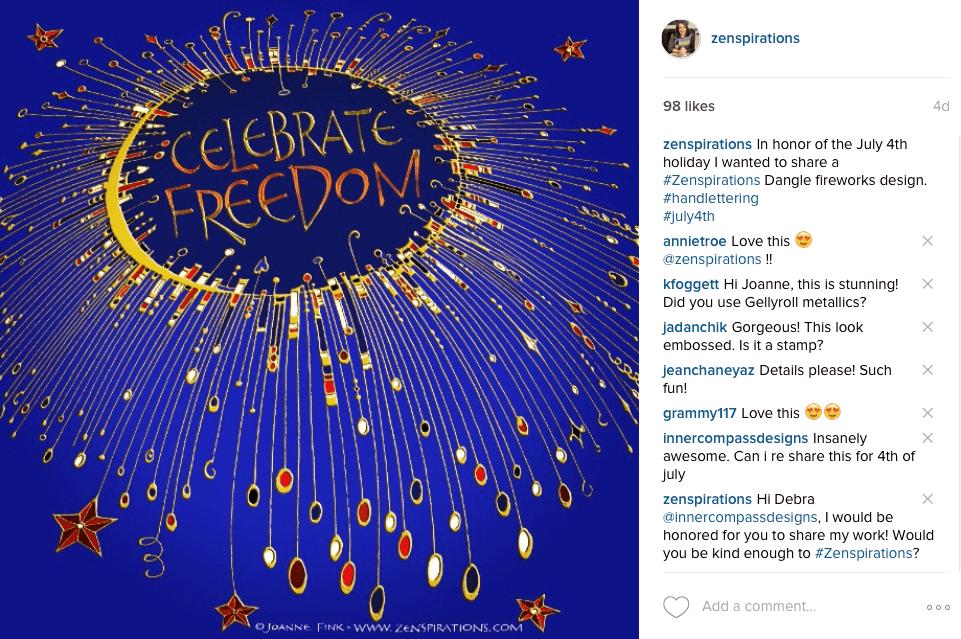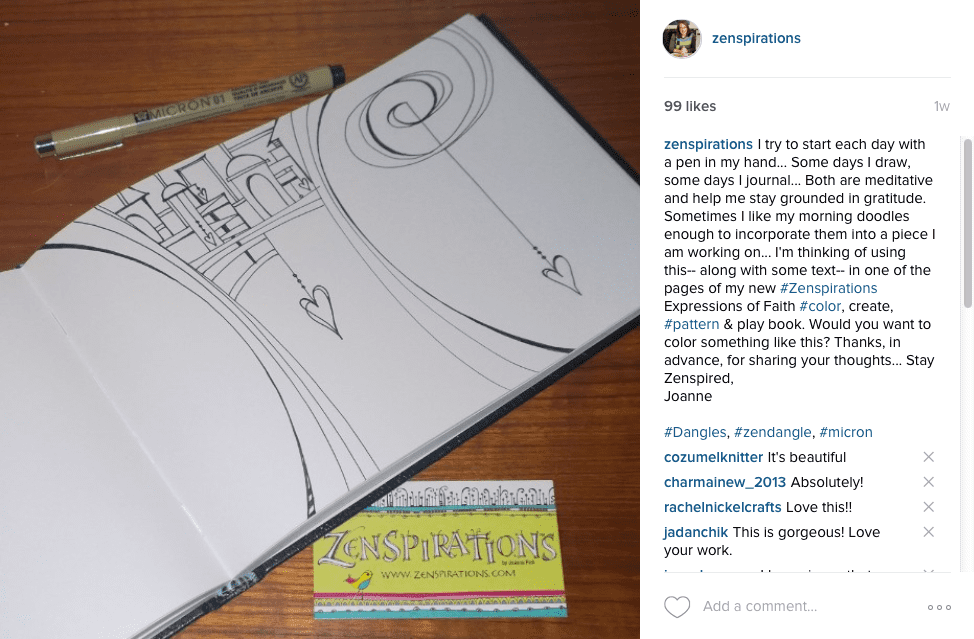 The first time that I saw Zenspirations® on social media was in November of 2009– about a year after I started experimenting with pattern & line. My local calligraphy guild, the Scribes of Central Florida, invited me to give my first-ever Zenspirations workshop, and one of the workshop attendees, Erica McPhee, blogged about it the next day. You can read Erica's original Zenspirations blog post on her website: http://paperwhitestudio.com/calligraphy/zenspirations-by-joanne-fink/
Although I wasn't active in the Social Media world back then, Erica was… and would occassionally blog about the Zenspirations projects she worked on. But what totally blew me away was the amazing Advent calendar Erica brought to the Scribes holiday party. Below are a few photos, and you can read the complete blog post at:
http://paperwhitestudio.com/advent-calendar/zentangle-advent-calendar/
.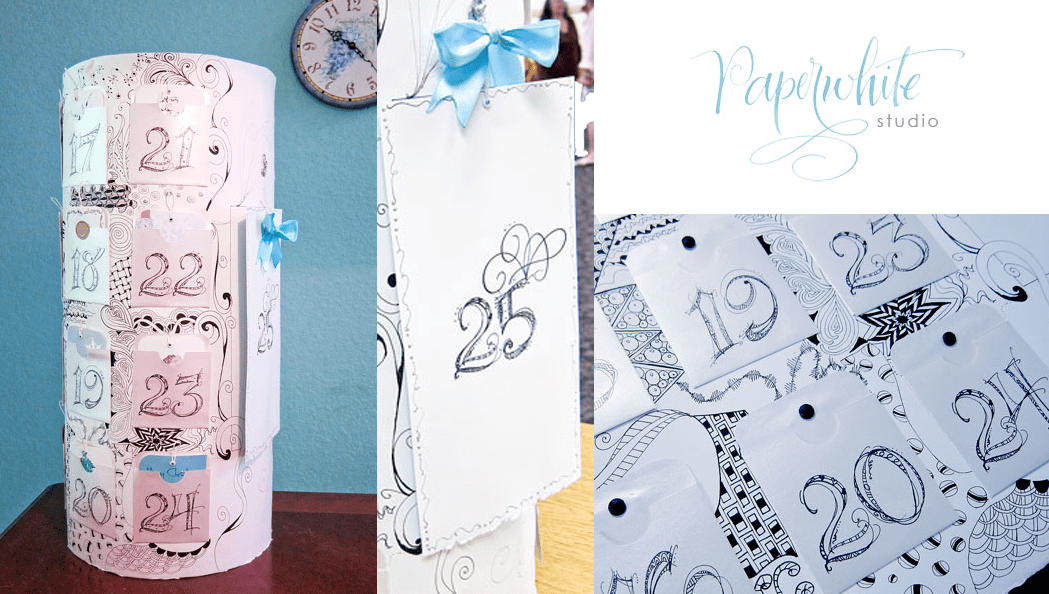 Erica and I have a lot in common– we are both calligraphers, writers and designers, and we have a mutual interest in building community through the arts. I wanted to share a couple of Erica's ongoing projects with you. In November of 2013 Erica founded The Flourish Forum, an on-line community about everything related to calligraphy, lettering, flourishing, Zentangles®, and more. There are 4,000+ people from 28 countries registered for The Flourish Forum; members can peruse the extensive resources and tutorials the forum offers. Erica says "It's a wonderful community– very positive, very sharing– where a lot of friendships have been made. You can see a lot of the content without registering, but if you want to view the video tutorials and be able to download the full set of handouts, you'll need to register." One of the things I like best about The Flourish Forum is that it is a totally free resource… so if you are interested in lettering, I encourage you to check it out:
www.theflourishforum.com
.

After founding The Flourish Forum, Erica realized there was tremendous growing interest in the calligraphic arts, and created something really cool: Dasherie Magazine (
dasheriemag.com
).

Like The Flourish Forum, Dasherie is an inspiring resource for calligraphers and lettering artists– as well as brides and others commissioning calligraphy. Launched in the summer of 2014, Dasherie is a beautifully designed magazine featuring gorgeous photographs throughout the 100 pages.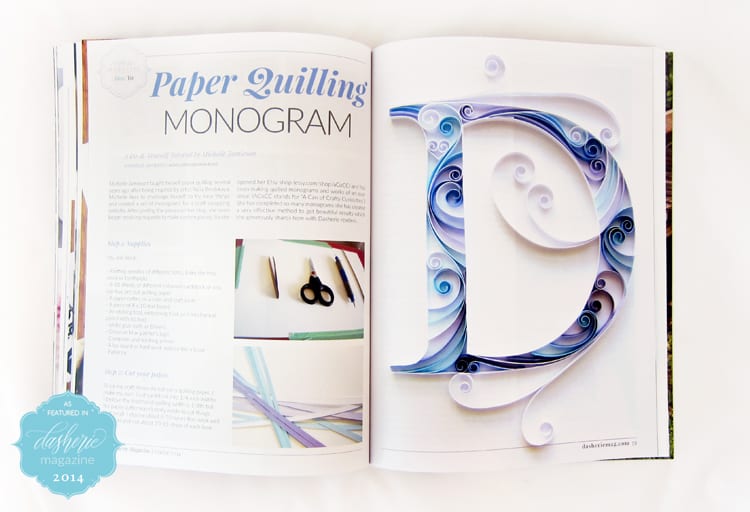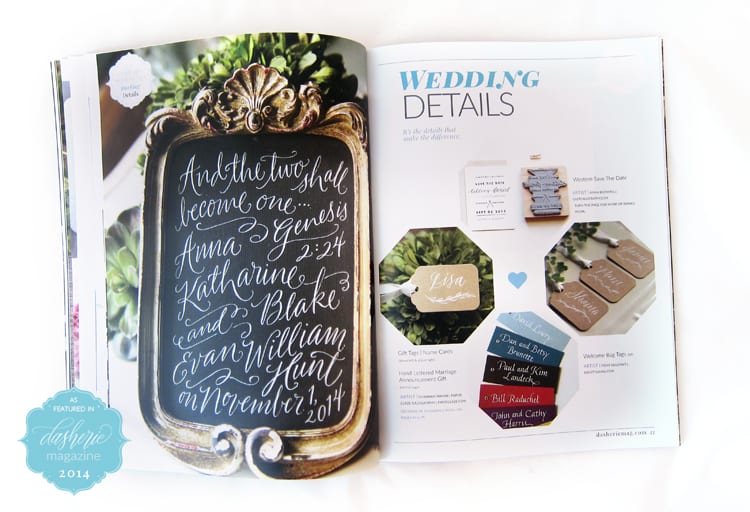 I'm sharing this, in part, because the third issue of Dasherie is at the printer, and I'm honored to be one of the artists profiled! Below is a 'sneak peak' at my article.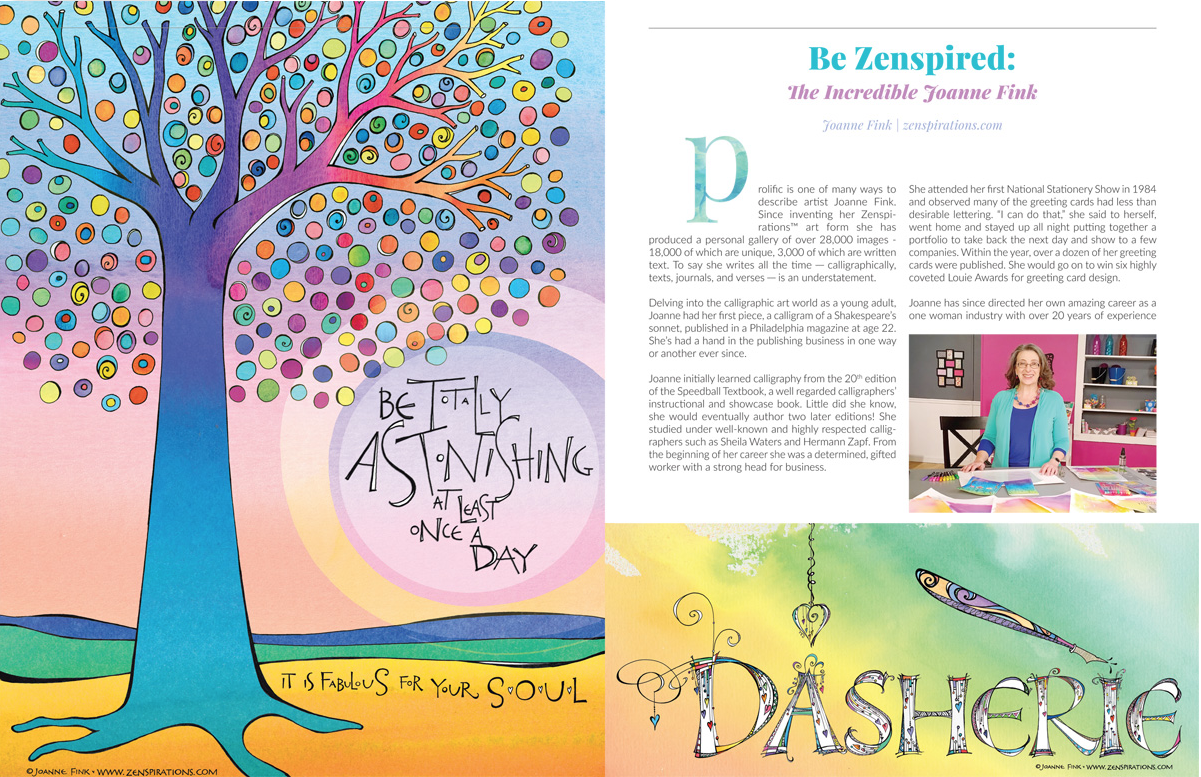 Now that the third issue is 'to bed' Erica is busy planning the next one. As a regular Zenspirations blog follower, Erica knows that you guys are often willing to share your thoughts in the comment section (especially if there is an incentive!). She offered to send a copy of the issue with my profile in it to one of the people who answers the following question: Who or what would you would like to see featured in a future issue of Dasherie magazine? A name will be drawn at random, and I'll let you know in next week's blog who the lucky winner is.
Speaking of winners, congratulations to Terri Young, who won the box of notecards from last week's blog! Terri, please let me know where you'd like them sent. I appreciate all your comments and interest, and would be grateful if you would keep me in your thoughts and prayers this week as I am finishing all the drawings for Birds & Butterflies and Expressions of Faith. I'm trying to create designs which other artists can use as a springboard for their own creative endeavors… and am finding it challenging to create images that look complete and inviting to color while still allowing room for people who like to pattern to add their own creative touches. As always, I welcome your suggestions.
Stay Zenspired,
Joanne