Dangle Valentine
Tuesday, February 2, 2016
Hi Everyone,
Since it is February, and Valentine's Day is around the corner, I thought I'd share my favorite Valentine's Day card with you, and explain how I created this Zenspirations® Dangle Design: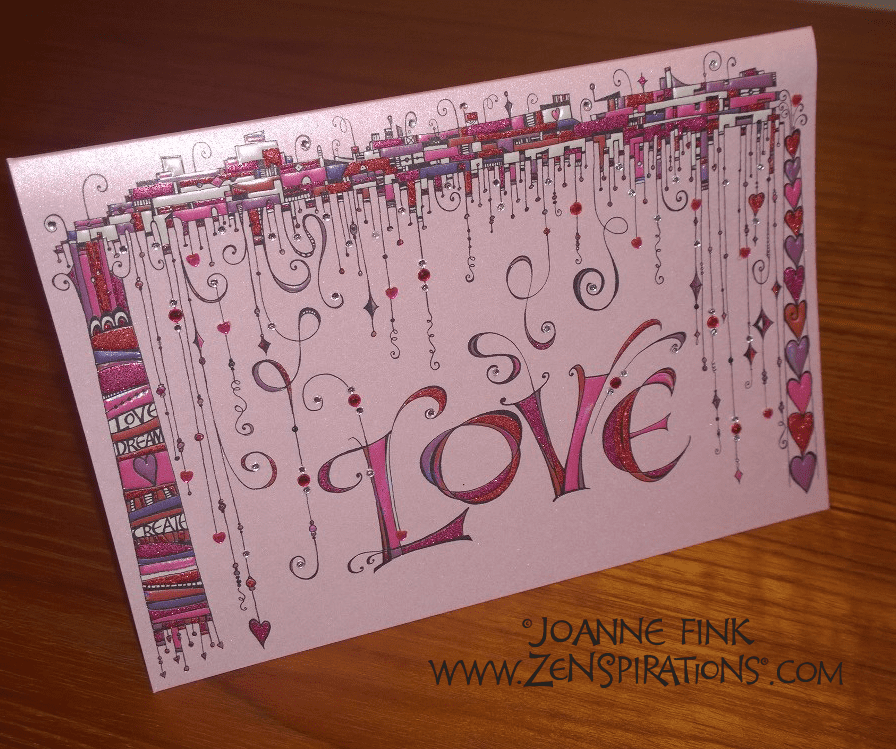 I started by drawing the line art with Sakura's Pigma Micron 01 pen on Strathmore's 400 series drawing paper. Here are raw scans of the two different designs I drew, and then combined to create the card. First I did the Dangle Design: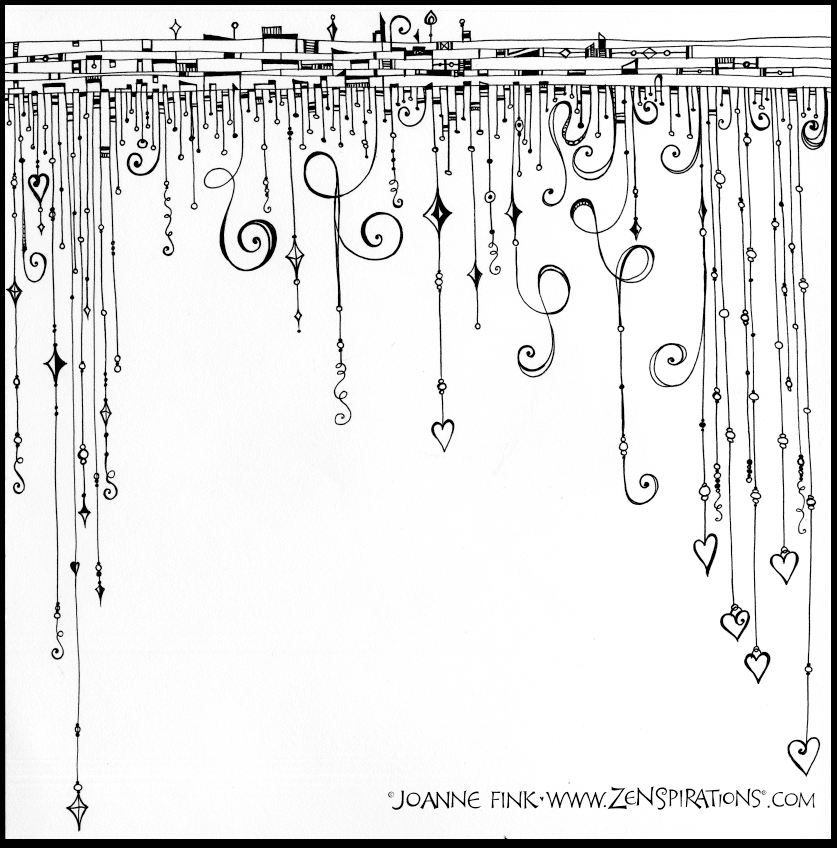 And then I drew the columns for the sides: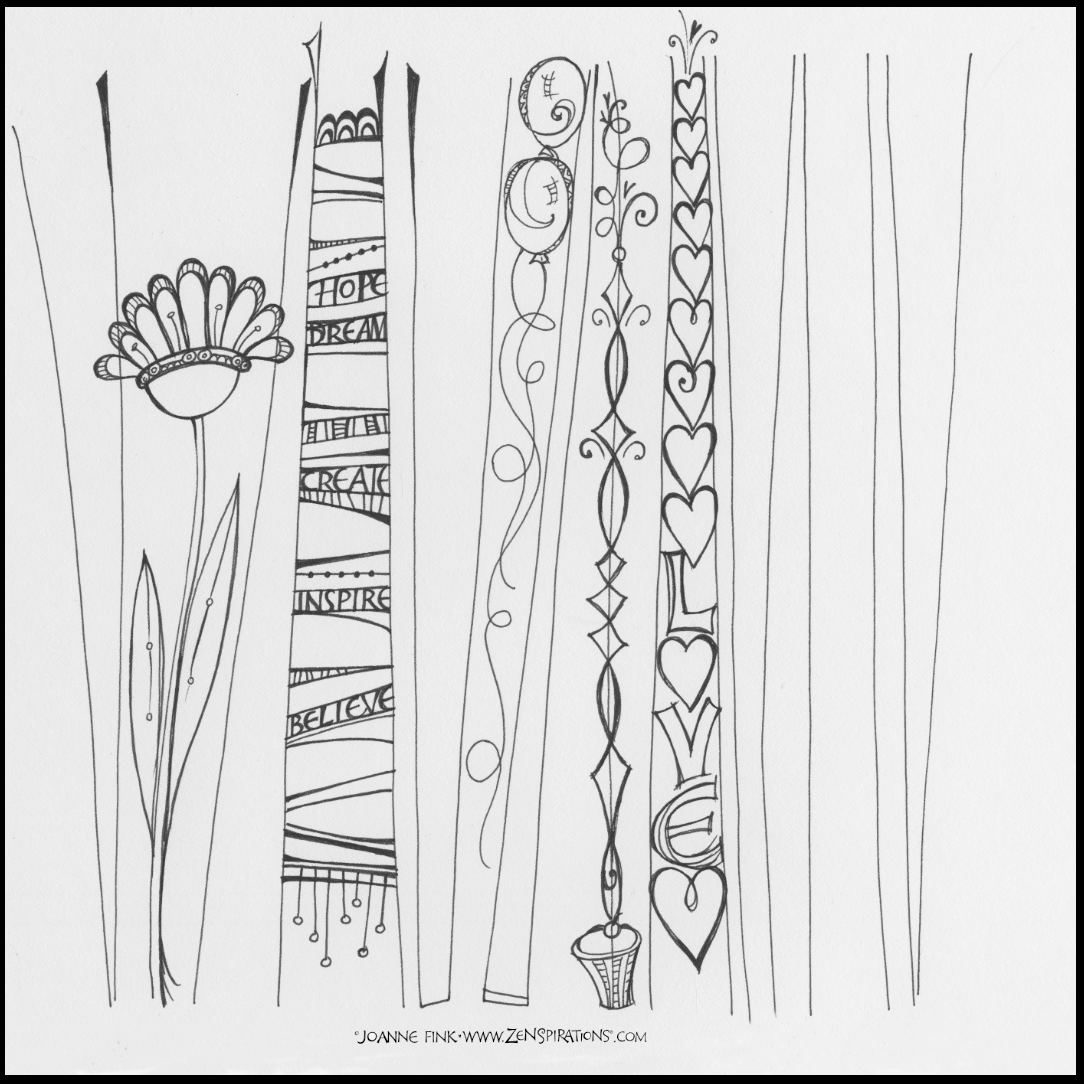 (I later finished the Columns and used them for other designs— which I'd be happy to share if there is enough interest. Please leave a comment if you'd like to see another post like this showing the evolution of a design.)
Next, I opened PhotoShop, flipped the Dangle Design horizontally, took out some of the Dangles so I'd have room in the center for text, and then added the columns from the second illustration to support the 'rods' .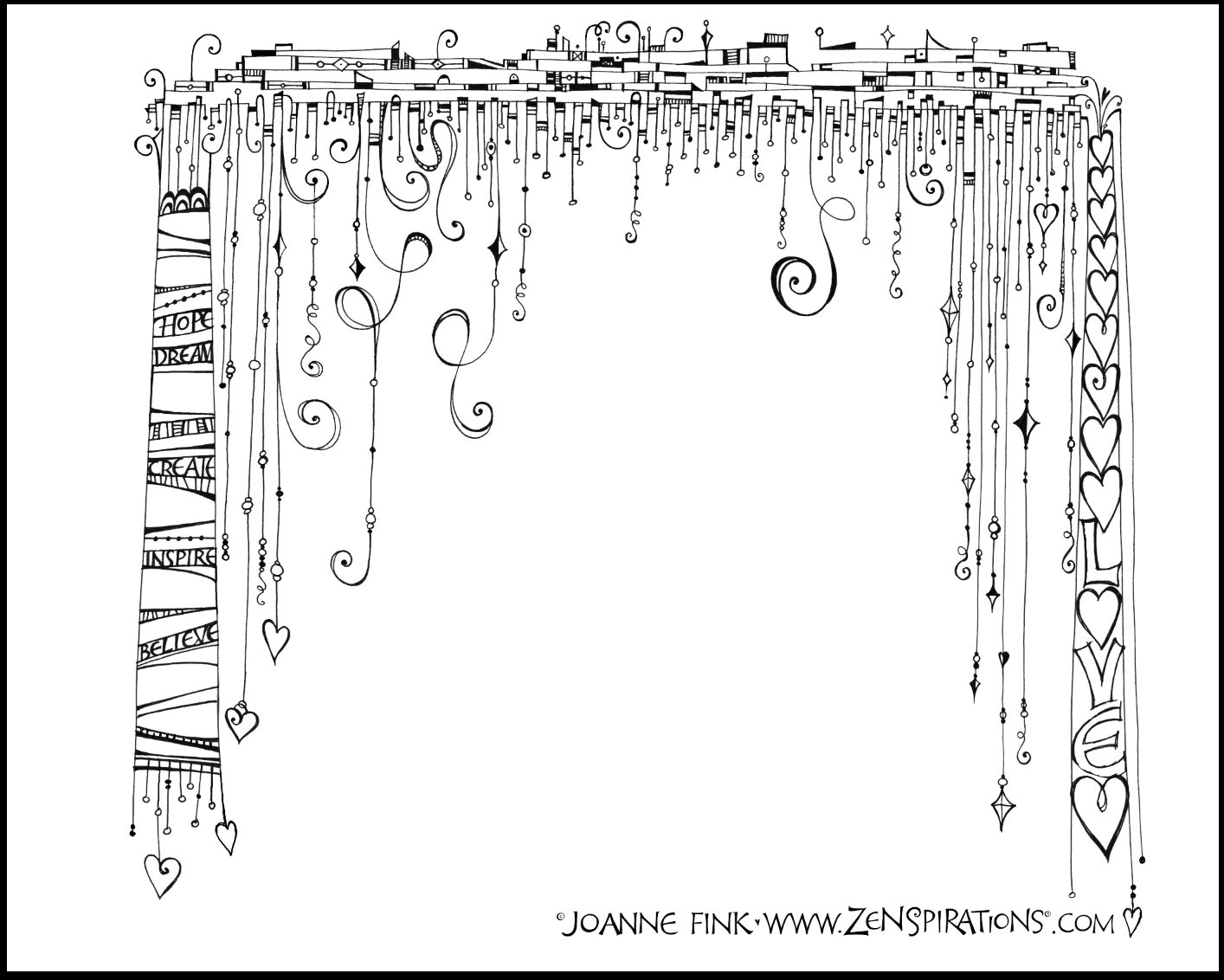 Next step was to add the text, and the color, which I also did in PhotoShop: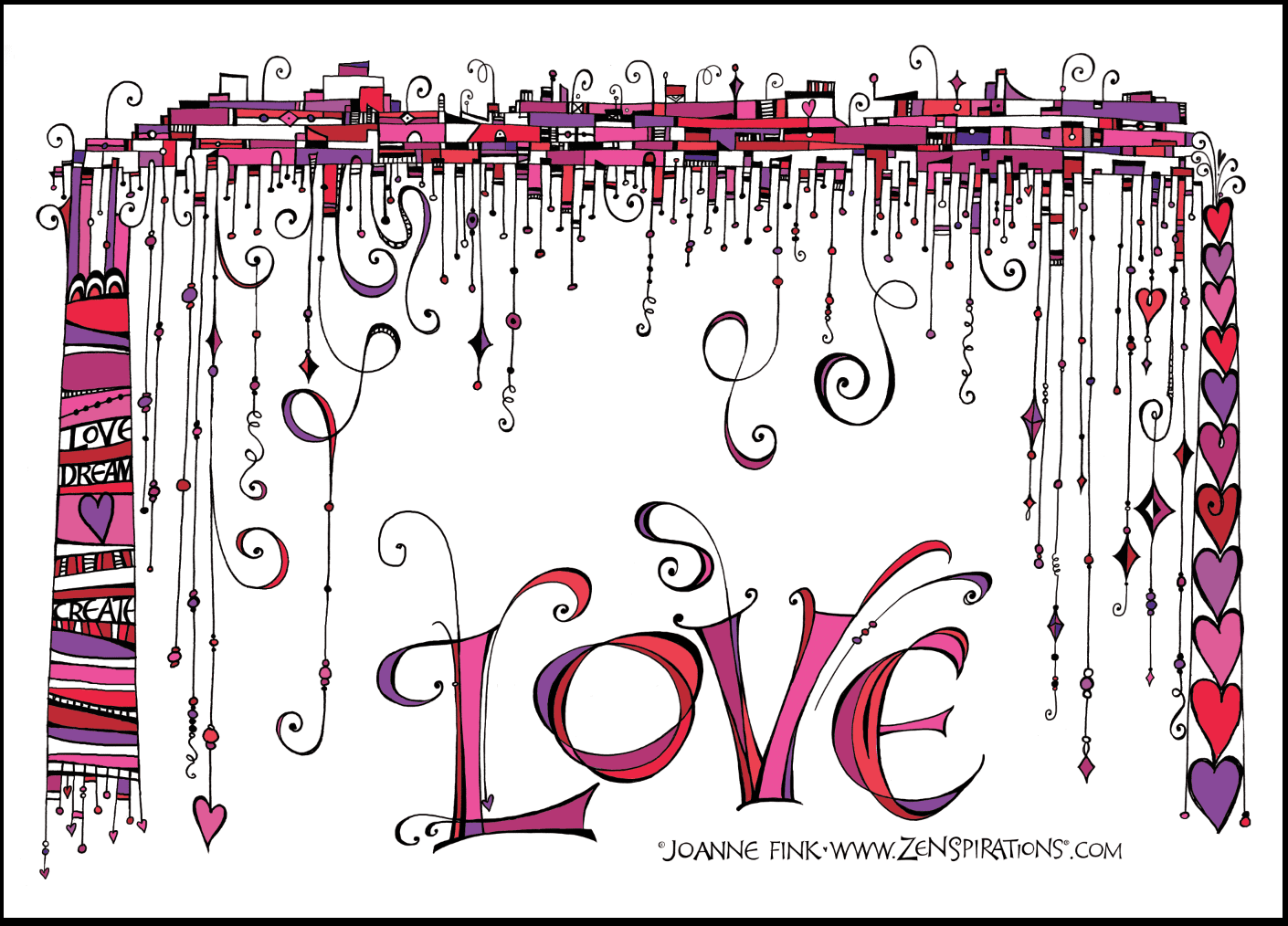 Then I scanned a bunch of gems, and put them on top of the design to show my Art Director where I wanted them to go, and 'voila'– the finished card!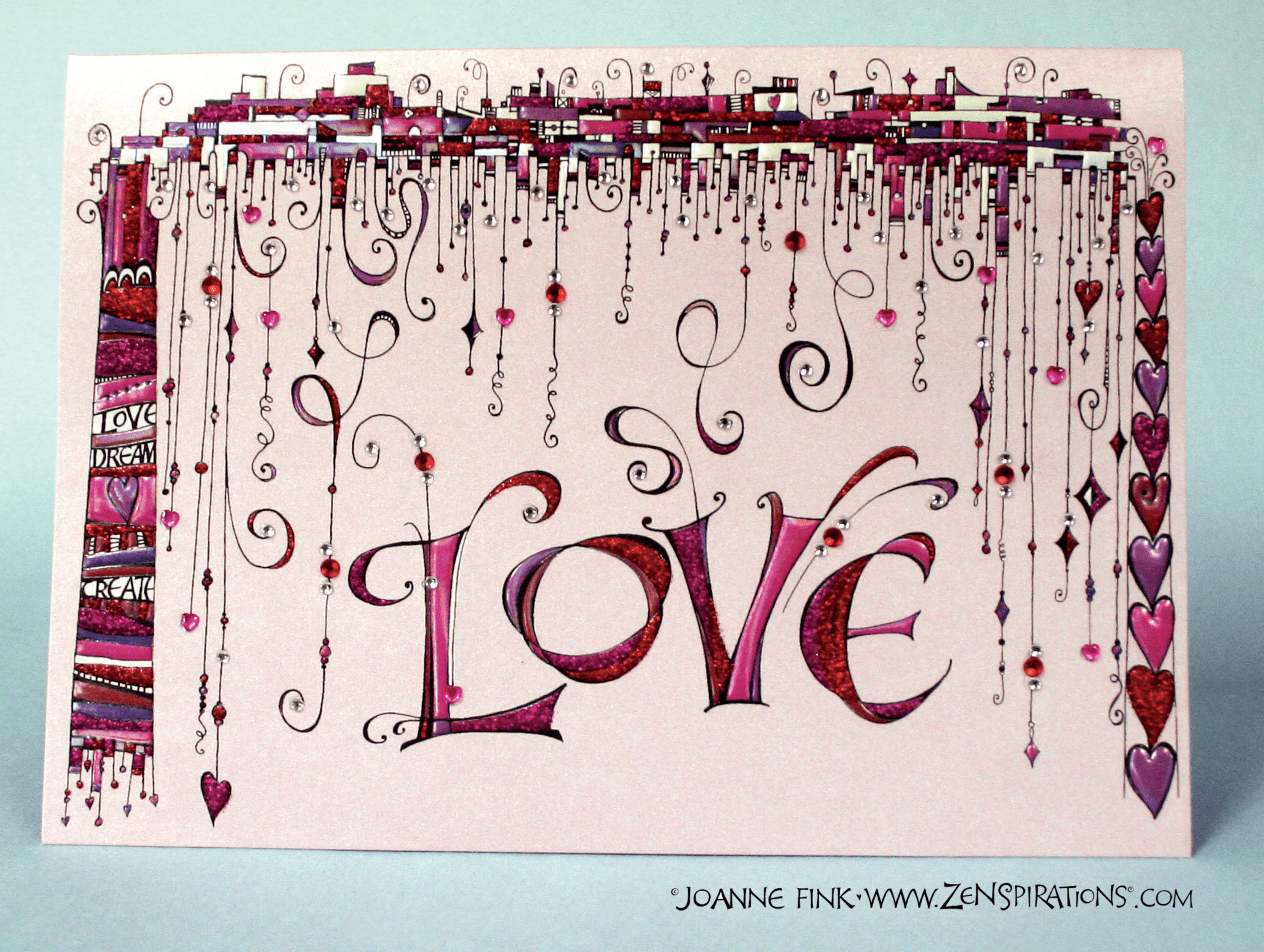 I was really pleased with the final product… it's printed on pearlescent stock, with a LOT of special processes. In addition to the gems, which are applied by hand, the glitter, foil and embossed accents are gorgeous. I wish you could see it in person— it's a show stopper! Since it is five years old, I think this is the last year that Design Design (my card licensee) will have it in the line. It is a pricey card ($7.95), but here is the link if you'd like to order one.The LOVE design was the original embellished Dangle card, but those of you who have my first Zenspirations book might recognize the line art from the back cover: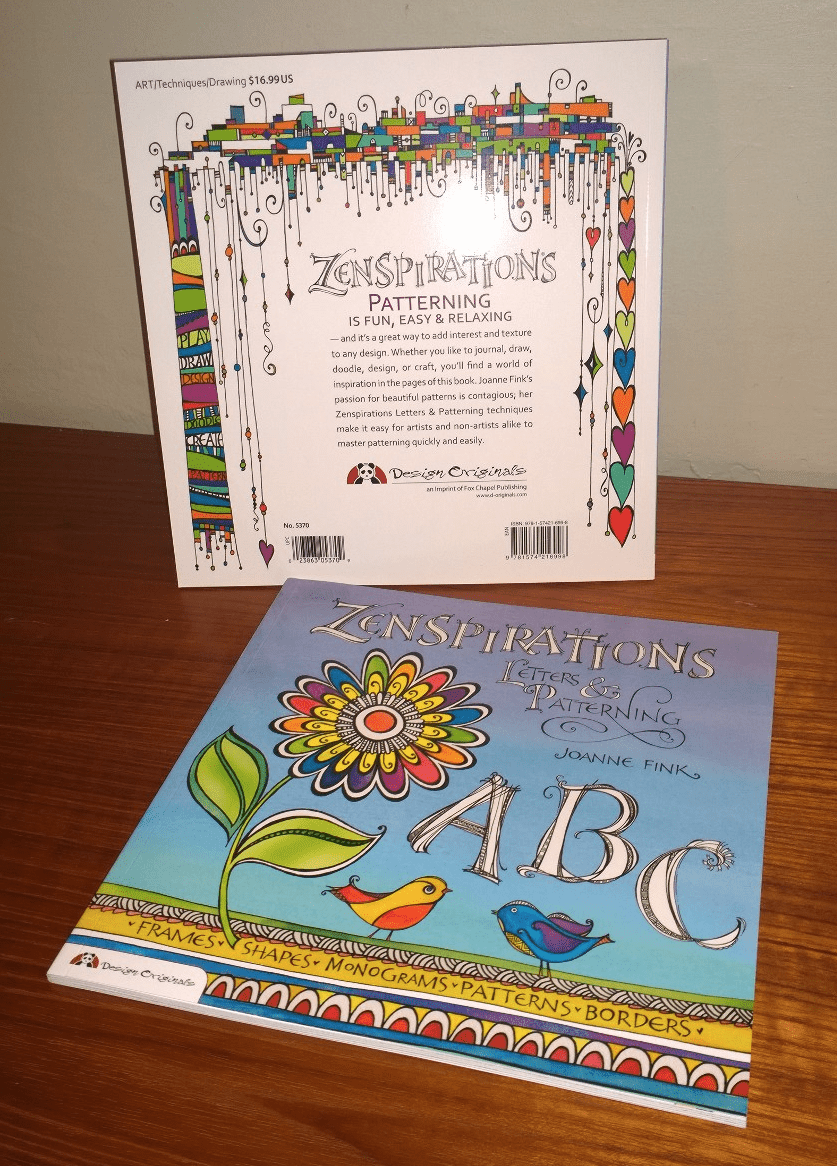 And I have good news to share with our international readers: several of my books have been translated into other languages. So far I know about French, German, Korean, Chinese, and thanks to the talented designer Anna Coll from Madrid, there is now a Spanish version of the first book!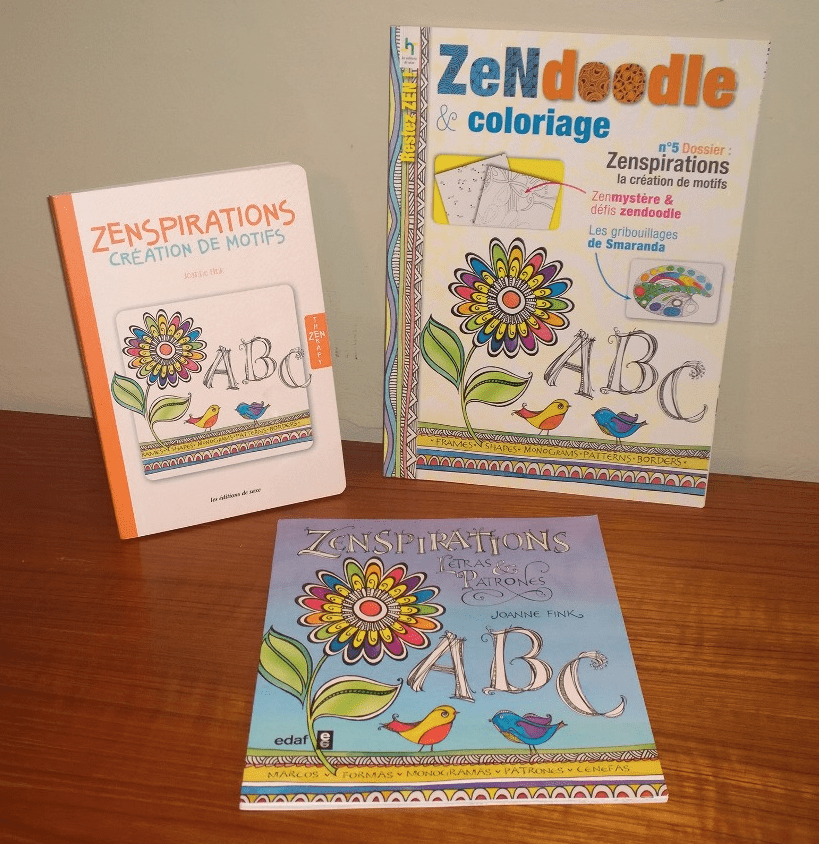 Since many of my illustrations are actually words, I was delighted when Anna asked me to create Spanish versions of the title and some of the key interior 'word-art' illustrations. Anna not only translated the text, but also hand-lettered some of the illustrations. She says that the Spanish version of the book is available here, and "at all the best bookstores around the country, such Casa del Libro, Fnac, Corte Inglés…" Anna also shared that calligraphy and ZIAs are hot trends in Spain. I'll have to ask her if coloring is as popular there as it seems to be everywhere else…Speaking of coloring, the Valentine's Day contest deadline is Friday, February 5th, so don't forget to download the FREE LOVE DESIGNS I posted in last week's blog, add color and your creative touches, and then post in the Zenspirations Create, Color, Pattern, Play Facebook Group. Here is the link in case you need it: https://www.facebook.com/groups/1471158256528576/.Can't wait to see what you do!
Stay Zenspired,
Joanne