Create, Color, Pattern, Play! was designed for coloring enthusiasts to use Joanne's designs as a springboard for their own creativity. To Joanne's delight, Create, Color, Pattern, Play! has turned into a worldwide community of people sharing their ideas and artwork, and forming friendships as they embark on their creative journeys.
The first three Create, Color, Pattern, Play! books, Flowers, Inspirations, and Abstract & Geometric Designs [link to each title in shop], were published in 2013. In 2015 several new titles were added – Birds & Butterflies, Expressions of Faith, Color Peace, Flowers of Faith, and L'Chaim: Celebrate Life. Soon to be released in early 2016 is Expressions of Nature, with even more titles in the series in development.
Joanne has designed the pages in each book with extra room so that you can express yourself, not just through coloring the images, but by adding patterns and drawing additional elements. She gives step-by-step instructions and ideas for how you can make the designs your own, and even provides a credit line for you, as the co-creator. There are also many samples included so you can see how coloring and creativity enthusiasts from around the globe have interpreted some of the designs.
How to Create, Color, Pattern, Play!
Adding Patterns: The ideas for patterns can come from just about anywhere you look– nature, flooring, fabric. Joanne's book, Zenspirations® Letters & Patterning is also a great source for patterning ideas, as are many of her videos.
By adding patterns you can enhance an illustration as little or as much as you want.
Patterns: Step-by-Step Examples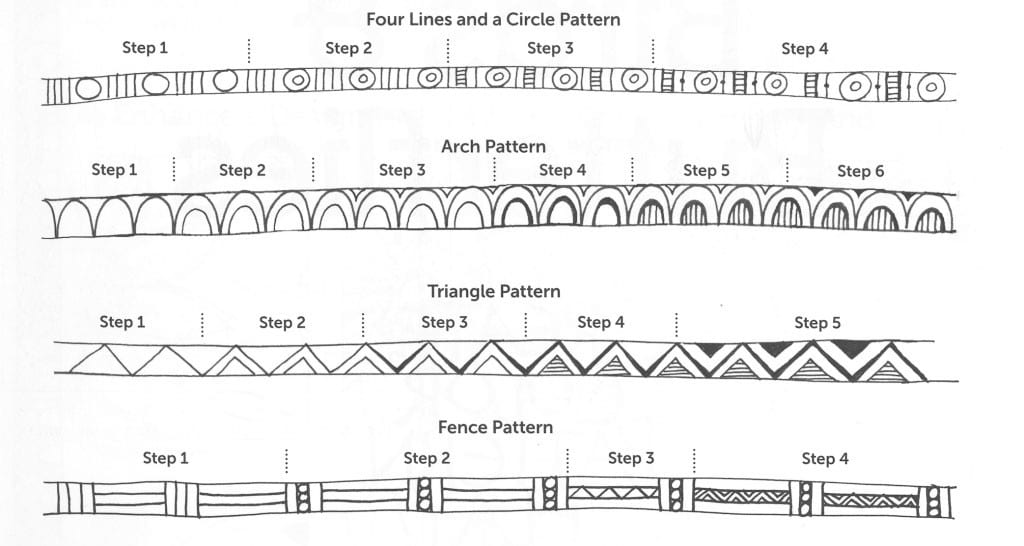 ---
How To Enhance Your Zenspirations
Create, Color, Pattern, Play Pages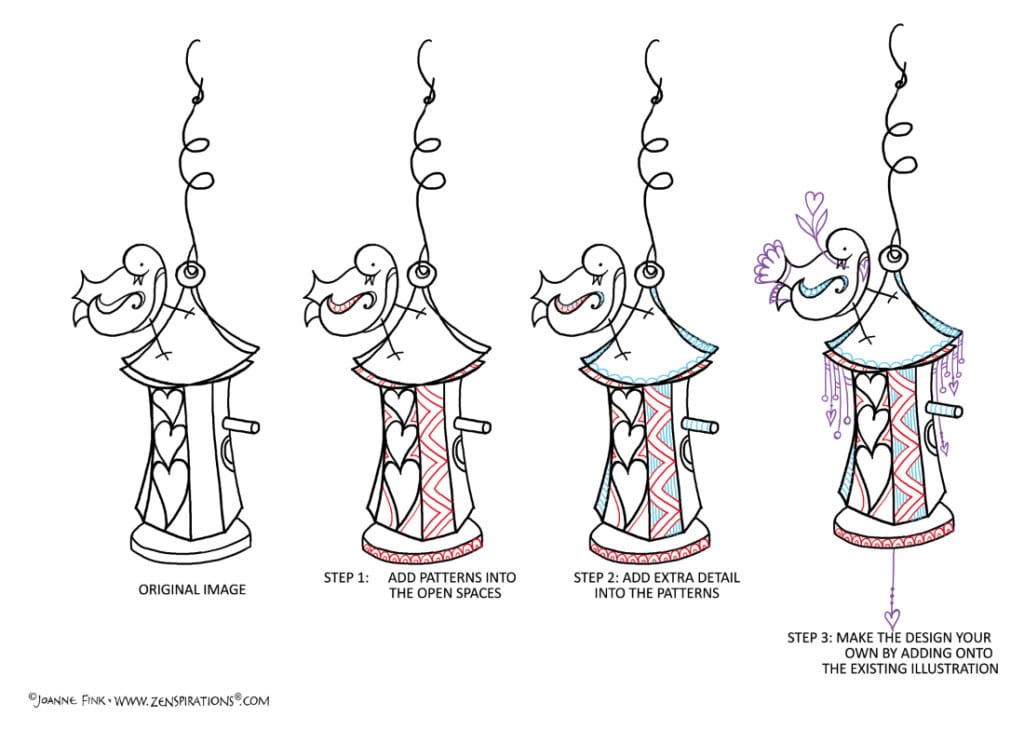 Adding Motifs and Text: You can add additional elements to create your own design, like clouds, leaves or flowers. You can also add text, names, and scripture…anything that will put your own creative stamp on it. See how the same design can be interpreted many different ways.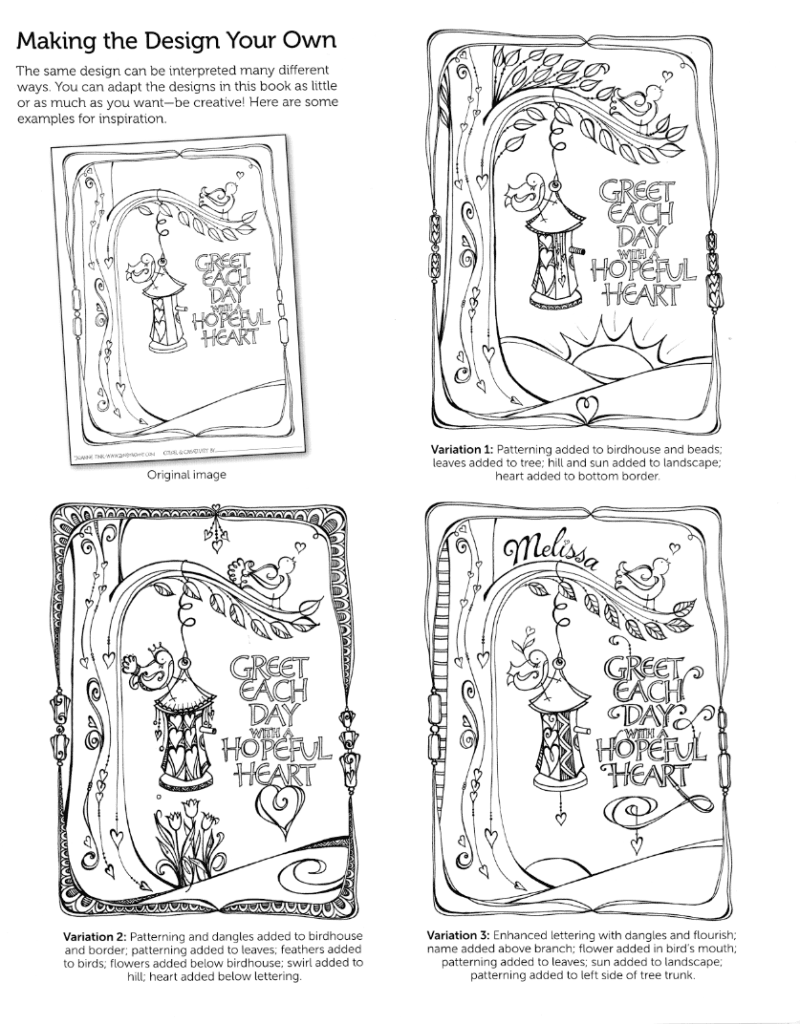 Adding Color: By using different coloring mediums, you can create many different looks. Don't be afraid to experiment, and don't feel like you have to color every part of a design. It's fun to play with contrasting colors and finishes such as metallic, mattes, or glitter. Here are 4 examples of the same design that have been created by color and creativity enthusiasts Puneet Sekhon, Terri Brown, Kristen Zeitler and Sephra Travers. I'm inspired by the beautiful and unique ways that each artist interpreted the design.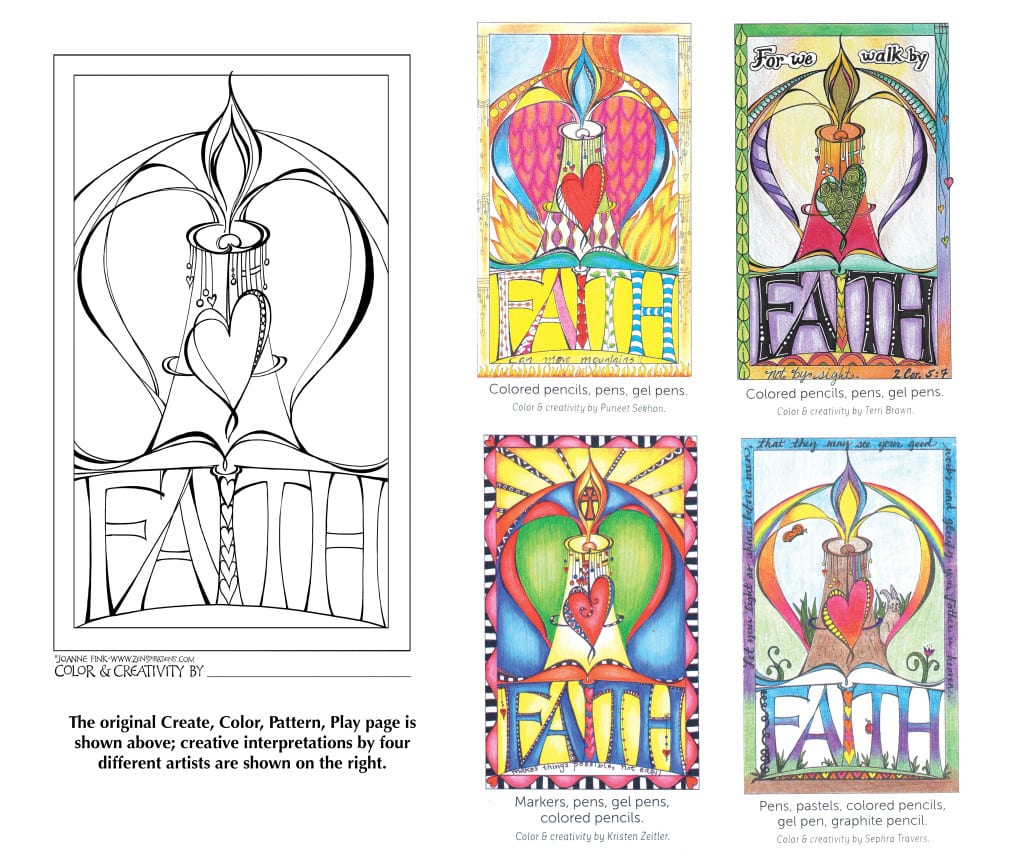 If you would like more inspiration, the Create, Color, Pattern, Play! Group on Facebook was created as a way for the coloring enthusiasts to communicate and inspire each other by posting their finished art. Sign-up to join, so that you too can see the beautiful work of this global community and get your creative juices percolating.
"It's a joy to open Facebook each day to see what beautiful art has been posted in the group." – Joanne