10 Ways to Stay Zenspired in 2017!
Tuesday, January 3, 2017
Hi Everyone,
The New Year brings a welcome opportunity for a fresh start; another chance to make a difference in the world. Let's give ourselves permission to begin again…to let go of what's been holding us back…to take a stand for something we believe in…to say 'no'…to try something new…to be ourselves… to be willing to experiment…to fail…to create…to connect…to learn…to grow.
This New Year holds so much promise!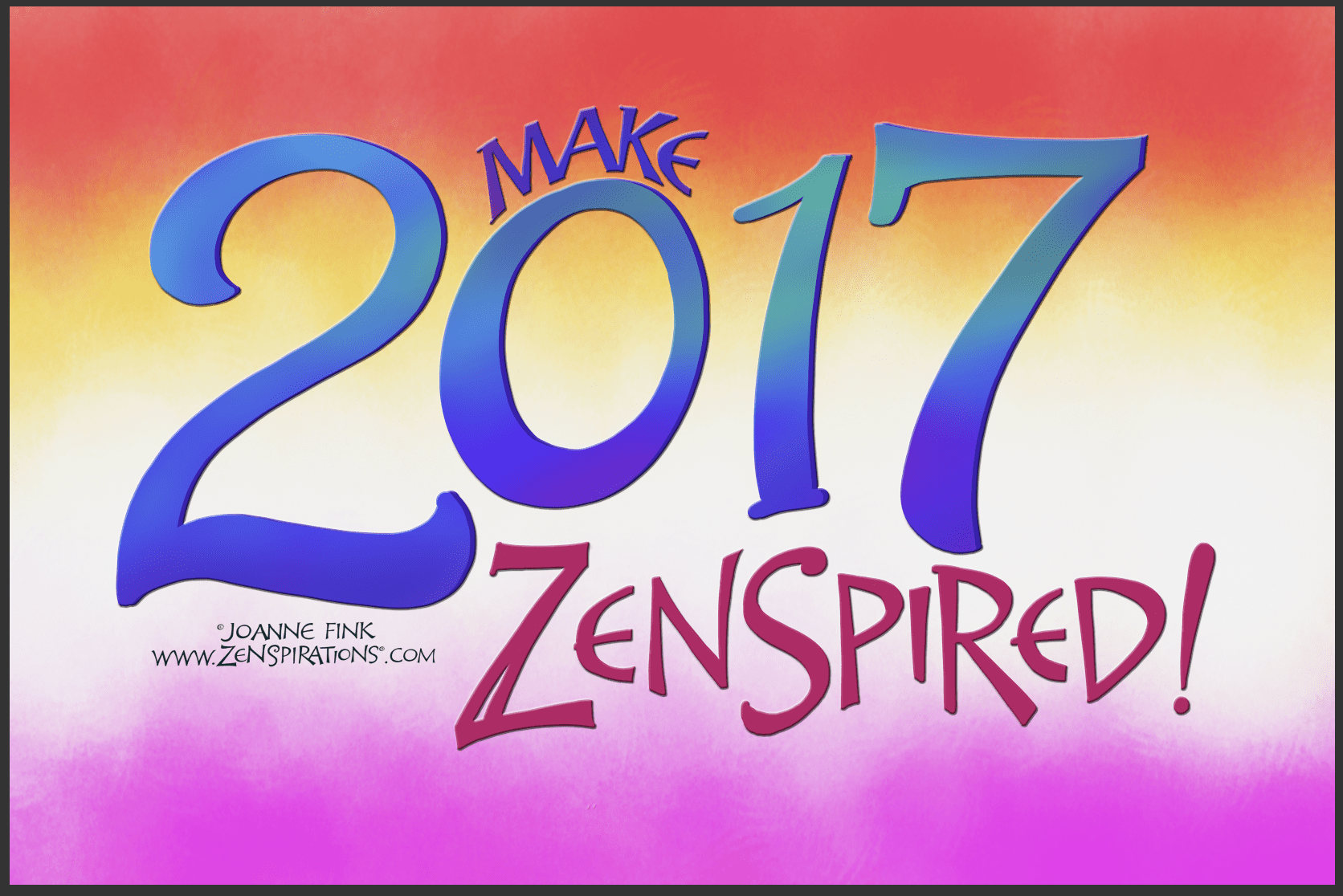 Here are 10 ways to Stay Zenspired in 2017:
Be KIND. It is more important to be kind than it is to be right. We can't always know what challenges others are facing… but a simple kind word or action can positively impact someone's life. When you set an intention to do all things with kindness, you are making a commitment to make a difference. Strive to leave every interaction on an upbeat, positive note; having made whoever you were talking to feel better after your conversation than they did before. Kindness is contagious… pass it on!
Be GENEROUS. Give from your heart. Whether it is a smile, your time, your creative talents, or your financial support, look for opportunities to give. You'll be surprised at how good it makes YOU feel!
Be THANKFUL. Pausing daily to appreciate and acknowledge your blessings, makes a difference. Remember– you can't control anything except your attitude– so try to keep it positive. If you are new to the practice of gratitude, start by keeping a list of things you are thankful for– these can be specific things which are happening in your life, or general things such as the air that you breathe, the roof over your head, the food you eat and the people that you love. Taking time to write these down at the end of the day can help you develop an 'attitude of gratitude'.
For those who might want to keep a gratitude list, here is a January calendar page you can use (and color!).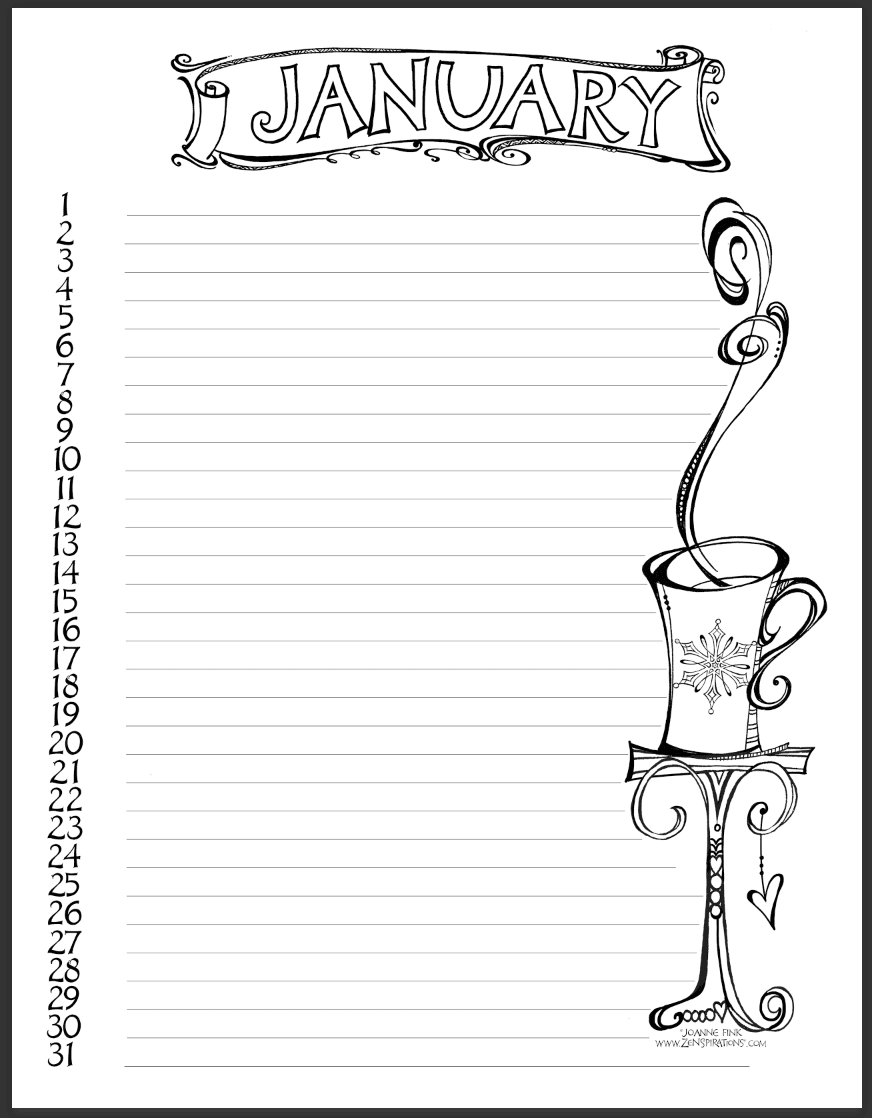 Click below to download your FREE printable PDF of the January Calendar:
zenspirations_by_joanne_fink_january_calendar_blog_1_2_17
Nurture YOURSELF! Eating healthfully, getting enough sleep, and making time to exercise will make a HUGE difference in how you feel. Taking care of yourself increases your productivity and your creative abilities. If you make one small positive change each month, whether it is giving up white sugar, getting an extra half hour of sleep or going for a fifteen minute daily walk, next year at this time you'll be amazed by the new you!
Practice FORGIVENESS. Realize that forgiveness is actually a gift you are giving to yourself. You cannot be free when you are angry. You cannot be grounded in gratitude when you harbor resentment. Your soul cannot grow when you are stuck in the prison of your past. If this is something you struggle with, try assuming that everyone is doing the best they can under whatever circumstances they are dealing with, and give yourself permission to move on.
Practice COMPASSION. Take time to listen, really listen, when someone shares from the heart. Compassion isn't about fixing the situation; it's about reaching out in love and letting someone know you care.
Keep BELIEVING. Walking in faith doesn't mean that everything is automatically easy… it means being confident that you will be able to meet– and handle– whatever challenges you encounter. Believe in yourself. Believe that you have a unique ability to make a difference in the world. Believe in your dreams. Believe in those you love. Believe that you are where you are meant to be, and that what you do matters.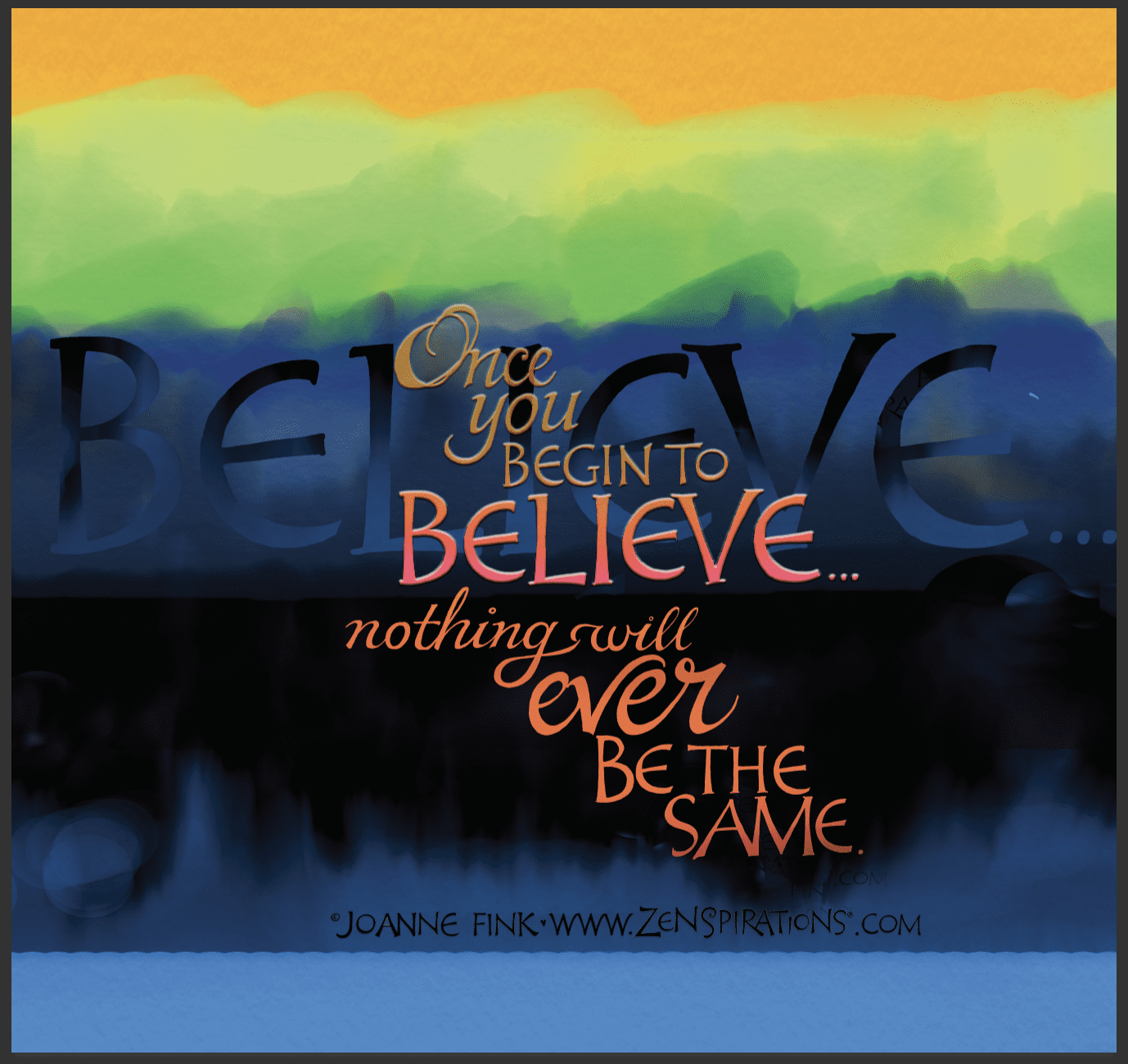 Keep HOPING. There is always something to hope for! Greet each day with a hopeful heart!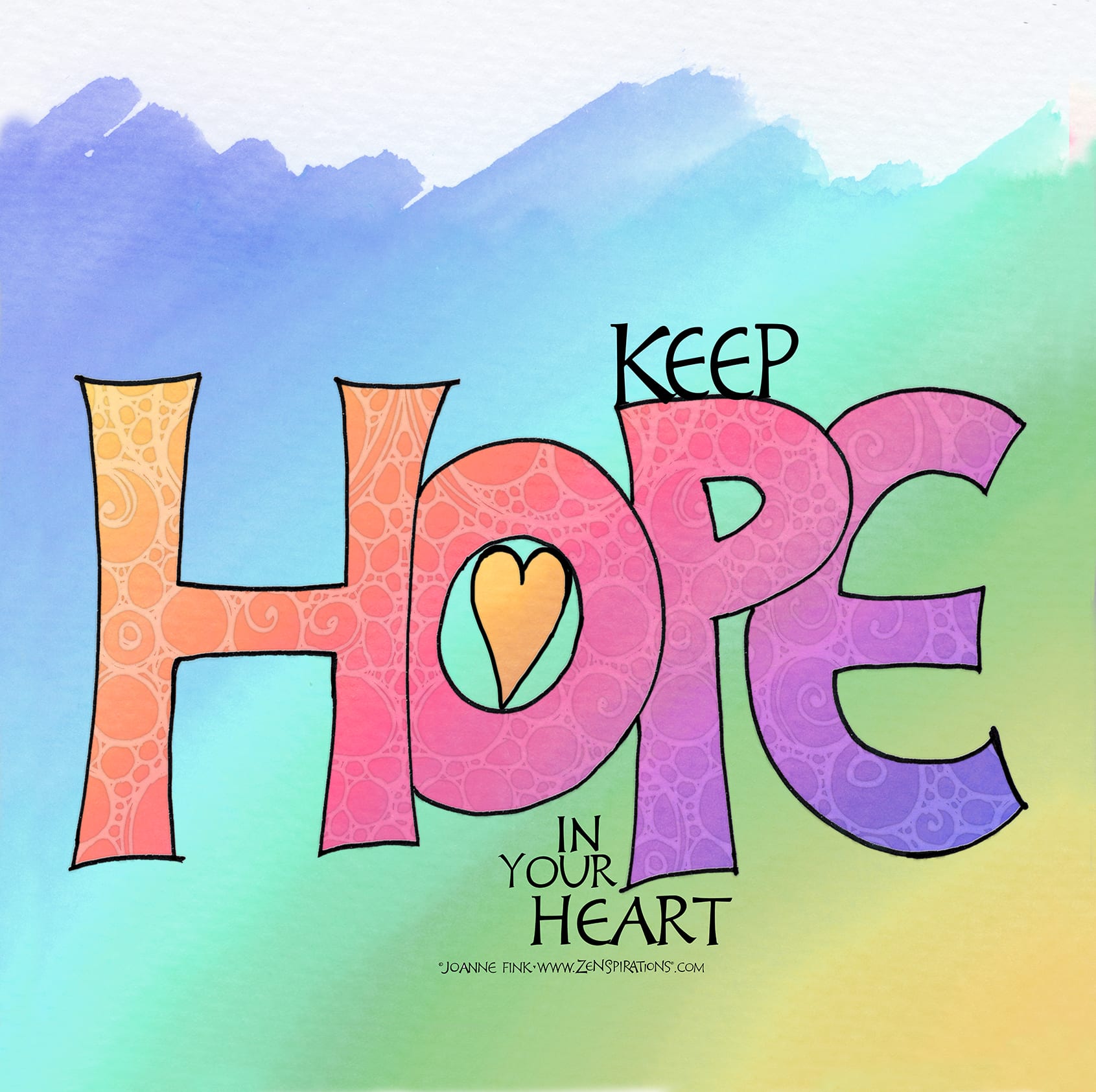 Keep CREATING. Make time to do what you love; to express yourself; to play; to evolve. Tapping in to your own innate creativity is essential in order for you to continue growing into the person you are becoming. Be open to possibility; allow your soul to soar!
Seek CONNECTION. Look for opportunities to experience wonder… reverence… awe… as you seek connection to something greater than yourself. Grow towards the light and let the light of your soul shine. Make moments matter and celebrate sacred connections. If you maintain a regular spiritual practice, such as attending prayer services, doing yoga, keeping a gratitude journal or meditative drawing sketchbook, daily nature walks and/or guided meditation, you will experience moments of connection more frequently.
Staying Zenspired is a way of life for me, and it's one I'm delighted to share! What do you do to Stay Zenspired? Which of the ten ideas I've shared in this week's blog appeals to you? Would you be interested in participating in a Zenspirations® community project, such as a daily lettering or doodling prompt, a journaling theme of the week (or month), or experimenting with new tools and sharing the results? In what way would YOU like to see the Zenspirations community grow this year? Thanks, in advance, for sharing your ideas!
Last week several people left comments with their words of the year for 2017, and while I didn't have time to letter them all, I was able to do a few.
The word GROW is for my friend Cherish Fleider, founder of the Art Licensing Community. Next week is Cherish's birthday, so I'm wishing her an early Happy Birthday.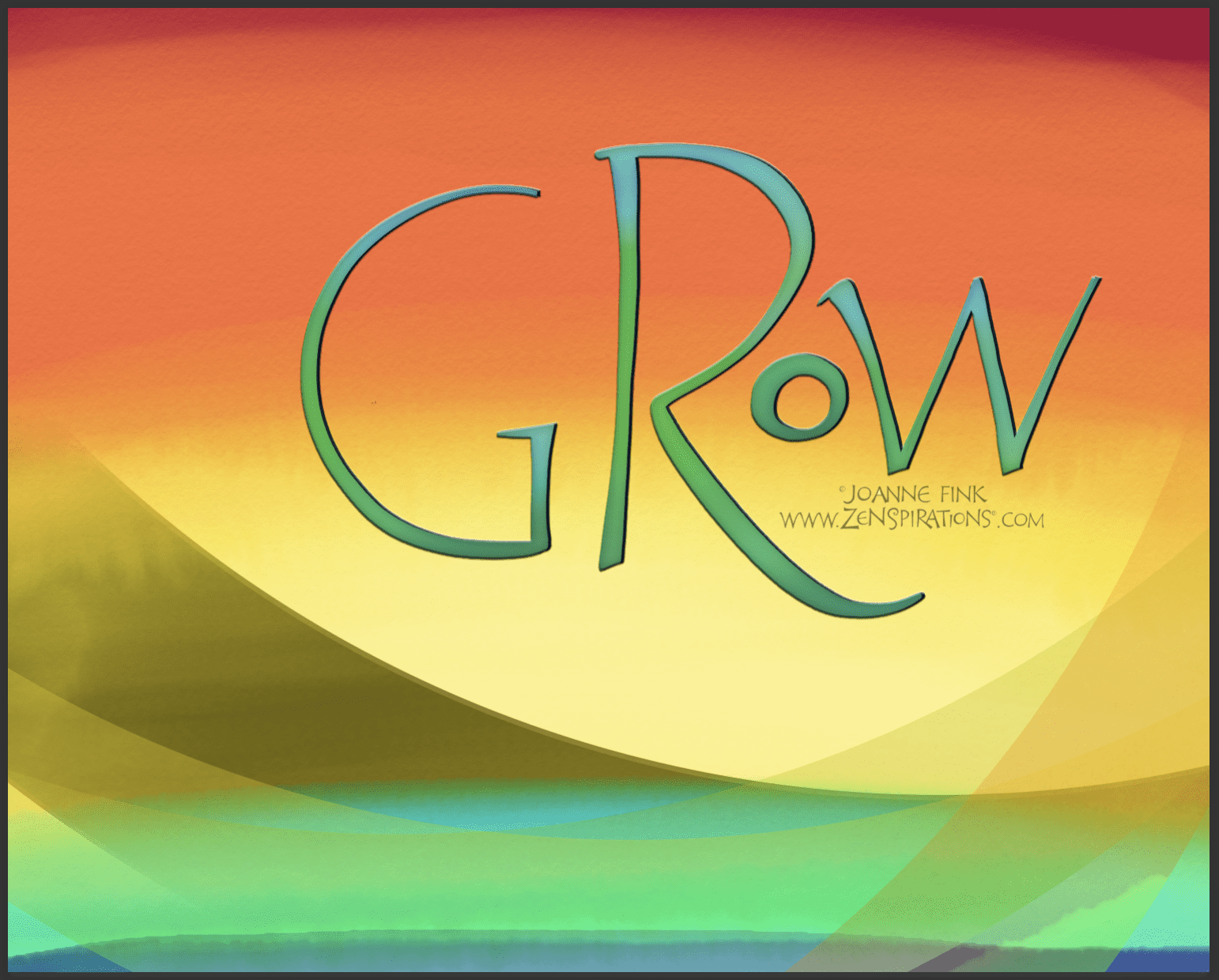 The word TRUST was requested by Linda and Nancy: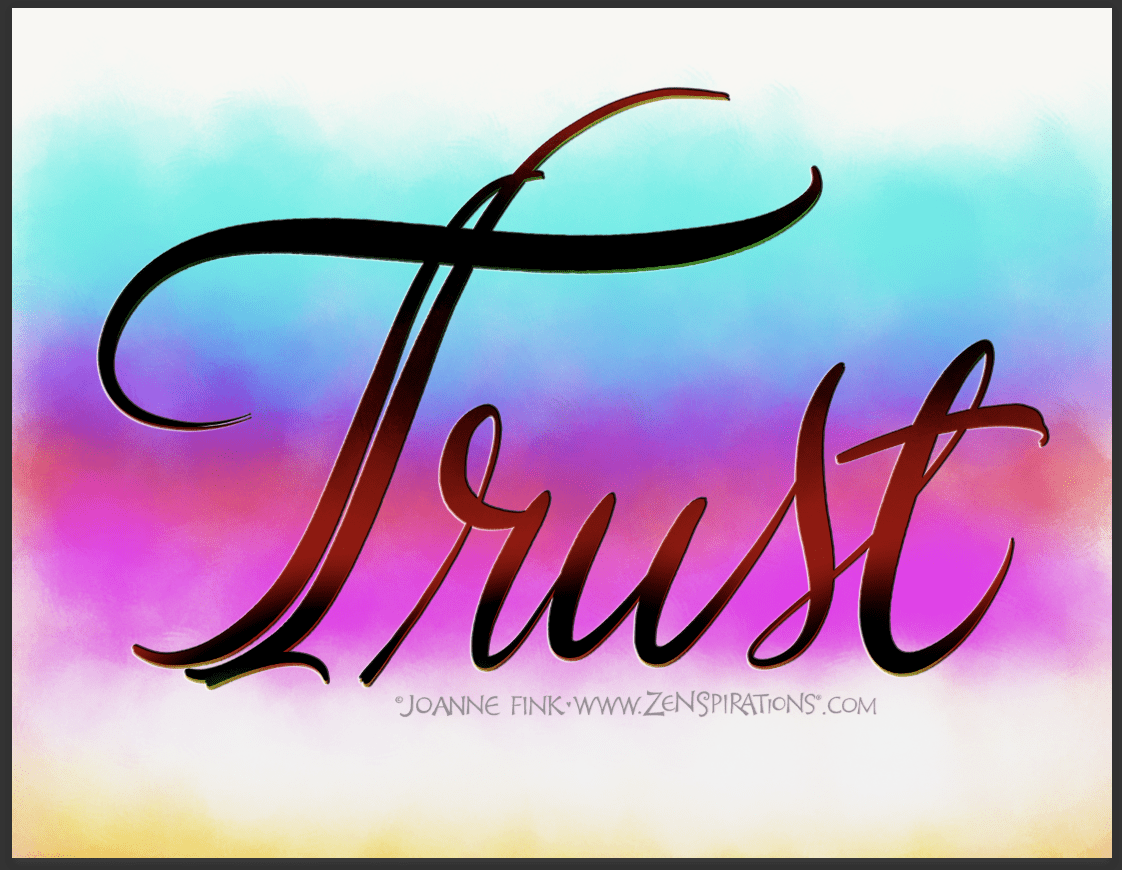 and the word STRENGTH was requested by my fellow 'wister' (widowed-sister) Brenda Huff, whose husband was killed in a motorcycle accident ten months ago. When you lose someone you love, the first year is SO hard…you need to tap into your inner strength in order to develop the resilience you need to get through the grief process.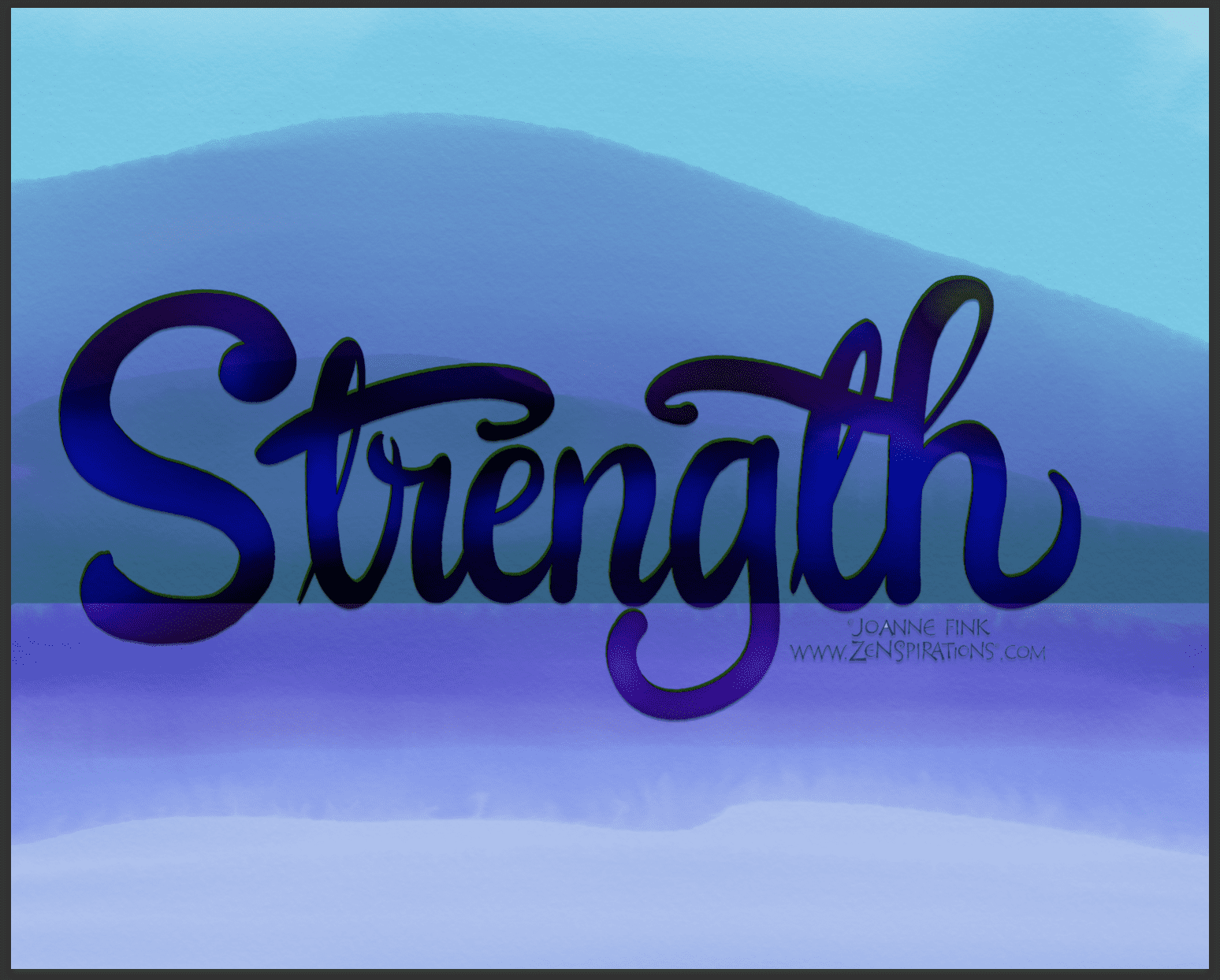 I'm sending strength and courage to you Brenda, and to everyone who lost someone they love in 2016… May 2017 be a year of healing and hope for us all.
Stay Zenspired,
Joanne