A Journey of Discovery
Tuesday, January 2, 2018
Hi Everyone,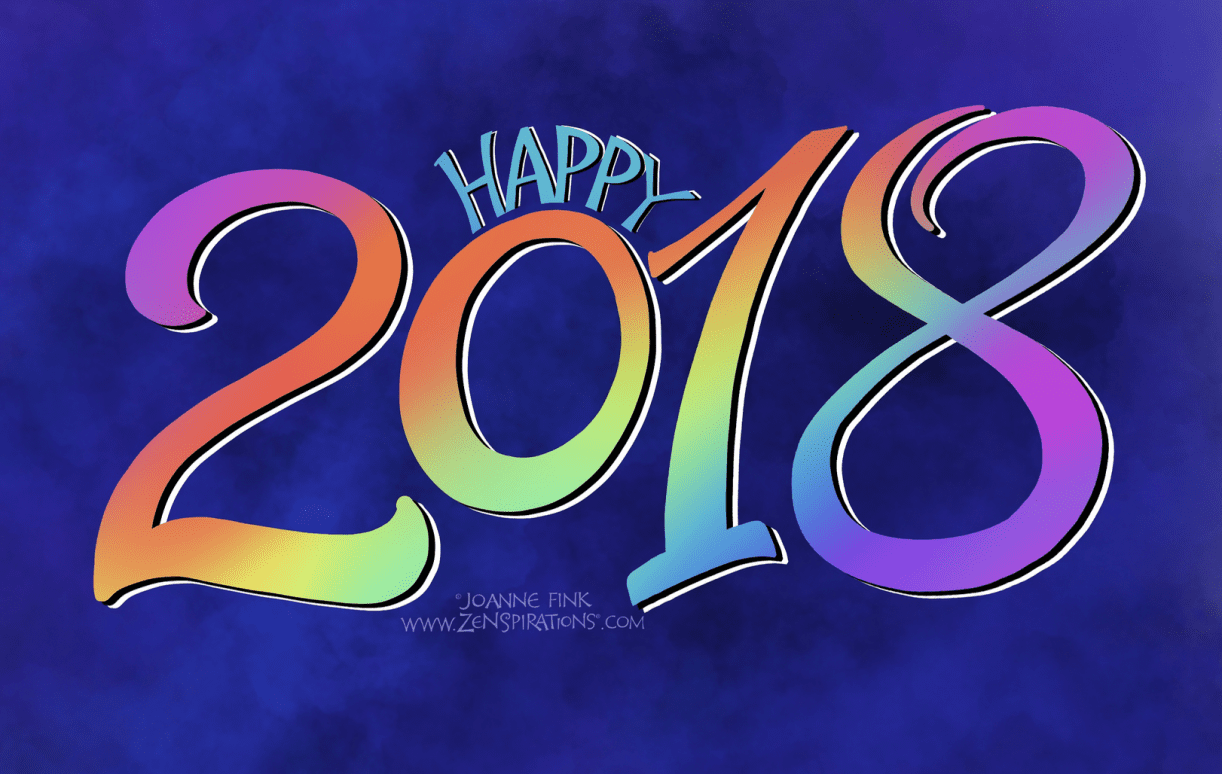 We had some wonderful suggestions for a group word of the year, but none of them felt quite right to me as our monthly 'kick-off' word for 2018. We need a word that could provide a compass or road map for the months ahead, and since my journals are filled with inspiring words. I decided to flip through some of my old journals as I  ruminated on what word to choose. I came across one of the rare pieces I lettered with a white gelly roll pen rather than my trusty Micron: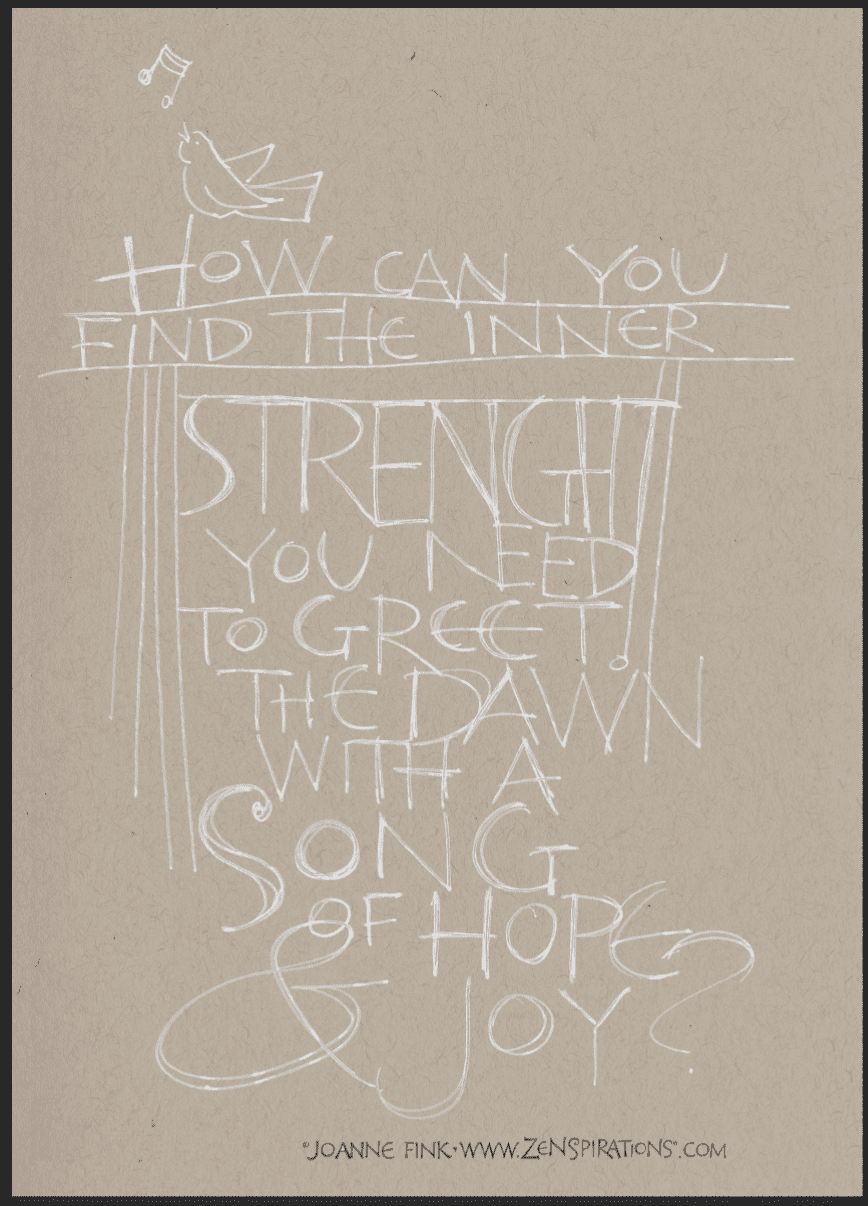 The question I had asked, "How can you find the inner strength you need to greet the dawn with a song of hope and joy?"  led me to the words I penned in a different journal that same year: "Each of us must seek to discover the deeply cherished desires of our own heart."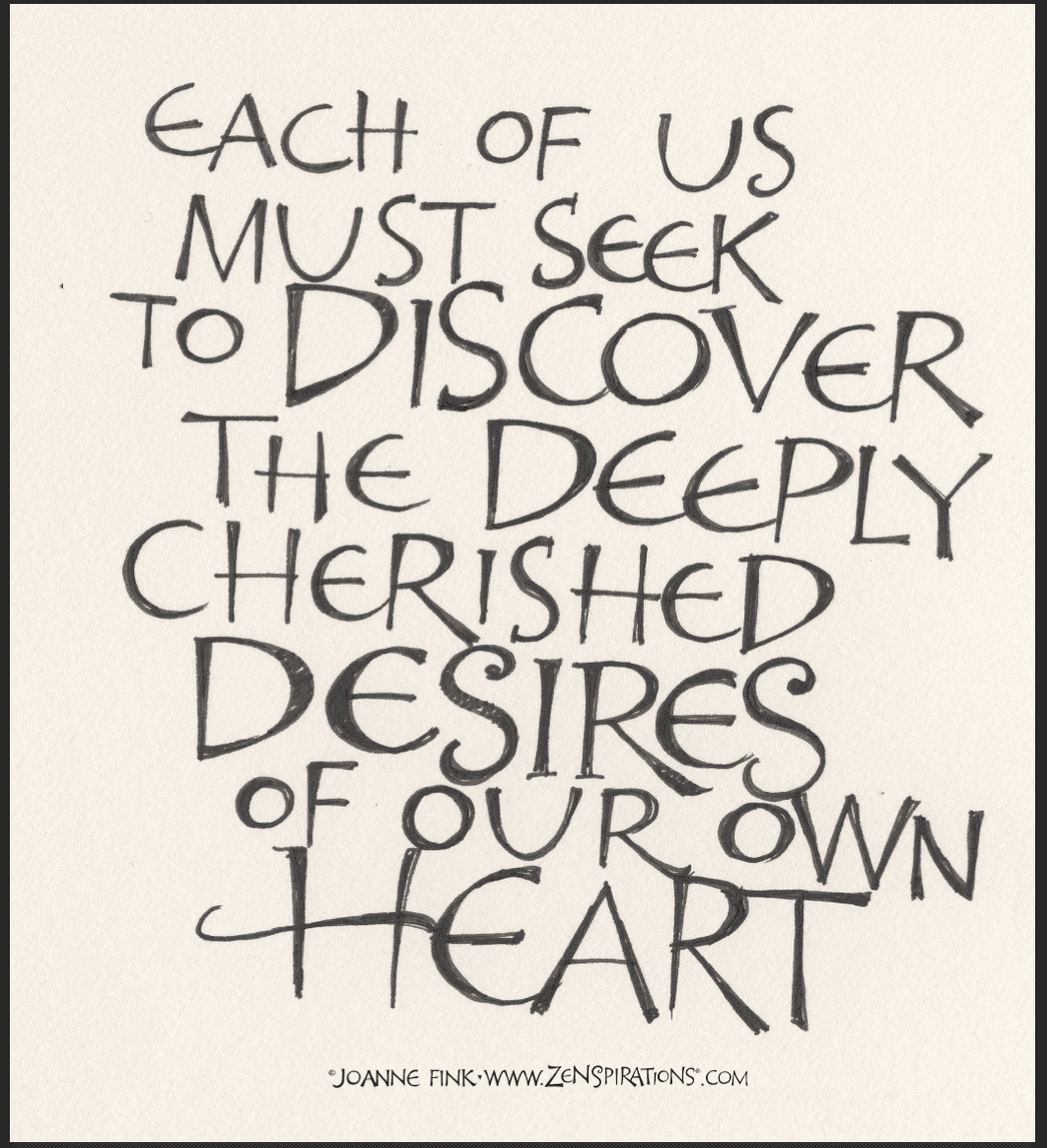 One way I try to do this is to Be Still and listen. It's in the silence that clarity emerges.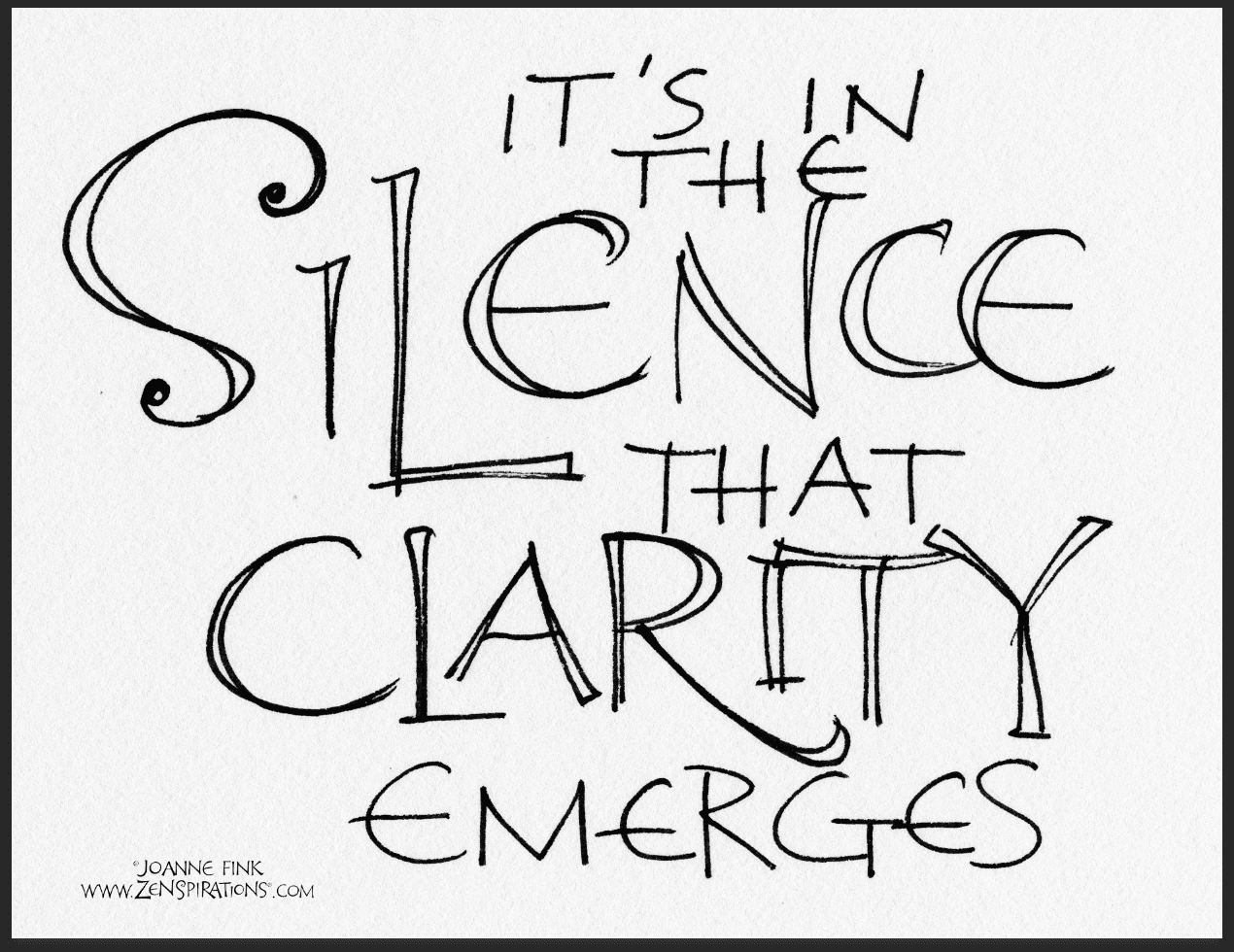 Another way is through my meditative journaling practice. I try to begin every day by reading something inspiring, and then putting pen to paper. This is one of the pages which resulted from my morning journaling ritual: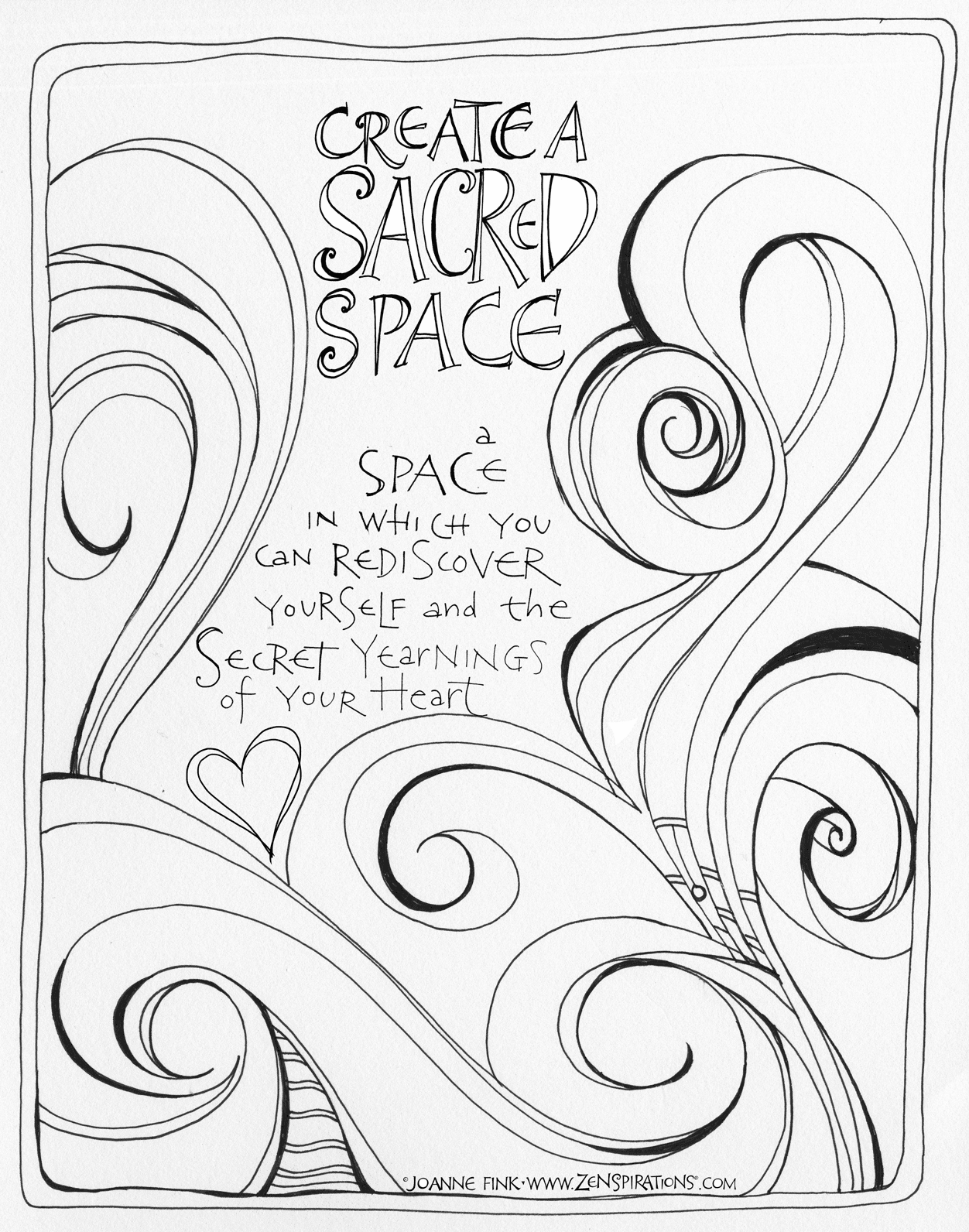 When I reread this page, with the text "Create a Sacred Space– a space in which you can rediscover yourself and the secret yearnings of your heart" our first word of the month became immediately obvious: discover.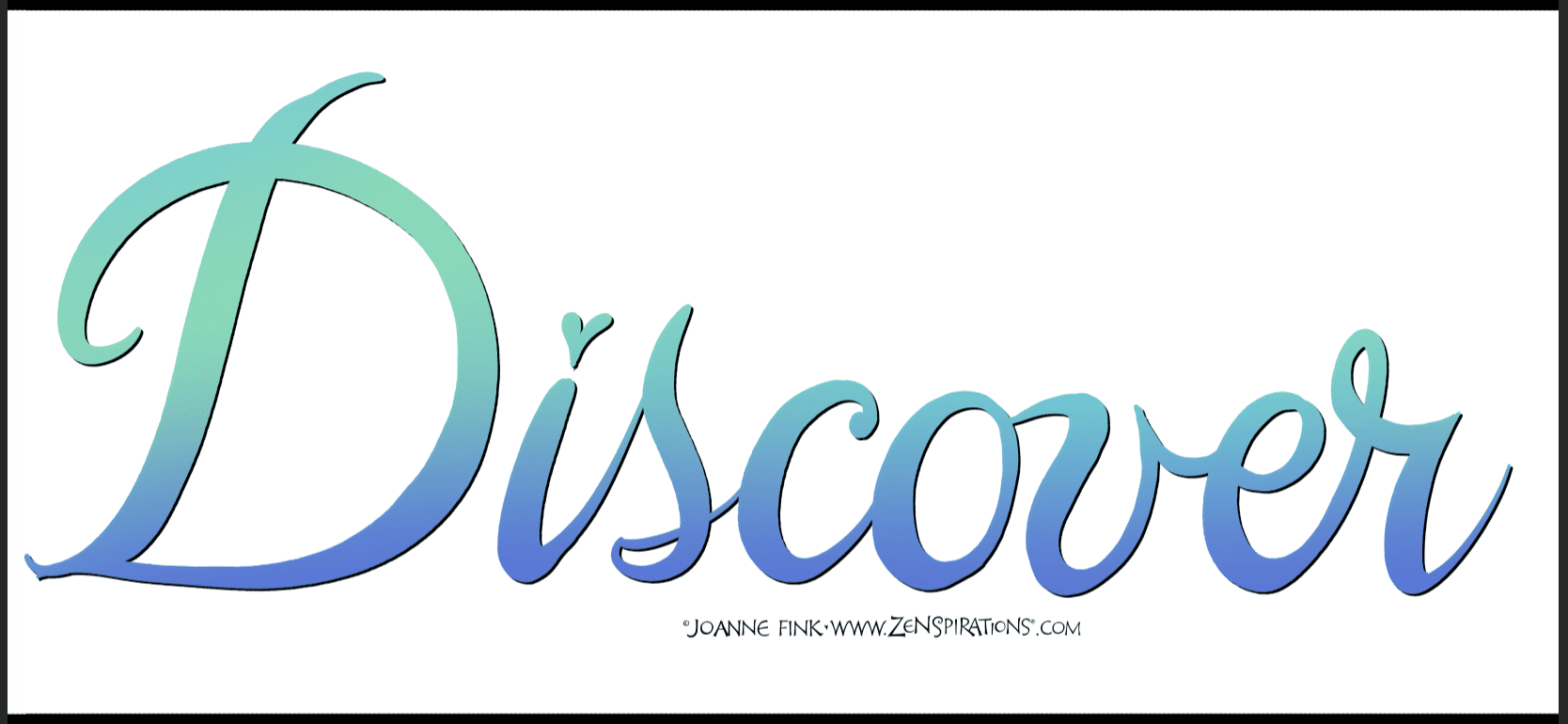 Once I had discovered our word, I tried to envision how everyone would use it. I came up with three different possible layouts, and would like to know which version most appeals to you.
The first is a freeform horizontal, with the word of the month outlined so you can add enhance it with color or patterns. There is a prompt in the top left corner, but no lines other than the design itself.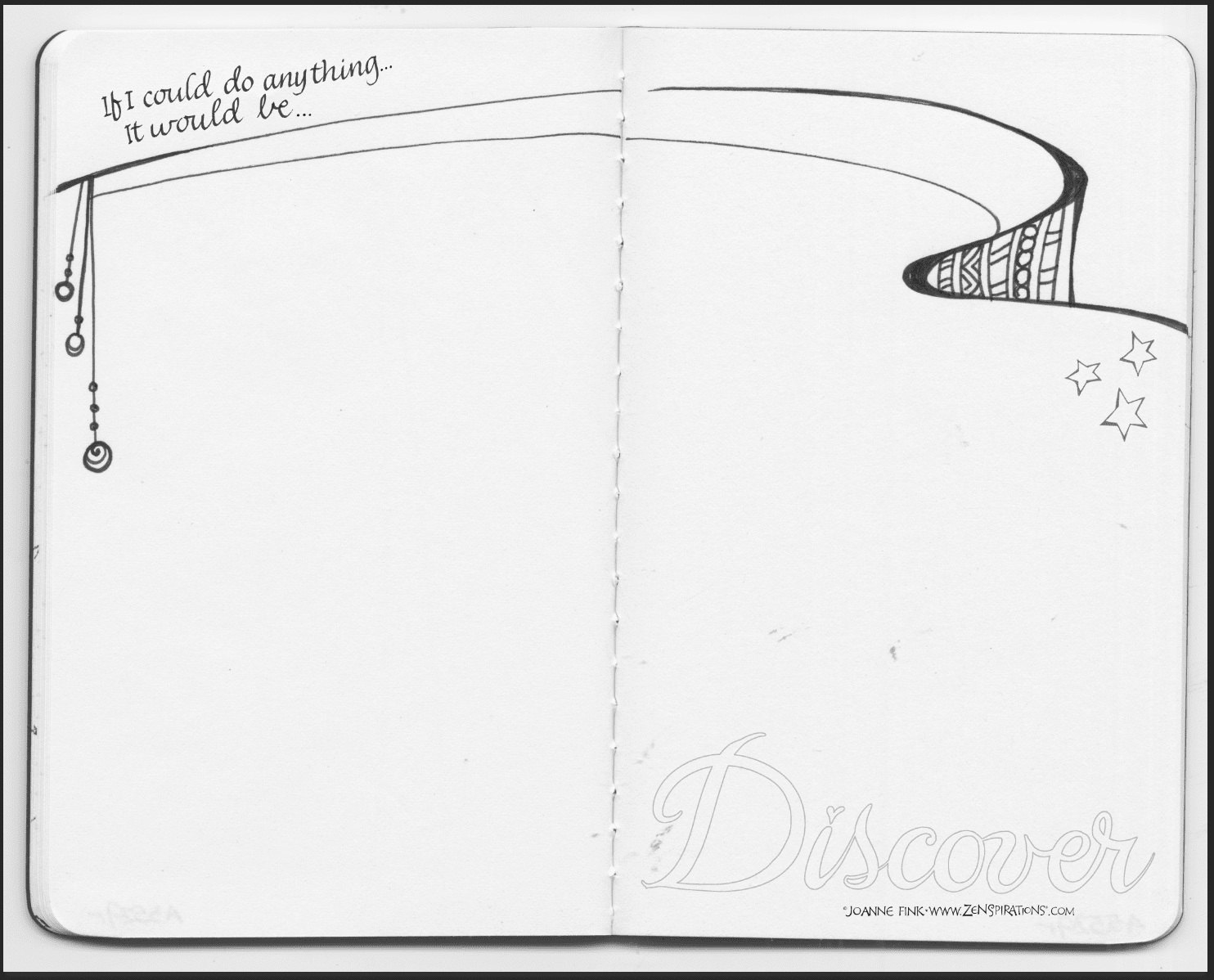 The second and third options are both vertical. The one on the left below has the prompt inside the same sort of banner we used on last year's Zenspirations® Coloring Calendar. It has lines, and space to add the month in the banner, and the word of the month underneath the banner. The one on the right includes the month, and the word of the month in color at the top of the page, along with numbered lines for every day of the month. You could use this format in different ways; for example you could write one thing you are grateful for each day, or list the discoveries you make in January.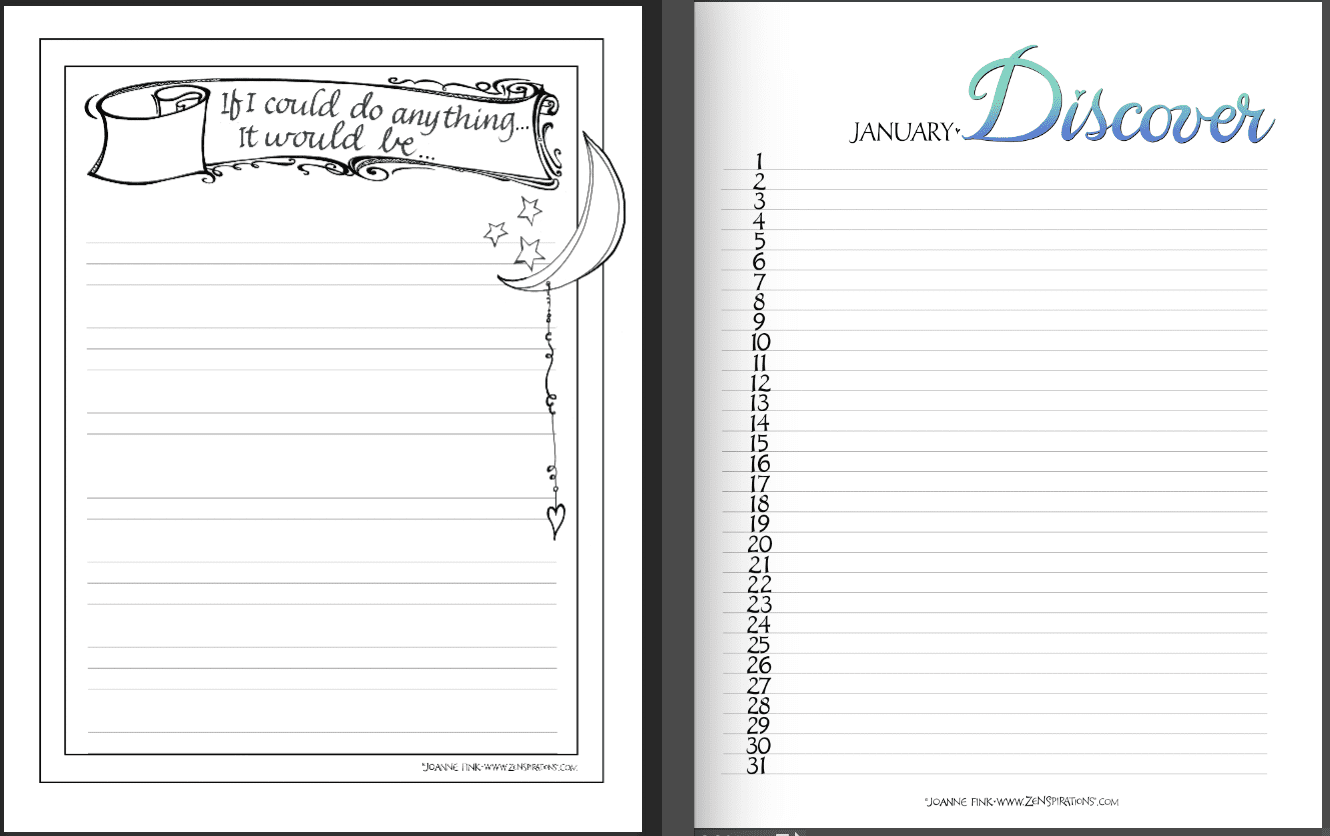 There are advantages to each of these formats– which do you like best? PLEASE VOTE FOR YOUR FAVORITE FORMAT! I think a lot of people were away for the holidays because we only had twenty comments on last week's blog. In order to get a consensus, I'm hoping we'll hear from a lot more of our community about this. The prize? I'll do the designs in the format the most people like the best. Which style can you envision yourself using? Please leave a comment to let me know… your opinion matters!
Before closing tonight, I wanted to share my 2018 Alphabet of Word Wishes, which is my gift to you.
In case the text is too small for you to read on your mobile devise, it says:
May 2018 be a Year filled with:
Awakening & Appreciation
Balance & Blessings
Clarity & Connection
Discovery & Devotion
Encouragement & Equality
Faith & Fulfillment
Grace & Gratitude
Hope & Healing
Inspiration & Insight
Joy & Justice
Kindness & Knowledge
Listening & Leadership
Mindfulness & Manifestation
Nourishment & Niceness
Opportunity & Originality
Prayer & Practice
Quiet & Quality
Resilience & Reverence
Sustenance & Sharing
Trust & Transformation
Understanding & Unity
Vision & Validation
Warmth & Wonder
X-ploration & X-cellence
Yield & Yearning 
Zest & Zenspiration
Wishing you and your loved ones a wonderful 2018!
Stay Zenspired,
Joanne