The Bible Journaling Jumpstart Challenge!
Tuesday, February 6, 2018
Hi Everyone,
This year on February 14th, in addition to celebrating Valentine's Day, I'll be celebrating the first anniversary of my book, Complete Guide to Bible Journaling: Creative Techniques to Express Your Faith. Some of you know that six months after the book was published I launched a companion website, www.BibleJournalingJumpstart.com, to share information about this exciting new art form. If you visit the website be sure to check out the featured artist section of the Gallery, where we highlight a different Bible Journaling Artist each month, and the FREE DOWNLOADS section for designs that you can print out and embellish. Here's are some of the images in the free downloads section: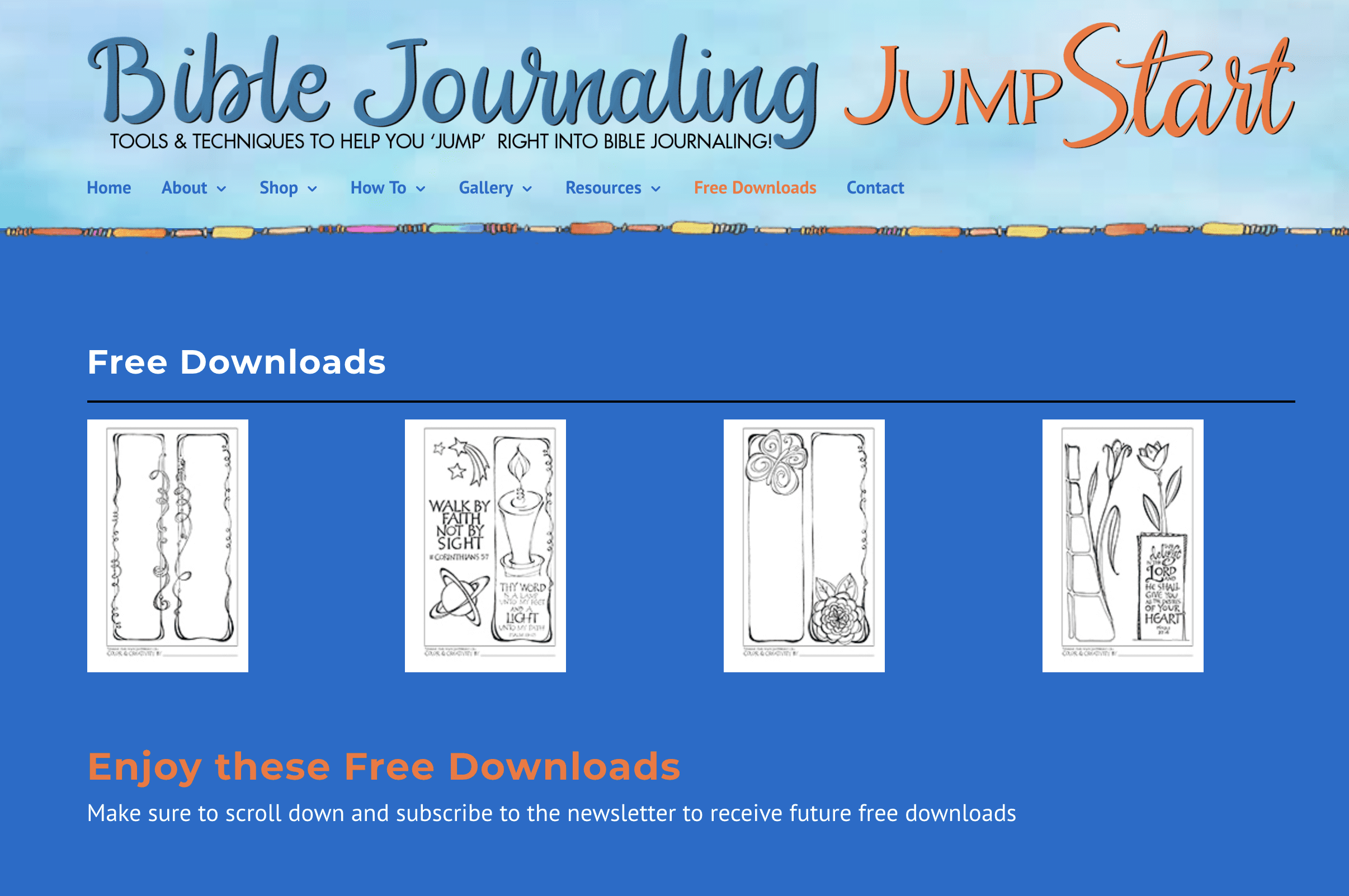 I also started a Bible Journaling Jumpstart Facebook Group,  where people can share their Bible Journaling Art, ask questions, and learn from one another. I've been delighted by all the interest in the group– it's grown to more than 1,400 members from 42 countries in the past few months!
To celebrate this growing community, as well as the book's upcoming anniversary, I am Challenging people to create a piece of Bible Journaling Art (inside or outside the Bible), and share it. You can post something you do in your regular journaling Bible or sketchbook, or use one of the FREE DOWNLOADS  to 'jumpstart' your design.
To encourage everyone to participate I am offering some cool prizes, valued at well more than $100! Here's a photo of what's included: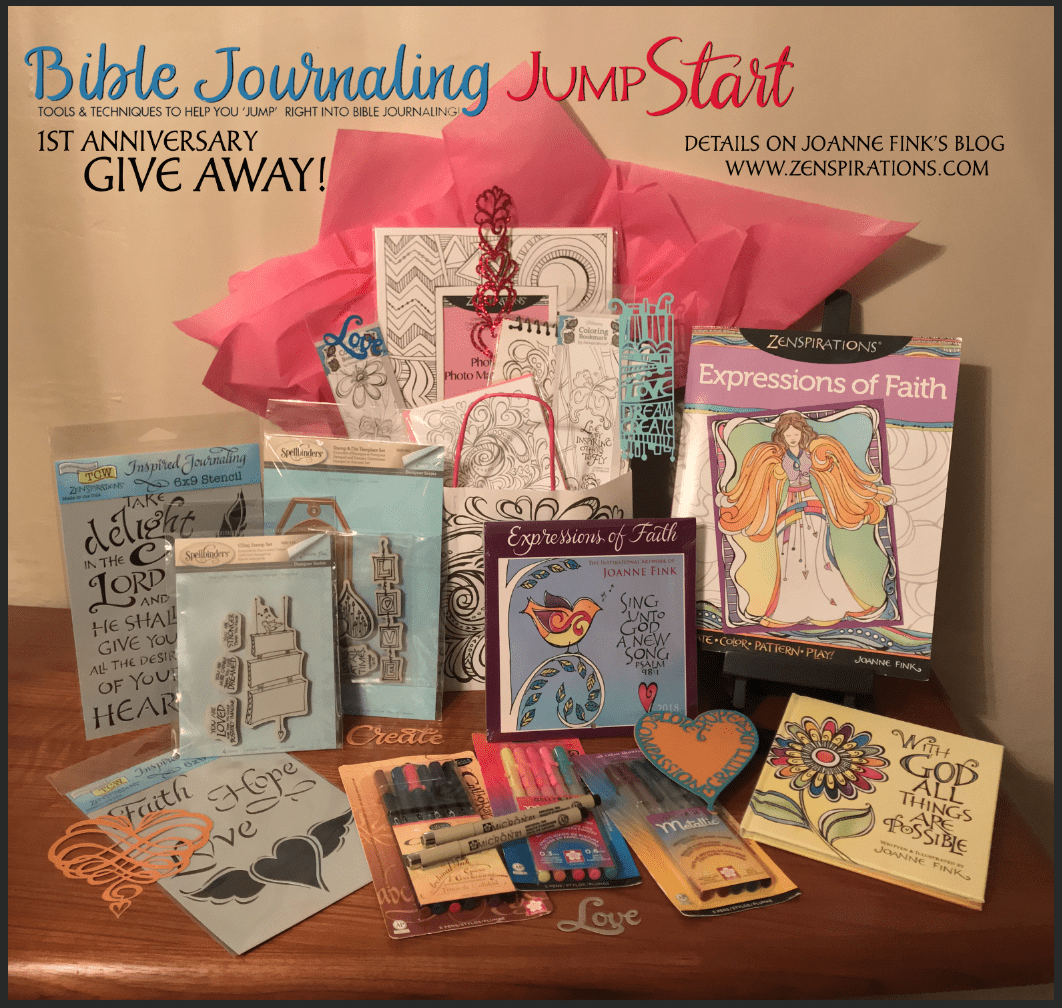 Here's the complete list:
A selection of Zenspirations® coloring products (gift bag, note pad, note cards, photo mat and two bookmarks)
Two of the Bible Journaling stencils I designed for The Crafter's Workshop (Delight in the Lord and Faith, Hope, Love)
Two of the Bible Journaling rubber stamps/die I designed for Spellbinders (A friend loves at all times and You are stronger than you know)
The 2018 Expressions of Faith mini calendar I designed for Sellers Publishing
Some of my favorite Sakura supplies (Gelly Roll® Moonlight® & Metallic pens, Pigma® Calligrapher and Micron pens)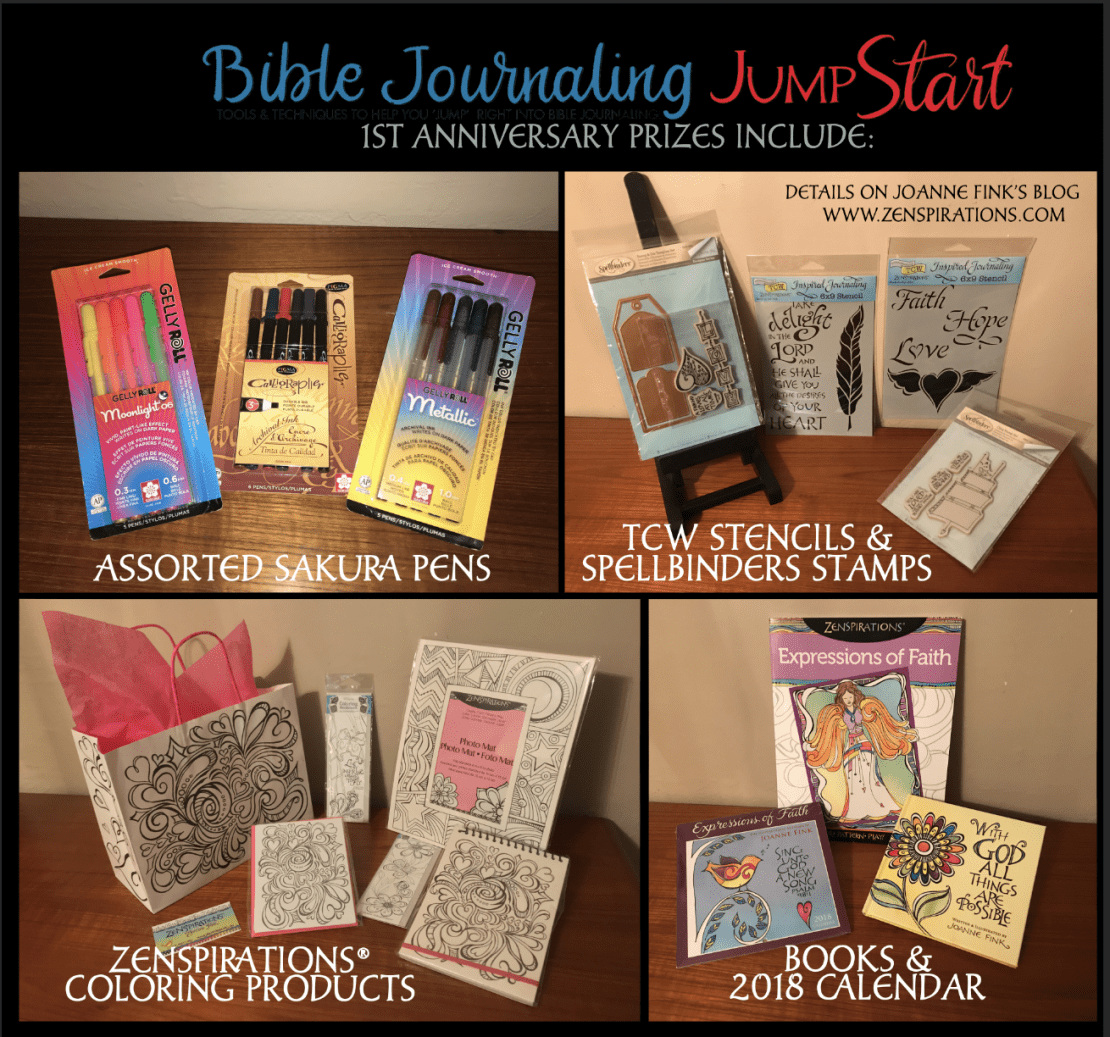 Plus several die-cut designs that I've made using my soon-to-be-launched line of Spellbinders® Dies:

Most of these products are available on Amazon, or in the Zenspirations webstore, and I will add the new dies as soon as they are available!
IMPORTANT INFORMATION:
The theme for this Challenge is LOVE. Post your entries in the Bible Journaling Jumpstart Facebook Group album by midnight, February 18th. Here is the cover photo for the album: 
Bible Journaling Jumpstart 1st Anniversary Celebration Gallery

Posted by Joanne Fink on Tuesday, February 6, 2018
In order to participate in the contest you must subscribe to the Zenspirations blog (not just read it). If you get an e-mail Tuesday mornings at 10:00 you have already subscribed. If not, you can subscribe by signing up on the home page of my website: www.zenspirations.com. 
VERY IMPORTANT: PUT YOUR NAME and e-mail address on each design before you post. The prize will be given to someone randomly selected from those who post their work IN THE ALBUM. I'm really excited to see what everyone does!
Before closing tonight, I wanted to share this year's Create, Color, Pattern, Play Valentine design:

Click the link below to download your FREE copy:
Zenspirations®_by_Joanne_Fink_Blog_HVD_2018_Coloring_Card
If you have some extra time this week, please consider making a card for a friend, family member, neighbor or co-worker who has experienced loss. Valentine's Day can be especially difficult for widows, divorcees and other people who are alone. A card, a flower, a phone call, even a FB message or Zenspirations® Care-Moji™ text could make a BIG difference to someone you know. Please reach out in love, and touch someone's heart. You'll be glad you did!
Stay Zenspired,
Joanne