Book Launch Celebration!
Tuesday, September 22, 2015
Hi Everyone,
I'm getting REALLY excited about my Book Launch Party on Sunday, and wanted to share the flyer I designed with you: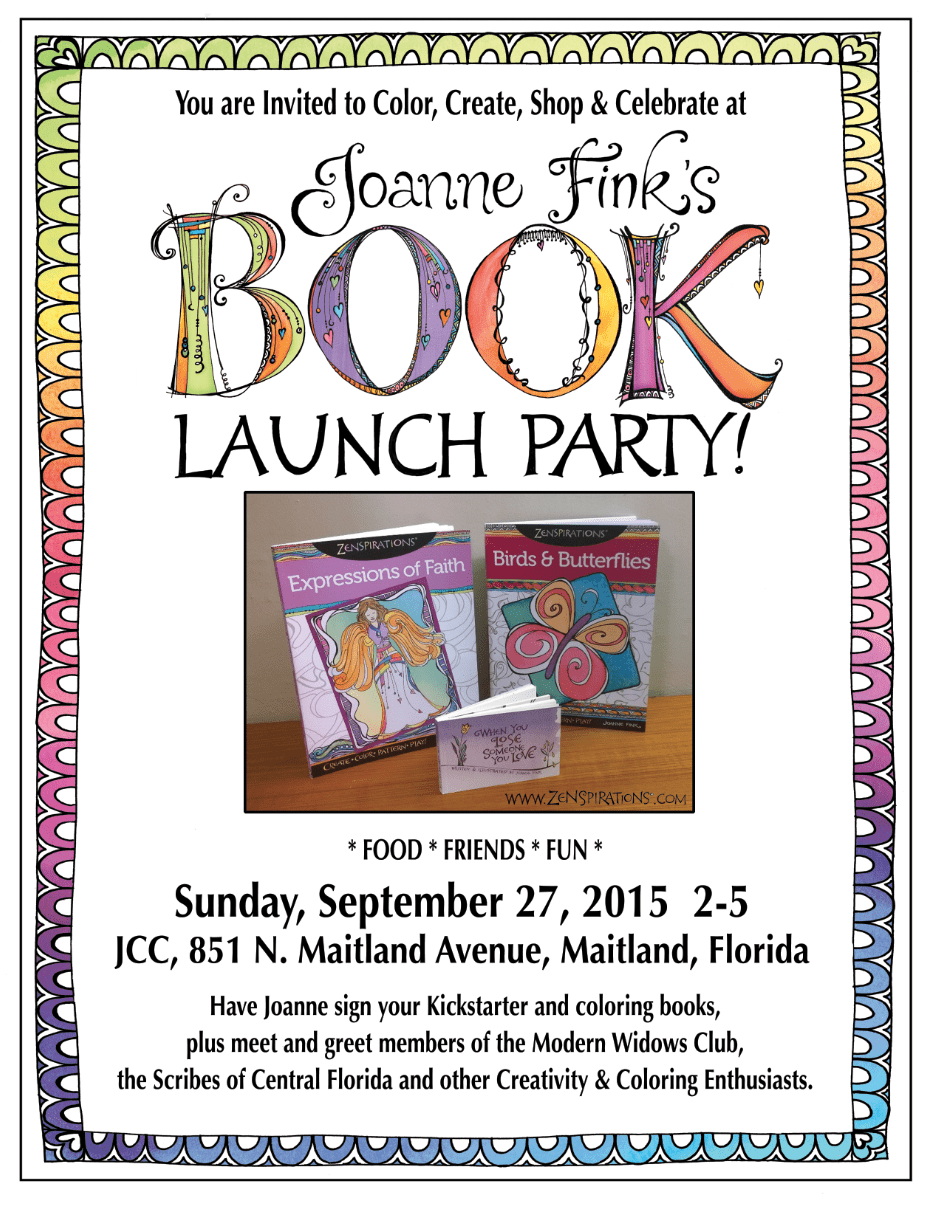 I've never been to a book launch party, much less hosted one before, but I think it will be really cool. I'm planning a bunch of different 'Stations', with all kinds of activities.
There will be Coloring Stations where people can 'Create, Color, Pattern & Play' with some of the pages from the new books, as well as try out different tools and materials.
Friends from my local calligraphy guild, Scribes of Central Florida, will be at a Calligraphy Station where anyone interested in lettering can chat with a calligrapher, and try out Sakura's new Pigma® Calligrapher® pens.
There will be a Crafting Station where some of my creative friends will take turns demo-ing their favorite crafts;
a Zenspirations® Create, Color, Pattern, Play Station where blog followers and members of the new FB group can hang out together,
a Kickstarter Station where local Kickstarter supporters can pick up their books,
a Shopping Station for those who want to buy books for themselves or to give as holiday gifts;
and a Signing Station where I'll be inscribing books.
I've also invited friends from the local chapter of the Modern Widows Club to host a Connection Station for people who are interested in information about the organization and/or grief support. MWC made a huge difference in my life after my husband died, and I believe in the work they do so strongly that I'm giving a small percentage of sales from When You Lose Someone You Love to MWC. I think it is important to give back, and I'm proud to support MWC in the important mentoring work it offers to widows around the world. If you or someone you know has recently lost a spouse, I'd highly recommend reaching out to MWC: www.modernwidowsclub.com. There are chapters across the US, but even if you don't live near a chapter, the on-line community support is phenomenal.
If you are driving distance from Orlando, I hope you'll come help me celebrate… and hang out with other Creativity Enthusiasts. I'm trying to get a rough head count, so if you plan to attend please leave a comment to let me know.
In addition to the Book Launch I have more news to share— my publisher asked if I could fit in one more book by the end of October, and although it's another CRAZY deadline, I said yes! It's to make a set of four faith-based books which will be distributed by one of my favorite gift companies… so I'm really excited about it. The working title is L'Chaim: Celebrate Life; Judaic Expressions, and I'm hoping that some of you will help me create inspiration samples for the newest addition to the series. Since the contest we did last time seemed to be a lot of fun, and garnered lots of amazing inspiration samples, we'll do another contest for this book.
Below are five designs for you to download, print, color & create. I have set up albums in our new Facebook Group where you can share your interpretation of the designs. You'll have to join the group in order to post, and it sometimes takes me 24 + hours to respond to requests to join the group, so if you plan to submit and aren't a member yet, please join the group now, and then you'll be able to post your designs when you finish them. Here is the link: 
https://www.facebook.com/groups/1471158256528576/
CONTEST RULES:
For every design you post (and yes, you may post more than one version of the same page), your name will be entered into a random drawing for one of the following prizes:

1. A set of the new Zenspirations® Create, Color, Pattern, Play books: Birds & Butterflies, Expressions of Faith, the mini "Perfectly Portable Pages" Expressions of Faith, and the new Judaic Expressions.
2.  A set of the first three Zenspirations® Create, Color, Pattern, Play books: Flowers, Inspirations and Abstract:
3. A signed copy of my new Kickstarter book, When You Lose Someone You Love.
If you post two designs, you'll have two chances to win; if you post five designs, you'll have five chances to win. The prizes winners will be selected at random; the pieces to include in the new book will be selected by my editor and me.