A Delightful Day!
Tuesday, April 12, 2016
Hi Everyone,
I got samples of my new book, Expressions of Nature, today! It's the ninth in the Create, Color, Pattern, Play series, and I think it's my best work yet.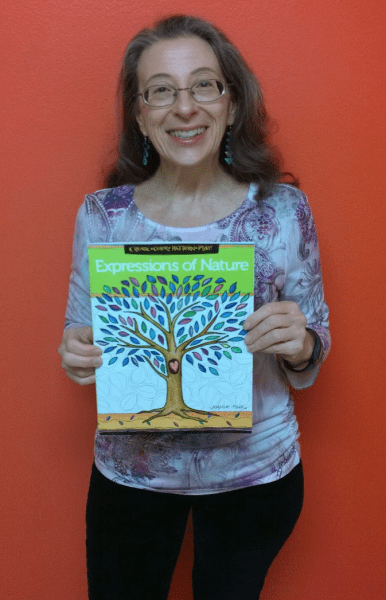 I dedicated the book to "the talented artists worldwide who use my images as springboards for their own creative designs. It is an honor and a a pleasure to collaborate with you! My deepest appreciation to the community of Color & Creativity Enthusiasts in the Zenspirations® Create, Color, Pattern, Play Facebook group for your enthusiasm, creativity and kindheartedness."
I am thrilled to feature inspiration samples from 24 artists in seven countries in the book.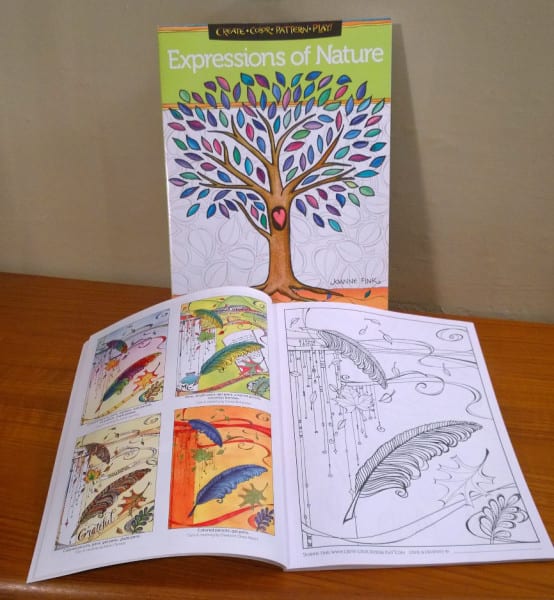 The inspiration samples of the feather design were created by Karen Logeman (top left); Genna Wangsness (top right); Alison Clement (bottom left) and Cheetarah Cheda-Niezen (bottom right). I know that the different interpretations will spark a lot of experimentation, and I can't wait to see how other artists interpret these designs.
Expressions of Nature is available on Amazon, but if you'd like a signed and personalized copy you can order it on my website. To celebrate the launch of the new book, I will personalize the first 25 copies that are ordered this month. Please include the name and favorite color of the person I'll be inscribing the book for in the 'order notes' section. Going back to Amazon for a moment, I have a favor to ask… I recently learned that the more reviews a book has the more often Amazon shows it. If you have any of my books– especially if you ordered them from Amazon (and can be listed as an 'Amazon verified purchase) I would greatly appreciate your taking a few minutes to write a review. It doesn't have to be long… in fact, only a few words are fine. In addition to the new book, I'd especially appreciate reviews on Birds & Butterflies, Color Peace and Flowers of Faith. Thank you in advance for your help!
For Zenspirations® fans from outside the USA, I'm not sure when you'll be able to get the new book, but I did want to let you know that some of my older books have been translated into other languages, including French, Spanish, German, Korean and Chinese. Here is a photo of some of the foreign editions of my first Zenspirations book, Letters & Patterning. I'll let you know when the other titles are available.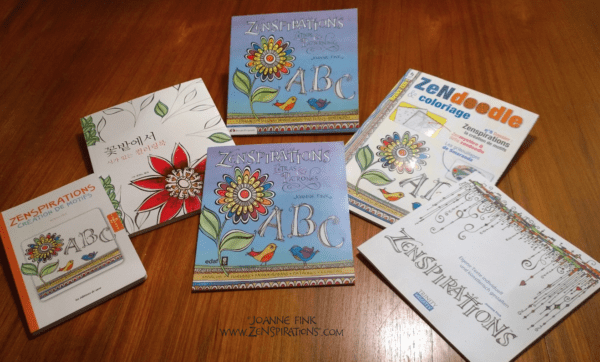 Tonight I'd like to share some variations and color experiments of the tree design I used on the cover of Expressions of Nature. This is the original piece that I based the cover art on: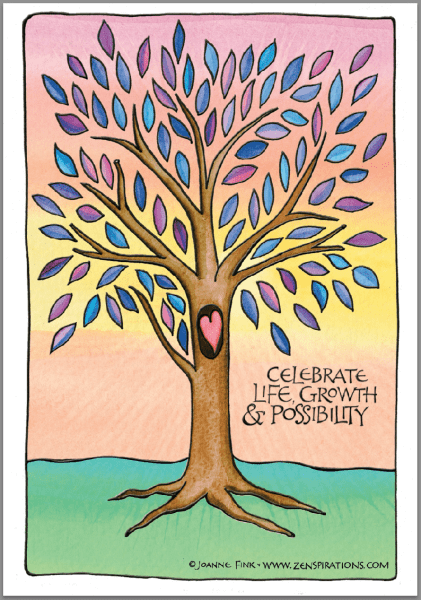 Since it was narrower than I wanted for the cover, I redrew the tree, making the leaves wider, closer together and more plentiful.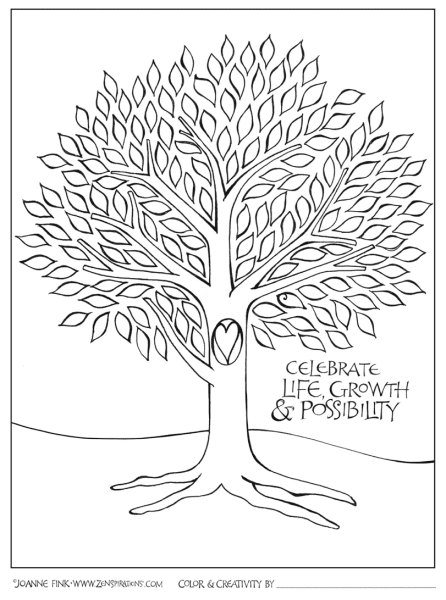 I also looked at it as a silhouette to make sure that I liked the basic shape: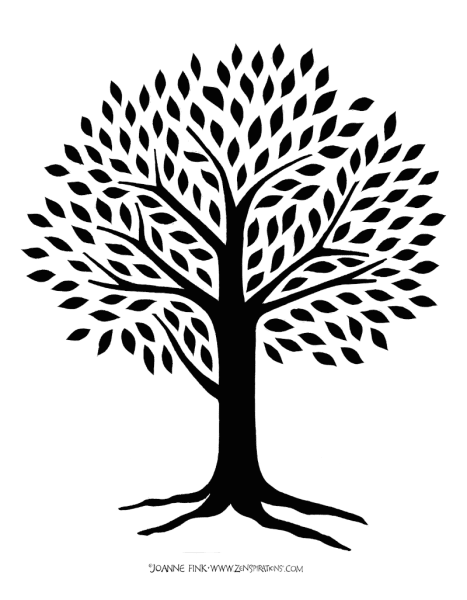 Then I had some fun experimenting. I took the silhouette shape and 'cut' it out of a watercolor background that I created using a sea sponge: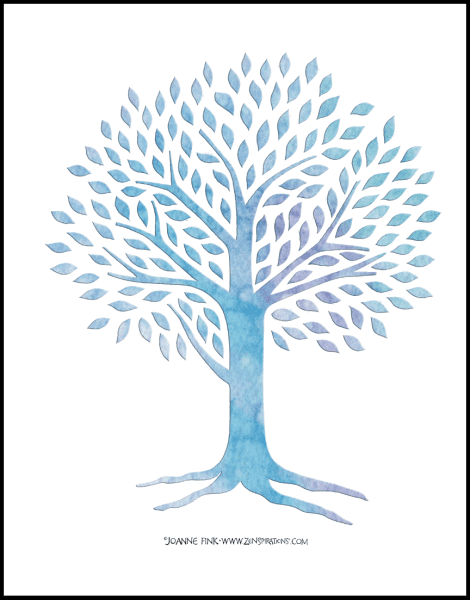 Here is a close up of the background: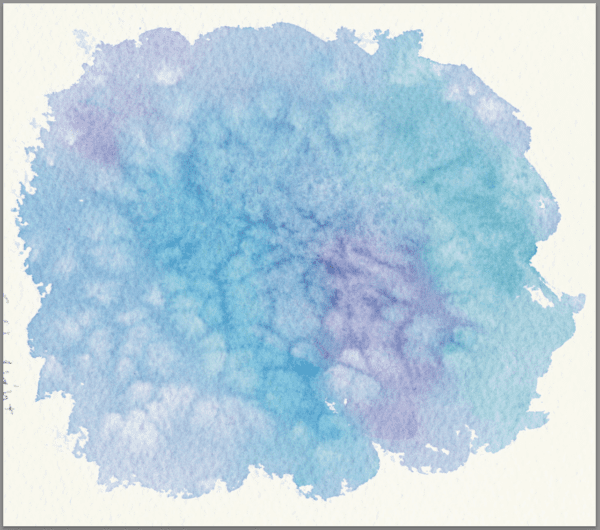 And here is how I used the background behind the tree silhouette to add texture and interest.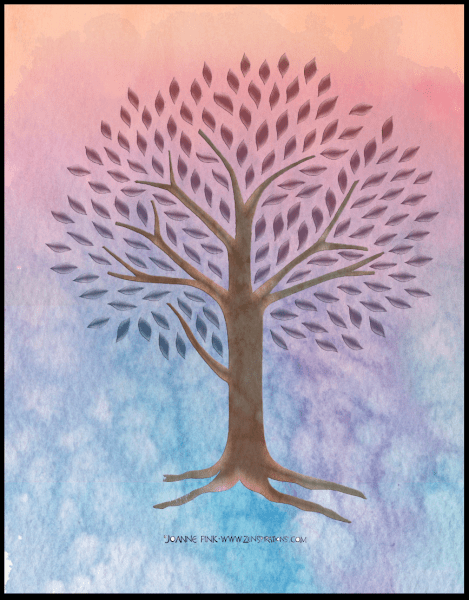 Next I experimented with a simpler background wash: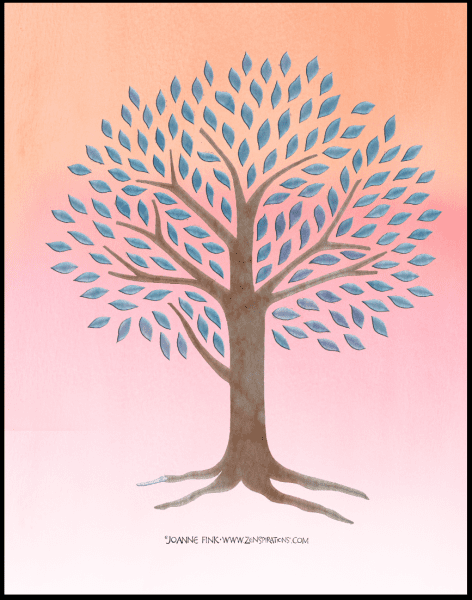 And came to the conclusion that the tree would stand out better on a white background: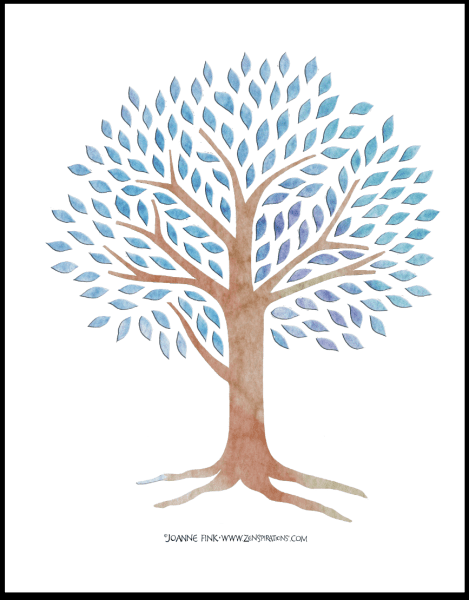 I encourage you to do your own experiments… and, if you are happy with the results, to share them in the FB group.
Before closing I wanted to share a piece I did a few years ago: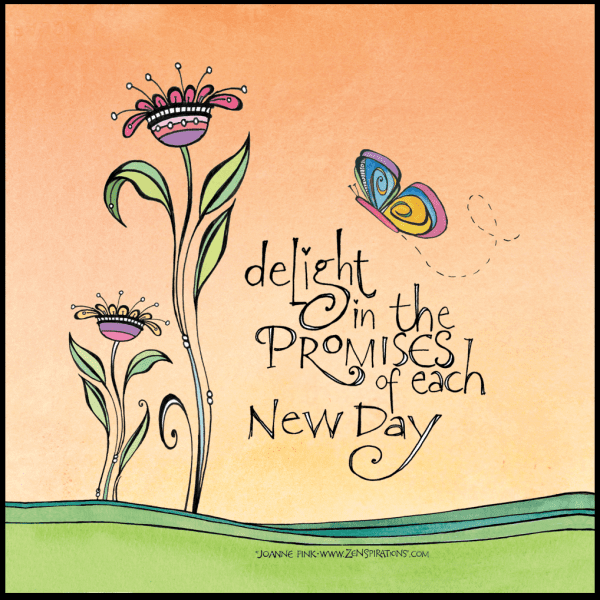 May you find joy in and on your journey this week.
Stay Zenspired,
Joanne