Celebrate Life!
Tuesday, April 18, 2017
Hi Everyone,
Since its inception on April 22, 1970, when 20 million Americans joined forces to raise awareness about environmental issues, Earth Day has helped create a global community of people dedicated to protecting our natural resources.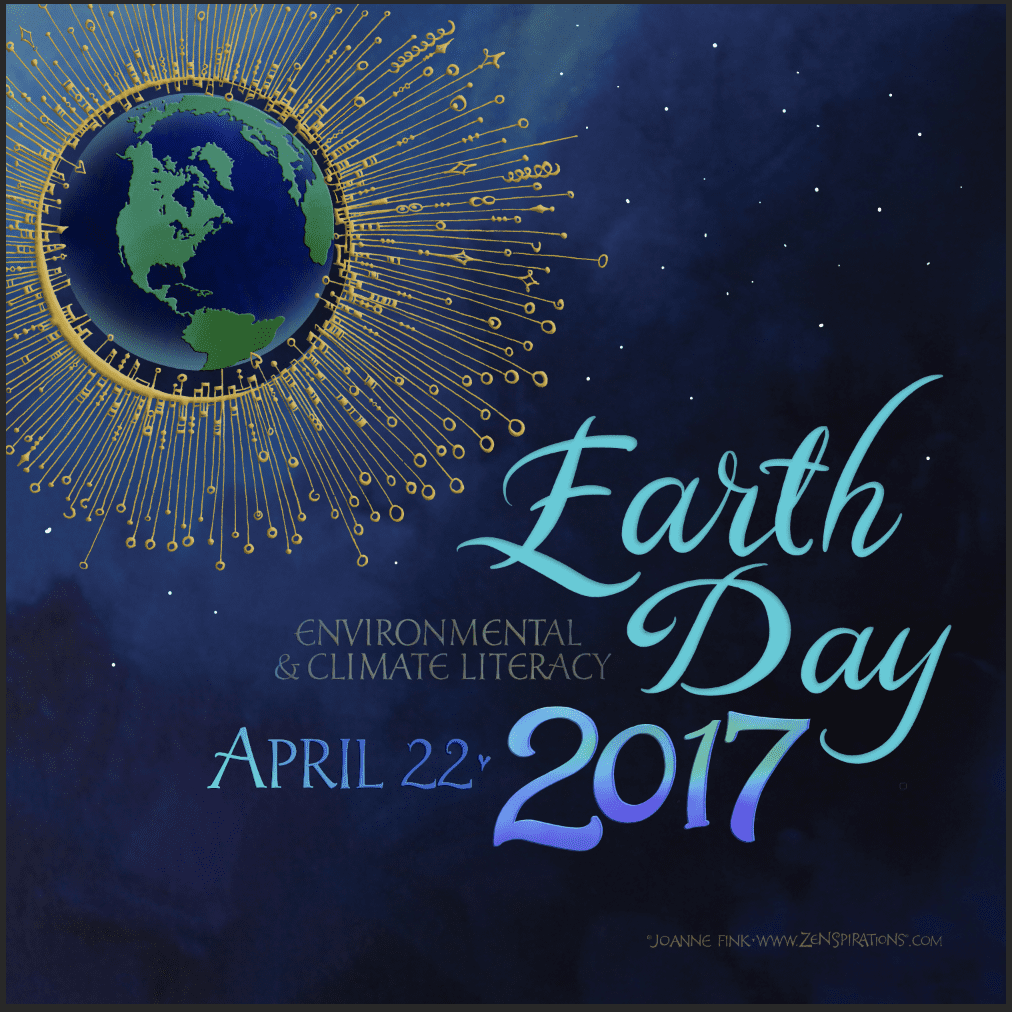 The theme for Earth Day 2017 is Environmental & Climate Literacy, and I invite you to join me in spending time this week learning more about this important subject. There are resources at http://www.earthday.org/.
One of the 2016 Earth Day initiatives was reforestation, with the ambitious goal to inspire the planting of 7.8 billion trees worldwide by 2020—one for every person projected to be on Earth. This goal really resonates with me because I love trees. I see God's creative force in every leaf, every root, every bark-covered trunk. I especially love to draw trees, and often photograph interesting ones to add to my 'inspiration' file. I look at every tree as a tangible symbol of the miracle of nature, and therefore a cause for celebration. Last week I shared a few versions of the 'Rainbow Tree' design I've been working on. Here's another one: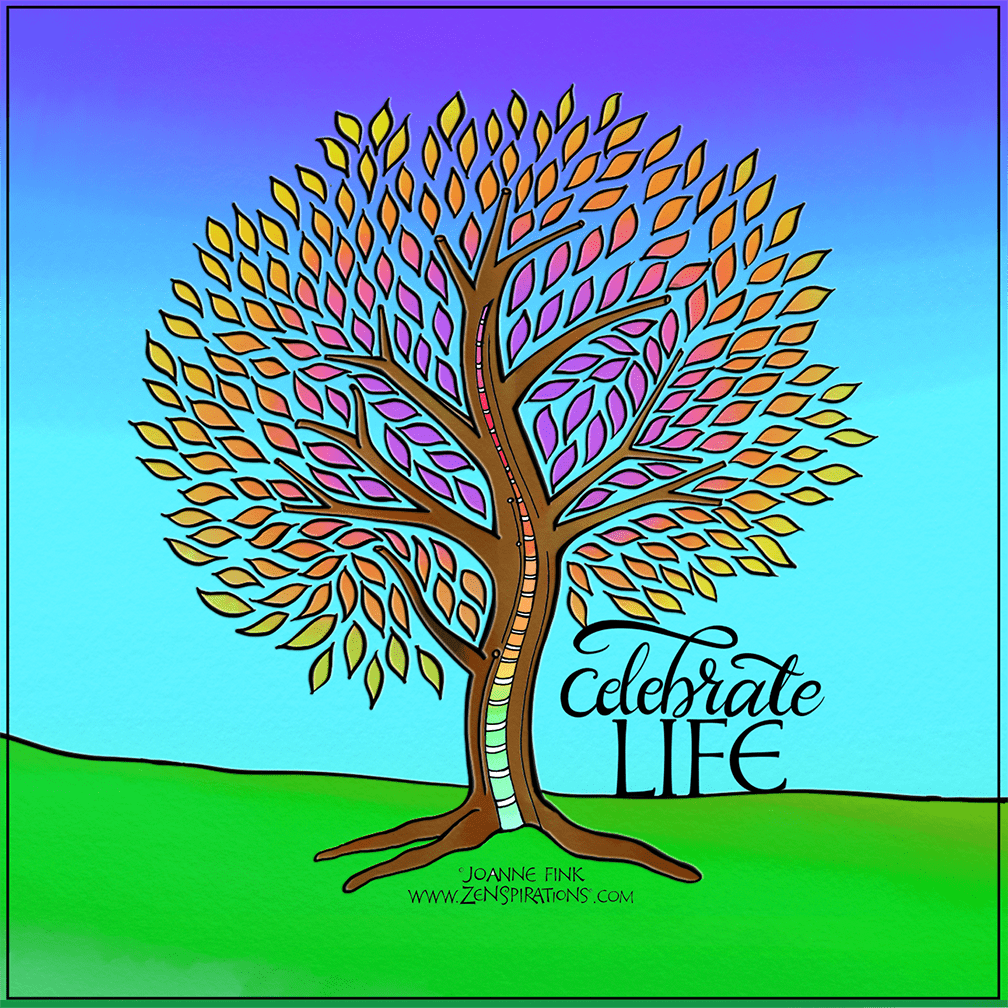 In honor of Earth Day, and in response to a comment Victoria left on last week's blog, I created a card for you to color and embellish: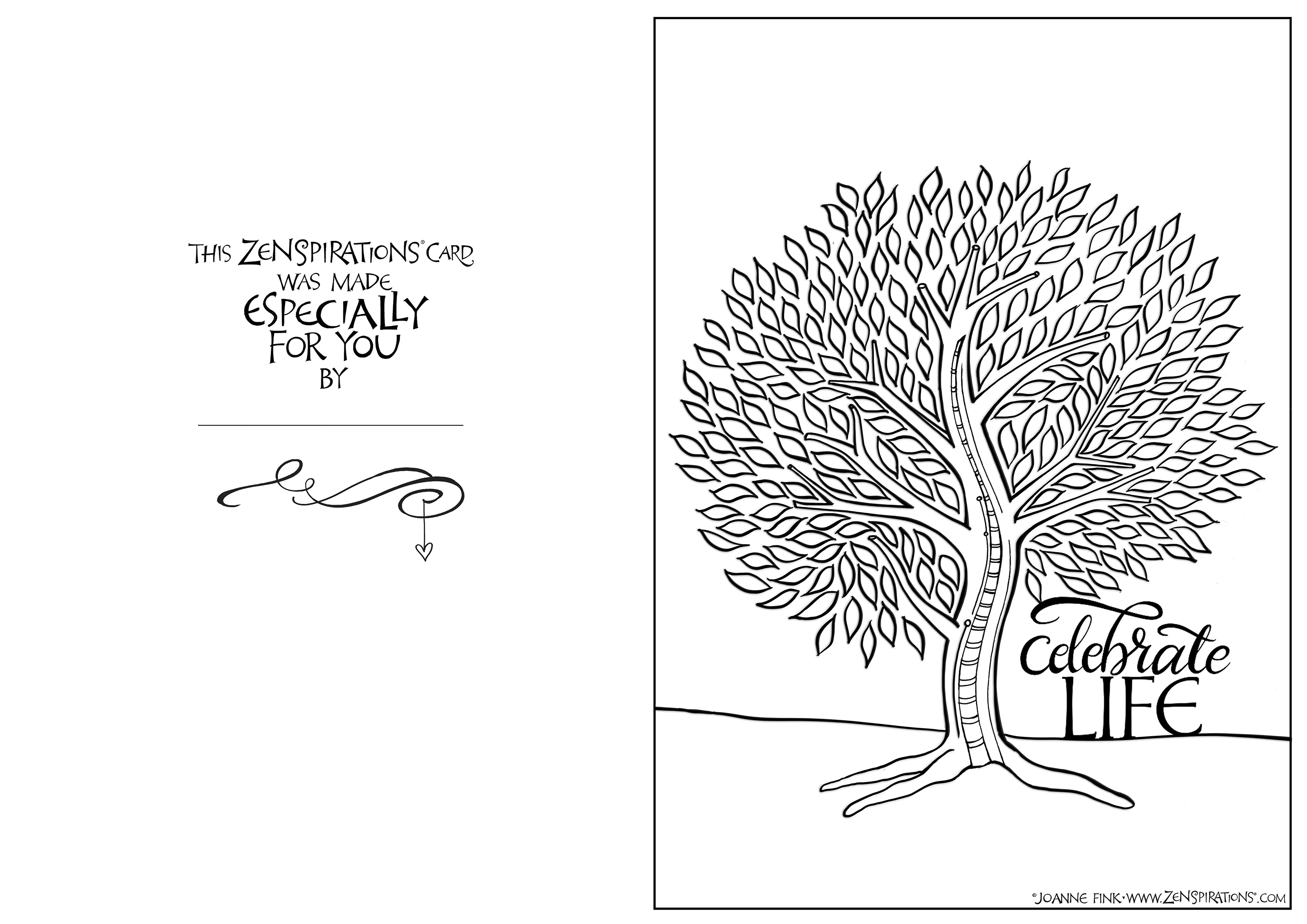 Click below to download your FREE Celebrate Life card.
Zenspirations®_by_Joanne_Fink_Celebrate_Life_Greeting_Card_FREE_Download
Please post what you do in the Celebrate Life folder I've created in our Zenspirations Create, Color, Pattern, Play Facebook Group.
Sunday is the third Anniversary of the when I started the weekly Zenspirations blog, and several people suggested that having a Give Away would be a fun way to celebrate, so I'm thinking about focusing the Give Away on some of my new Zenspirations products. Some are so new that I don't even have them yet, but they should be in the Zenspirations shop by the beginning of May. The new lines were designed for three of my favorite manufacturers, Strathmore, Spellbinders and The Crafter's Workshop. Click the links below to get a sneak peek at the new products, or wait until next week and I should have photos to share.
Strathmore's Zenspirations Designs for Watercoloring
Spellbinders line of Bible Journaling rubber-stamps and dies
Inspired Journaling stencils for The Crafter's Workshop 
There will be some extra 'goodies' in the Give Away, including signed copies of some of my books, as well as some of my favorite Sakura supplies, so stay tuned!
Last week my daughter and I went to Colorado to look at her first choice of grad schools: University of Northern Colorado. Sam documented the trip, and posted a few photos that I thought I'd share. After we visited the school, we of course had to visit the town, where I headed right for one of my favorite stores: Michaels! The line of coloring products I designed for the 1st quarter bin program was on clearance, so I couldn't resist seeing what they had left. Almost everything except the gift bags and gift wrap had been sold.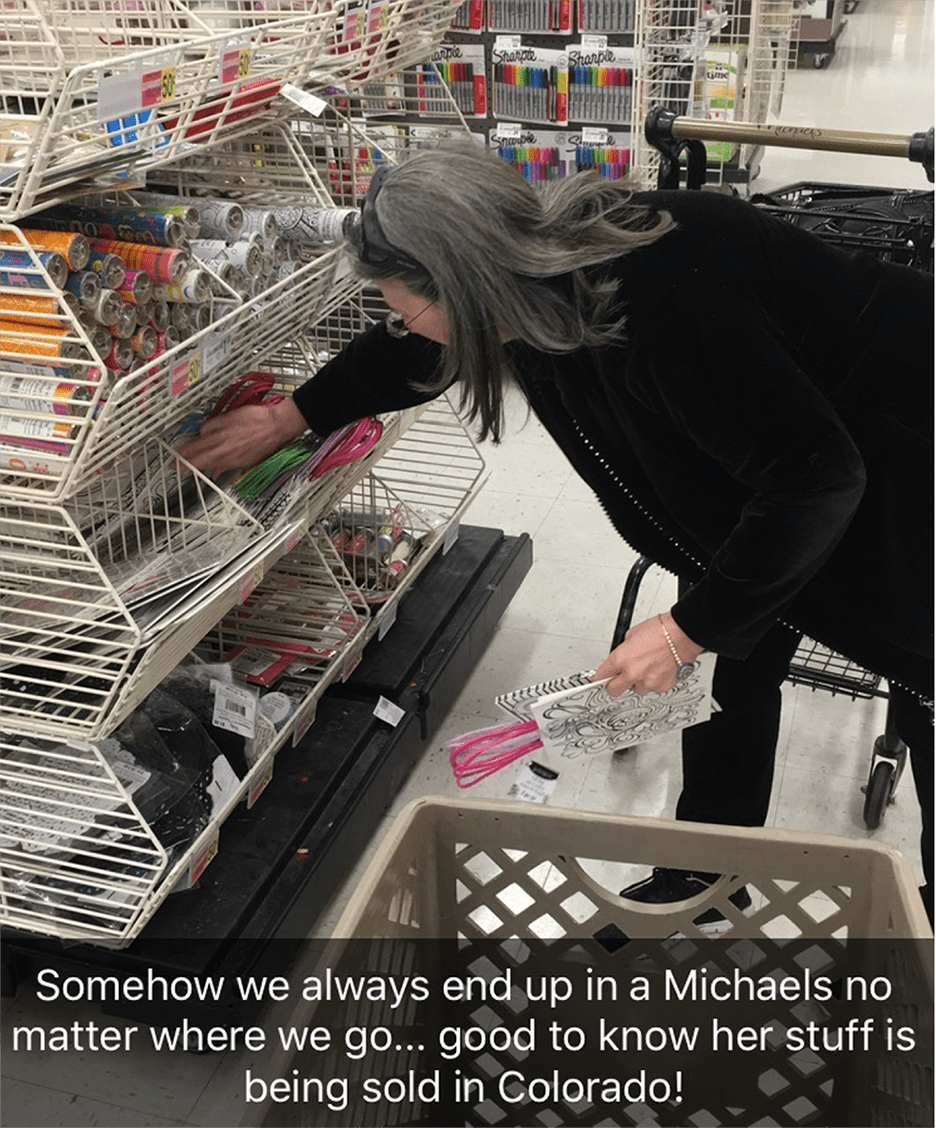 I was delighted to discover that Michaels still carries the first Zenspirations book I wrote, Zenspirations Letters & Patterning!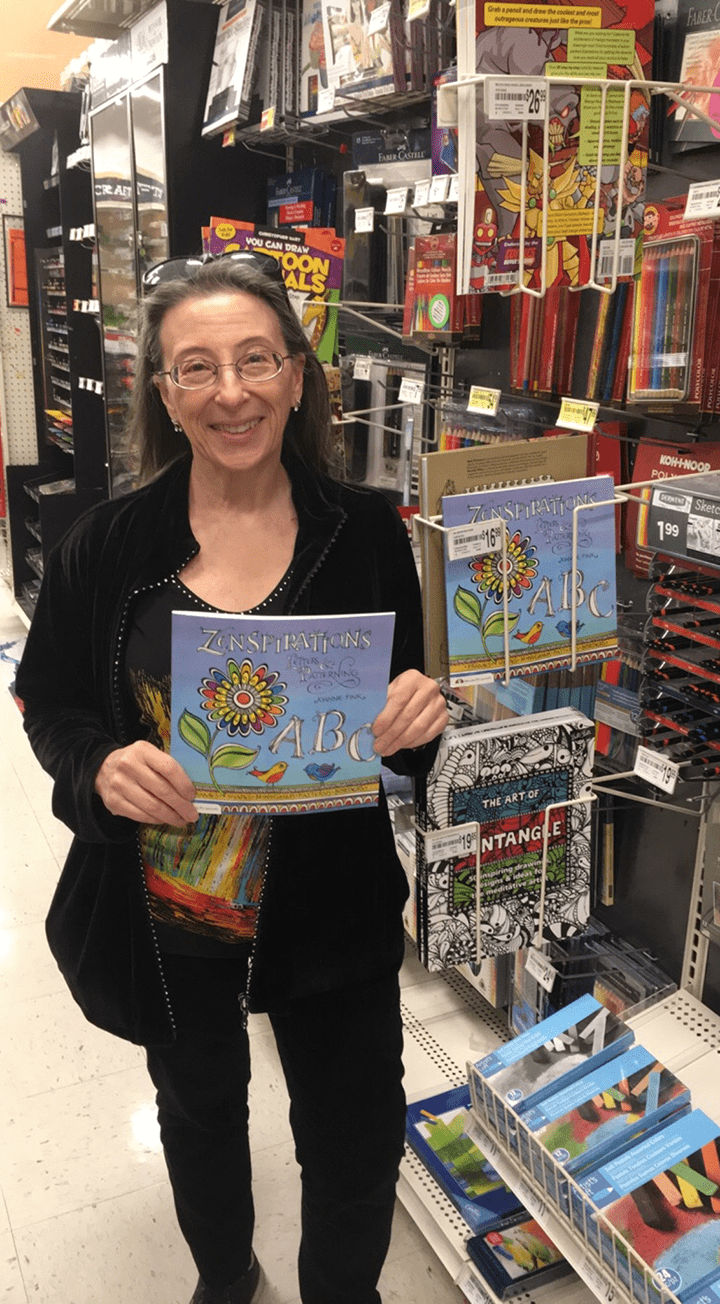 In addition to visiting Sam's new school, we took a side-trip to Boulder to visit my friends at Leanin' Tree. I really enjoyed seeing the Leanin' Tree museum (which is sadly closing this summer), and especially liked the sculpture garden.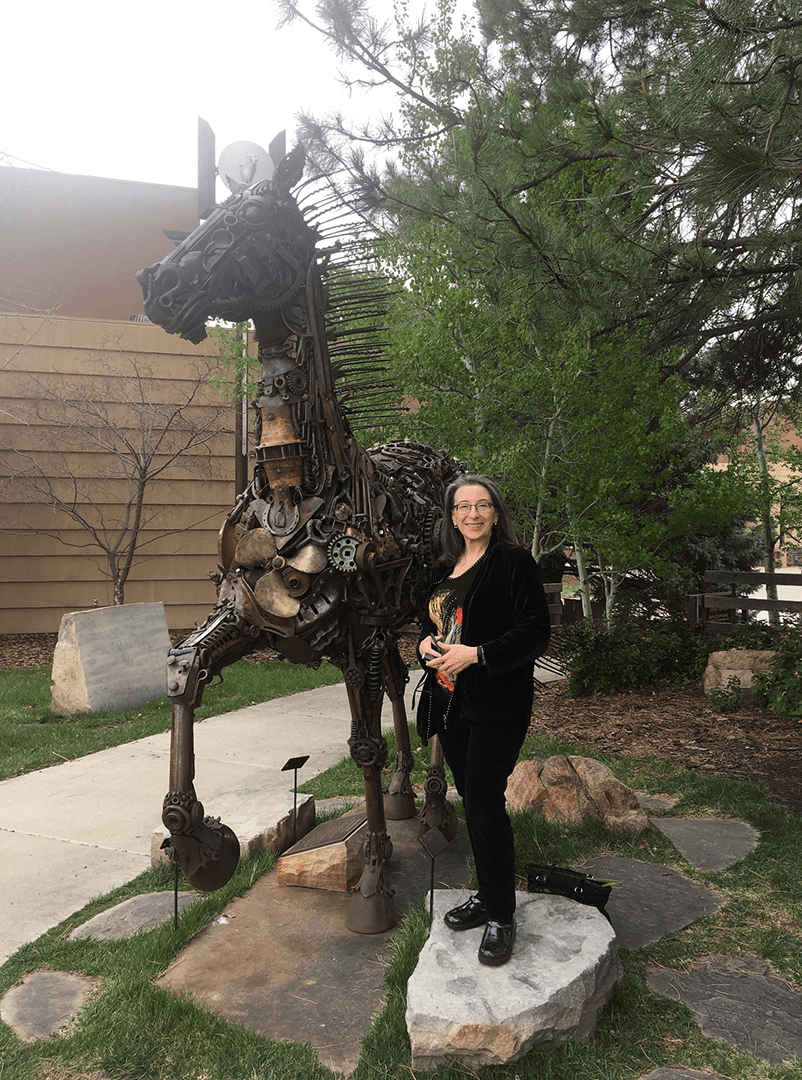 One of the highlights of the trip was getting to visit with my good friend Cherish Flieder, who met us for the museum tour. Here's a photo of Cherish, Sam and me at the entrance to the museum.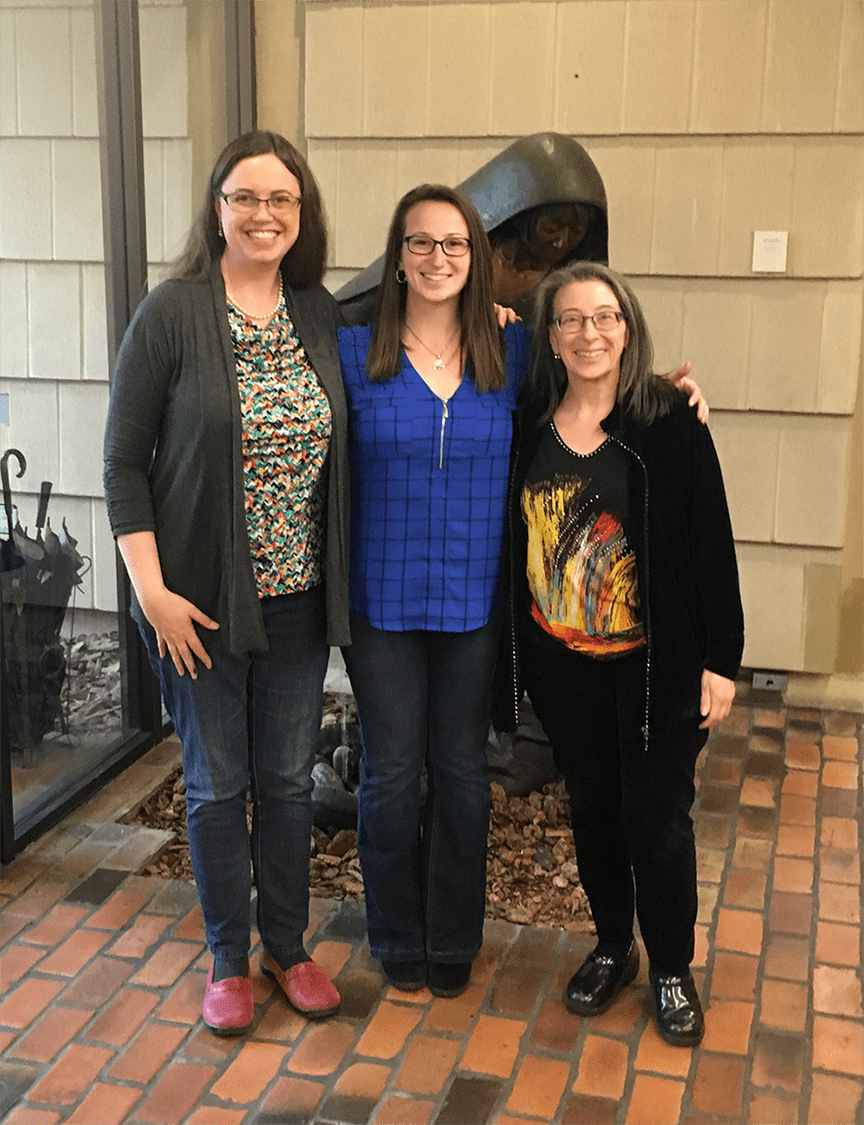 This week I'm heading to Philadelphia to look at schools with my son… It's hard to travel when you are a single mom, so I haven't been able to give many workshops over the past five years… but since both of my children are graduating in May, and I'll be an empty nester in September, I'm starting to book workshops for 2018 and 2019. Please let me know if you'd be interested in having a Zenspirations workshop in your town.
Before closing tonight, I wanted to let you know that we will be having our first-ever Zenspirations video conferences next week! Session one will be on Wednesday, April 26th at 3:30pm Eastern time, and Session two will be on Sunday, April 30th at 7:00pm Eastern time. Please mark your calendars, and leave a comment saying which one you'd prefer to attend. We can have up to 50 people on the call (10 video spots, 40 audio spots), so if we don't get 50 RSVPs, and you'd like to participate in both, you are welcome to do so. I'm sure we'll have a bunch of kinks to work out, but I'm REALLY looking forward to visiting with everyone, so I hope you can join us. I'll post details about how to log-in to the call in next week's blog.
Stay Zenspired,
Joanne