Celebration Journaling
Tuesday, March 24, 2015
Hi Everyone,
I really appreciate the enthusiastic response to last week's blog "Joanne's Journals". For those of you who inquired about the Moleskin journal with the pre-printed boxes, they are called 'Art plus Storyboard Notebooks', and are available in two sizes: 3.5″ x 5.5″ and 5″ x 8.25". If you would like to buy them on Amazon, here are the links:
Since there were so many enthusiastic comments about my meditative journals, I will work on planning a Zenspirations Guided Journal project for everyone who expressed interest. It may take a little time, because I need to finish the last few pages of my Kickstarter book (When You Lose Someone You Love) before tackling another project. Since I'm not sure about the timeframe, if you are interested please send an e-mail with the subject line Zenspirations® Guided Journal Project to me at [email protected], and I'll let you know when I have the first project ready. In the meantime, I hope you'll do some meditative journaling on your own.
Tonight I wanted to share another type of journaling that I really enjoy; I call it 'Celebration Journaling'. It's my way of helping celebrate and commemorate special occasions. Unlike my meditative journals, my Celebration Journals are usually quite colorful.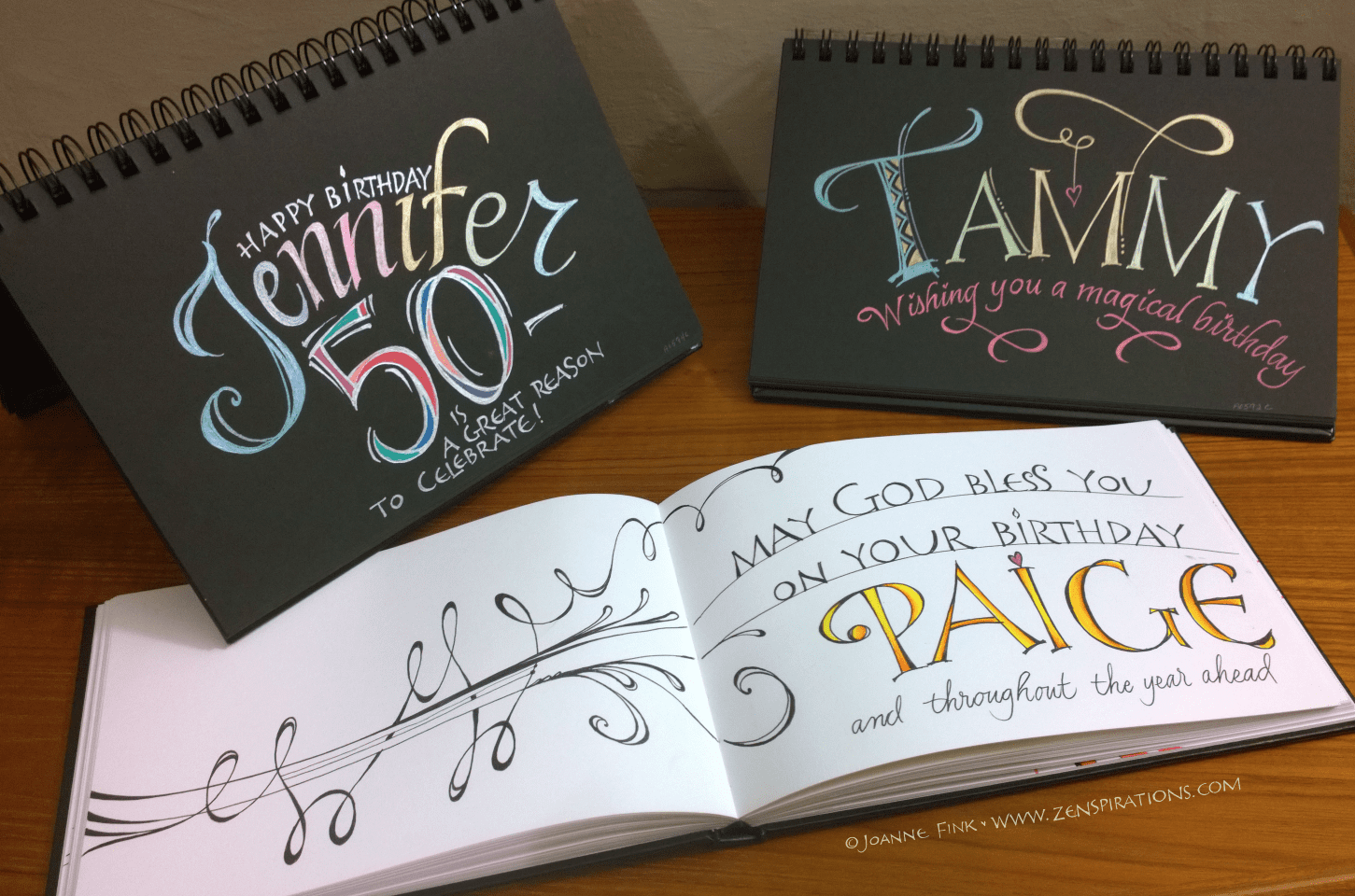 After I letter a celebratory message, I photograph it and either e-mail it to the person I made it for, or post it on their Facebook wall.
I made the piece below to help my friend Peggy Whalen celebrate her birthday last year. I wrote in one of Strathmore's ArtAgain black journals using Sakura's awesome Metallic and Moonlight Gelly Roll pens.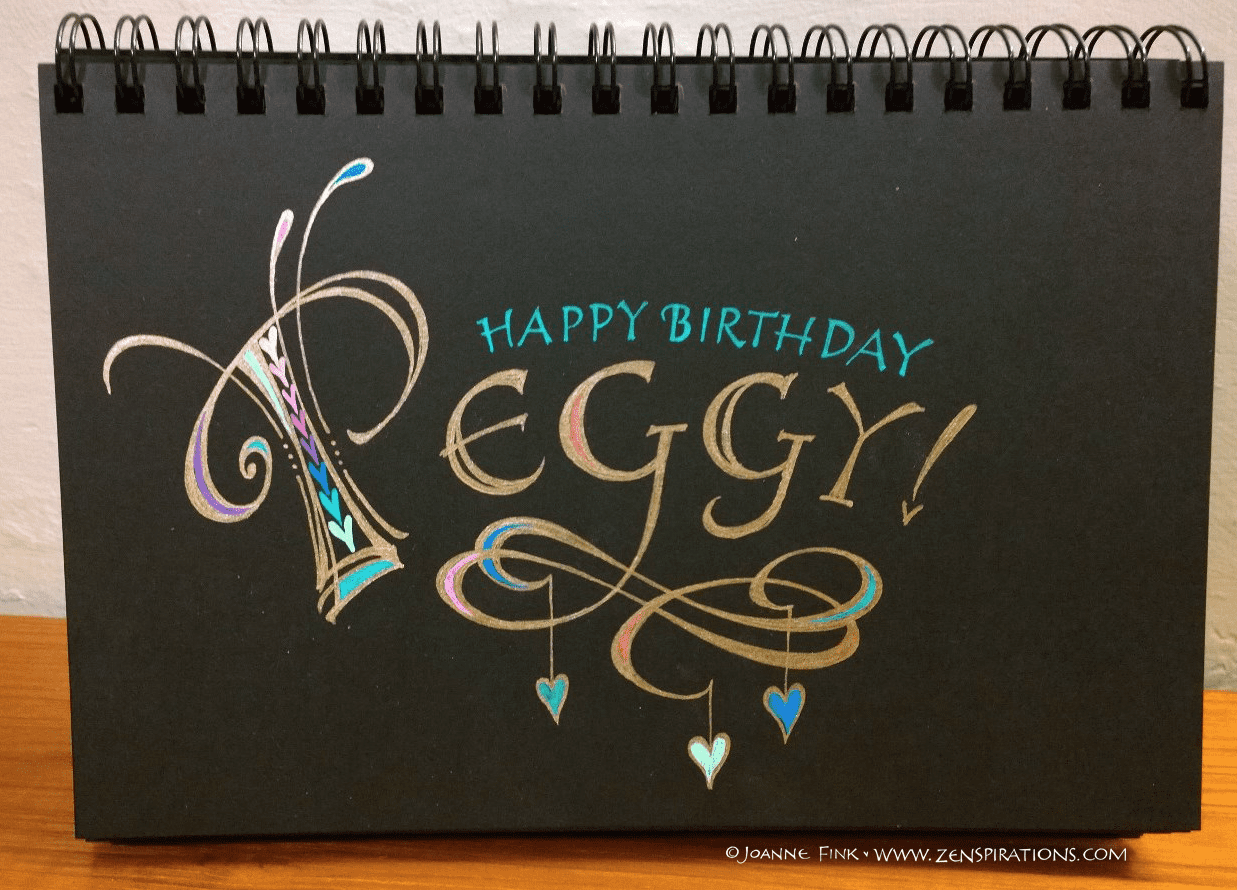 Sometimes instead of Celebration Journal Pages, I create Celebratory Messages such as the ones below, which I made for my friend Greg Minuskin. Greg is a world reknowned pen-man, who specializes in restoring and re-tipping fountain pens for the calligraphic and collector communities, so I decided to add a pen into his birthday greeting.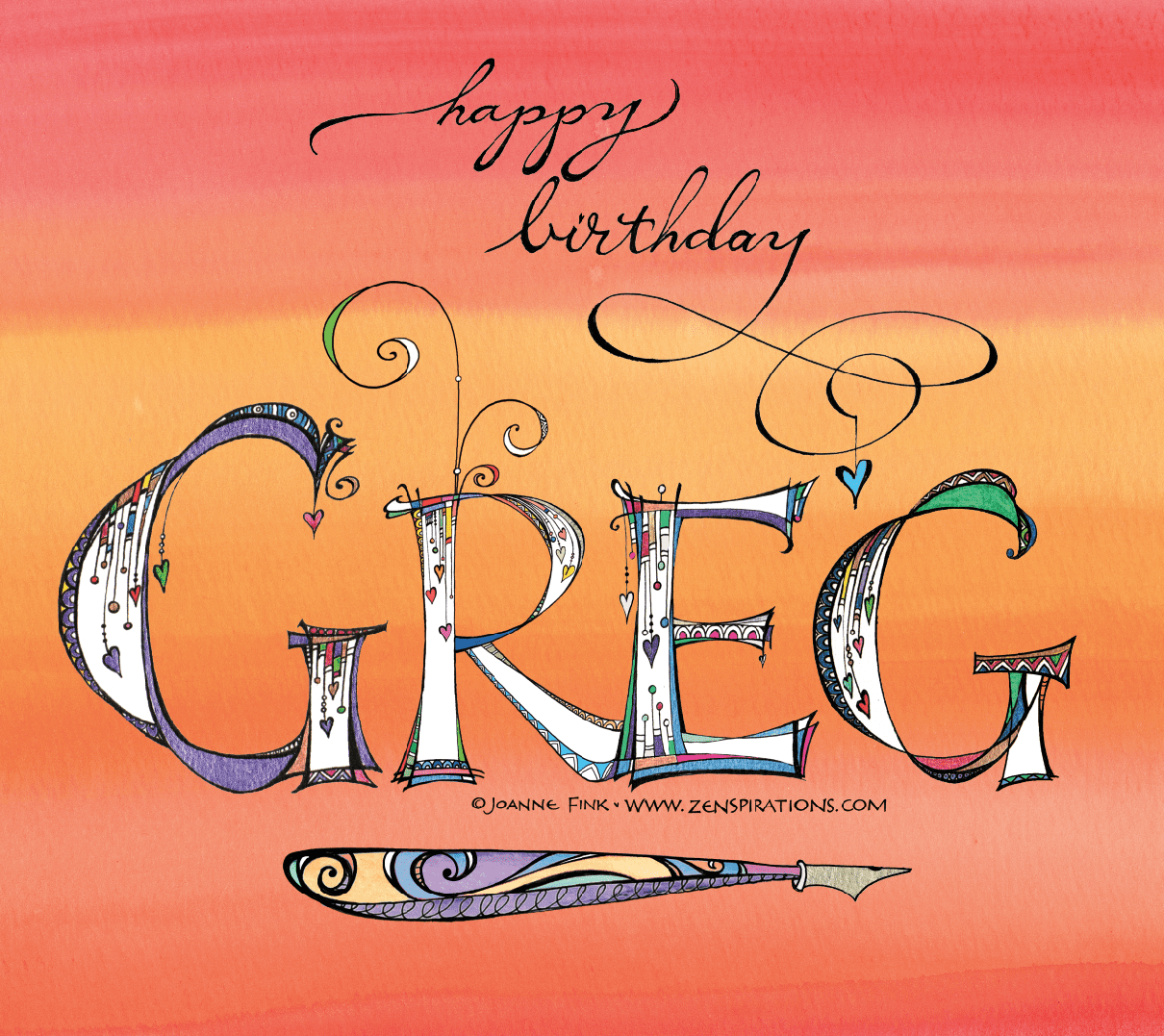 The next design I created for my cousin to give to her roommate… which gave me the idea of what to write about this week (thanks, Ashley!). I used a frame I drew when I first started doing Zenspirations a few years ago, and added the text digitally.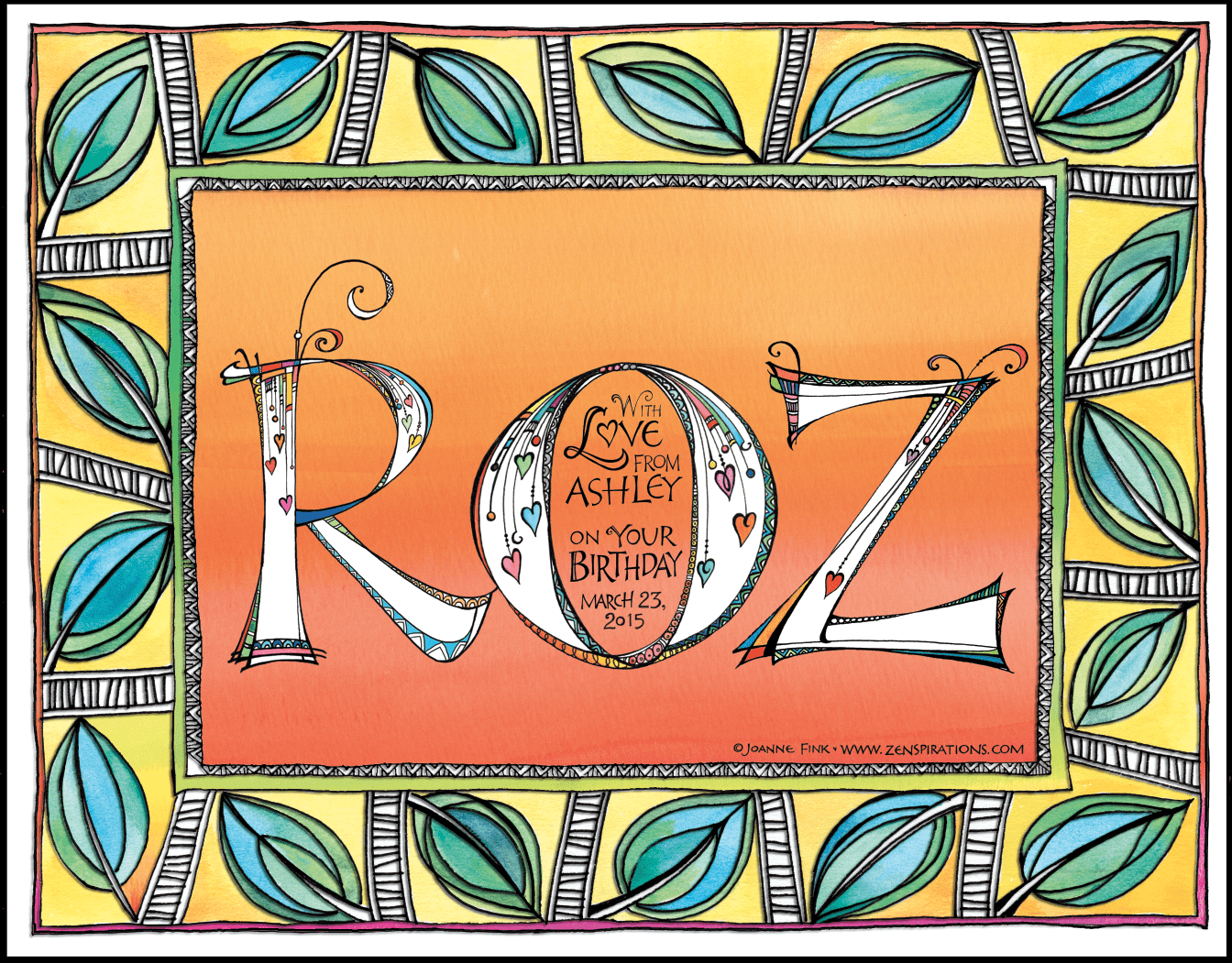 Celebration journaling and messaging is a great way of connecting with those you love, and even if you aren't a lettering artist it's fun to create custom messages for friends and family. Something I've been having a lot of fun with recently is Instagram. I have been enjoying looking at all the colorful and creative images that people post. The 'Happy 1st Day of Spring' message was my Friday morning journal entry, created specifically to share with my Instagram friends. I liked it so much I decided to share it with my blog followers, too.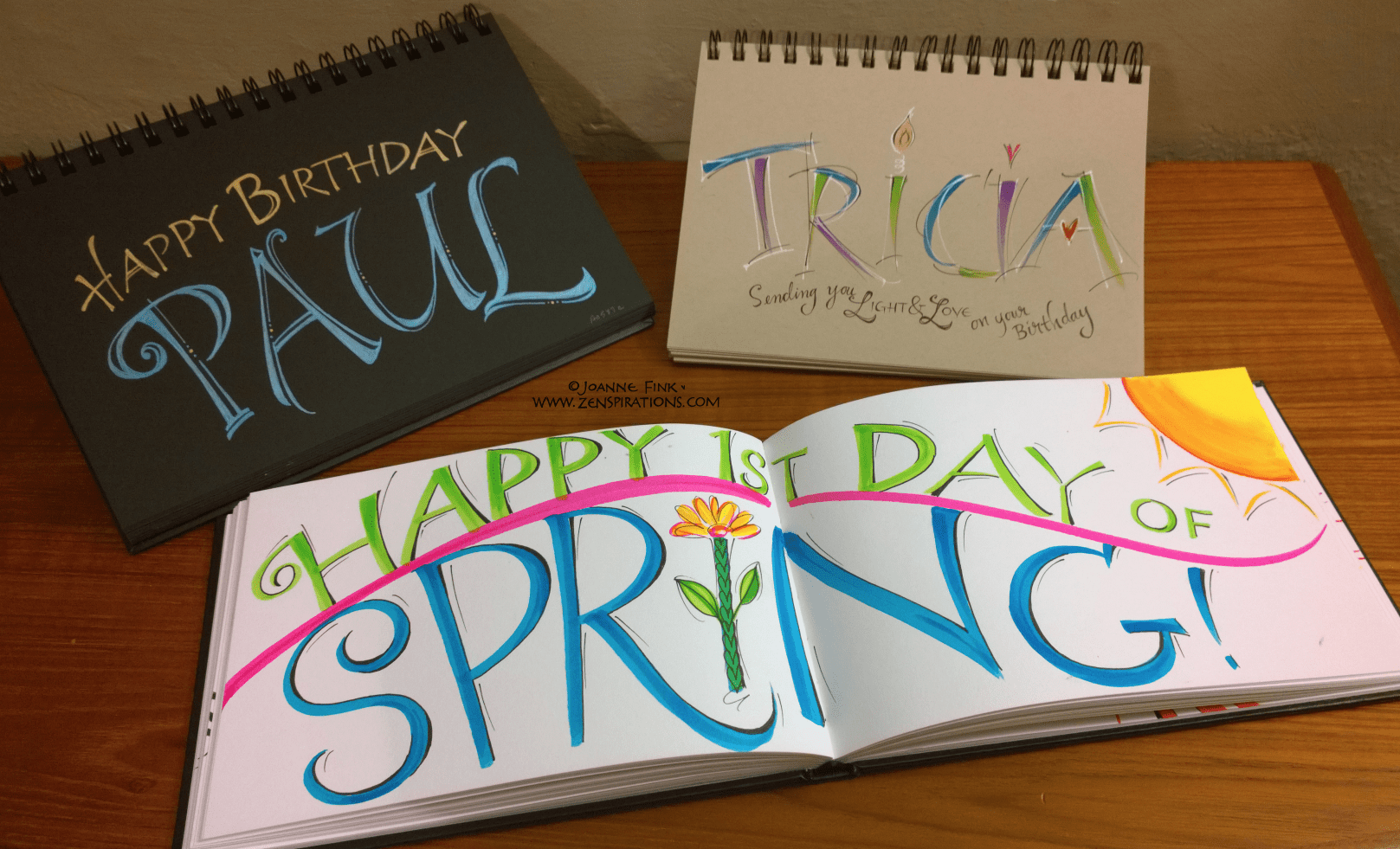 Below is what I posted on Instagram. I'm finding it challenging to work within the square format that all Instagram photos are cropped to… but I'm starting to learn what works. My Instagram name is Zenspirations: https://instagram.com/zenspirations/. If you are on Instagram too, let's connect!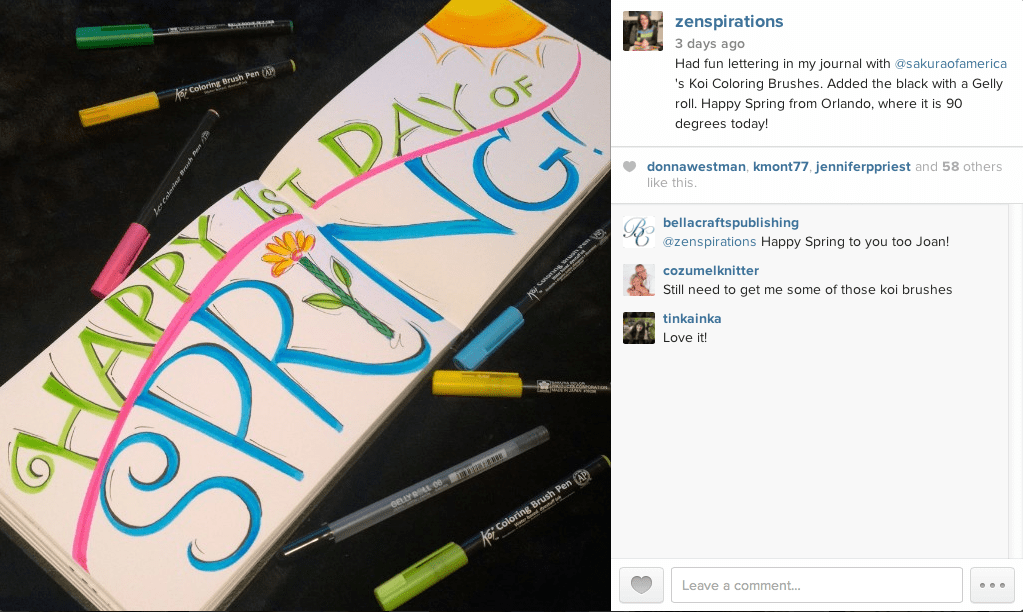 Before signing off this week, I want to thank everyone who took the time to share their favorite scripture verses… I'm planning to base some of the designs on the ones which get the most requests… which leads me to an apology and another request. The apology is because I forgot to ask a VERY important question– which bible version do you use? NIV, ESV, King James, something else? And the request is– if you are interested in having me use one (or more!) of your favorite scriptures as part of my new line of notecards, it would be REALLY helpful if would you please write out the exact wording (with punctuation and reference) of each scripture you'd like me to consider. It doesn't have to be five… just share the ones you really love (could be two, could be ten).
In terms of the giveaway, I will still draw a name from those who commented last week, and will draw a second name from those who leave a comment this week. This week's prize will be a box of the scripture notecards (once they are printed) and a personalized Celebratory Message of your choice– it can be for you or someone you love.
So thank you in advance for sharing your favorite scriptures… and you can still win this week's prize even if you didn't leave a comment last week.
Stay Zenspired,
Joanne