Challenges & Blessings
Tuesday, September 1, 2015
Hi Everyone,
This is a season of introspection for me… when I take time to reflect on my life's journey, and try to figure out what my soul needs to grow. I often ask myself these questions:
How can I live my life with intention, so that it will be meaningful?
How can I use the talents I've been blessed with to make a difference in the world? ;
Is what I'm devoting my life to worthwhile?
I seldom come up with concrete answers, but often the pure stream-of-conscience doodles and things I write in my morning journals help me glimpse what is really inside my heart.
Tonight I wanted to share a few pages from my morning journals. They are 'raw', unretouched scans, but the words relate to the introspection I've been doing.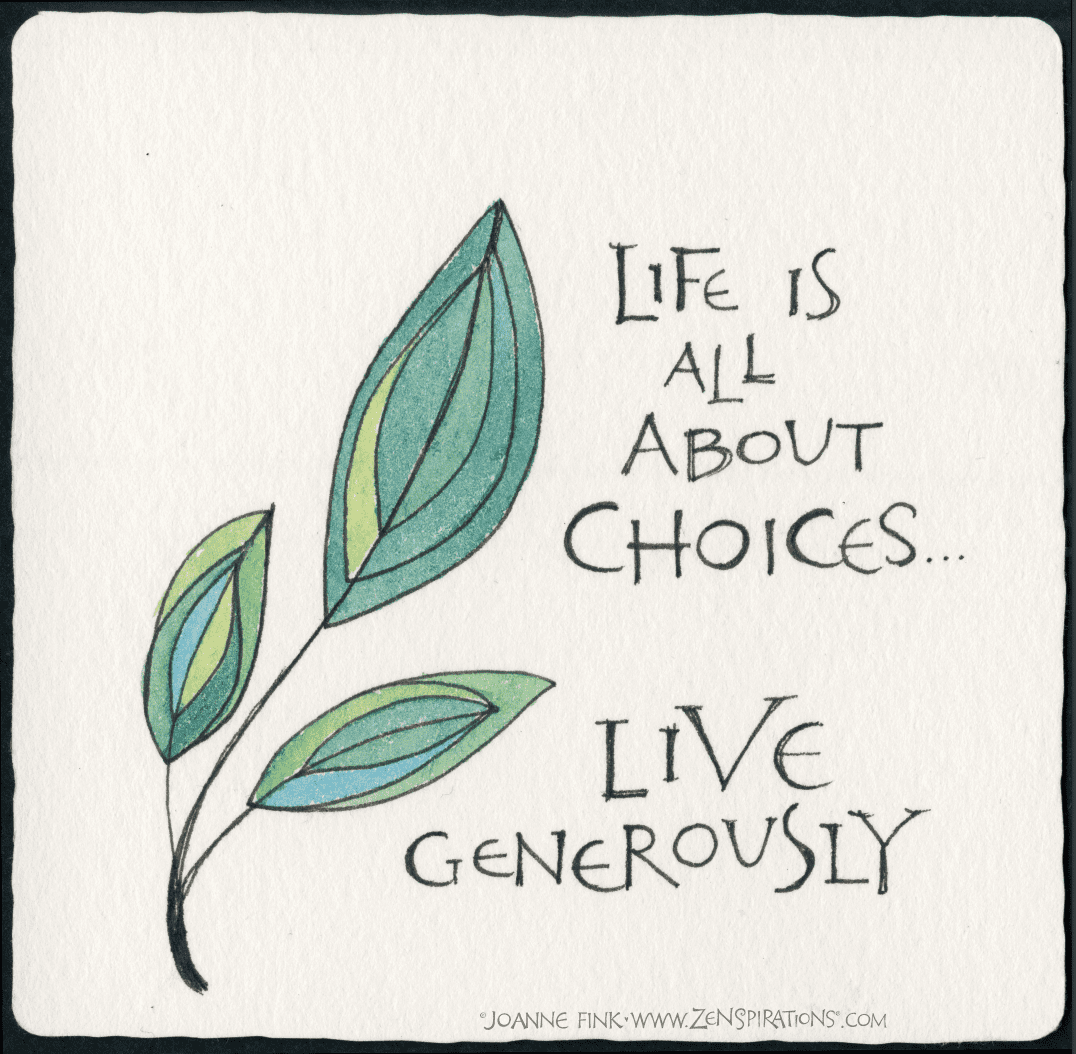 The piece below says "Challenges force our souls to grow in a new direction." It's the trials we face which often cause our perspective to shift… and once that happens, the road ahead is full of possibility.

Here's what this design looks like from a different perspective:

Finding a few minutes each day to put pen to paper and write positive, encouraging messages, helps me stay grounded in gratitude. I make a practice of looking for the blessing in every situation, especially the most difficult ones.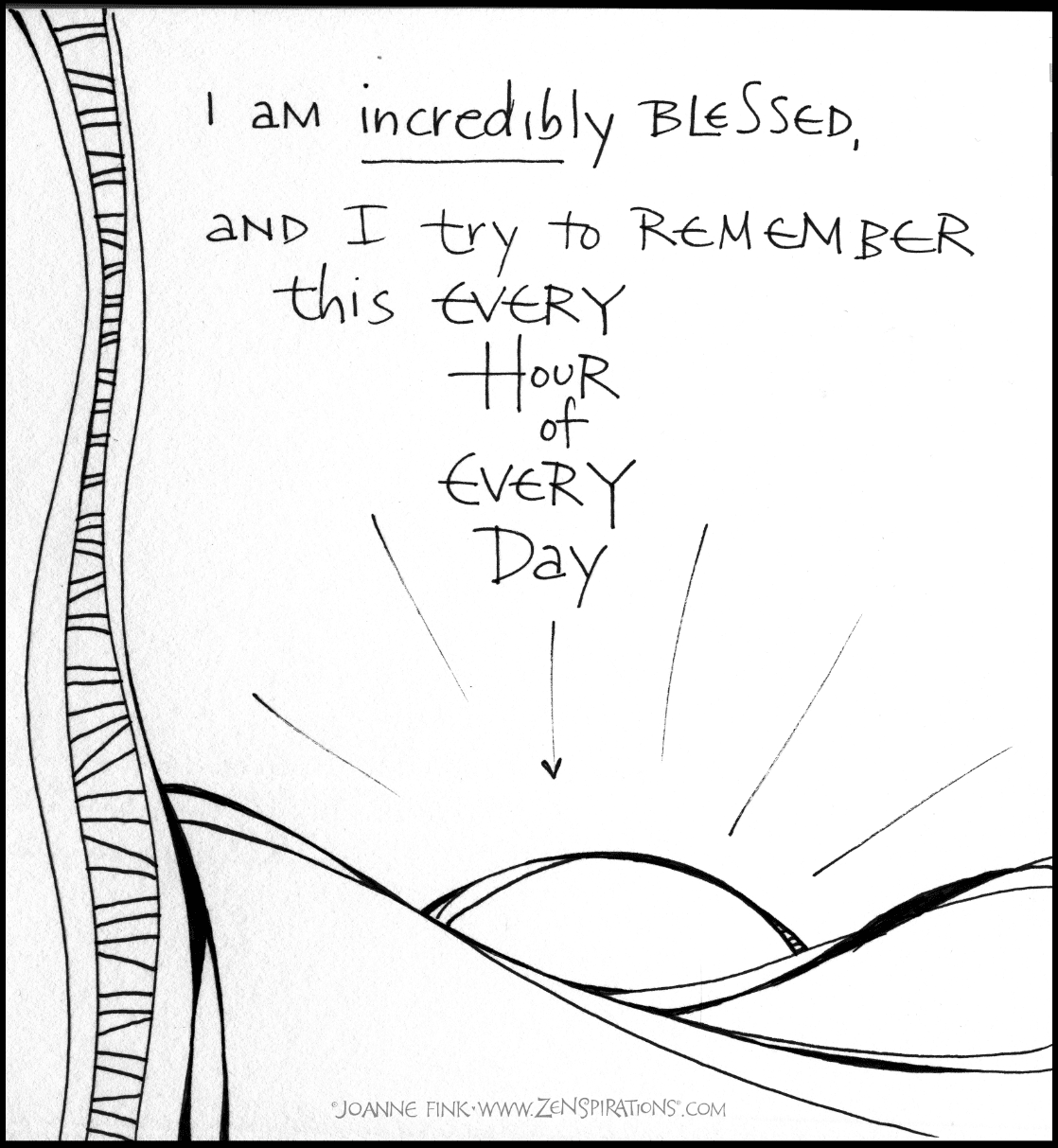 Sometimes one of my morning journals entries or doodles evolves into a finished design. I drew the piece below several years ago, and recently decided to use the flower in one of my new Zenspirations® Create, Color, Pattern, Play books.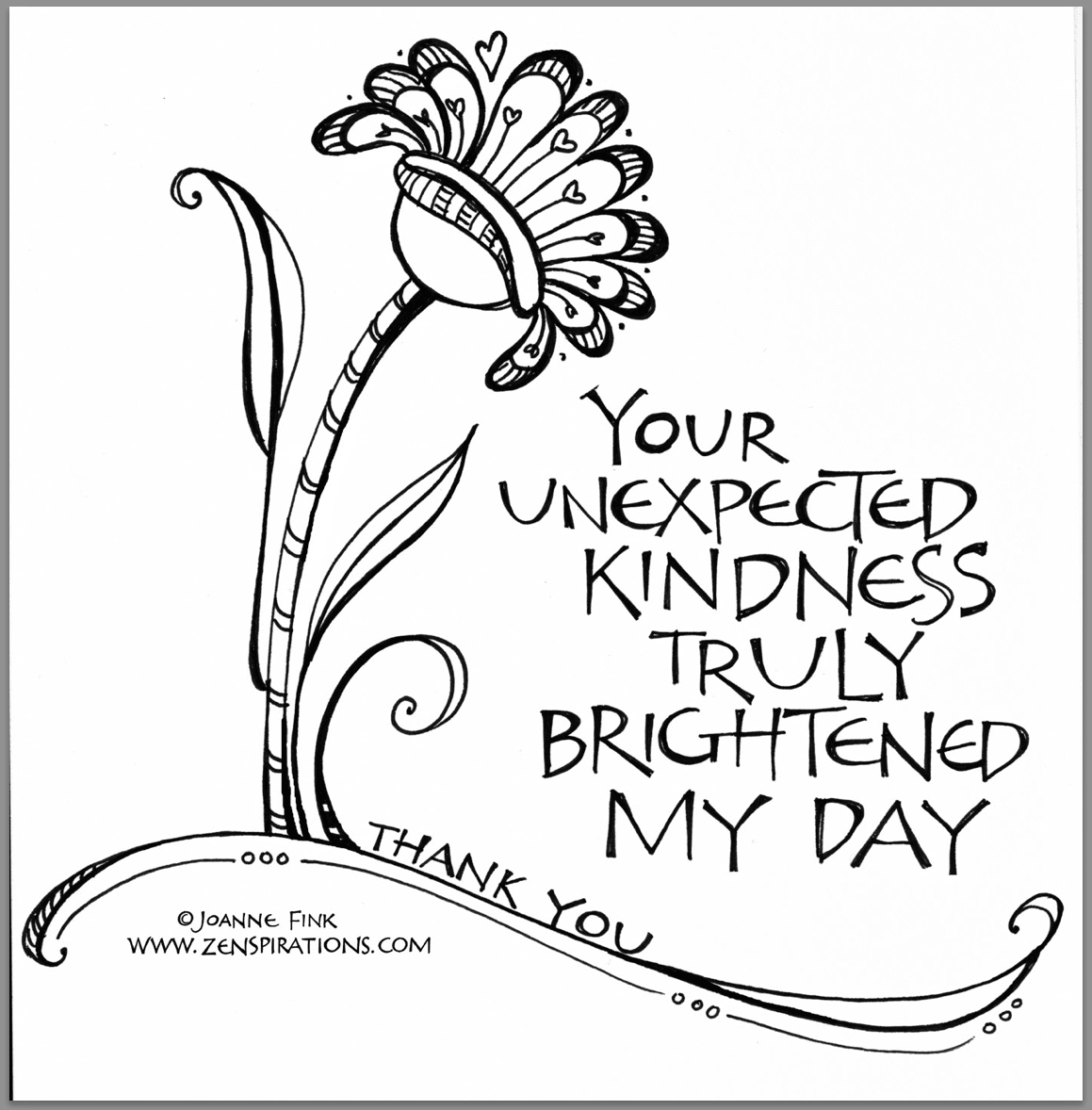 Here's the finished page from the Birds & Butterflies book.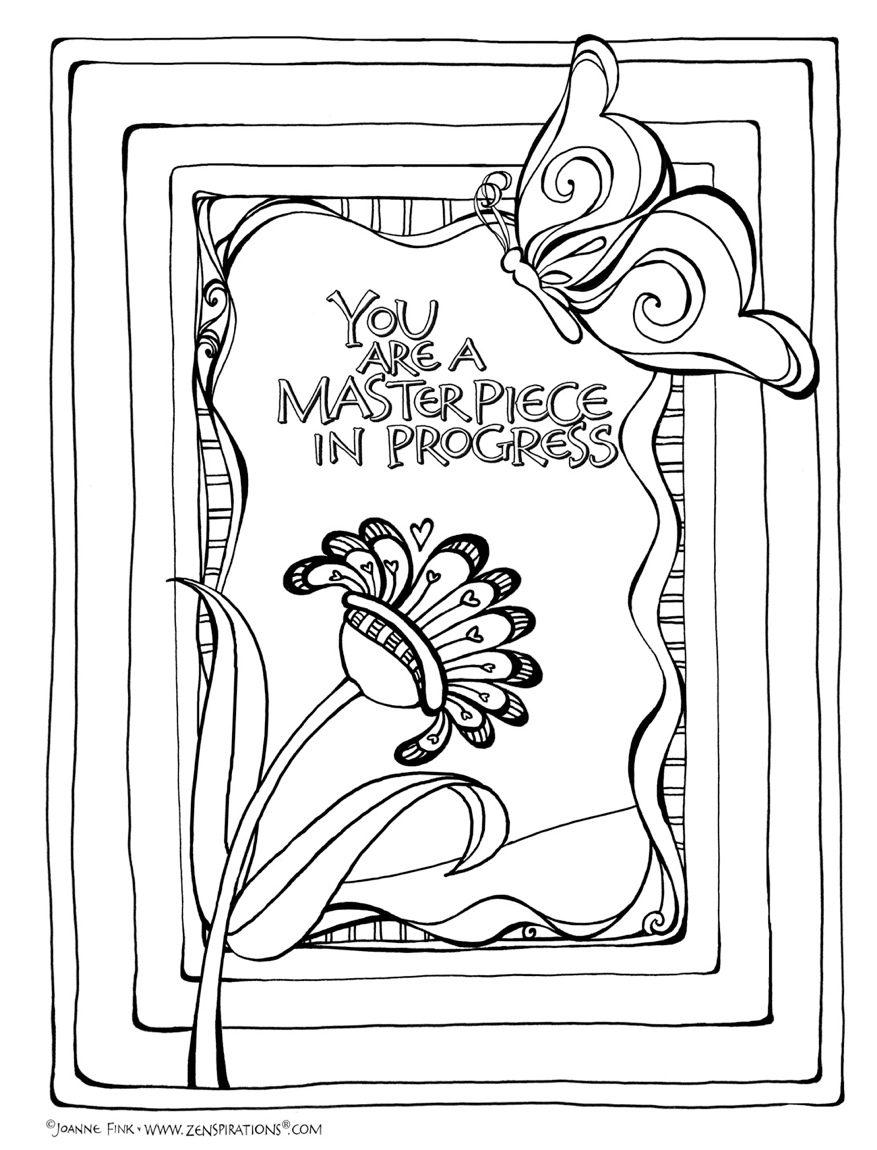 I wrote the quote about being a masterpiece in progress for my daughter, and was delighted that she had time to paint the design before heading back to school.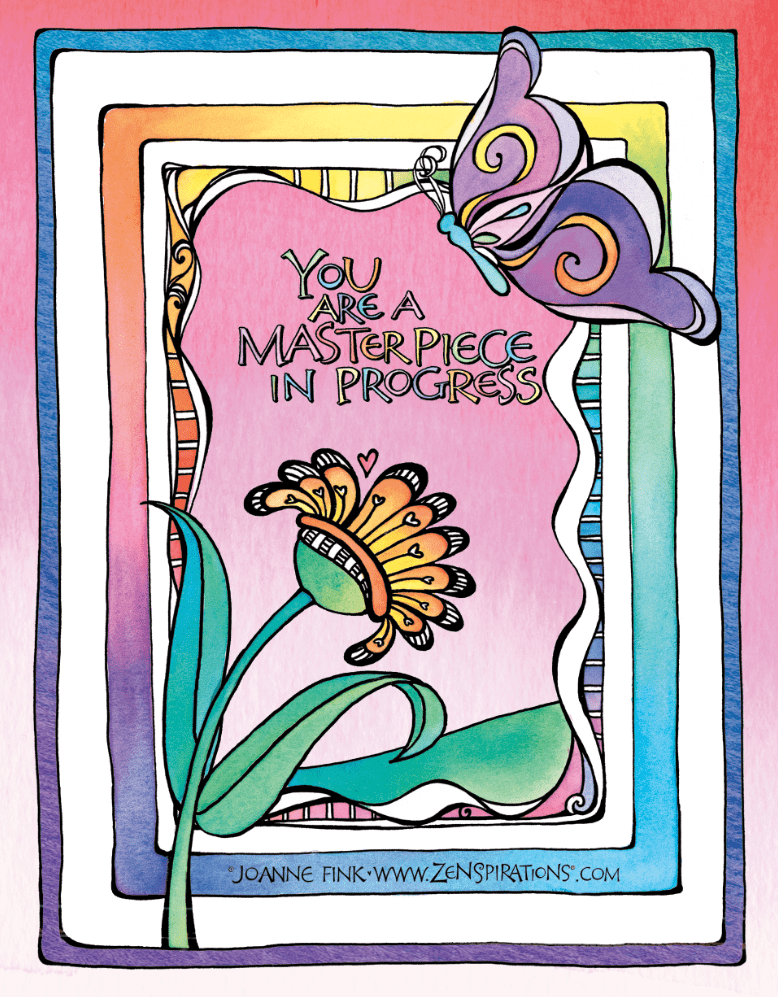 I'm thinking about including some of my morning journal messages in one of new books I'm working on, and would appreciate your leaving a comment to let me know which of the messages I've included tonight resonates with you.
And now, let me share the results of the Coloring & Creativity Contest (drum roll please!): Ardis Ferdig won a set of the new Zenspirations® Create, Color, Pattern, Play books, and Cindy Hanna Davis Therkildsen won the Sakura Goody Basket! Congratulations to you both! Ladies, please send me your addresses so I can get you the prizes. Special thanks to Fox Chapel and Sakura of America for donating the prizes, and to my friend Gina who carefully counted every entry, put the appropriate number of names in a hat, and pulled the winners.
But I think that I'm the real winner… the team of Color & Creativity Enthusiasts posted more than 100 images in the Zenspirations Create, Color, Pattern, Play Facebook group this past week, and they are collectively extraordinary. If you havent had a chance to look through the photo albums, I strongly encourage you to do so. Here is the link: https://www.facebook.com/groups/1471158256528576/.
After you see all the fabulous designs, you'll appreciate what an incredible challenge it was to select which pieces to include in the next book. My editor and I spent hours this afternoon trying to reach a consensus, and tonight she sent out more than a dozen permission to publish forms… and plans to send the rest out tomorrow. The press deadline was moved up, and the book is going to press this week instead of next week, so we went ahead and picked a few 'back-up' options in case one of our first choices can't get a scan done in time. I can't wait to see the finished pages for this new mini book. I also can't wait to see the new
which have been printed, and are on their way to me! I'm told that Amazon should be shipping the books next week, and that Michaels will put up the endcap in October. If you have pre-ordered (or plan to order) a book on Amazon, I'd really appreciate your writing a short review to let everyone (myself included!), know how you like it. And, of course, I'd love to see what you do with the pages… if you like to color, pattern and draw, please join the FB group and post your work. It's a warm and welcoming community.
I was deeply touched that Ranae Davidson, whose work I really like, made a special design for me tonight to celebrate that the group now has more than 1,000 members. THANK YOU Ranae! Your work is beautiful, and it means a lot to me that you created this special image in honor of the group surpassing 1,000 members. The best part about the group is the sharing spirit and creative commaraderie. I feel blessed to be part of the special community.
Stay Zenspired,
Joanne