Challenges, Growth & Opportunities
Tuesday, July 19, 2016
Hi Everyone,
We all face challenges at different times in our lives; and how we embrace these challenges impacts our ability to transcend their circumstances. Challenges force us– and our souls– to grow in unimaginable ways.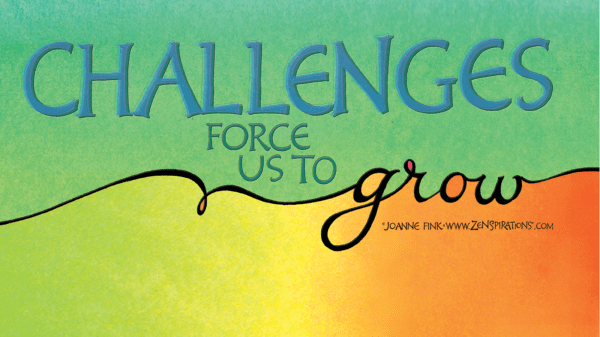 The past few years, since I became a widow, have been the most challenging period of my life– and yet they have also been the most rewarding. I have grown creatively, practically and spiritually, which I attribute to keeping my heart open to possibility and living with intention. I also strive to look for the blessing in every situation, which helps me stay grounded in gratitude.
As regular blog readers know, I try to start each day with a pen in my hand so I can express what's in my heart. The page below, from one of my morning journals, is fairly typical of some of the pages I pen.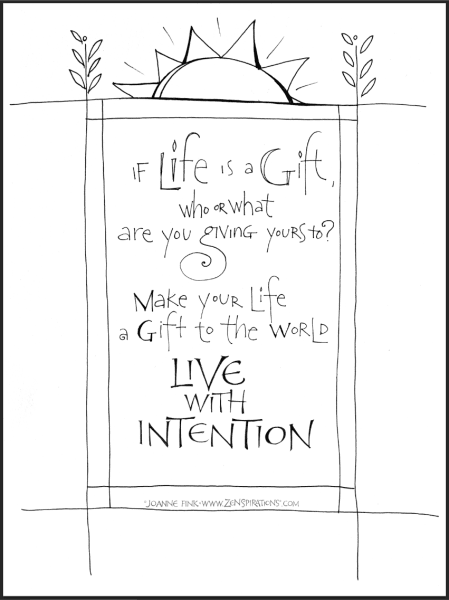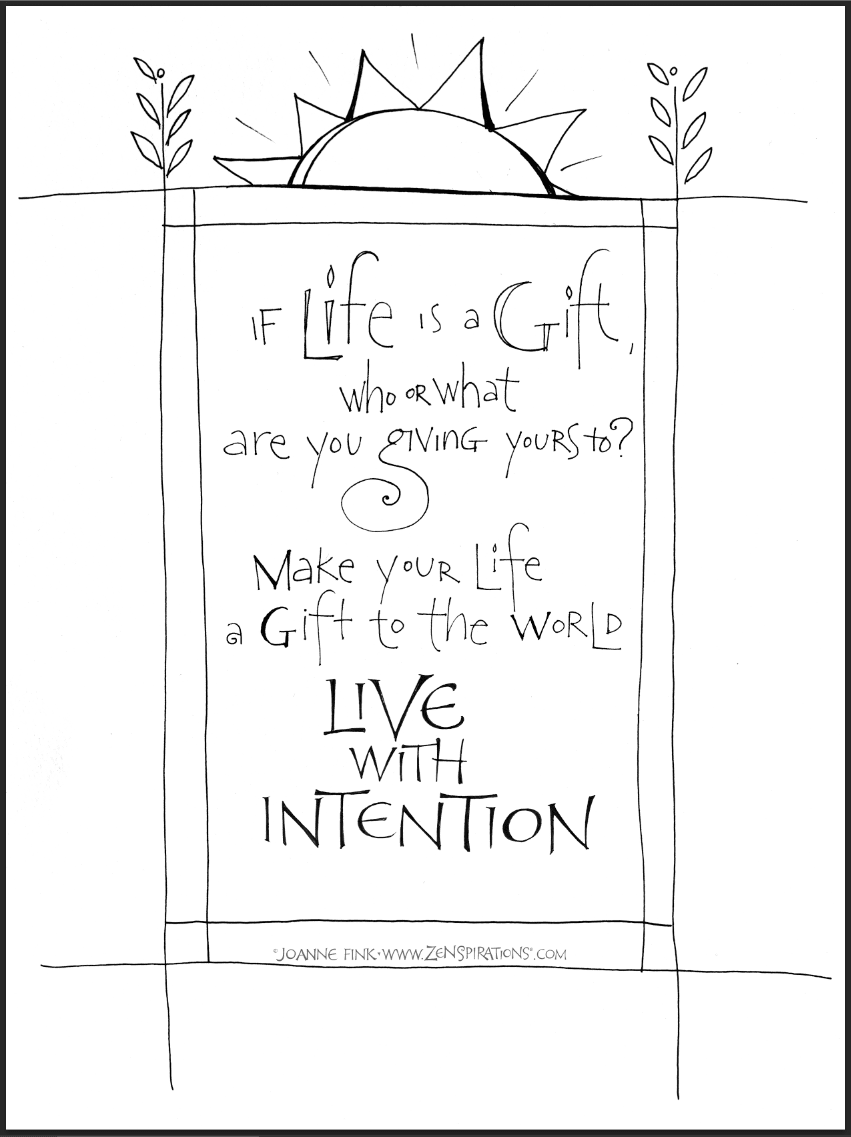 Living with intention requires practice; it means really understanding WHAT you want, so you can try to figure out HOW to try to achieve it. It requires patience, flexibility, dedication and a willingness to embrace yourself and where you are on your life's journey.
Below is a page from one of the journals I kept the year after my husband died: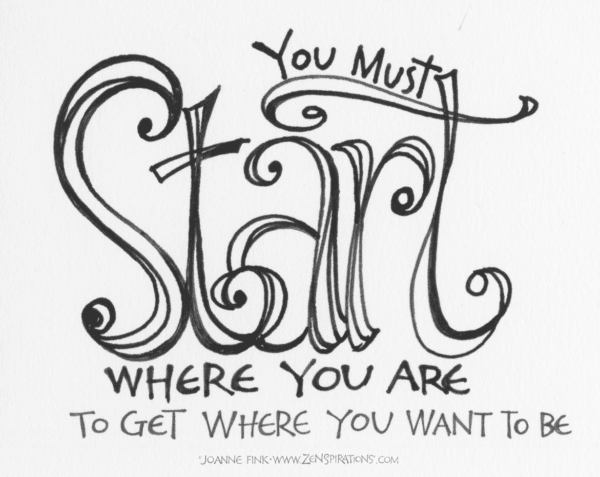 Although I was giving myself permission to start again, I didn't really have any idea where I wanted to be, much less how I was going to get there. That same year, as I dreamed of designing a new life for myself and my children, I wrote a saying that Leanin' Tree just licensed for a graduation card: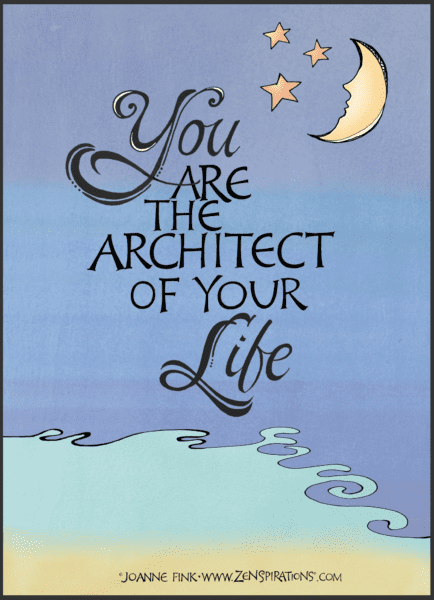 Given how profoundly dysfunctional we were at the time, designing a new life seemed an impossible dream. And yet I knew that if I was committed to building a future which reflected my core values, I would have to try. That's when I made the decision to start living with intention. Although I would never have willingly chosen this, I recognize that few people have the opportunity to re-envision their life's purpose, and I am profoundly grateful to be in the process of reinventing myself.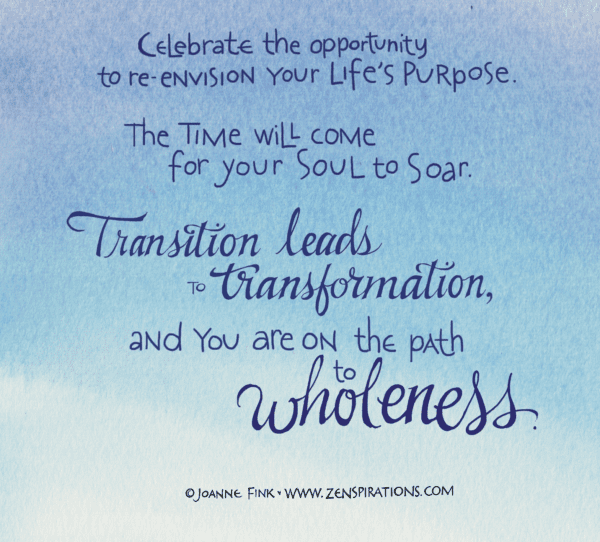 Today, as I look back over the past few years, I realize that my blog– and the heart connection that I've forged with so many of you– has played a huge part in helping me heal, and in helping me transition to whatever lies ahead. My heartfelt gratitude to everyone in the Zenspirations® community. Together we are building something incredibly special.
To reminisce a bit, last year at this time, as I was working on Zenspirations® Birds & Butterflies, my publisher told me that I could add 16 pages of color to the front of the book. I decided to use most of these pages to show examples of how differently the designs could be interpreted, and invited some of my blog followers to color a few pages from the book. Wow, wow, WOW!!! I was blown away by the incredible creativity that I saw when people started using my illustrations as a springboard for their own artistry. This was the catalyst for starting the Zenspirations Create, Color, Pattern, Play Facebook group.  Our FB group is a haven where members not only share their creative efforts, but support one another while doing so. It a privilege to be part of a group of kind, caring people who share my commitment to making a difference in the world.
It's hard to believe, but this Thursday, July 21st, we will be celebrating our 1st anniversary, and I invite you to join the celebration! There are lots of wonderful surprises in store. Click the link above to visit the group, and if you aren't a member, click the 'join' button when you get there (if you'd like to join). That way you'll be ready when the celebration kicks-off on Thursday, July 21st.
Something else which is kicking-off this week (finally!) is The Lettering Club. My heartfelt apologies to those of you who have had trouble signing up, or aren't sure if you are actually registered. Developing an on-line classroom, along with an infrastructure for the Club has been more challenging than I realized… in part because 'you don't know what you don't know'– and I didn't know that the system I chose was free —as long as there were under 500 members. Apparently a lot of you want to learn how to letter, because more than 700 people signed up! The first 500 to register were notified, but the rest weren't notified until I upgraded the account yesterday. I hope everyone who wants to be part of the Club has gotten a confirmation note, but because we've had some issues, I have extended the registration period through midnight on Wednesday, July 20th.
Everyone who is registered for The Lettering Club should have received a letter which looks like this: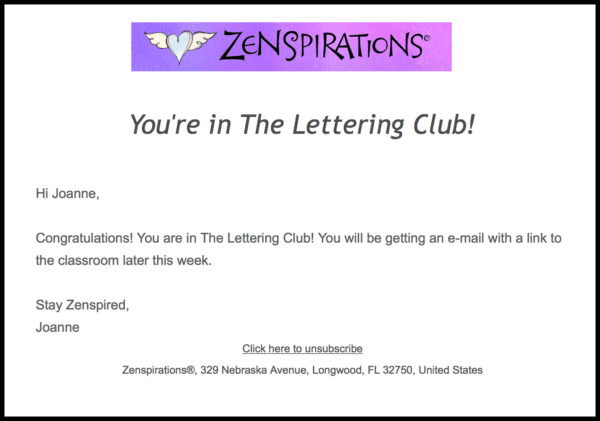 If you haven't gotten this letter, please check your spam and junk-mail boxes. If you are sure you don't have the letter, that means YOU ARE NOT IN THE LETTERING CLUB and you will need to sign up in the box below.  
If you don't get the letter within 12 hours of signing up, please either e-mail me or leave a comment on the blog. I will check to make sure that everyone who wants to participate will be able to. Registration for this free class closes Wednesday at midnight, so please make sure you sign up before then, as I will not be able to add you once the class gets underway .
In terms of supplies, you'll need one of Sakura's 3mm Pigma® Calligrapher pens in whatever color you want. They come in Black, Royal Blue, Red, Sepia, Purple (my favorite!), and Hunter Green (not my favorite). You can buy them individually, as a set of 3 black pens (one each 3mm, 2mm, 1mm), or as a set of all six colors in either 3mm, 2mm, or 1mm. If your budget permits, I'd recommend getting one 3mm, one 2mm, and one 1mm in the same color, and then at least one extra 3mm in a different color.
You can probably find the pens at your local craft retailer or on Amazon, but since you are about to enter the wonderful world of lettering, I'd like to introduce you to the best calligraphic resource I know: John Neal Bookseller. I have purchased my calligraphy supplies and books from John for more than 30 years, and can personally attest to the fact that he ships quickly– and he ships internationally! Best of all, John was kind enough to set up a page just for us, where you can order the pens you'll need for class. (FYI, the 3 pack is the last item on the page). Individual pens are $3.49 each; 6 or more assorted are $3.14 each. John's staff is very knowledgeable, so don't hesitate to ask them if you have questions.
Thank you again for your patience. I'm looking forward to finally getting The Lettering Club underway!
Before closing this week, there are two birthdays to celebrate. Cheri's is on Thursday, the same day as our anniversary, and since she likes music I made her a music-themed card: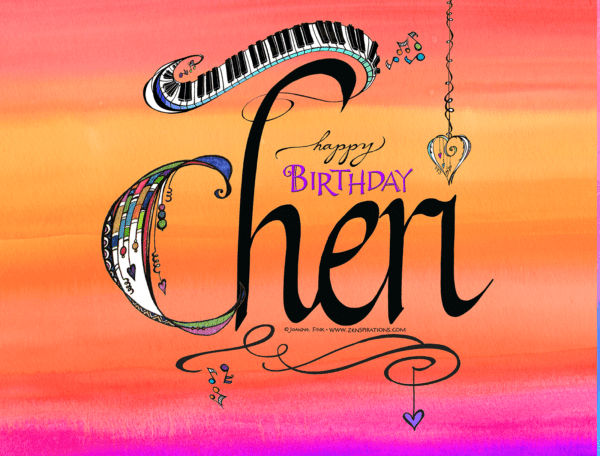 Leitha's birthday is on Sunday, and since she loves to color, I made her a card that she could color.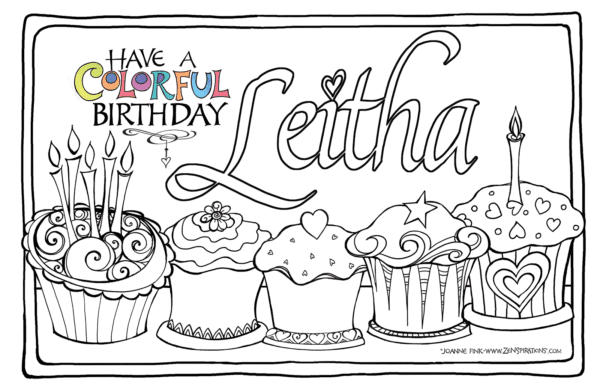 Hope this week will be filled with wonderful and memorable celebrations!
Stay Zenspired,
Joanne