Color, Create, Pattern & Play!
Tuesday, May 5, 2015
Hi Everyone,
I have exciting news to share—two of my new Zenspirations® Color, Create, Pattern & Play books –Birds & Butterflies and Expressions of Faith will be included on an end-cap at Michaels later this year! I'm looking for a few people who really enjoy coloring and patterning to help create the inspiration pieces for the new books—and was hoping that some of you would be interested. When I did the first three books in the series, I was able to include small color examples inside the back cover. I'm delighted that there will be full-color pages at the beginning of the new books, where I'll be able to share different ways to pattern and color some of the designs. Some of the pages will feature one large image, but I'd like the first few pages to have four of the same image, each patterned and colored by a different artist. That's where you come in!
I know many of you are expert colorers, but I'm not sure how many of you actually pattern your designs before applying color. I'm looking for people who can do both, so I thought I'd share a bit about patterning this week. Since last week's blog post included a free downloadable Zenspirations Mother's Day card, I thought I'd use that as an example in hopes that you'll try some of these techniques, and then post a photo of your finished creation (with your name on it!) BEFORE Mother's Day, to either Instagram or Facebook (don't forget #zenspirations). I'll pick one or more projects to feature in next week's blog, and I'm eager to see what everyone creates.
Here's a picture of the card: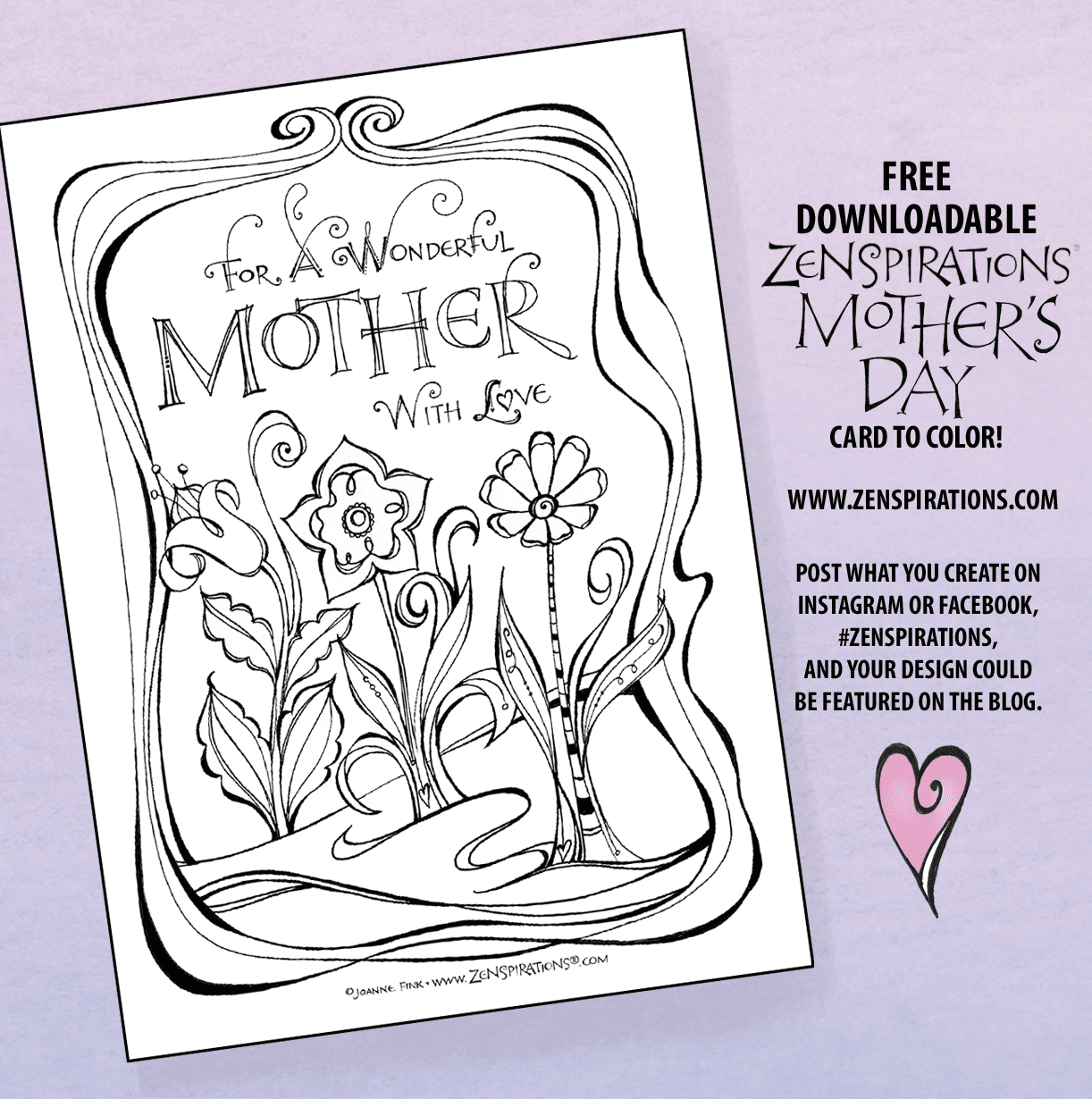 To make it easy for you to see where I added patterns, I've color coded them in the order in which I did them. I want to encourage you to add your own personal touches to make the design unique. Some of my touches were adding the dangle heart at the top and the designs inside the flowers, which are shown below in red.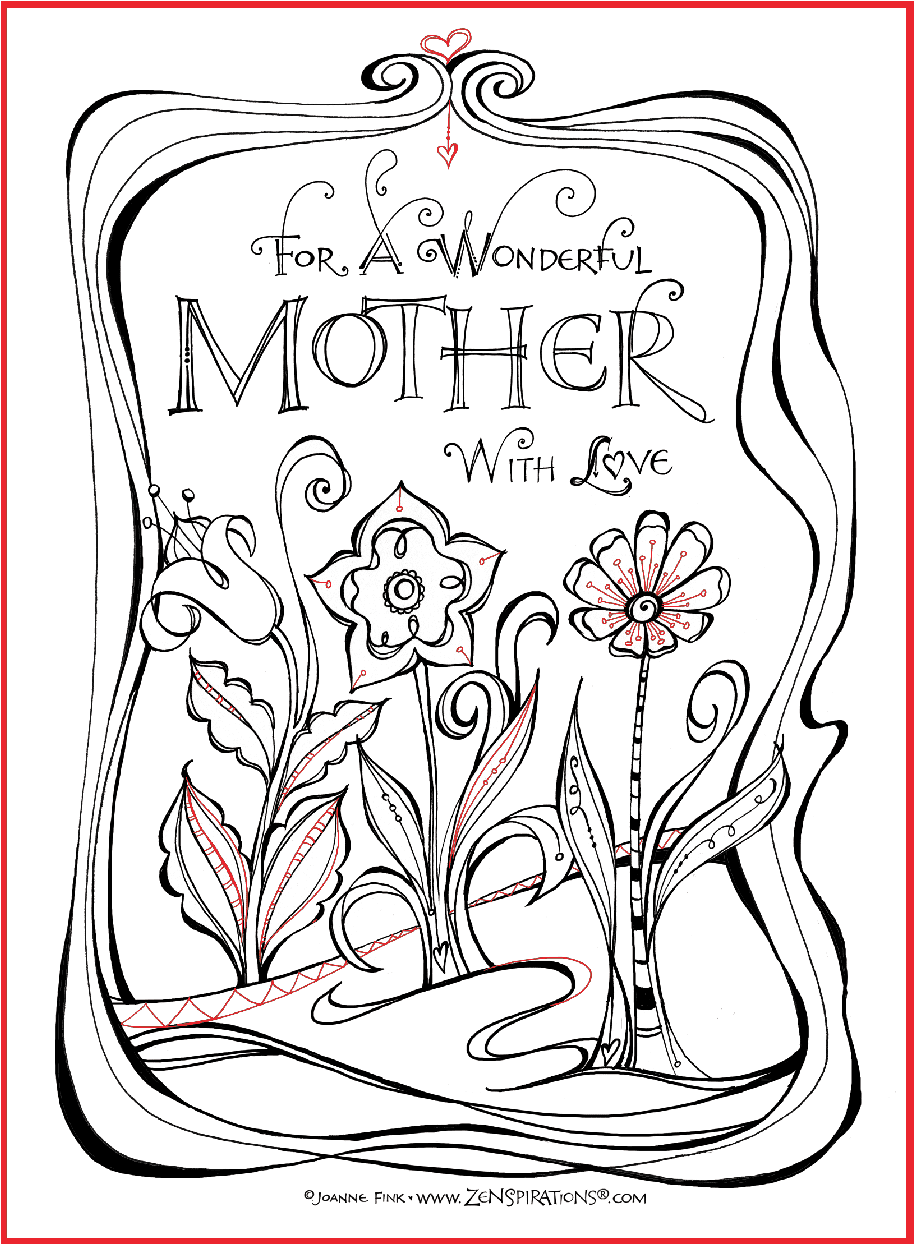 Next I added detail which you can see in the blue patterns below: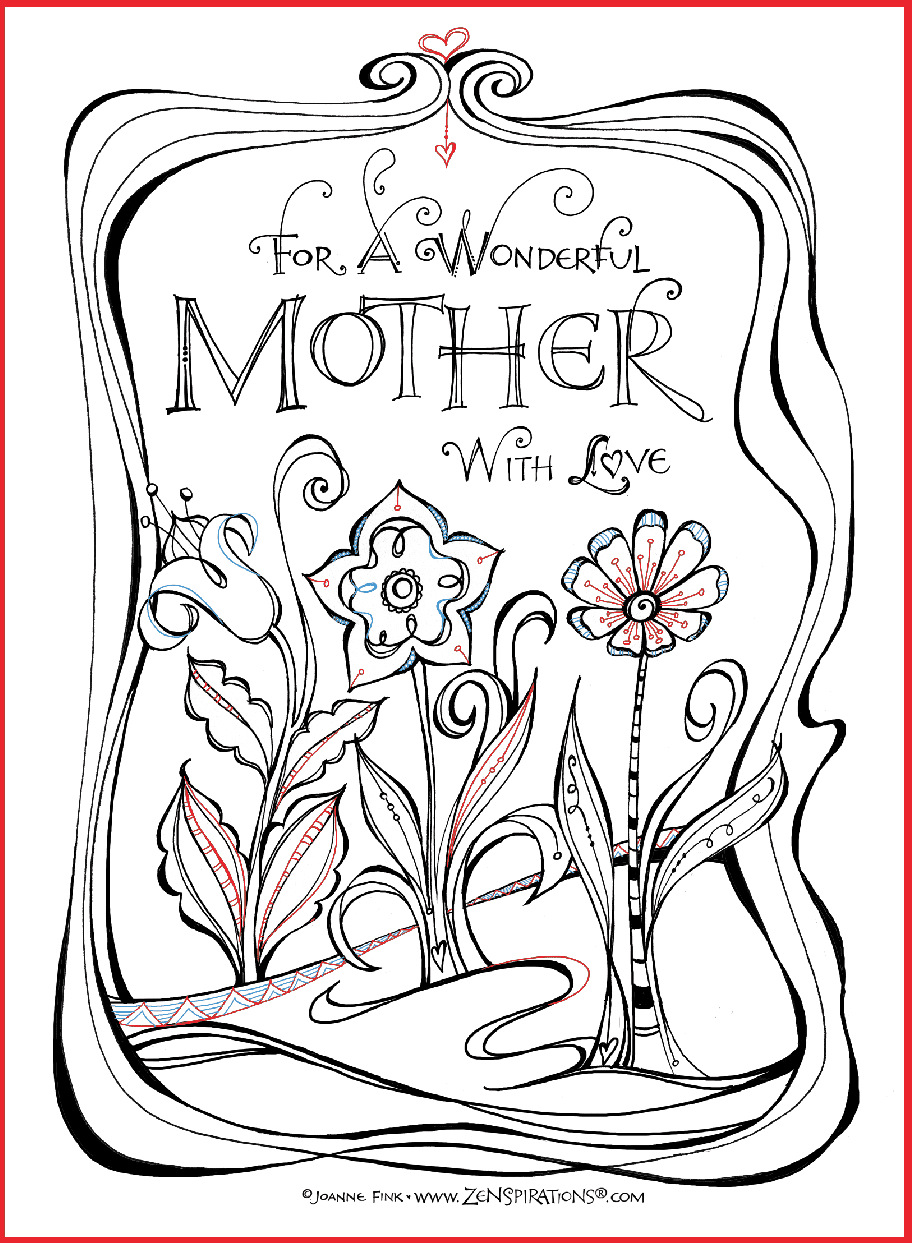 Then I went back and added weight to some of the patterning I'd already done, and then added some additional enhancements. These are shown in gold below: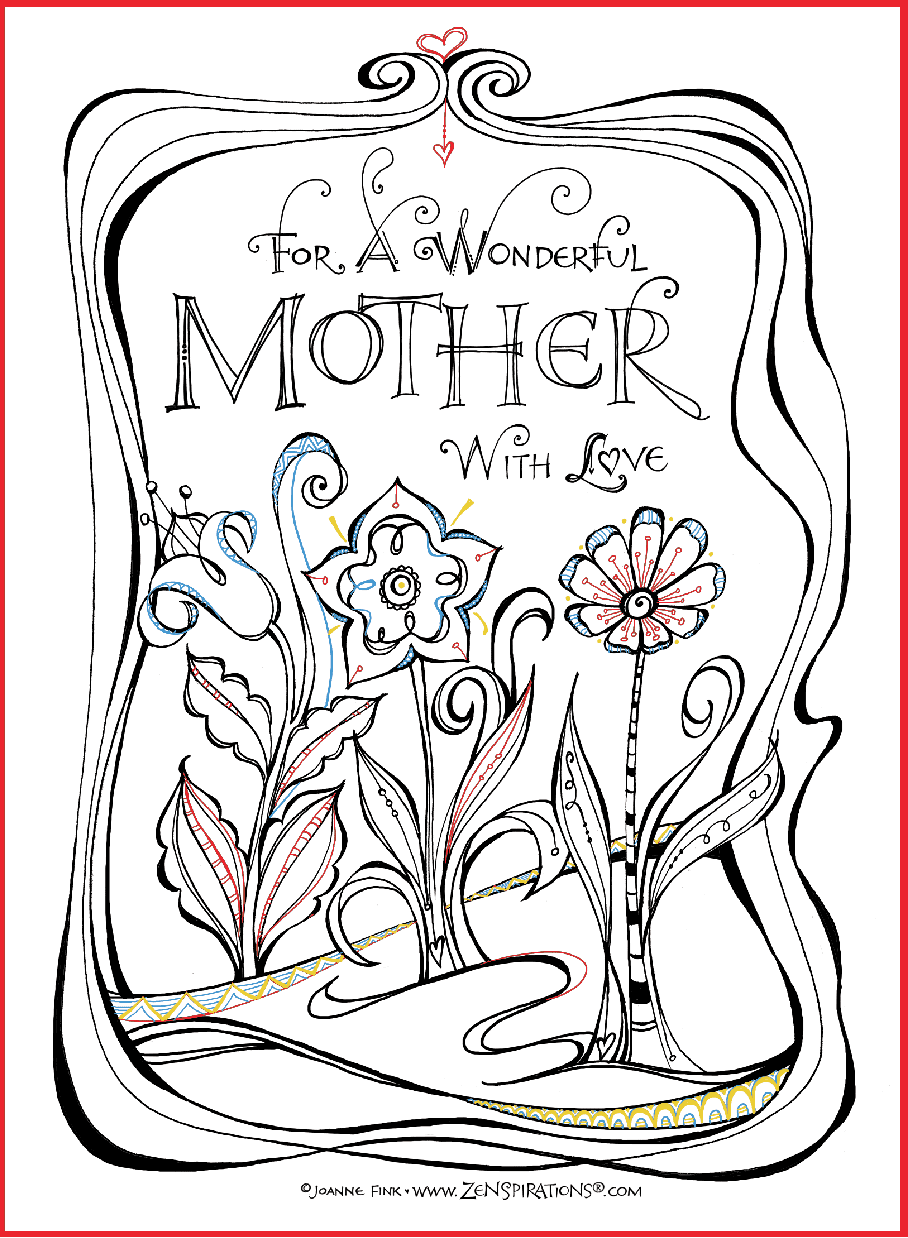 Below is what the design looks like with all the patterns I added shown in black so you can see how much interest and texture they add to the design: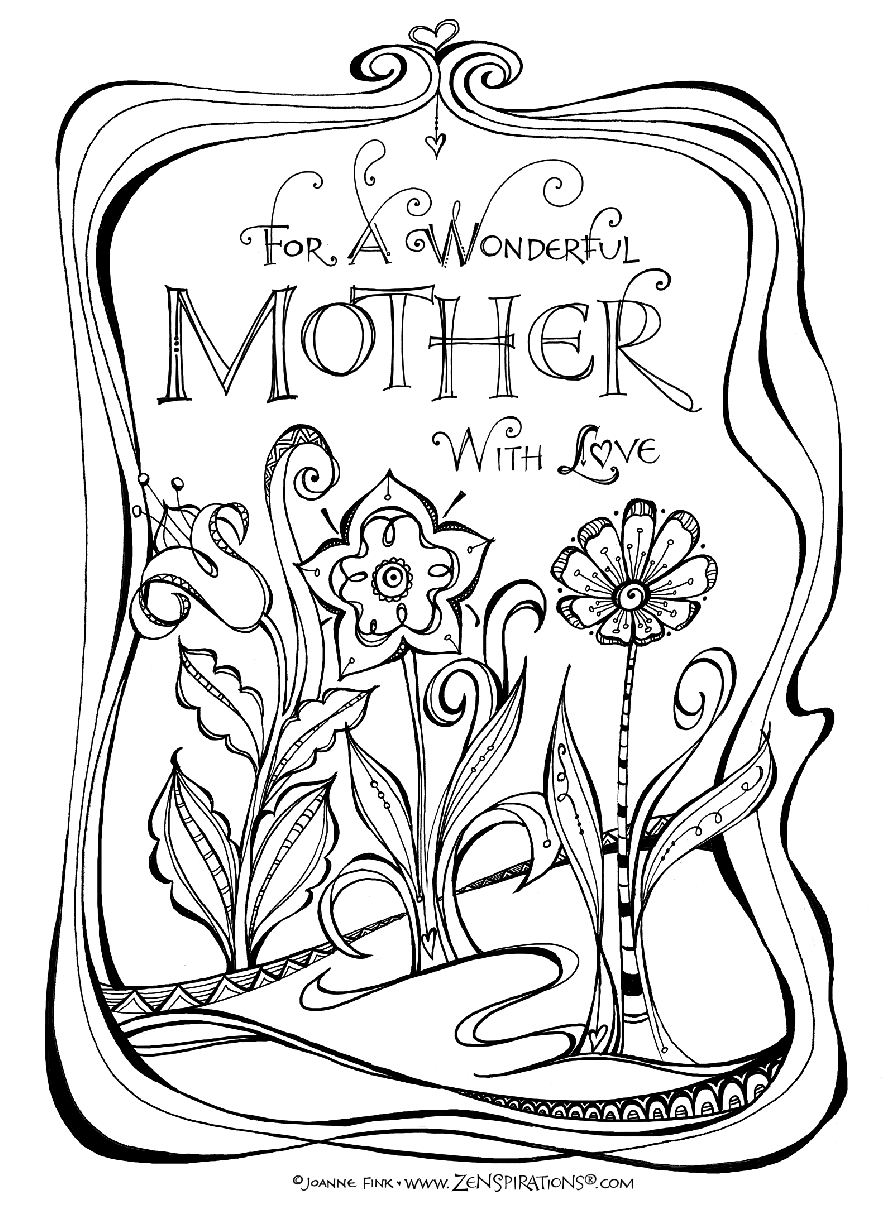 In addition to adding patterns, there are lots of other ways to enhance a design. Let's look at a page from my Zenspirations: Inspirations– Designs to Feed Your Spirit book as an example.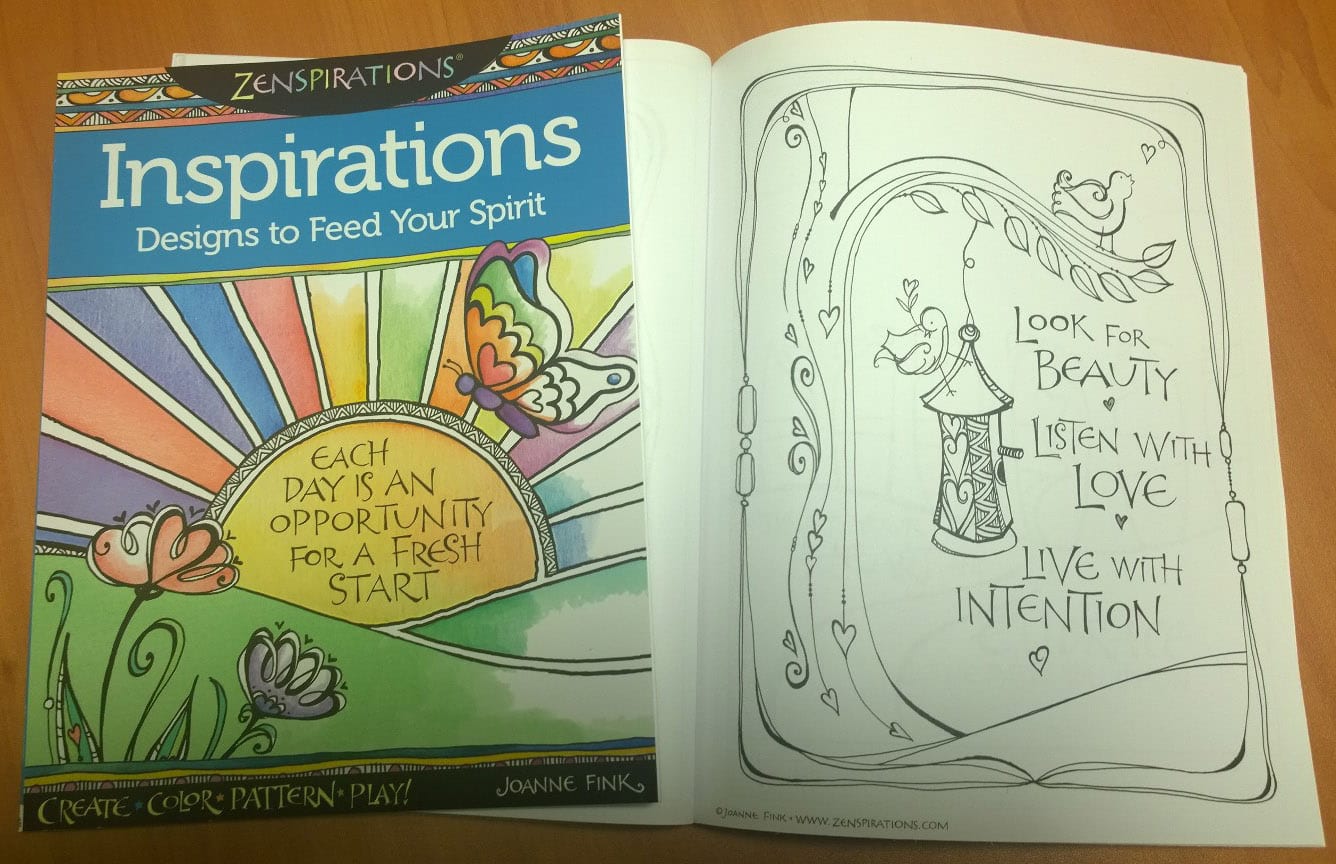 In the examples below, I embellished the design on the left by personalizing it (notice the name above the top branch), as well as by adding patterns in the hills, leaves and beads. I enhanced the design in the center by slimming the tree so I could add patterns on the left of the tree trunk, and by adding a lot of patterning to the bird house. I also added additional leaves with dots inside and heavy borders, and then double stroked some of the letters so I'd have room to add color. The design on the right is closest to the original image– but it looks quite different thanks to the arch pattern I drew inside the border. If I wanted to add texture and interest to this design, I could keep adding patterns the way I did in the Mother's Day card above.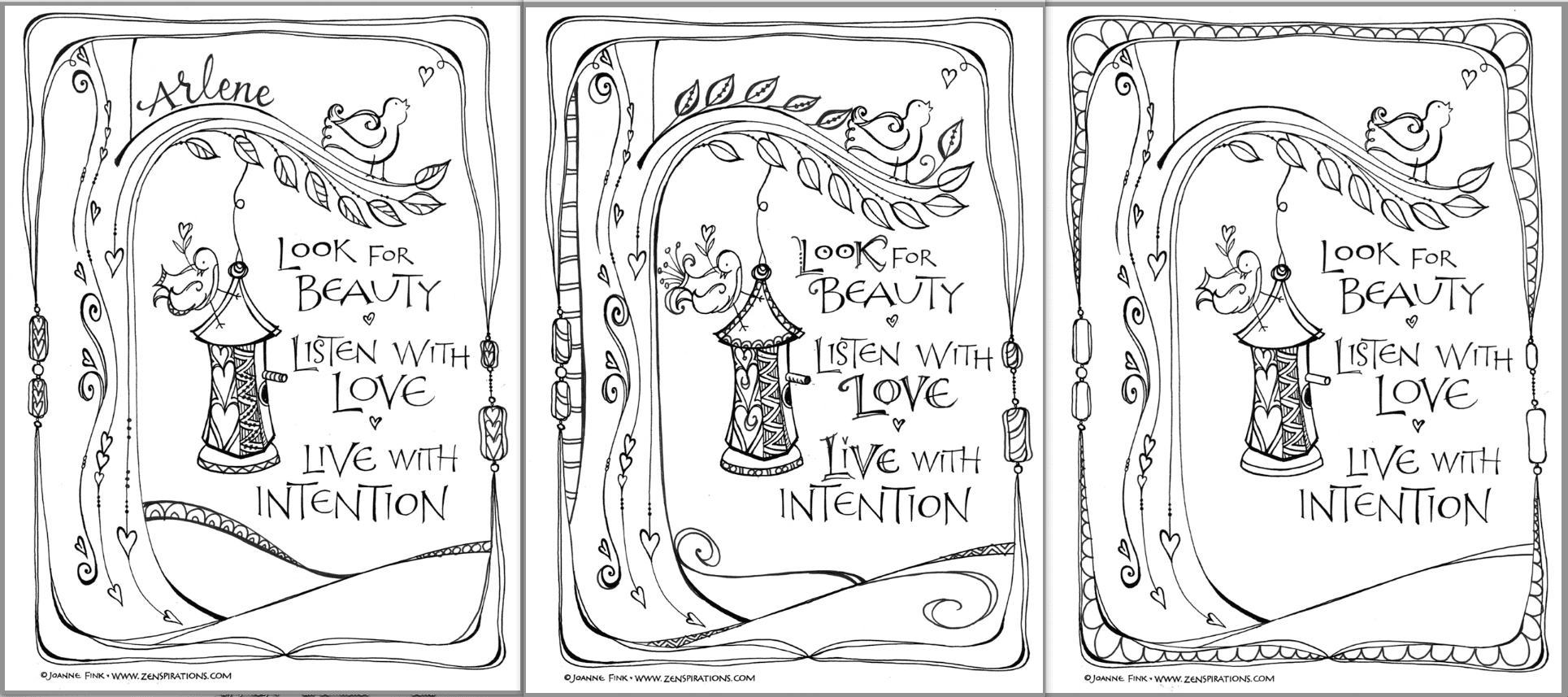 I hope this gives you some ideas on how to embellish the designs and really make them your own. If this appeals to you, and you are interested in submitting your work for one of the new Color, Create, Pattern & Play books, I'll send you a couple of the designs, and ask you to add patterns, color it in your favorite dry media— (i.e. colored pencils, markers, gel pens, crayons) and send me a photograph of your finished piece and the tools you used to create it. I will select some of my favorite styles, and those artists will each be asked to create one or more inspiration pieces for the books. If you know someone who might be interested, please share this information with them– especially if you know an art student who hasn't had the chance to have their work published before. I love opening doors for people, and it would be meaningful to me to be able to include new talent in one of my books.
The aritsts whose work is selected will recieve a credit line and a sample copy of the book. And, of course they'll have a sneak peak at some of the illustrations! FYI, while I get a vote, my publisher will be making the final decision as to who's work to include, so know that this is an invitation, not a guarantee of acceptance
If you are interested in participating, I'd like to know what medium you plan to work in, and I'll need your e-mail address so I can send you the sample designs. Please do NOT e-mail me or FB message me about this!!! It might be a few weeks before I'm ready to send the designs out, so I'd like to make sure that I have all the e-dresses in one place– which means here, in the comment section of this blog post. If YOU ARE A BLOG SUBSCRIBER (which means I have your e-mail address), you can leave your FULL NAME (otherwise I won't be able to look up your e-dress) in your comment– or just leave me your e-mail address, which is even easier. (You can tell that you are a subscriber if you get an e-mail with a link to the latest blog post every Tuesday morning at 10:00 am Eastern time.) If you aren't a subscriber, you can either sign up for the blog or leave me your name and e-dress and I'll add you to the list.
Whether or not you want to submit designs for the new books, I do hope you'll download the Mother's Day card, add patterns & color, and give it to someone special. In the spirit of making a difference in the world, I'd like to ask you to join me in reaching out someone whose mother died since last Mother's Day. Holidays are REALLY hard when you lose someone you love, especially the first year. So if you know someone who can't be with their mom… please take a moment this week to let them know that you are thinking about them. A phone call, text, e-mail or card can make a big difference.
Stay Zenspired,
Joanne