Color & Creativity CONTEST!!
Tuesday, August 25, 2015
Hi Everyone,
My publisher shared some exciting news this week… they have recently started a 'Perfectly Portable Pages' series for people who want to color and create on the go, and my soon-to-be-released Expressions of Faith book has been selected to be part of the new 'mini' series! In addition to being smaller, the proportions of the pages are different, so I'm busy reformatting the designs to fit into the narrower template. Both versions of the book will begin with a colorful section of coloring & patterning tips and inspiration samples. In case you haven't seen it yet, here is a picture of the cover: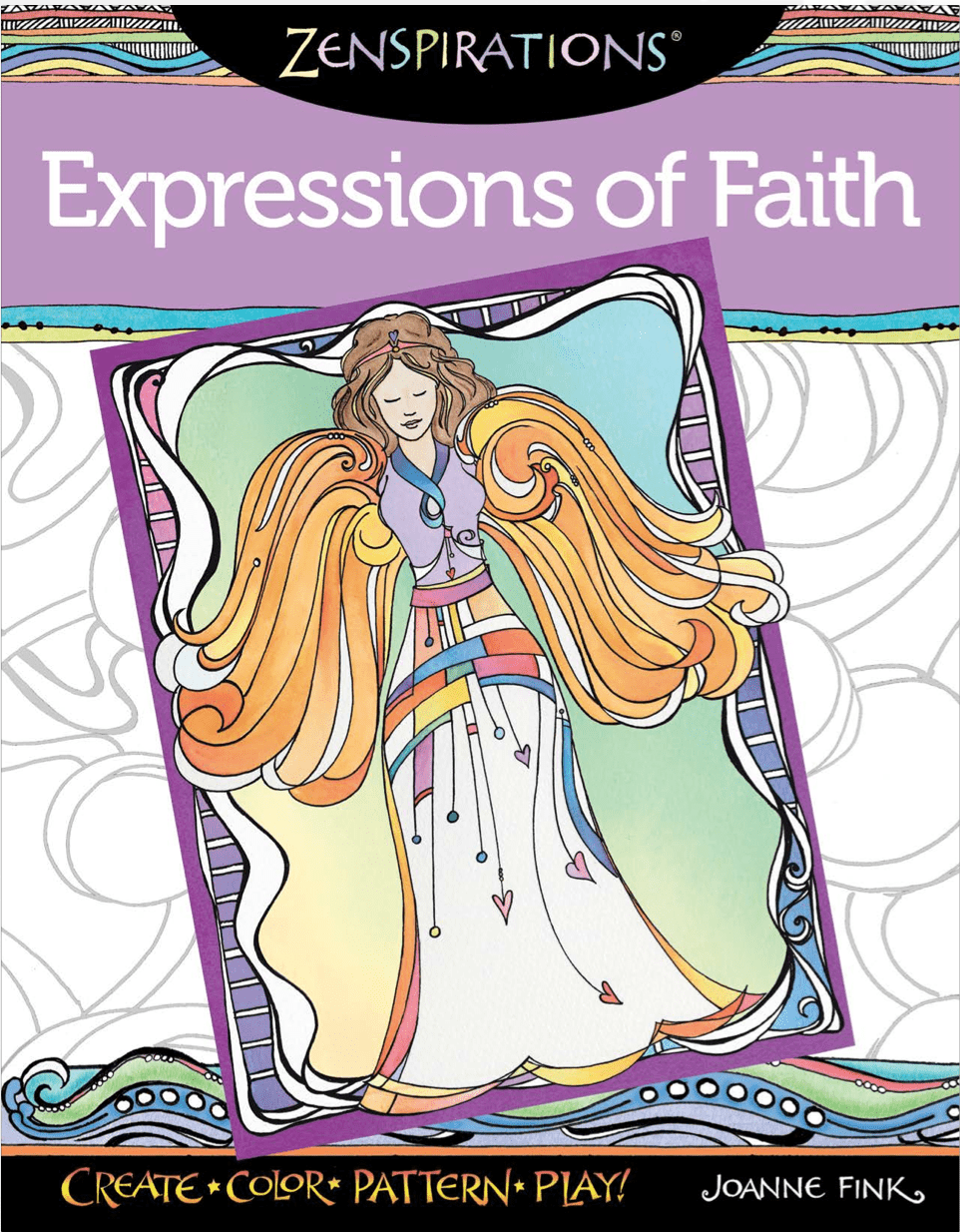 And here is one of the inspiration spreads from the full sized book. It's designed to showcase the variety of ways one image can be interpreted.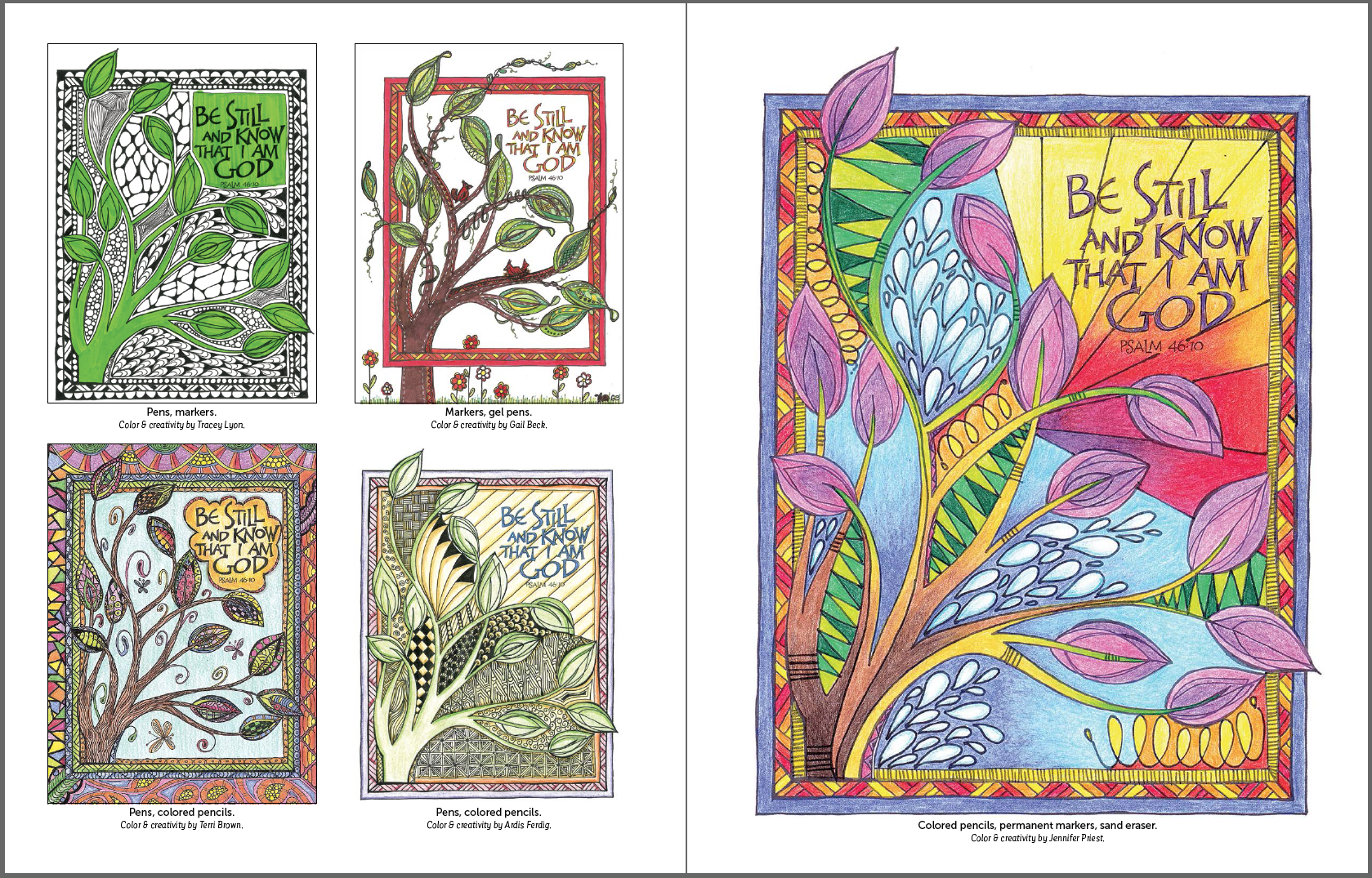 Special thanks to the five talented artists who created these samples: ;
LEFT PAGE:
Tracey Lyon (top left),
Gail Beck (top right),
Terri Brown (bottom left),
Ardis Ferdig (bottom right). ;
RIGHT PAGE:
Jennifer Priest ;
Below are five designs for you to download, print, color & create.
I have set up albums in our new Facebook Group
where you can share your interpretation of the designs.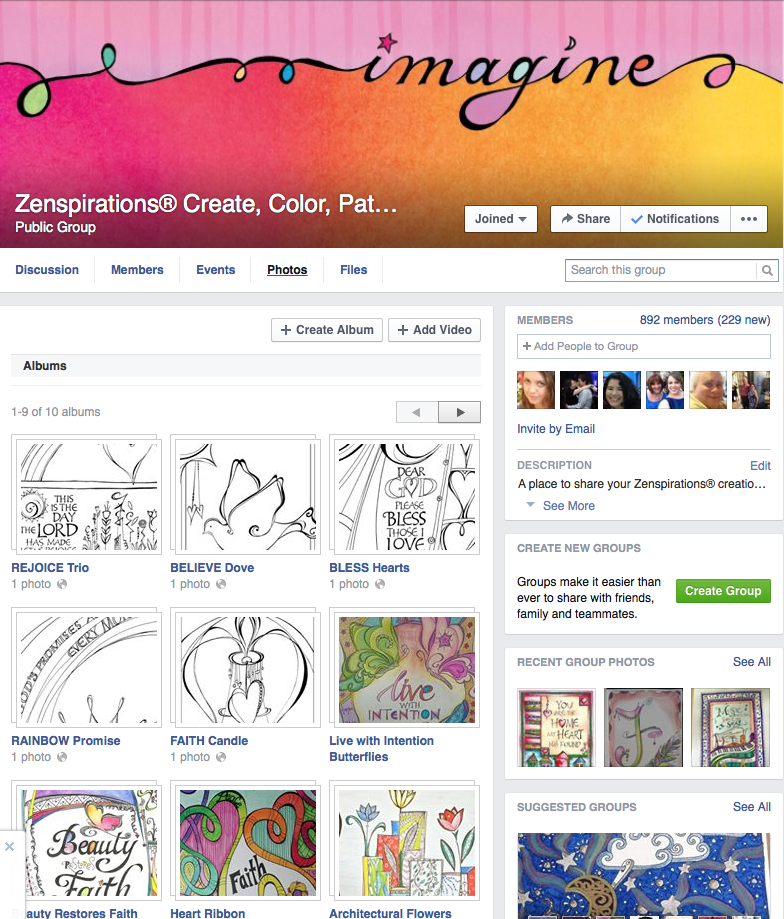 Check out the other albums if you'd like ideas on different ways to embellish your pages.
You'll have to join the group in order to post, and it sometimes takes me 24 + hours to respond to requests to join the group, so if you plan to submit and aren't a member yet, please join the group now, and then you'll be able to post your designs when you finish them. Here is the link:
https://www.facebook.com/groups/1471158256528576/
CONTEST RULES:
For every design you post (and yes, you may post more than one version of the same page) your name will be entered into a random drawing for one of the following prizes:
1. A Sakura Goody Basket!

2. A set of the new Zenspirations® Create, Color, Pattern, Play books:Birds & Butterflies, Expressions of Faith, and the mini Perfectly Portable Pages" Expressions of Faith.
The mini book isn't available for pre-order yet, but here are links to the others if you'd like to check them out:
If you post two designs, you'll have two chances to win; if you post five designs, you'll have five chances to win. The prizes winners will be selected at random; the pieces to include in the new book will be selected by my editor and me.
Although it is fine to simply color, what sets Zenspirations® Create, Color, Pattern & Play apart from all of the other coloring books on the market is that there is room on each page to add your own patterns and special touches before coloring. Therefore I'm looking for people who can add patterning (and/or other enhancements) as well as applying color.
IMPORTANT STUFF TO KNOW:
1. You will need to post your creations by end of day Sunday, August 30th. This date is not flexible, as the book is going to press the following week!
2. We will be only be able to include three of the five downloadable designs, and will select the three designs which show the most variety of coloring and patterning techniques, so don't be afraid to try different things. The more you do the better your chance to be included in the book or win a prize!
3. VERY IMPORTANT: PUT YOUR NAME, e-dress and phone number on each design before you scan or photograph it!
4. Post your images in the new Zenspirations® Create, Color, Pattern, Play Facebook Group and after you post them please add them to the appropriate photo album (Yes, this means you'll be posting the same thing twice; once on the wall and once in the album). You can get to the albums by clicking the Photos button underneath the imagine banner (see image above).
5. If your art is selected, you'll need to send my publisher a high-res scan (300 dpi) or be able to overnight the original art so they can scan it, and you'll need to sign a Permission-to-Publish form.
6. Because the books will not be printed on paper which accepts wet media, please DO NOT use watercolors or any other type of wet media. Color pencils, gel pens, markers and crayons are all fine.
7. Submitting pages is not a guarantee that they will be selected for inclusion.
8.
Artists whose work is selected will be given credit in the book, and will receive two free copies of the book when it is published.
9.
Since I always like opening doors for young talent, I'd be happy for you to share this info with any promising art students (or fellow artists) you know who would like to have their work published.
10.
You can e-mail me (
[email protected]
) if you have any questions: please put "ZENSPIRATIONS® COLORING ENTHUSIAST QUESTIONS" in the subject line.
Here are the five designs:
REJOICE Trio: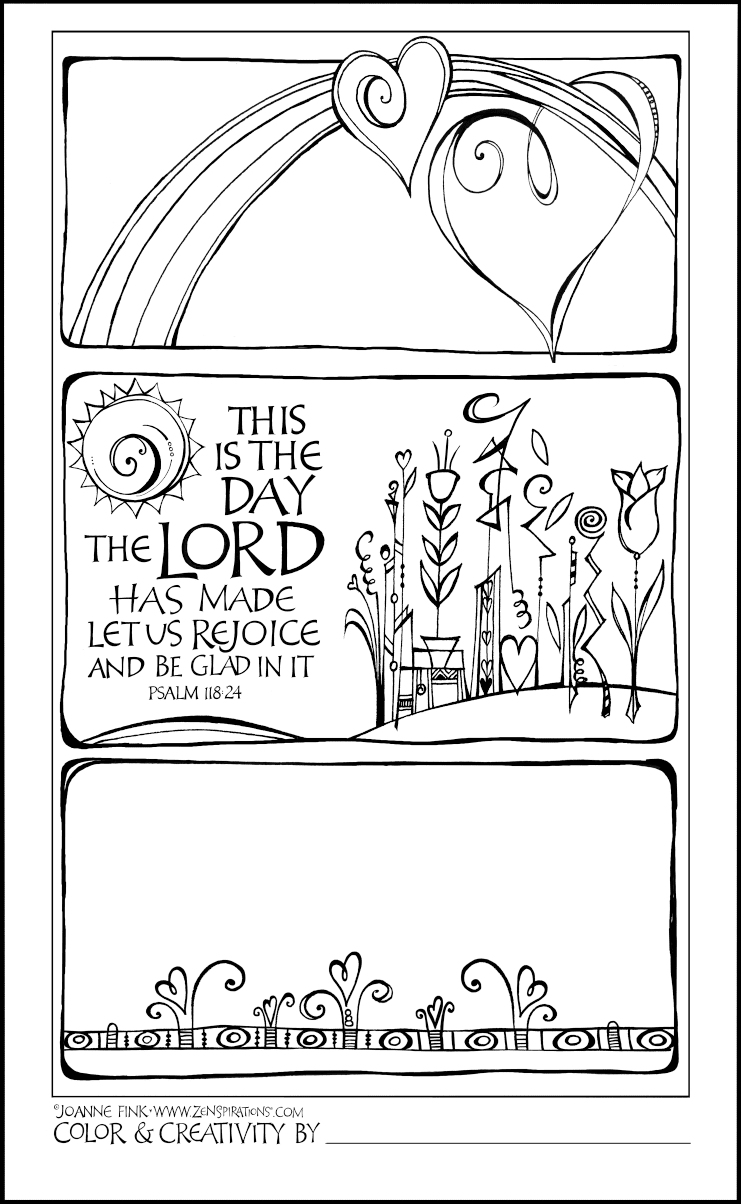 BELIEVE Dove: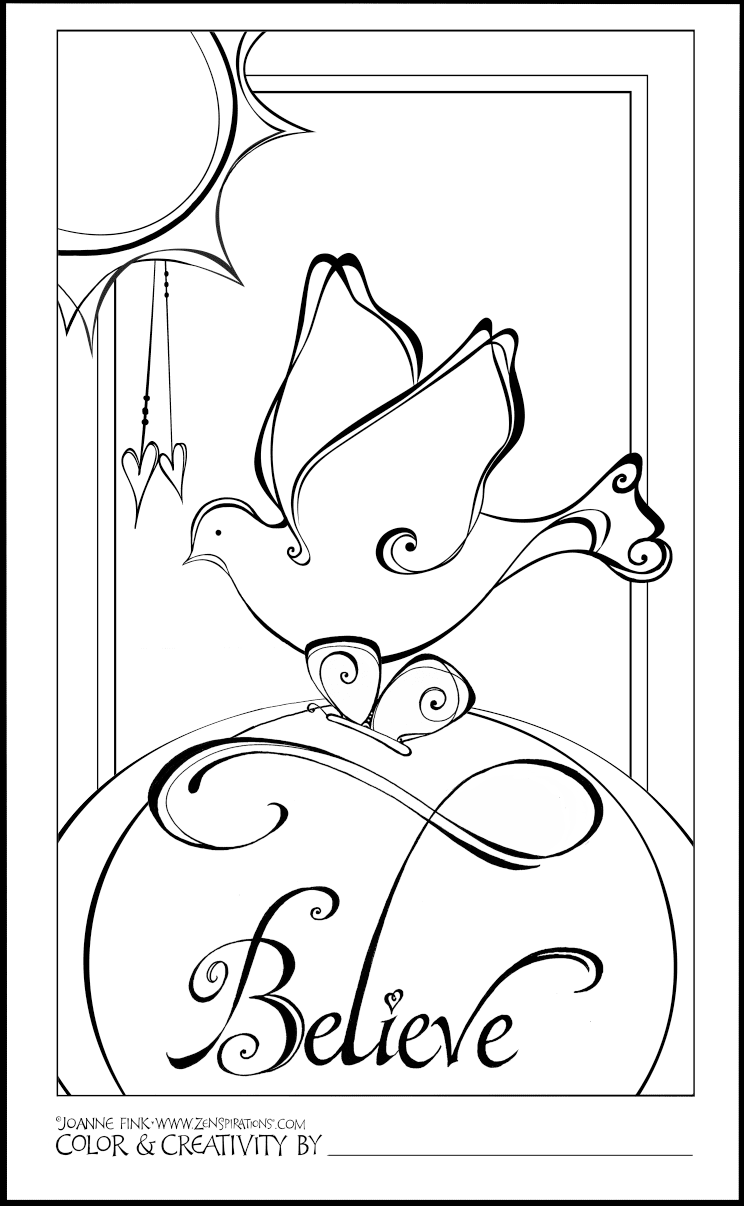 Click here to download your free copy of the BELIEVE Dove:
BLESS Hearts: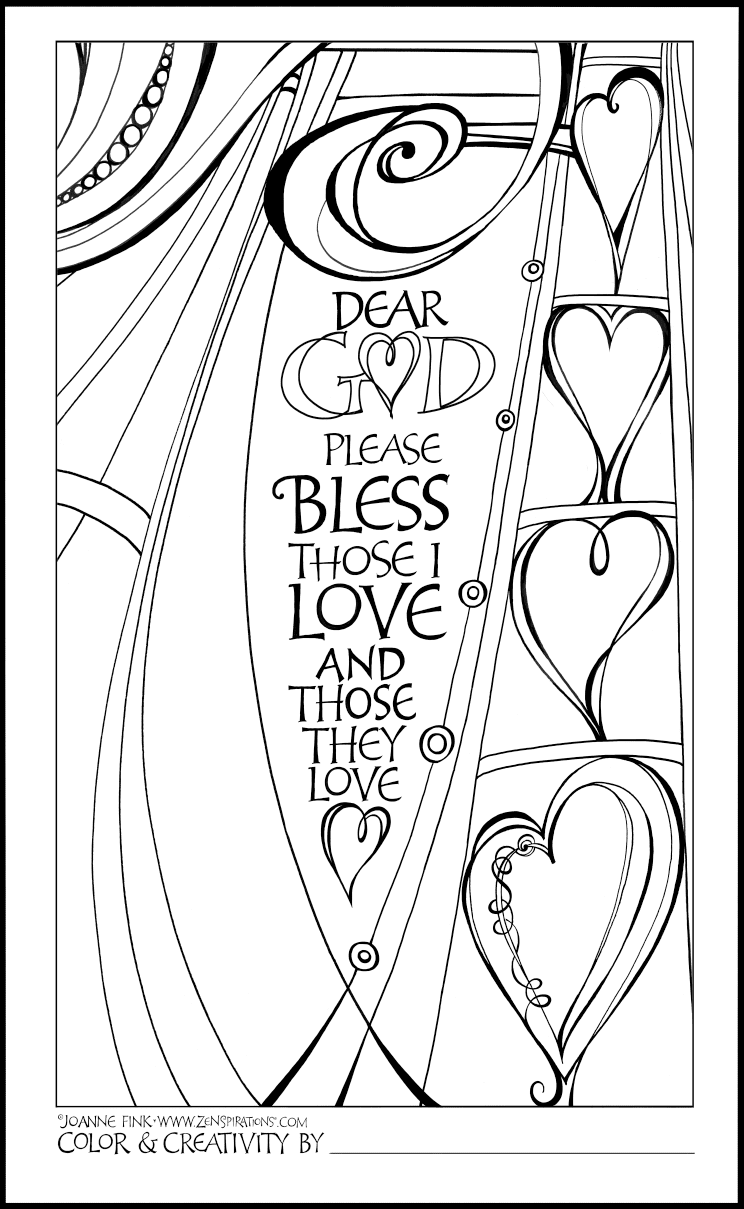 Click here to download your free copy of the BLESS Hearts:
RAINBOW Promise: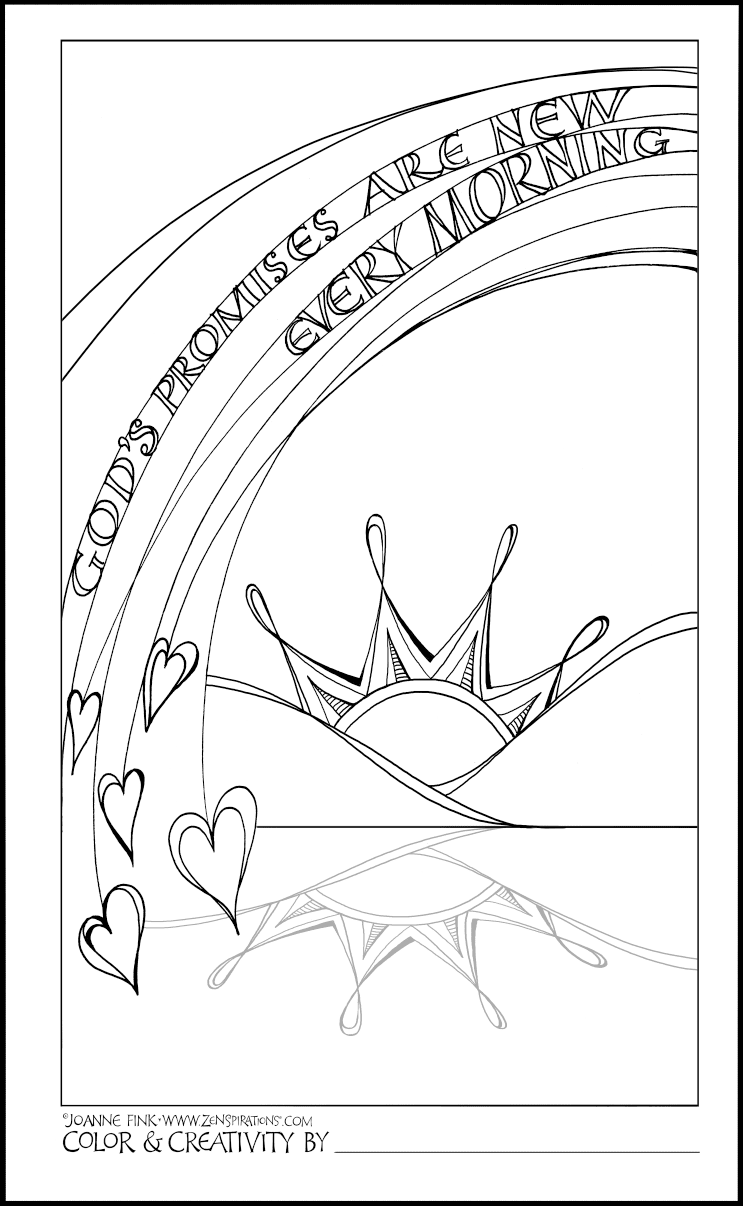 Click here to download your free copy of the RAINBOW Promise:
FAITH Candle: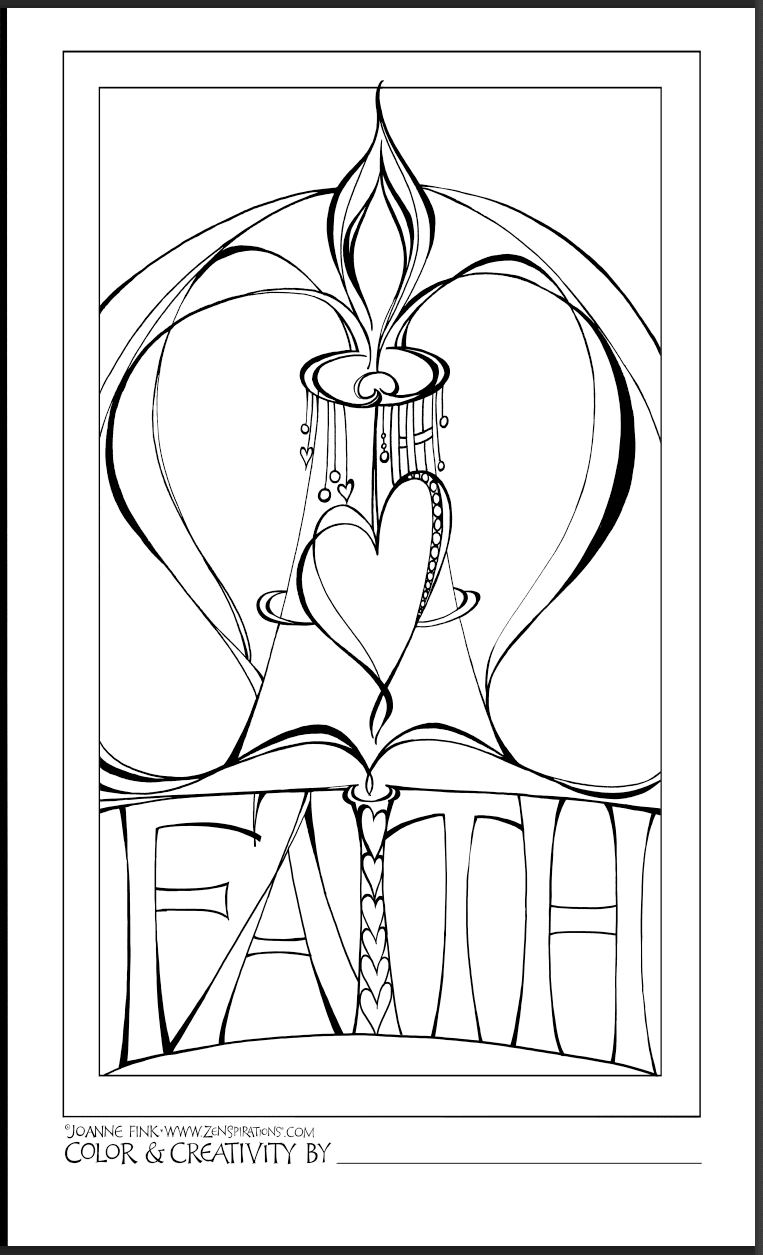 Click here to download your free copy of the FAITH Candle:
While I suspect that these pages will keep you busy for a while, if you are looking for more opportunities to Color, Create, Pattern & Play, Amazon is having a sale on Zenspirations® Inspirations. It's usually $9.99, but is selling right now for $6.77.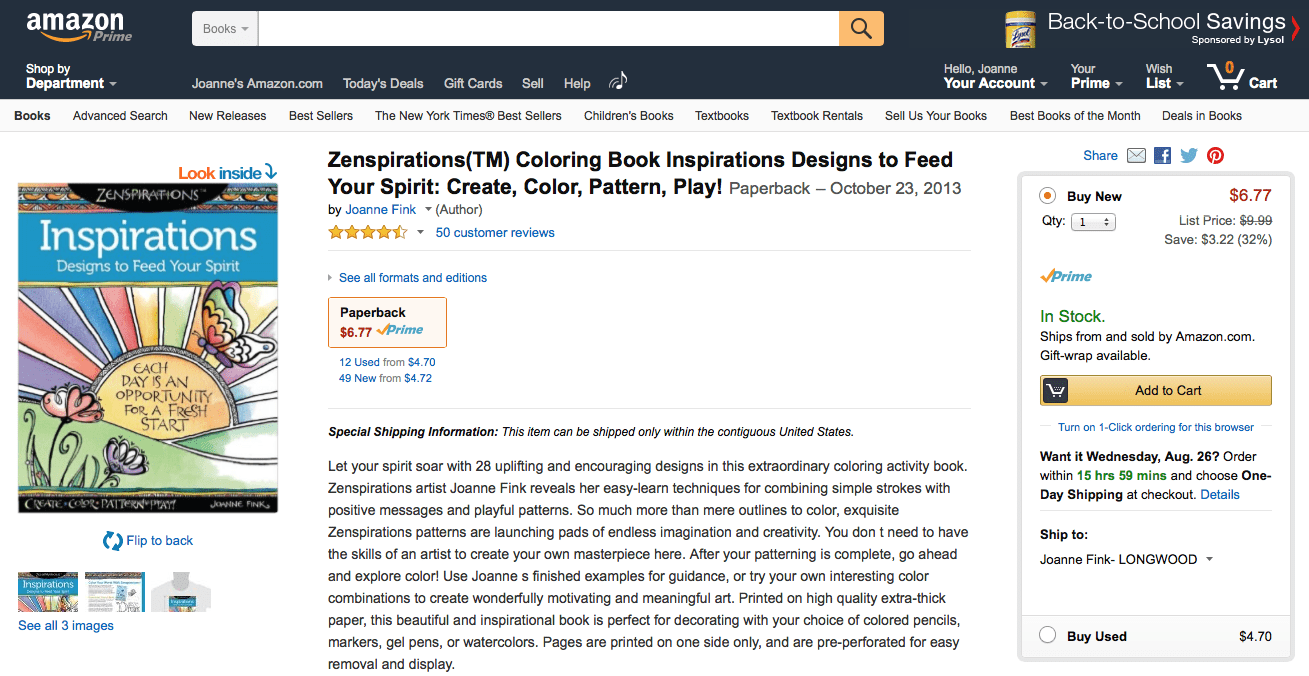 Happy Coloring… I am really looking forward to seeing your creativity in action!
Stay Zenspired,
Joanne