Complete Guide to Bible Journaling
Tuesday, October 18, 2016
Hi Everyone,
I am delighted to report that I am almost done with the manuscript and visuals for my next book, Complete Guide to Bible Journaling: Creative Techniques to Express Your Faith. My friend and co-author, Regina Yoder, and I have been diligently working on the book for the past few months, and the closer we get to the finish line, the more excited I become. This has truly been a labor of love, and I wanted to give you a 'sneak peak' at what's in the book.
Before telling you about the content, I wanted to share two of the many cover comps we've worked on. I don't know which (if either) will ultimately be chosen, but I would love to know whether you prefer this design where you can see the entire Bible spread: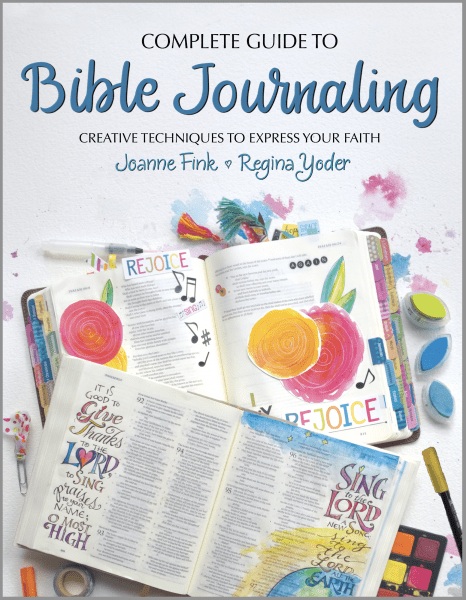 or the one below where you can only see the left side of the Bibles. I'd also like to know if you prefer the blue background with white lettering, or the white background with blue lettering.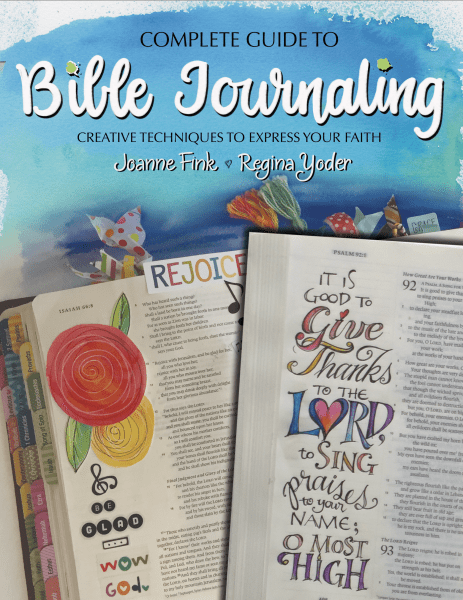 As an incentive to share your thoughts, I will pick a name at random from all of those who leave a comment, and that person will win a copy of the book when it comes out. You'll have to be patient though– it will be February or March before they will be available.
Writing this book has been a lot more involved than doing any of the Zenspirations® Create, Color, Pattern, Play books. With 128 pages, the new book is significantly longer, and it is divided into the following sections: Getting Started, Tools & Techniques, Artist Profiles, and Gallery plus a Bonus section. Here's what will be in each:
GETTING STARTED: Pages 1-10. This is the introductory section, which covers the basics, including an explanation of Bible Journaling and it's benefits, how to choose a Bible, and where to begin.
TOOLS & TECHNIQUES 'HOW-TO': Pages 11-45. This is the section that has taken the longest to write, and the one I'm most excited to share with you. It has double page spreads techniques which are widely used in Bible Journaling. Regina and I created the 'step-outs' for most of these technique pages, including acrylic paints, brush markers, stamp-pad painting, stencils, stickers, washy-tape embellishments, and watercolors. We are thrilled to include expert advice on Page Prep techniques by Rebekah R. Jones, Color Pencil techniques by Leitha Hunt, and Rubber Stamp techniques by Dorian Eng.
More than a third of this section is devoted to drawing and lettering techniques, and integrating them into an effective visual layout. I've crammed a LOT of great information into these pages: how to incorporate patterns into simple illustrations of flowers, birds and other nature icons; a spread on Dangles and Dangle houses; as well as several different lettering styles. Best of all I explain how to decide what lettering style and design motifs are appropriate to bring a quote to life, and show examples. I've been polishing this section all month, and am hoping that the book to be a valuable resource for anyone who wants to learn how to effectively combine lettering and illustration.
In the layout section I discuss how to use contrast to make a word or phrase stand out. I had wanted to include a page that showed a variety of ways to letter the same word, but in the end, didn't have space for it. So I thought I'd share these LOVE variations with you, to whet your appetite for lettering styles until the book is published.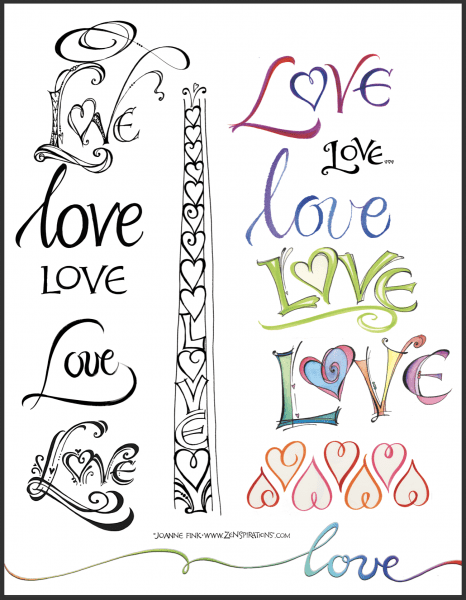 ARTIST PROFILES: Pages 46-91. This section has in-depth interviews with 11 of the world's leading Bible Journaling artists, and includes photos of each artist in her studio, along with samples of her work.
GALLERY SECTION: Pages 92-111. This section starts by showcasing different artists' rendition of the same scripture, followed by several spreads of work by artists, who like me, prefer to letter scripture  'Outside the Bible' rather than directly in their Bible. The bulk of this section is filled with inspiring images, grouped into different themes.
BONUS SECTION: Pages 112-128. The bonus section will be really cool, because it will include stickers, chapter tabs (like the ones on the bottom Bible in the cover photo) vellum overlays, traceable icons, coloring sheets and more. All designed to give new Bible Journaling artists a jumpstart on creatively expressing their faith.
Wow! Now that I've put this all in writing I'm even more excited! I can't wait to hear your thoughts… about the cover and the contents… so please leave a comment letting me know what you think.
Before closing this week I wanted to thank those of you who let me know that the links to download the the designs I posted last week weren't working… they are now fixed, so if you'd like to download the Breathe and/or Holding You in My Heart cards, you can find them on last week's blog: https://zenspirations.com/blog/compassion-connection-community/.
I'd also like to congratulate Janice Layton, who was the winner of the 'Think Pink' blog comment contest from two weeks ago. Janice, please let me know what style you'd like me to letter your name in, and the name of the friend you'll be sending your card to, so I can letter her name as well.
Stay Zenspired,

Joanne