Creativity Abounds!
Tuesday, August 18, 2015
Hi Everyone,
I had a nice surprise this week… a box arrived from Impression Obsession with samples of some of my new rubber stamp designs, and there are a few I REALLY love. The photo below shows some of the craft themed stamps, and I'm sure you can guess which ones are my favorites.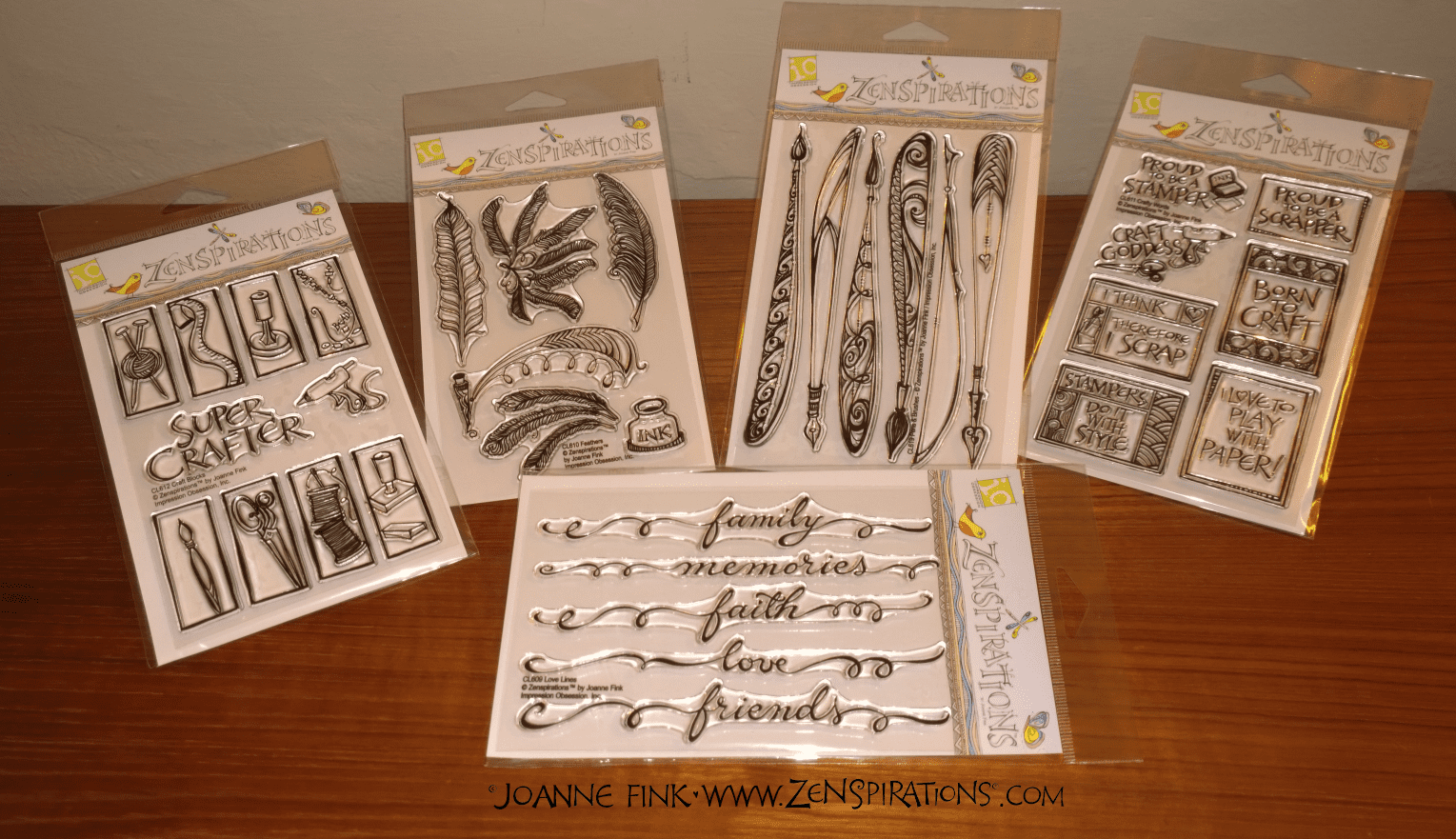 As a calligrapher I'm naturally drawn to the quills, pens & brushes… below is the original drawing of the pen & brush stamp.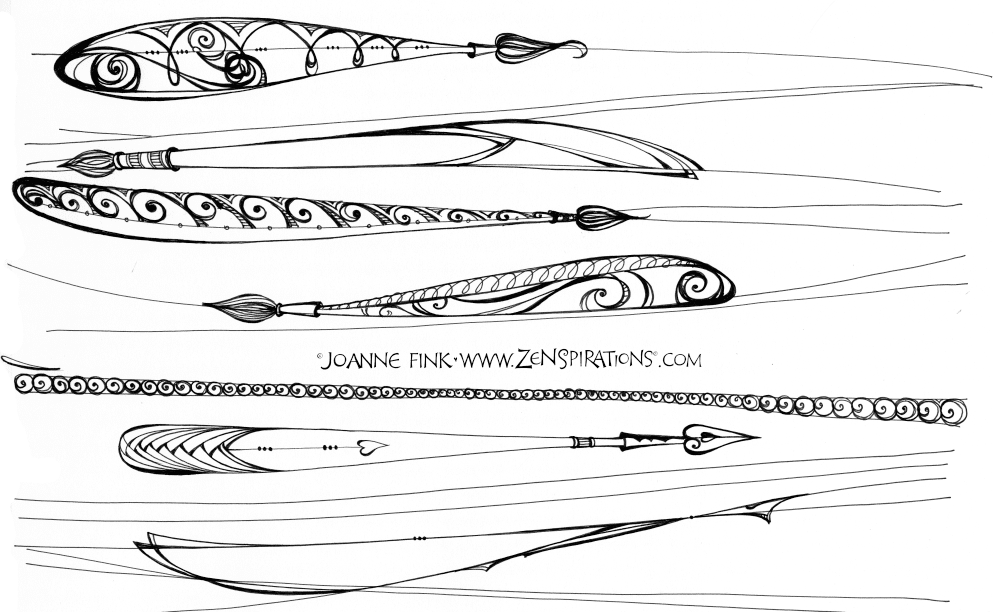 Here is a painted version of two of the brushes.


I love color, and have been delighted to see the vibrant and varied colors, and the creative designs, which are being shared in our new Facebook Group, Zenspirations® Create, Color, Pattern, Play. As promised, there are now albums of the four free downloadable pages I posted in the blog the past two weeks, which makes it easy to see how different artists use color and pattern to create a unique design. THANK YOU to everyone who has shared their work, and to those who have 'liked' their designs and left supportive and encouraging comments. I'm honored and inspired to be part of this growing community.
Here's a screen shot of some of the images in the Architectural Flowers album.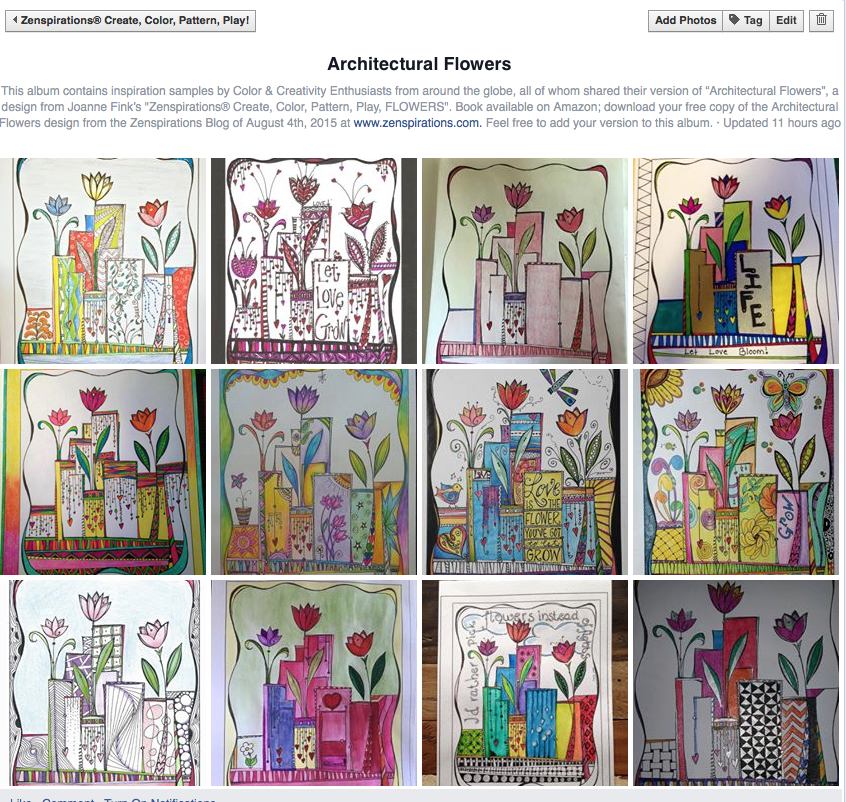 And here is a screenshot of the 'Beauty restores Faith' page from my soon-to-be-released Zenspirations® Create, Color, Pattern, Play: Expressions of Faith book: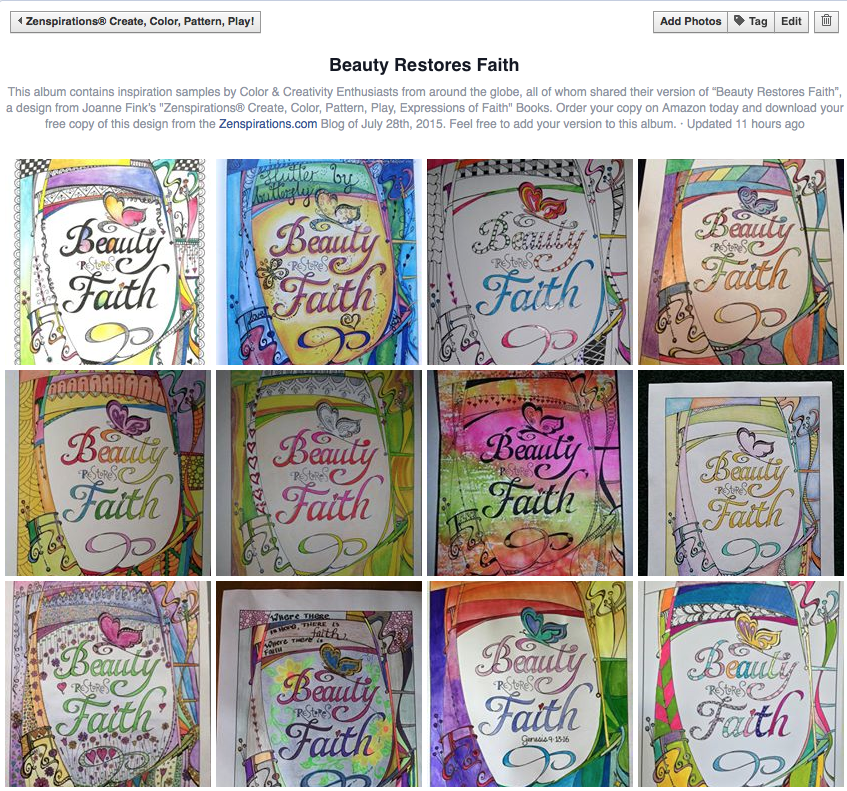 You can get a better look at these wonderful designs, and see who did them, by visiting the group https://www.facebook.com/groups/1471158256528576/ and scrolling through the albums. Hope you'll all join the fun, and please invite other creativity and color enthusiasts to join the group and post their work. And if you haven't been bitten by the coloring bug, or aren't quite ready to share yet, please take a few minutes to encourage those who are posting– especially those who are sharing their art for the first time. Kind comments can really make someone's day!
Although I haven't made a rubber stamp out of Beauty restores Faith (yet!), quite a number of the new stamps are scripture/faith based. As you can see, some scriptures are designed in long vertical strips so they can be used for Bible Journaling.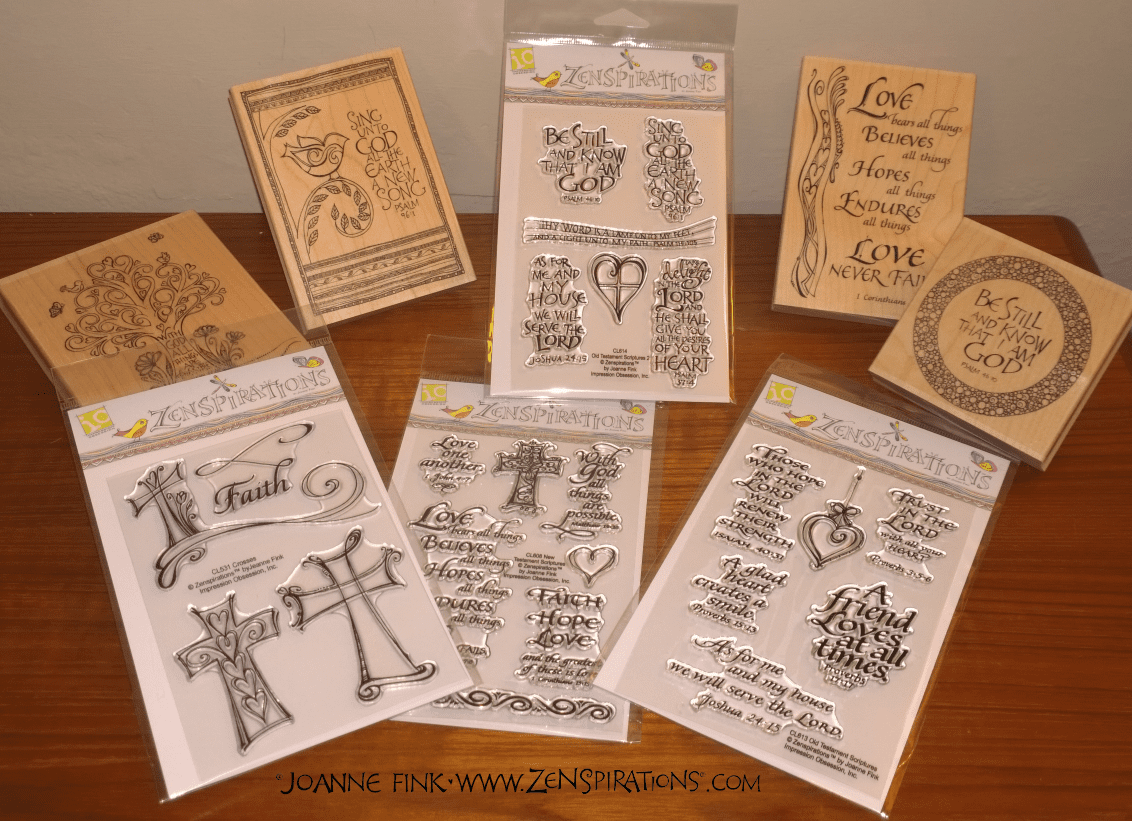 The new Zenspirations® Expressions of Faith book also has scriptures in long skinny columns that you can color & pattern, then cut and paste into your bible. I don't know how many of you are interested in Bible journaling, but if you'd like to see the Bible journaling designs I drew, please leave a comment letting me know. If a lot of people are interested I'll ask my editor if I can post another free download next week. If you'd rather see a full page illustration from Expressions of Faith, or something from Birds & Butterflies, please leave that as a comment. I'll ask to post whatever gets the most votes.
In case you missed last week's blog, the new books are available for pre-order on Amazon. I'd be grateful if you could help me spread the word. Here are the links: Zenspirations Expressions of Faith
http://www.amazon.com/gp/product/1574219014/ref=as_li_qf_sp_asin_il_tl?ie=UTF8&camp=1789&creative=9325&creativeASIN=1574219014&linkCode=as2&tag=zenspirations-20&linkId=XZB4LZX5SEDRLSEX
Zenspirations Birds and Butterflies
http://www.amazon.com/gp/product/1574218700/ref=as_li_tl?ie=UTF8&camp=1789&creative=9325&creativeASIN=1574218700&linkCode=as2&tag=zenspirations-20&linkId=BZSBZRCZTJKYXVL7
Before closing tonight, I wanted to share a note I got today from Erica McPhee, founder of The Flourish Forum, and editor of the awesome Dasherie Magazine.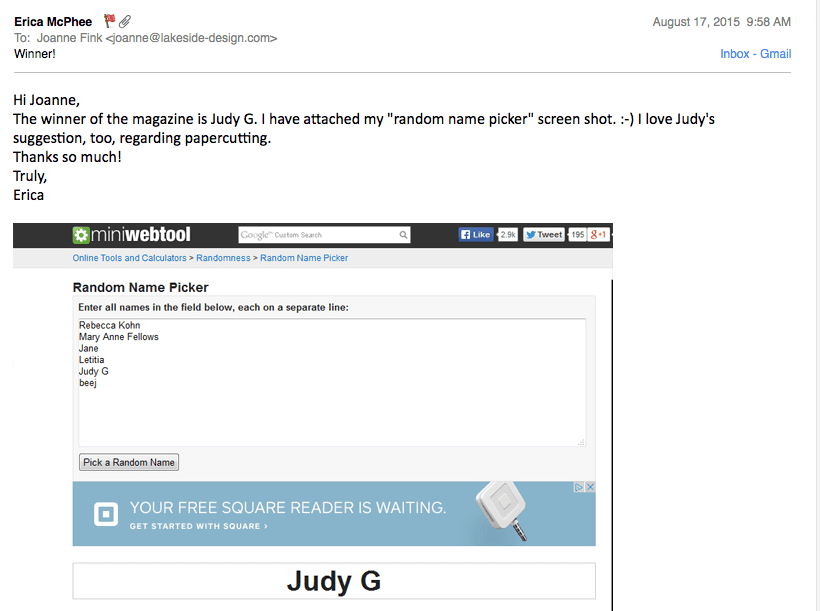 Congratulations Judy! And thank you Erica! The magazine is GORGEOUS, and I'm thrilled to be featured in the summer issue, and know that Judy will enjoy getting a copy.
Until next week,
Stay Zenspired,
Joanne