Daring to Dream
Tuesday, January 16, 2018
Hi Everyone,
Every January I blog about one of my personal heroes–Civil Rights Leader Martin Luther King Jr. — whose work has always inspired me. I share his dream of living in a world where we judge people on the content of their character, rather than on the color of their skin. In my 2015 blog I wrote:
Every year on Martin Luther King Jr. Day I try to listen to the famous "I have a Dream" speech Dr. King gave in 1963– the year before he won the Nobel Peace Prize. I have always admired Dr. King's commitment to equality, freedom and justice. One of my favorite quotes from his speech is "I have a dream that my four little children will one day live in a nation where they will not be judged by the color of their skin but by the content of their character." Wow!
Throughout my life I have had many dreams… some have become reality, others have been replaced by new dreams. I've come to the conclusion that what you dream is not nearly as important as the fact that you have a dream. Dreams give us purpose; they keep us interested, passionate and connected. I believe dreams are essential to living a meaningful life.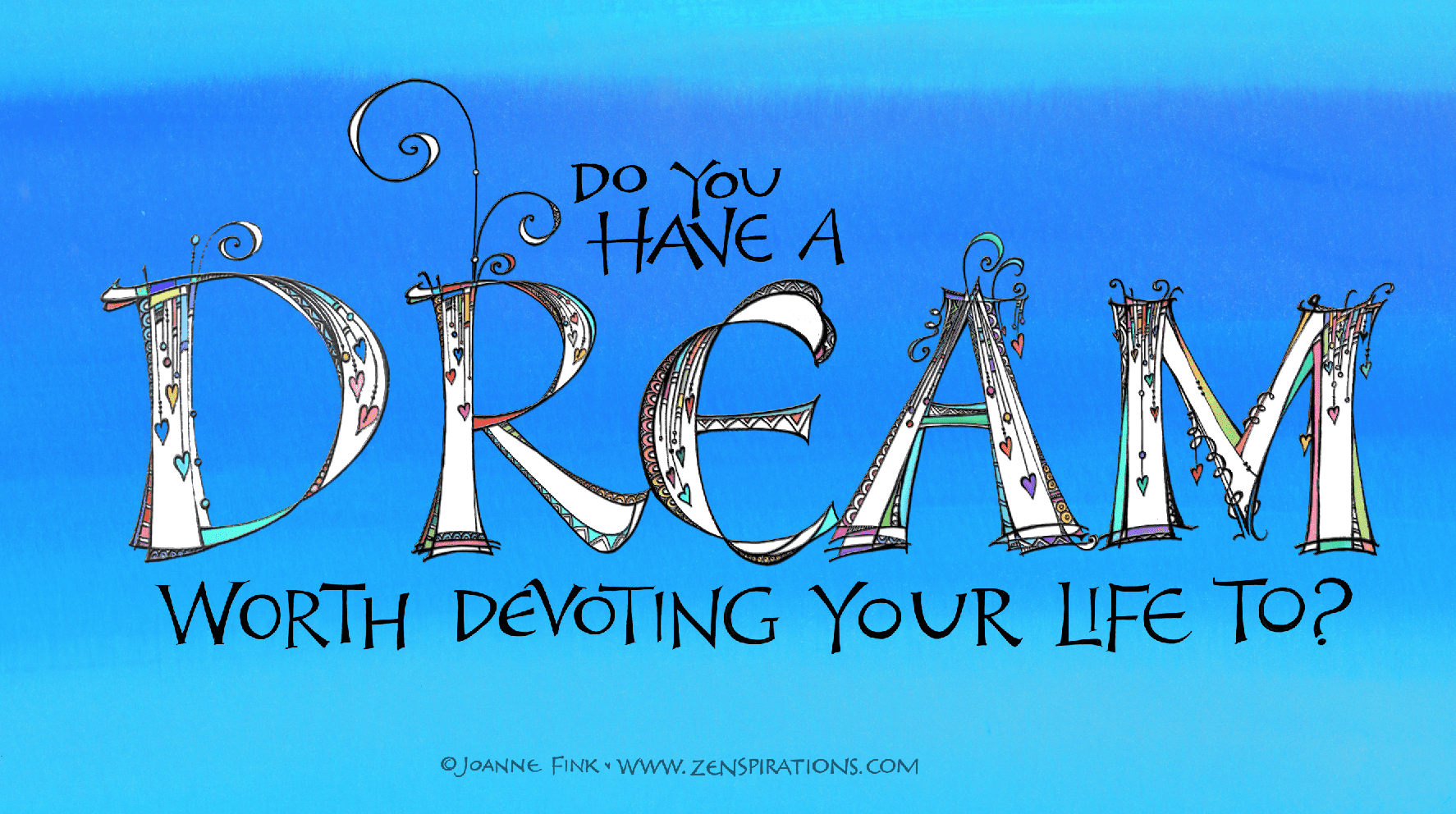 Thinking about Dr. King's speech compels me to ask– 'Do you have a dream worth devoting your life to?' I do– and you are all a part of it! Zenspirations® is the outgrowth of my desire to make a difference in the world by helping people tap into their own unlimited creative potential. I like to encourage people to 'dig into their soul' in order to discover their unique 'core truths', and then to share the wisdom they have earned on their life's journey with others. The tag line for Zenspirations, "Live by inspiring others to fly", speaks to the INTENTION we set when we want to make a difference. My dream– Zenspirations– helps me stay grounded in gratitude, and enables me to continually reach out in love with the hope of inspiring others to do the same.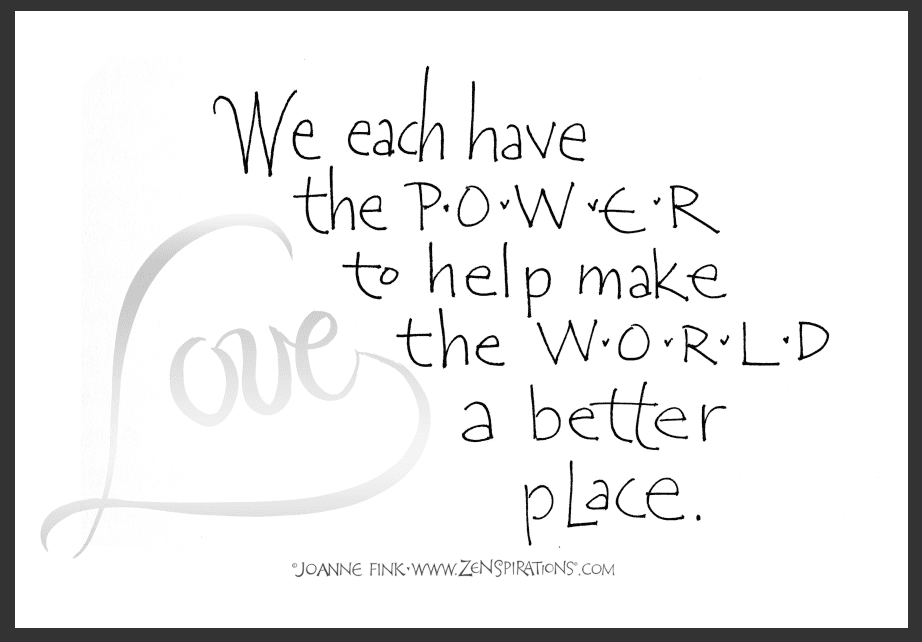 I just got back from the Atlanta Gift Show, where some of my new licensed products were being featured. I was especially excited to see an advanced copy of My Prayer Journal, which was on display when I did a book-signing for When You Lose Someone You Love.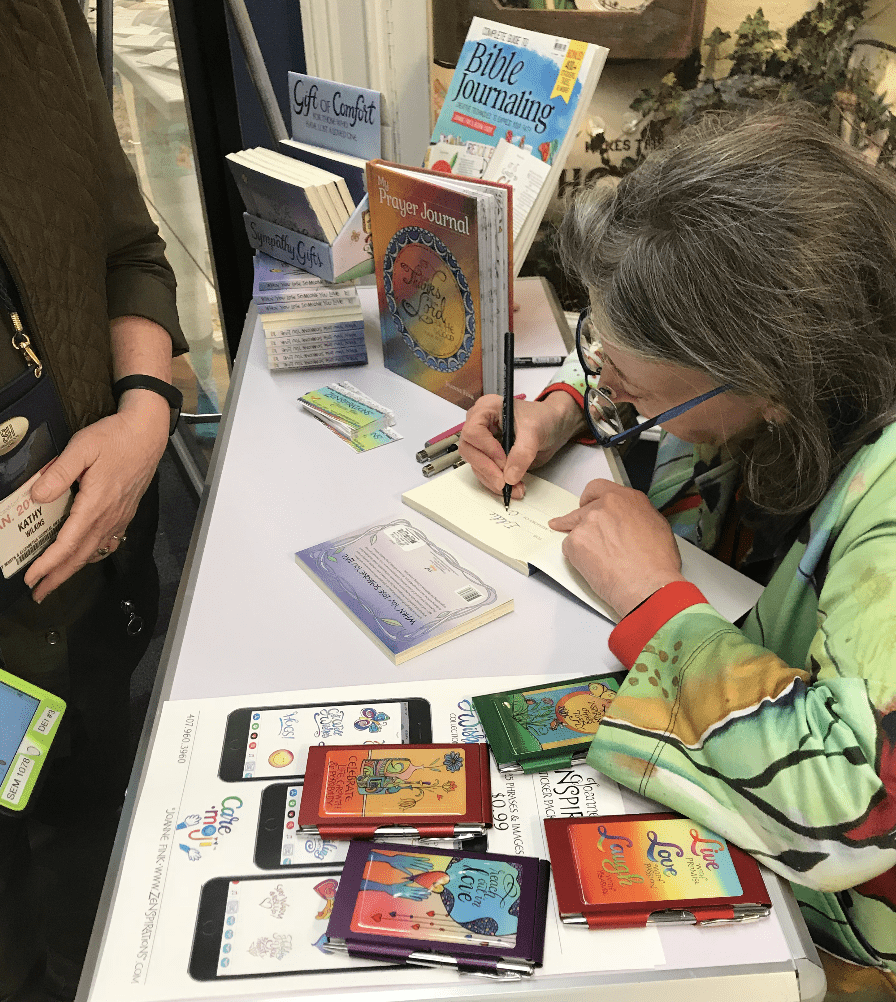 After you've spent months working on a project, it's really exciting to actually hold it in your hands. One of the pages features the latest version of Zenspirations 'tag line' design, Live by Inspiring Others to Fly.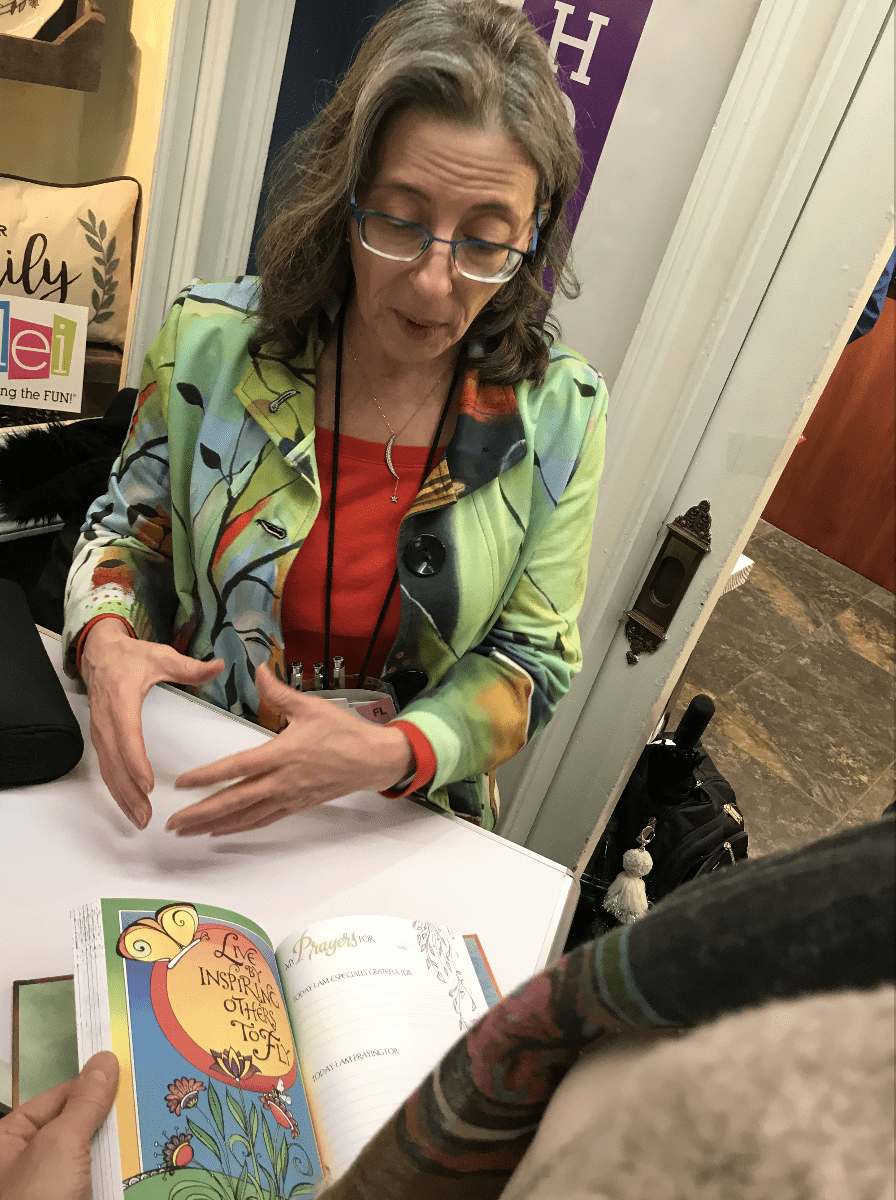 This design is also included in Wellspring Gift's new line of 'Zenspirational' Flipnotes®, magnets and list pads: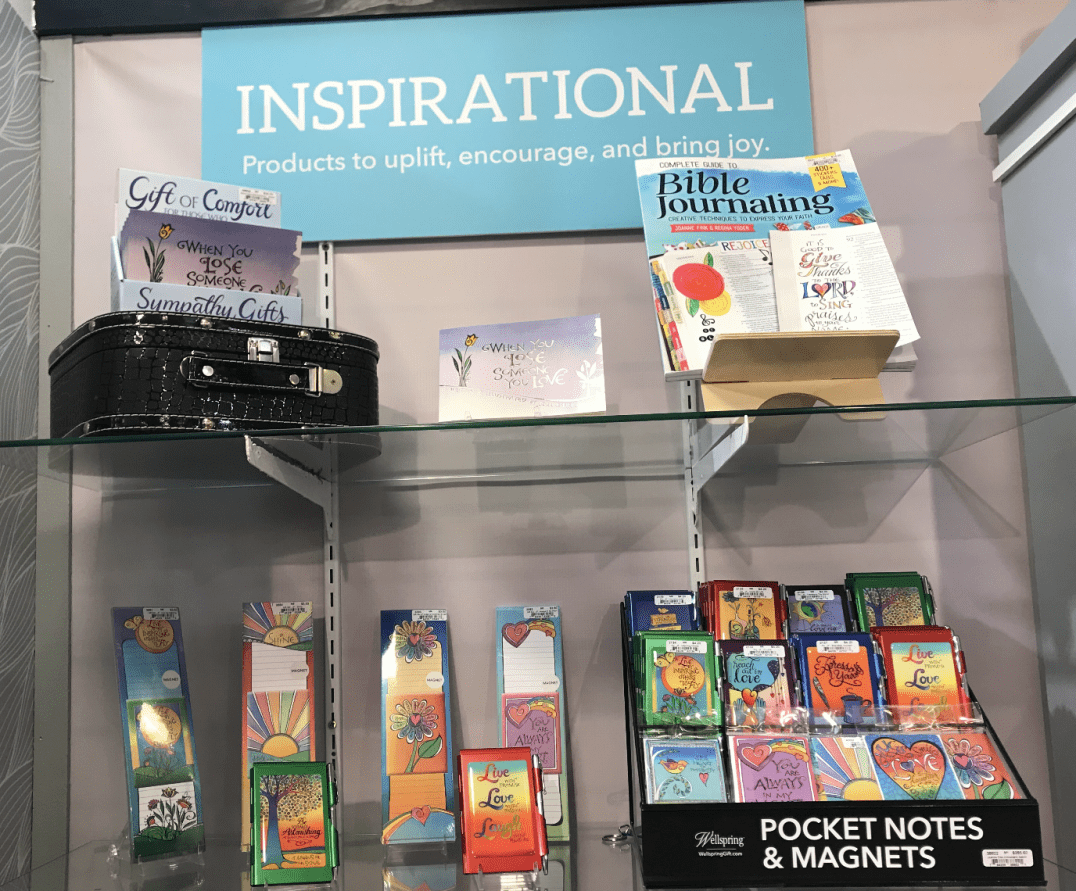 Here's a close up of the Flipnote with the Zenspirations tag line: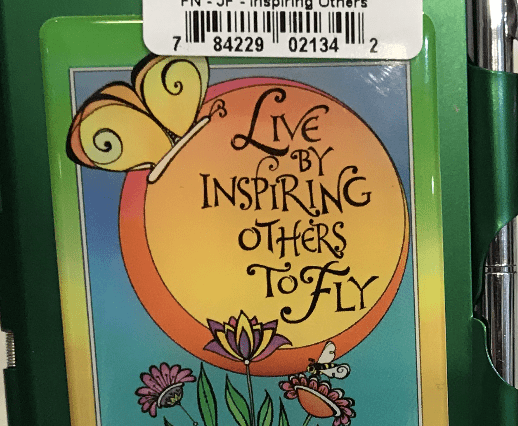 I was incredibly pleased with the beautiful, vibrant colors, and can't wait to get some of the products to put in the Zenspirations webstore.
I was also happy to see some of my new greeting cards for Design Design: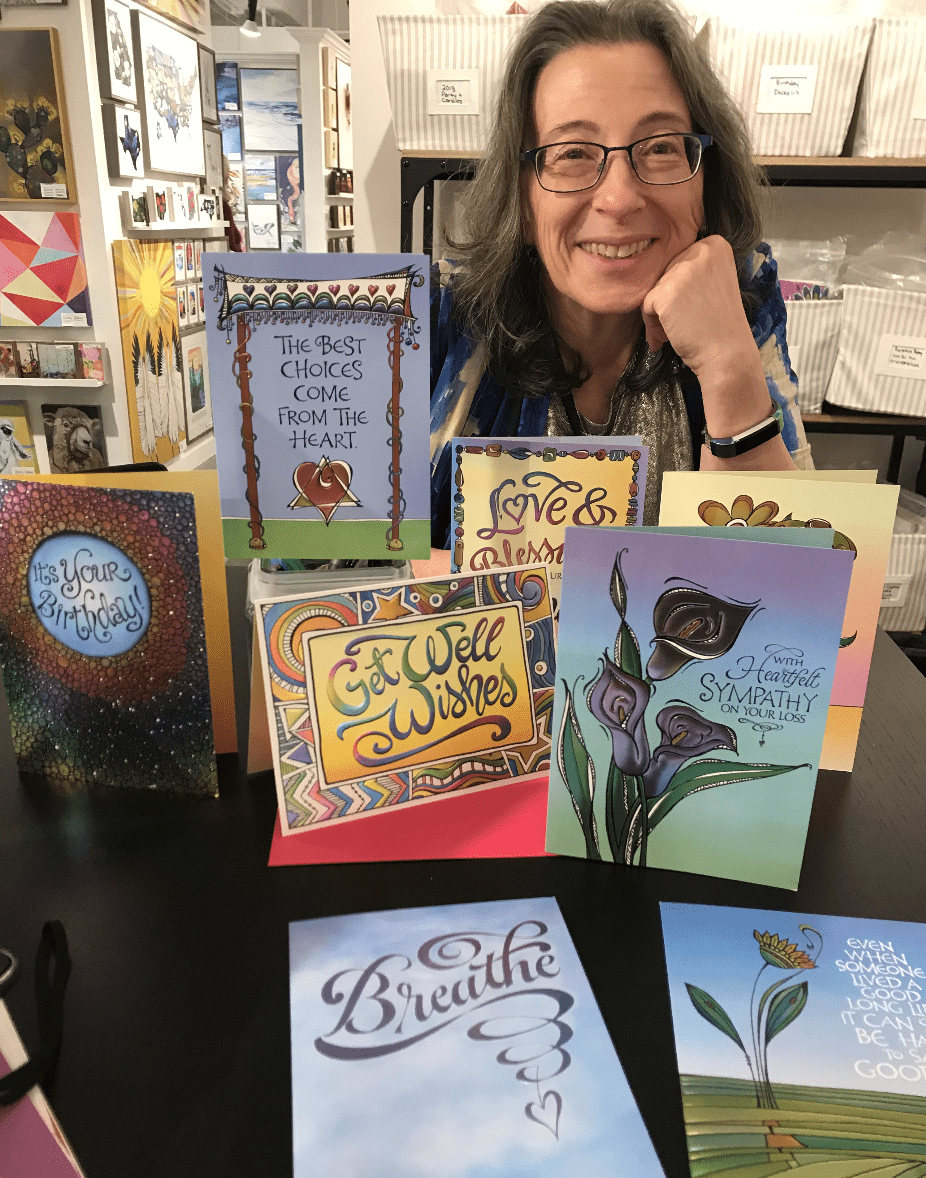 If you are one of the coloring enthusiasts who bought some of the coloring products I designed for Michaels last year, take a close look at the Get Well Wishes card… do you recognize it? It's one of the photo frames, which I colored with Sakura's awesome Koi® Coloring Brush pens. I thought it would make a nice border for the card, and really like how it turned out.
Best of all was getting to visit with some of my Art Licensing friends, both old and new– Shelly Bartek, Beth Buffington, Kristi Caterson, Phyllis Dobbs, Karen Embry, Willie Green-Aldridge, Jennifer Heynen, Sindy Levine, Vicki Schreiner, Jan Shade Beach, Jane Shasky, Lori Siebert, Linda Simpson, Barb Tourtillotte, and Wendy Wiinanen– at Cherish Flieder's birthday dinner.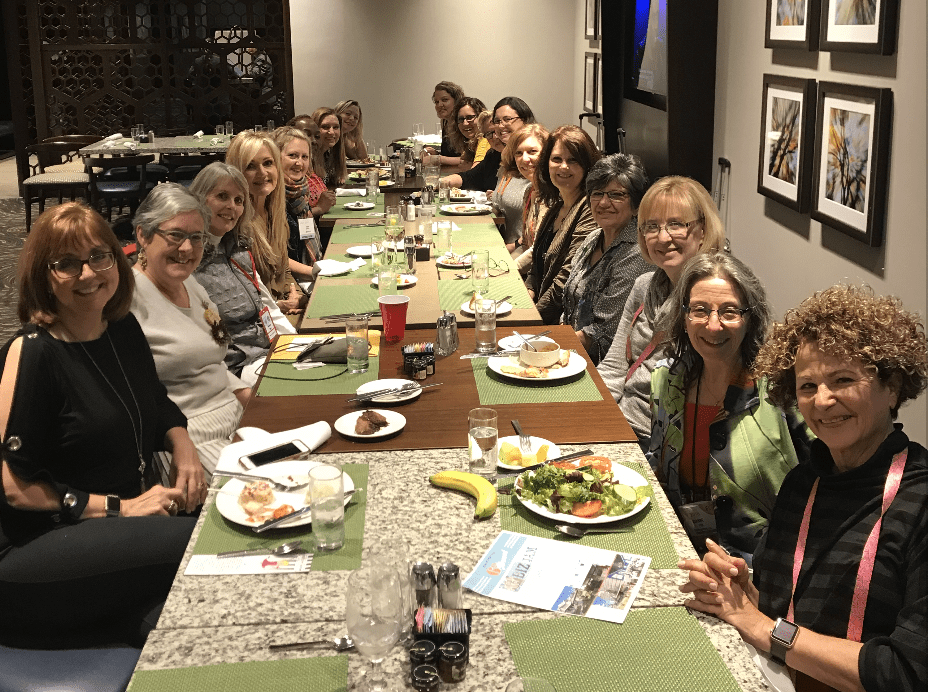 Speaking of visiting with friends, this March, when my friend Gail Beck will be in Central Florida, I'm planning to host another Zenspirations Color & Creativity Weekend. I'm inviting my artistic friends to come hang out at the studio, draw on my sofa, share ideas, experiment with new techniques and supplies, and if the timing works, make samples for my next book (more on that in another blog). Leave a comment to let me know if you'd like more information about it.
Now that I'm an 'empty nester', I'm starting to travel and give workshops again– so if you'd be interested in having me come to your city to teach Bible Journaling, Prayer Journaling, Creative Color Techniques, Lettering, or Zenspirations patterning & drawing, leave a comment letting me know that, too. I'm starting to put together my fall 2018-spring 2019 travel schedule and would love to meet as many of you as I can.
Stay Zenspired,
Joanne