#defy, #pray, #believe
Tuesday, April 17, 2018
Hi Everyone,
A friend reached out with a special request this week:
Can I commission you to do one of your beautiful Zenspirations® Care-Moji designs for a dear friend who was just diagnosed with metastatic breast cancer after 10 years in remission!!!!  I'm heartbroken for her and her family. She loves your work and her tribe has adopted the following sign off in support: #defy #pray #believe. 
How do you cope with life-shattering situations? What do you do when life seems SO unfair that you have no words to describe how unfair it is?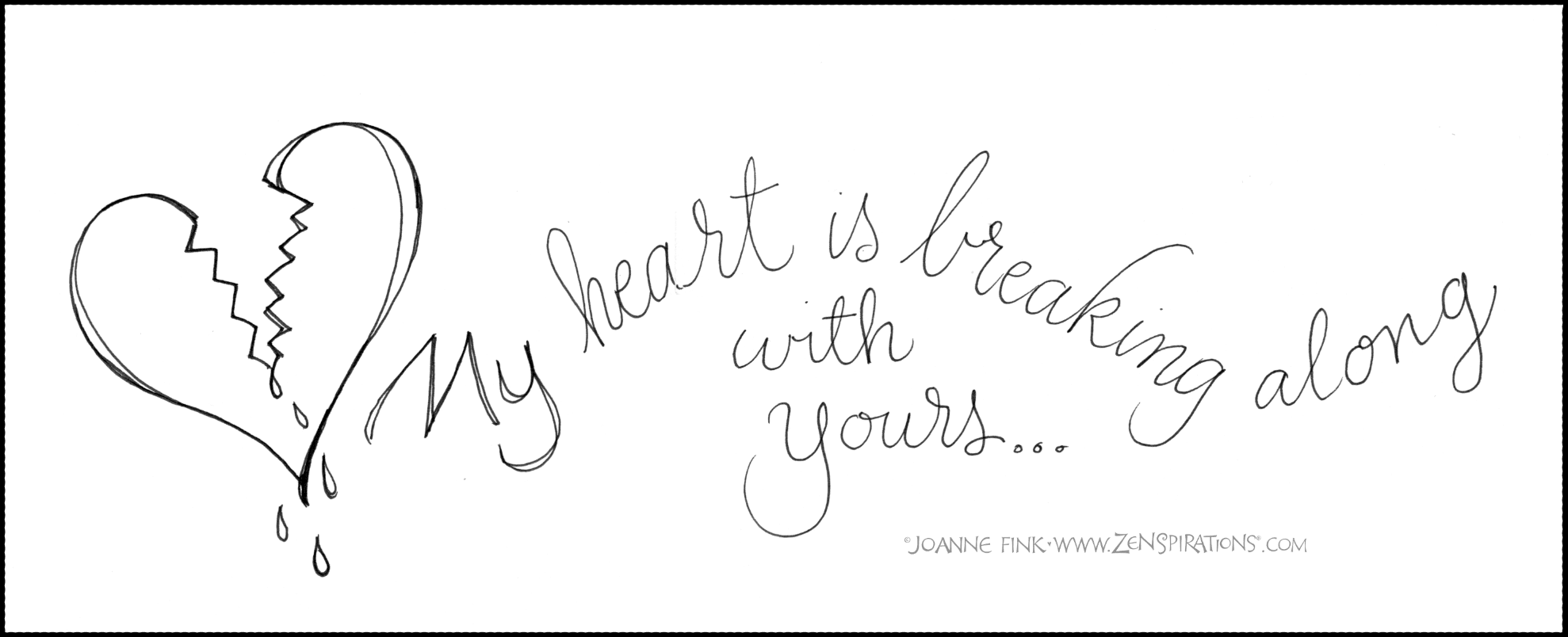 We each go through times when we feel overwhelmed by the events taking place in our lives and the lives of those we love. Weeks when you get so much bad news that you can't even catch your breath. How do you stay grounded when you feel overwhelmed by the suffering all around you? How do you support the people you love who are facing serious, life threatening– or life altering– challenges?
These aren't rhetorical questions– this is a beginning of a conversation I'd like to have. I'd like to support my friend while she supports her friend… and I'd welcome your ideas. Please leave a comment on the blog sharing how you deal with– and/or how you help other people deal with– life's turmoils. If something someone said or did made a difference for you during a difficult period in your life, please share that, too… maybe it will inspire someone in the Zenspirations community to do something similar. Sharing is a great way to connect, and we can all learn from one another. I'm especially interested in ideas which will bring hope and comfort to the bereaved, and to the friends and family of someone who is terminally ill. Thanks, in advance, for sharing.
One of the ways I cope with sorrow is putting pen to paper. I usually find comfort in pouring my heart out onto the pages of my morning prayer journal…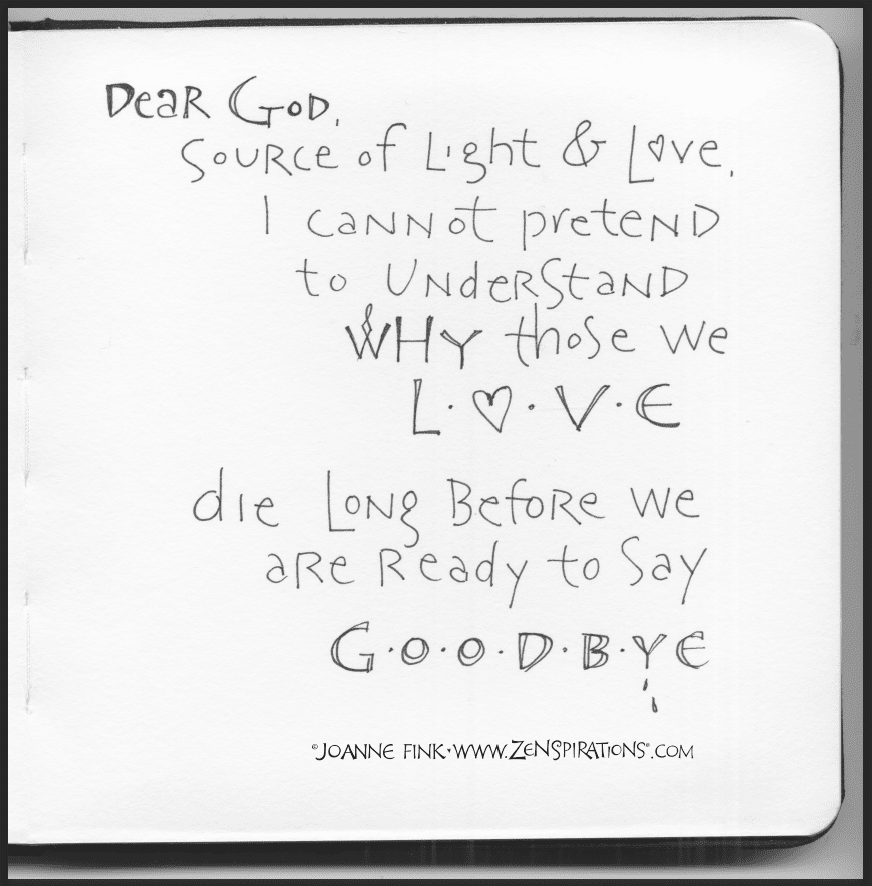 I believe in the power of prayer, and even when I don't know what to pray for…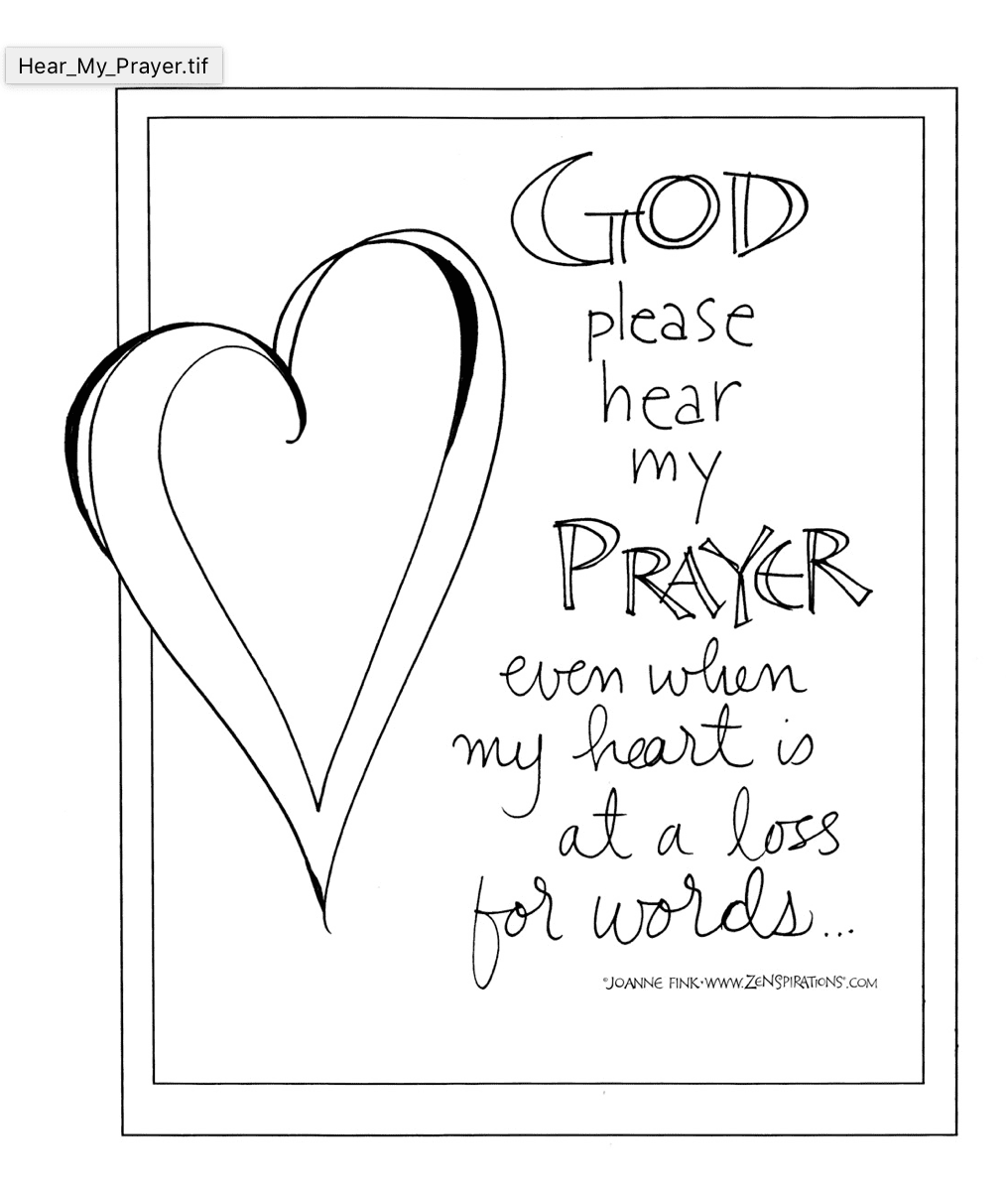 Another way I cope– and try to help– is by sharing my creative gifts. I was honored to letter these words (with the Apple Pencil using the Procreate App on my iPad Pro) for my friend to use to support her friend, and hope they will bring courage, strength and hope to everyone who sees them.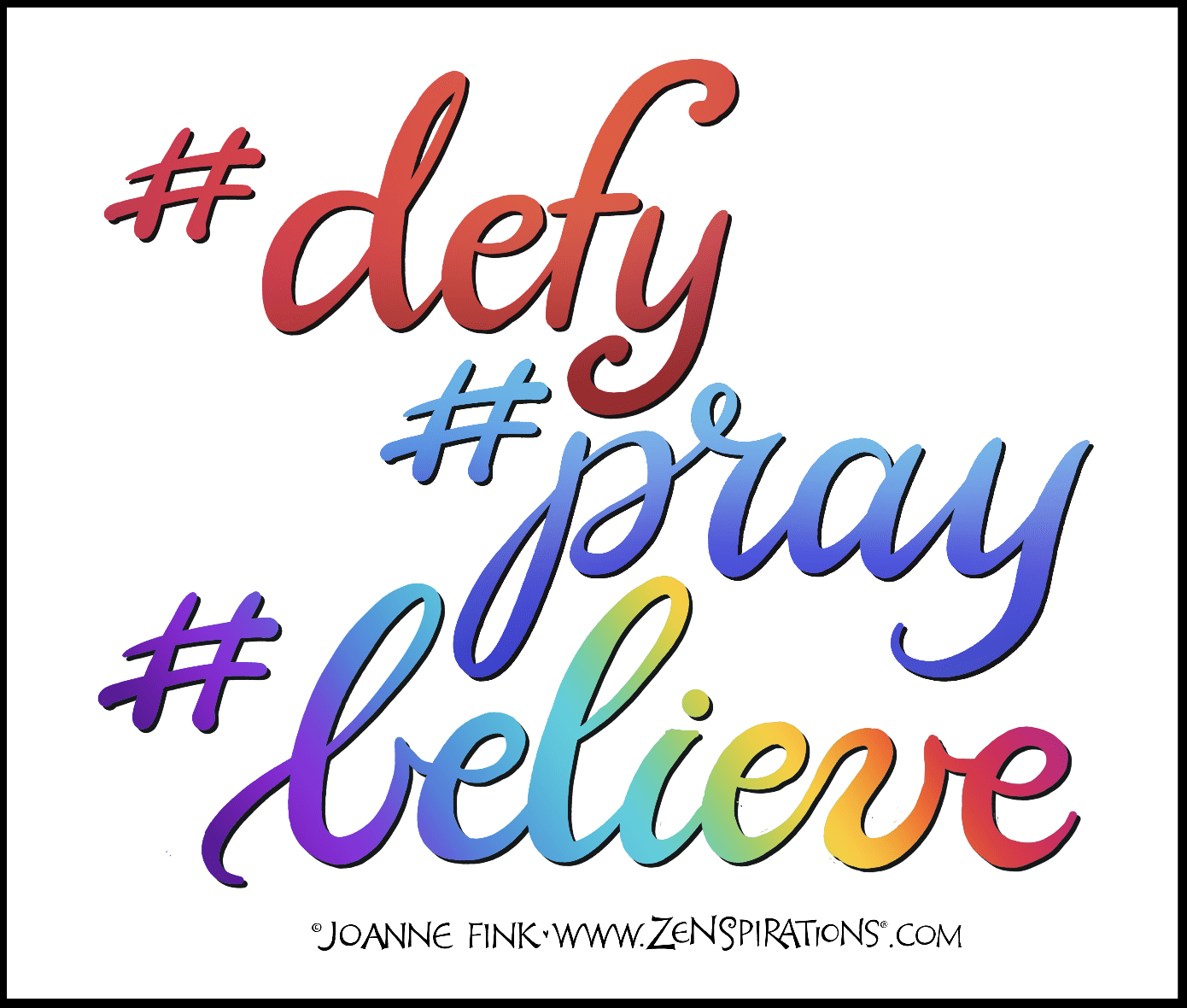 In addition to creating personalized messages, I really enjoy giving gifts which feature my art. Since this month marks the fourth anniversary of when I started the weekly Zenspirations® blog, I'm planning a four day sale where EVERYTHING in the Zenspirations Shop– will be on sale! I will let you know the details in next week's blog, but wanted to give you a sneak peek at some of the new products which I'm adding to the webstore. There are eight Flip Notes designs:
I always keep a Flip Note in my purse, and another in the car so I can jot things down (or doodle!) wherever I am. Here's a close up of one of the designs.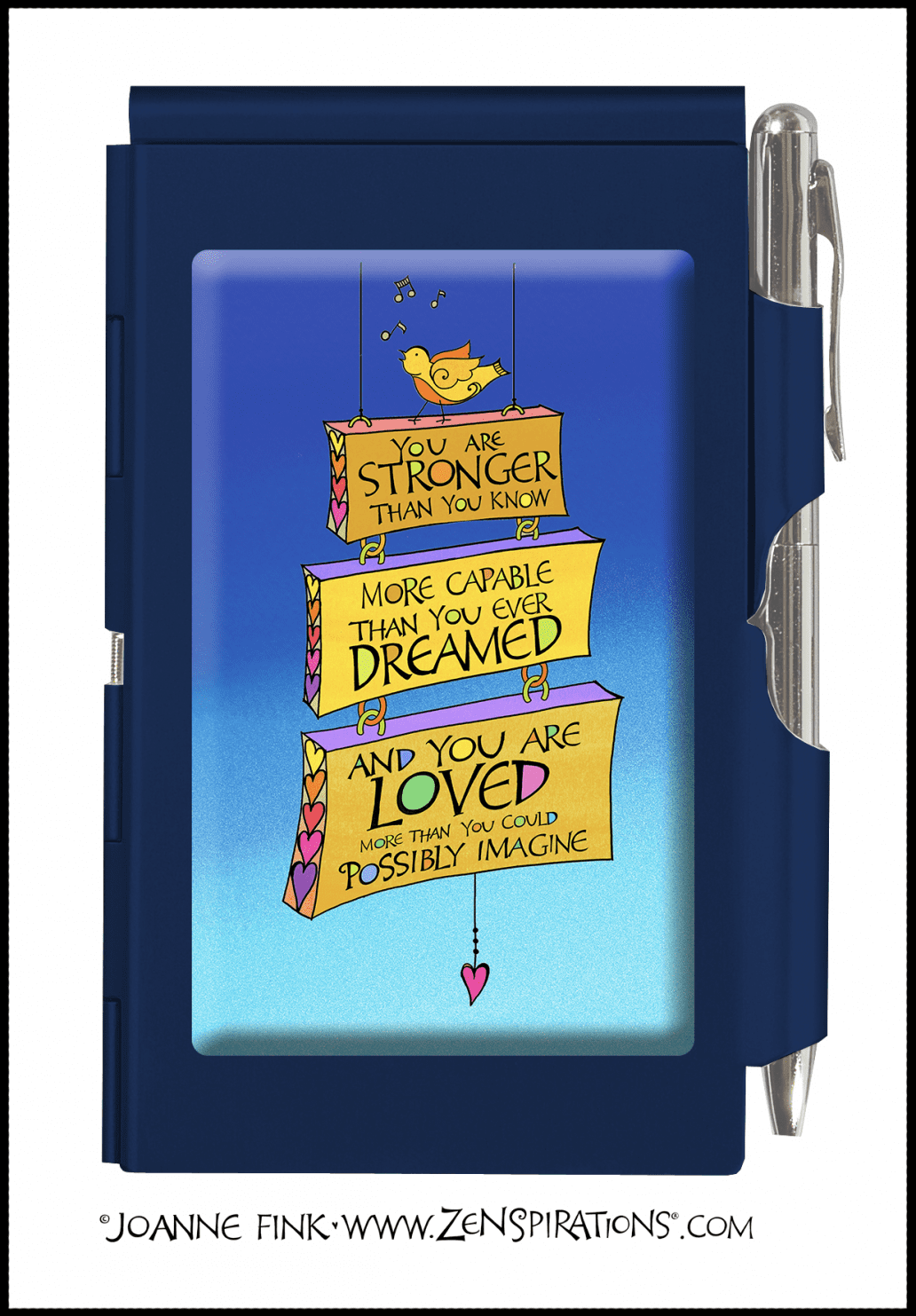 And I'm adding my 10 new Spellbinders On the Wings of Love Shapeabilities die sets to the webstore! For those of you who enjoy creating hand-made cards, I can't wait to see all the creative ways you'll use them. Here are three designs that my friend Dawn Winburn made.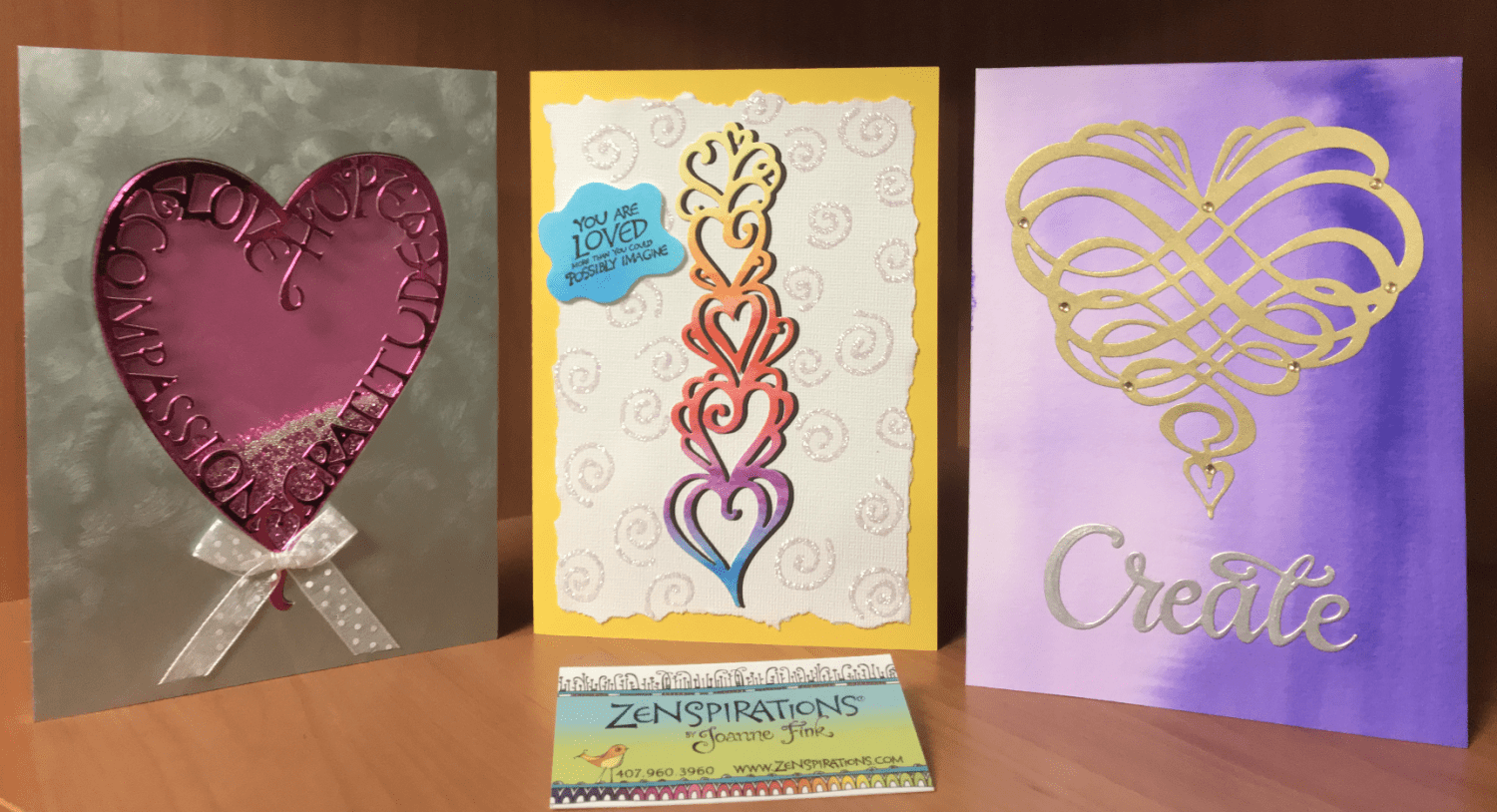 To inspire you to try out the new dies, here are step-by-step instructions on how to make the center card.            
Supplies used in photo samples:
Joanne's Spellbinders Shapeabilities Hearts and Butterflies Borders die set
Joanne's Spellbinders Singing Bird stamp set "You are loved more than you could possibly imagine" stamp.
Sakura's Koi® Watercolors Field Sketch Set with Brush
Zig Memory System dual action glue pen
Ranger Jet Black Archival Ink stamp pad
Ranger Crystal Stickles glitter glue
Dimensional adhesive tape or adhesive foam.
Acrylic stamping block
Yellow & black smooth card stock & white textured care stock
Watercolor paper
Step 1: Create a rainbow watercolor wash on good quality watercolor paper at least 3" x 7". In the example, you see Sakura's Koi® Watercolors Field Sketch Set. Also create a light blue, variegated watercolor wash at least 3" x 3" which will be used as the background for the stamped text. Set aside to dry completely.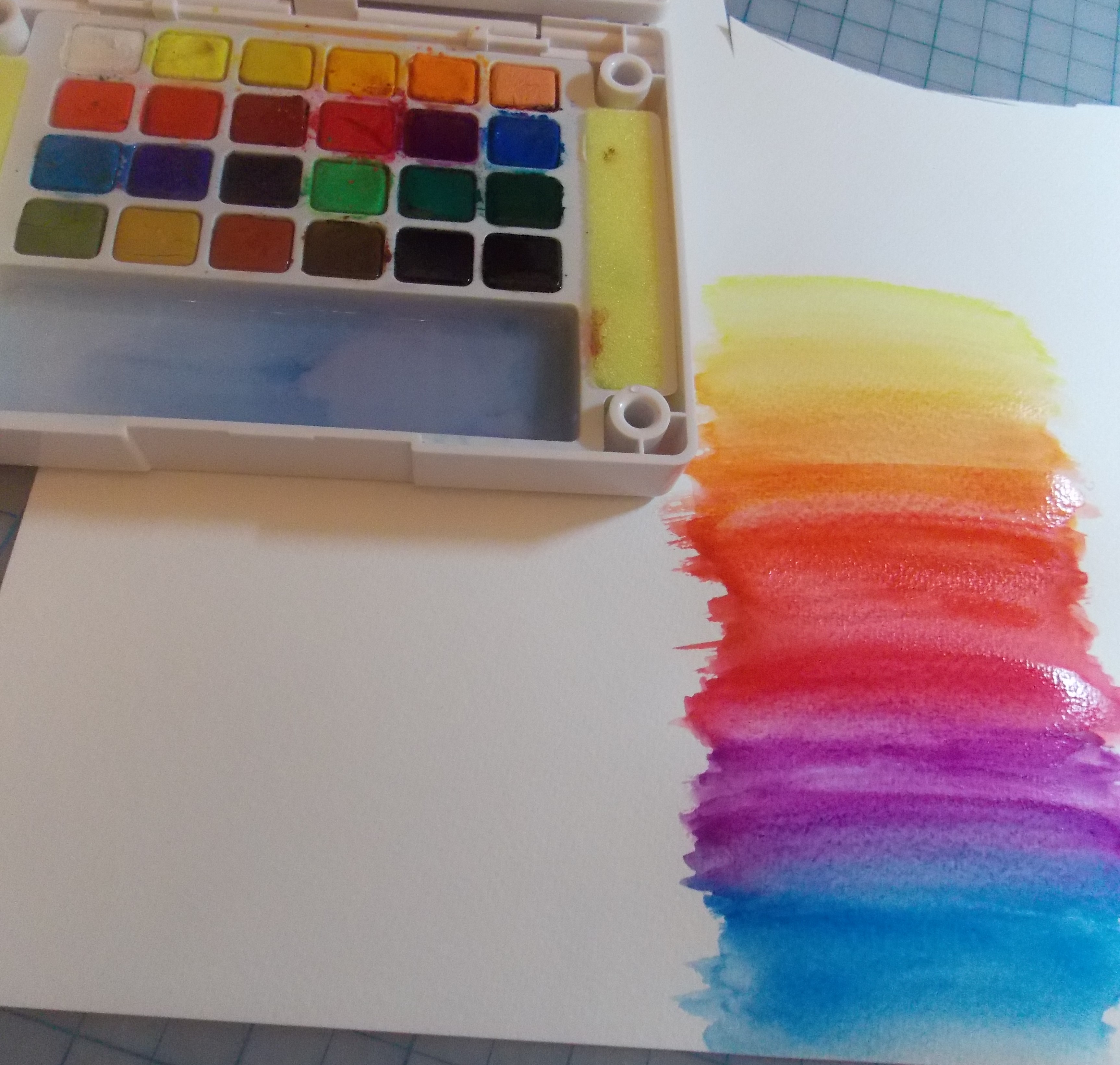 Step 2: Use Joanne's heart die from the Shapeabilities Hearts and Butterflies Borders die set to cut two heart columns; one out of black paper, and one out of the rainbow wash you painted. Make sure the wash is completely dry before you cut it.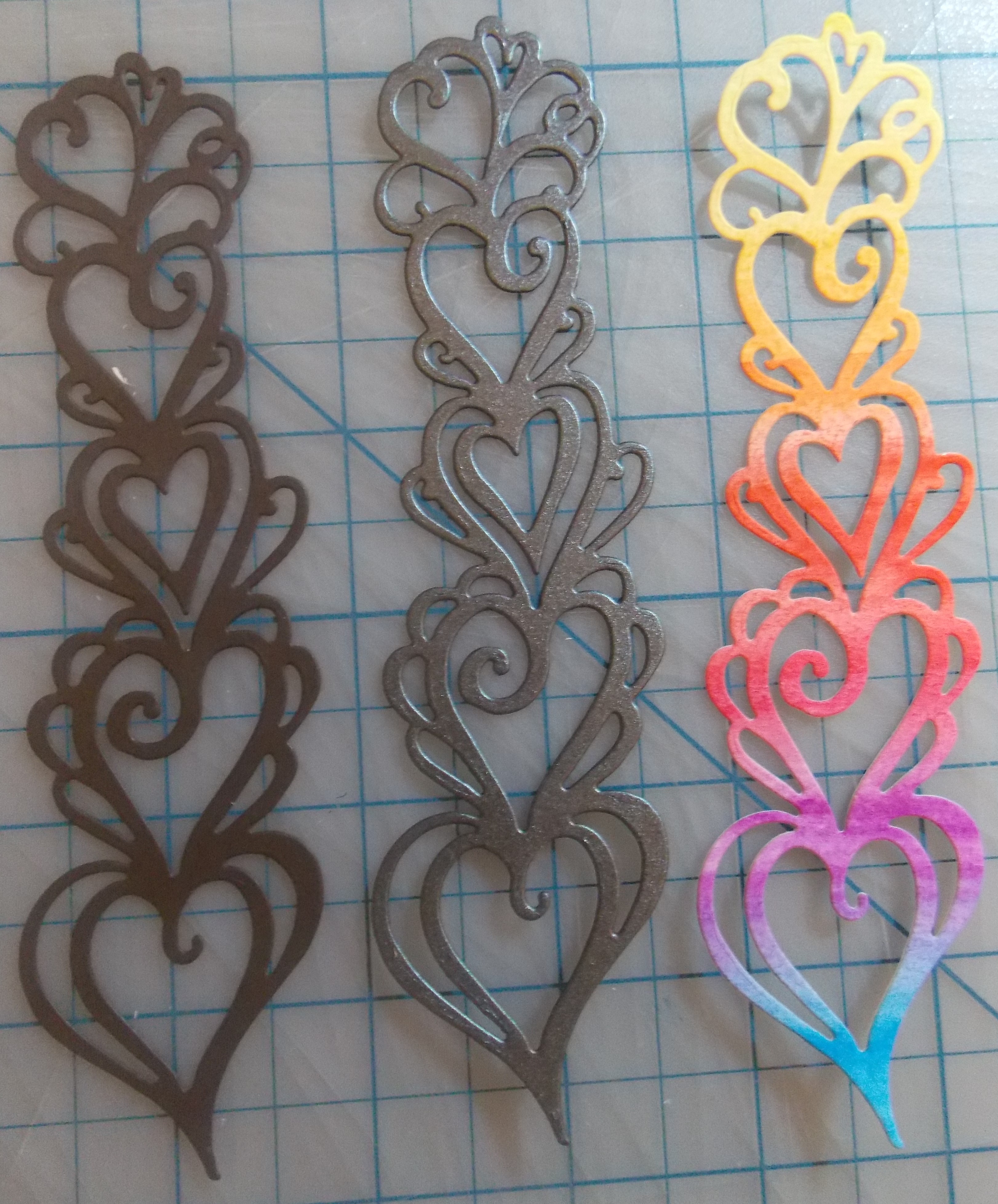 Step 3: Cut yellow card stock to 10" x 7". Fold down to 5" x 7". Use a bone folder to press the crease down tight.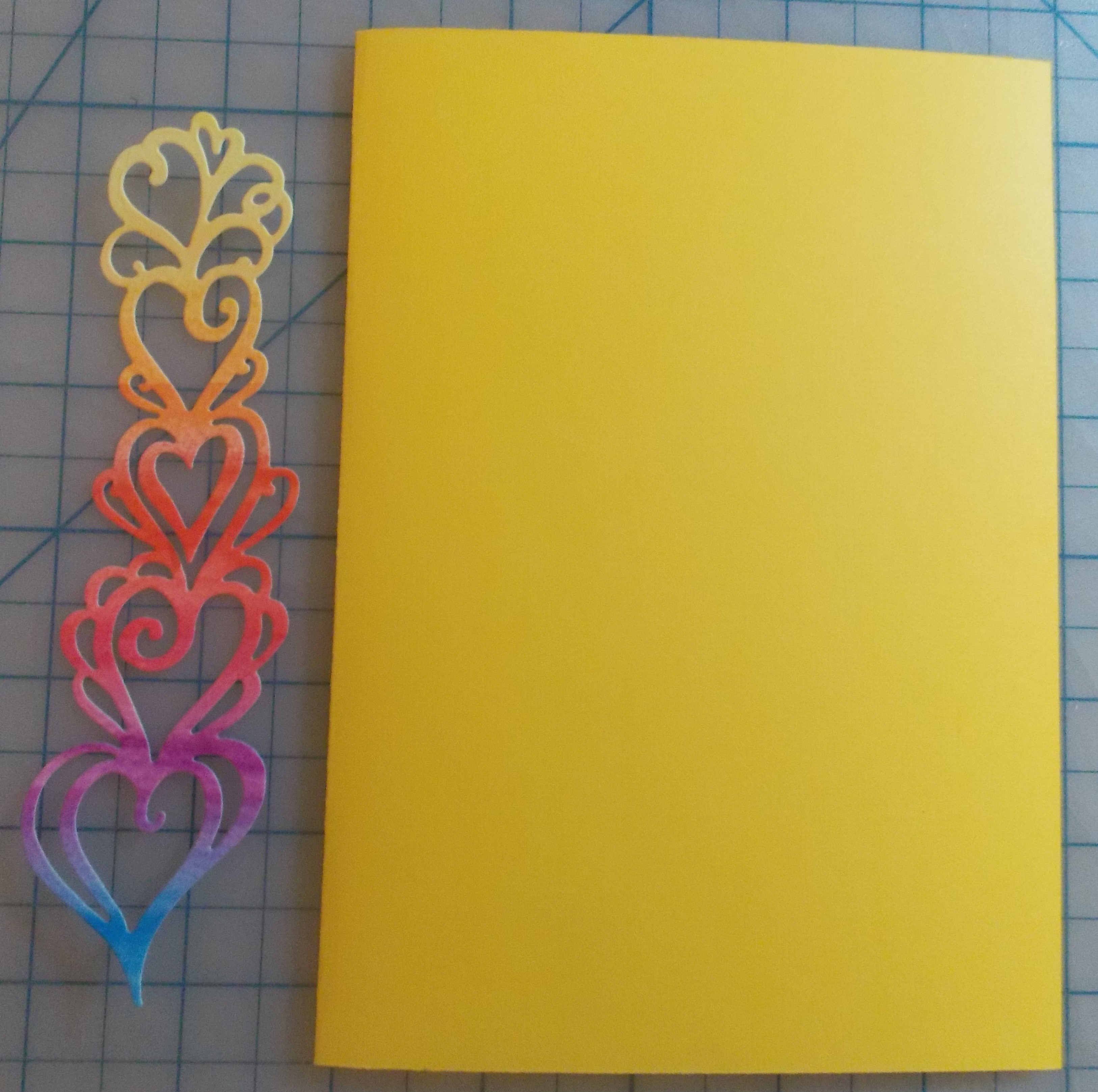 Step 4: Cut white textured card stock to 5.5" x 7.5". With clean watercolor brush from Koi set, moisten all four edges.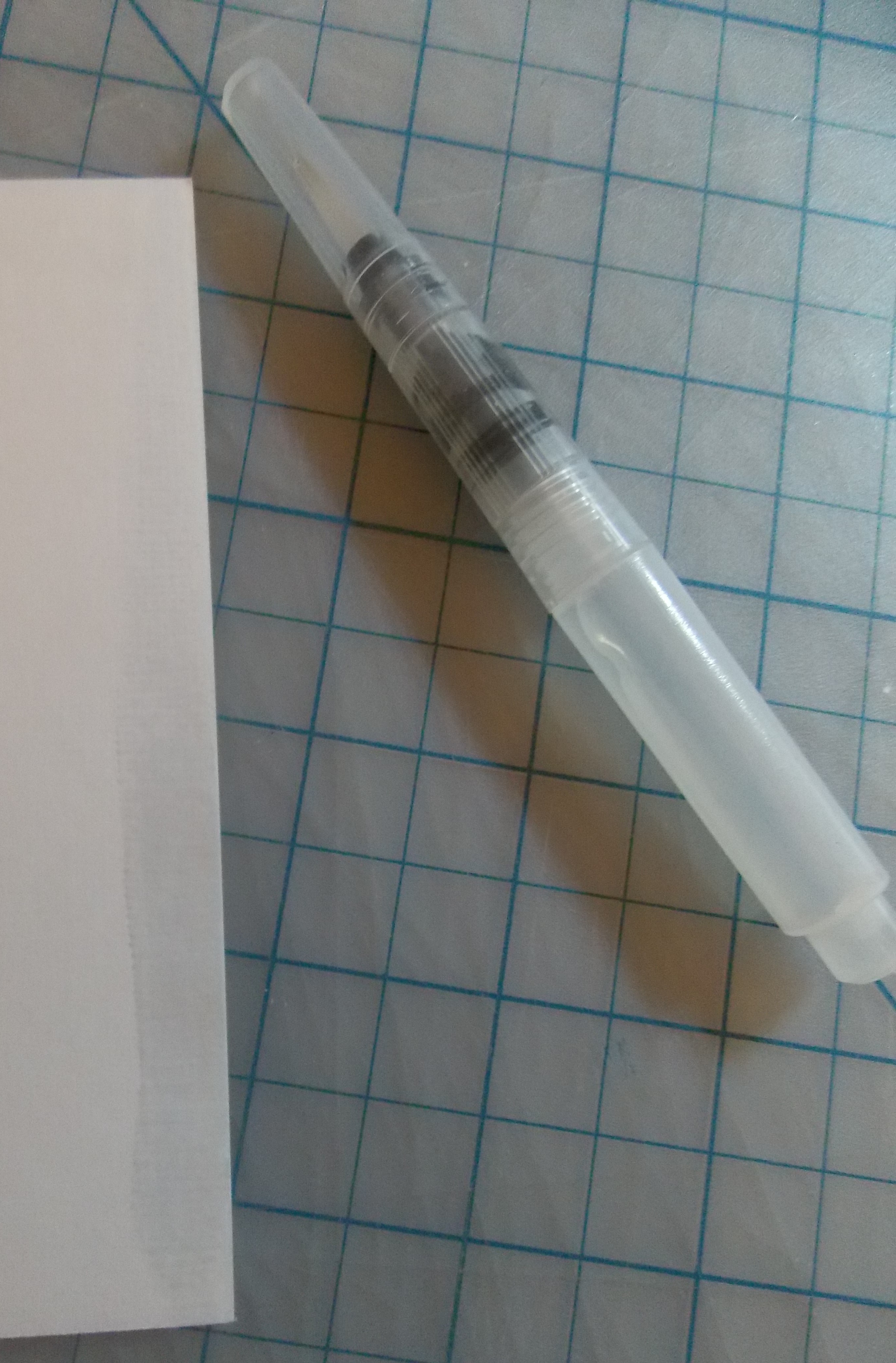 Step 5: Pull straight down to slowly tear .5" off each of the four edges to create the torn edge in the sample photo. This will leave a white torn edged rectangle measuring approximately 4.5" x 6.5".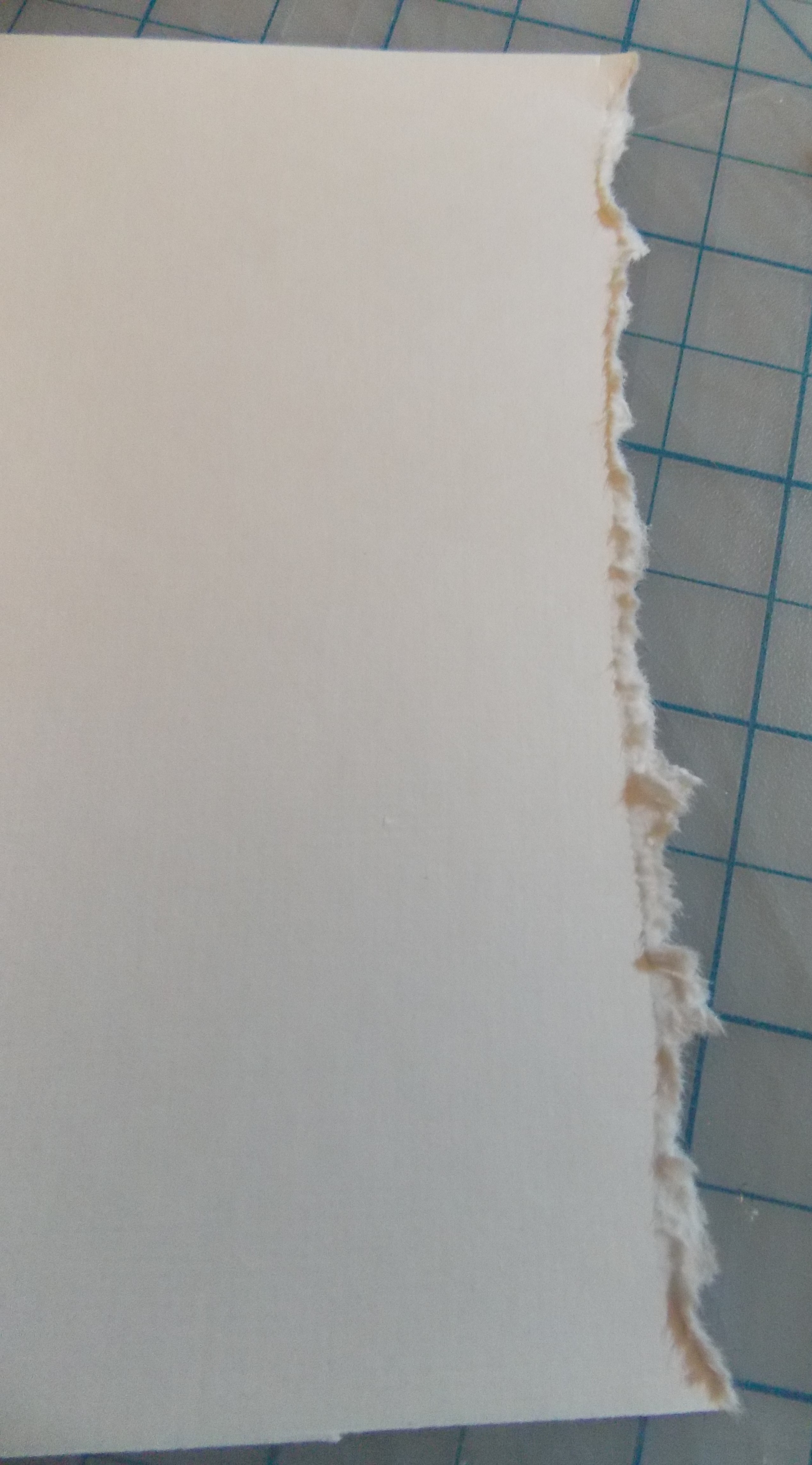 Step 6: Glue the black heart column behind the rainbow heart column, about 1/16″ to the right, which will create a drop shadow effect. Attach the heart column to the center of the white textured card stock. Glue white card stock to yellow card, so card opens on the right.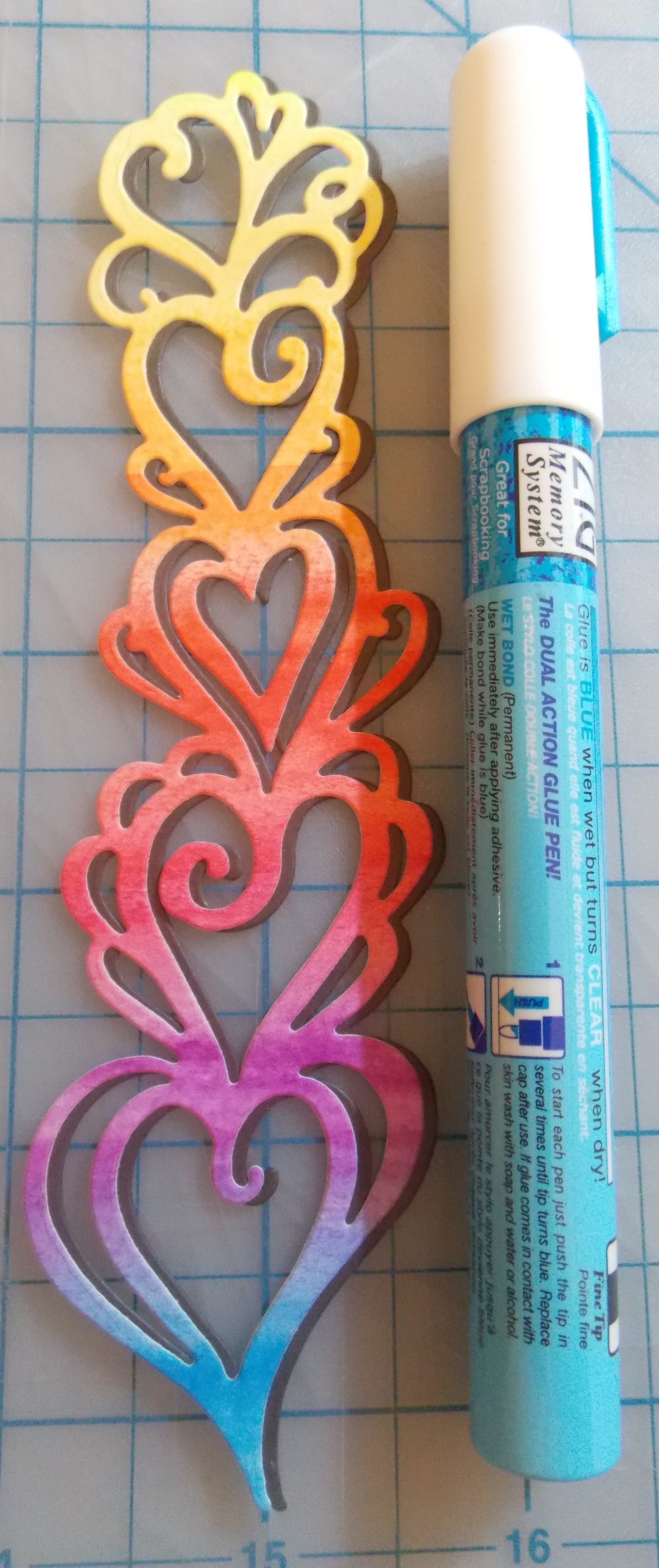 Step 7: Select the Singing Bird stamp set.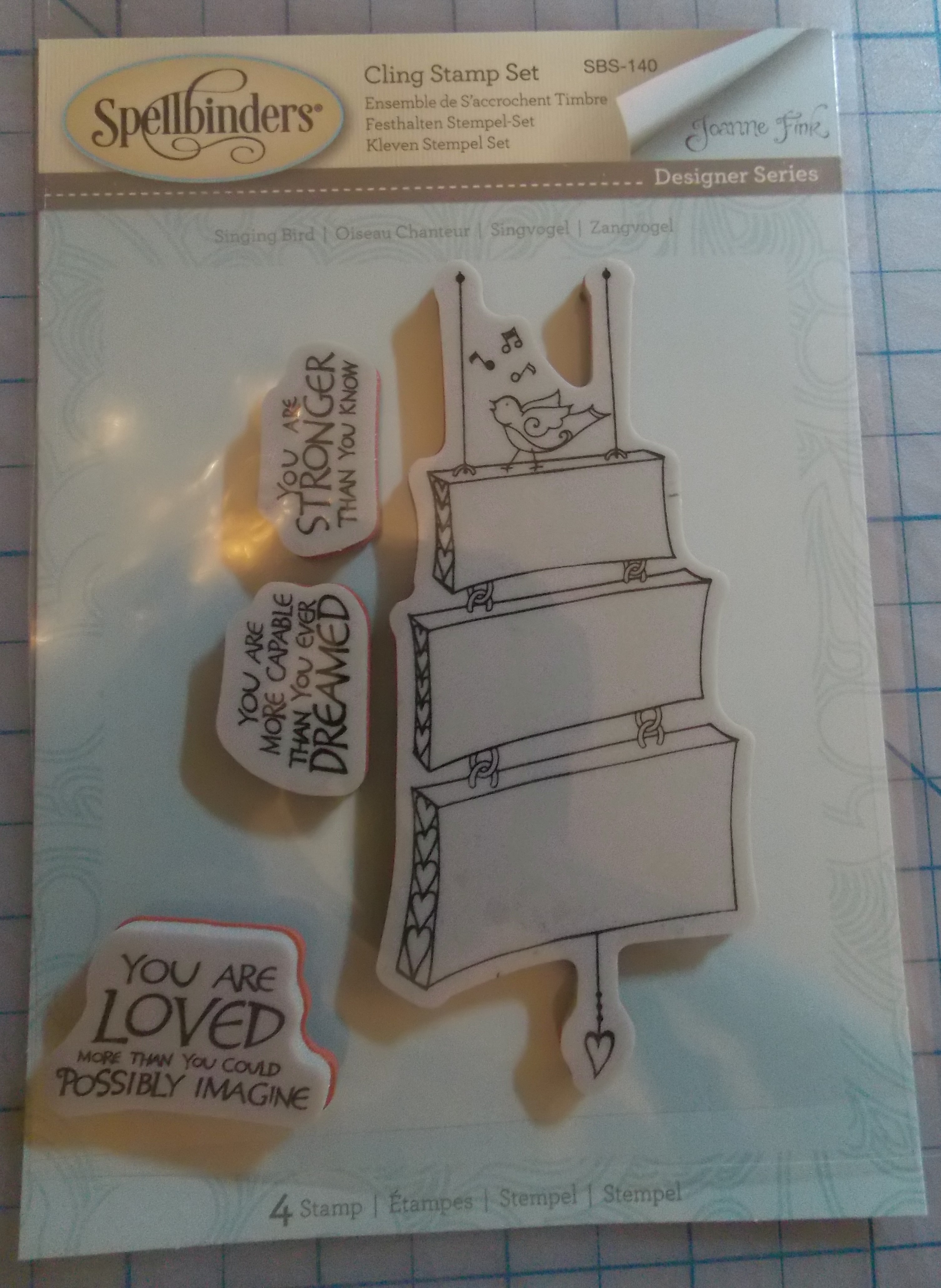 Step 8: Using black archival ink, ink the "You are loved more than you could possibly imagine" stamp. Stamp it onto the light blue watercolor wash background from step 1.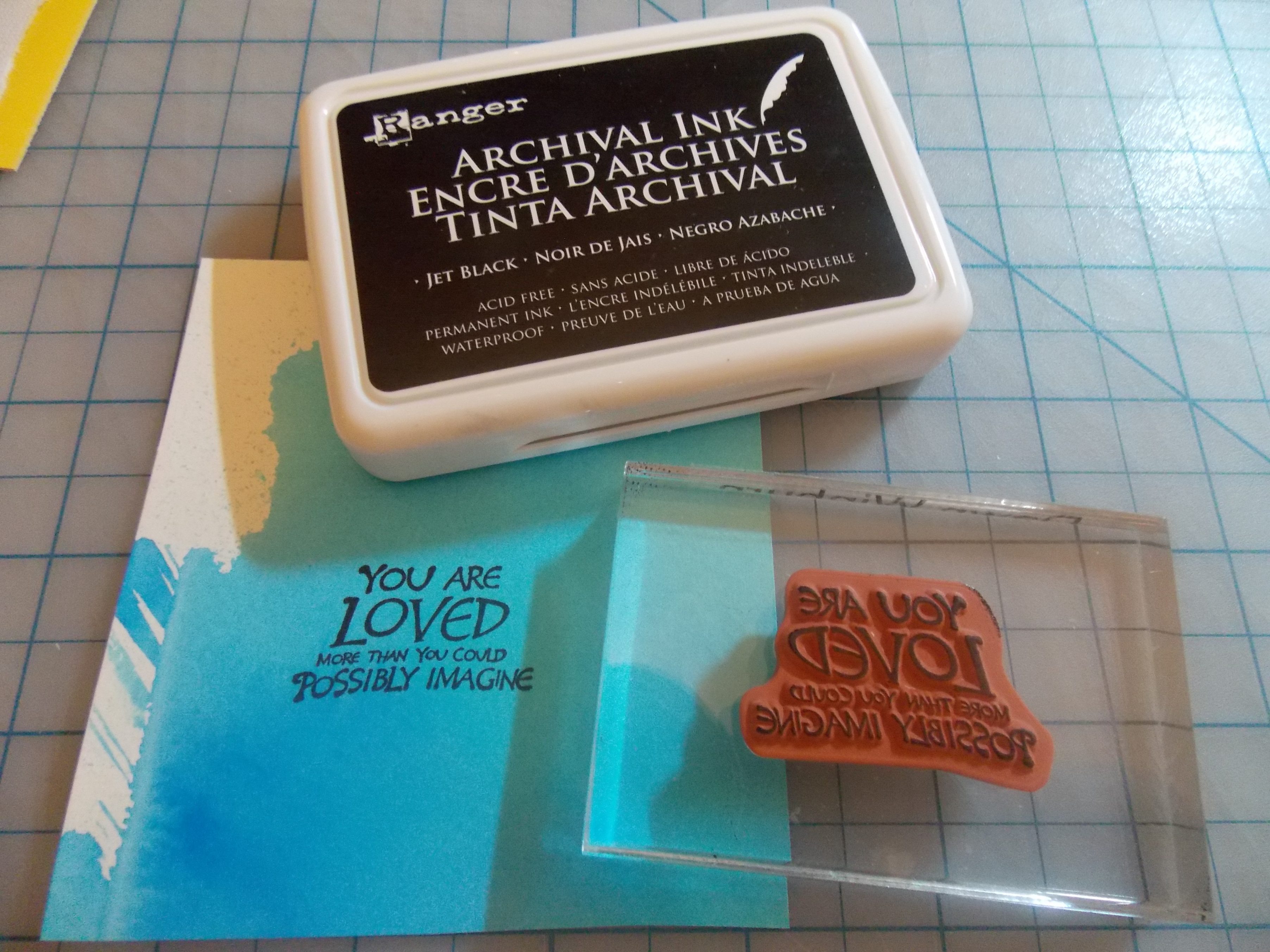 Step 9: Create spiral swirls on white background using glitter glue.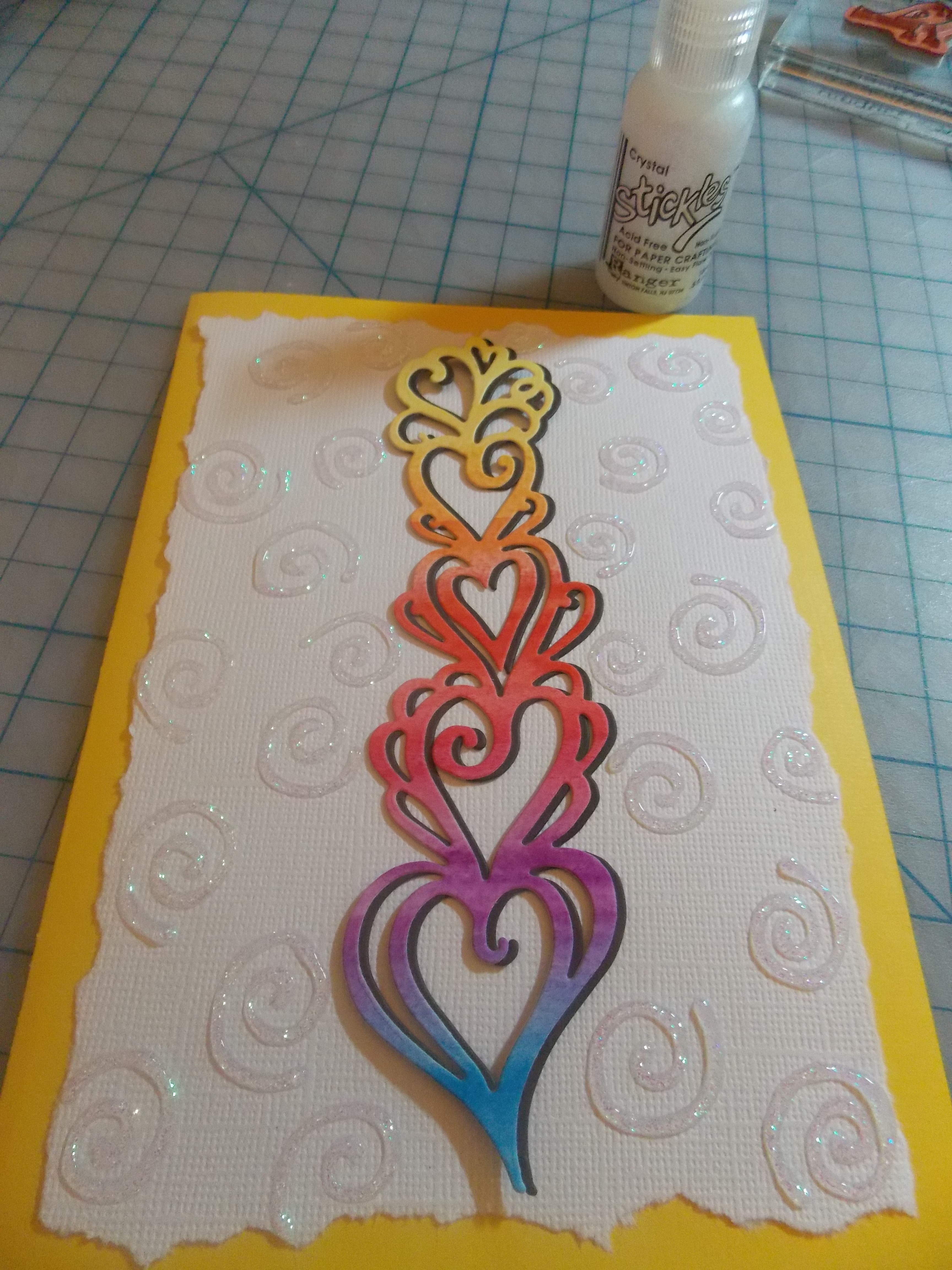 Step 10: Cut out "You are loved…" stamped image using wavy cuts to create an interesting shape around the stamp. Attach dimensional tape or foam to back of stamped image. Attach to card in the upper left quarter of the card, to the left of the hearts.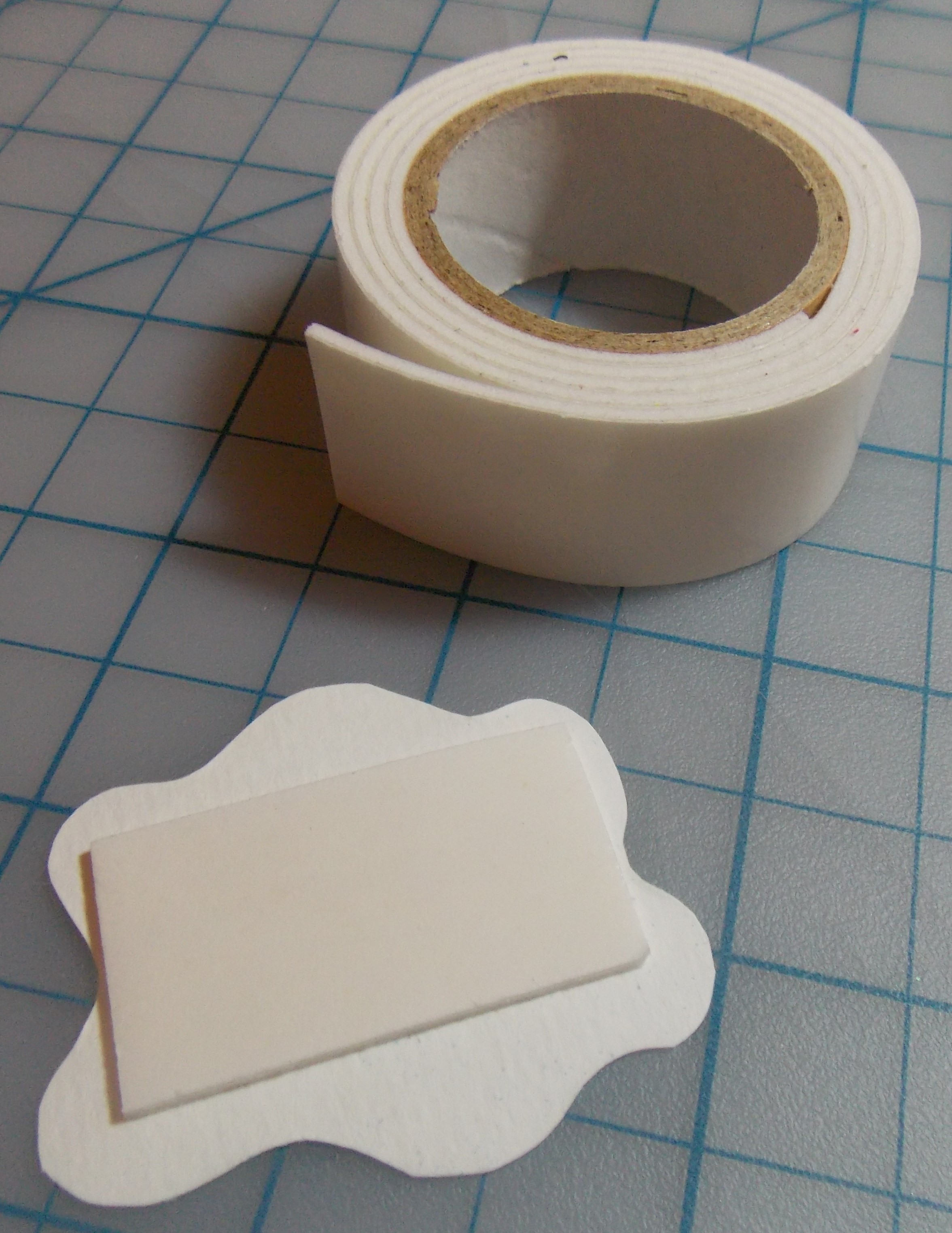 Here's a close up of the finished design: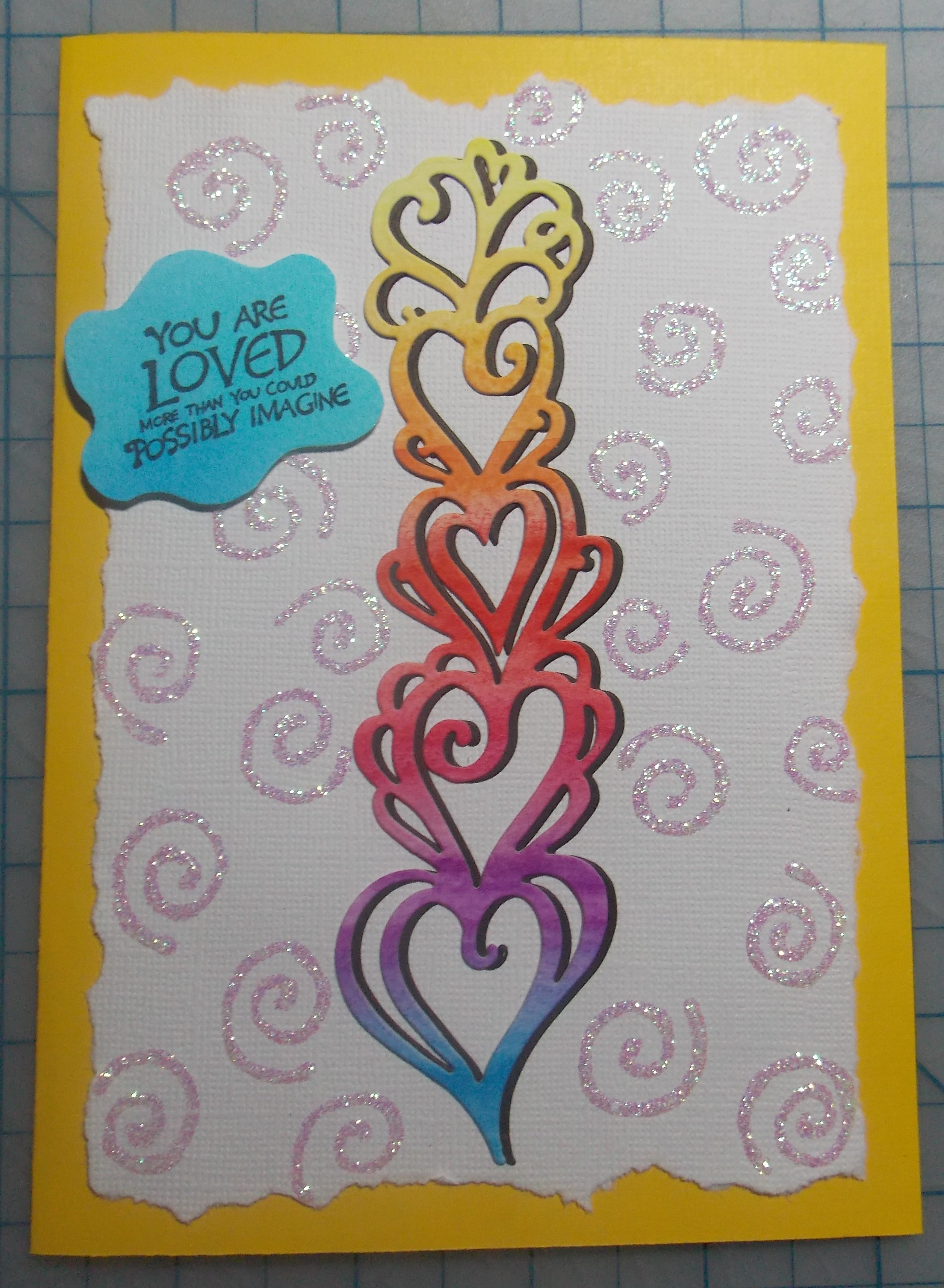 There will be some other surprises in the webstore, too– just in time for the 'Blog-versary' Sale. I'll be adding designs and products based on feedback from the people who volunteered to vote on them. If you sent me an e-mail with the word VOLUNTEER in the subject line, be on the look-out for an e-mail from me later this week. I look forward to your thoughts!
Stay Zenspired,
Joanne