Doodles for My Daughter
Tuesday, May 2, 2017
Hi Everyone,
Hard as it is for me to believe, my daughter is graduating from college this week, and will be heading off to grad school in Colorado. She is super excited, both to be finishing college, and to be embarking on a new adventure. We took a lot of photos while we were in Colorado last month, and this one, which seems to capture her exuberance, is my favorite: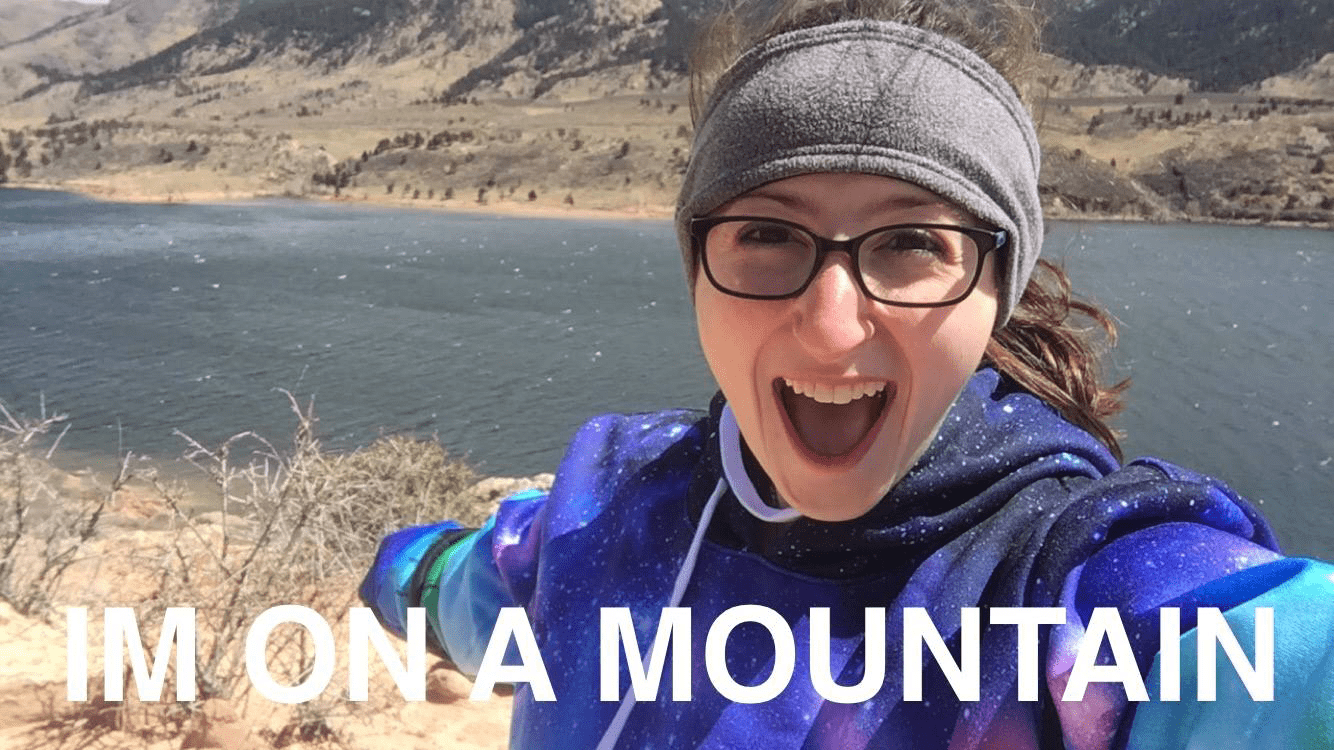 I'm still trying to decide what to get– or make– for Sam as a graduation present, and while pondering possibilities, I remembered what I made for Sam's high school graduation, and decided to share it with you tonight.
"Doodles for My Daughter" was the collection of the 100+ pieces of advice & encouragement I wrote and illustrated for Sam during her senior year of high school. There were so many that I needed two albums to hold them all!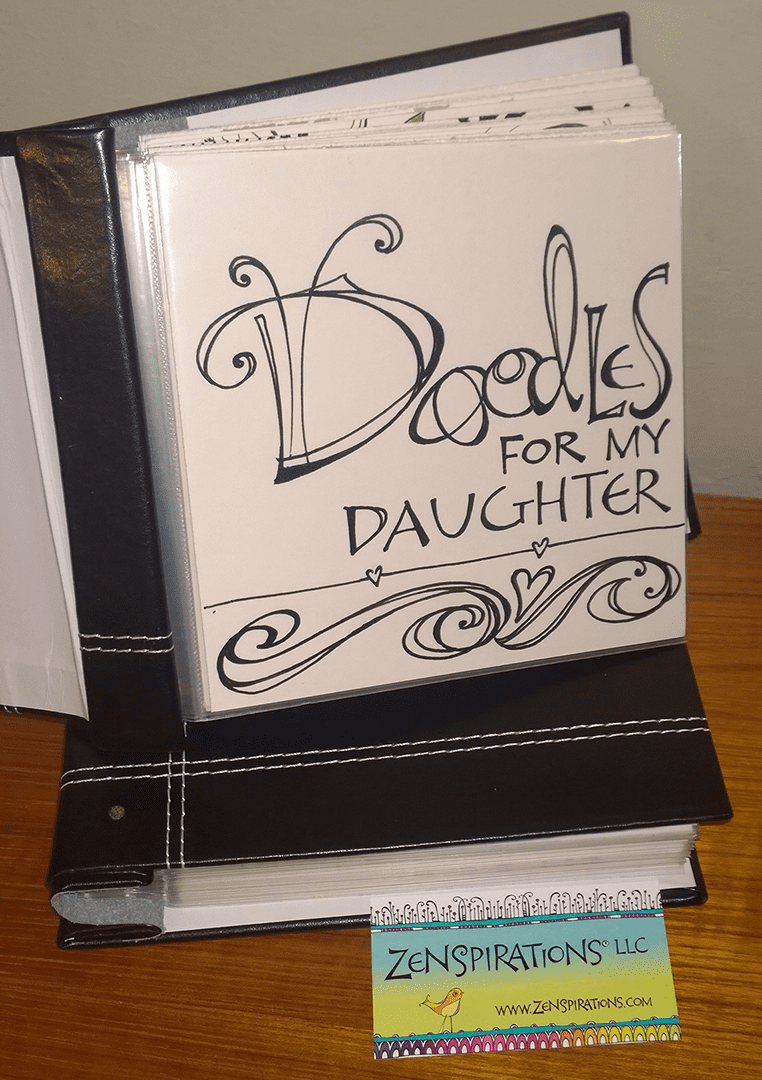 Basically they were 'love' notes that I left out for her to find every morning. Below are a few examples: the bottom two were drawn mid-year, and the top two were done during the last week of the school year.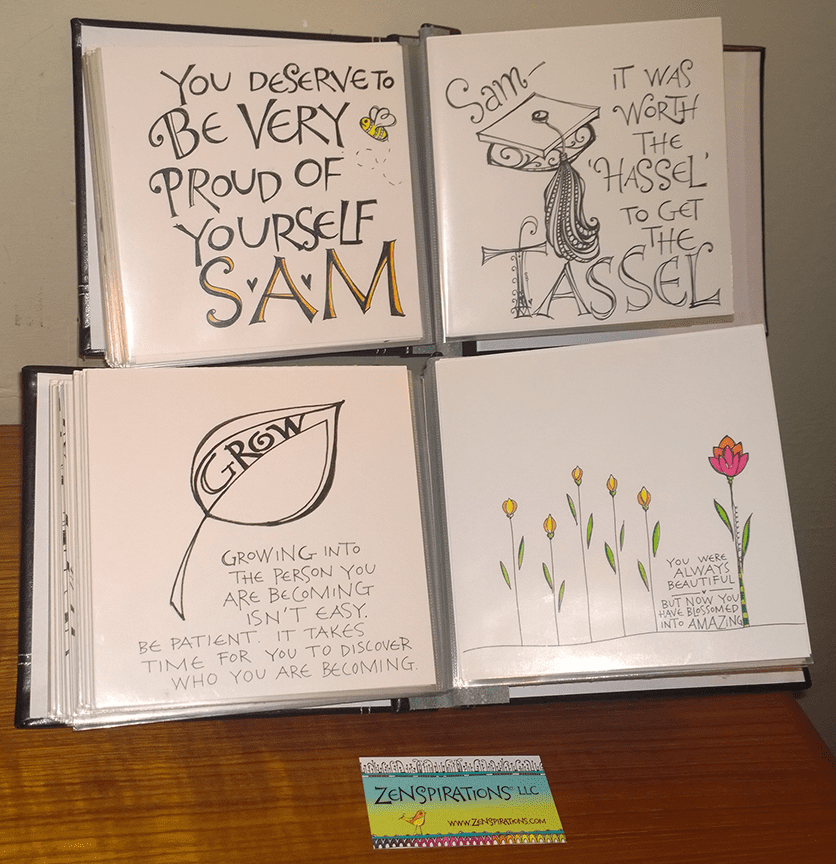 In looking back, I realize that Sam's high school graduation present was the start of my meditative journaling practice. These days I tend to journal in the morning rather than before bed, but the daily practice of putting pen to paper really helps me stay grounded. I highly recommend meditative journaling as a way of growing both creatively and spiritually. Leave a comment if you are interested in exploring meditative journaling and would like me to share some ideas on how to get started, and some of the Zenspirations® journaling prompts I use.
Doodles for My Daughter evolved into another book, With God All Things Are Possible, which I wrote for Harvest House Publishing.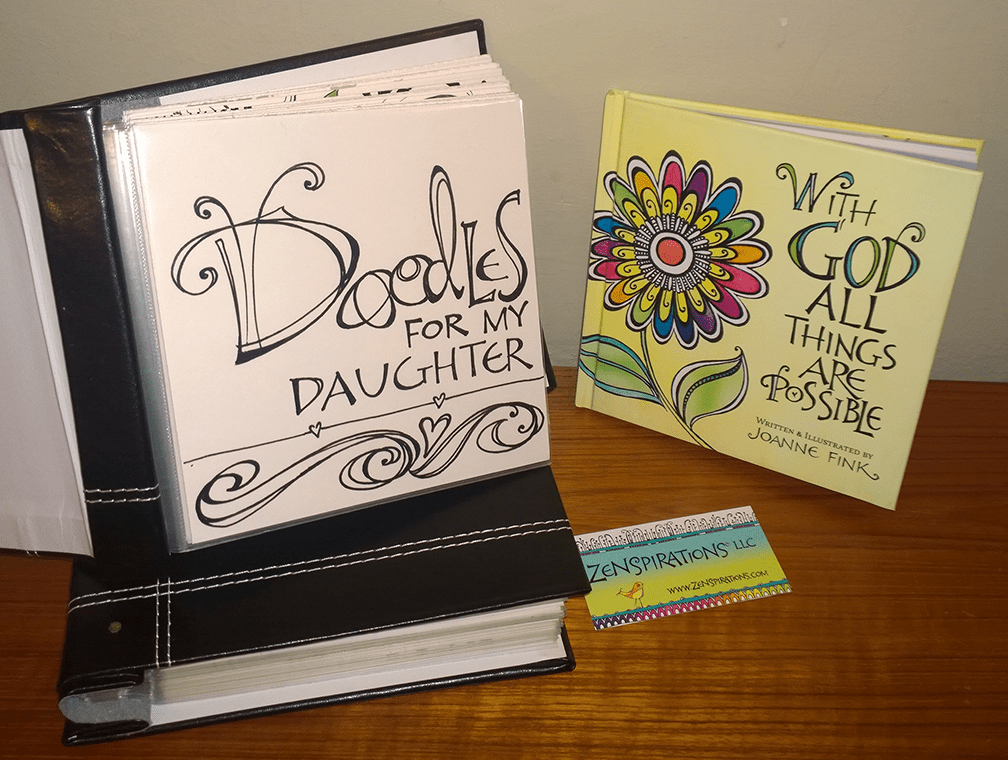 I was asked to create a gift book that would be appropriate to give as a graduation present, and I based many of the pages on pieces I originally drew for Sam. Here are photos of the original art, and the finished gift book pages: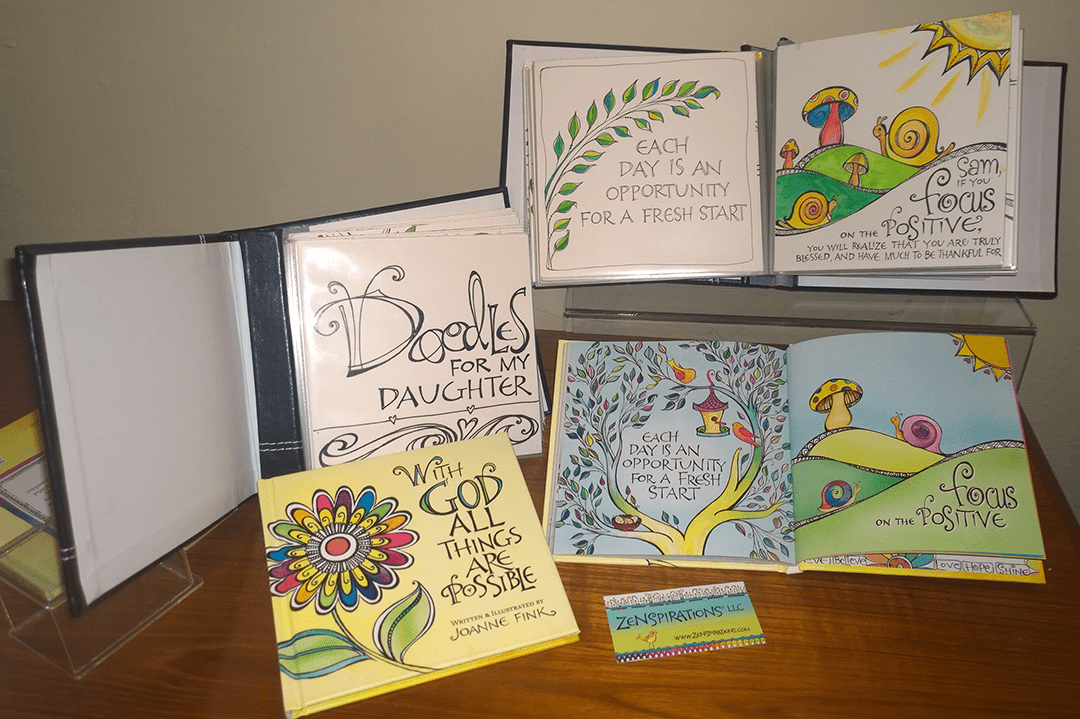 As you can see, I was often able to take a concept and work it into a finished design.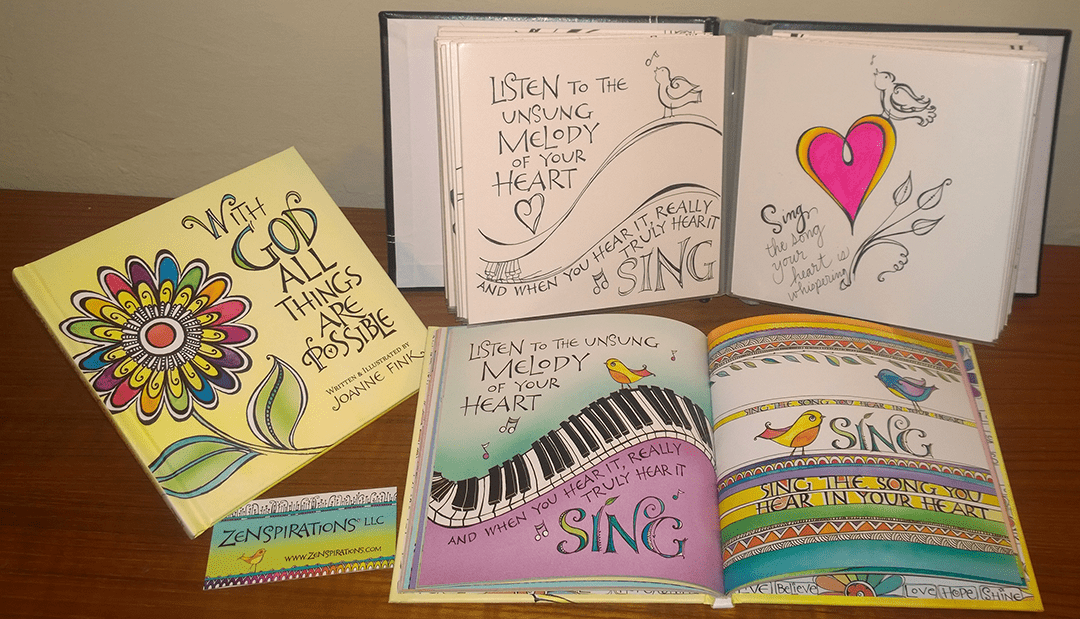 Sometimes I just tweaked the design and added color: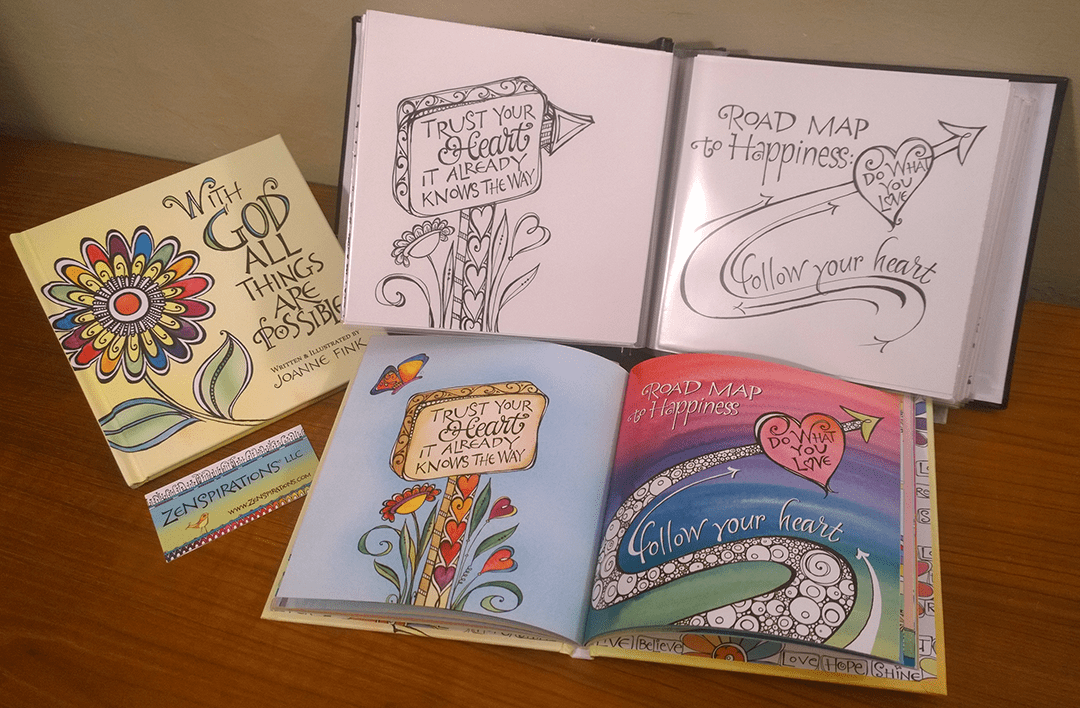 On other pages, like the one on the right below, I used the text but recreated the art and lettering.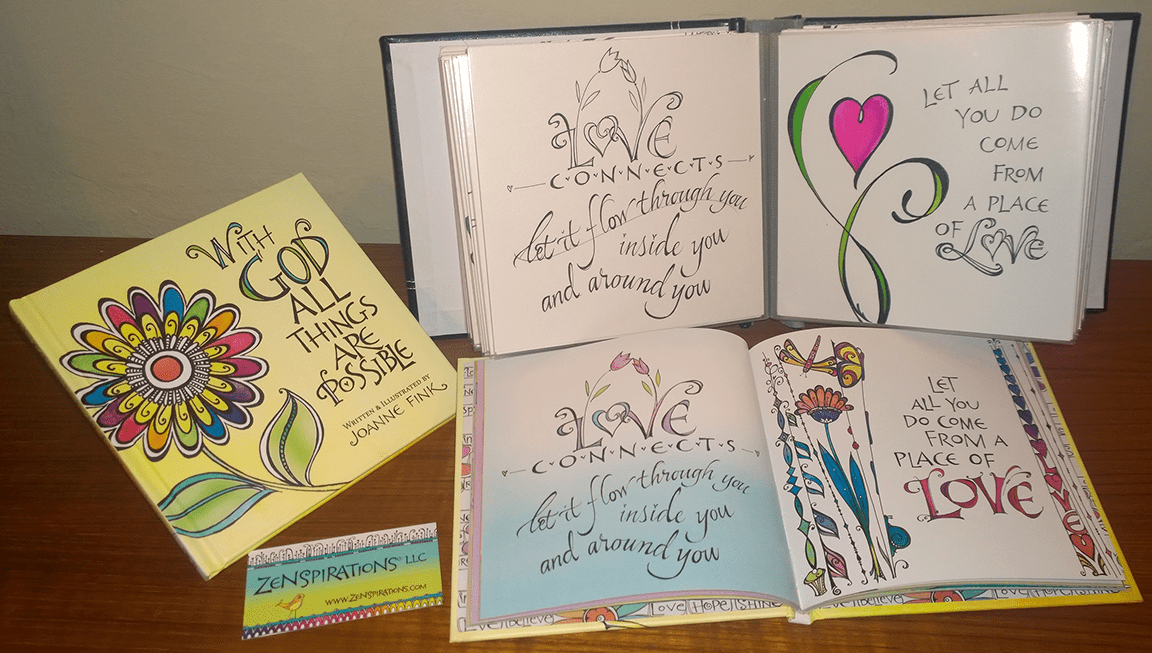 Although I'm still working on Sam's graduation gift, I do have gifts for you to give the special grads in your life. The first is a FREE DOWNLOADABLE card: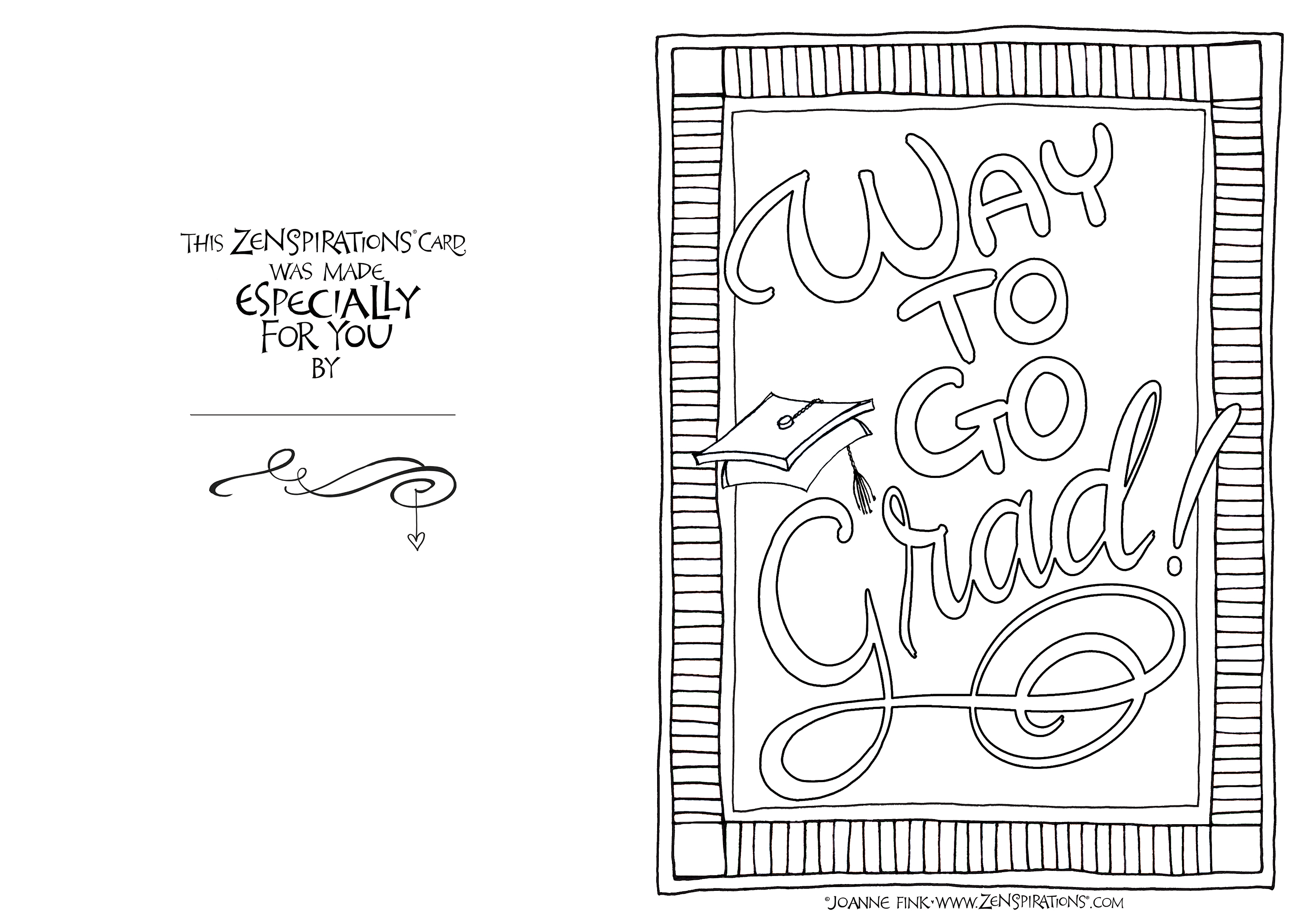 Zenspirations®_by_Joanne_Fink_Graduation_Card_FREE_Download
The second is something I've never down before– a gift with purchase. In honor of Sam's 2017 graduation, I'm going to include a free copy of With God All Things Are Possible with every order of $17 or more (not including shipping) during the month of May! There are lots of new things in the Zenspirations webstore, including the Strathmore water color pads, the Spellbinders rubber stamps & dies, and The Crafter's Workshop stencils. Hope you'll have fun looking at– and trying out– the new things I've been working on. It will be my pleasure to send you a free copy of With God All Things Are Possible, which is usually priced at $10.95, which you can keep for yourself, or give a graduation or Mother's Day gift, when you place a webstore order of $17 or more.
Before closing tonight, I wanted to say thank you to everyone who left a comment on last week's blog letting me know what you'd like to see added to the Zenspirations webstore. Congratulations to Diane Napolitano, who won the contest! Diane, please check out all the new products in the webstore, and let me know what you'd like as your prize and where to send it.
Stay Zenspired,
Joanne