Expressions of Nature
Tuesday, November 17, 2015
Hi Everyone,
The art for my next book in the Zenspirations® Create, Color, Pattern, Play series, Expressions of Nature is due in less than a month! The book was originally going to be called "Leaves & Trees", so naturally the cover design features a tree.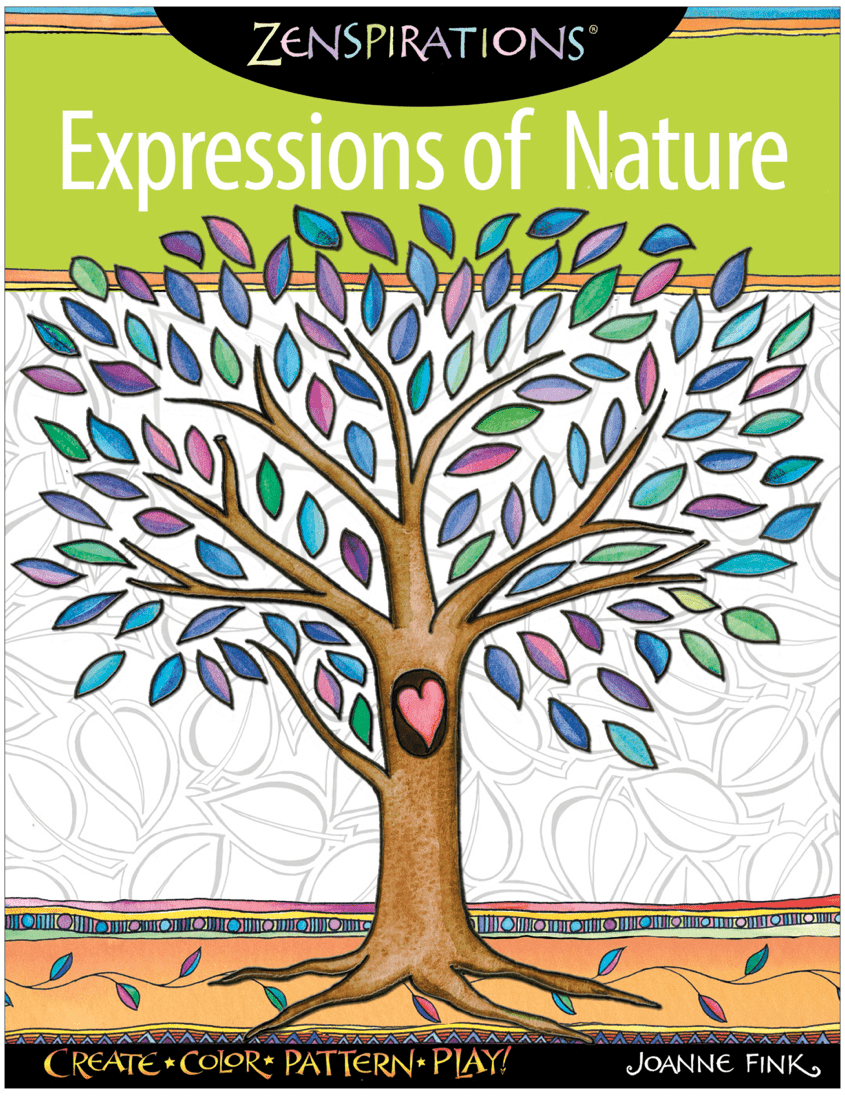 As usual, I am looking to the incredibly talented team of Zenspirations Color & Creativity Enthusiasts to create the full-color inspiration samples for the book. And to make it fun for everyone I'm running another contest!
CONTEST RULES:

For every design you post (and yes, you may post more than one version of the same page), your name will be entered into a random drawing for one of the following prizes:
1. 
DO Magazine's first TWO issues
 (the 2nd issue just hit the newsstands yesterday)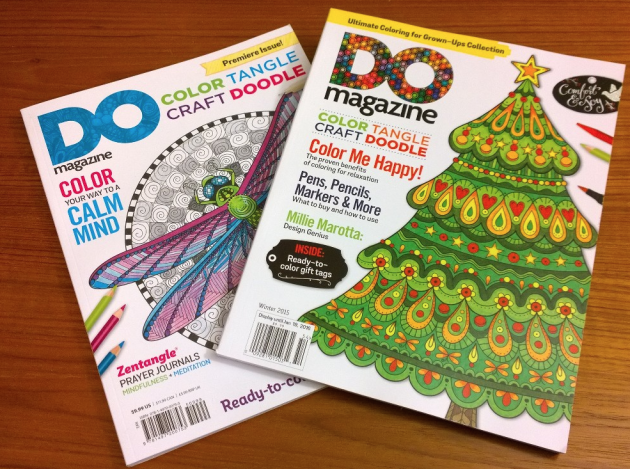 2. A copy of my inspirational gift book, With God All Things Are Possible.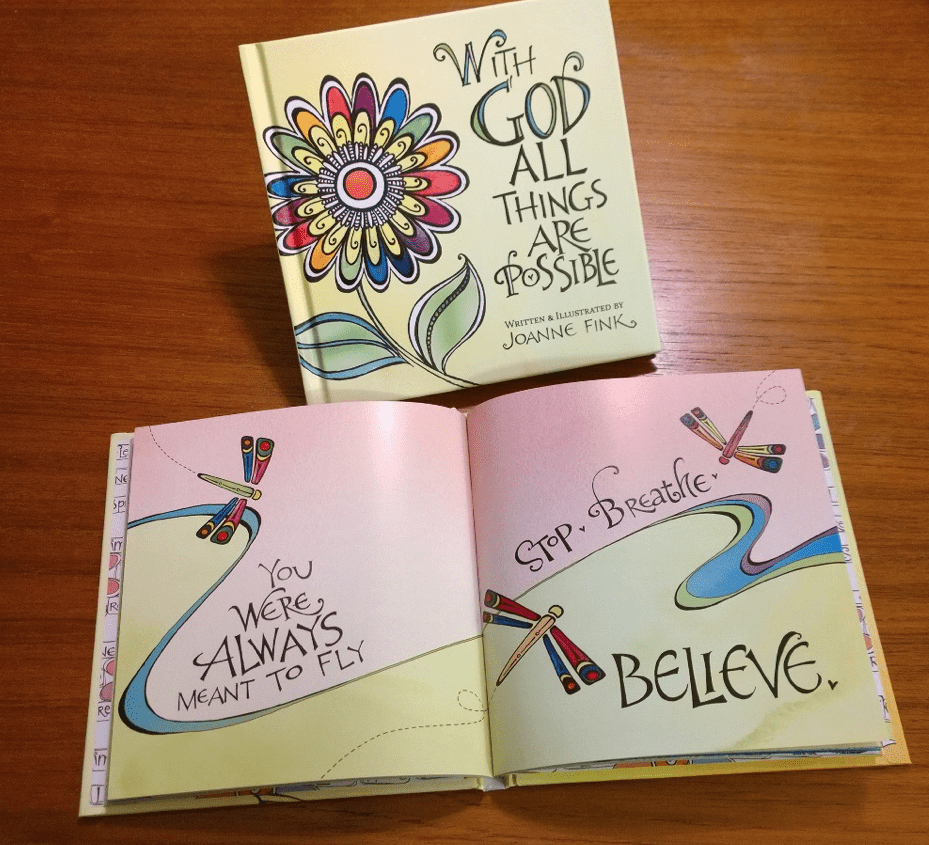 3. A copy of Zenspirations® Create, Color, Pattern & Play Birds & Butterflies book.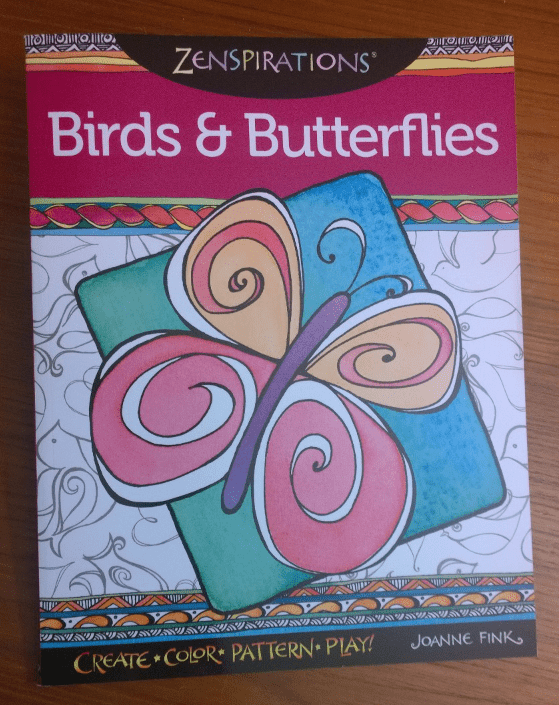 If you post two designs, you'll have two chances to win; if you post five designs, you'll have five chances to win. The prizes winners will be selected at random; the pieces to include in the new book will be selected by my editor and me.
When you are working on your pages please keep in mind that this is a collaborative effort— what sets Zenspirations® Create, Color, Pattern & Play apart from all of the other coloring books on the market is that there is room on each page to add your own patterns and special touches before coloring. I look at my work as a springboard for YOURS… and invite you to embellish the pages in whatever way you like. I especially encourage your to add text which inspires you… as well as additional illustrations to make the design come alive. Of course it is fine to simply color the pages if you prefer… I'd love to include at least one simple, beautifully colored image, along with interpretive patterned art, in the inspiration gallery for Expressions of Nature.
1. You will need to post your creations by end of day Sunday, November 29th.2. My editor and I are looking for designs which will inspire others by showing a variety of coloring and patterning techniques, so don't be afraid to try different things. The more you do the better your chance to be included in the book or win a prize!
3. VERY IMPORTANT: PUT YOUR NAME, e-dress and phone number on each design before you scan or photograph it!
4. Post your images IN the appropriate album in the new Zenspirations® Create, Color, Pattern, Play Facebook Group. Here is the link: https://www.facebook.com/groups/1471158256528576/.  You can get to the albums by clicking the Photos button underneath the imagine banner.
5. If your art is selected, you'll need to send my publisher a high-res scan (300 dpi) or the original art so they can scan it, and you'll need to sign a Permission-to-Publish form.
6. Because the books will not be printed on paper which accepts wet media, please DO NOT use watercolors or any other type of wet media. Color pencils, gel pens, markers and crayons are all fine.
7. Submitting pages is not a guarantee that they will be selected for inclusion.
8. Artists whose work is selected will be given credit in the book, and will receive two free copies of the book when it is published.
9. I would like to include inspiration samples from as many 'Color & Creativity Enthusiasts' as I can, so I hope you'll help me spread the word about the new book— and that I'm looking to showcase art from a variety of different people. Please invite some of your creative friends to participate!
10. 
You can e-mail me (
[email protected]
) if you have any questions: please putZENSPIRATIONS COLORING ENTHUSIAST QUESTIONS" in the subject line.
Here are the images.
OWL IN TREE: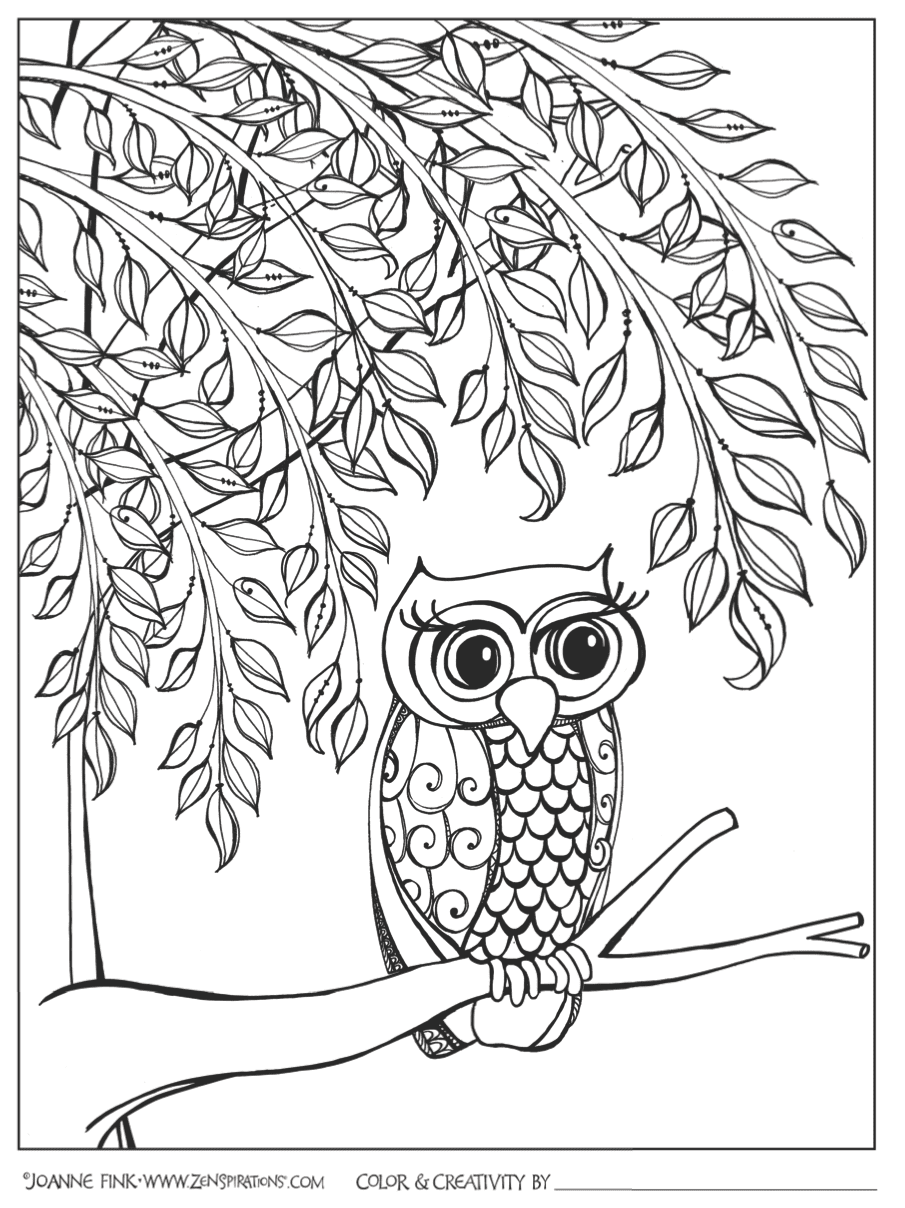 FOLLOW YOUR HEART FISH: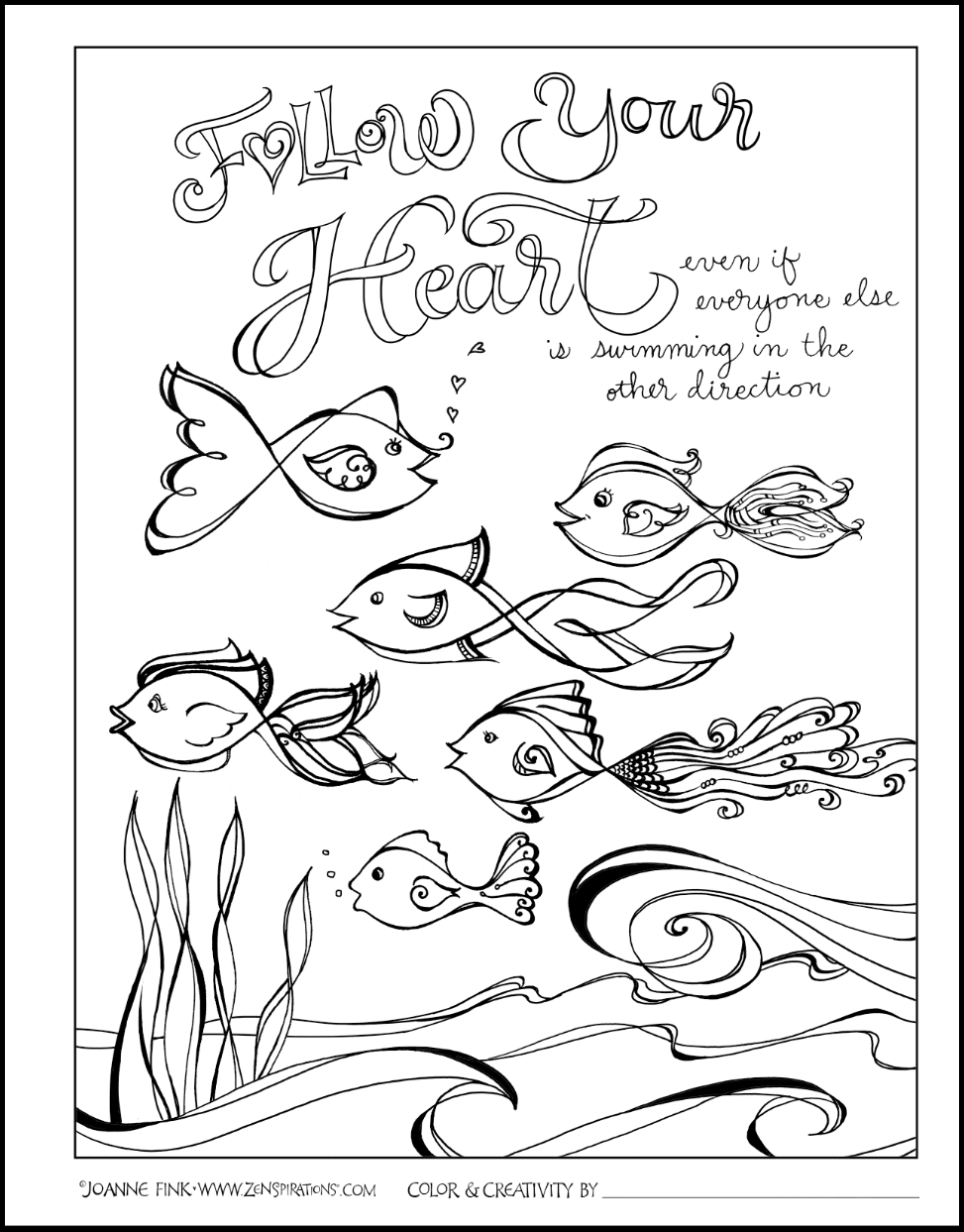 Click here to download FOLLOW YOUR HEART FISH:
BOLD FLOWER: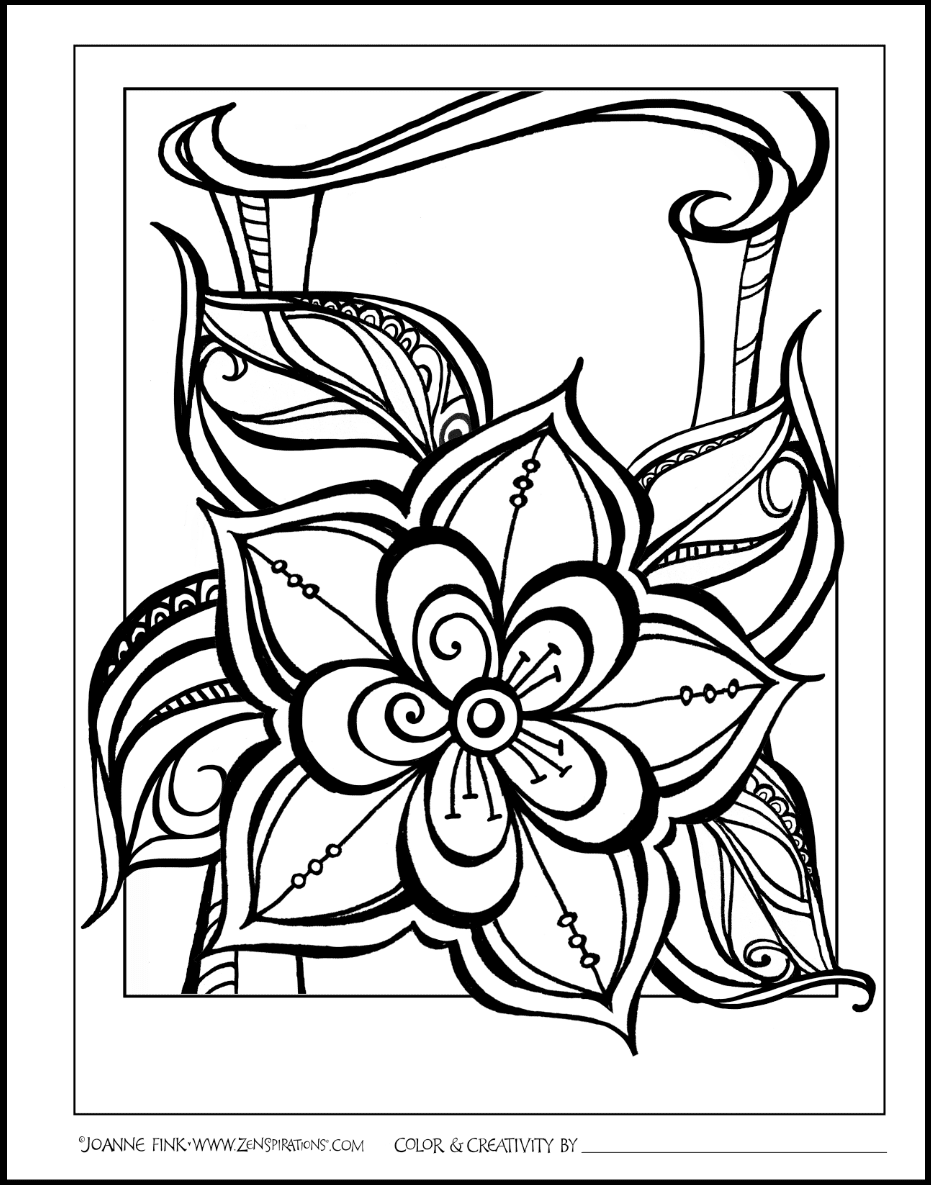 Click here to download BOLD FLOWER
SWIRLY TREE: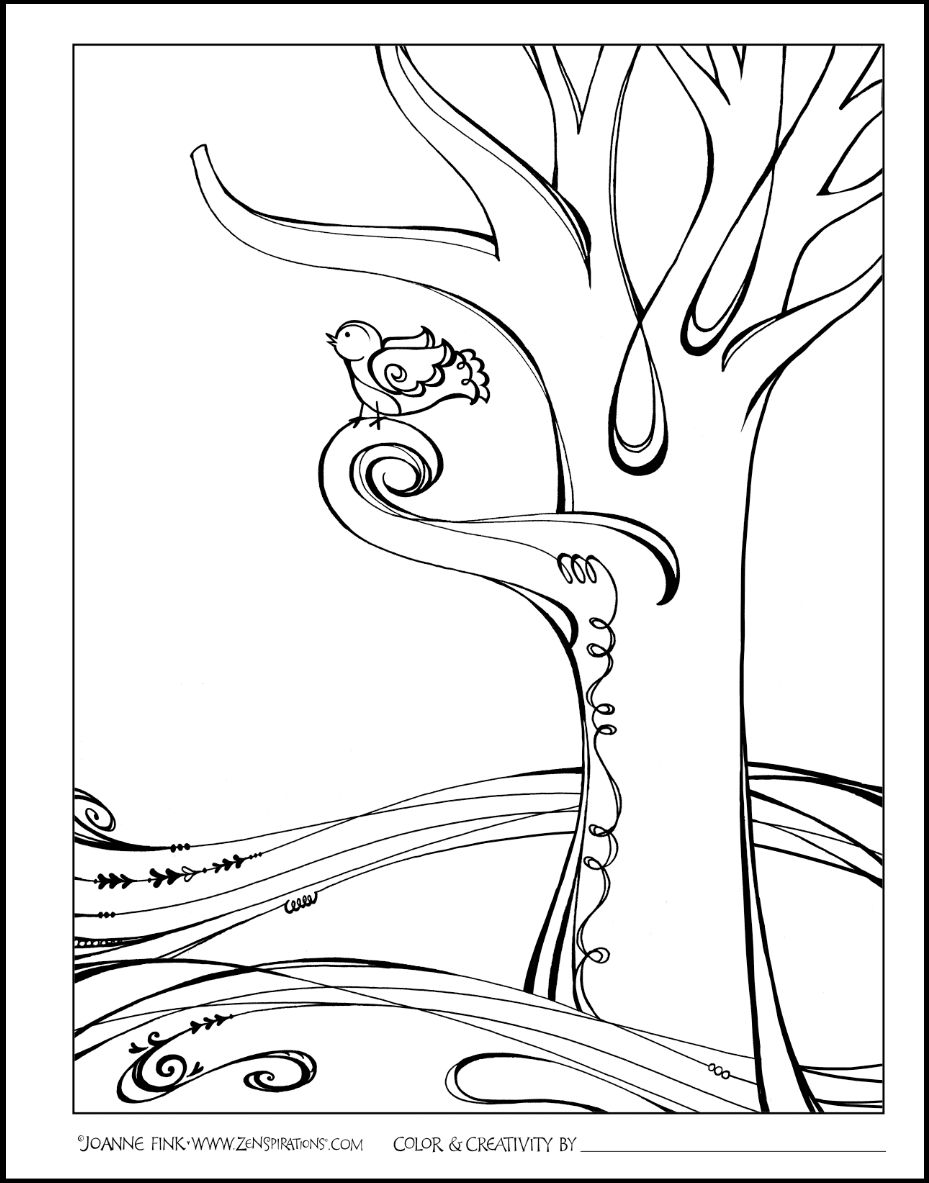 Click here to download SWIRLY TREE.
But before this next contest gets underway, I'd like to congratulate the winners of the two contests we had last month.
Congratulations to the winners of the "Color Peace" blog from October 20th (and if you haven't had a chance to see the truly extraordinary work that was submitted for Flowers of Faith, be sure to check out the albums for the Be Still Sign and This is the Day Tree in the Zenspirations Create, Color, Pattern, Play FB Group):
Hannah Ballesteros, who won a set of the five new Create, Color, Pattern, Play books: Birds & Butterflies, Expressions of Faith, the mini "Perfectly Portable Pages" Color Peace,   Judaic Expressions, and the soon-to-be-released Flowers of Faith;
Kaleena Gharky, who won a Zenspirations® rubber stamp or clear stamp set by Impression Obsession, and
Kathryn Leonard, who won a 'Dangle Design' Name Sign.
My heartfelt thanks to the 90+ people who shared their thoughts on what to include in my upcoming line of Color, Create, Pattern, Play gift and stationery products in the comment section of the Oct. 27th Coloring Products contest. Your input was invaluable and greatly appreciated. My awesome intern analyzed the data (thanks Nathaniel!), and I thought I'd share the charts he made for those who are interested.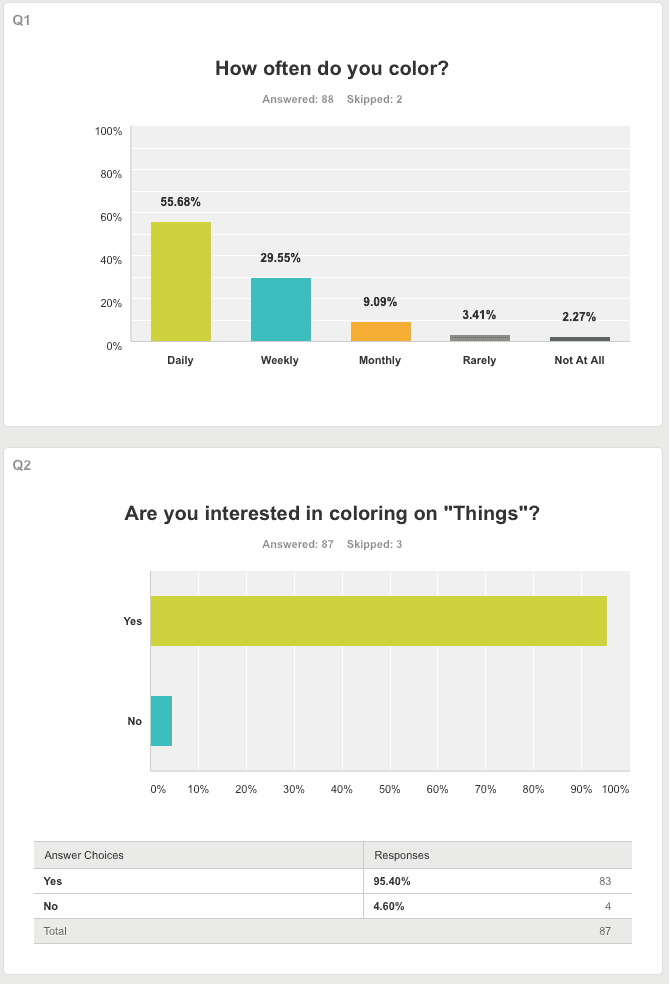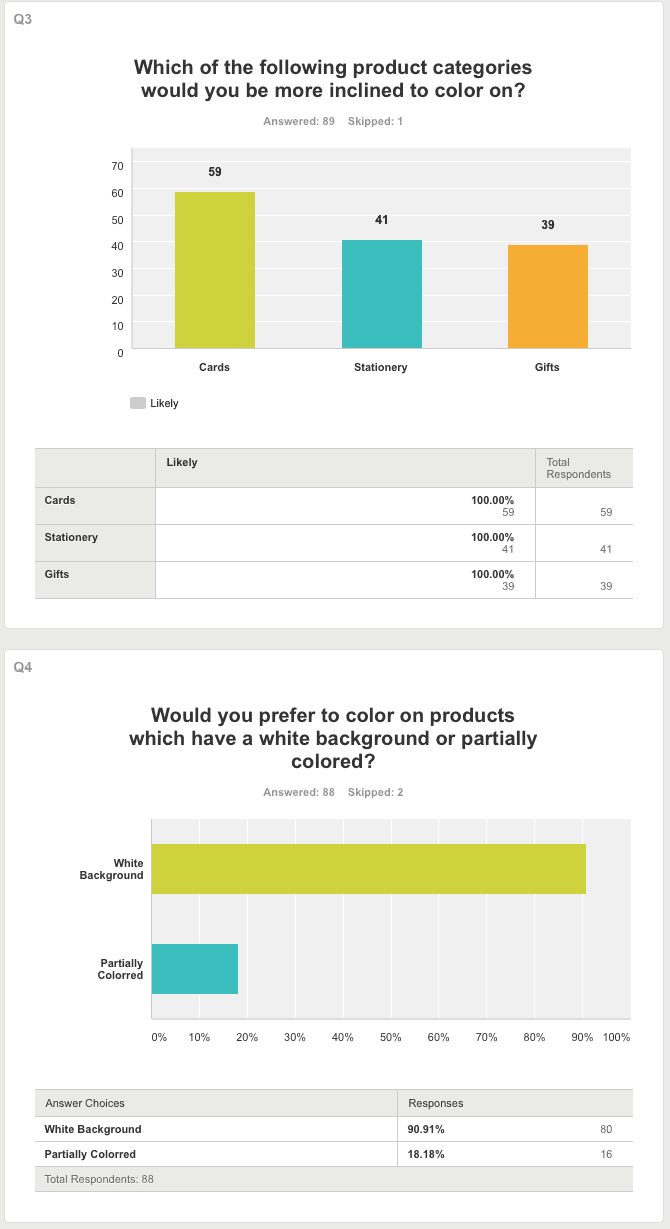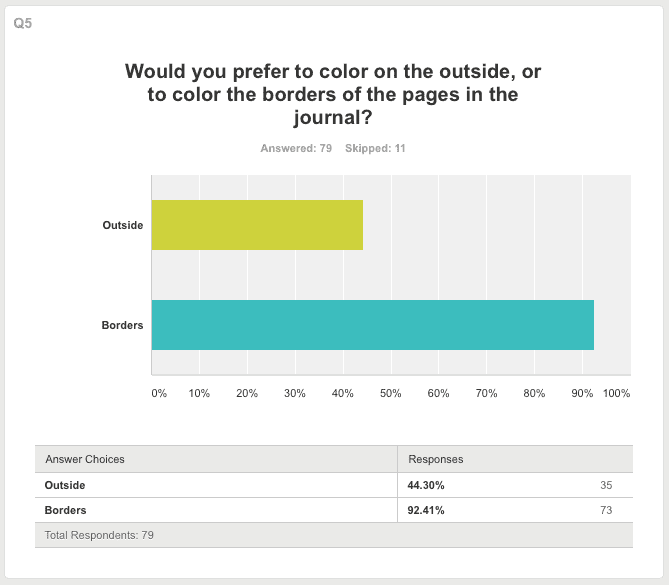 Thank you again to everyone who participated. The line is scheduled to debut at the Atlanta Gift Show in January. I'll post pictures when I get the prototypes.
Congratulations to:
Susan Steinke, who won my new 2016 Scripture Calendar (from Hopper Press) & two packages of Scripture Clear Stamps (from Impression Obsession);
Wendy Jo Avey, who won DO Magazine's 1st TWO issues
Dorie Osisek, who won a set of 2 Zenspirations Cool Cups (from Tree Free Greetings); and
Terresa Shubert, who won the grand prize of a set of whatever products get made!
Ladies if you can please e-mail me your addresses I'll get the packages underway.Before signing off tonight, I have a favor to ask. If you have gotten any of the new Create, Color, Pattern, Play books, especially if you purchased them from Amazon, would you please take a few minutes to write a review? Apparently the more reviews a book gets, the more it gets promoted by Amazon. I'd especially appreciate reviews for Birds & Butterflies, and L'Chaim: Celebrate Life. Here is a screen shot of the four newest titles:


While I was on Amazon I noticed that the Inspirations book is on sale for $5.64, which is the lowest price I've ever seen it. I know many of you already have this one, but since the holidays are coming up I thought you might like to know about the sale.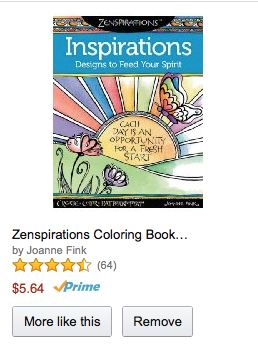 <
Hope you enjoy the coloring pages… I look forward to seeing your creativity at work!
Stay Zenspired,
Joanne