Go for the Glitter!
Tuesday, February 21, 2017
Hi Everyone,
I was inspired by all the people who shared the wonderful ways they embellished my new line of Zenspirations® Coloring products, and decided that I wanted to 'play', too! I started by using the Koi® Coloring brushes to color one of the frames. I shared this photo with the Zenspirations Create, Color, Pattern, Play FB group, and asked the gang if they thought it could use some glitter and metallic touches.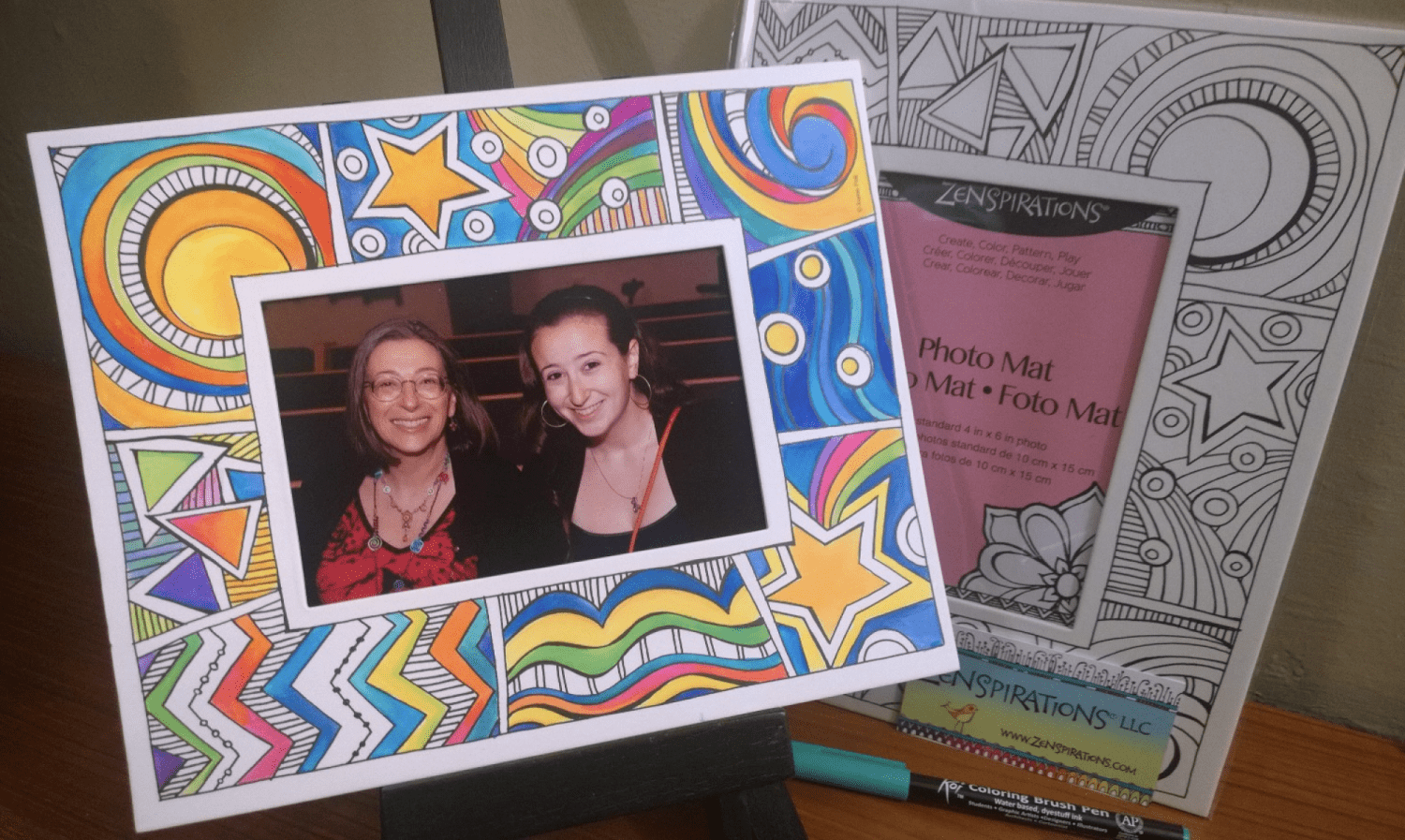 Two thirds of the respondents said "go for the glitter", so I got out Sakura's Stardust and Metallic Gelly Roll Pens, and added bling. Here is a close up of one section. The vertical stripes were colored with Stardust XPGB #738, and I used the metallic pens in rainbow order to fill the spaces between the stripes.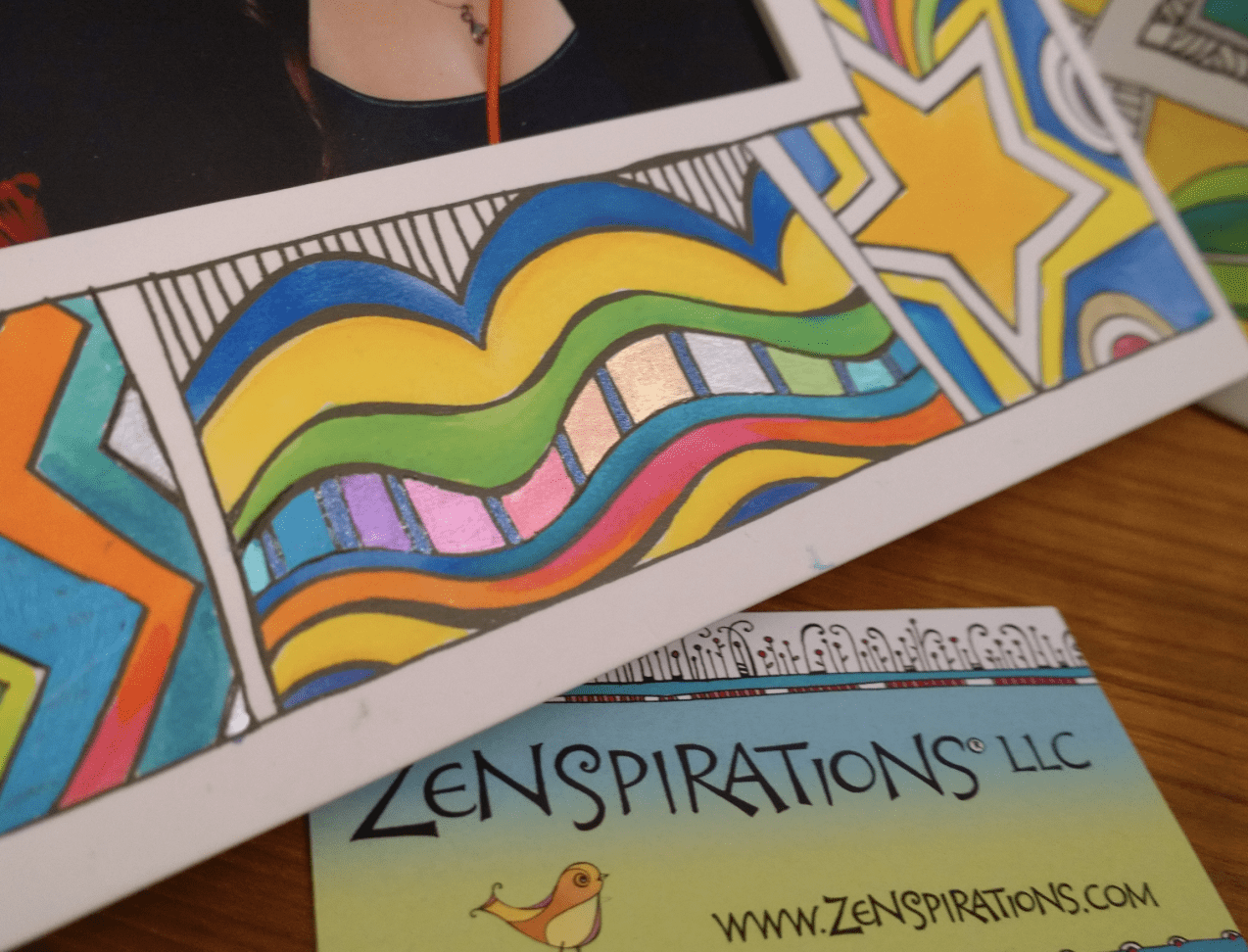 Coloring the frame was so much fun that I decided to embellish some of the other products. On the gift bag I used Koi Coloring brushes, and then blended some of the metallic and glitter Gelly Roll pens to create a shimmery rainbow effect.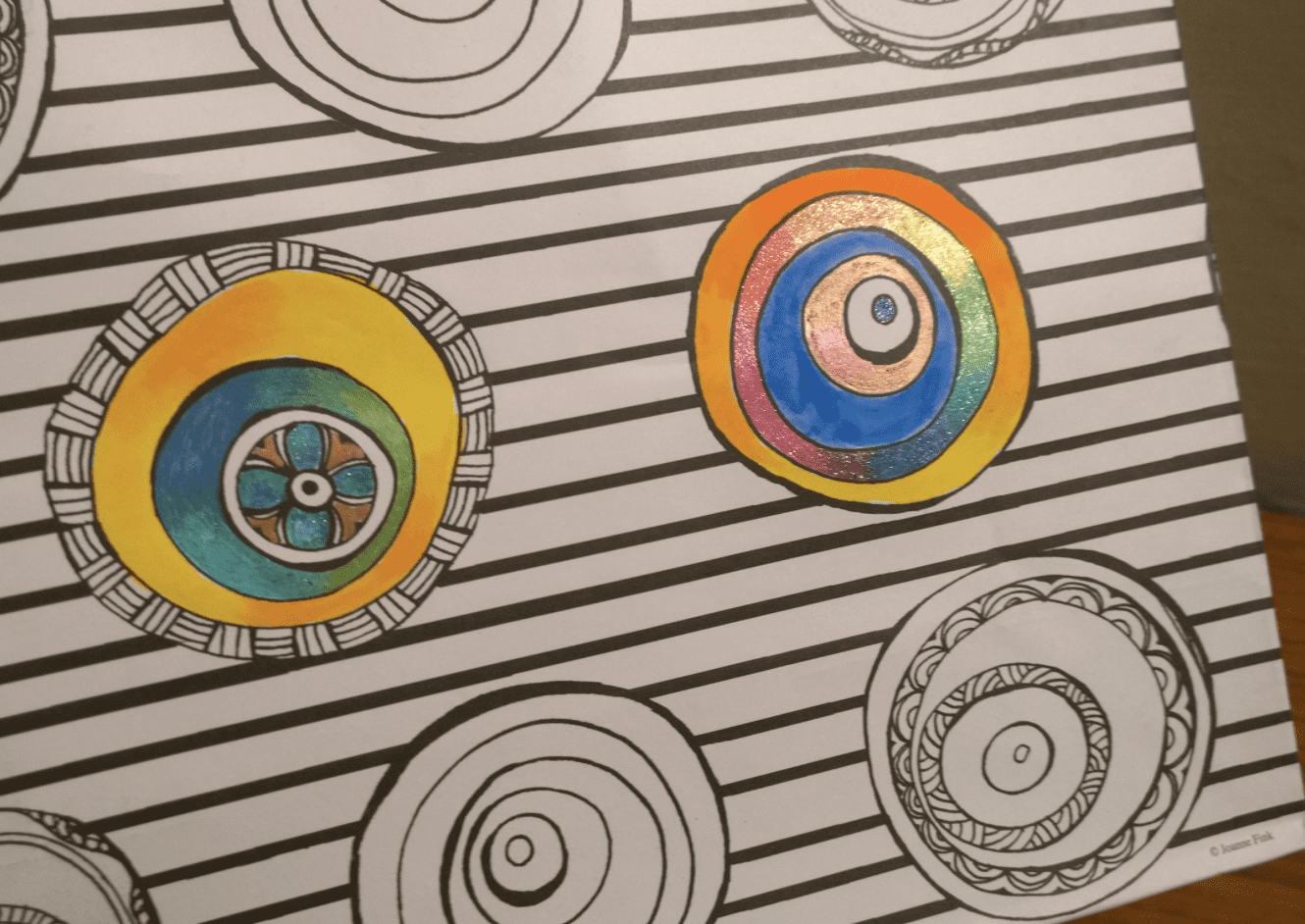 Next, I used the same tools to color one of the cups.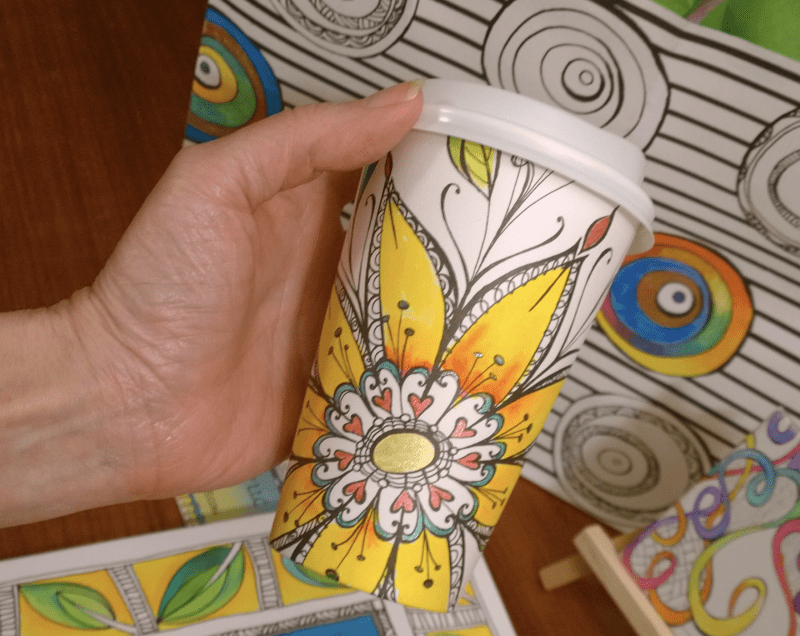 Working on a curved surface was a bit challenging, so I went back to the frames. I remembered seeing a work in progress that Color & Creativity Enthusiast Toni Popkin posted in the "Share the Love" album: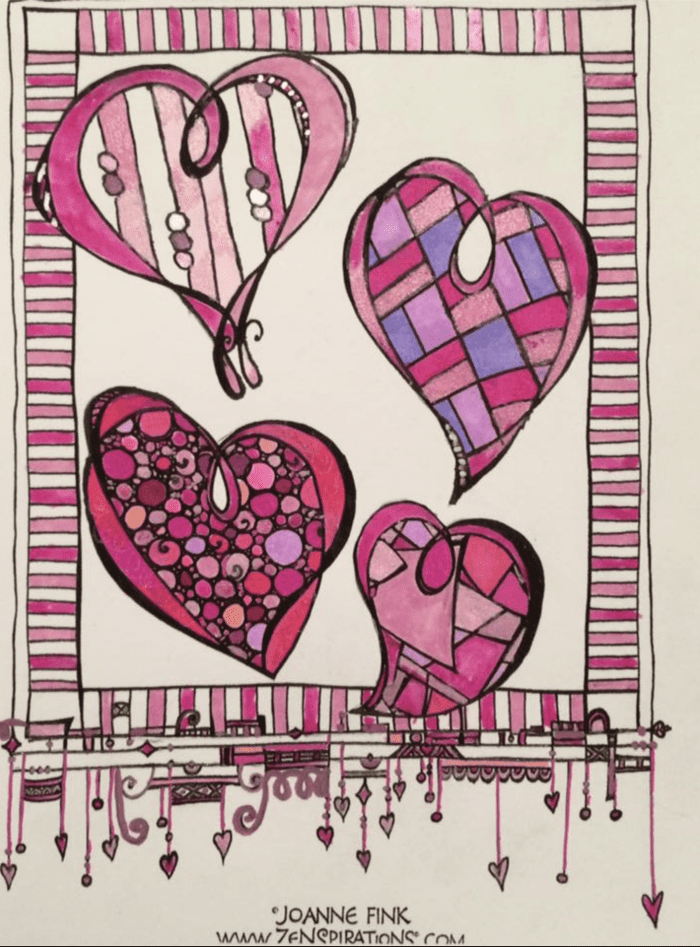 This design intrigued me because I recognized the hearts as being from one of the rolls of gift wrap, and realized that Toni had cut them out and collaged them on to the Dangle border. Her creativity inspired me to get out the scissors!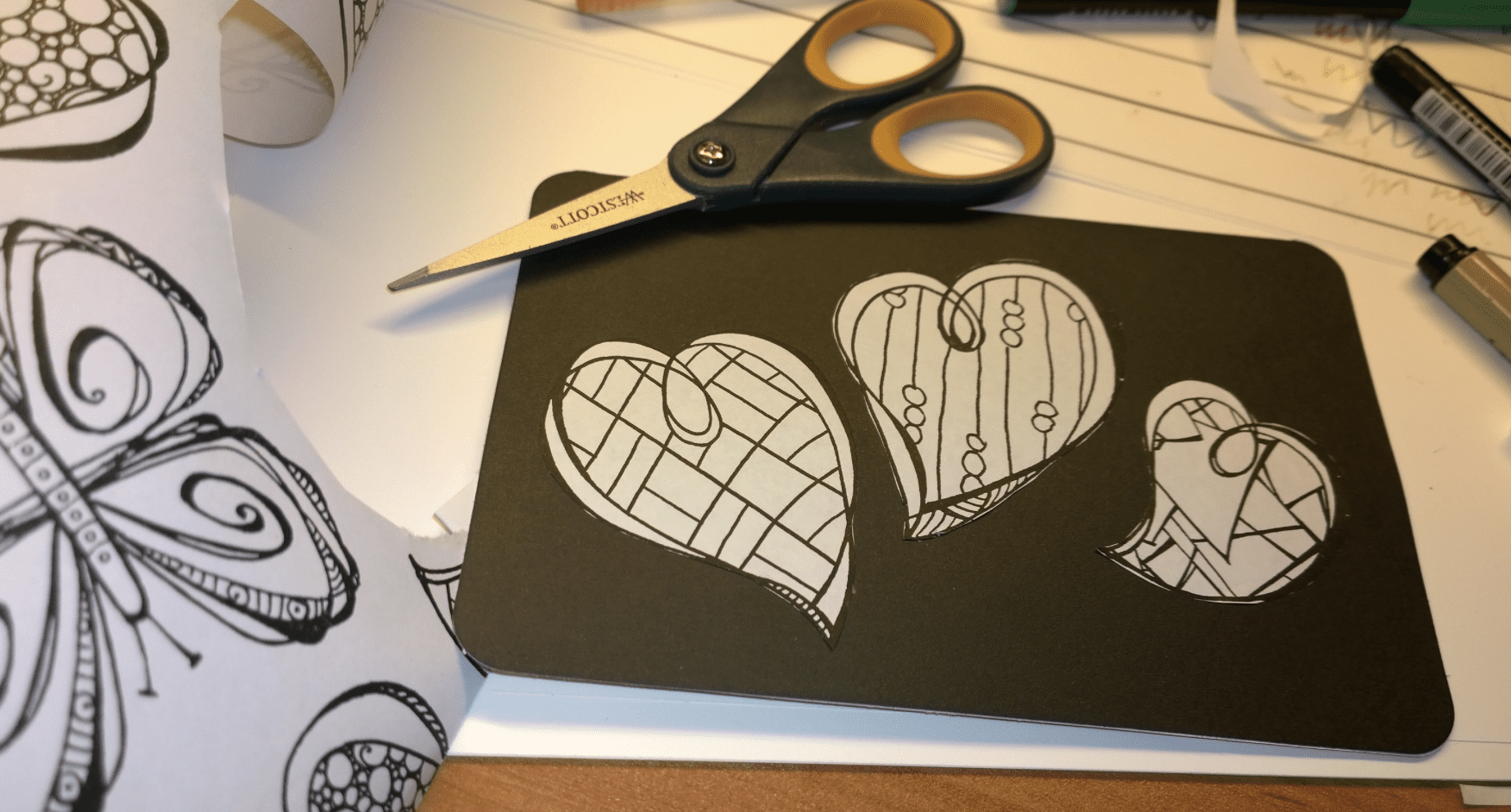 I cut several hearts and taped the ones I liked best onto a piece of black card stock. Then I filled in the borders with red, pink, copper & gold Gelly Rolls pens and put it in a frame. I thought about filling the hearts in with color, but decided I liked just the touch of sparkle around the edges.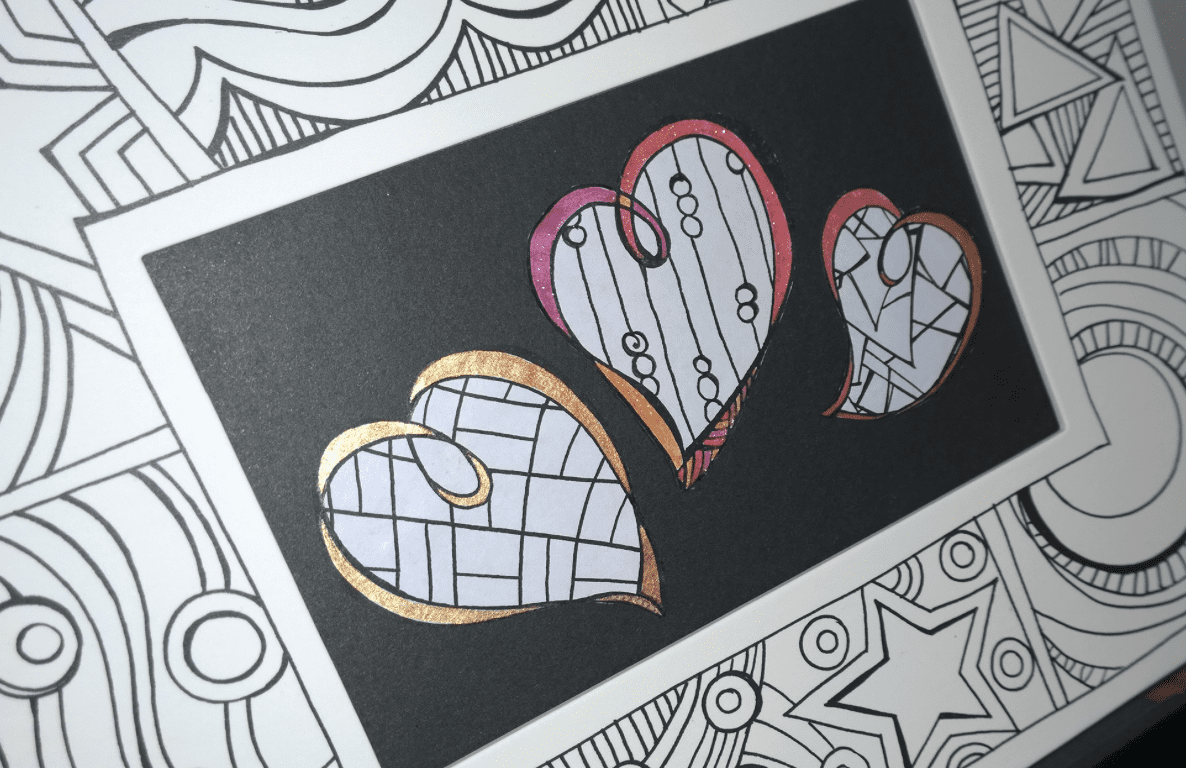 Here's the finished heart collage design, along with the leaf frame I colored. I decided that rather than use the leaves to frame a photo, I would frame a saying. I've been asked to do a patterning workshop for twenty-five seventh graders this week (wish me luck!), who's school motto is "Love wins", so that's what I lettered. I used metallic Gelly Rolls, which are opaque, and work well on both dark and light papers.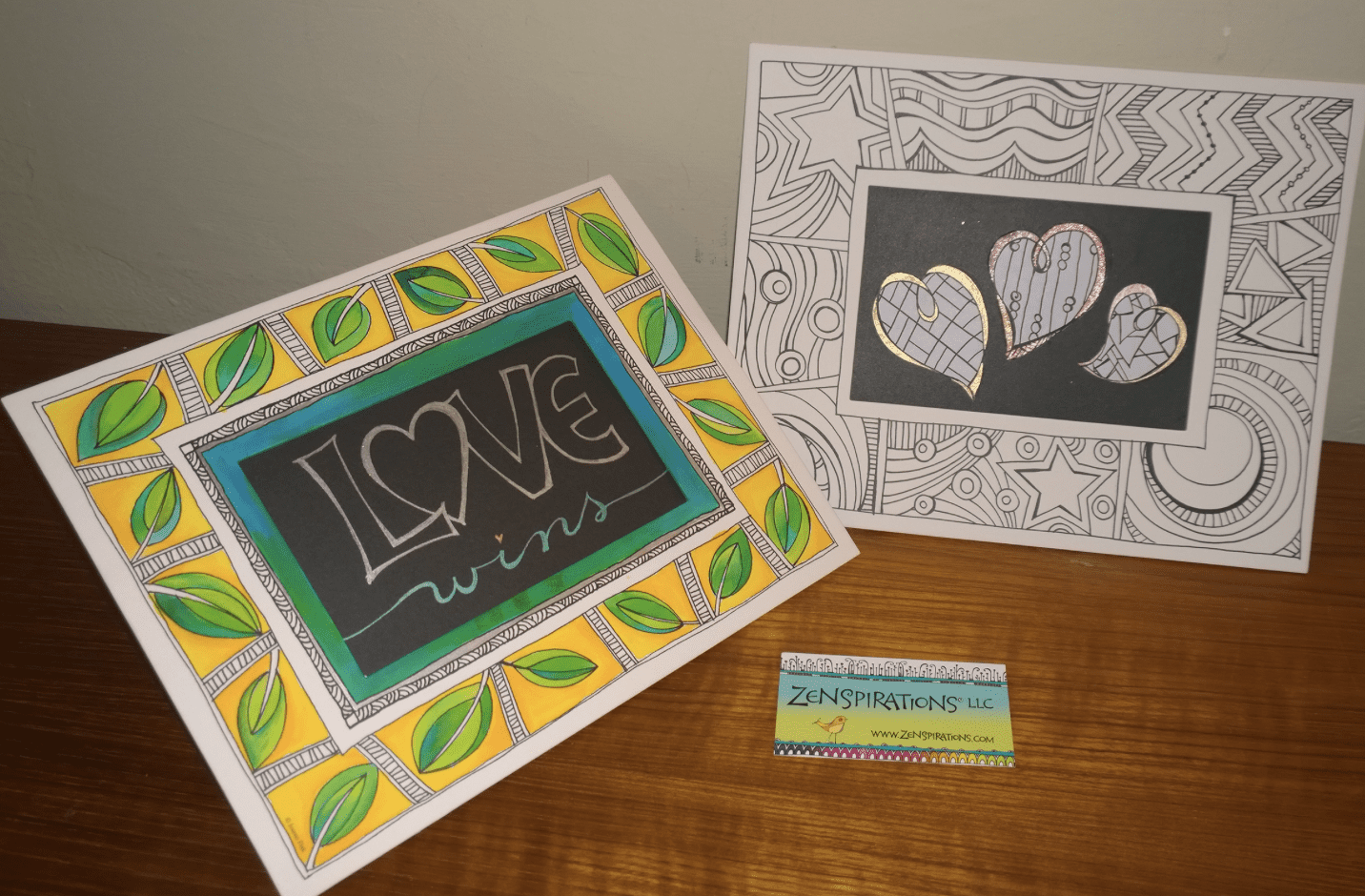 I colored a few of the other products, but so far the gift bags and frames are my favorites. Below is a photo of my growing collection: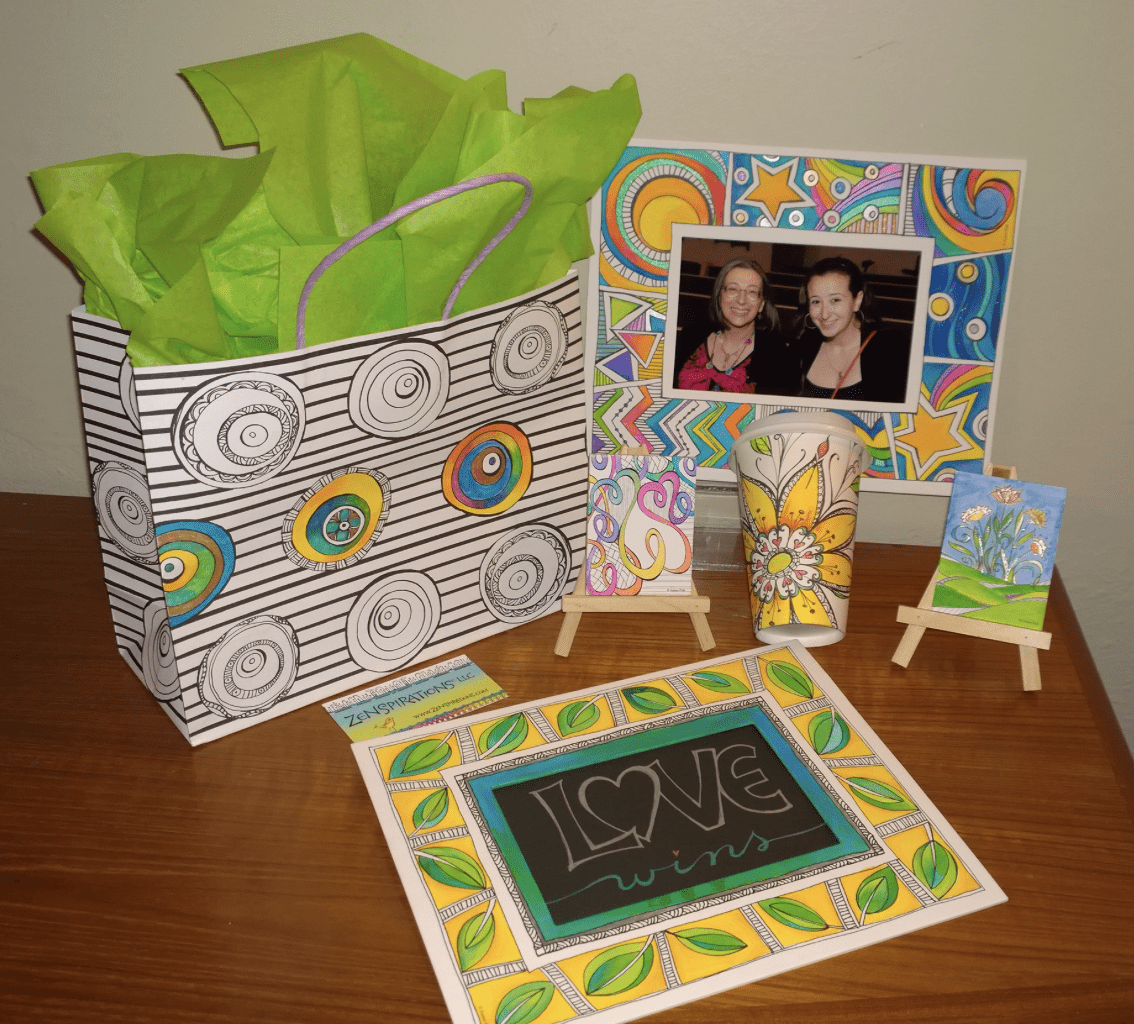 I'm sad that Michaels will only have the product in the stores through March. Several people have written to say they haven't been able to find the designs in their local Michaels, and I checked with the company and found out that it was shipped to ALL Michaels stores… and that whatever is there is all that will be there… which means another trip to Michaels in my future! I'm sorry that I can't order these, so I won't be able to sell them in the Zenspirations shop. Hope you will be able to find what you want before they are no longer available.
In the first comment on last week's blog, Dianne Klabechek asked if I was going to post a February calendar page. Glad you liked the January page Dianne! Here is the February design: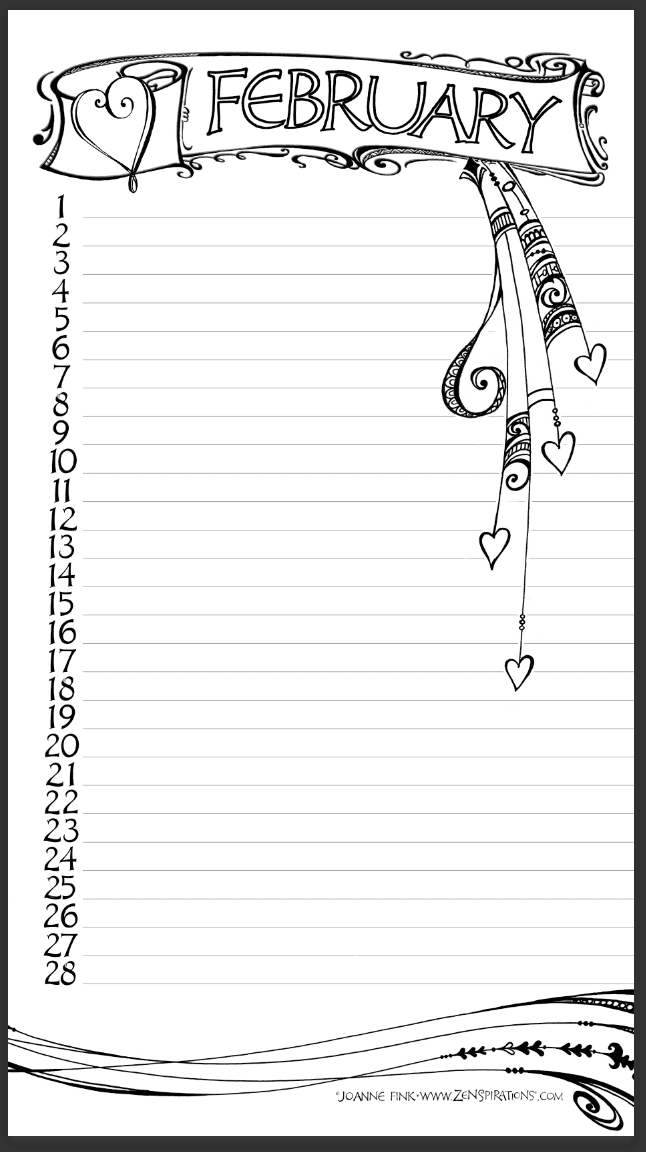 Click below to download your free printable version:
Zenspirations®_by_Joanne_Fink_Blog_February_Calendar
And, since March is around the corner, I thought I'd go ahead and share the March calendar page, too: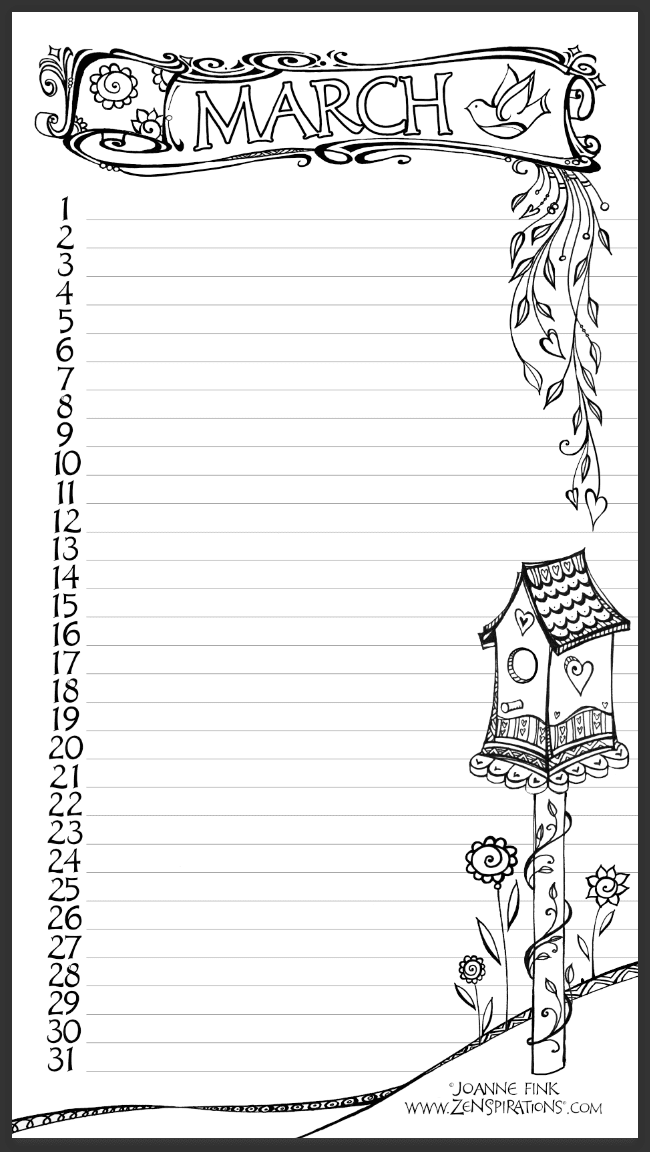 Click below to download your free March Calendar printable:
Zenspirations®_by_Joanne_Fink_Blog_March_Calendar copy
While we are on the subject of calendars, I've been thinking about coming up with a calendar to plan some of my blog posts in advance. In April it will be three years that I've been blogging every Monday night– and, believe it or not, I write the entire blog, and create at least some of the art, each Monday night. Some weeks I have no idea what I'm going to write about until I sit down at the computer! I'd like to be a little more intentional about the blog moving forward, and would appreciate your help. Please leave a comment letting me know what interests you, and what you'd like to see me include in upcoming blog posts. As an incentive, I will pick one name at random from everyone who is kind enough to leave a comment helping me plan future blog posts, and I will send that person a signed copy of any of the books which are available in the Zenspirations Shop. Thanks, in advance, for letting me know what has resonated with you in the past, and what you'd like to see in the future.
Stay Zenspired,
Joanne