Tuesday, January 19, 2016
Hi Everyone,
Being in Atlanta on Martin Luther King Day is an incredible experience. The entire city celebrates Dr. King's legacy, and his moving "I have a dream" speech is widely broadcast. As a writer who hopes my words will not only provide comfort and inspiration, but will be a force for good in the world, I have long been attracted to Dr. King's incredibly powerful messages. One of my favorite MLK quotes is:The ultimate measure of a man is not where he stands in moments of comfort and convenience, but where he stands at times of challenge and controversy."
I pray that when I encounter injustice I will not stand silently by awaiting someone else to do something, but will have the courage to take action myself. The strong pull I feel to social justice comes from Deuteronomy 16:20, which I lettered in one of my morning journals: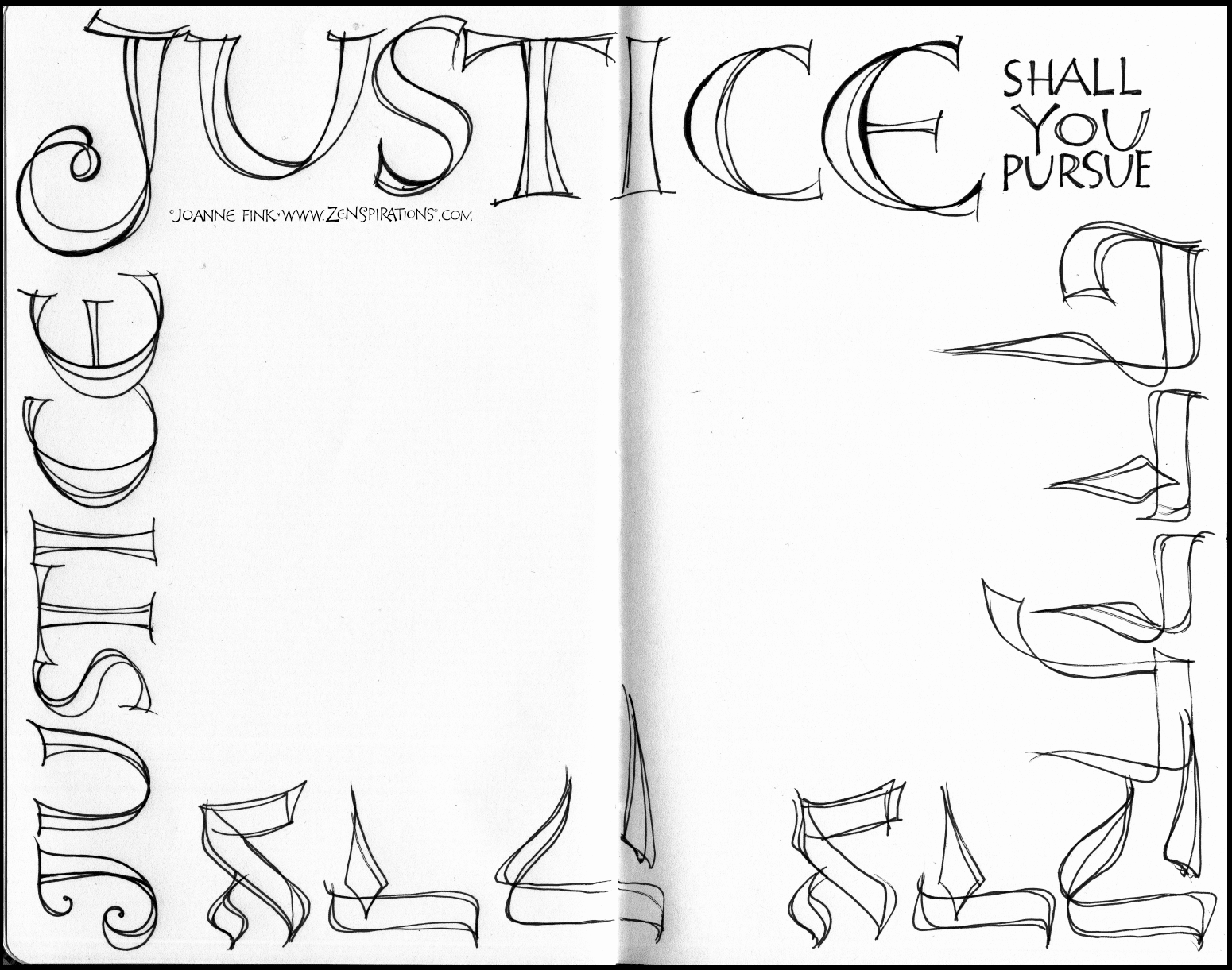 And months later, in a different morning journal, the subject came up for me again: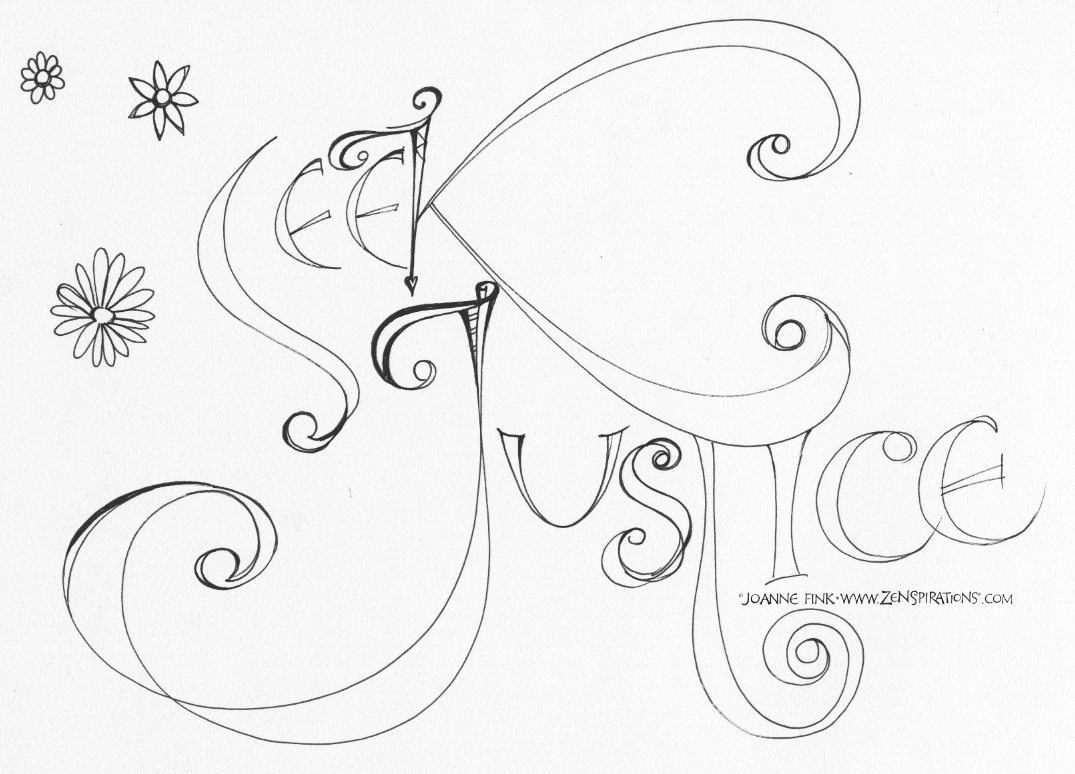 But tonight, in Dr. King's honor, I wanted to share a few quotes about Dreams. I did the piece below last year on Martin Luther King Day: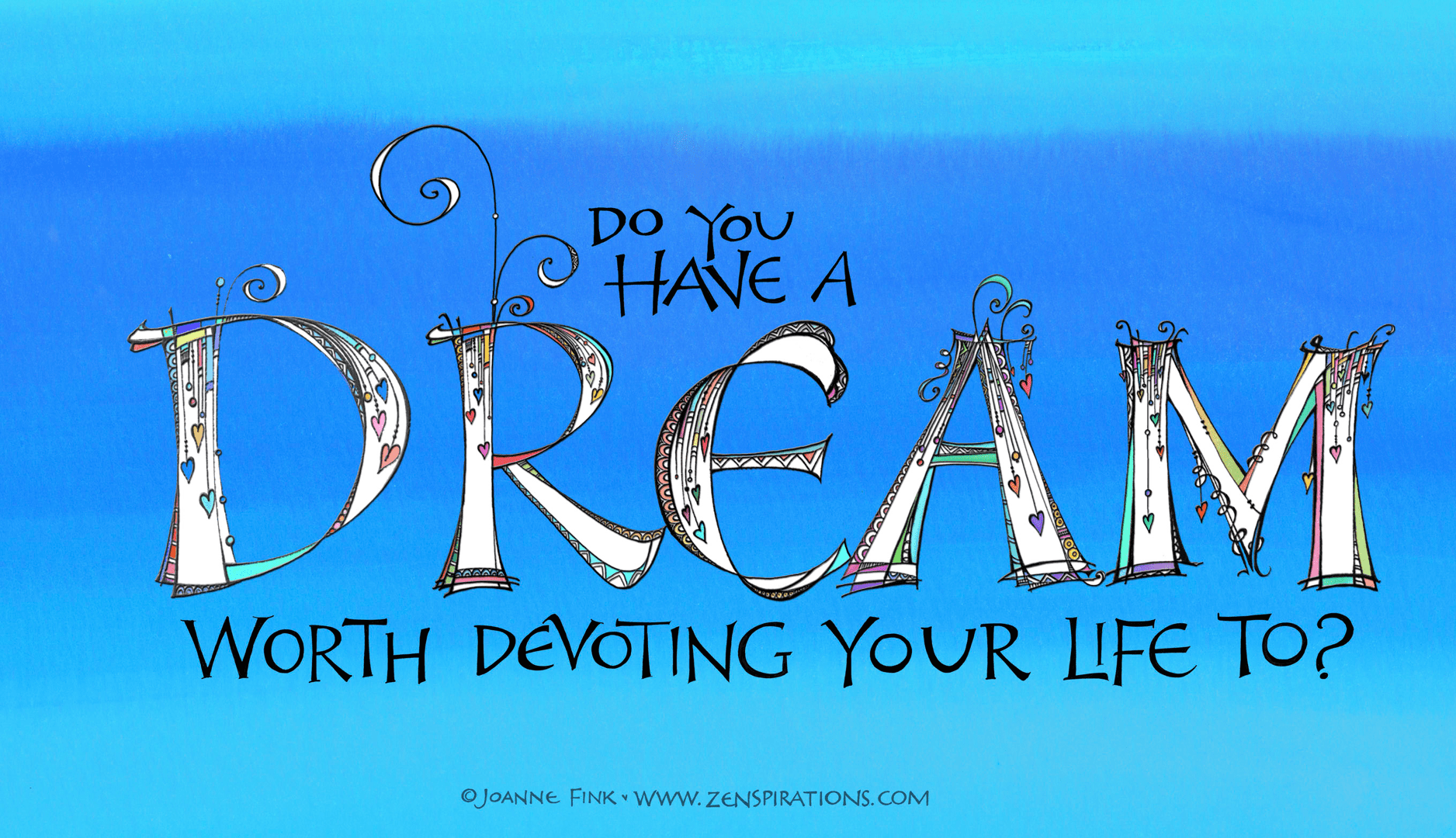 If you don't have a dream worth devoting your life to, I encourage you to think about this: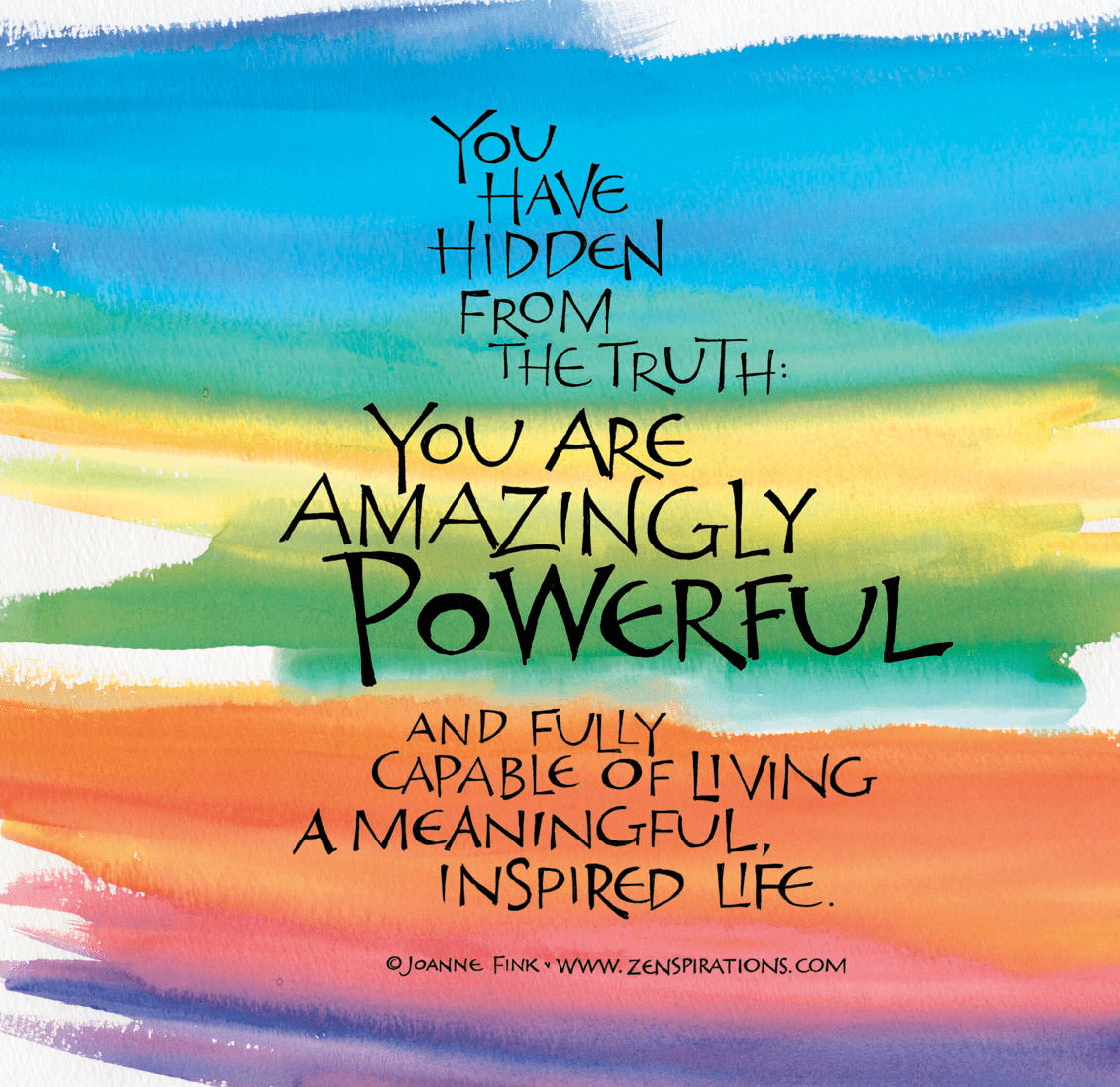 I believe that dreaming is an essential part of the human spirit, and that our souls grow as we work for our dream… the more passionately we believe in our dreams, the brighter the light of our souls will shine.
CHA and the Atlanta Gift Show were both AWESOME… but after 10 days on the road I'm glad to be home.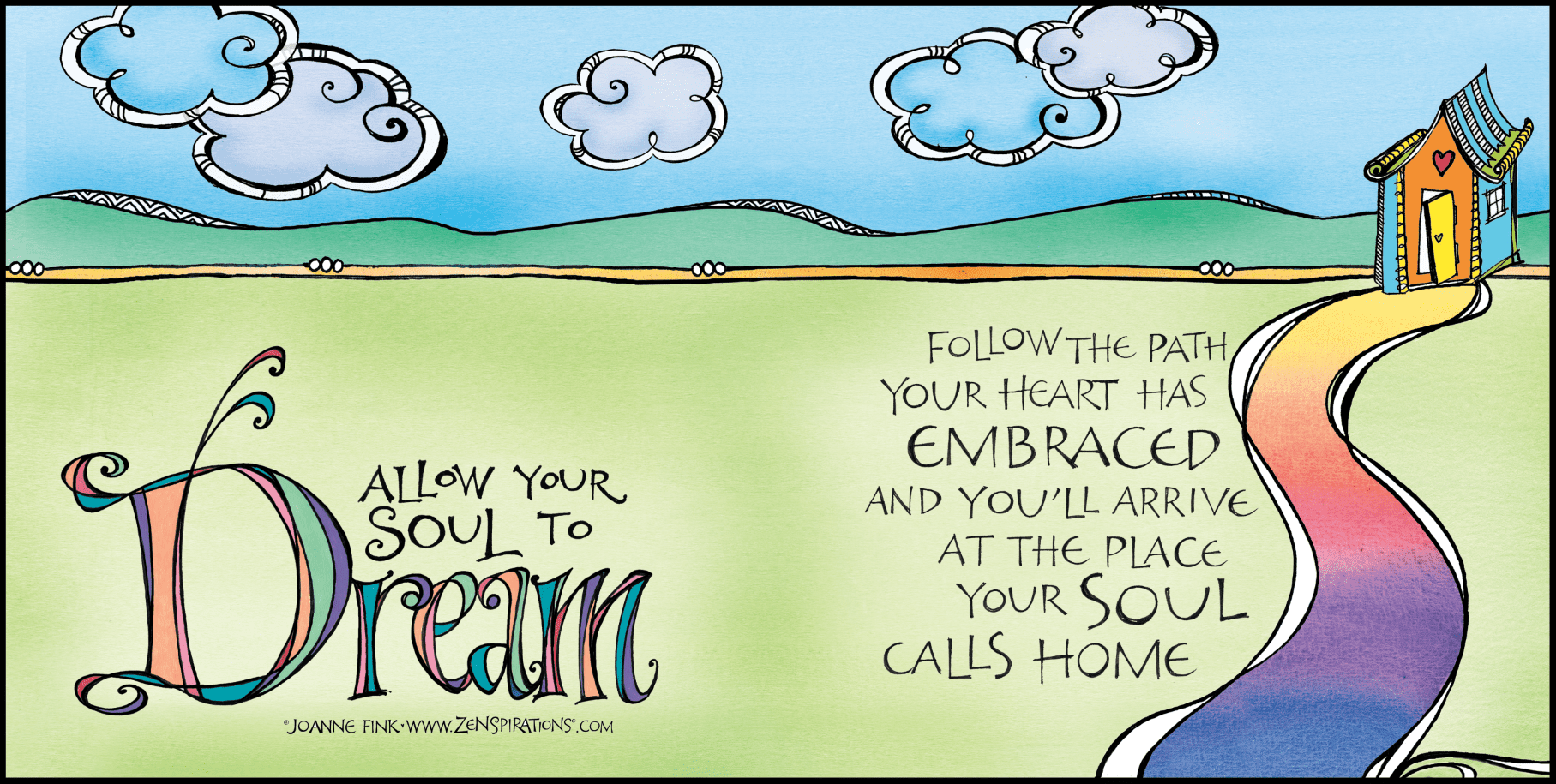 I'm also glad to share a note I got from Philip Fleet, president of Trim-a-Rim, about the contest we ran two weeks ago:
"Hello Joanne,
Thanks again for gathering feedback on your blog about black & white Trim-A-Rim borders for coloring. I was blown away by how enthusiastic, creative and talented your coloring fans are…and also how generous they are to share their time and input… very inspiring for sure!
There are 43 Comments so far on that blog entry. Of the 37 people who responded to at least some of the Trim-A-Rim questions (the other 6 were "Here's Part 2″ follow-ups and Word of the Year input alone) here's a tabulation of their feedback to the 4 questions:
Q1) Would you be interested in a black and white version of these designs that you could color and embellish?
35 (95%) said Yes to Q1 — and most were very enthusiastic YES! 🙂
1 said No because too busy, and
1 did not answer this question (although I'd assume Yes based on their other answers)
Q2) If so, which designs would you most like to have a coloring version of?
#1 (by pretty wide margin) = Open Leaves
#2 = Hearts
#3 = Large Scallops
#4 = tie between Fish and Birds & Leaves
#6 = tie between Patterned Leaves and Bubbles
#8 = Triangles
Q3) Would you prefer to have line art to color for the Trim-A-Rim border only, as in the 3 examples above, or would you like to have something in the center that you could print out at the same time and then cut out and use on a different project, as in the sample below?
Both = 30; Border only = 5; No answer = 2
Q4) Are there other themes you'd like me to design for use with Trim-A-Rim? If so, what themes are at the top of your wish list?
Most frequently mentioned = Inspirational words and quotes, birthdays, holidays, special events, flowers, doodles/tangles/dangles
FYI, the black & white versions of all 9 of your Trim-A-Rim borders are now uploaded to our website and available for free download and printing in all 3 variations (Full size on one 11″x17" sheet, Full size halves on 2 letter-size sheets, and Mini on letter-size paper.)
They're all available here –> http://trimarim.com/design-ring-downloads/joanne-fink-zenspirations-designs
Since your blog family really likes the idea of the additional center art, let's discuss that once you've had a chance to get settled back in after all your travel.
And now to the lucky winners of our Trim-A-Rim loot! 🙂 …
Prize Group A) 2 winners selected at random from all those who gave Trim-A-Rim feedback, and each will receive: Your choice of a Mini or Full-size Trim-A-Rim kit, along with print-outs of the 9 colorable Zenspirations black & white borders for your chosen size.
Winners =
Jamie Torres
Jean Chaney
Prize Group B) 2 winners selected at random from all those who posted inspiration samples to the albums (and each border submission = 1 entry, so several people had multiple chances in this one). These winners receive: Both sizes of the Trim-A-Rim kit, along with print-outs of the colorable Zenspirations black & white borders for both sizes.
Winners =
Wanda Radler
Cathy Pemberton
Bonus Opportunity selections:
These were the folks whose designs were selected as inspiration samples. In addition to published credit, they'll each receive both sizes of the Trim-A-Rim kit, plus print-outs of all 9 of the colorable Zenspirations black & white borders and the full-color borders (a total of 36 border sheets), as well as several border print-outs of their inspiration sample(s).
This was HARD!! It's been really fun visiting your group page over the past few weeks to check out all the cool border creations, and I really wanted to choose nearly all of them, but had to draw the line somewhere, so here we go…
Terri Brown (have already contacted Terri re: the Permission to Publish and shared her wonderful Leaves border version with the 3D gradient effect on our FB page…our fans LOVE it!)
Alison Clement
Mary Anne Fellows
Leitha Hunt
Puneet Sekhon
Sephra Travers
Genna Wangsness
Kristen Zeitler
Can you please ask all of the winners to contact me at [email protected]
I'm glad that I wasn't the one having to make the selection this time! I second Philip's rave review of your awesome work. It's a pleasure and a privilege to collaborate with so many talented people… I really love seeing how differently everyone interprets my illustrations. One of my dreams is that my work will help inspire others to discover their own creative voice, and that a shared love of this type of creative expression will enable us to build a connective, compassionate, caring community.
I'd love to know some of your dreams— you can share by leaving a comment, or by posting a picture of it in the Zenspirations® Create, Color, Pattern, Play Facebook Group. Here is the link: https://www.facebook.com/groups/1471158256528576/.
Stay Zenspired,
Joanne