A House Filled with Love
Tuesday, July 11, 2017
Hi Everyone,
One of the very first greeting card sentiments I ever wrote– just after I graduated from college– was for my parents: "I love coming home because you are there". My parents still live in the house we moved to when I was in second grade, and I was thrilled to be able to go home to visit them while I was in Pennsylvania last month. The home where I grew up is more than a house filled with art, books, music and memories– it's a tangible symbol of the love which lives inside.
When my Zenspirations® journey began in 2009, I didn't really know how to draw, so I looked for easy icons– like houses– which didn't have to be realistic. Here are a couple of early examples: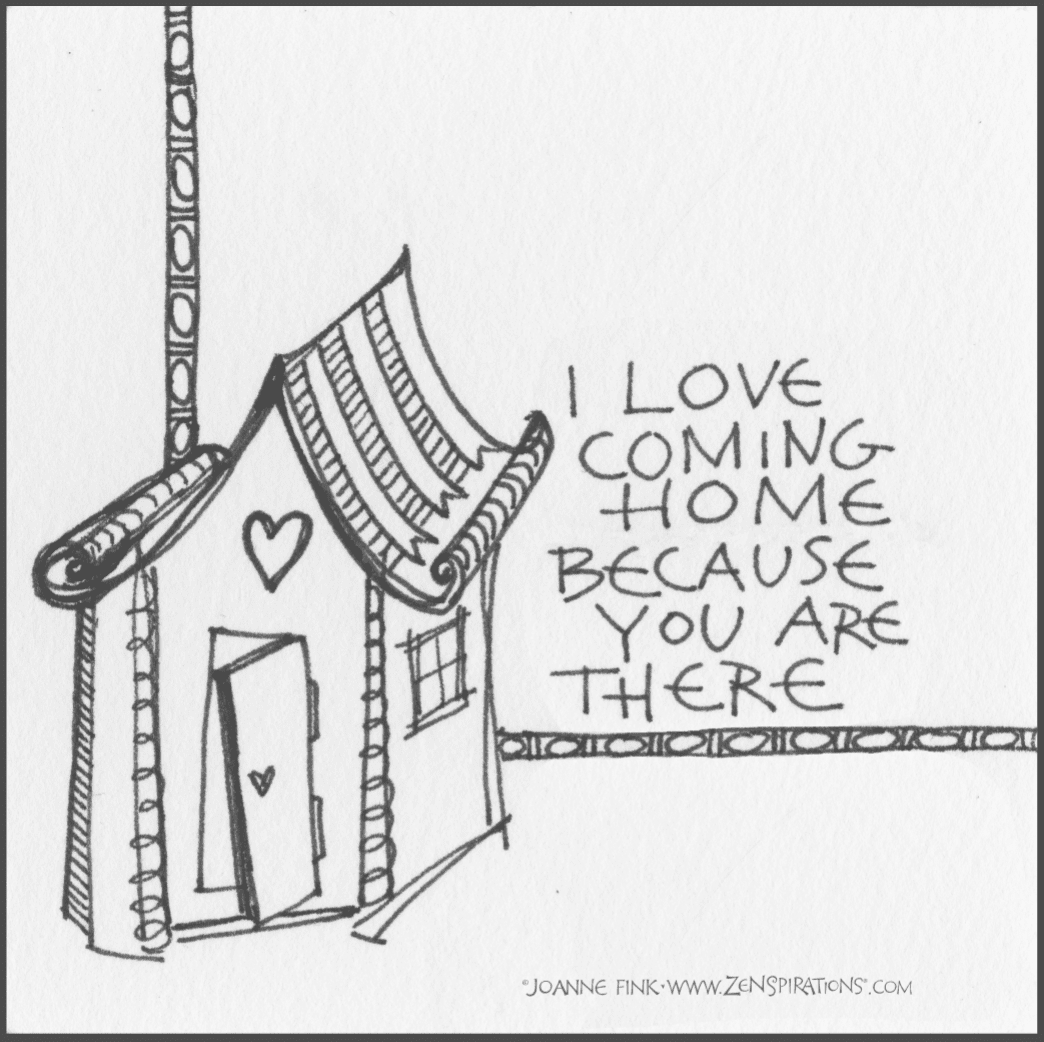 I often incorporate hearts into my house art to symbolize the love which makes a house a home.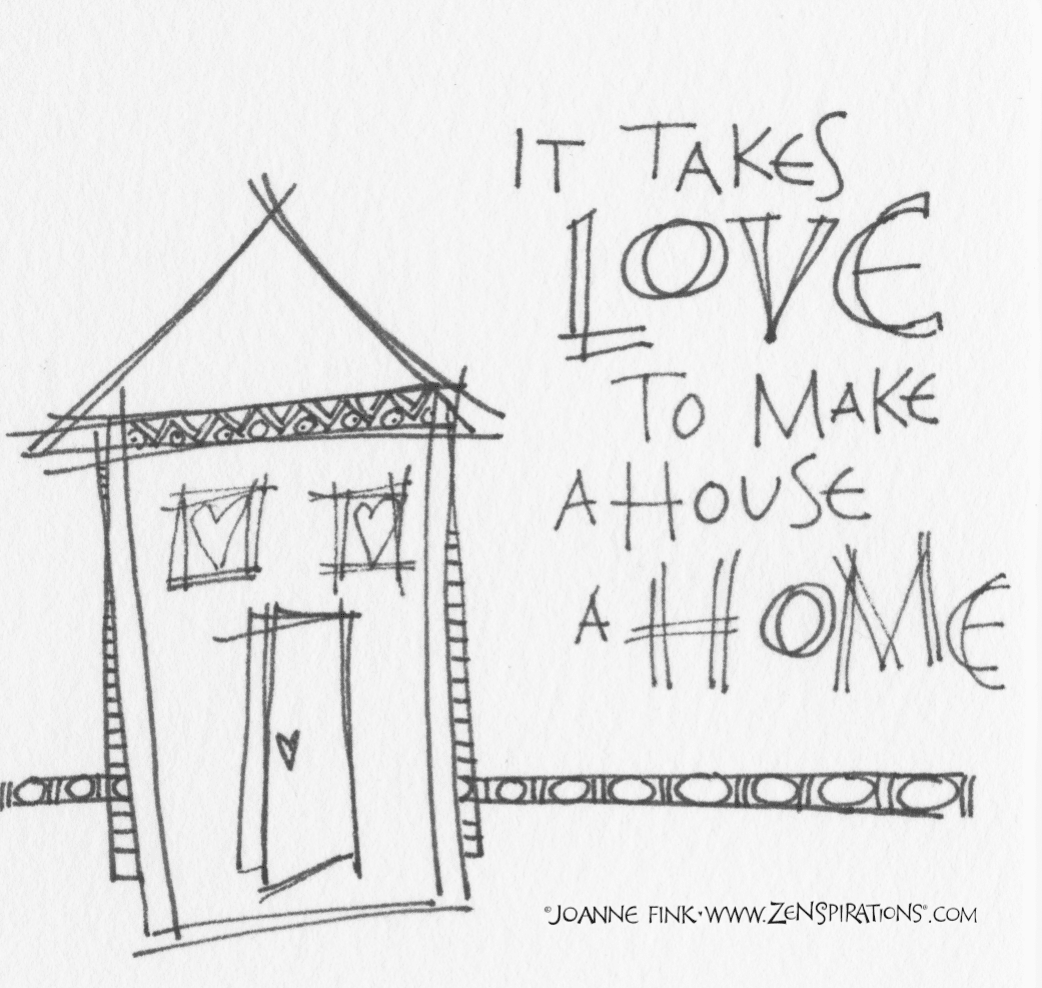 Our Zenspirations Create, Color, Pattern, Play FB Group will be two years old on July 21st, and I'd love some help planning our 2nd Anniversary Celebration. Like last year there will be a variety of prizes, contests and a webstore sale. We'll officially kick things off in next week's blog, and the celebration will continue until the end of July. I'm not announcing the first prize yet, but I'm pretty sure it's something most people will really like. I'll pick a name at random from those who leave comments on this week's blog letting me know what kind of prize(s) you'd prefer. Here are some prize possibilities: a collection of tools and materials from some of my favorite manufacturers, a piece of Zenspirations art; a subscription to DO magazine; a private art lesson (in person at my studio, or via Skype); having me letter a word of your choice; free coloring downloads; a set of signed books; or something else. I'd really like to know what would inspire YOU to participate in the festivities. I'd also like to know if there is a theme you are interested in, and if you'd prefer one or two huge, awesome prizes, or several nice prizes? Thanks, in advance, for sharing your thoughts.
One of the things we'll do this year is have our first drawing challenge… and it will be of a house! It could be any kind of house– a birdhouse, doghouse, lighthouse or Zenspirations Dangle Design house. To get your creative juices flowing I thought I'd share a step-by-step drawing showing how to create a Dangle house. The drawings are from the how-to section of my new book, Complete Guide to Bible Journaling: Creative Techniques to Express Your Faith. If you have the book, the text is on page 17.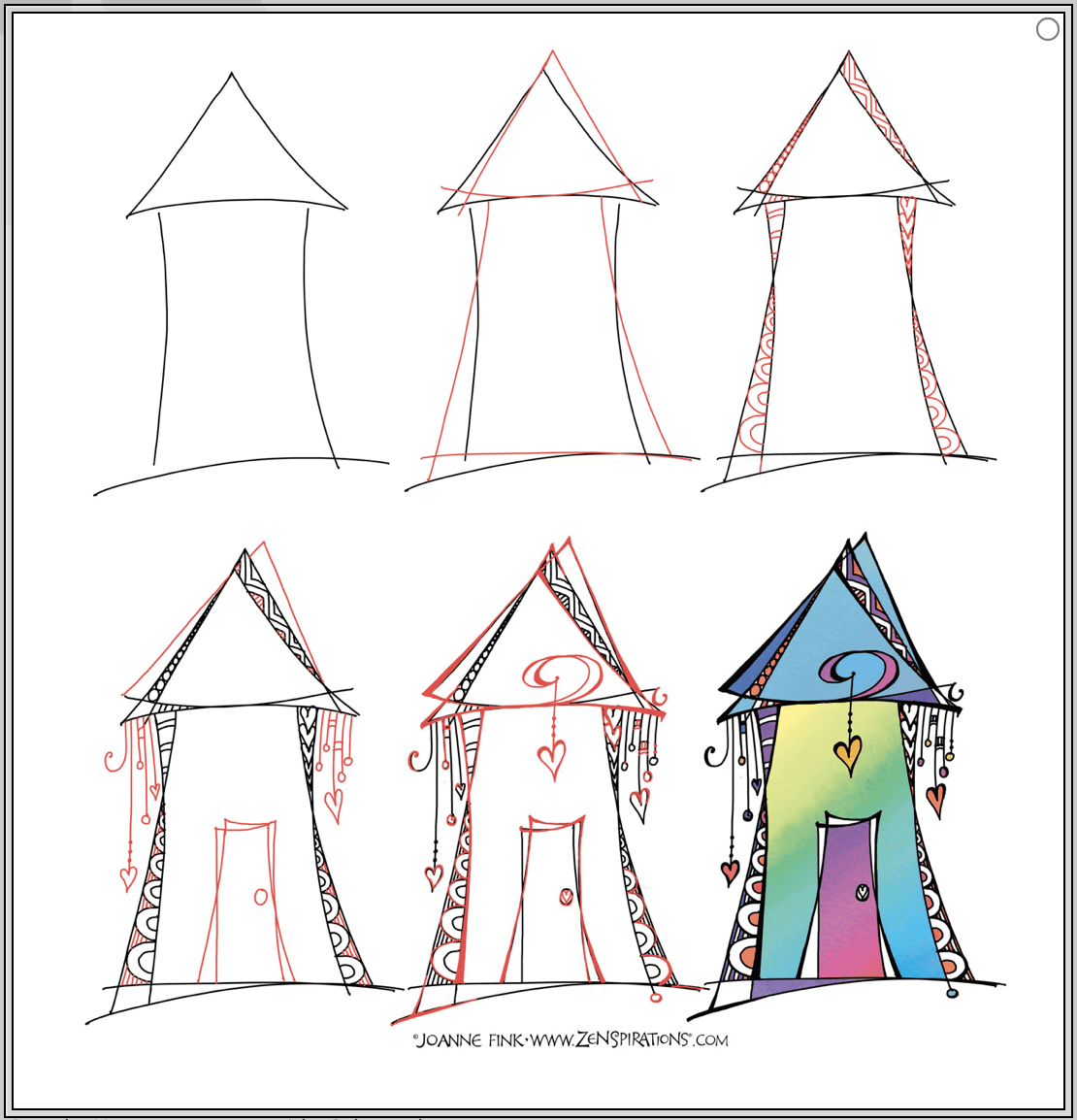 Once you've practiced drawing the house and adding perimeter patterns and dangles, you can take it to the next level. Below are three examples showing different ways you can use Dangles and text to embellish a house design.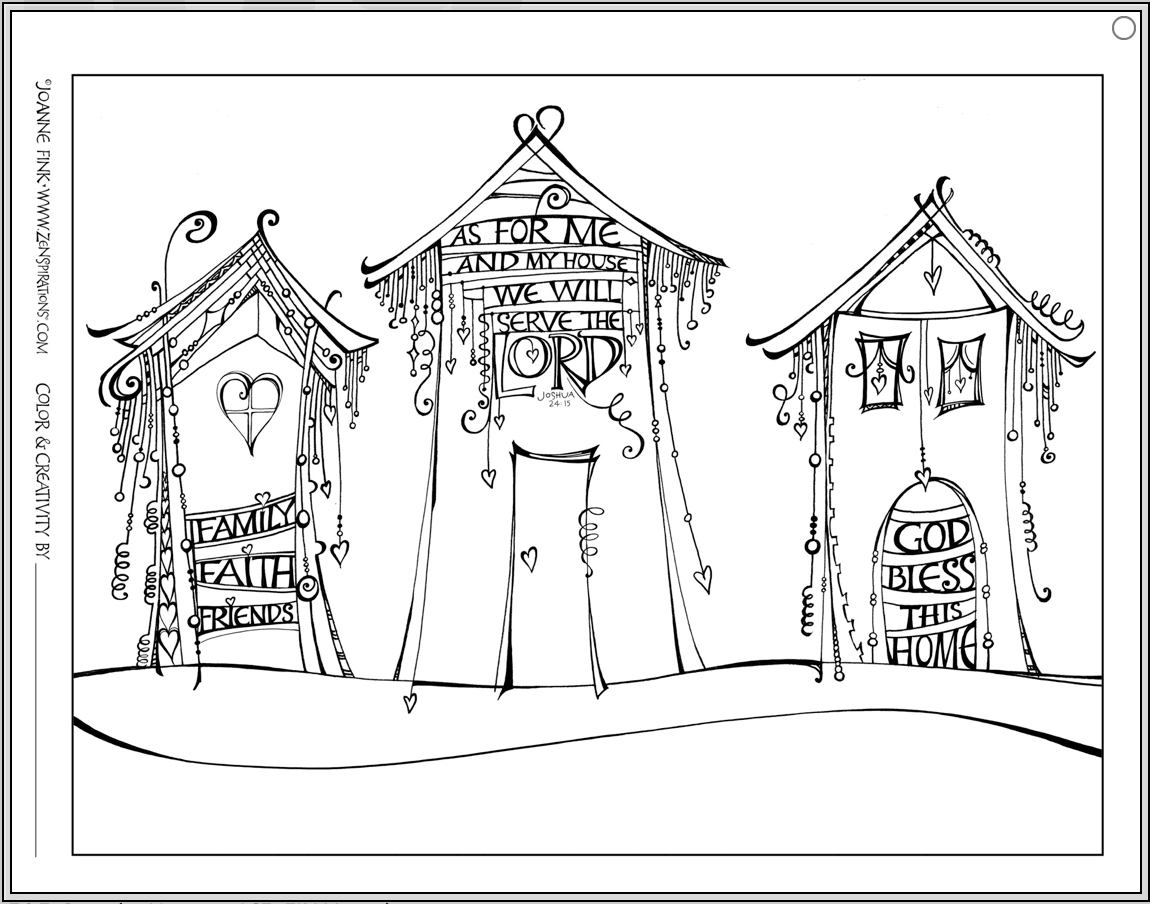 As you can see, a house drawing is a great way to frame your text. I often include prayers and wishes in my morning journal pages, and wanted to share this simple house along with the heartfelt wish: May your home be filled with laughter, love and light.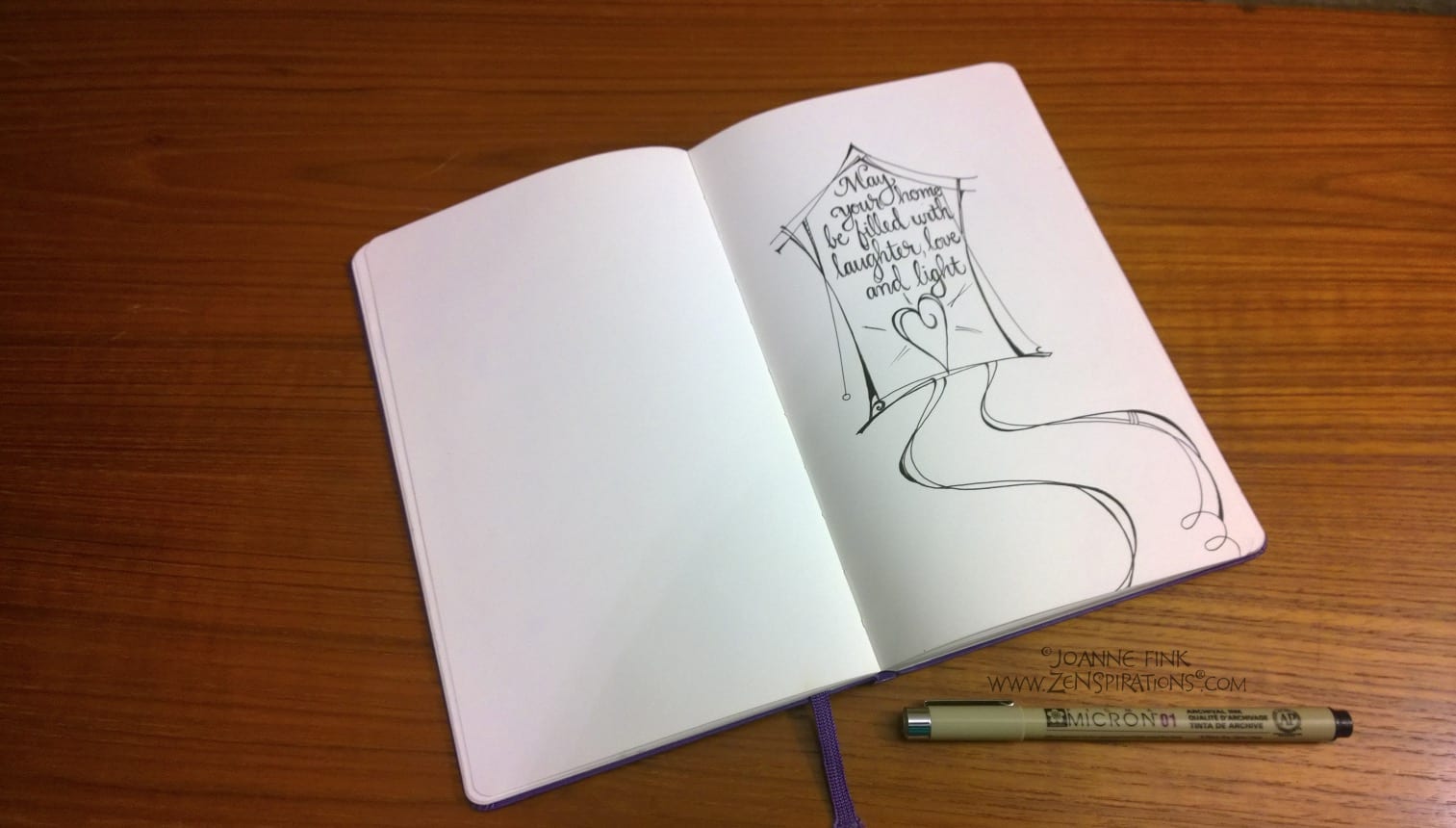 Before closing tonight I have a favor to ask. Today, Tuesday, July 11th, is Amazon's annual Prime Day (which is a wild sale exclusively for Prime members), and seems like a good time to remind you that I am an Amazon affiliate, which means that I get a small percentage of anything which is purchased when you go to Amazon from Zenspirations.com. The link will take you to a page of my books, but you don't have to buy anything Zenspirations… anything you buy will help me pay for some of the supplies I use to create all my blog posts– and it won't cost you anything more than you'd already be spending. It doesn't have to be something you do today– in fact, I'd be very grateful if whenever you want to buy something on Amazon, you would start at Zenspirations.com, and click the Amazon button underneath my photo. I'd be especially grateful if you would ask your friends and family to the same. Happy Shopping!
Stay Zenspired,
Joanne