Illuminating the Darkness
Tuesday, January 17, 2017
Hi Everyone,
Today Americans celebrated Civil Rights Leader Martin Luther King Jr.'s birthday.  Dr. King has long been one of my personal heroes. One of his most meaningful quotes continually fuels my desire to be a 'light' into the world.
"Darkness cannot drive out darkness; only light can do that. Hate cannot drive out hate; only love can do that."— Martin Luther King, Jr.
In honor of Dr. King's birthday, I wanted to share a piece I created late last year.
In case you have trouble seeing the pale words in the night sky, it says:
When the world becomes a dark scary place…                                                                                                                                  We must let our commitment to justice                                                                                                                                                   and the light of our souls                                                                                                                                                                         illuminate the darkness.
Often, when the world seems dark and scary, it also seems to be spinning out of control. Acknowledging that we are not in control of things which desperately matter to us is hard. But not being in control does not mean that we are powerless! We each have the power to make a difference; to choose compassion over criticism, forgiveness over anger, inclusiveness over discrimination, kindness over indifference, generosity over apathy and love over fear. The more often you use your creative talents to bring joy and promote understanding; to be thankful and stay grounded in gratitude; the brighter the light of your soul will shine. And, as Dr. King so eloquently said, only light can drive out darkness.
I got home late last night from the Atlanta Gift Show, where I was thrilled to catch up with lots of my art licensing friends. On Friday I'm heading to Phoenix for the Craft & Hobby Show. I'll post my show schedule on the Zenspirations by Joanne Fink Facebook page. I'm trying to get to 10,000 'likes' before the show, so if you like my work and haven't had a chance to like my page yet, I'd be grateful if you would take a moment to do so. I'll try to post photos from both shows next week. This week I'm REALLY excited to share photos of my new line, which just debuted at Michaels! There are eight products in the line, with six designs of each product (except the miniature easels which only has four sets). All of the products are only $1.50. Here are photos of what's in the line:
GIFTWRAP: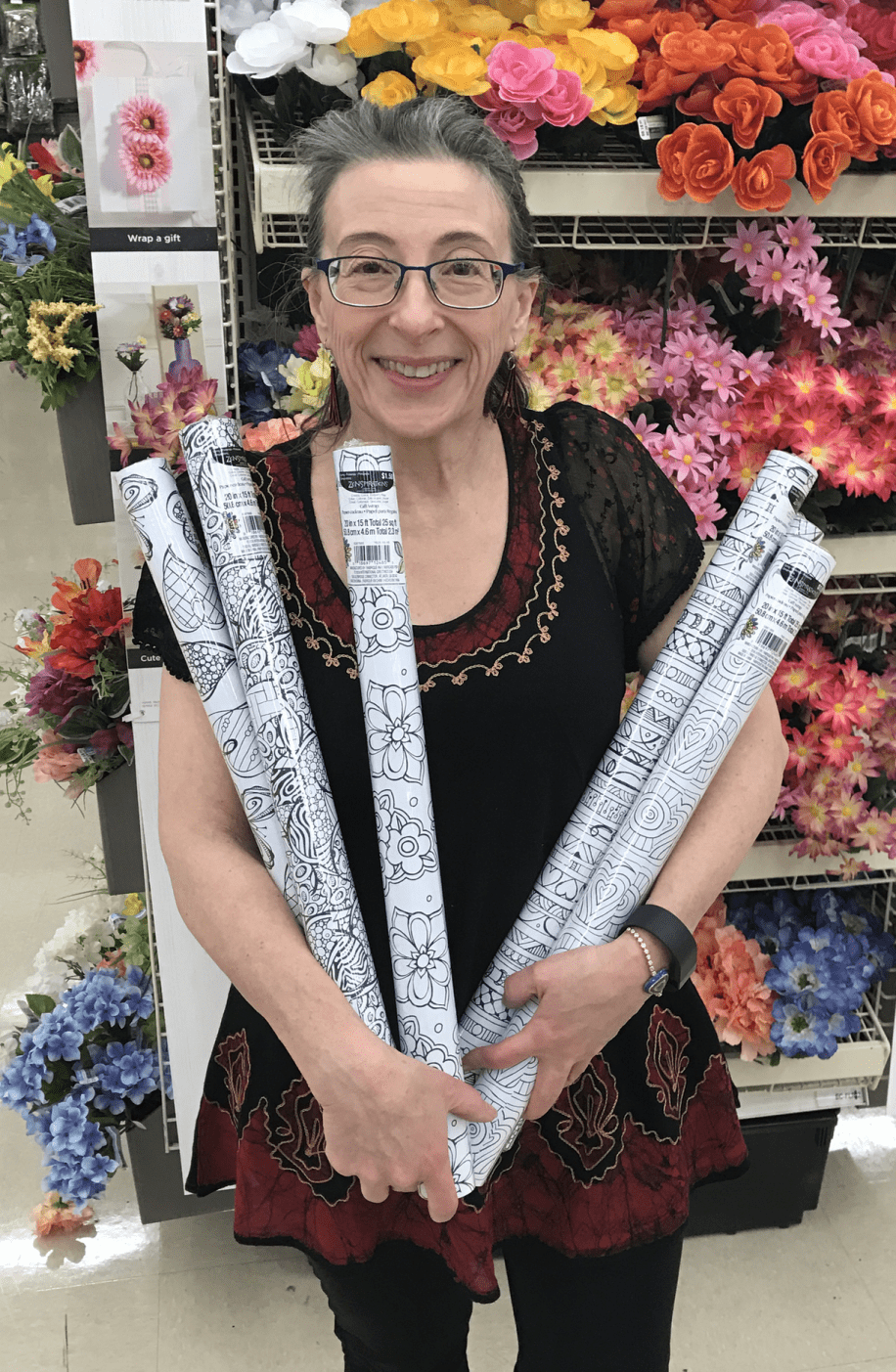 PAPER CUPS: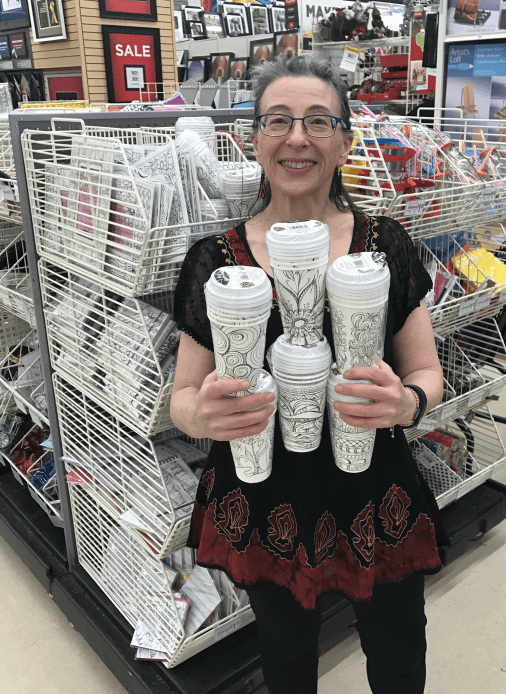 NOTECARDS: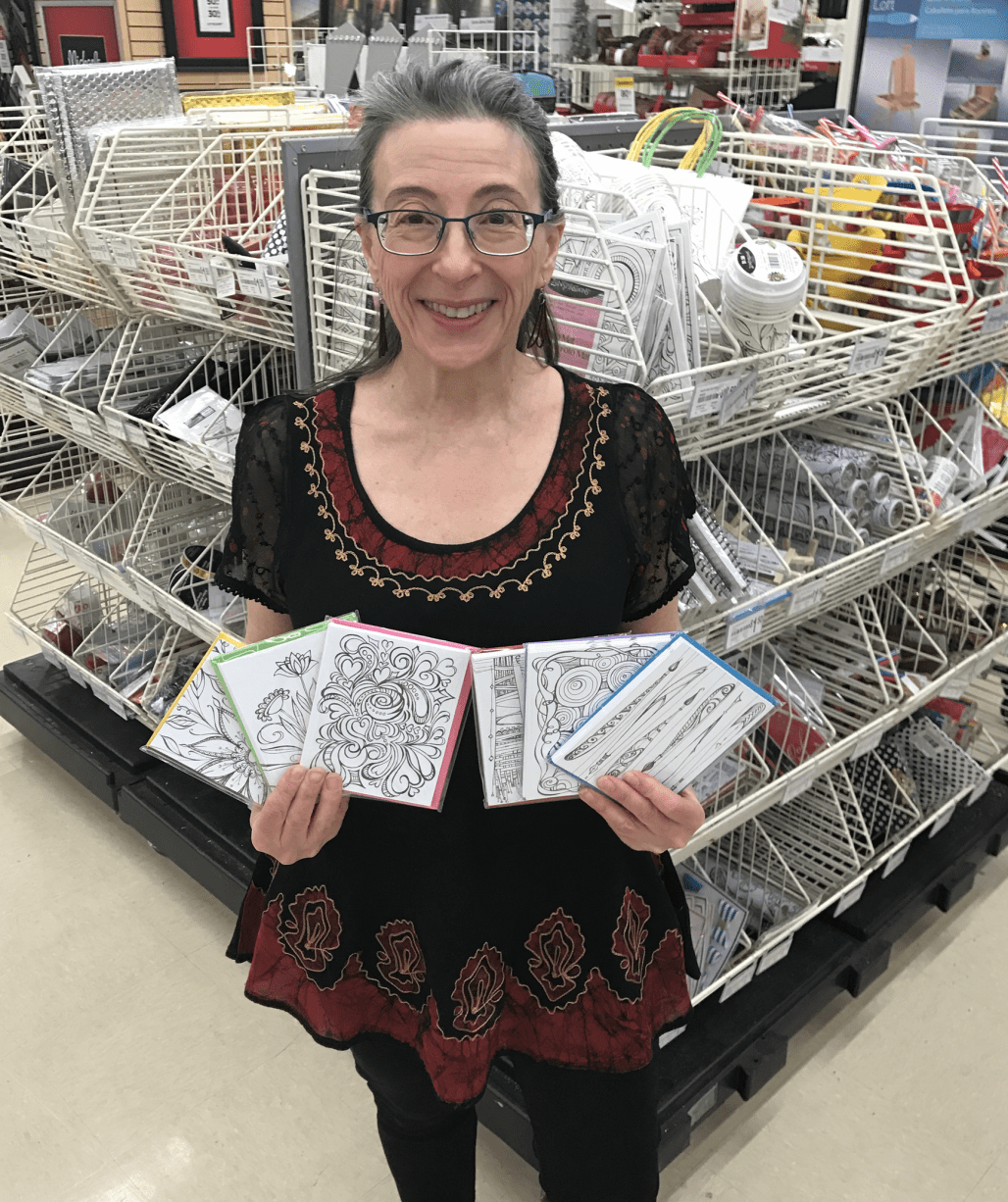 The note cards are cool because they have a design printed on the back:
My favorite note card is the flower, because I love the way the design carries over onto the back of the note card.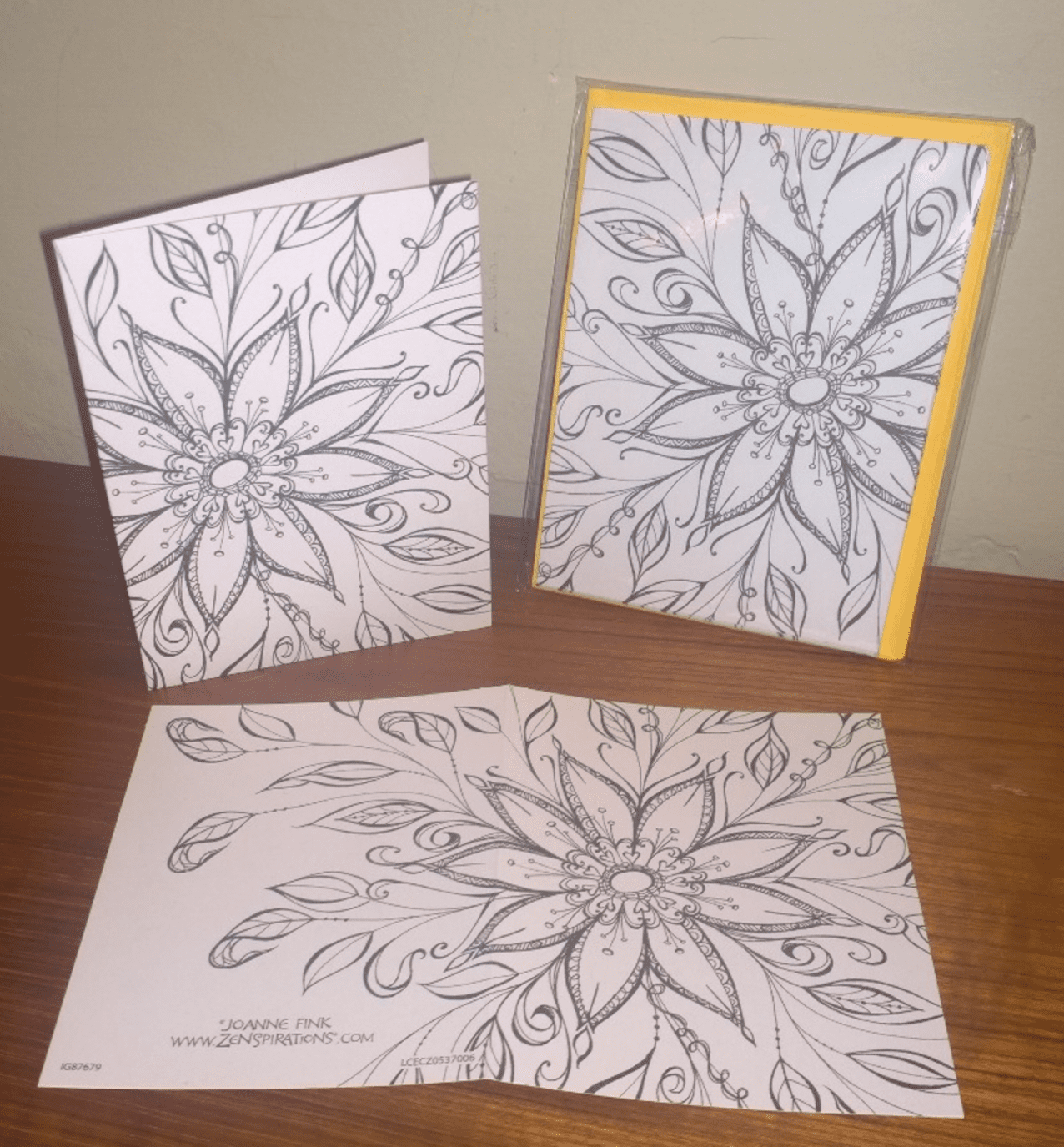 NOTEBOOKS: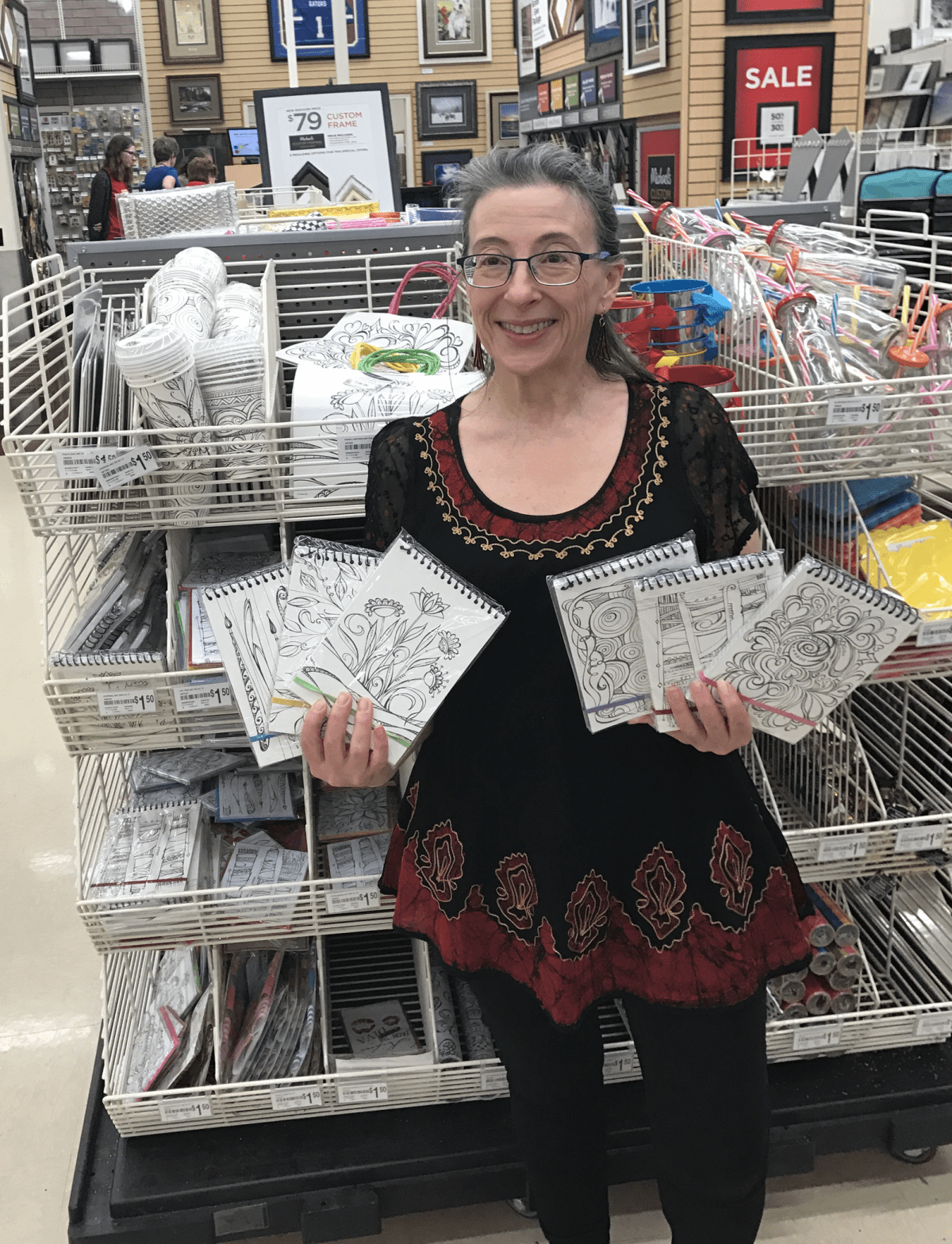 The notebooks feature the same designs as the note cards, and also have designs on the back, as well as on the lined paper inside the pad.
PICTURE FRAMES: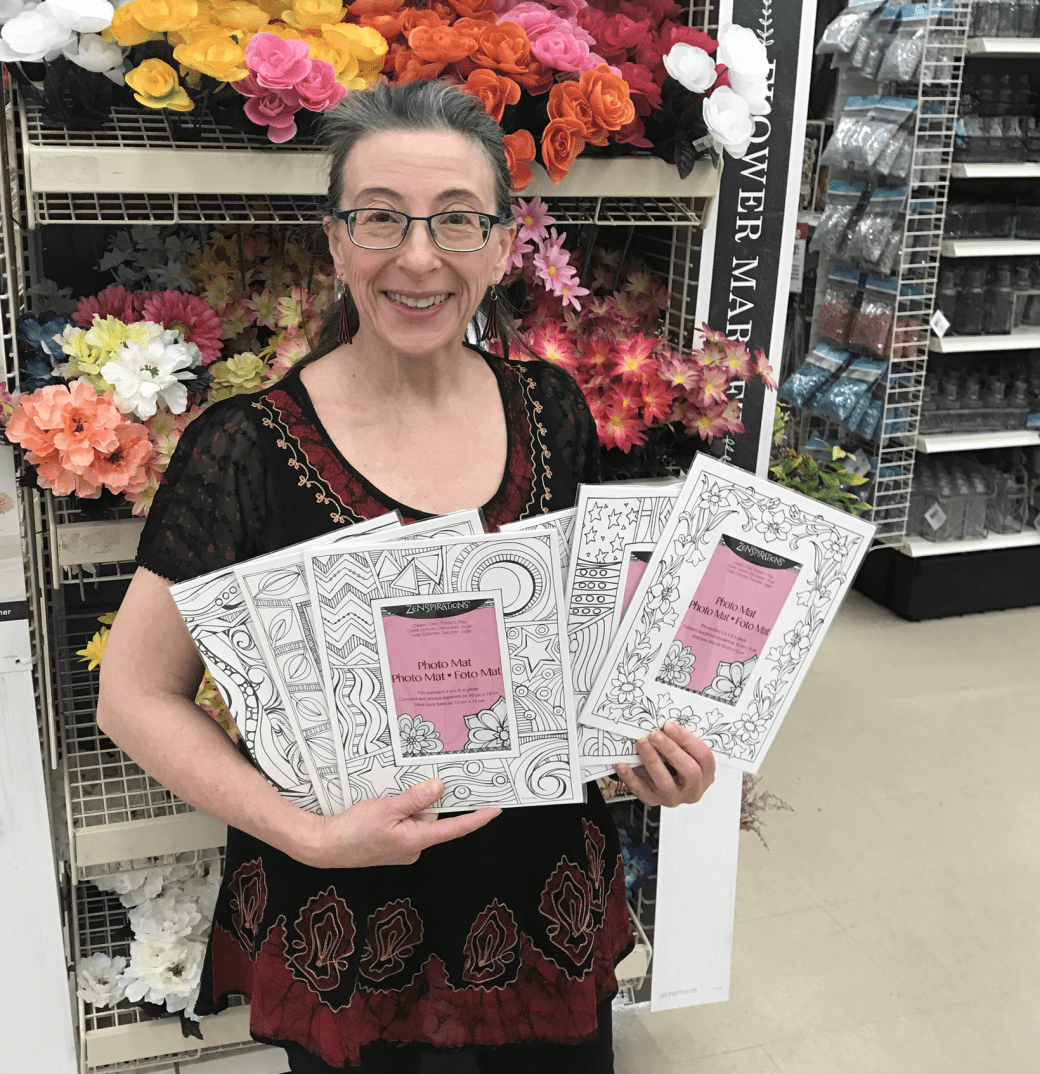 GIFT TAGS: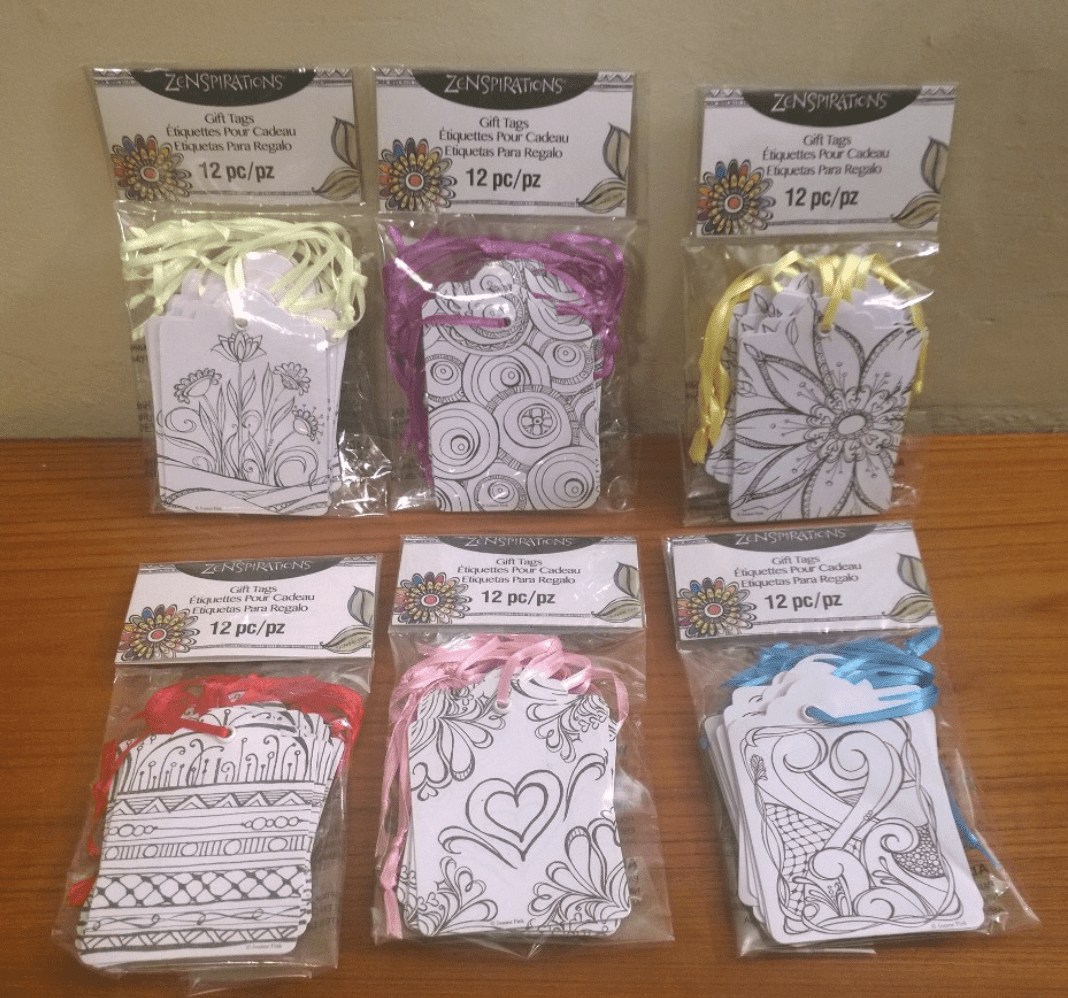 They didn't have the gift tags at my local Michaels, so I photographed my pre-production sample set when I got home.
GIFTBAGS: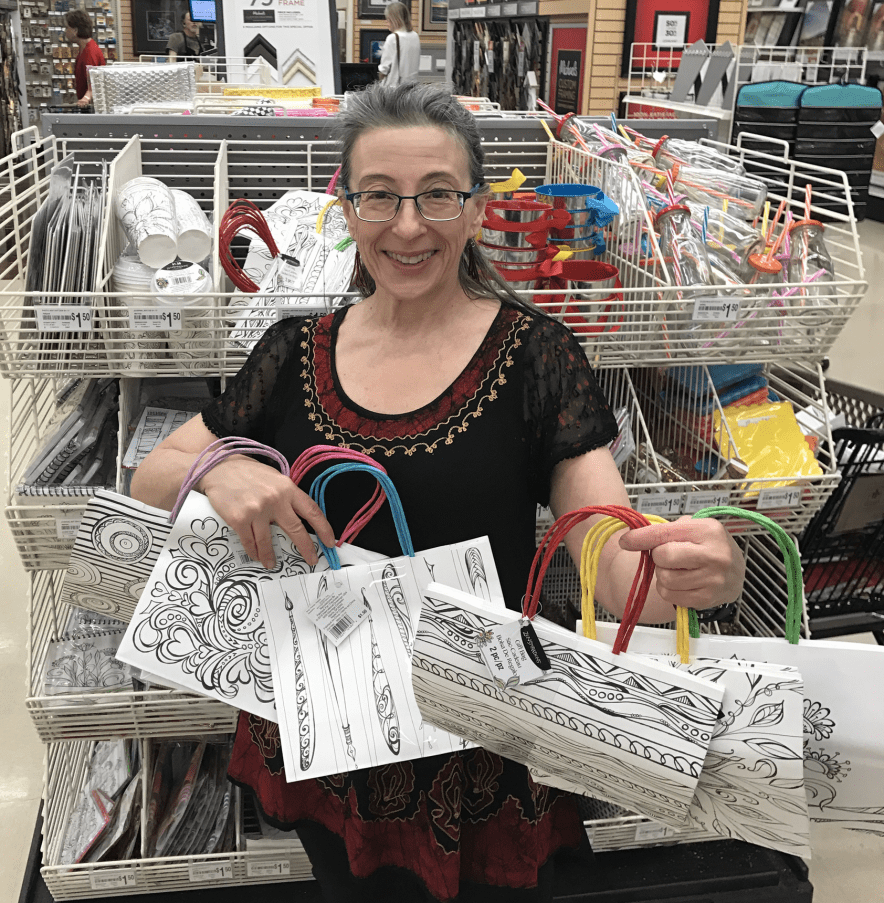 The gift bags come packed in two, which I think is a great value for $1.50.
MINIATURE EASELS: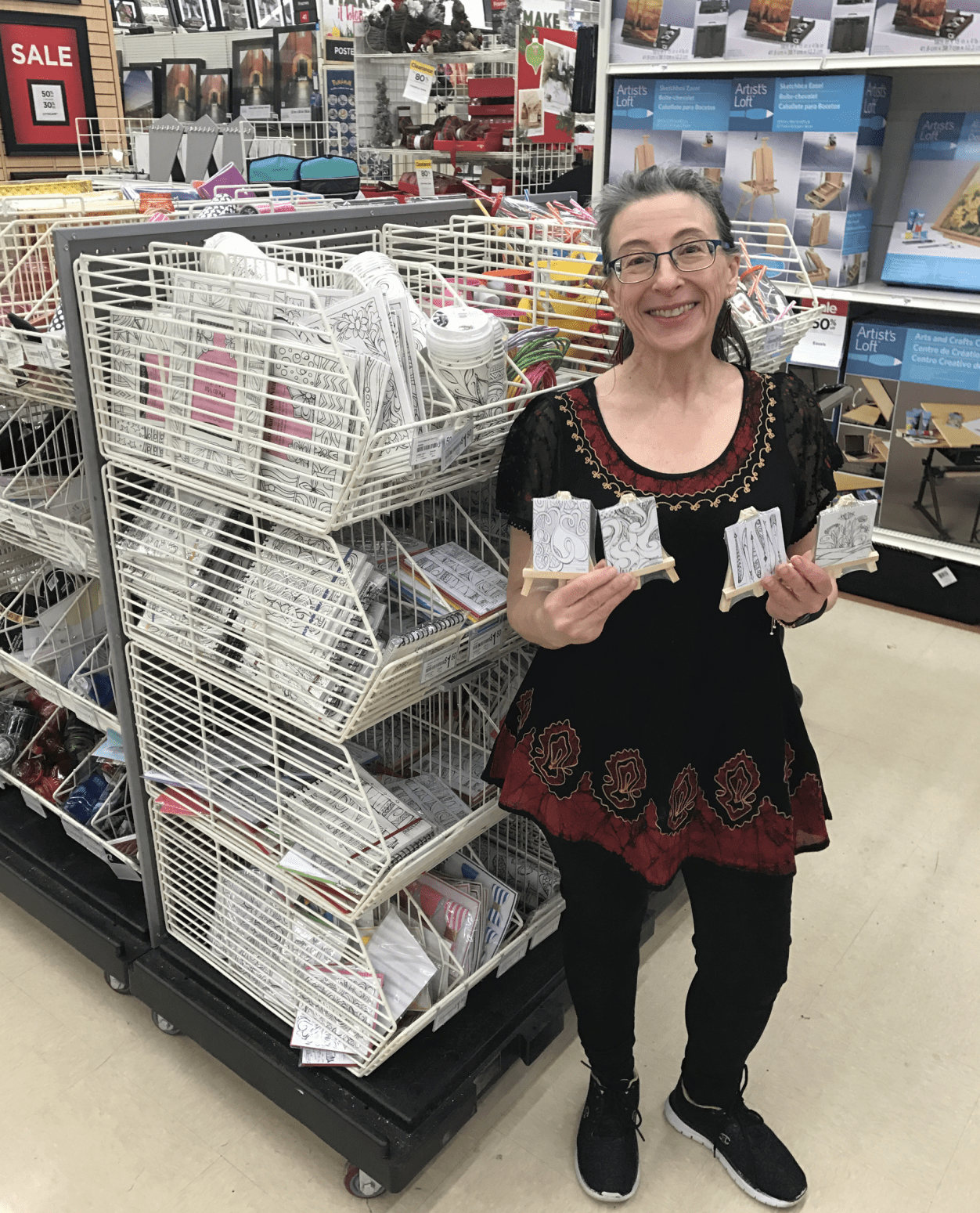 Although there are only four easels, each easel comes with three different designs.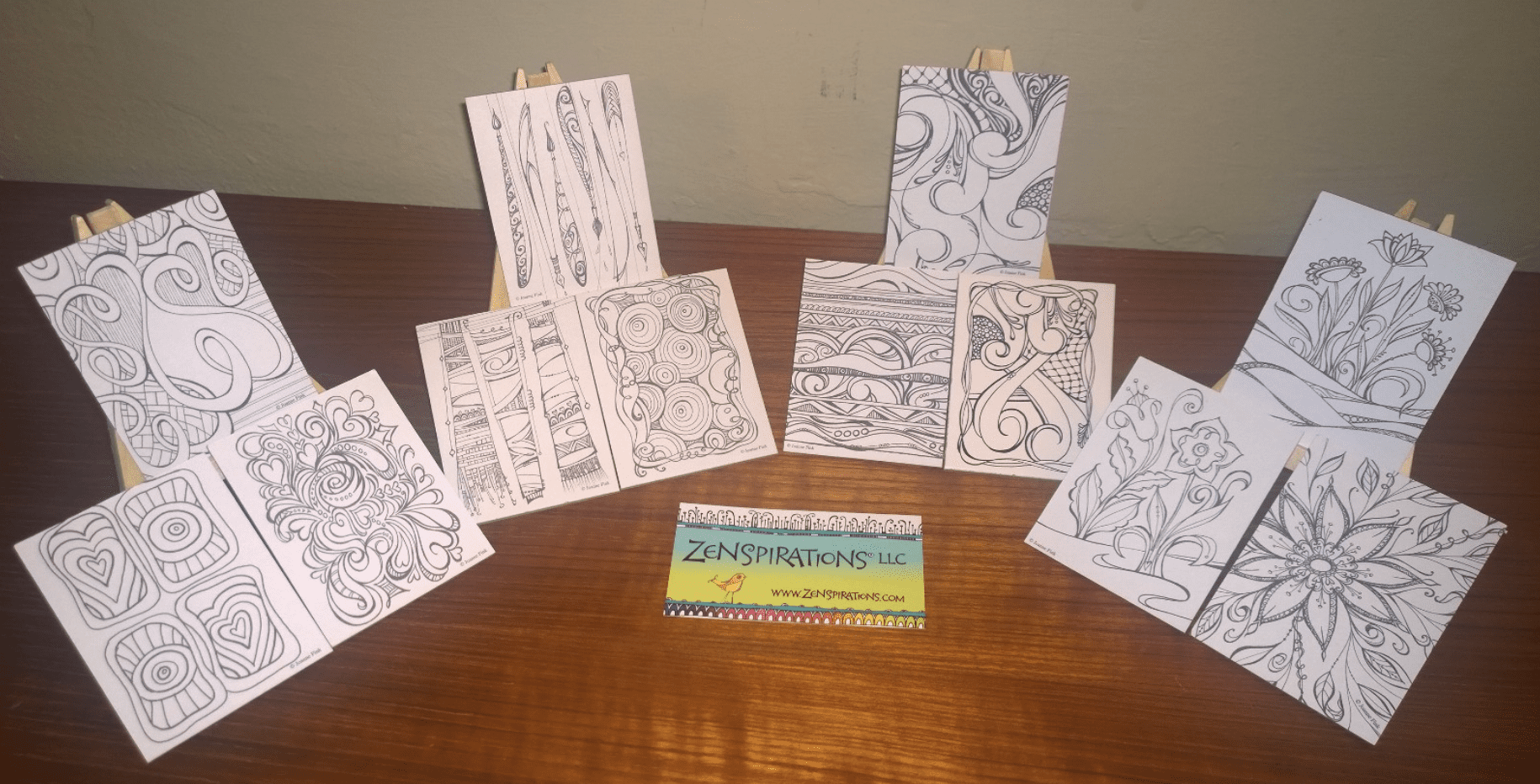 Again, a great value for $1.50. All in all, I am really pleased with the quality of the products… I tested all the paper, and you can color them with markers, gel pens and colored pencils, but not watercolors.
Before we left the store, I asked my son, who graciously came to take pictures, to take a photo of me with one of each of the products they had at the Michaels near us. I was having trouble holding everything, and Jonathan thought it would be cute to put the cup on my head. Naturally it didn't stay there long, but he somehow managed to take a picture of me just as it started to fall:
And here is a photo showing one of each of the products in the line: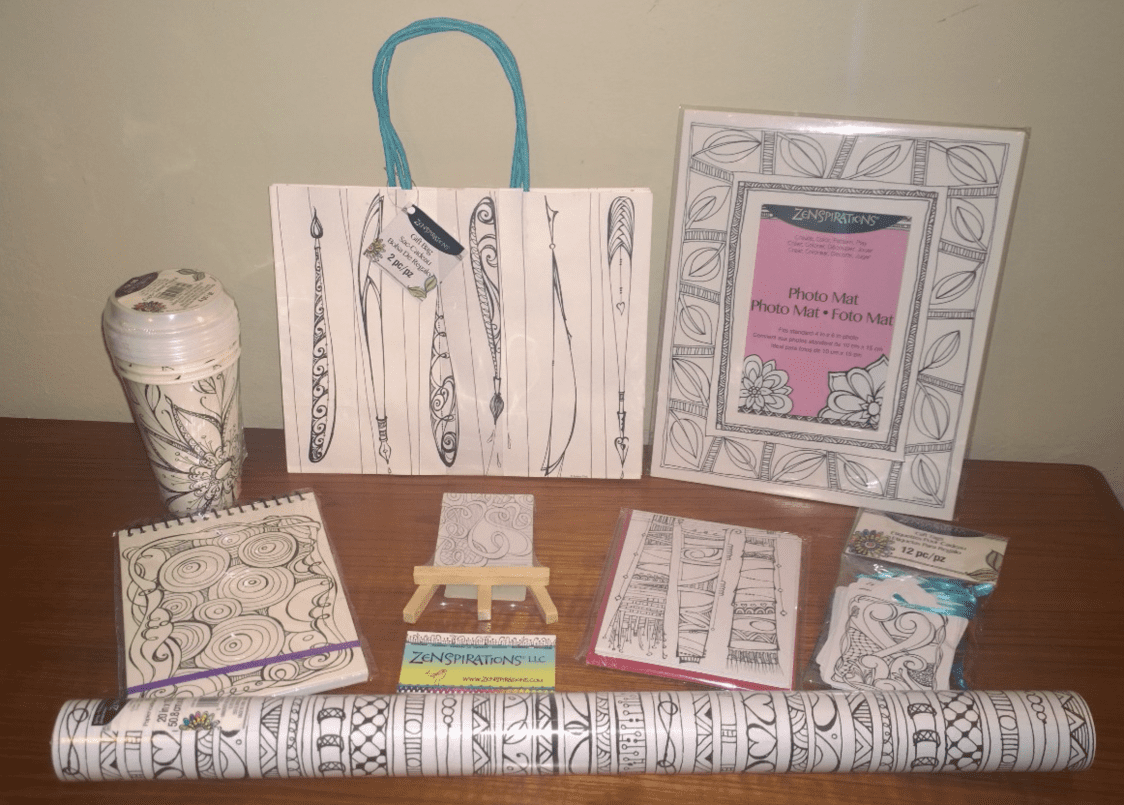 As most of you know, I like people to use my designs as a springboard for their own creativity, and I'm looking forward to seeing what you all do with these new products. I'd also love to see pictures of how the products are displayed at your local Michaels… please post your photos in the Zenspirations Create, Color, Pattern, Play Facebook group.
I know some of you don't live near a Michaels, and am sad to tell you that the products are not being sold on-line. They are in the 'value bins', and will only be in the store for a short time (three months or whenever they sell out of the stock).  I only received one sample of each product, so while I was at Michaels I stocked up on my two favorite products, the miniature easels and the gift bags.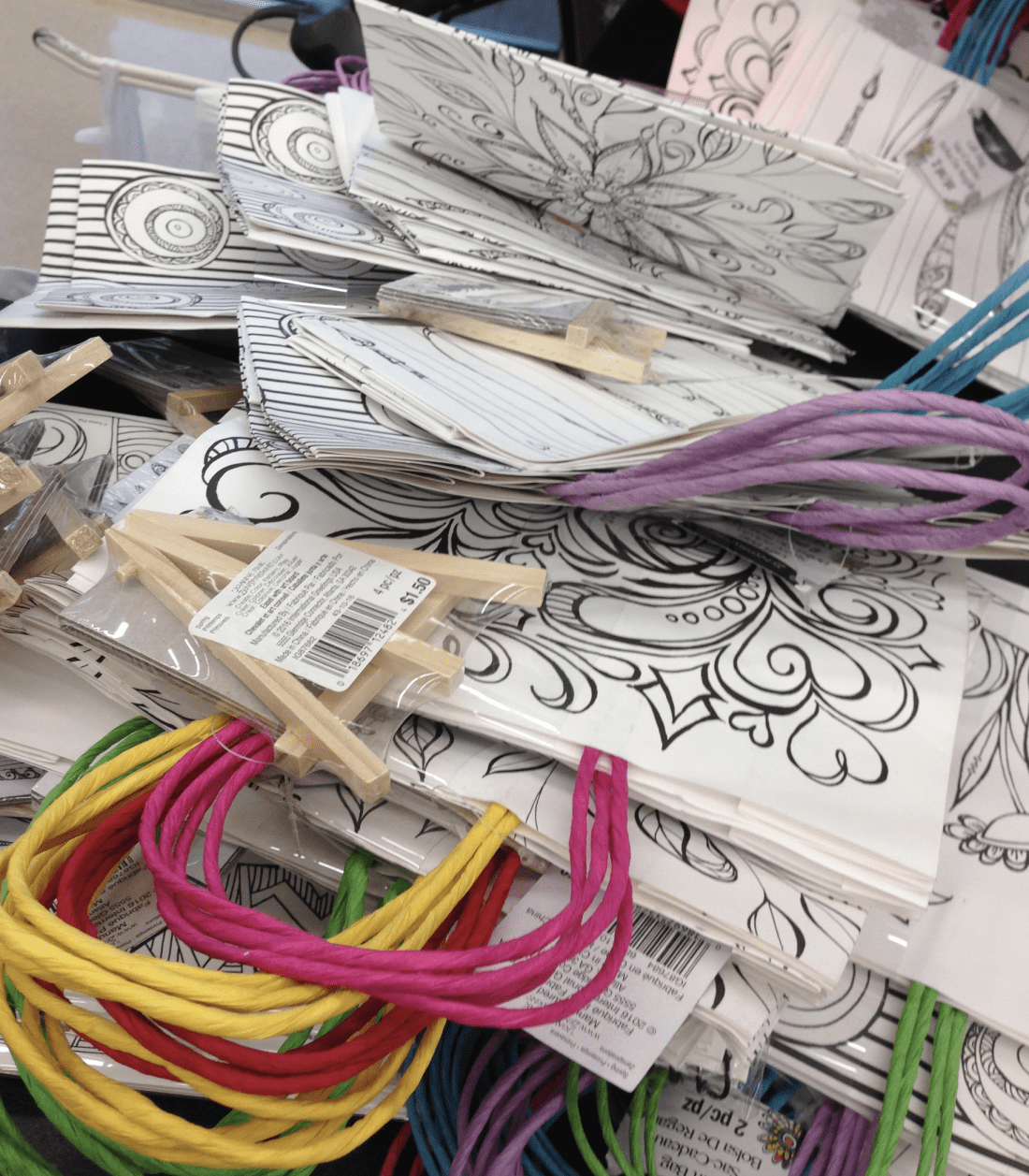 Hope you'll be able to find your favorites, too!
Stay Zenspired,
Joanne