Imagine
Tuesday, June 16, 2015
Hi Everyone,
It's hard to imagine, but my next two Zenspirations® Color, Create, Pattern Play books –Birds & Butterflies and Expressions of Faith– are due to the publisher July 15th… and will be in the stores in October! I'm really excited about the additional full color pages that will be added to the front of the books. If you are one of the coloring enthusiasts who volunteered to create inspiration pages for possible inclusion in the new books, you should have received instructions from me, along with pdfs of the four designs below.IF YOU HAVEN'T RECEIVED THEM, it's because I didn't have (or couldn't find) your e-mail address.If you'd still like to participate, please e-mail me at[email protected], and put "COLORING ENTHUSIAST NEEDS ART" in the subject line, and I'll send them to you.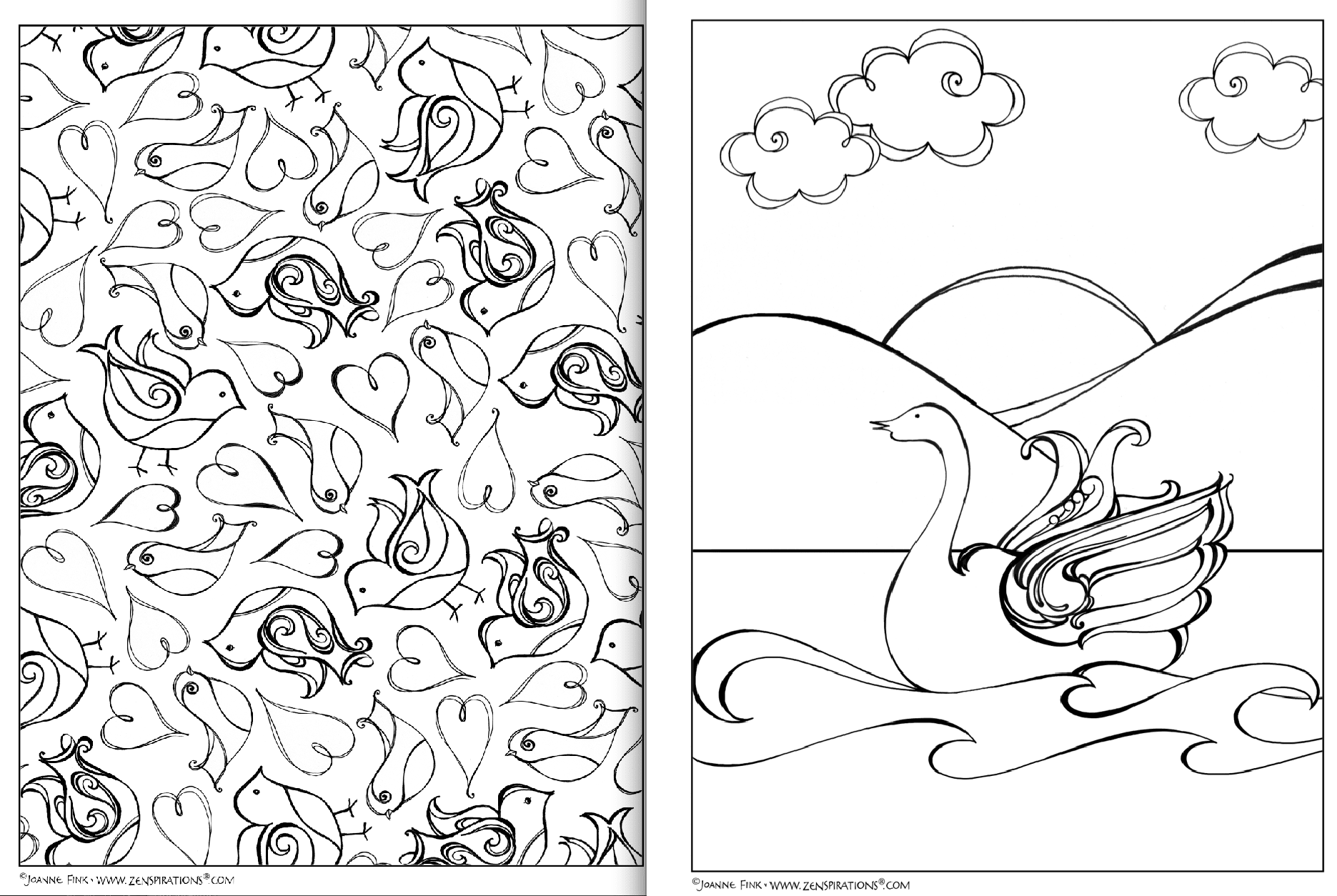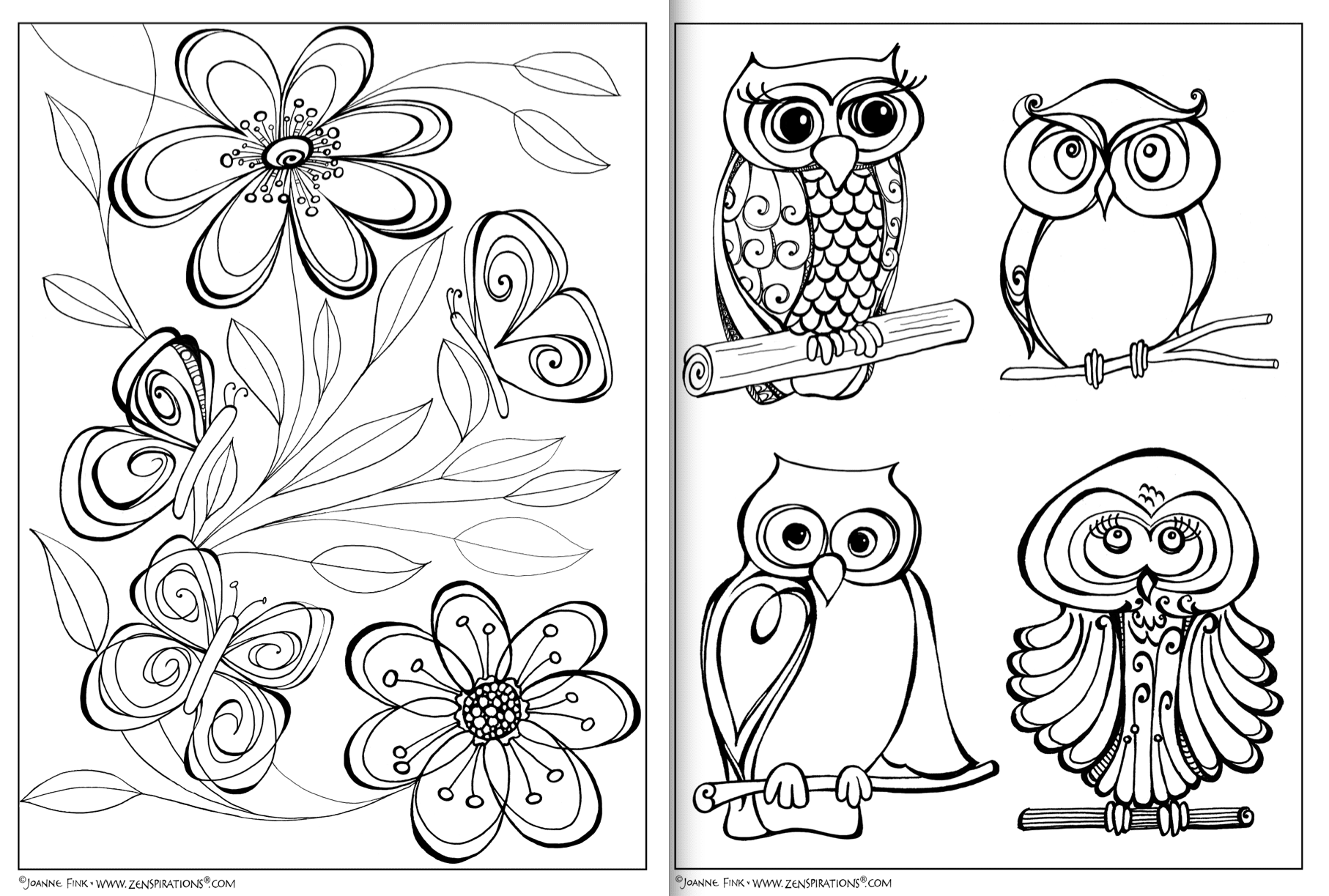 As a reminder I am looking for people who enjoy patterning as well as coloring, and want to showcase a variety of dry media (color pencils, markers, gel pens, crayons, etc.). Since I always like opening doors for young talent, I'd be happy for you to share this info with any promising art students you know– especially ones who would like to have their work published. If the timing doesn't work out for these two books, my next two books –Trees & Leaves and Heartfelt Expressions– are due mid October, so there will be another opportunity. This is going to be a big week for me… as my Kickstarter supporters already know, I was finally able to send my new book,When You Lose Someone You Love, to the printer last month. Although I've written many books, this is my first foray into self-publishing, and I'm praying that everything goes smoothly when I attend the press run on Thursday. I have put my heart and soul into this book, and hope it will bring comfort to those who have lost a loved one. I'm gearing up to ship more than 400 packages to my Kickstarter supporters next month… ordering boxes and shipping materials, and making sure I have the rest of the rewards ready. One of the rewards was a choice of Facebook banners, and I wanted to share the four I created with you: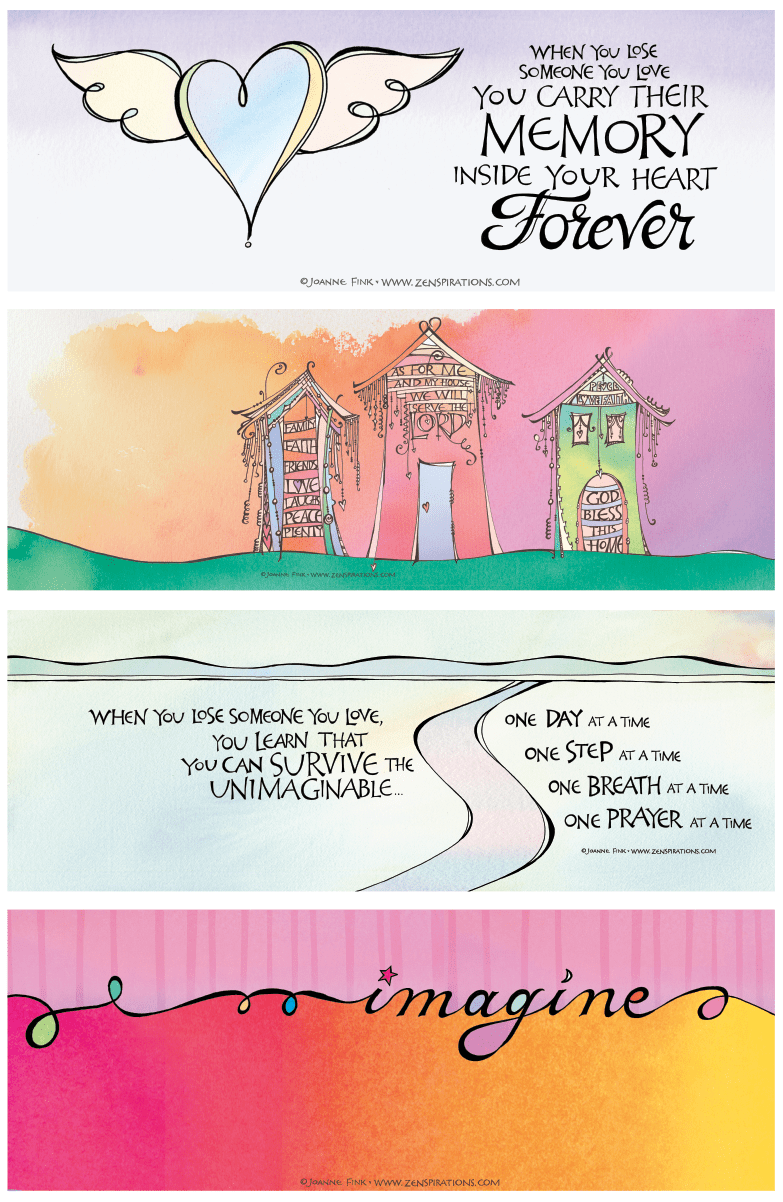 I'd love to know which is your favorite, whether you'd be interested in a Zenspirations banner for your Facebook page, and if there is a theme you'd like me to do. Please leave a comment to let me know– who knows, I may surprise you with your own customized Zenspirations banner!
I don't like it when part of a design gets hidden behind the photo, so I designed the banners to work around Facebook's standard template. To test it I uploaded the top one to the When You Lose Someone You Love Facebook page. Here's what it looks like: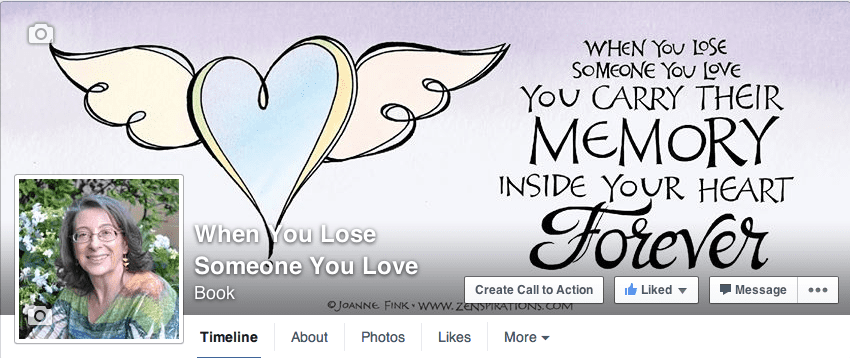 If you are on Facebook, I'd appreciate your 'liking' the new When You Lose Someone You Love Facebook page:
https://www.facebook.com/whenyoulosesomeone/timeline
Since Americans celebrate Father's Day this Sunday, I thought I'd close this week by sharing a couple Father's Day card designs, in hopes that it will inspire you to make a card for someone you think is an excellent dad. I created the card below for someone who has made a big difference in my son's life. It's pretty simple to do– a background wash, three Dangle Monograms and a few heartfelt words.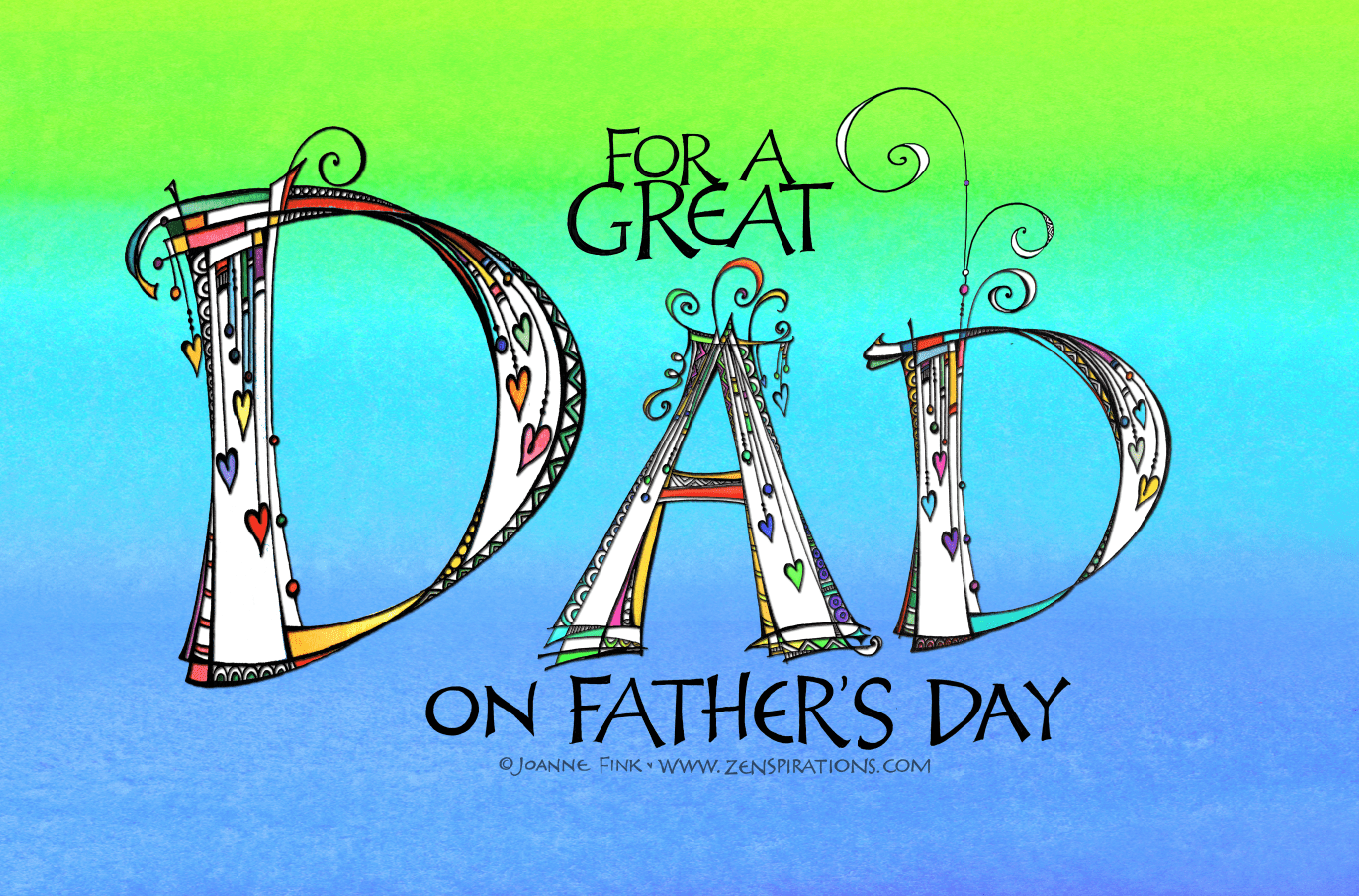 If you like to Dangle, you could try a design like the one below, which I did for my greeting card licensee, Design Design. It was printed on iridescent paper, embossed and embellished with glitter and gems.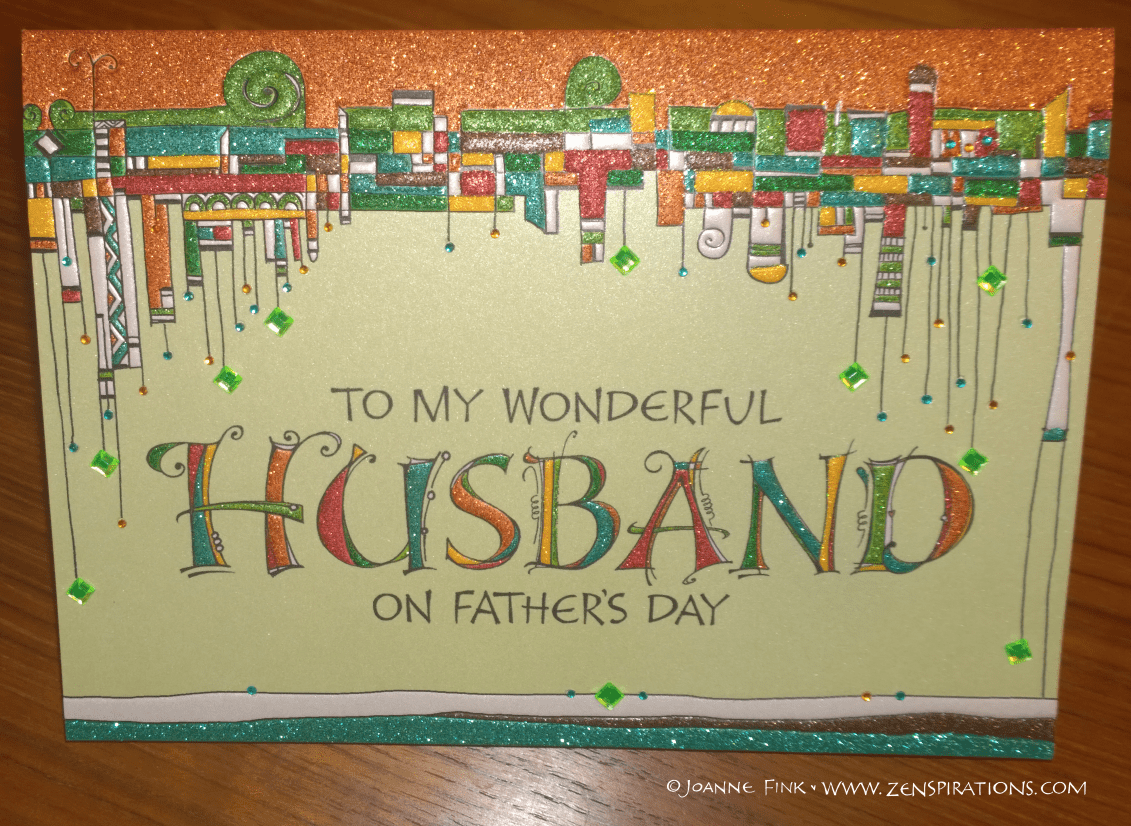 I'm looking forward to seeing your card and coloring creations… if you share on Instagram, Pinterest or Facebook, please use the #zenspirations, so I can see what you do.
Wishing you all a colorful and creative week.
Stay Zenspired,
Joanne