It's Always Something…
Tuesday, September 13, 2016
Hi Everyone,
What a week! My scan computer crashed, which sadly resulted in the loss of the scans for the Bible Journaling book I'm co-authoring with my friend Regina Yoder. Some of the designs I can just rescan… but many of the images were step-by-step tutorials, where I draw and scan the various stages on the same piece of paper… and they all need to be recreated. The book is due at the end of the month, and I'm getting concerned about making the deadline. Regina is coming this weekend, and we plan to hole up and focus on getting the book done. In anticipation of this, I'll be taking a 'blog-cation' next week… and I am also putting The Lettering Club lessons on hold until after the book is done.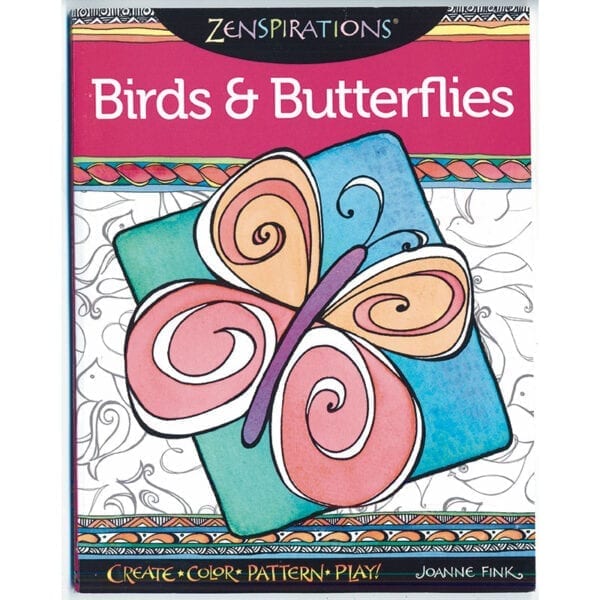 Speaking of books, Zenspirations® Birds & Butterflies is on sale on Amazon for $6.31 (it's usually $9.99). I don't know how long the sale will be running, so if you are interested, please check it out. If you have purchased any of my books from Amazon, I'd be most grateful if you would take a moment to write a review, which helps the rankings.
But I wanted to focus tonight's blog on greeting cards, which are an awesome way to touch someone's heart. It doesn't matter whether a greeting card is store-bought or handmade; funny or serious, cutesy or elegant, digital or physical; when you send someone a card you are letting them know that you care. That's why I make an effort to create cards in honor of friends and family members' milestone events. In the past couple of weeks I have made a Welcome to the World design for my friends Sean & Elena's new daughter;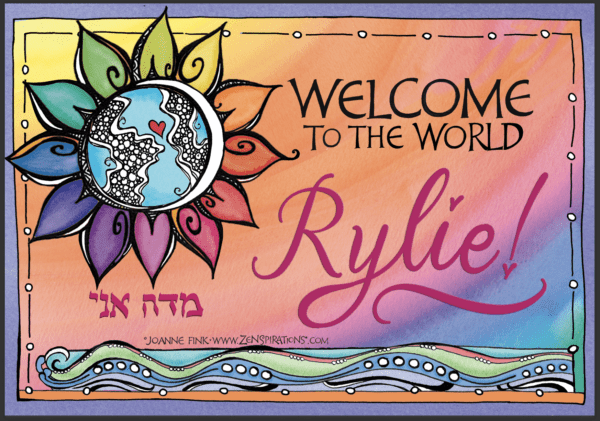 an anniversary message for two of my art friends;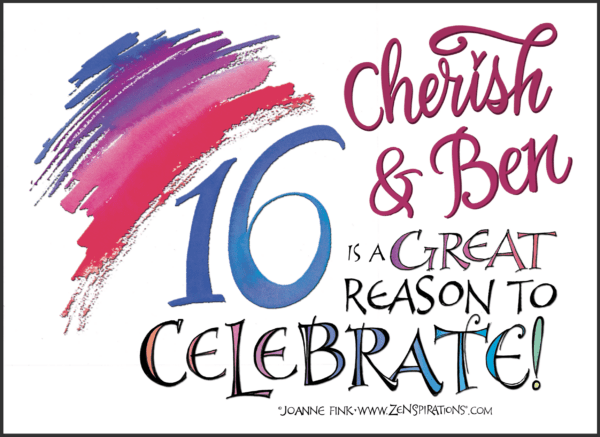 a sign for my CZT friend Tracey, who married her sweetheart on the 10th anniversary of their first date: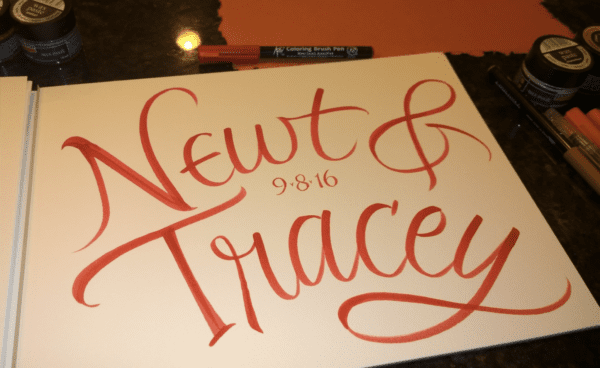 a birthday card for my friend & fellow calligrapher, Alison Clement, who celebrated her birthday September 11th;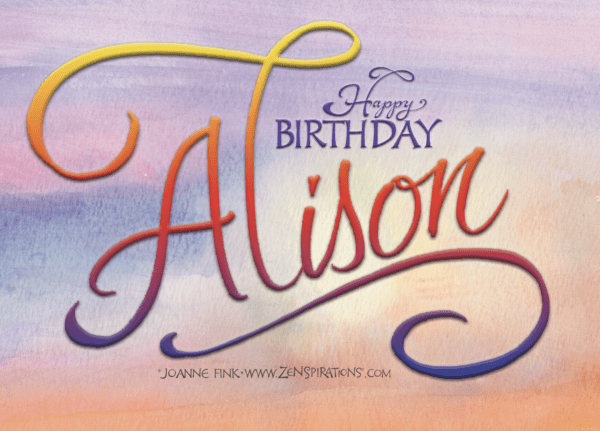 and a get well card for my talented friend Kristen, (mother of my young, super-creative friend Aliyah!) who had knee surgery today.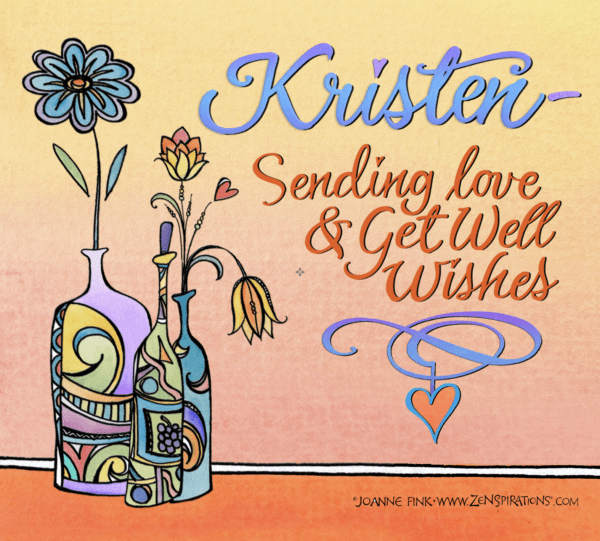 Needless to say, I am no stranger to sending cards! So you can imagine my surprise when I got a FB message from a friend last week asking what I was doing for National Thank You Day this year.  'What on earth is National Thank You Day?' I wondered. I did some research, but didn't discover much beyond the date: September 15th (which is this Thursday). The holiday seems to have been started just last year, by the 'Spoonie' community, as a way of thanking their care-givers and others who demonstrate kindness. ('Spoonie' refers to someone with a chronic illness or invisible disability; here is an article about the origin of the term.) 
The thought of setting aside time to thank the people who have made a difference in your life really resonates with me. If it resonates with you, too, I invite you to join me in thanking people who have had a positive, on-going impact on your life. You could pick a teacher, neighbor, co-worker, friend or relative. It could even be a stranger! This is a drawing I did on an airplane, for a gal who went out of her way to help me with my luggage. I didn't know her name, or I would have added it. I've discovered through the years that personalized messages are greatly appreciated.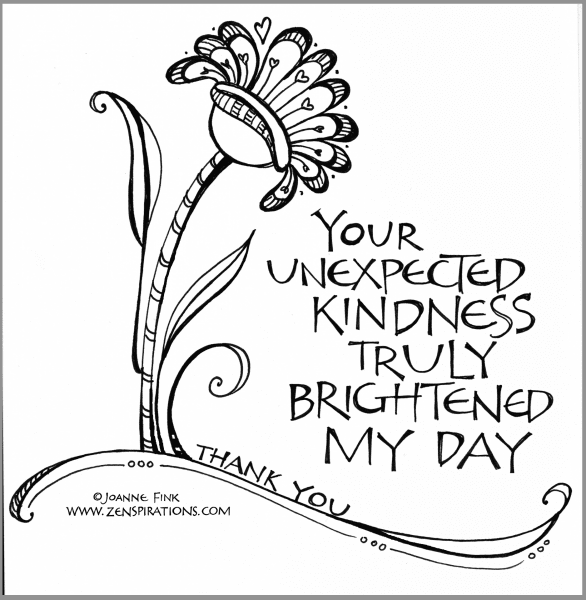 In order to make this project easier, I have created two thank you designs you can download for free. The first design is for those of you who love to color: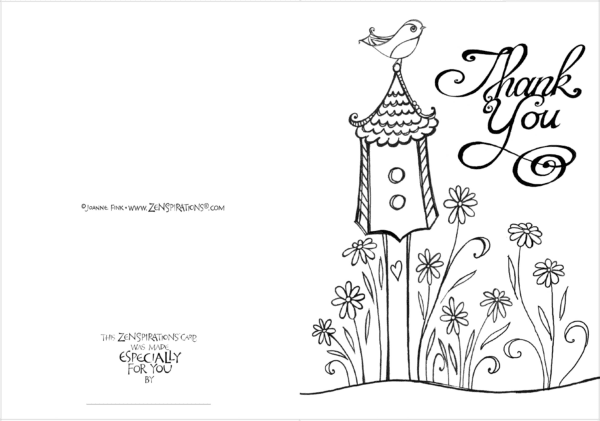 Click here to download the birdhouse thank you: zenspirations_by_joanne_fink_ty_coloring_card
The second design is for those of you who would prefer to get started writing notes:
Click here to download the rainbow thank you note: zenspirations_by_joanne_fink_thanks_card-copy
Of course, you can also design your own Thank You, and I encourage you to do so! I'd love to see what you create, and would love to know who you plan to thank. Please leave a comment on the blog letting me know if you plan to participate in National Thank You Day, and who you want to thank.
I'm looking on this as a great opportunity to reach out to someone who's guidance, presence, thoughtfulness, advice, generosity, kindness and/or friendship has touched your heart, and to acknowledge the impact their words and/or actions have had. What greater gift can we give than letting someone know they matter?
Below is one of the first Zenspirations cards I designed. I wrote for my best friend, who was the maid-of-honor at my wedding, and has been my rock for more than 40 years.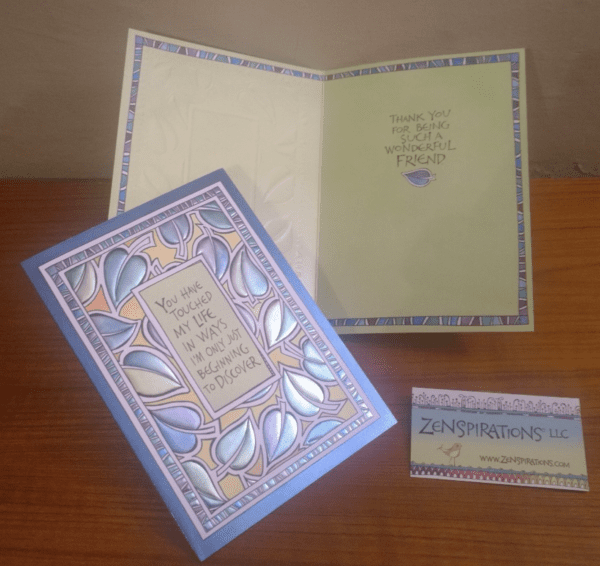 If you don't have time to write notes this week, I encourage you to send them out whenever you can… you never know the difference you might make by letting someone know you care. Feel free to let your friends and family know about National Thank You Day, and invite them to join the fun and to share their designs in the Zenspirations Create, Color Pattern, Play Facebook Group.
For those of you who are in The Lettering Club, thanks for your patience while I finish the book. Please keep practicing your lower case letters… and feel free to test out a 1mm or 2mm pen and hand-letter a special thank you note!
Before closing tonight, I want to thank all the Zenspirations fans for reading my blog, and sharing from the heart. You ROCK!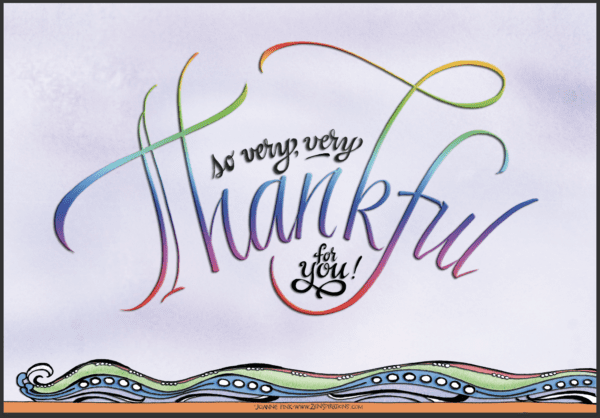 Stay Zenspired,
Joanne