Joanne's Journals
Tuesday, March 17, 2015
Hi Everyone,
Tonight I wanted to share something I've been doing which really helps me stay grounded in gratitude: meditative journaling. Sometimes my journal pages later become a greeting card, coloring book page or even a blog post… but that isn't my intention when I pick up a pen to start and end my day. Meditative journaling allows me to express what's in my heart, and has become an important part of they way I pray. Below is a photo of some of the journals I've filled this year.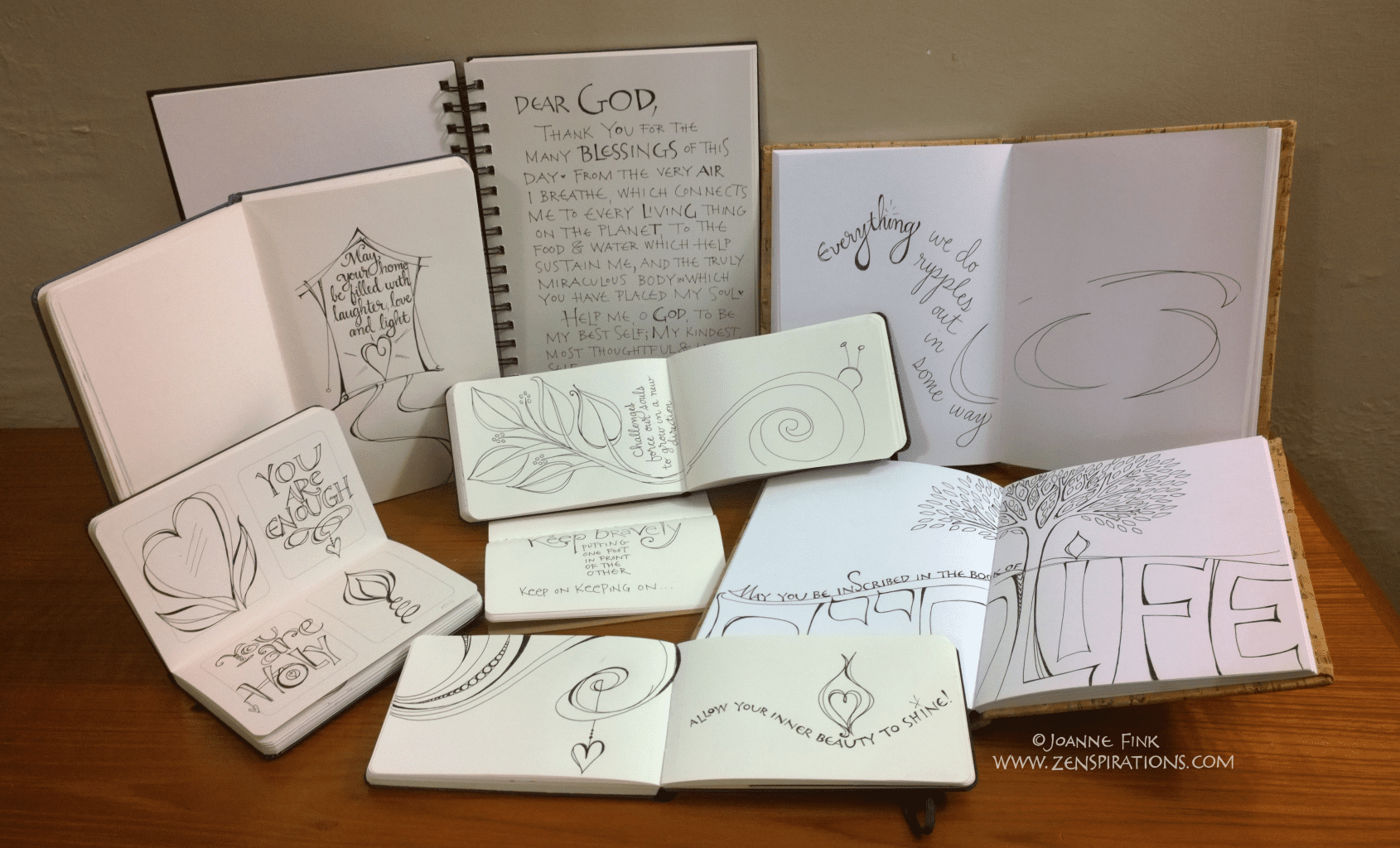 I usually have two or more journals going at all times. I keep a small one where I'll see it when I get up in the morning, and I keep a larger one, which I call my 'walk-around' journal,in my pocketbook.
In the morning I try to begin the day with a meditative journal prayer of gratitude. Some days this comes out in words, other days I'm better able to express thankfulness in a drawing. The photo below is of my current journal, and shows four days of morning journaling. It's a type of Moleskin (my favorite brand of journal!) that I've never used before, which has pre-printed boxes; I'm really enjoying the structure they provide.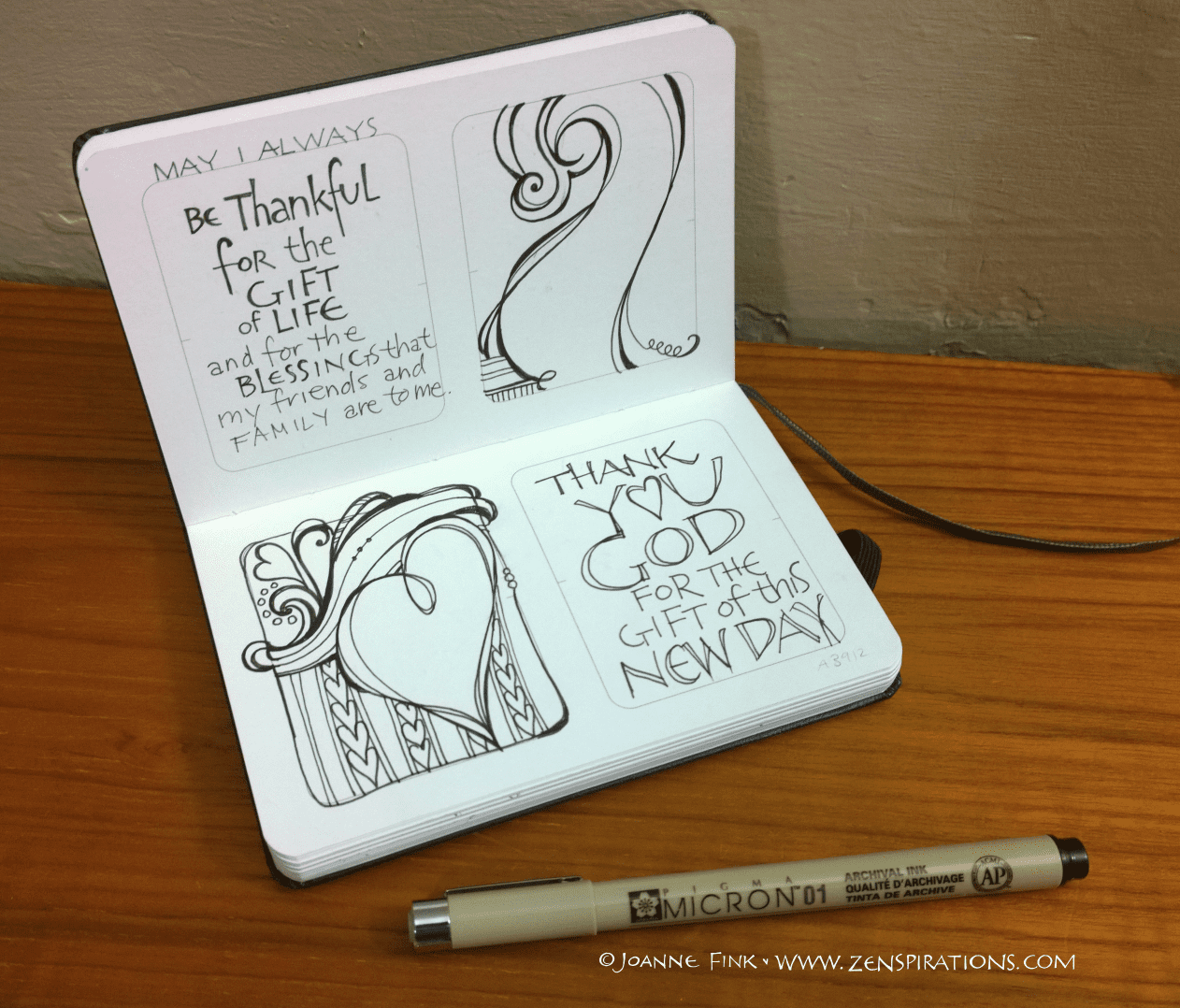 In the evening I try to listen to the 'still, small voice', and then just write and draw whatever comes to mind.Often times it will be something for or about someone who is in my heart, like the piece below.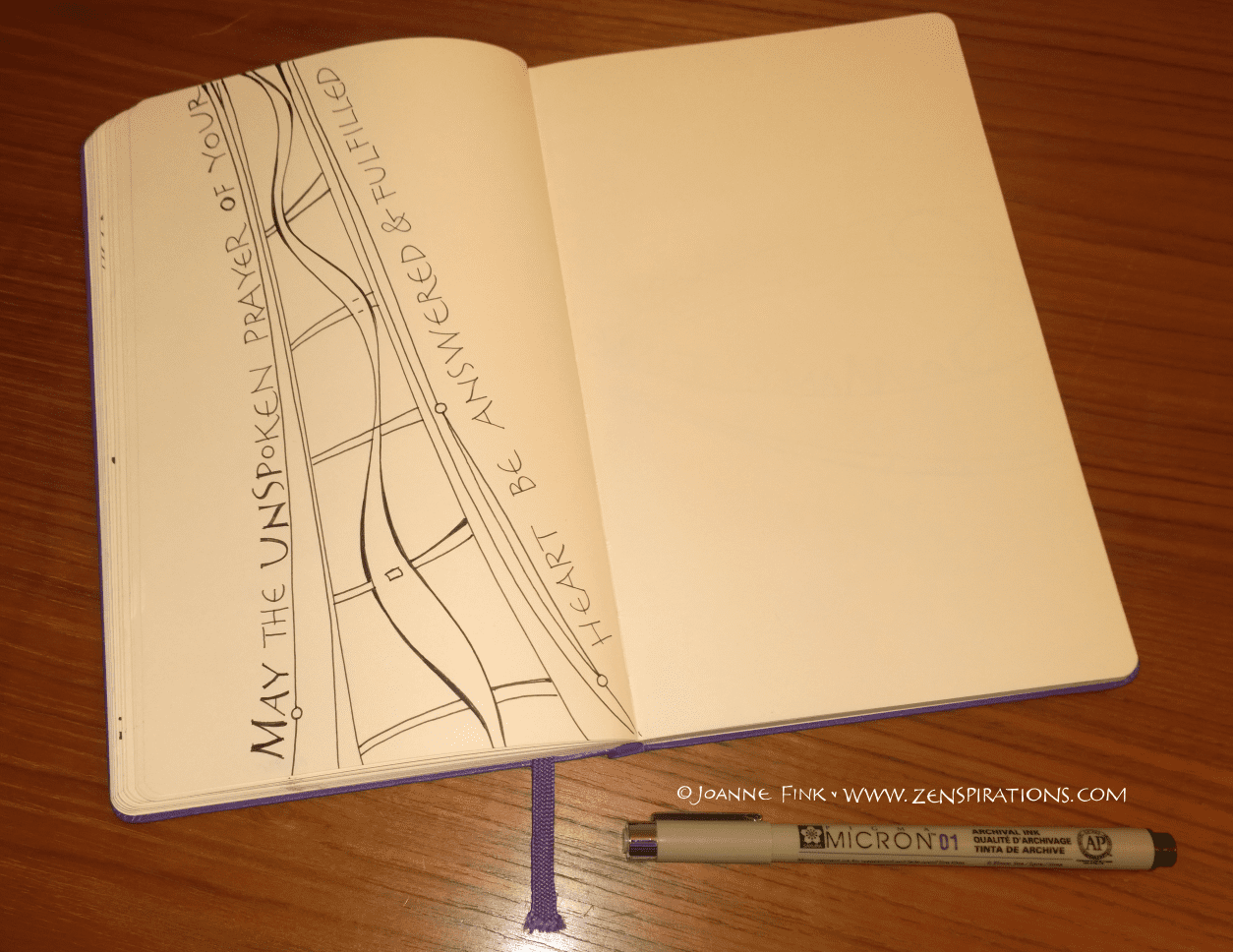 I strive to write in a way that embodies the Zenspirations® tag line: Live by inspiring others to fly
If you haven't ever journaled before I'd encourage you to take a few minutes a day and put pen to paper… you can write, you can letter, you can draw– or do a combination the way I do. Your journal entries don't have to be 'finished' or 'polished'… mine often aren't. But I get great joy from the interaction of ink on paper, and have come to know myself better as a result of pouring my thoughts and doodles onto the pages of my journals.
And I've come to know some of you better as a result of the survey from last week's blog! My heartfelt thanks to everyone who took the time to share your thoughts. I greatly appreciate your help, and will be guided by your preferences as much as possible. I thought you'd be interested in hearing the results.
39 people prefer a box with 2 each of 5 designs; 21 prefer a box with 1 each of 10 designs.
41 people prefer words in the stones; 13 people prefer phrases (the rest would be happy with either)
35 people prefer verbs; 9 people prefer nouns (the rest either didn't answer or didn't express a preference)
In terms of themes, here is the breakdown:
46 inspirational
31 scripture
29 trees
27 music
22 patterns
4 yoga
So in addition to finishing the 'Written in Stone' and 'Love Lines' series, I plan to work on 'Zenspirational', Scripture, Trees & Music themed sets, and will let you know when they are available.
When I wrote the survey I didn't realize that due to catalogue concerns, the boxes must have 10 different notecards… but since there was obviously greater interest in 2 sets of 5 designs, I've decided to create 5 designs for each series, and offer each one in two color ways. Hopefully that will make everyone happy!
After I tabulated the results, I got to do the fun part—pick the winner! I put all the names in a box, covered my eyes and drew one at random…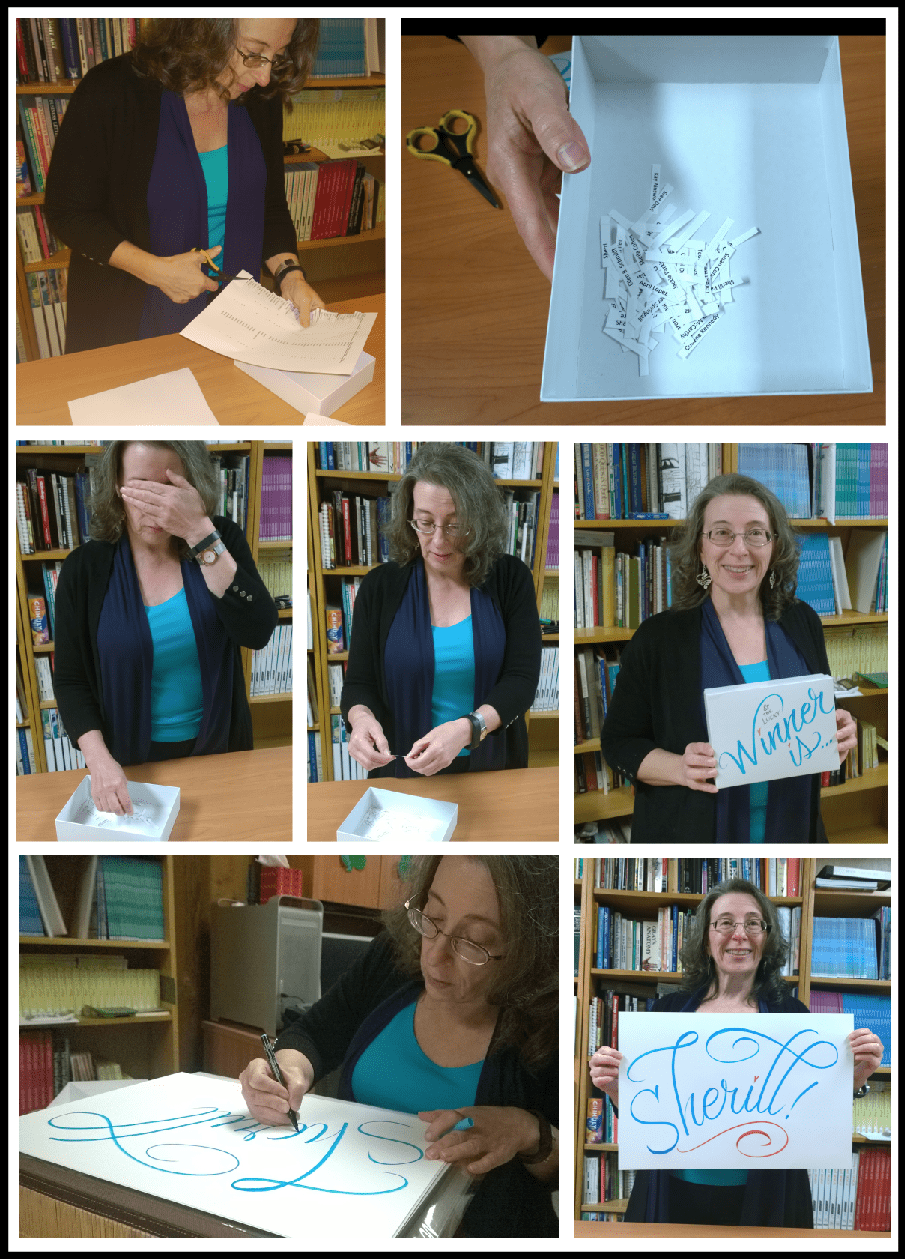 So congratulations Sherill Patton! I took the liberty of hand-lettering your name for tonight's blog post, but would be happy to do it again in your favorite color when the notecards are printed and I'm able to ship your package. Please let me know where to send it. You can e-mail me at [email protected].
And now, since I found the survey answers so helpful, I'm going to ask more questions!
1. For those of you who are interested in scripture notecards, what five scriptures would you like to see me use?
2. If you don't have a set of favorite scriptures, I'd welcome your suggestions on the theme you are most interested in.
3. I'd love to know your thoughts on my meditative journals…
A. Would you like to see more of my journal pages?
B. Would you be interested in a guided Zenspiration(R) journal project?
C. If so, would you like me to suggest a theme for the month?
D. Would you like me to provide examples of how I've written & illustrated that theme to give you a jump-start?
Once again, as a thank you for taking the time to leave a comment with this information, I'm going to do another give-away. The prize will be a set of the notecards once they are printed– you can pick scripture or one of the other themes. Plus I'll hand-letter your name in your favorite color. And, since this week's blog is about journaling, the big prize will be a journal which will include a page that I'll do to help inspire you. I'll select the winner from among those who leave a comment, so thank you in advance for sharing… I am deeply grateful.
Stay Zenspired,
Joanne