The Journey from Grief to Gratitude
Tuesday, August 2, 2016
Hi Everyone,
To honor the memory of my husband, Andy Trattner, who died five years ago this week, I wanted to share some of what I've learned on my Journey from Grief to Gratitude. This is a very long post, and I hope it will bring comfort to those of you who are grieving and insight to those of you who are supporting a friend or family member who has lost a loved one.
Everyone's grief journey is different… and the ability to emerge with your soul intact is dependent upon your willingness to do the excruciatingly difficult work that grieving requires. It is a long and lonely process, and no-one can accept the reality of YOUR loss for YOU… it is something that you must do for yourself. If you actively work at grieving it usually takes three years to move through the pain and sadness and be able to fully embrace life again.
One of the things I've learned on my journey is that love is a force so powerful that it transcends death.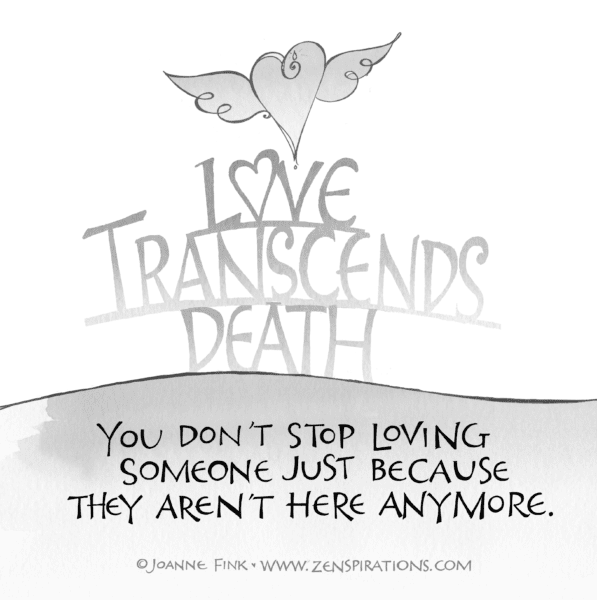 Andy and I met at the end of my freshman year in college. I was immediately attracted to his keen intelligence, wickedly 'punny' sense of humor, and his deep, sonorous 'radio-announcer's' voice. Our skill sets were complementary; I am a big-picture person while Andy was detail-oriented. He was inherently introverted and innately technical, while I am creative by nature. We shared a love of literature, musical theater and a dedication to making a difference in the world.
The card below is one of many that I wrote for him through the years.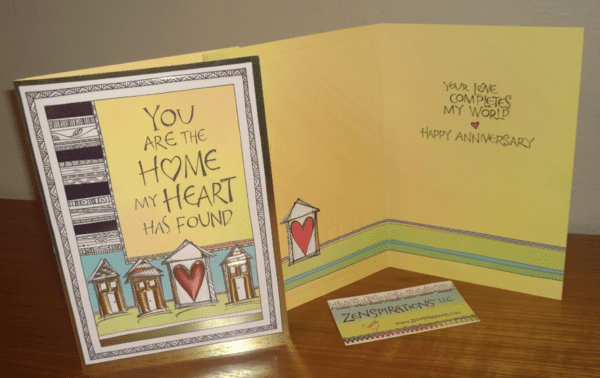 Andy and I were blessed to celebrate twenty-nine wedding anniversaries together. Here is our wedding photo– we were so young– the inset photo was taken at his cousin's wedding in April, 2011.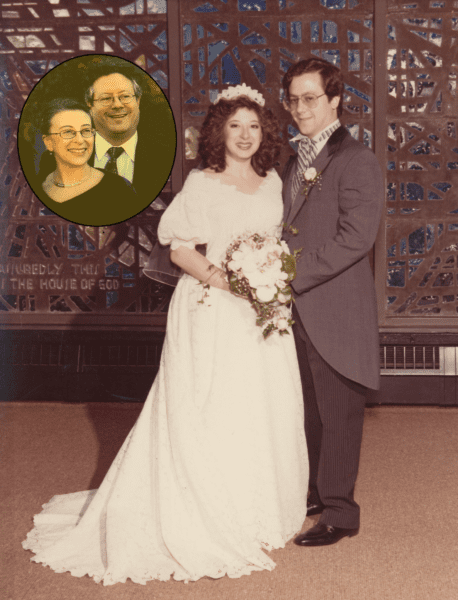 In August, 2011, two days before our son's twelfth birthday, nine days before our daughter turned seventeen, Andy had a heart attack and died in his sleep. In a very real sense my life ended when he died, because without him I couldn't return to the life we shared. In the blink of an eye I lost my husband, best friend, business partner, IT and finance director and most devastatingly, my children's father. Although I spent the entire first week thanking God that Andy didn't suffer, and that he didn't die on our son's birthday, I was too shell-shocked to really understand the magnitude of what had happened. Despite being blessed and bolstered by family and community, I spent most of that first year functioning solely in 'survival' mode.
Profound loss– by which I mean the loss of a spouse, child or custodial parent–changes you: I call it 'crossing the great divide.' Once you have crossed, and have been forged in the fire of grief, your life is permanently changed in inexplicable ways. If you have ever lost someone, I know you 'get it.' If your loss is recent, please know that eventually the good days will outnumber the bad ones.
Grieving is like embarking upon a journey to an unknown destination, against your will, without any idea of how long it will take or what you will find once you get there. In the beginning it is a full time job, and can take every ounce of determination you can muster just to get through the day. At first you may just keep putting one foot in front of the other because you don't know what else to do. After a while, as you start to regain your equilibrium and work through your grief, you discover an inner strength and resiliency that surprises you.
My journey from grief to gratitude began in the fall of 2011, when I picked up a pen for the first time since Andy died, and started to journal. For many months thereafter I would awaken each day, write the same words in my journal "When you lose someone you love…" and then finish the sentence. As regular Zenspirations® blog readers know, these journals ultimately became what I refer to as "my little grief book," When You Lose Someone You Love. I made 100 copies to give to friends and family on the first anniversary of Andy's death… and so many people kept asking me for extra copies that I decided to self-publish the book. Over the next two years I reworked most of the pages to create a cohesive gift of comfort, and did a Kickstarter to raise the money to print it. I published the book on October 21, 2015, which would have been Andy's 58th birthday.
Below are a couple of photos showing the original pages from my journal (a Moleskin reporter's notebook) in front of the pages from the finished book.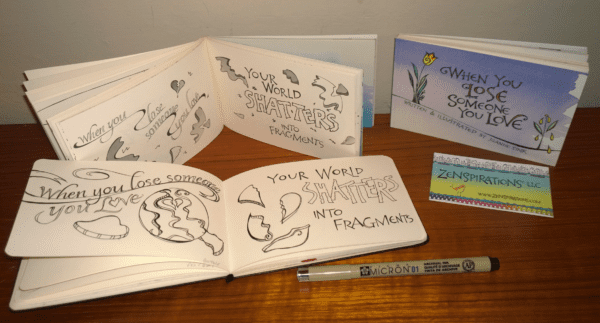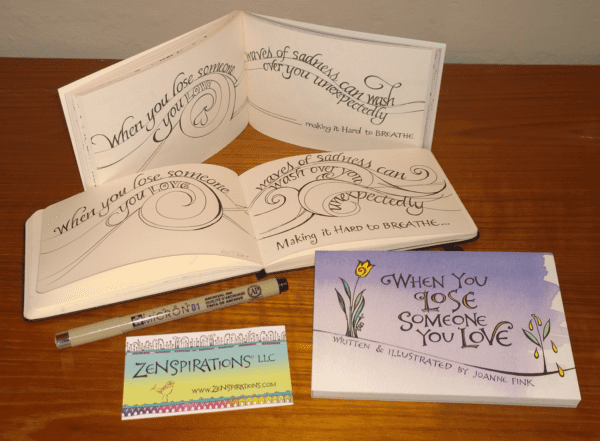 As the months passed and I became more grounded, my heart– and my journal pages– became more hopeful. When You Lose Someone You Love ends about a year into my grief journey, and as a sign of the hope I felt while writing it I decided to incorporate some pale color into the last section of the book when I printed it. I've been amazed at how many people have mentioned that the added color helps them make a visual connection to my changing feelings. Here are three spreads from the last section of the book.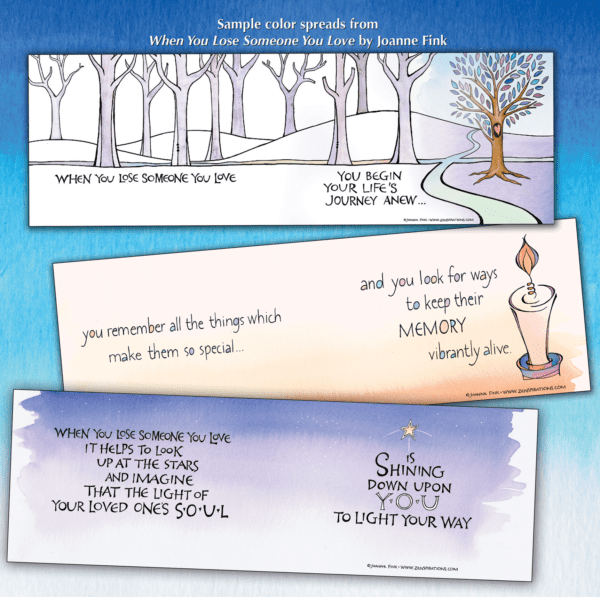 Grief does not follow a linear timeframe… nor will it consent to be neatly folded up in a suitcase and gotten out when you feel like it. Especially early on in what I call 'the grief journey,' grief has a mind of its own, and can sneak up on you with incredible ferocity when you are least expecting it. My journey from grief to gratitude is ongoing. Even after five years there remain days when I am profoundly dysfunctional; the days that I feel overwhelmed by life's events are when I most miss Andy. I savor the sweet memory of our life together, and am deeply grateful for the years we had, and how they impact and influence my life today.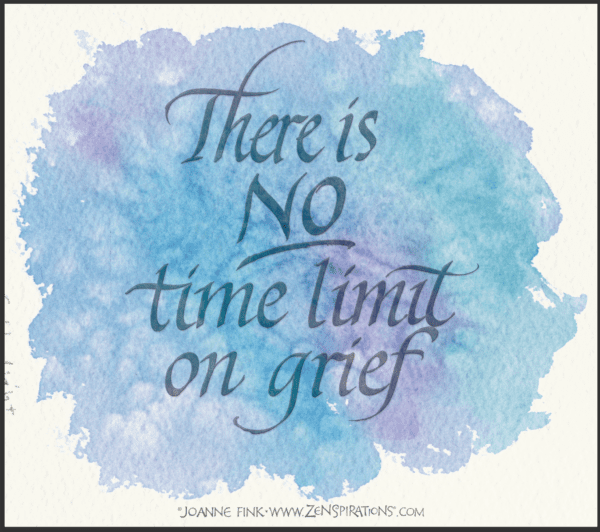 Advice for those who are grieving:
Feel your feelings… grief is excruciatingly painful, and there aren't any shortcuts. The only way to manage the grief is to grow through it.
Take time to remember… and to celebrate your loved one's legacy.
Listen to your heart… and be gentle with yourself.
Look for ways to help others; it is a great way to heal.
You are NOT alone! Don't be afraid to ask for help– or a hug– when needed.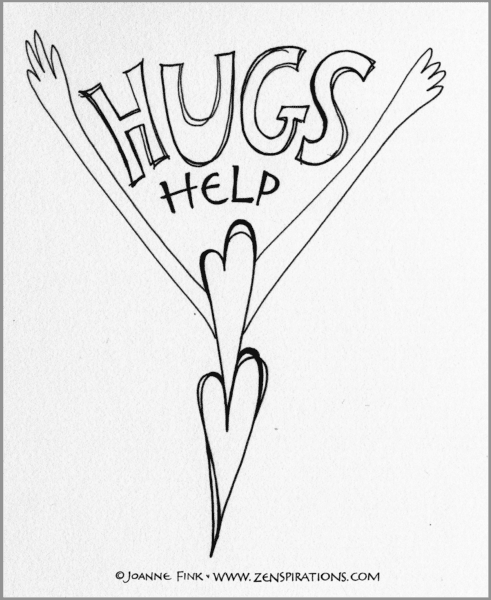 Advice for those who are are supporting someone who is grieving:
Don't worry about finding 'the right words'. Simply saying "I'm so sorry for your loss" and giving a hug can bring great comfort.
Reach out and continue to reach out. The grieving process takes a LOT longer than you can possibly imagine if you haven't gone through it. Don't expect someone to 'get over it' in a few weeks or months.
Listen. Part of the grieving process involves telling the story of how your loved one died… and then telling the story of how they lived.
Don't be afraid to mention the name of the person who died. Creating a safe space to talk about their loved one won't upset someone who is bereaved. Sharing stories and photographs can help them keep the legacy of their loved one alive.
Provide practical assistance. Don't say 'call me if you need anything'… people who are grieving are often disoriented and have trouble remembering things. They may not even remember that you offered to help, and even if they do remember, they probably won't want to impose on you. Instead, call and say "I'm on my way to the supermarket and am bringing you bread, eggs and milk– what else do you need?"
Firsts are REALLY hard! Doing something for the first time without your loved one is incredibly difficult. Whether its going back to work, going on a trip or going to a party, it can help to have someone recognize and acknowledge these firsts. If you are making a holiday dinner, invite the person who is grieving. They may leave early, or choose not to come, but knowing someone cares enough to reach out to you means a lot.
Remember special dates: Birthdays (both of the person who died and the person you are supporting) and anniversaries are milestones on your grief journey. Put these dates– and the date of death– in your calendar so you can call, text, or send a card. It will make more of a difference than you can possibly imagine.
Understand that you can't fix this. There isn't anything you can say or do to bring the person who died back. All you can do is accompany your loved one on their grief journey.
Andy is still a very big part of my life; not a day goes by that I don't think about him, and feel blessed. I remember the things I admired about him; his quick wit, the contributions he made to our community and his devotion to our family. He loved Israel, scuba diving, programming, and making puns. His favorite pastime was reading, and he never left the house without a book in his pocket. I have found it very healing to express my grief– and my ongoing connection to the love of my life– through my art. I often incorporate a winged heart, which symbolizes my realization that love is eternal, into pieces I create when thinking about Andy.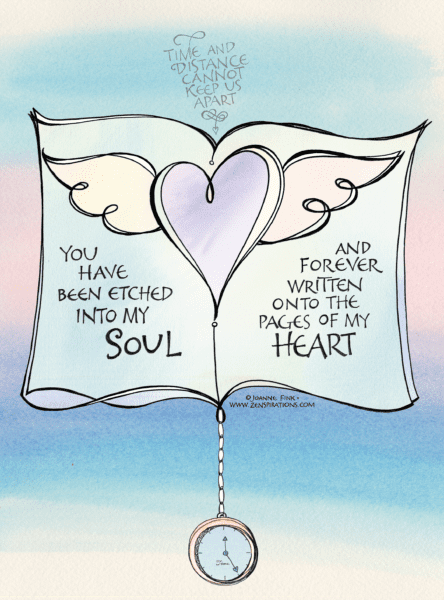 More than anything Andy delighted in being a Dad; he was a wonderful, caring, involved father, and I miss him as co-parent more than in any other capacity. Although it isn't easy, I try to think about what he would recommend in any given situation, and to take that into account when making parental decisions. Both of our children have grown into hard-working, compassionate individuals, and I know he would be incredibly proud of them. They are his living legacy.
When your world is shattered by loss you wonder how you can pick up the broken pieces and glue them back together… part of the journey from grief to gratitude is the gradual, heartbreaking realization that you can't. As you continue your journey, you can learn to build a new life founded on the love and cherished memories you hold in your heart.
Lessons from my journey:
Life is a privilege, not a promise. Live your life with intention.
Hope matters. Greet each day with a hopeful heart.
Look for the blessing in every situation, especially the most difficult ones. It's the best way to stay grounded in gratitude.
Kindness counts! Reach out to others in love and kindness; a single loving act can (and does!) change the world.
Remember that you are not in control of ANYTHING except your attitude.
Tell people you love them as often as possible… you may never get another chance.
Look for ways to make a difference; live by inspiring others to fly.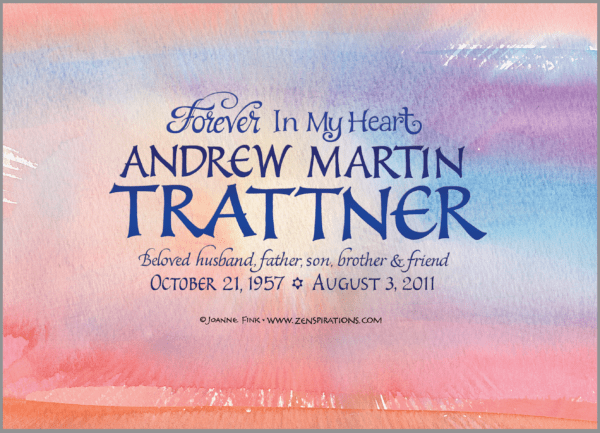 In Andy's memory I am giving away 5 signed copies of When You Lose Someone You Love. For a chance to win one of the books please leave a comment on this week's blog saying why you want a copy of the book and who you plan to give it to. Only one entry per person. I will pick five names at random from those who leave a comment by August 12th.
After reading the heartfelt comments, I wanted to share some grief support resources with you in hopes that you will share them with those in need:  you'll find them in the free resource section of my other website, www.WhenYouLoseSomeone.com
For those who are dealing with loss during the pandemic, there are helpful resources at GriefSPACE.
Stay Zenspired,
Joanne