Legacy
Tuesday, October 25, 2016
Hi Everyone,
I was blessed to have been married to an incredible man for 29 years; this past Friday would have been his 59th birthday. I miss him terribly, but try to see each October 21st as an opportunity to celebrate his life, honor his legacy, and remember him and the things he valued.
Over the past five years, my children and I have developed what I call a 'remembrance ritual'; we go to dinner at Andy's favorite restaurant, then go home, put a candle in a cake made out of his favorite donuts, sing Happy Birthday, and share 'Daddy' stories. There is a measure of comfort for each of us in the ritual. Although he is no longer here physically, Andy continues to be an important part of my life, and I talk about him frequently. My son, who turned twelve two days after Andy died, doesn't really like to talk about his dad, but he does seem to enjoy hearing stories– especially ones he hasn't heard before. Trying to think of a new story to share each year is getting more challenging, but I've discovered that there is an art to remembrance… just like drawing, it grows easier with practice.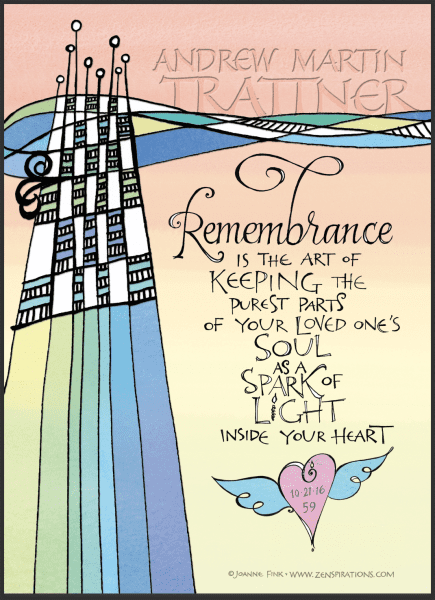 Two years ago, my daughter Samantha, who is a gifted singer/songwriter, wrote a song in memory of her Dad, which moves me to tears every time I hear it. It's called Legacy, and she finally recorded it this summer. I was honored when she asked me to sing back-up vocals on the recording: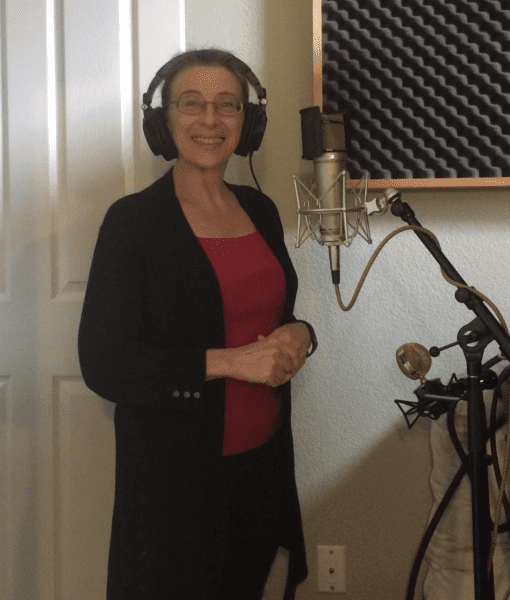 The producer listened to some of Sam's other songs, and encouraged her to record an entire album. I've heard nine of the ten songs which will be on it, and while I admit to being more than a bit prejudiced, it's totally awesome! In honor of Andy's birthday, Sam wrote a FB post about the project: "For the last couple of months, I have been recording my first album: LISTEN. This whole project started because I wanted to record the song I wrote about my grieving process, Legacy/Esah Enai, and dedicate it to my Dad— but the project has turned into so much more! My dad loved music, and he passed that love on to me. He would be so proud that I am working towards achieving my dreams." And I am so proud of Sam, not just for writing and recording her beautiful music, but for creating such a meaningful tribute to her dad.
When it came time to design the album cover, Sam and I decided to collaborate. She painted the background wash with Sakura's awesome Koi® Coloring Brush pens, and I did the lettering with my favorite tool, a Pigma® Micron 01.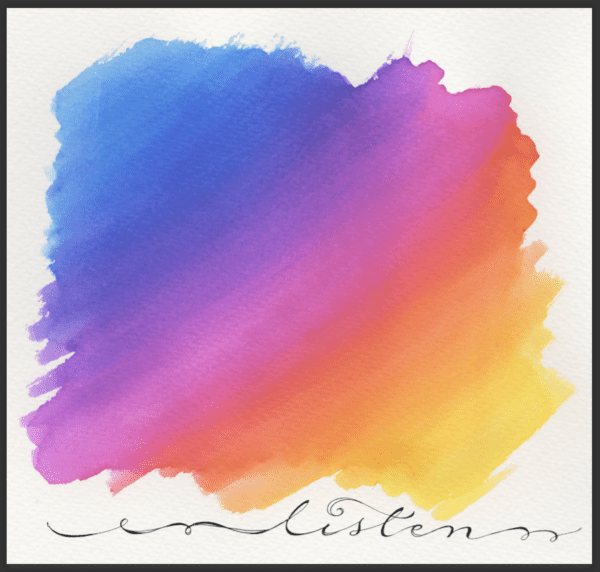 We scanned our handwork, and then I put the pieces together in PhotoShop. Here's what the finished design looks like: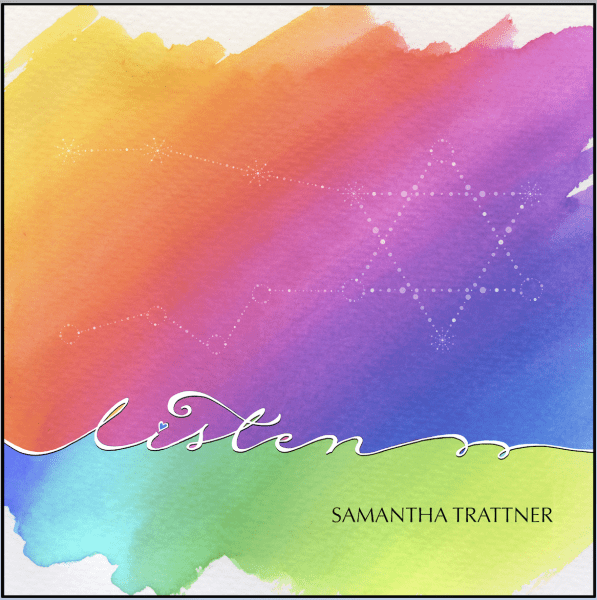 Sam has recorded five of the songs, and is planning a Kickstarter to raise the rest of the funds she needs to complete the album. She wants to offer a limited edition print with the words to the bridge of Legacy as one of the Kickstarter rewards, so  I've been trying to create a design which captures the impact of her words, and the haunting beauty of the melody. Here's what I've come up with thus far.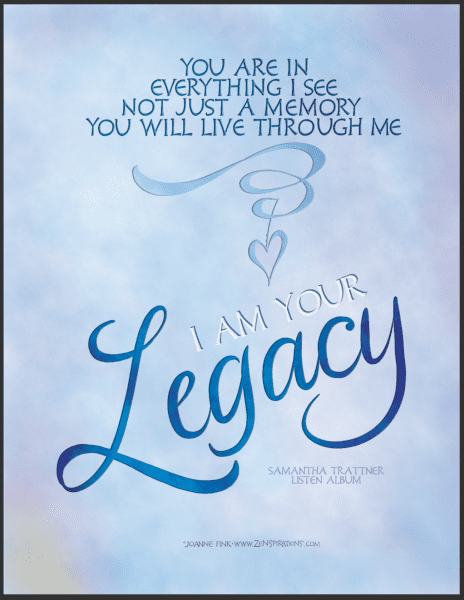 I think it needs something– perhaps a musical staff and notes ghosted in the background? A gradated wash rather than an overcast sky background? A different lettering style or color? I'm open to suggestions, and would value your opinion. This is your chance to be an Art Director! Please leave a comment to share your thoughts on how to improve the design. And (here comes a shameless plug by a proud mom), if you would like Sam to send you information about her Kickstarter, and or the Listen album when it is available, you can either leave a comment in the blog, or send me an e-mail: [email protected], and I'll ask Sam to add you to her mailing list.
Before closing tonight, I want to thank everyone who voted on the cover of the Bible Journaling book I've been working on. I read each comment (twice!) and have also shared your thoughts with my publisher. I'm not sure what they will ultimately decide, but I want each of you to know that your input means a lot to me. I am really looking forward to seeing the final cover, and will share it in my blog as soon as I have permission to do so.
Congratulations to Dawn Reaume, who was the random winner of last week's contest. Dawn, please e-mail me your snail mail address, and I will send you a copy of Complete Guide to Bible Journaling: Creative Techniques to Express Your Faith, when it is published.
Stay Zenspired,
Joanne