Live from LEGACIES: The 33rd Annual Calligraphy Conference
Tuesday, July 22, 2014
Hi Everyone,
I'm at LEGACIES: The 33rd Annual Calligraphy Conference, where I'm having a blast. I flew to Dallas this morning, and since I don't start teaching until tomorrow, I got to spend the day visiting with old friends, looking at the exhibits, seeing all the cool hand-made things in the Scribes store, and trying to decide which of the fabulous new books to buy at John Neal Bookseller. Best of all was finally meeting some of my Facebook friends, like Vicci Ewan and her sister-in-law Chris Ewan, in person!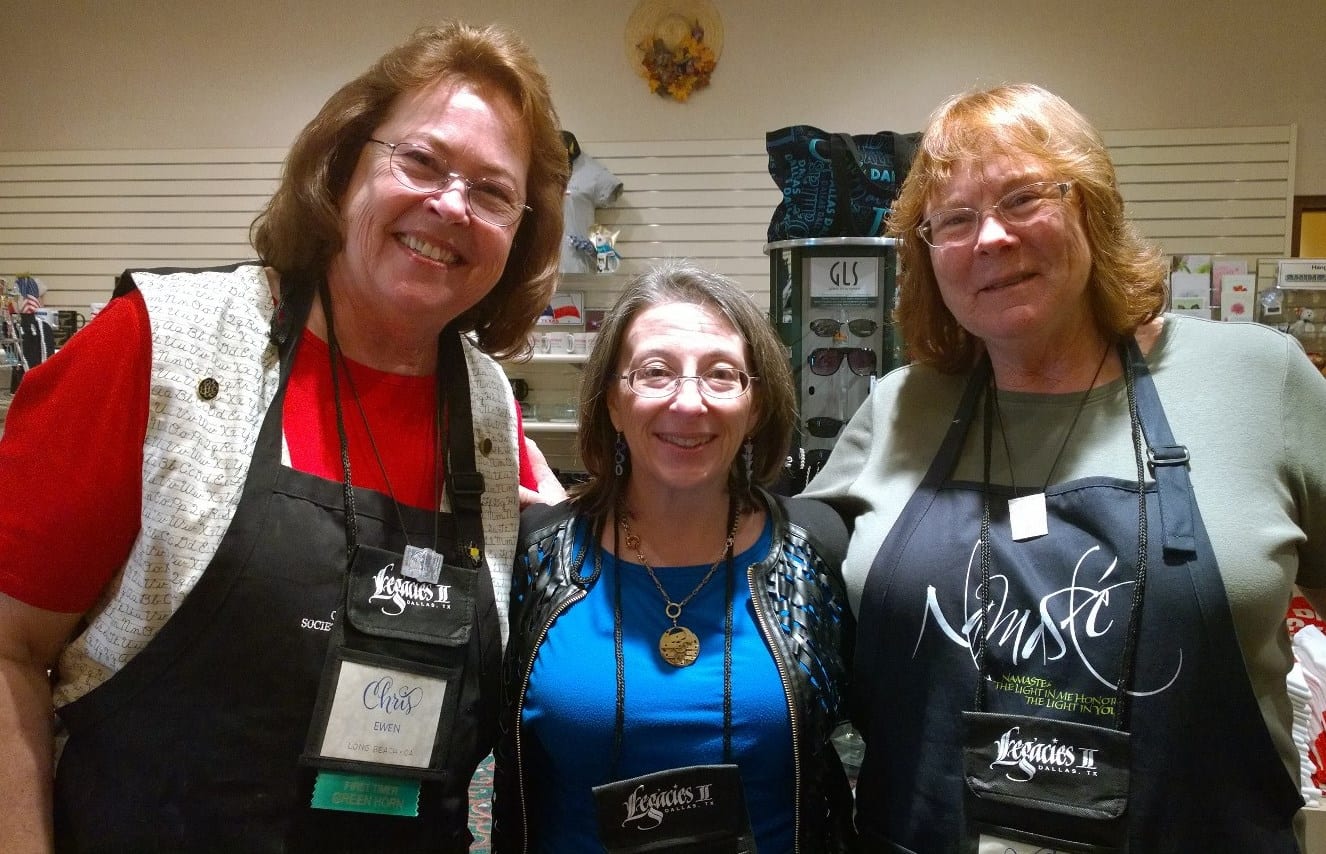 Vicci and Chris showed me the beautiful jewelry they made in Sharon Gillespie's Breakout Workshop Wear Your Artwork (wish I'd been there!)… and I was delighted to see that Chris had done a Zenspirations Dangle monogram C as her design. I was so excited that I took a close up of Chris's piece– and got a great shot of the Legacies II logo, which was designed by my friend Michael Clark.


For those of you who are in the area, I hope you'll stop by to say hello. Legacies is being held at the Renaissance Dallas-Richardson Hotel in Richardson, TX. I'll be signing books and doing a demo at John Neal Bookseller in the hotel Tuesday afternoon, and then from 7:30 – 10:30 I'll be teaching a Breakout session called "Sparkle, Shimmer & Shine" where I demonstrate how to use all of Sakura's cool tools, and then each participant will use the tools and techniques to decorate a Sizzix box designed by my friend Eileen Hull.
The rest of the week I'll be teaching a 2 1/2 day class on the seven steps to Creating Your Own Zenspirations Design: patterning, drawing, lettering, writing, designing, creating, and– most importantly– inspiring. One of my favorite Zenspirations sayings is "Live by Inspiring Others to Fly"… and that's what I hope to do this week.
Stay Zenspired,
Joanne