Live by Inspiring Others to Fly
Tuesday, April 25, 2017
Hi Everyone,
I was thrilled to be able to include the tag line for Zenspirations®, "Live by Inspiring Others to Fly", in my new line of rubber-stamps for Spellbinders. I asked my friend Dawn Winburn, an amazing stamper and crafter, to make a few samples. She started by making a dimensional easel featuring the tag line: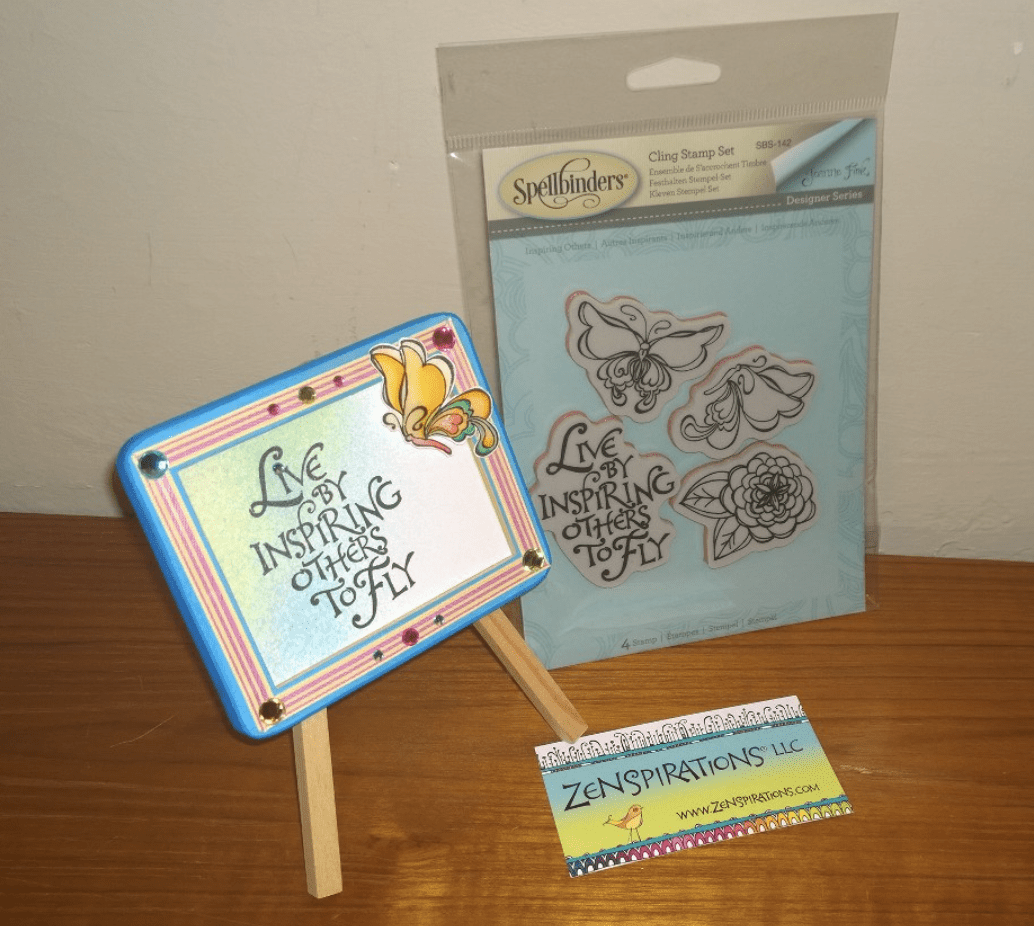 Here's a closeup so you can see the detail: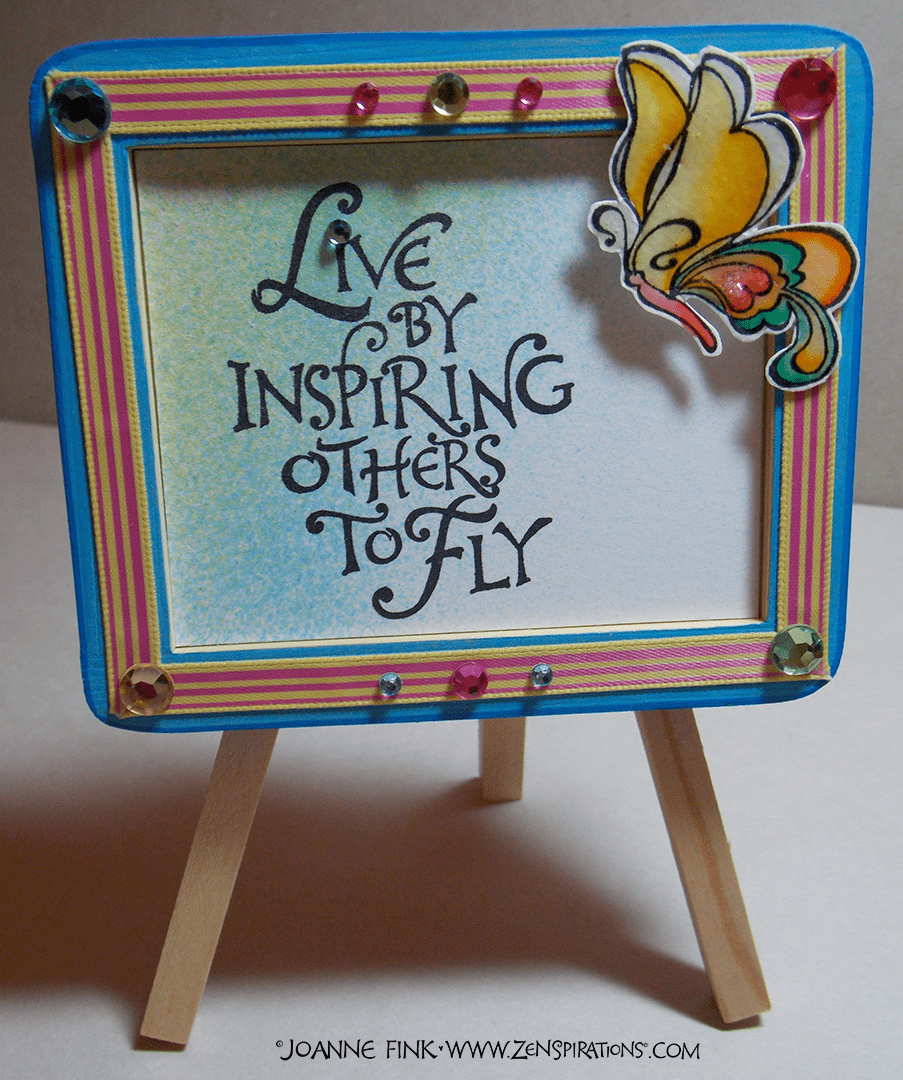 Since so many people are getting into Bible Journaling, Dawn used this same stamp set to decorate a Bible page. First she stamped the images:
Next she used colored pencils to bring the images to life: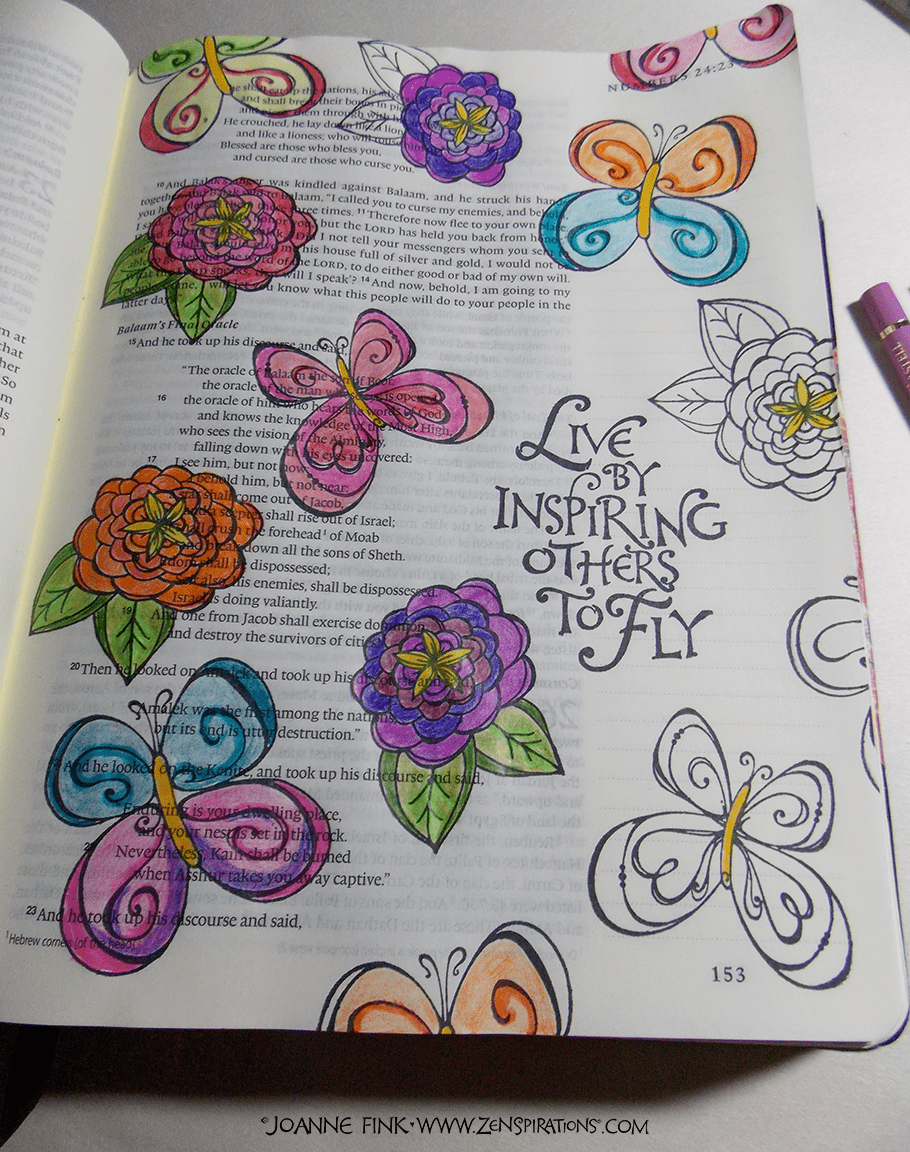 As a finishing touch Dawn added a ribbon page marker with a die-cut butterfly at the bottom.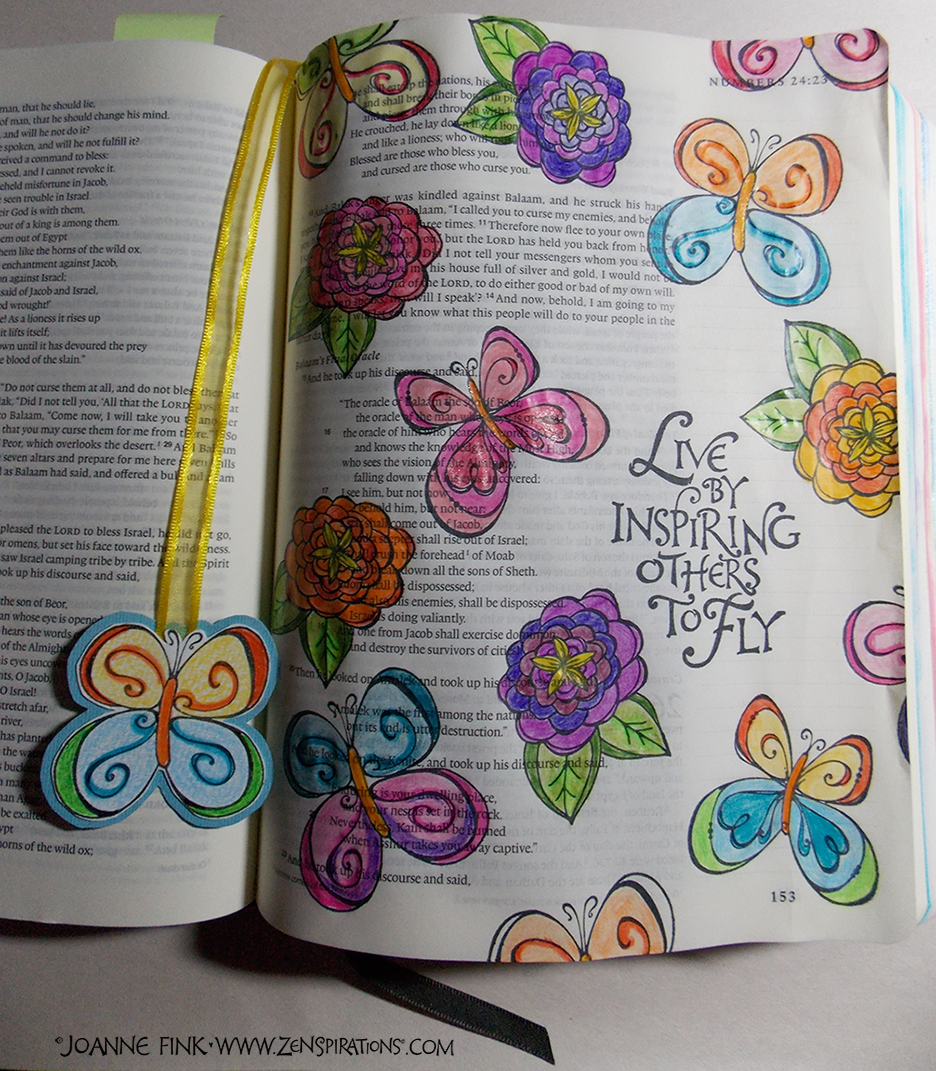 The line I created for Spellbinders has 10 different clear stamp sets, one of which has it's own set of dies. I actually designed the line to be multi-purpose: all of the stamps are the perfect width to be used in the 2″ margins of a journaling Bible, but can also be used to create a variety of home decor and paper craft projects, such as these bookmarks: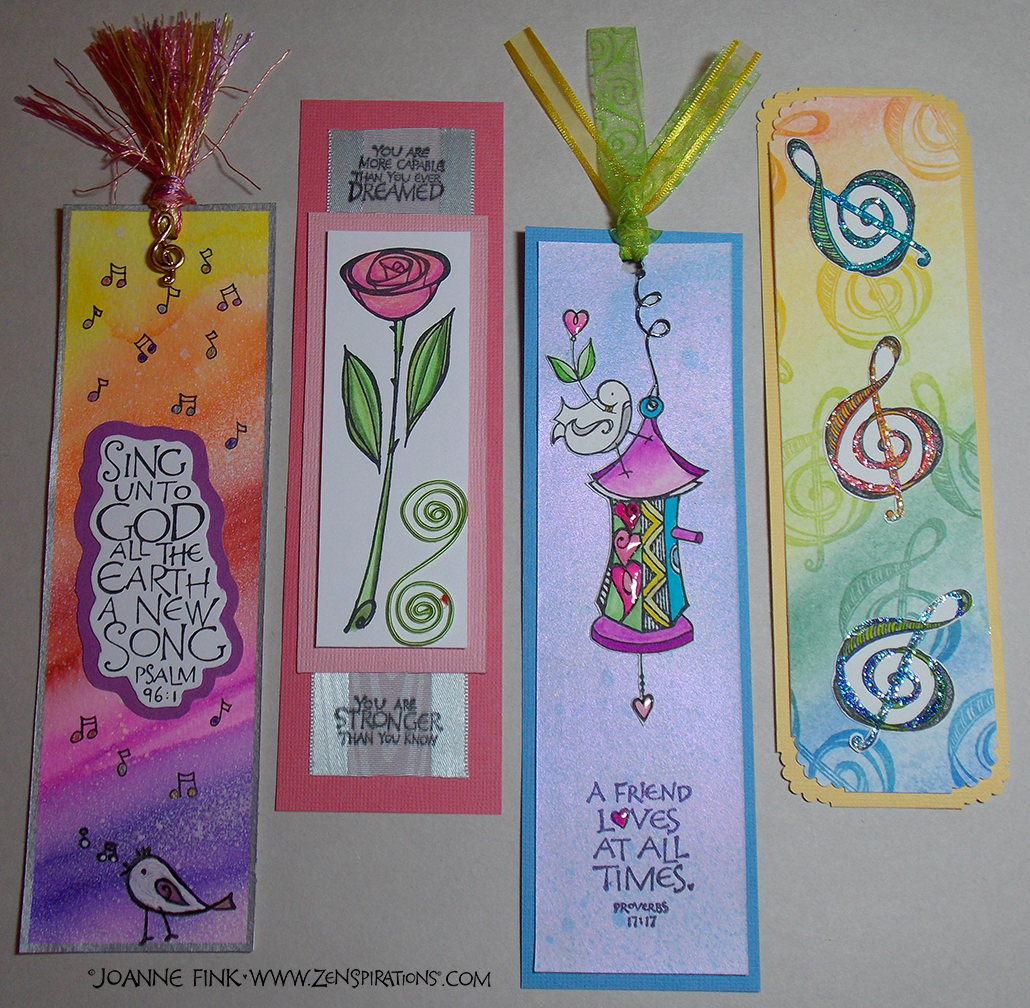 Dawn also made this uber-cool plaque, which I immediately hung up in the studio: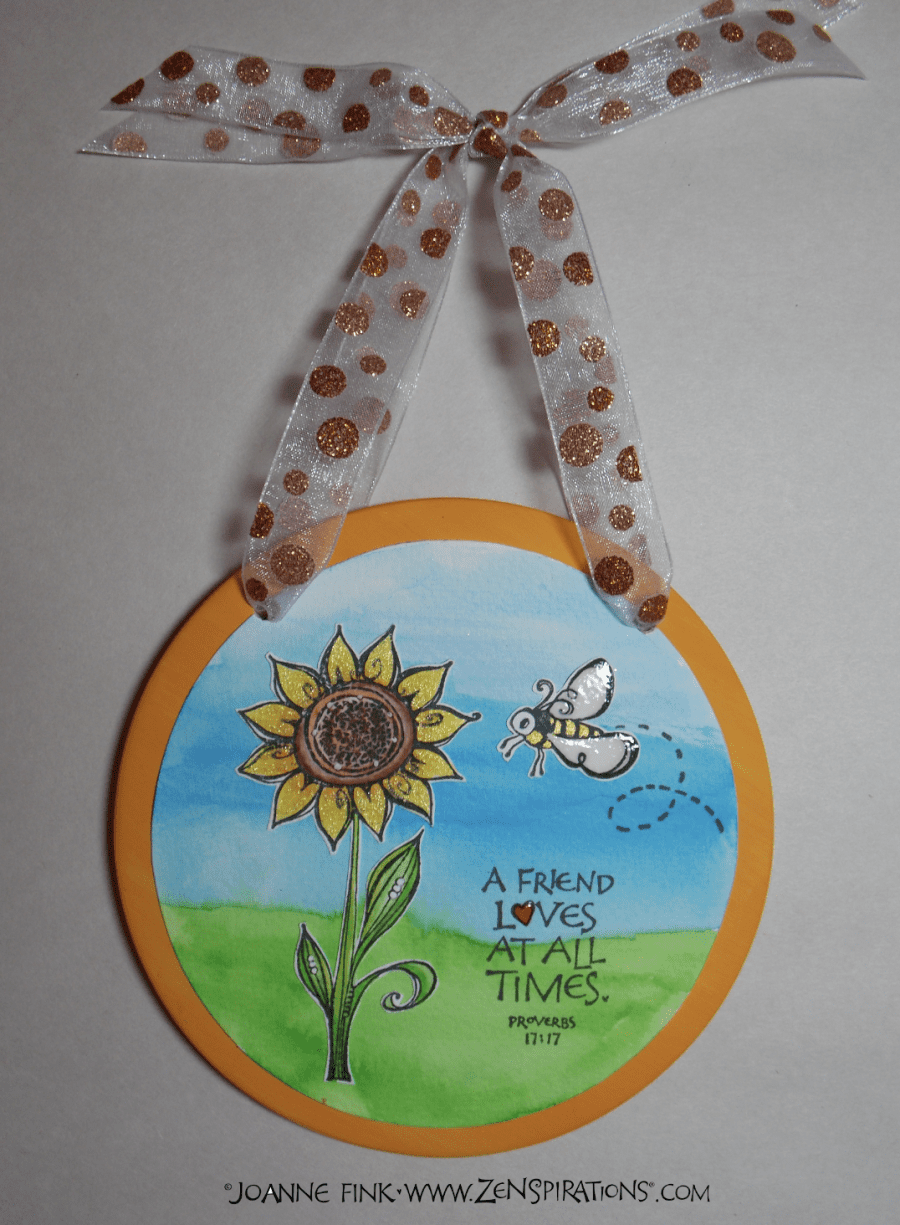 One of the things I'm always excited about is seeing how people incorporate my line art into their creative endeavors. I hope Dawn's stamp artistry will inspire you to try your hand at stamping.
CONTEST ANNOUNCEMENT!!! I'm planning to add some new products to the webstore, and would love to know what items would interest YOU. Are you looking for coloring and drawing tools? Bible Journaling supplies? Zenspirations licensed designs? Would you like me to make prints of some of the art I share in the blog available? What about hand-painted or original Zenspirations art? More books? I'd be grateful for your thoughts. As an incentive, if you leave a comment letting me know what items you'd like me to add to the Zenspirations webstore, and you could win your choice of: 
One of the Zenspirations Clear Rubber-Stamp Sets  that I designed for Spellbinders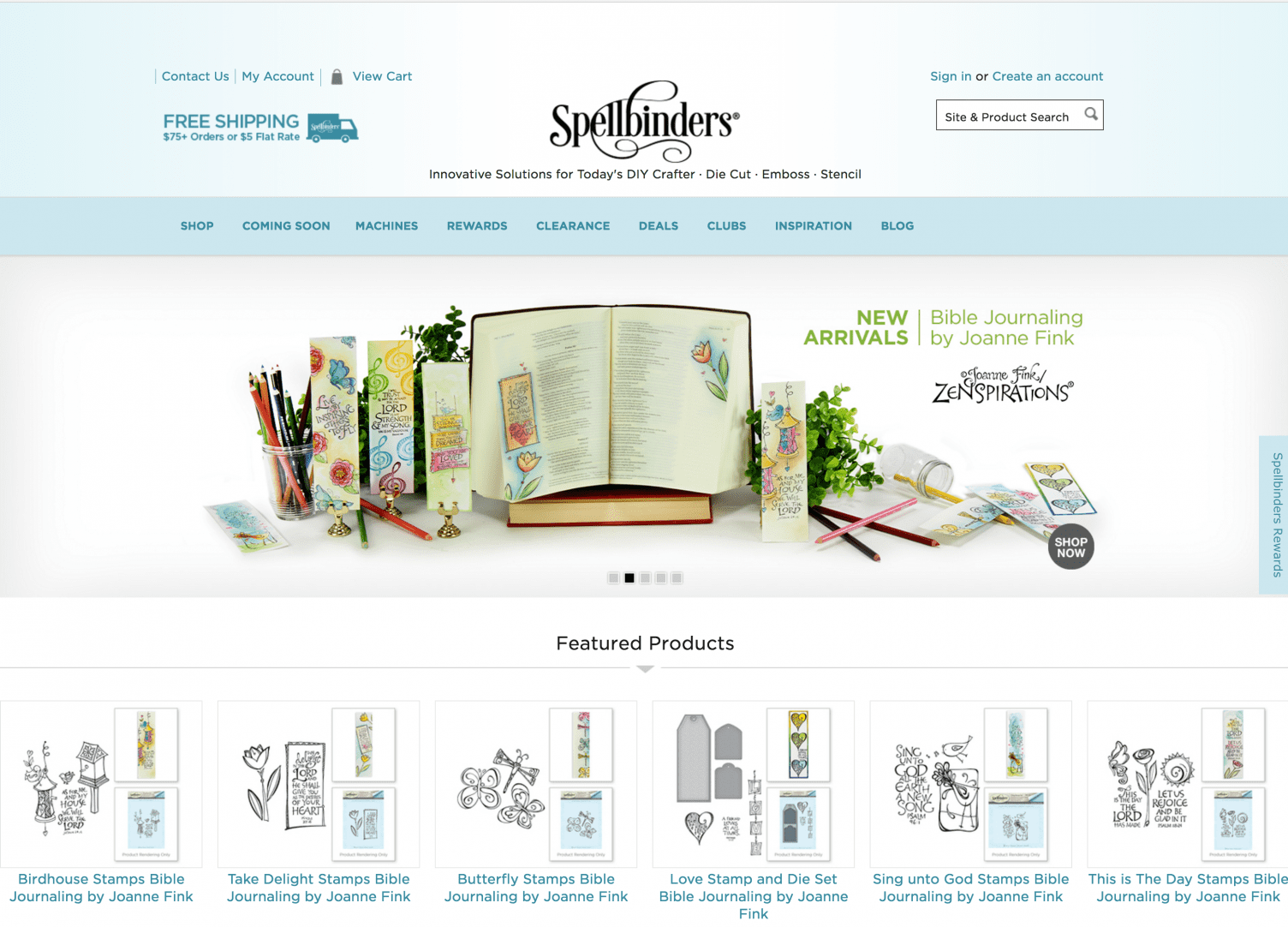 One of the Zenspirations Inspired Journaling Stencils  that I designed for The Crafter's Workshop, or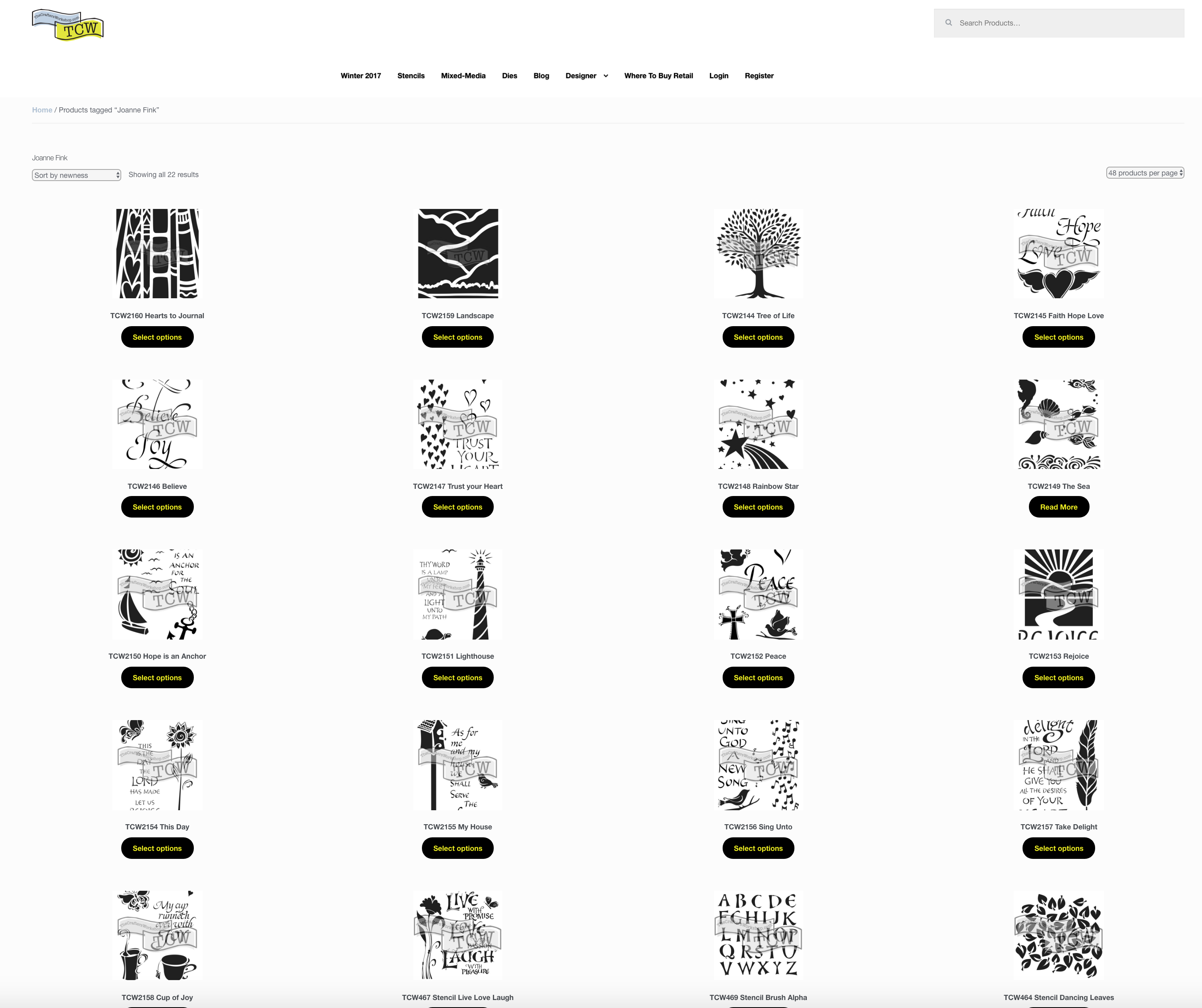 Or one of the new Zenspirations 'Designs for Watercoloring' pads that I designed for Strathmore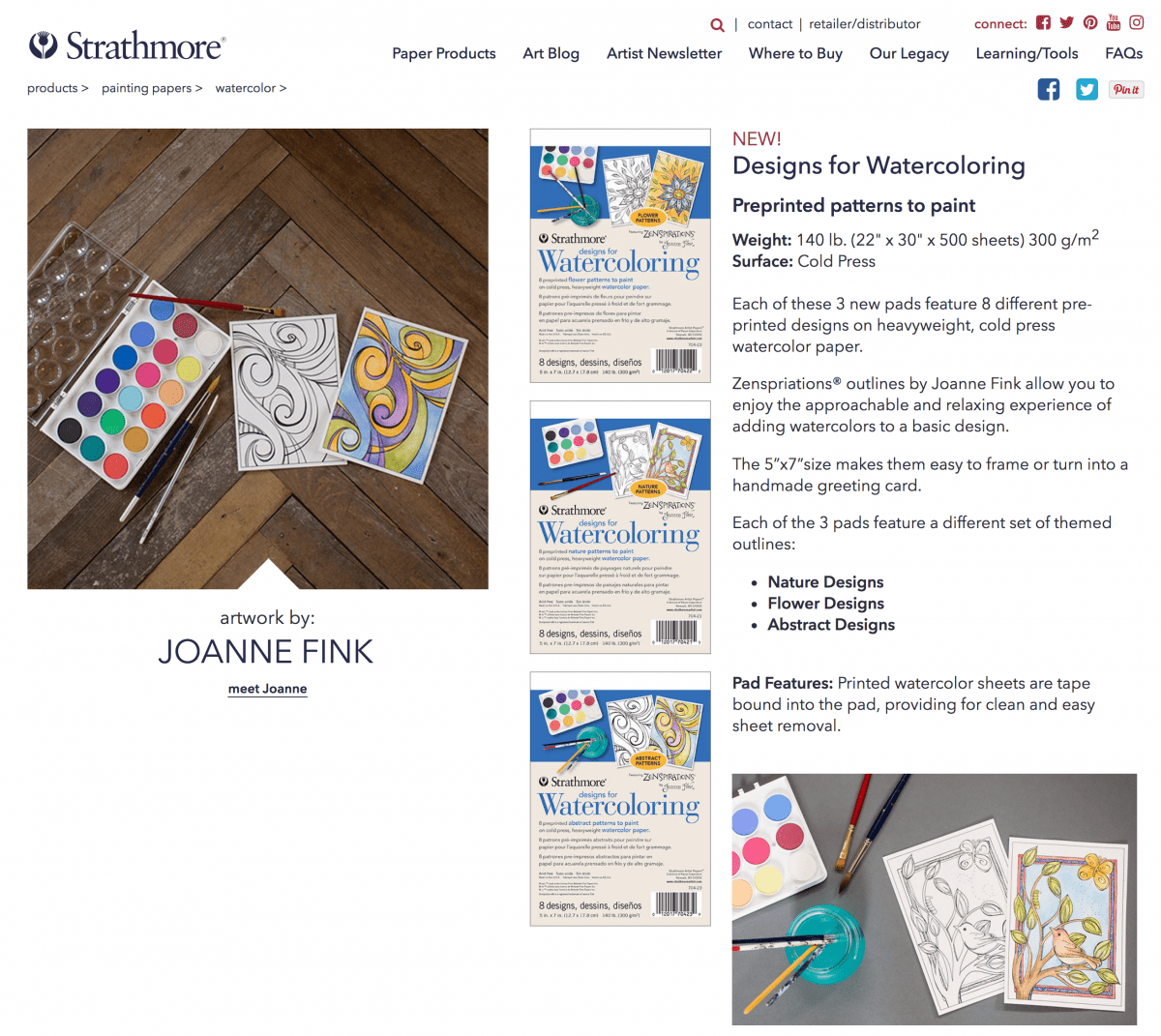 I'll pick one name at random from the comments left before midnight, April 30th, 2017, and send that person their choice of a Spellbinders rubber-stamp set, an Inspired Journaling stencil from The Crafter's Workshop, or Strathmore's new Designs for Watercoloring pad. Thanks, in advance, for sharing your thoughts. I appreciate it!
I'm looking forward to our first-ever Zenspirations Video Conferences this week. Session one will be Wednesday, April 26th, at 3:30 pm Eastern time, and Session two will be Sunday, April 30th, at 7:00 pm Eastern time. Here's what you'll need to do to participate.
Step one: Make sure you have installed the Google Chrome browser (not Safari or Internet Explorer). If you are hoping for one of the 10 video spots, you'll need a computer/phone/tablet with a camera and microphone.
Step two: Make sure you are somewhere with high speed internet. If you aren't, there will probably be a 'lag' of some kind.
Step three: Click this link to join the meeting: https://join.me/joannefink. 
Optional Step four: If you would like me to e-mail you the link, and a reminder an hour or so before the conference call, please e-mail me at [email protected]. Please write VIDEO CONFERENCE REMINDER REQUEST in the subject. I look forward to visiting with you!
Before closing this week I wanted to share the calendar page I designed for May: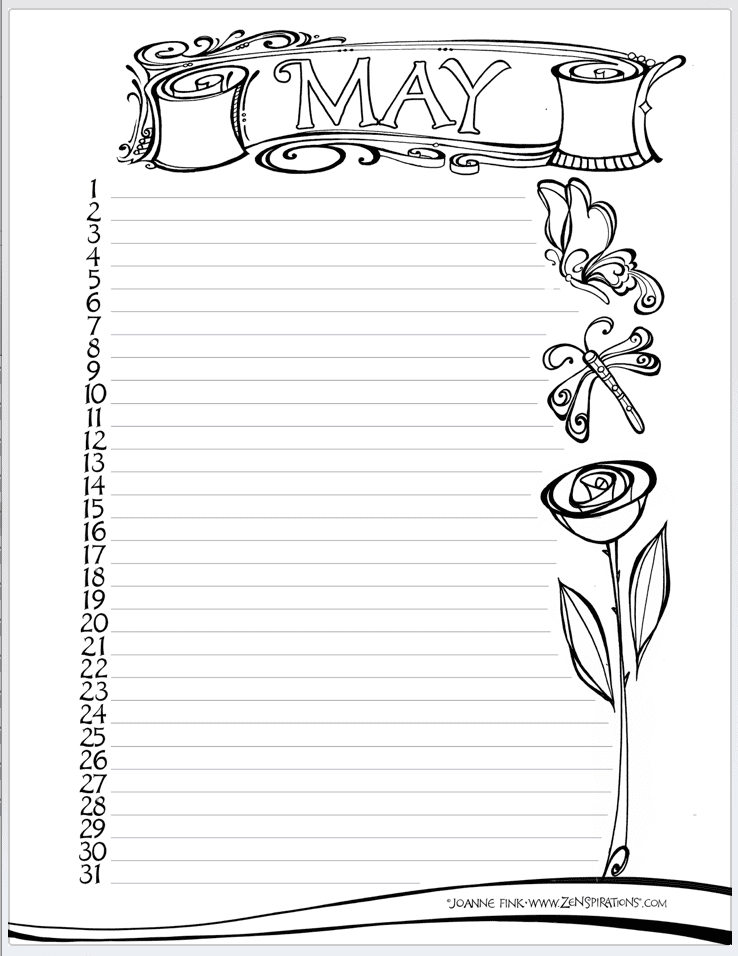 You can DOWNLOAD YOUR FREE COPY by clicking on this link: Zenspirations®_by_Joanne_Fink_05_May_Calendar_Page
Stay Zenspired,
Joanne