With Love on Valentine's Day
Tuesday, February 14, 2017
Hi Everyone,
Last week I asked you all to join me in 'Sharing the Love' this Valentine's Day, and I am thrilled that so many people have taken the time to make a card for someone who might not otherwise be getting a Valentine this year.  Hope you will take a moment to see the beautiful designs which have been uploaded to the Zenspirations® Create, Color, Pattern, Play FB Group 'Share the Love' Album. For each UNIQUE entry (duplicates were not counted), the artist's name was entered into a random drawing for a chance to win their choice of 24 pieces from my new Michaels coloring collection. Congratulations to the lucky winner, Kim Flanegin! Kim, please let me know what products and designs you'd like, and  a coloring package will be heading your way!
I greatly enjoyed seeing all the Valentines which were posted, and thought I'd share the Valentines that I've been working on this week. As some of you know, my friend Terri Misek and I co-chair the Seminole County Chapter of The Modern Widows Club (MWC), which is a wonderful organization dedicated to helping widows develop resilience and 'lean back into life'. I know first-hand that Valentine's Day can be really challenging when you've lost the love of your life– especially the first few years– and how much it means when someone lets you know they care. I am really enjoying getting to know the amazing ladies who come to our monthly chapter meetings, and am making cards for each of them. Time permitting, I'm planning to make cards for my widowed friends from other chapters. Rather than designing a different card for each person, I decided to create a card 'template', so all I would need to do is letter each person's name.
Since Valentine's Day is all about LOVE, and I want people to know that they are loved, I wanted to feature the word. I've written LOVE more times than I can count, and last year put some of my favorite versions on what I call my 'love style sheet'. This is a handy resource when I'm looking for ideas to jumpstart a project.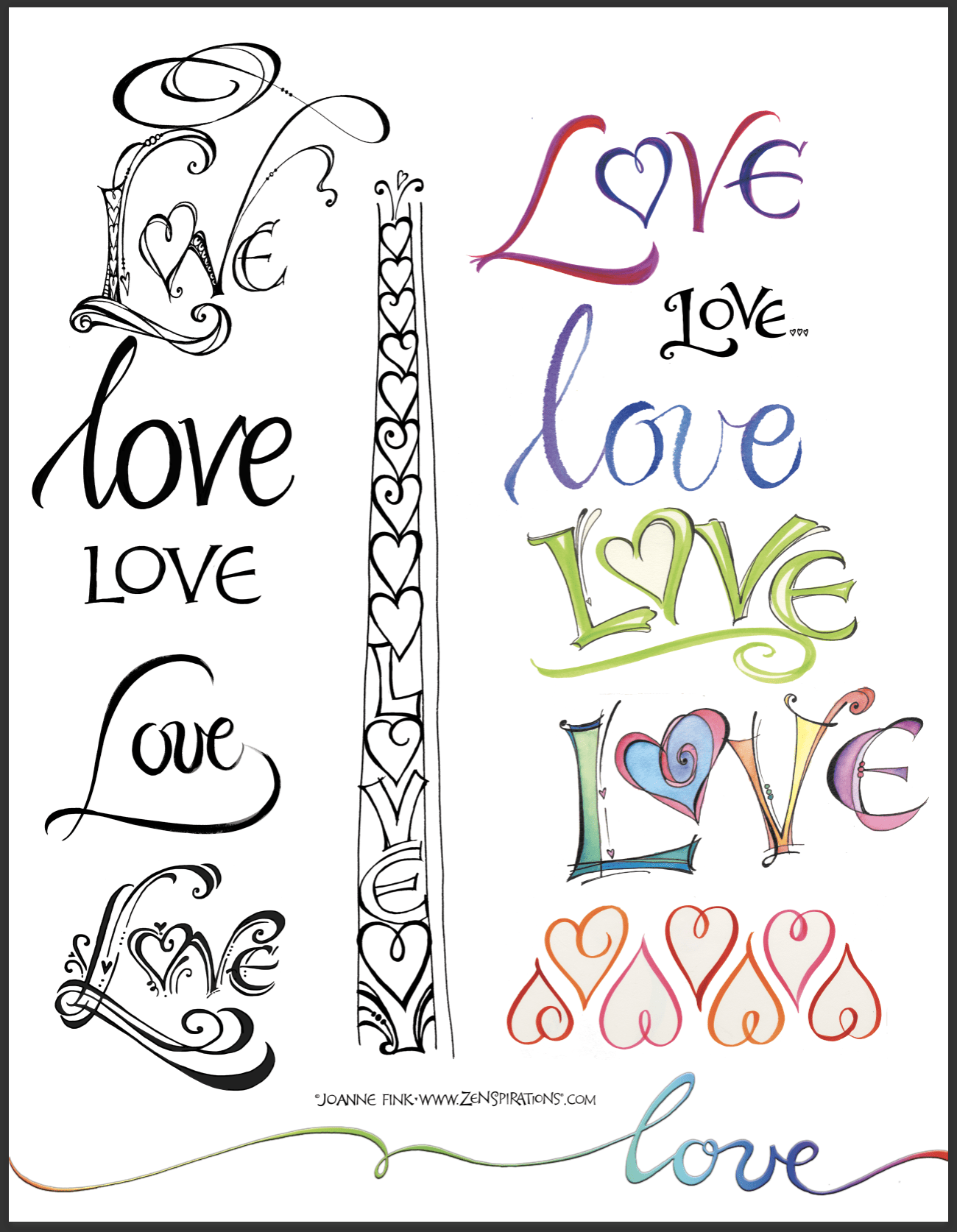 I've always liked the flowing lines of the bottommost love, and decided to create this year's Valentine in the 'love letters' style.' Since I love color, I opted for a watercolor wash with black lettering.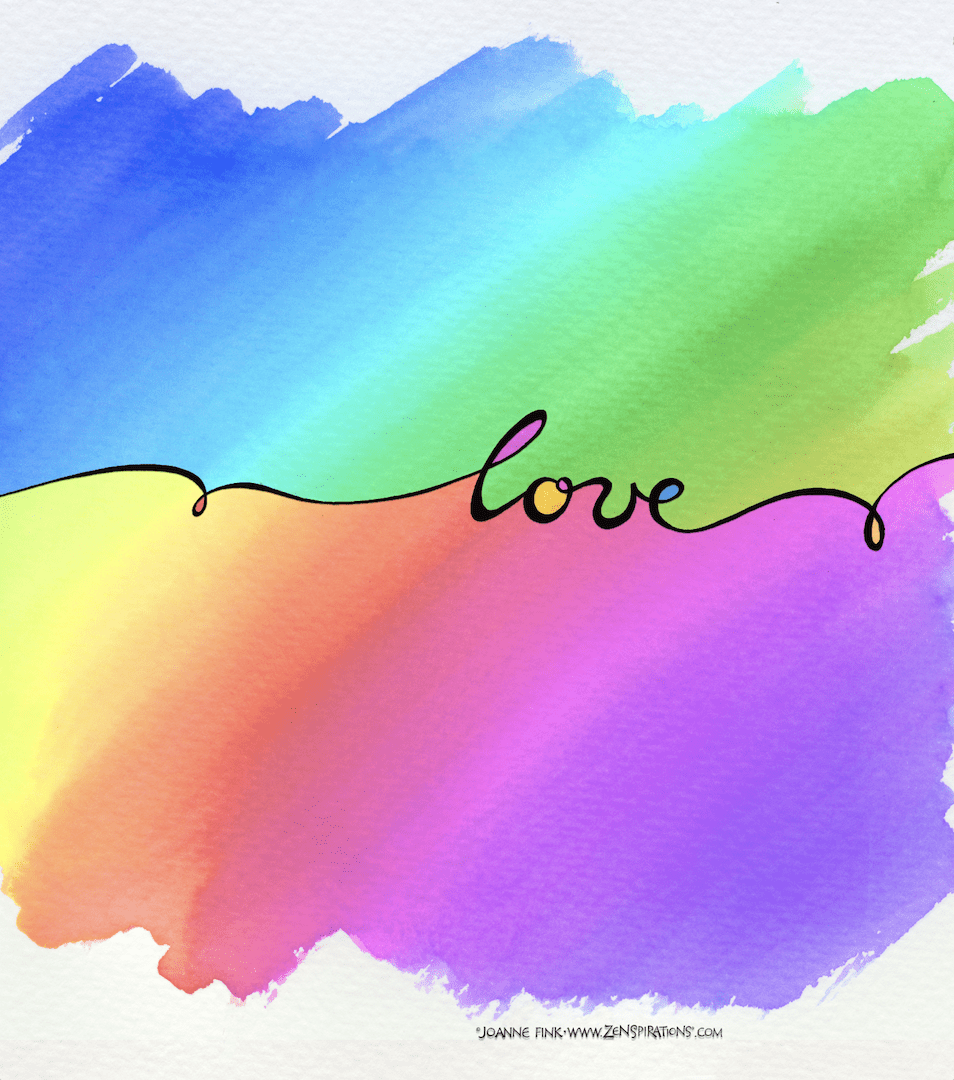 But then I had to decide what the actual card should look like, and needed to create some sample layouts, and see how they would look with a name. I used 'Carolyn', in honor of Modern Widows Club founder Carolyn Moor. Carolyn and her husband Chad were out for a romantic Valentine's Day dinner in 2000, and were involved in a fatal car accident on their way home. Carolyn lived; Chad didn't. This year is Chad's 17th 'Angel-versary', and below is the remembrance card I made for Carolyn and her daughters.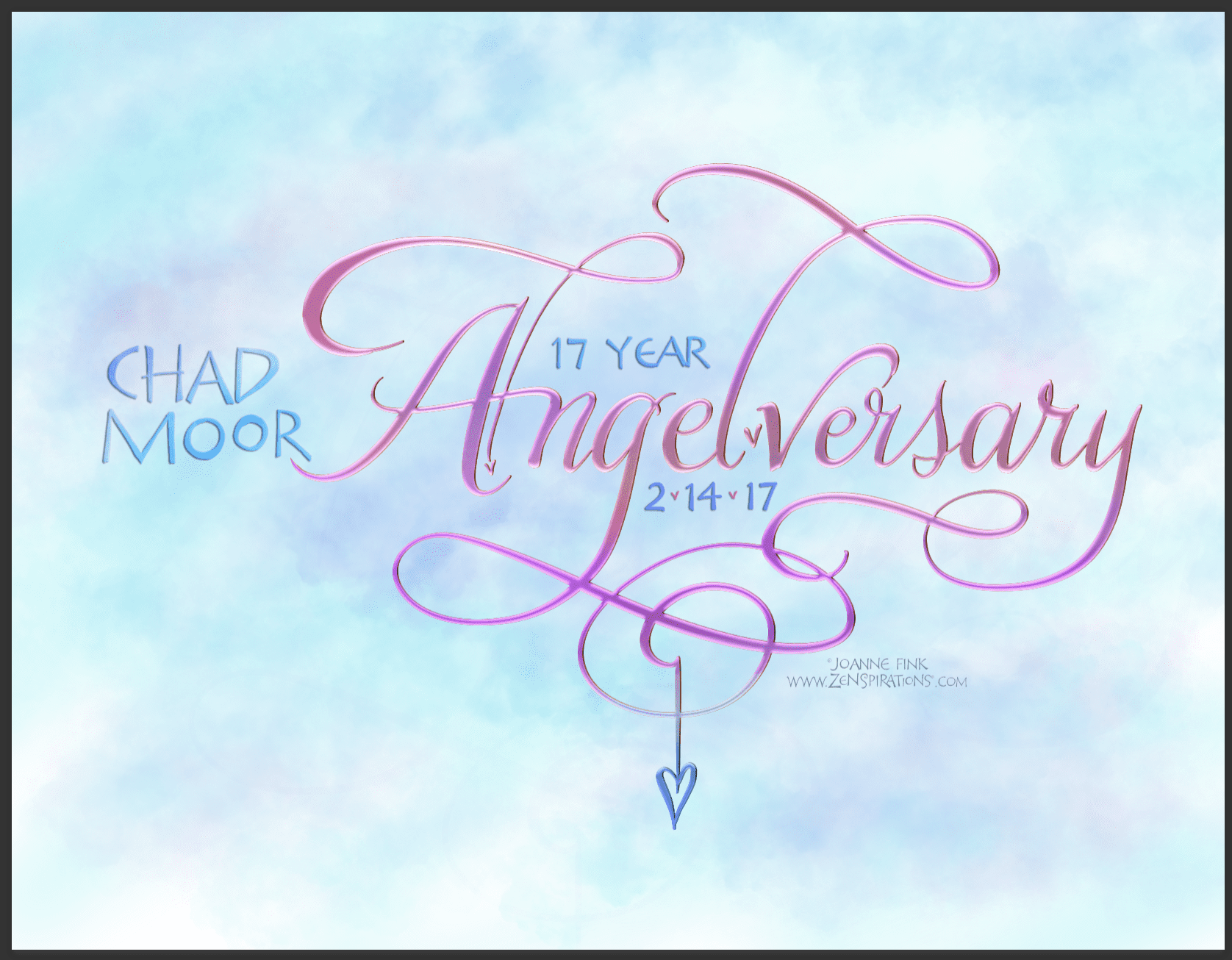 On the Angel-versary card I took my time figuring out where to place Chad's name, the date and the number of years, so that the information flowed together. But, since I have a LOT of Valentines to send, I needed a design that I could quickly write a name without having to change the entire layout. I came up with several options to consider. The two main differences are orientation (horizontal vs vertical) and whether the name comes above or below the word 'love'.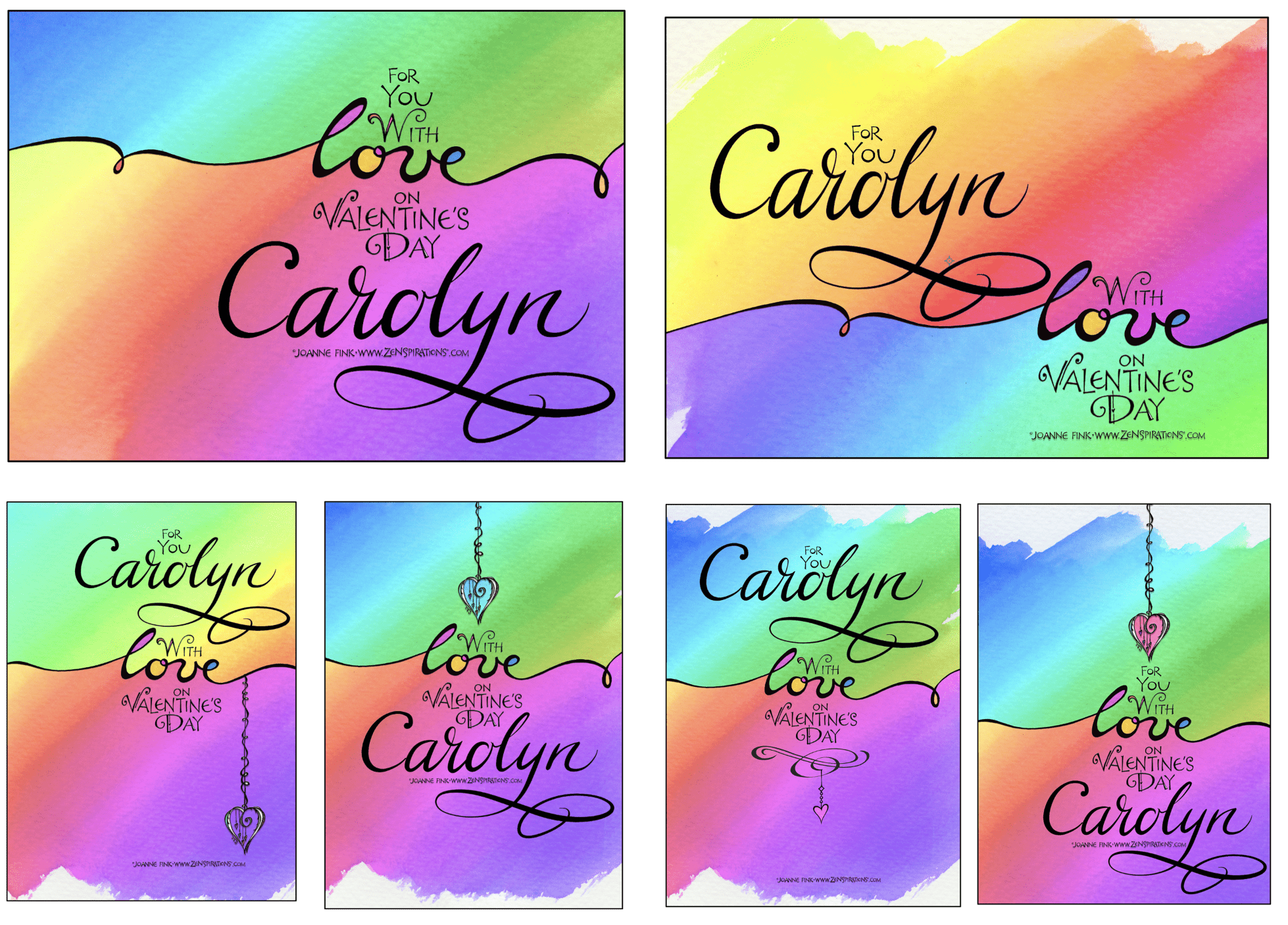 I think most of them work as stand-alone designs, but ultimately chose this one because it was the most flexible.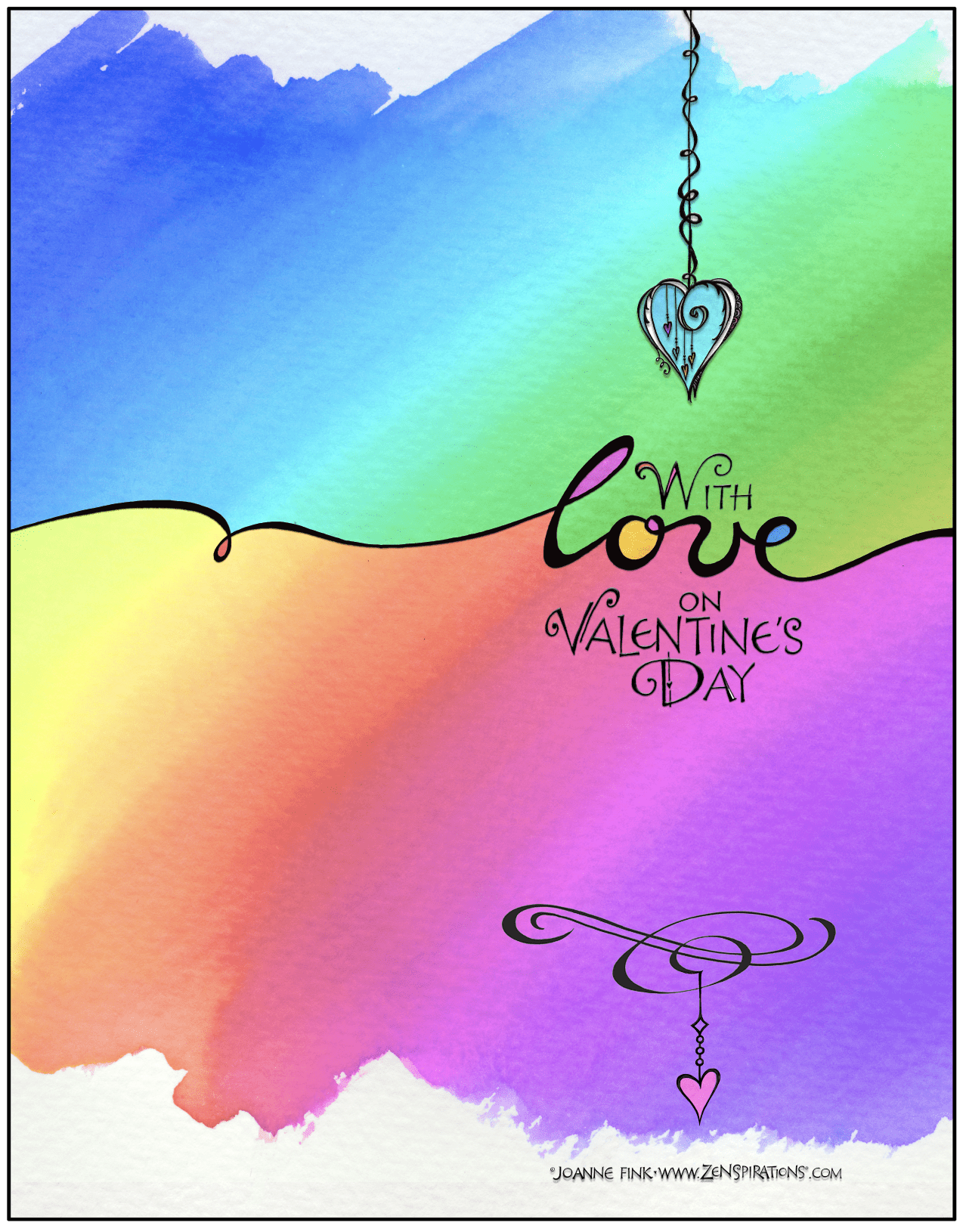 I can add the bottom flourish if the name has no descending letters, or create a flourish from one of the letters. Here are a few of the ones I've done: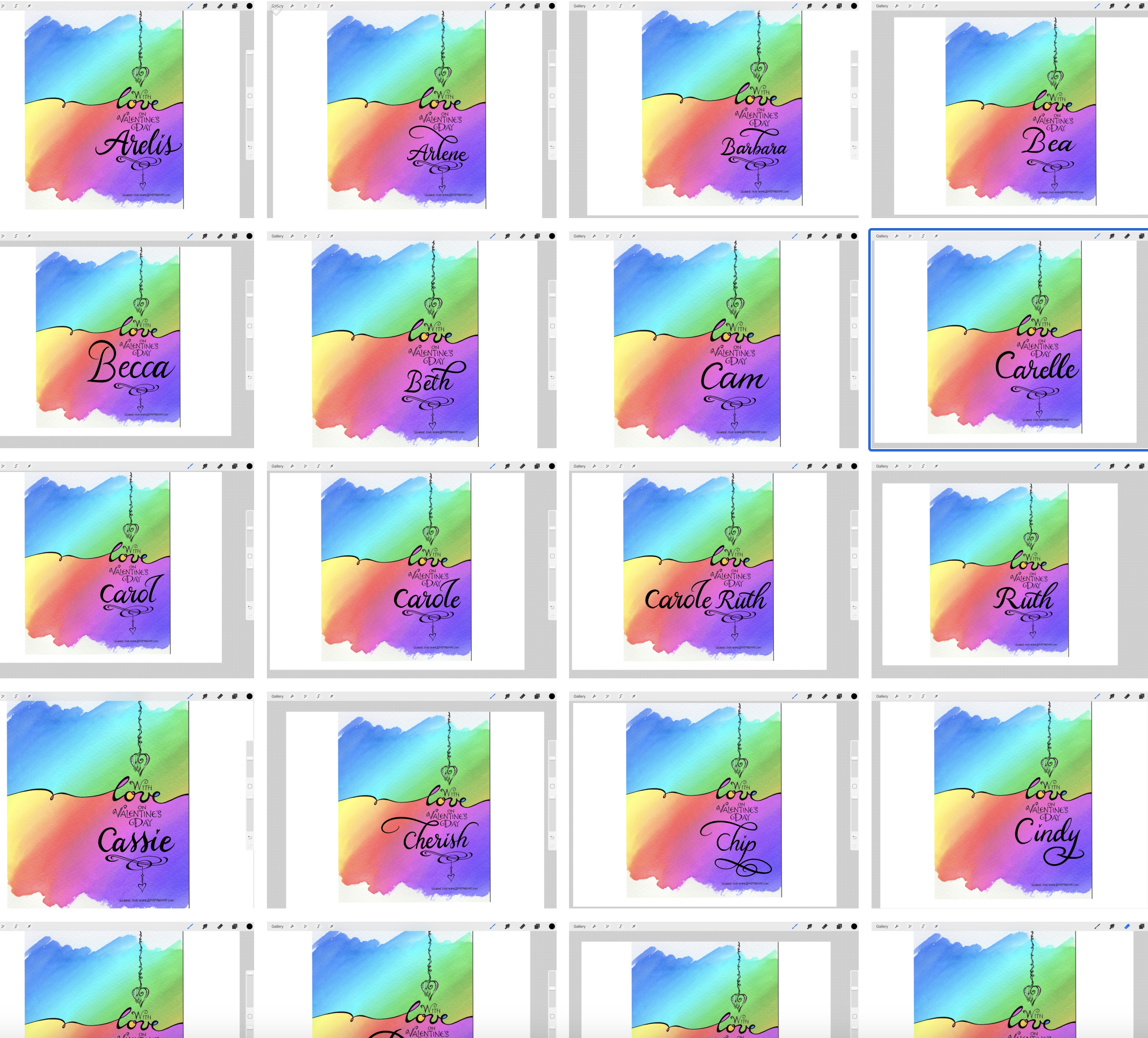 I still have a lot of names to letter– wish me luck!
I'm pleased to report that finished signing all pre-ordered copies of the Complete Guide to Bible Journaling books for people who told me how they wanted their copy personalized. There are still a few stragglers… books which I'm not sure how to sign. If you ordered a book and haven't received it, please e-mail me to let me know how you'd like it signed, so I can get it off to you. If you would like to order a book, Amazon has them on sale at $13.34, which is 1/3 off of the regular retail of $19.95. If you'd prefer to have a signed copy, you can order it from my website, and I'll sign it for you in your favorite color.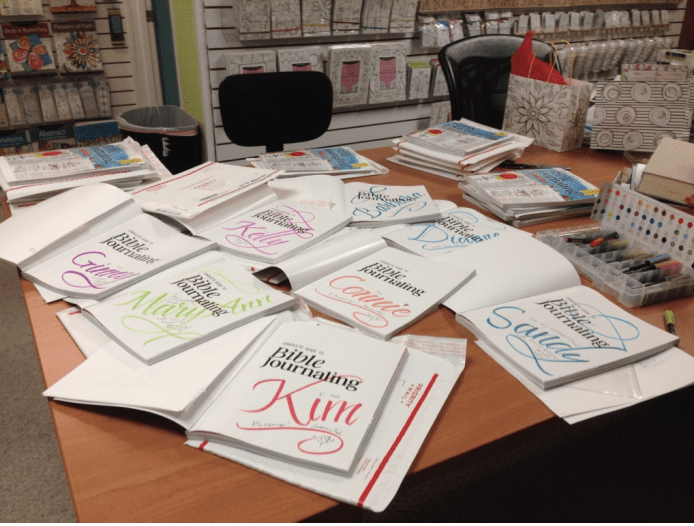 Thank you to everyone who has written a review on Amazon… I really appreciate your kind words, and am delighted that the book has been so well received. You can write an Amazon review even if you didn't buy the book on Amazon; if you like the book I'd be grateful if you would take a few minutes to let others know about it.
I'm working on a website to go along with the book, and it is set up to take e-mail addresses for people who want to be notified when the site goes 'live'. Unfortunately, there was a glitch in the form, and it didn't record the e-mail addresses of the first 8 people who asked to be notified. If you would like to know when the site goes live, and/or if think you were one of the first 8 people and may need to sign up again, the website is www.biblejournalingjumpstart.com. One of the features of the new site will be a gallery section to showcase the Bible Journaling that YOU are doing! If you would be interested in having your work included (now or in the future), please leave a comment to let me know, and I'll be in touch. And if you have friends who enjoy Bible Journaling, please share this information with them.
Before closing this week, I want to say Happy Birthday to Color & Creativity Enthusiast Elizabeth Motyka, who will be celebrating her birthday on Thursday. Hope you have a Zenspirational day Elizabeth!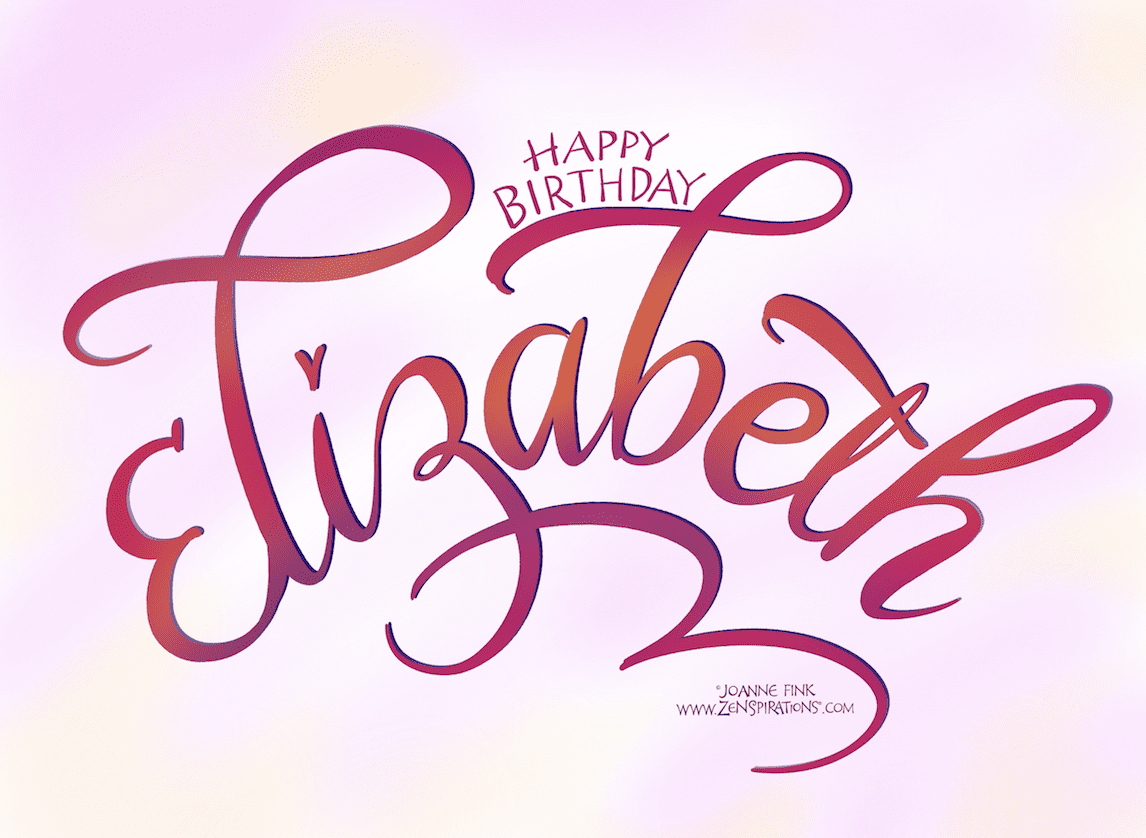 Stay Zenspired,
Joanne