Masterpiece in Progress
Tuesday, April 26, 2016
Hi Everyone,
Zenspirations® is much more than simply doing a drawing and pairing it with an inspirational text or scripture; it is an approach to spiritual growth and creative expression which is designed to enable each of us to dig into our hearts, discover our core truths and share them with the world in an uplifting way. For me, greeting the day with a pen in my hand, and journaling and/or doodling before I'm really awake helps me not only stay grounded in gratitude, but is a way of praying and connecting with God.
Often times my morning journal entries spark the design of a Zenspirations piece… especially when I am thinking about someone in particular. This week  I'd like to share two pieces that I created with members of the Zenspirations community in mind. The first is a card for Kristen Zeitler, who will be celebrating her birthday on Sunday.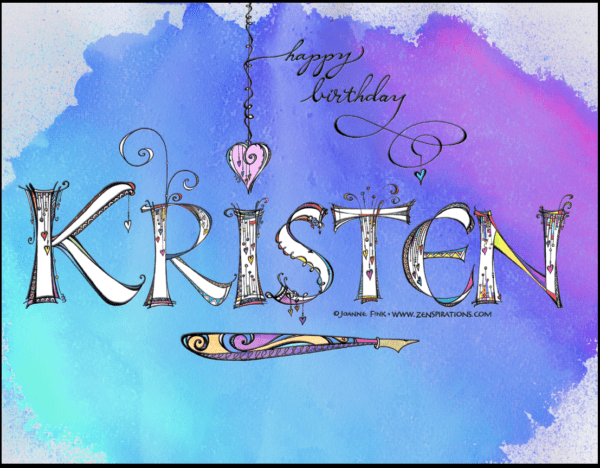 Kristen shares my love of bright colors, so I tried to do something in her favorite tones. Hope you have a 'Zenspirational' birthday Kristen!
The second piece was designed for two special people in the Zenspirations community; Mary Anne, who was experiencing severe sciatica, and asked for prayers to help her heal, and Chris, who wrote last week saying "I love your sentiments and am amazed at how often it feels as if you were talking to me personally!", and went on to share some of the challenges she's been facing the past few years. I'm keeping you both in my prayers… Chris I'm glad that you often feel a connection to what I write, and hope you'll especially enjoy this one, because it IS for you!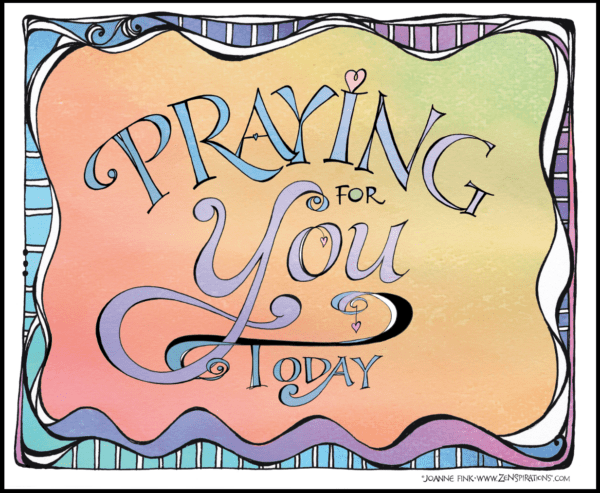 If you know someone in need of prayers and encouragement, you are welcome to share this design with them.
And now I'd like to share the results of the voting on how to best celebrate the 2nd Zenspirations® 'Blog-iversary'. Here are the six options that were voted on:
Do a 'raffle' give-away of some of my my new coloring (and other!) products, and include some of my favorite tools from Sakura of America.
Host a 'live-stream' get together on Facebook, where I could fill you in on some of the things I've been working on, and you can all ask me (and each other) questions.
Post new Create, Color, Pattern, Play™ designs for you to download and enjoy.
Post an inspirational print that you could download, print and display.
Post a set of 'watercolor-colorables' for you to download, print on watercolor paper and paint.   
Post something from my new Bible Journaling Jumpstart collection that you can download and either color or trace into your bible. 
Number 6, posting something from my new Bible Journaling Jumpstart collection got the most votes, so I created a special 8.5 x 11 sheet and filled it with scrolls and scriptures designed to fit into the two inch margins found in most journaling bibles.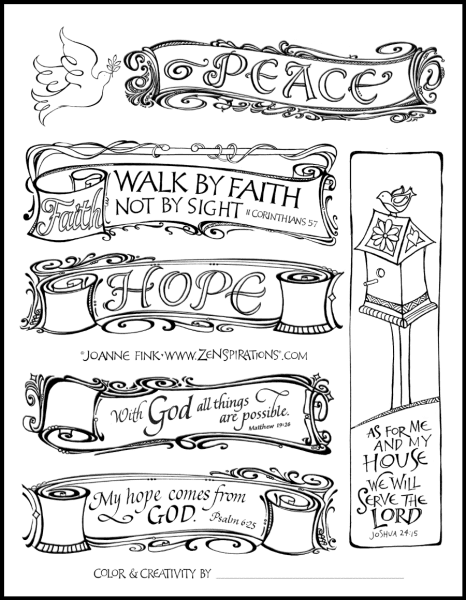 Click here to download a pdf of this page: Zenspirations®_Bible_Journaling_Jumpstart_scrolls_300 copy. You can print the page out, and either trace the parts you like into your bible, or color the sheet and cut out the individual designs and then paste into your bible. You can also turn them into bookmarks.
The next most votes was for a livestream conversation, which I am REALLY excited about. I will look into how to do it, and would appreciate your sharing your thoughts as to the best method for us all to connect.
The next highest votes was for a give-away… but I realized that in a give-away only one person would 'win', and I wanted to celebrate this milestone with the entire group. And so, as one of my gifts to you, I am going to share an inspirational 8 x 10 Zenspirations piece which you can download here: Zenspirations_by_Joanne_Fink_Masterpiece.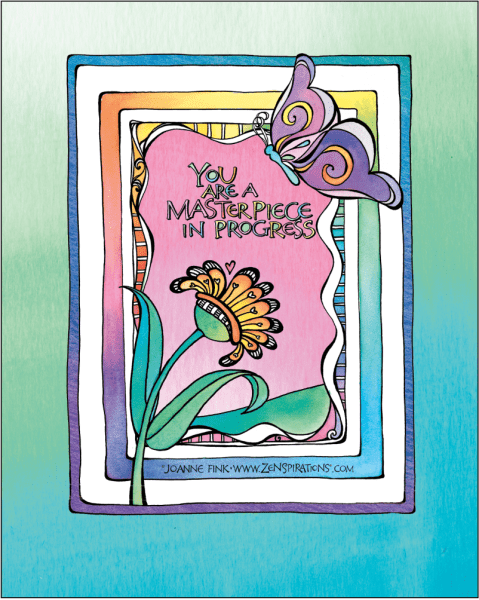 I wrote this piece a few years ago with my daughter in mind, and was thrilled when she painted it for me.
For those who would prefer a page to color– or watercolor– here is another 'Blog-iversary' gift: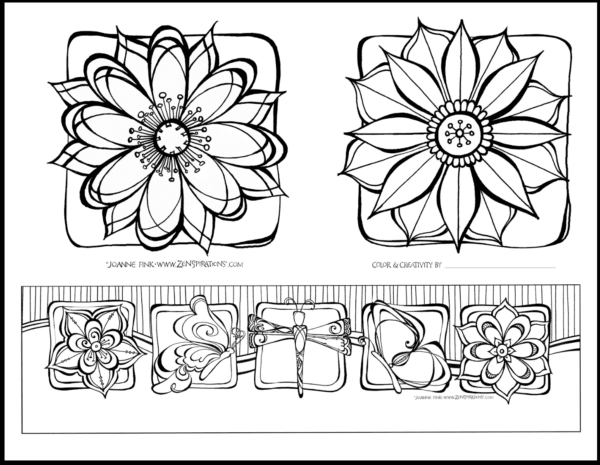 You can get this 8.5 x 11 page here: Zenspirations_Free_Download_Flower_Coloring
I hope you all enjoy the gifts… and I hope you'll post what you do with them in the Zenspirations Create, Color, Pattern, Play FB Group. I am continually inspired by the variety of creative interpretations, and am especially excited to see some Bible Journaling pages, as I've just started working on a new book, Bible Journaling Jumpstart. I'll be looking for inspiration samples for the book in a couple of months, and will be posting more free downloads, so if you like bible journaling, stay tuned!
Before closing this week I wanted to share a gift that I am enjoying tremendously. Last weekend I filmed some new videos, and was thrilled that my uber-talented friend Jennifer Priest, who is a master crafter and social media guru, was in town for the filming. I thought it would be great to film a video together, and Jennifer suggested that we focus on the Dangle designs, and offered to make a beaded, 3-dimensional version of one of my Dangles. Here is a photo of us right before we filmed: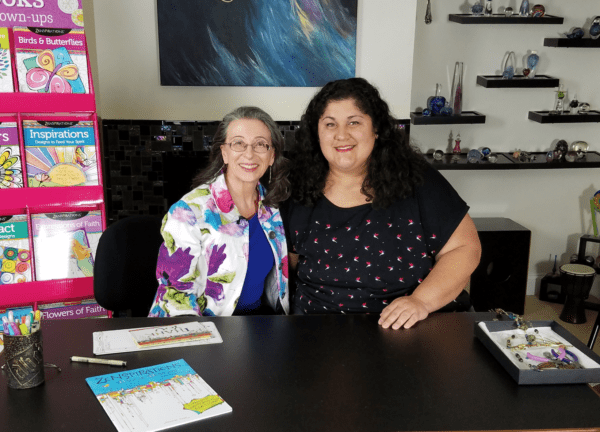 And here is the beautiful beaded Dangle sculpture Jennifer made, which is now hanging on the wall in my living room: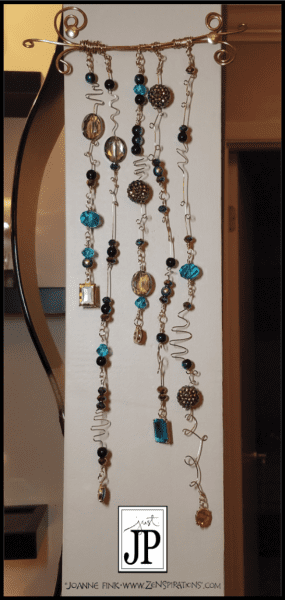 I cherish this gift not just because it is beautiful and brings my Dangles to life, but because it was made by someone I love. It will be a while before the filmmaker finishes editing, but I'll let you know when it's been posted.
Stay Zenspired,
Joanne