My Prayer Journal is Here!
Tuesday, March 6, 2018
Hi Everyone,
There's nothing more exciting than getting samples of something you've put your heart and soul into… so, needless-to-say, I'm REALLY excited to share that My Prayer Journal is here ahead of schedule! I am truly delighted with both the price and the quality– only $7.99 for a 128 page hardback journal, printed on beautiful, archival paper!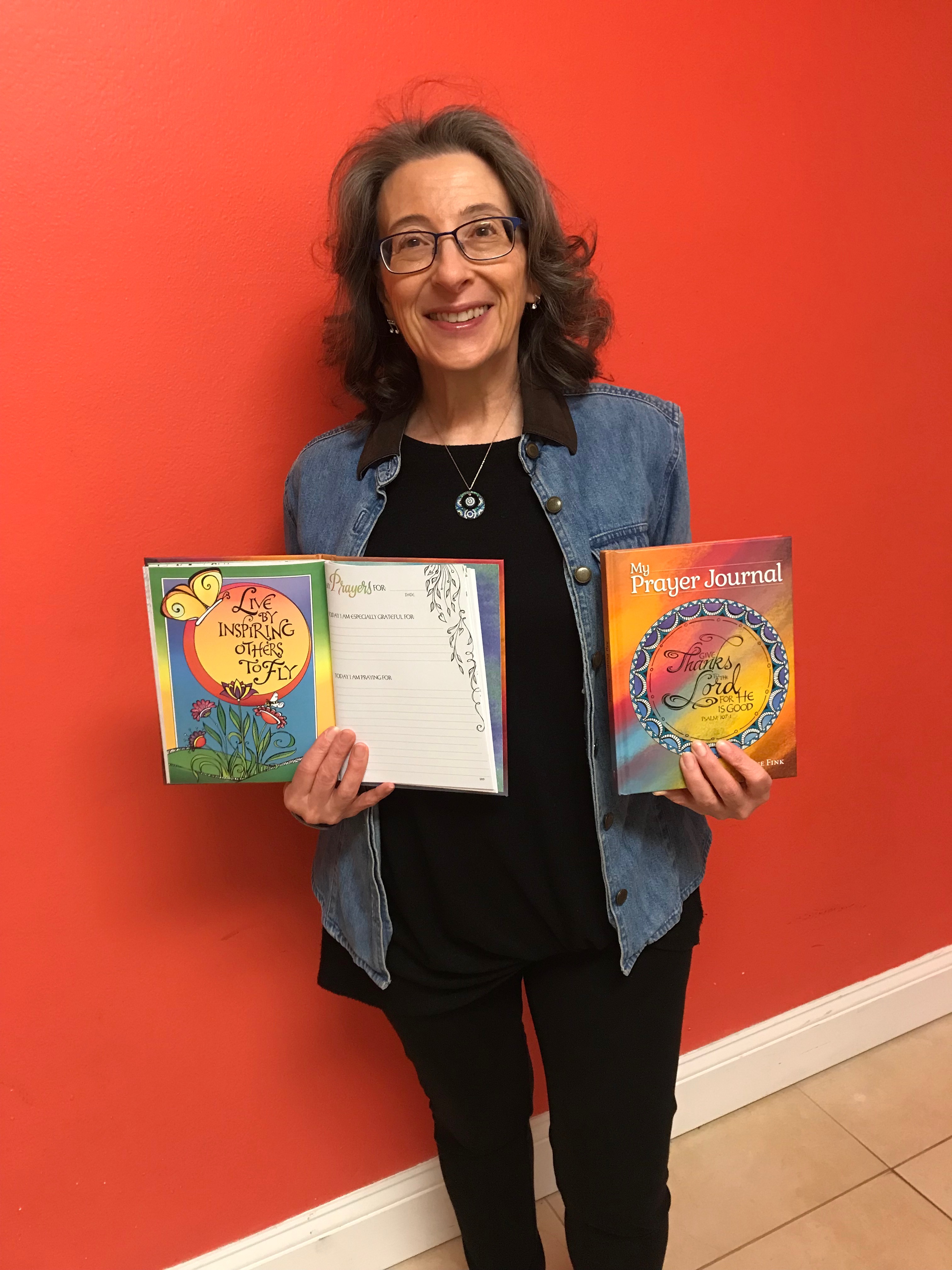 The journals are available in the Zenspirations® Webstore now, and you can pre-order them on Amazon for a March 19th ship date. I am an Amazon Affiliate, which means that I get a small percentage of anything you spend on Amazon if you use Zenspirations as a portal, and it doesn't cost you anything extra. If you have Amazon Prime with free shipping, and want to order anything, (including a copy of My Prayer Journal) on Amazon, I'd appreciate your using this link:
SUPPORT ZENSPIRATIONS WHEN YOU ORDER ON AMAZON
You can also support Zenspirations by ordering through my webstore. I can't offer free shipping, but I'm going to sign the first 50 copies of My Prayer Journal which are ordered (yes, you can order more than one) PLUS I'll send a bonus gift with each order: a copy of With God All Things Are Possible, which is a $10.95 value! I wrote it for my children, and it makes a wonderful Easter or graduation gift.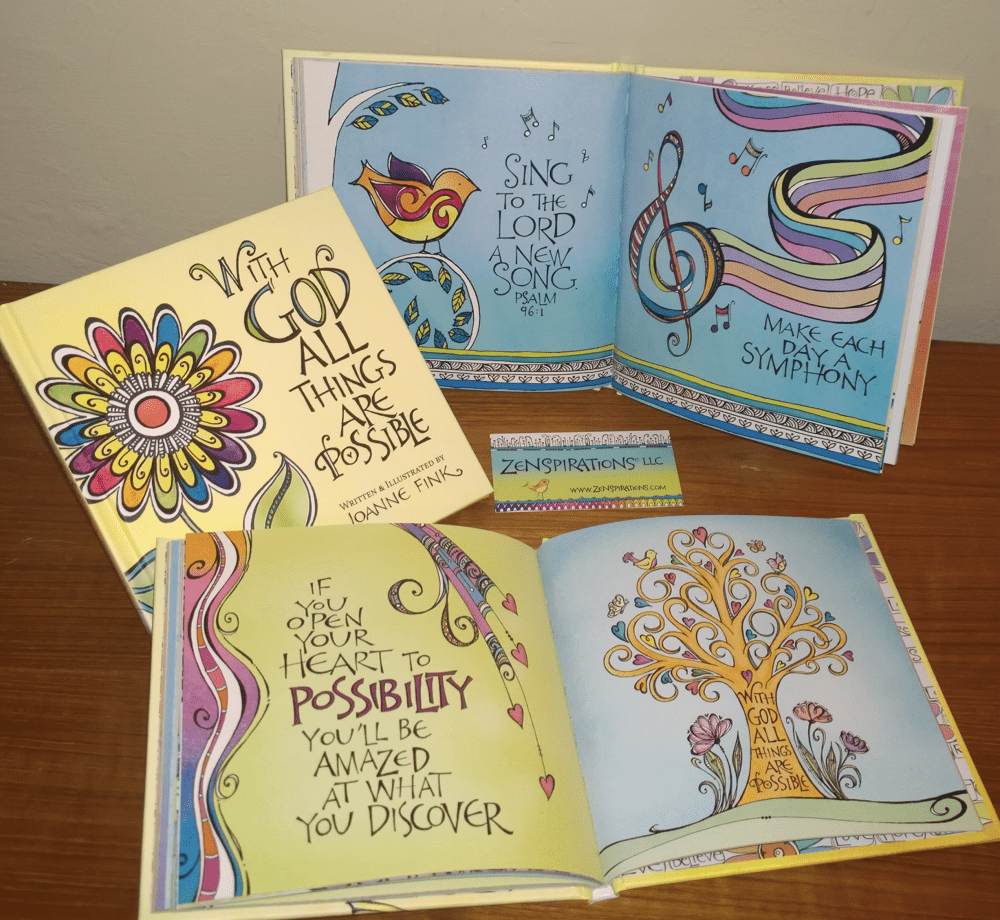 Here's a sneak peek at what's inside My Prayer Journal. The endpapers are watercolor washes, and the first page is an illuminated bookplate: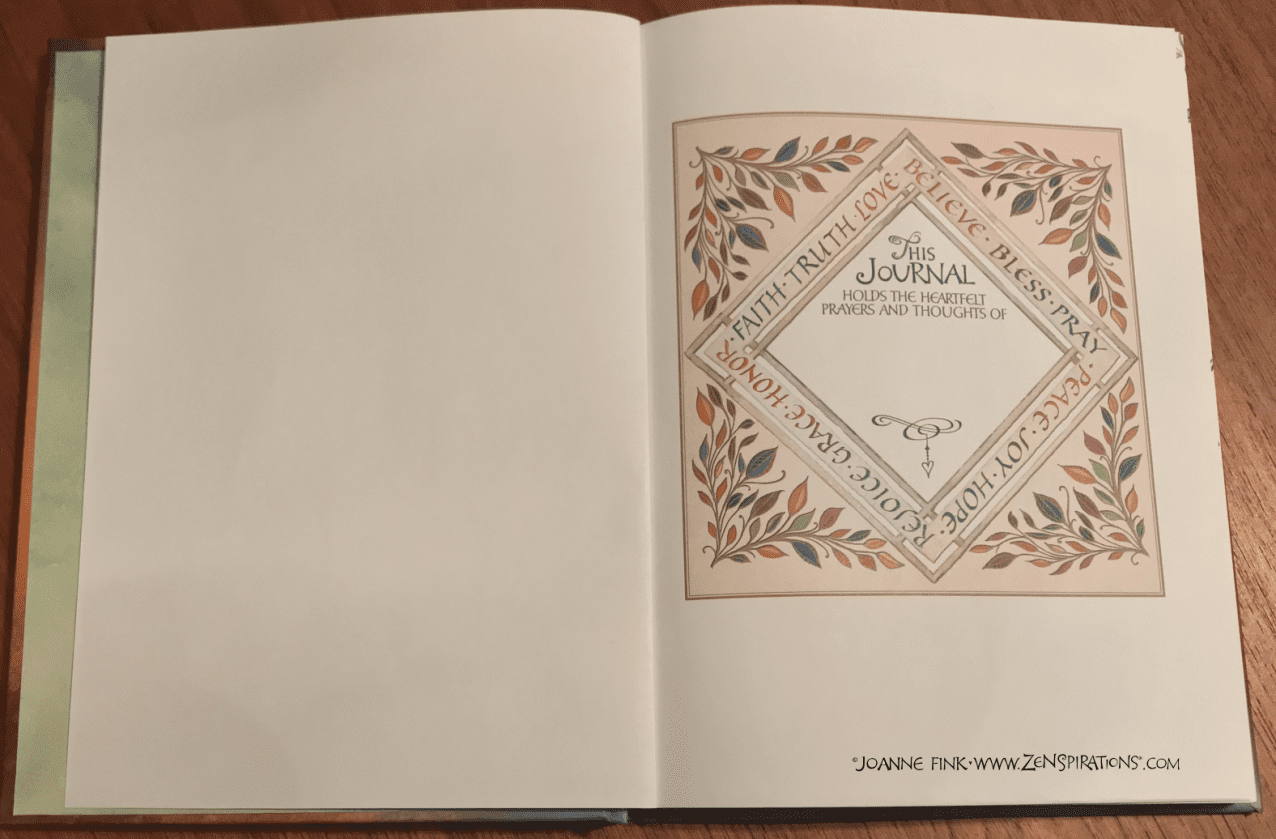 Next are six pages for you to record the names of the people you are praying for, followed by a mindful coloring page.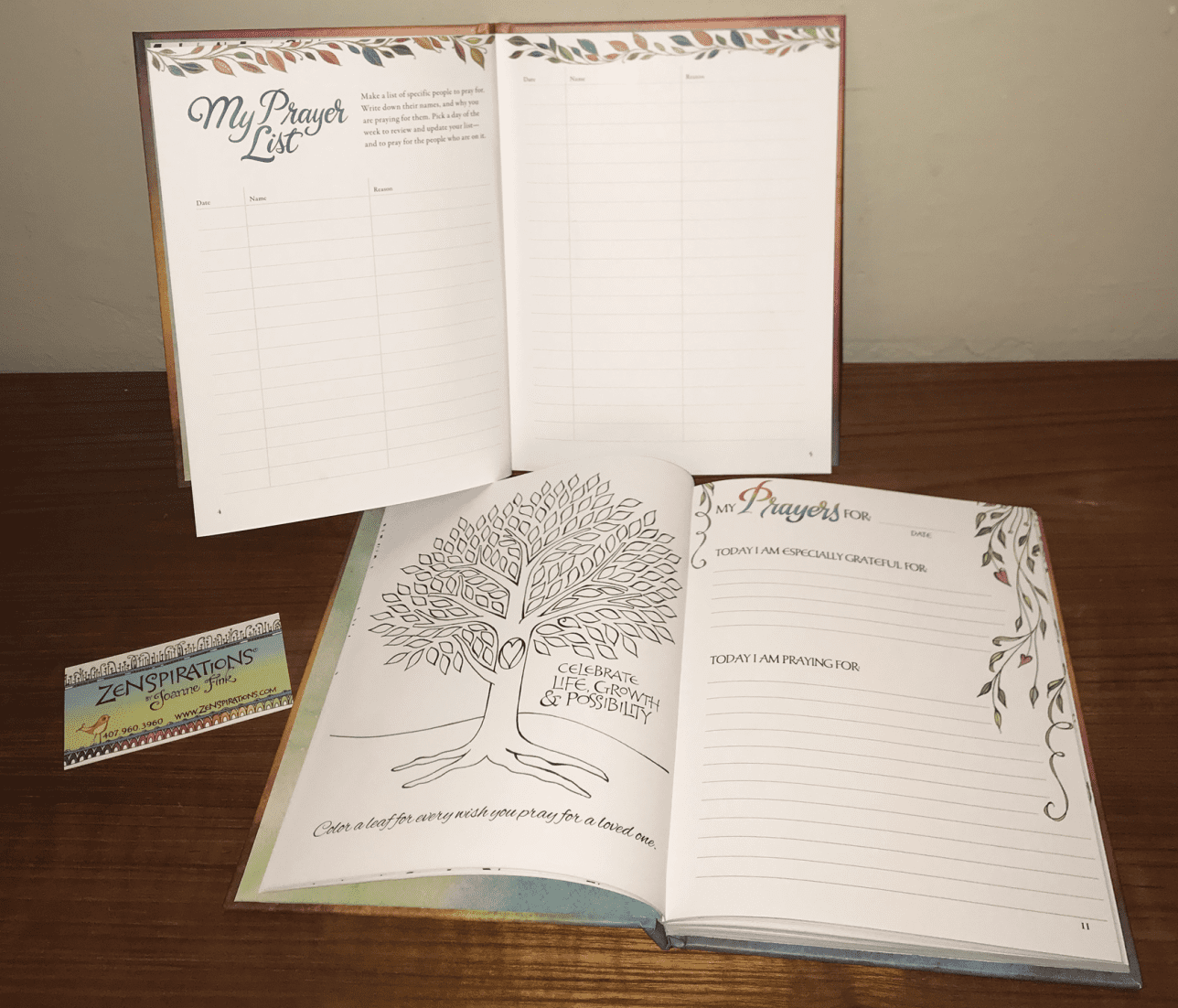 The right hand pages feature prayer and gratitude prompts, and the left hand pages alternate between full color illustrations of some of my favorite scriptures: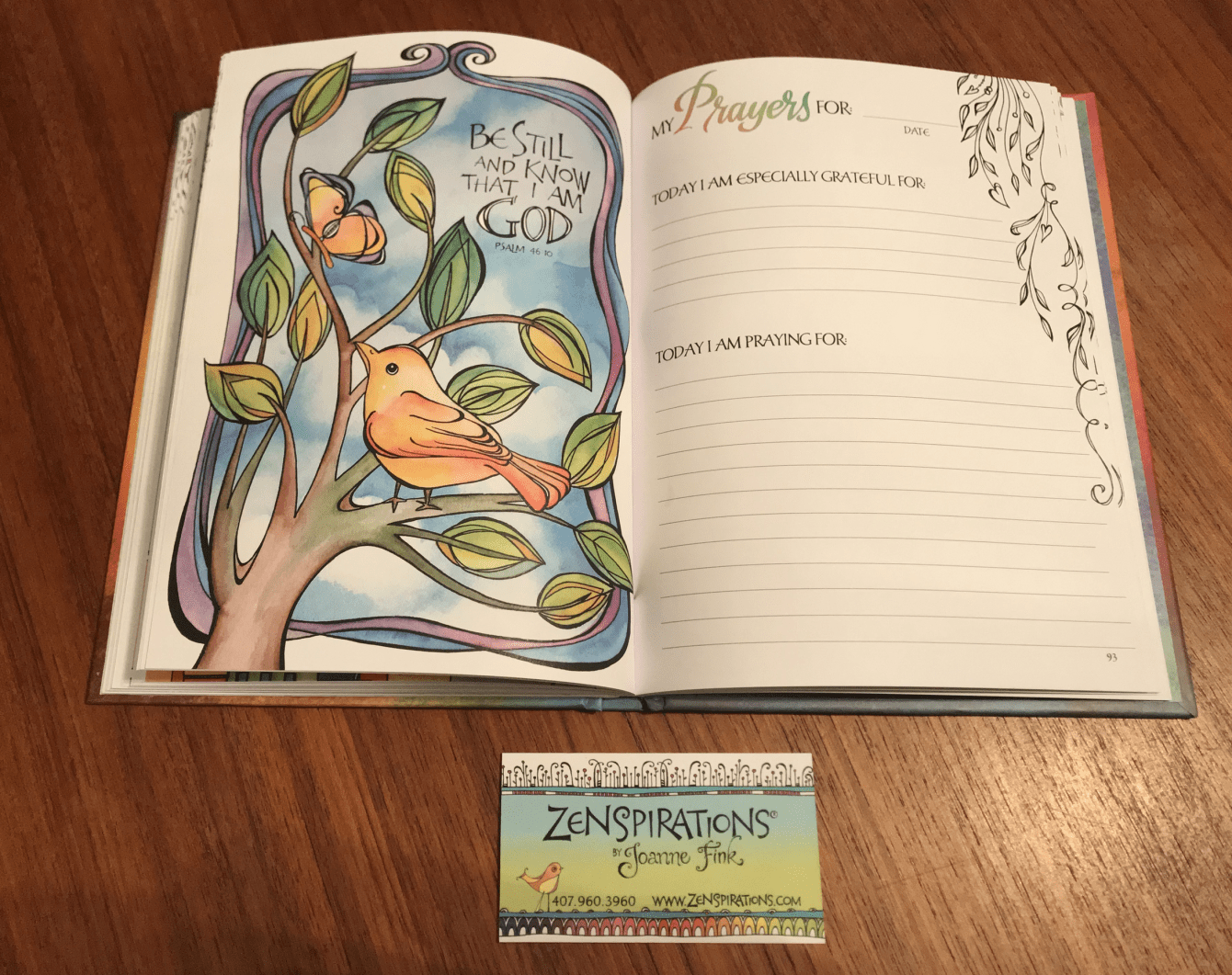 Coloring 'bookmarks/Bible margins' with some of my personal prayers and blessings: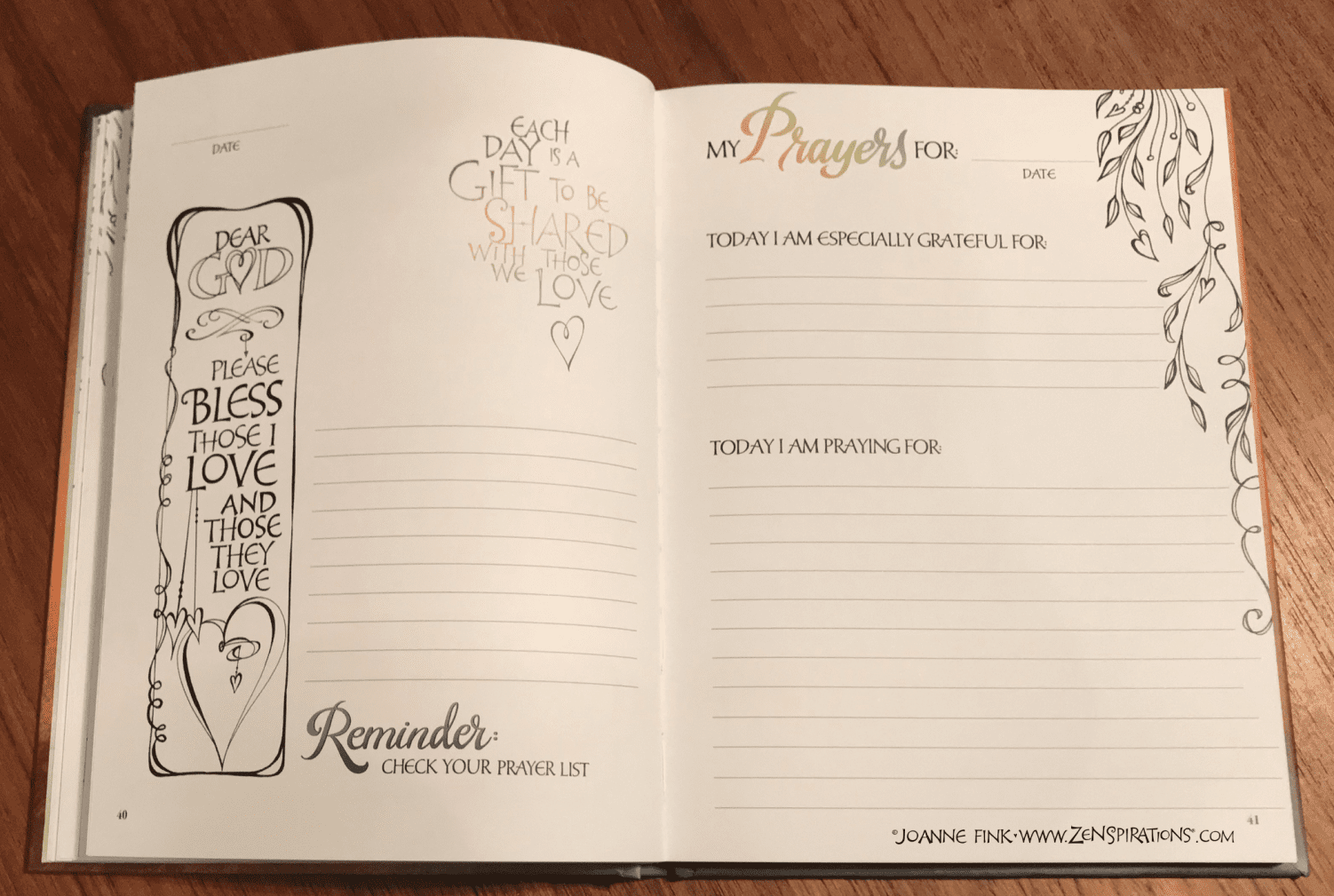 and guided prayer pages where you doodle, color, journal and share what's in your heart: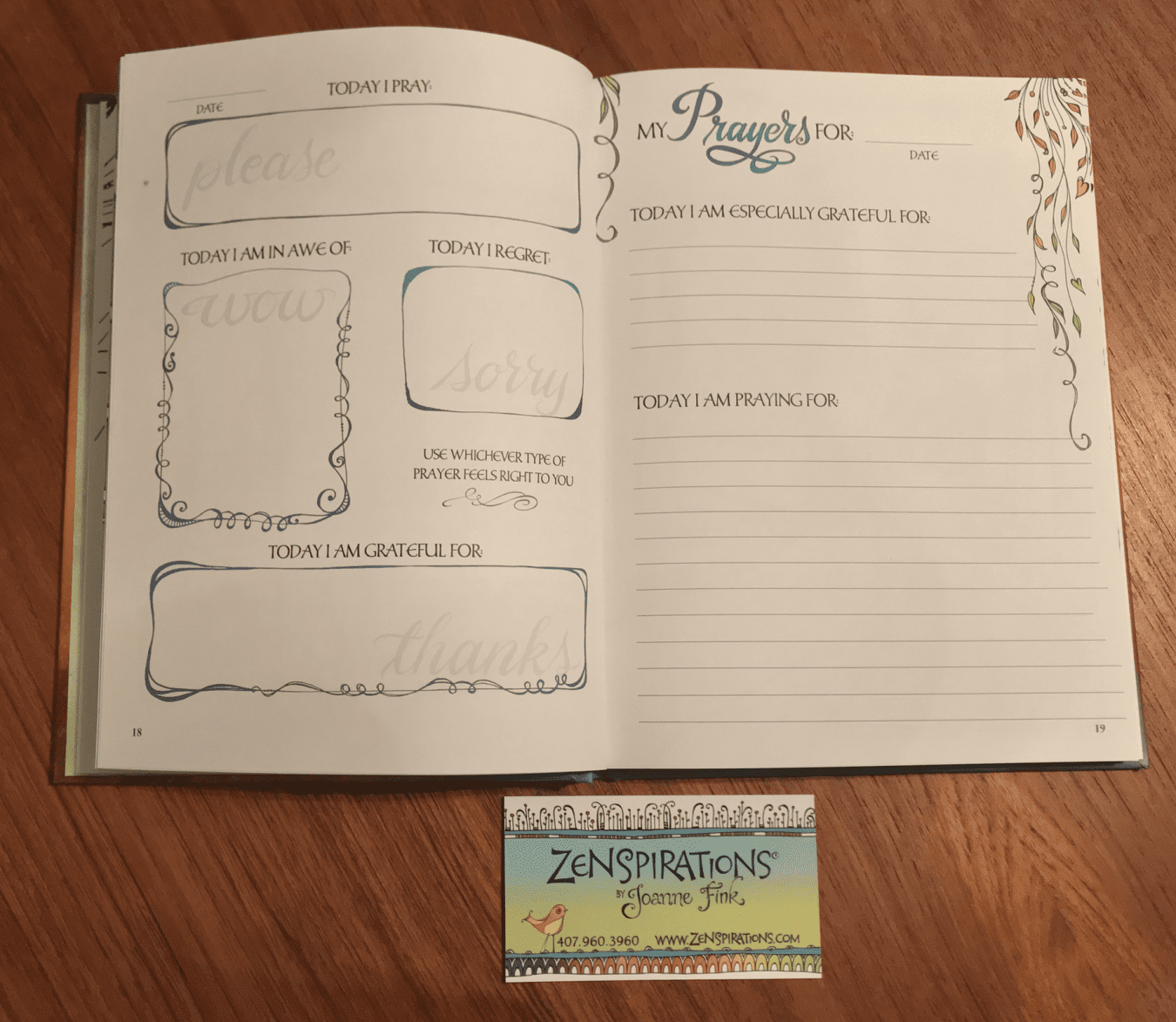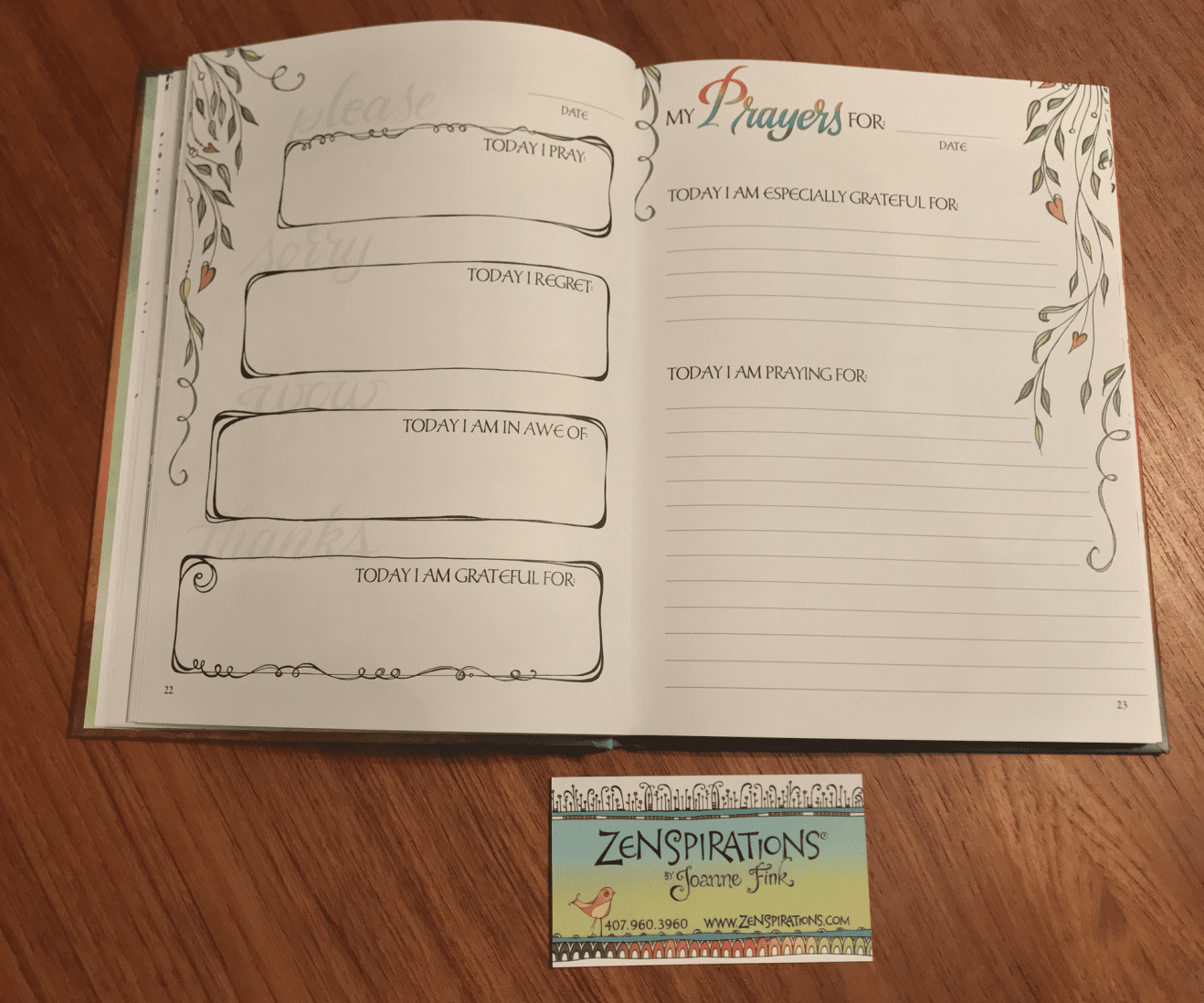 At the back of the book are additional coloring pages, like the Believe Dove: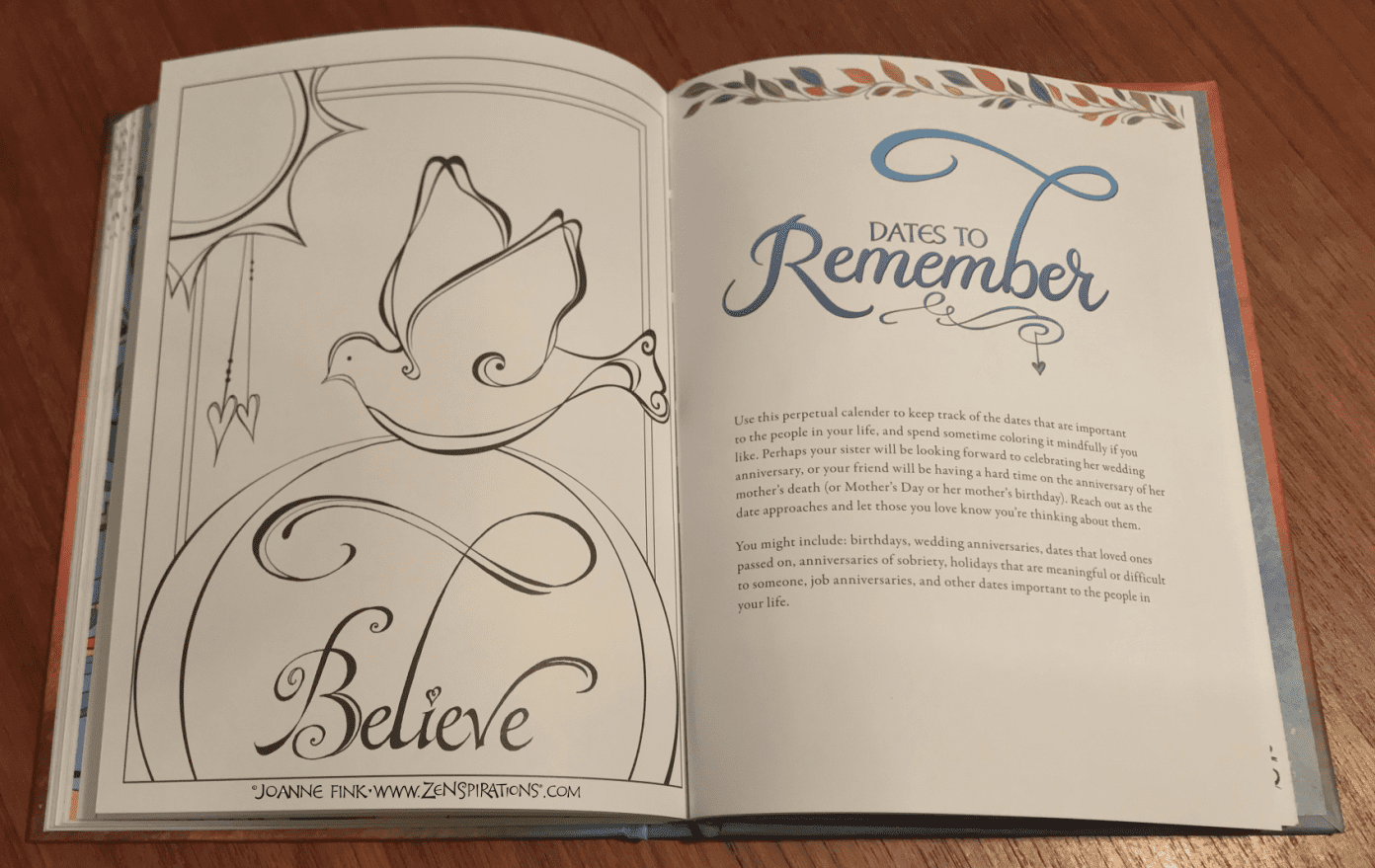 If you liked the free downloadable calendar pages I shared last year, you'll love the last section of the book– which has all twelve perpetual calendar pages in one place!  You can use this Prayer Calendar to record dates that are significant to you or someone you love– and color them, too!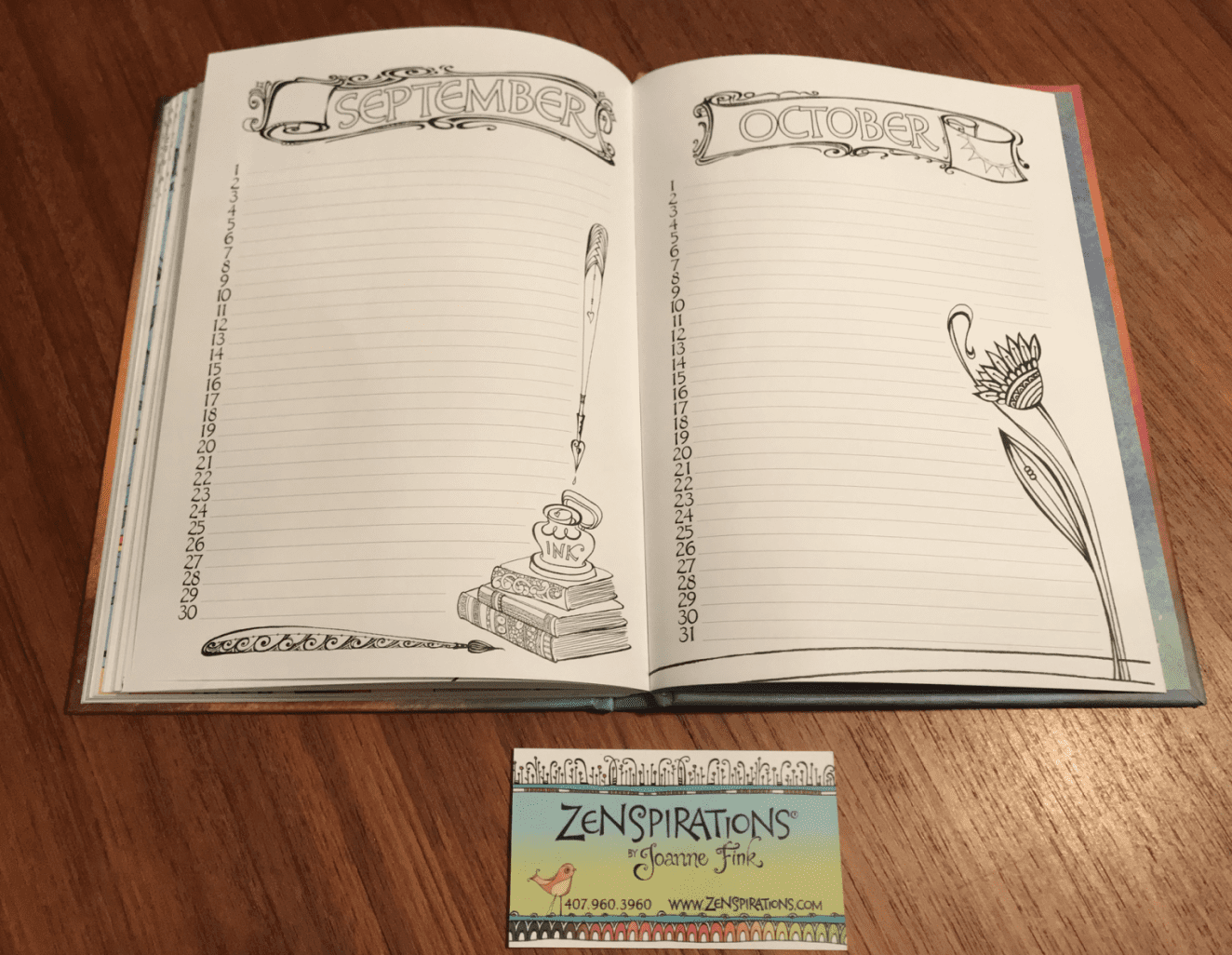 I am hoping that My Prayer Journal will help each of us grow in our faith journey, and I can't wait to hear what you think of the new book!
Before closing tonight, I wanted to share the letter I wrote to my Congressional Representatives. You are welcome to copy it as is, or to use it as a springboard for the letters you are writing to your Representatives.
Here's my letter:
---
Date
The Honorable ________
Office Address
United States House of Representatives/United State Senate
City, State, Zip
As a concerned citizen I am writing to ask you to take action to protect our communities and our children by implementing legislation which will save lives. While I support the right of law-abiding Americans to keep and bear arms per the Second Amendment of the United States Constitution, that right comes with a responsibility. Thus, I would like you and your colleagues to work together to:
Ban AR-15 style weapons; in 2016, the Washington Post found that seven of the 10 deadliest shootings over the last decade involved the use of assault weapons. These guns, which have no other purpose than to fire as many high caliber (and thus more lethal) bullets as possible, as rapidly as possible, should be restricted for use only by our military and law enforcement. No civilian should be able to access these weapons of war and mass destruction.
Outlaw bump stocks and high-capacity magazines; many of the recent mass shootings, including Parkland, FL, have involved bump stocks or similar high-capacity magazines. Limiting the number of bullets a gun can discharge forces shooters to stop to reload, which gives those at risk an opportunity to escape.
Institute universal background checks; per a study conducted at Quinnipac University in February of 2018, 97% of Americans support closing the current loopholes in our background check system. According to research conducted at Johns Hopkins Bloomberg School of Public Health in 2015, when Connecticut passed a law requiring background checks on all handgun sales, they saw a 40% reduction in gun homicides. A background check should be required on every gun sale, no exceptions.
Raise the minimum age to purchase a gun; under current federal law, we don't allow those under 21 to purchase alcohol, or a handgun, because they're not mature enough to comprehend the consequences and yet they can buy weapons of mass destruction, such as an AR-15. In response to the tragedy in Parkland, FL, our nation's leading retailer, Walmart, and fellow leading gun-retailer, Dick's, have raised the age requirement to purchase any firearm—regardless of the local gun laws. It's time our government does the same.
Require registration, licensing, and insurance for guns; in order to drive a motor vehicle, a person must get a permit to train, for approximately a year, with an adult over 21 who has a valid license. After their training period, they can then take a test, and are granted a license to drive if they pass. Drivers must purchase insurance—which doubles as a private sector background check—and register their name to the motor vehicle they will be driving. This helps police track stolen vehicles, and holds people accountable for their actions behind the wheel. If a person is responsible for too many violations (say, speeding), their insurance may get revoked and they can no longer drive a car. It's time we create a similar system for those looking to purchase a gun.
This is not a partisan issue. Sensible controls do not endanger the sanctity of the Second Amendment nor conflict with any other Constitutional rights. Americans should NOT have to continue to live in fear because our Representatives are unwilling to do what is necessary to protect the safety and welfare of our citizens. Enough is enough. You have the power to implement change; and I am urging you to take action. 
Thank you, in advance, for making a difference. 
Sincerely,
Your Name
Your Title
Your Address
Your City, State, Zip
Your Phone Number­
---
Click here to find and write to your representatives,  or call the U.S. Capitol switchboard at (202) 224-3121, which will connect you directly with your senators' or representative's office. Or call your elected officials' offices directly at numbers found here for the Senate and here for the House. 
In addition to writing and calling our congressional leaders, we can show support by participating in March for Our Lives on March 24th.
Please share— and please encourage your friends and family to let their voices be heard, too. 'We the people' have the opportunity to make our country safer… I believe that by working together we can– and will– make a difference! 
Stay Zenspired,
Joanne