My Stencil Adventure!
Tuesday, August 30, 2016
Hi Everyone,
As regular blog readers know, I recently designed a line of Inspired Journaling Stencils for The Crafter's Workshop, which were specifically created with Bible Journalers in mind.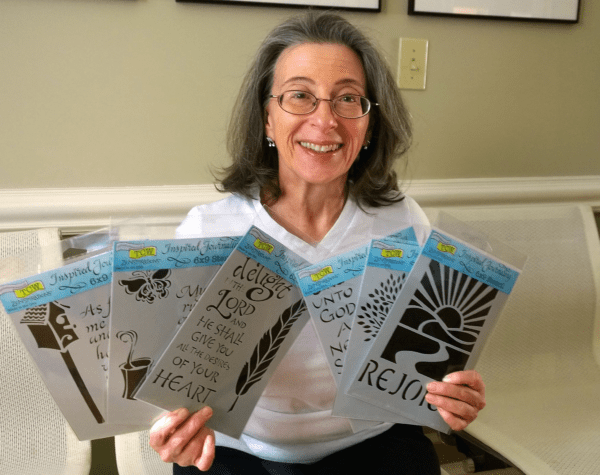 I've been designing stencils for TCW for a few years, but believe it or not, I've never stenciled. It's exciting to try something new– and delightful to discover that you enjoy it! I've spent most of the past week trying my stencils, and experimenting with a variety of media to see what I could create. I quickly realized that if I wanted to compare results I should use the same stencil, and picked the feather because it called to my calligrapher's soul.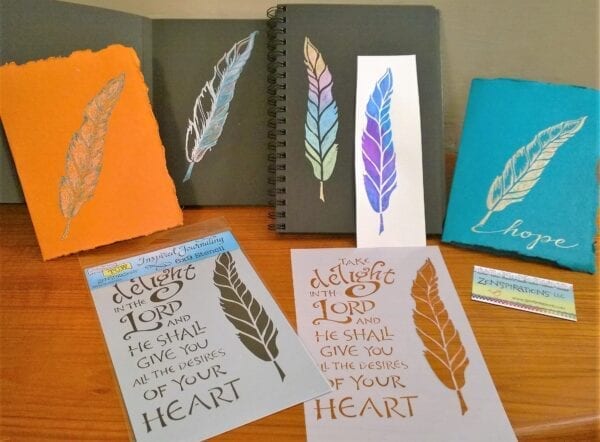 The purple feather was done with modeling paste, but the others were all done with Sakura's Gelly Roll pens. Check out the close ups below: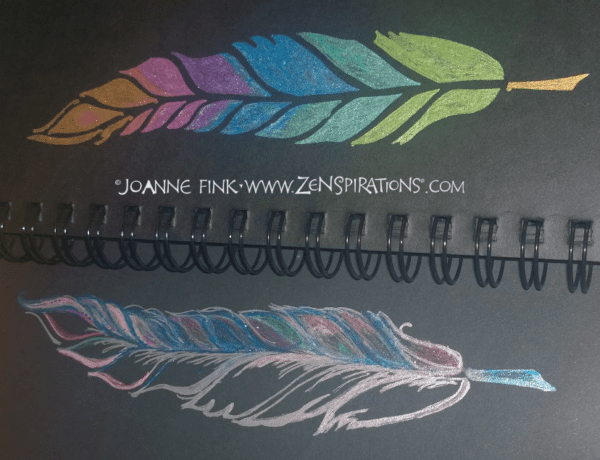 There
On the top image I used Metallic Gelly Roll pens, and on the bottom image I used several colors of the Stardust Gelly Roll pens… the big difference in technique being that after tracing the design I only filled one side in– on the other side I added 'feather' lines to make the feather more unique.
I think the stencils are like my coloring book pages– a springboard for other artists' creative efforts. I've already seen some truly inspiring stencil creations– and plan to showcase some of my favorites in next week's blog. If you'd like to share what you are doing with my stencils, please post your creation(s) by Sunday night in the stencil album in the Zenspirations® Create, Color, Pattern, Play Facebook group. 
There are fifteen designs in the line, and they sell for $6.99 each. You can get them in the Zenspirations® web shop if you aren't able to find them locally. Here are some of the designs: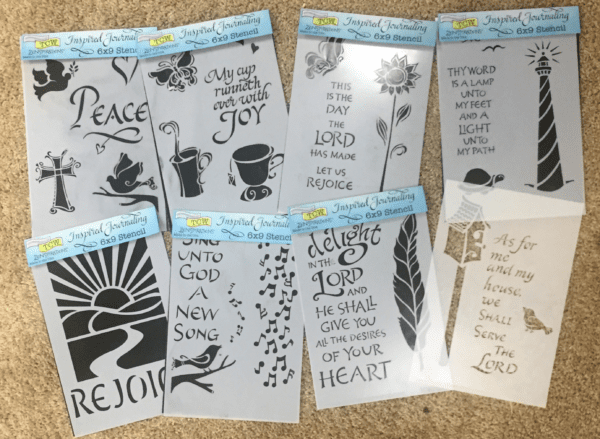 Naturally, being a teacher at heart, I wanted to share some of what I learned. The easiest way to use the stencils (for me) is to trace around the edge of the design. That's what I did in the photo below. I then hand-lettered the word hope, and added weight to make it stand out.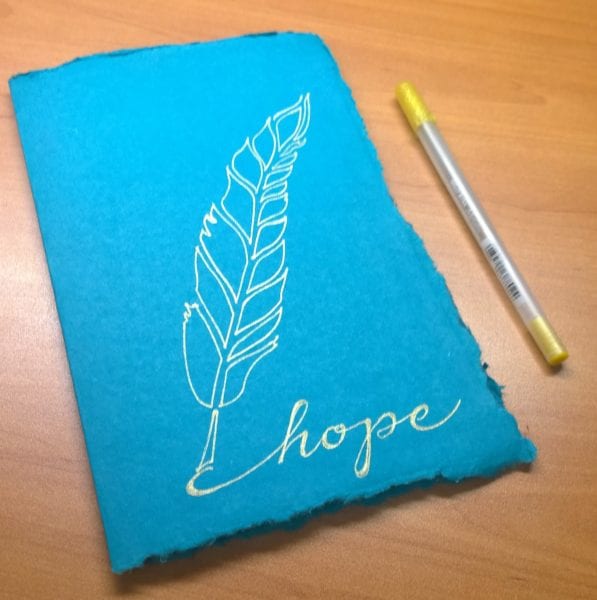 Next I started to fill the right side of the design in, using the same color Gelly Roll pen that I used to trace the outline.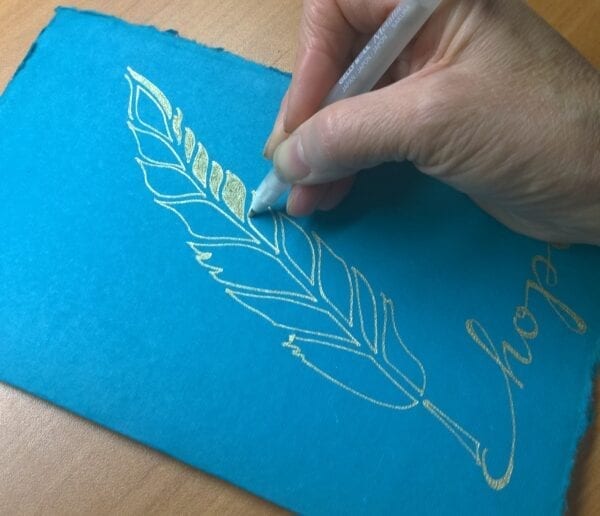 After filling the right hand side of the feather in, I decided to add some depth by adding 'feather' lines to the left half. I used a combination of the gold and added the copper color in the inside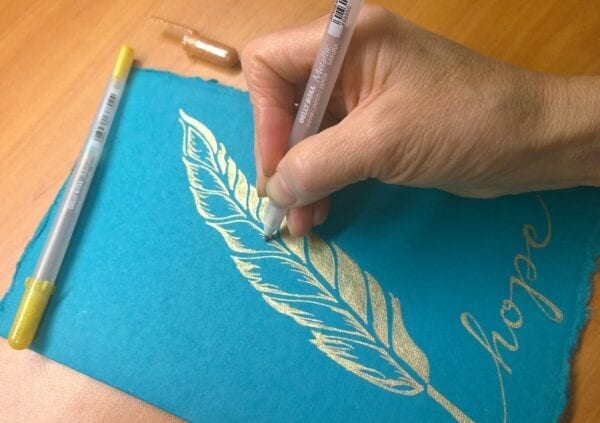 It took me less than 15 minutes to create this card… and I had a blast doing it! Let me know what you think of the finished design: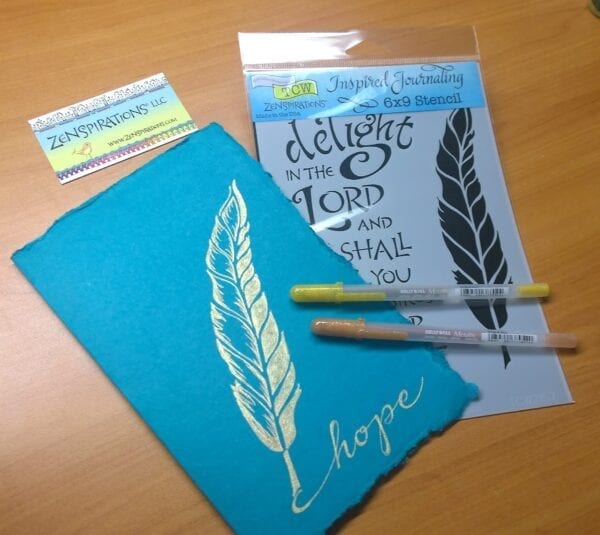 Once I had explored what I could do with the Gelly Roll pens, I got brave enough to venture further afield, and test out some other media. The design on the left was done with modeling paste, the center feather was created with Koi® Coloring Brushes, and the design on the right was created using Color Burst.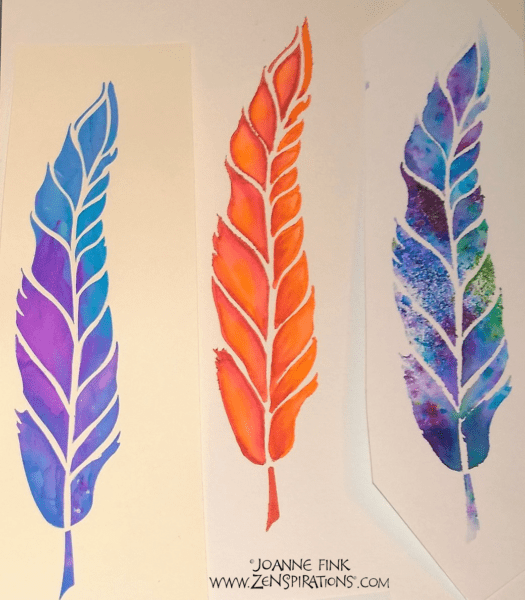 I'm a big tea drinker, so I picked the tea & coffee stencil for my second set of experiments. Check out this super-short (25 seconds!) time-lapse video for a  'sneak peek' at a few of the modeling paste designs I'm working on for next week.
Before closing tonight, I wanted to give you another 'sneak peek'– this time at the gorgeous bible pages that my friend Regina Yoder, co-author of my next book, Complete Guide to Bible Journaling: How to Creatively Express Your Faith, did as a possible cover design. I'll fill you in on what she used to create these pages next week.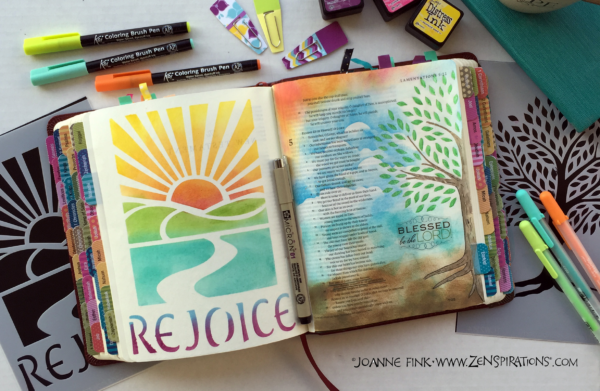 Gina and I are excited about all the wonderful gallery submissions we've been getting, and since we aren't able to get together and review everything until September 6th, we decided to extend the deadline until September 5th. If you aren't comfortable posting a design with your contact info, you may e-mail it to [email protected]. Please put Bible Journaling Gallery Submission in the subject line. If you missed the post on how to submit your work, here is a link to the post with the information.
May you find joy in experimenting with something new this week!
Stay Zenspired,
Joanne