New Adventures
Tuesday, May 31, 2016
Hi Everyone,
A little knowledge is an empowering thing! Last week my teenage son patiently taught me how to create a video, so I could share Leitha's beautiful Reflect on Your Journey Journal with you. A lightbulb immediately went off in my head, and I thought "Wow! I could film myself lettering!" I've never tried to master the art of the 'selfie', but I must admit that I have had a lot of fun this week taking videos of myself lettering inspiring words, and sharing them on Instagram. Here are the words I've posted thus far: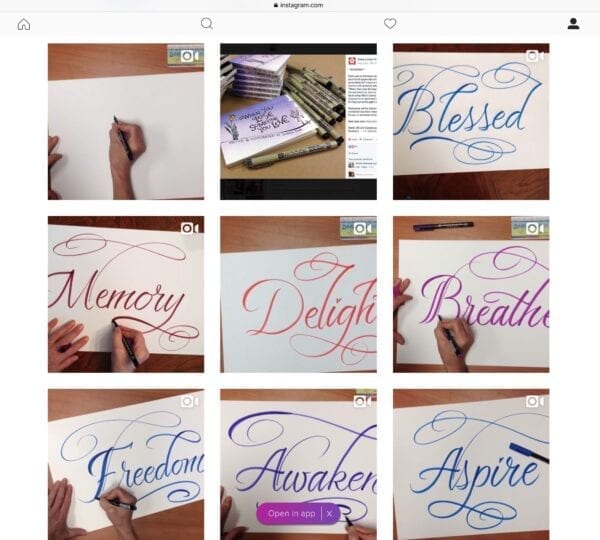 I've lettered all the words with Sakura's awesome Koi Coloring Brush pen on an 11 x 17 sheet of paper. I've been posting a new video to Instagram every day, so if you'd like to follow me on Instagram, my name is Zenspirations. For those who aren't on Instagram, I've uploaded a few of the videos to my YouTube Channel.
Here is the AWAKEN video:
You can watch me letter the word Blessed here:
There are several other 'demo' videos on YouTube (including those that are more than a minute, and therefore aren't on Instagram), along with the more in-depth tutorials I've been doing for Sakura of America for the past several years. I'm calling the new video series Flourished Brush Lettering, and ultimately hope to letter at least one word which begins with every letter of the alphabet. I'm open to suggestions for uplifting, inspiring words, so please leave a comment if there is a word you'd like to see lettered in this style.
I letter in different styles with different types of tools; here is a photo that was taken at The National Stationery Show last month, of me with some of my new greeting cards. The photo is kind of small, but I hope you can see the range of lettering styles I used.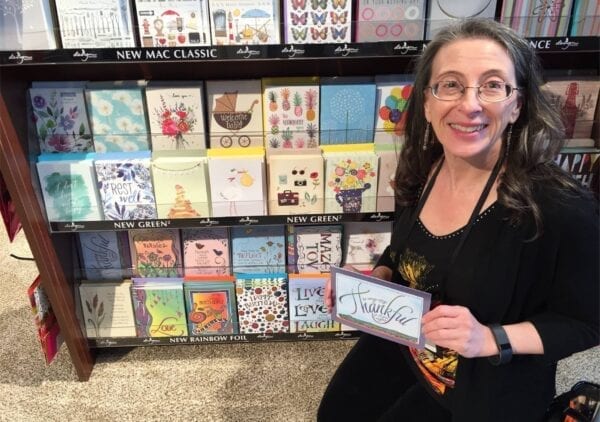 Lettering is a great way to express what is in your heart in a creative way, and I try to have the lettering I do enhance the meaning of the words I write.
I've had so many people tell me that they would love to learn to letter, that I'm going to start offering some lettering tips and techniques to go along with all the lettering videos on YouTube. Please leave a comment if you are interested in participating, and I'll send you information on what tools you'll need and which videos to watch, along with some practice exercises. We'll be starting with a basic italic, which was the first style I learned 30+ years ago. Hope you'll join me in this new adventure!
Stay Zenspired,
Joanne