New Zenspirations® Perpetual Coloring Calendar!
Tuesday, September 25, 2018
Hi Everyone,
Once again, I've spent most of the past week working on my new Etsy Shop. I made some tweaks, like adding color behind the Dangle Alphabet to make the letters pop: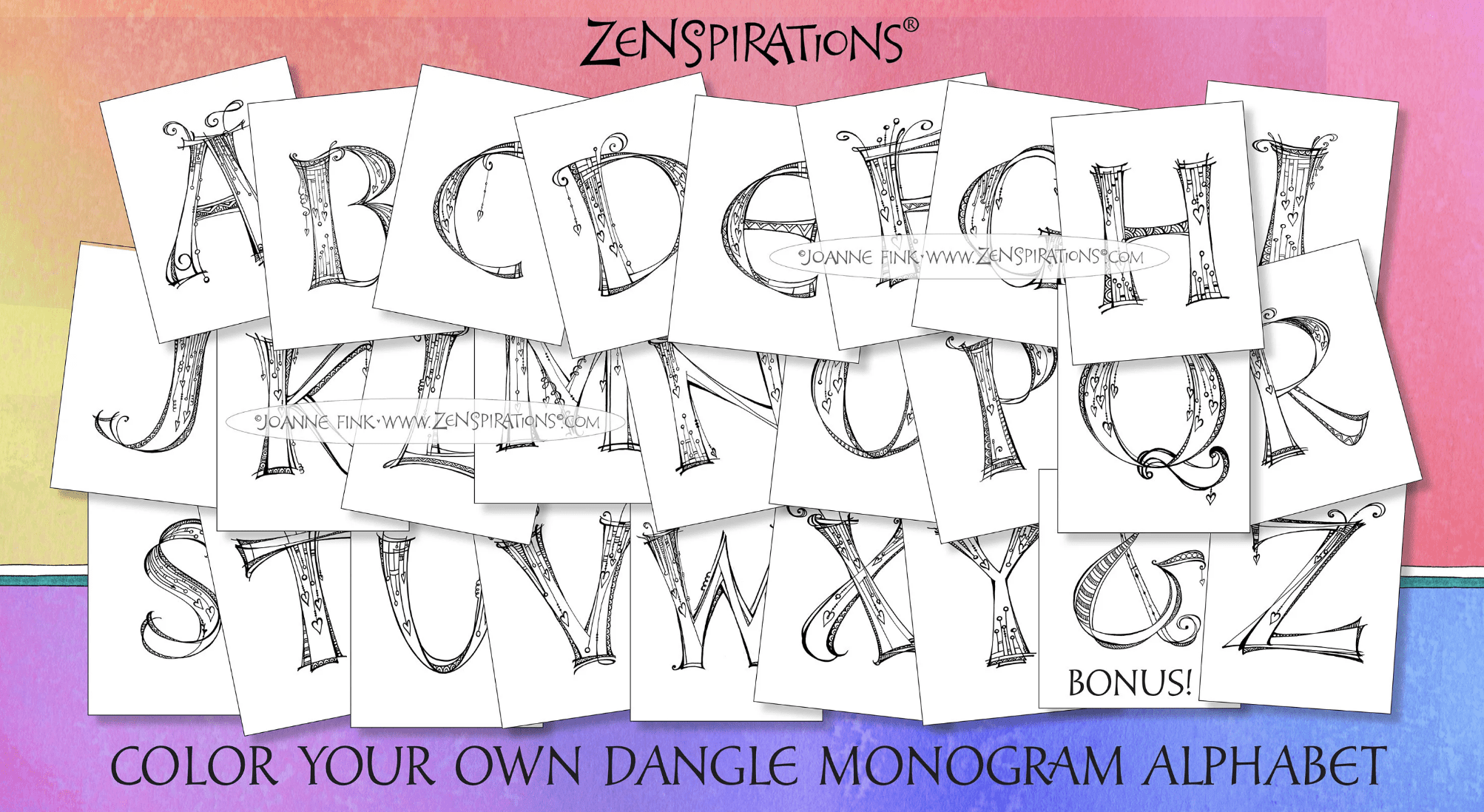 As I mentioned last week, I have set up an album in the Zenspirations Create Color Pattern Play Facebook Group, and invite you to post your finished monograms in the folder. They can be ones you've drawn yourself, or ones you've downloaded and colored. They can be individual letters, or words. Be sure to check out Jill Suzanne Hatcher's absolutely stunning Dangle Monogram designs! I look forward to seeing your creative and colorful versions.
I am grateful for your support as I embark on this new venture. It would mean a LOT to me if you would check out my Etsy Shop, and help spread the word about it. Please share the link with your friends and family who enjoy coloring. 
I am delighted to announce that Rhonda Miller is the winner of the $20 Etsy Shopping Spree. And there are two new items in the shop: the first is the Zenspirations Flower Collection, which sells for $3.99. Since there were some people who preferred the boxes, and others who didn't, I decided to include both versions in the finished collection. There are six large individual flowers, which print out at 6″, plus a page with all six flowers and a bonus page with all six flowers on boxes. Everything is available as an INSTANT Digital Download that you can print at home, color and display! No waiting!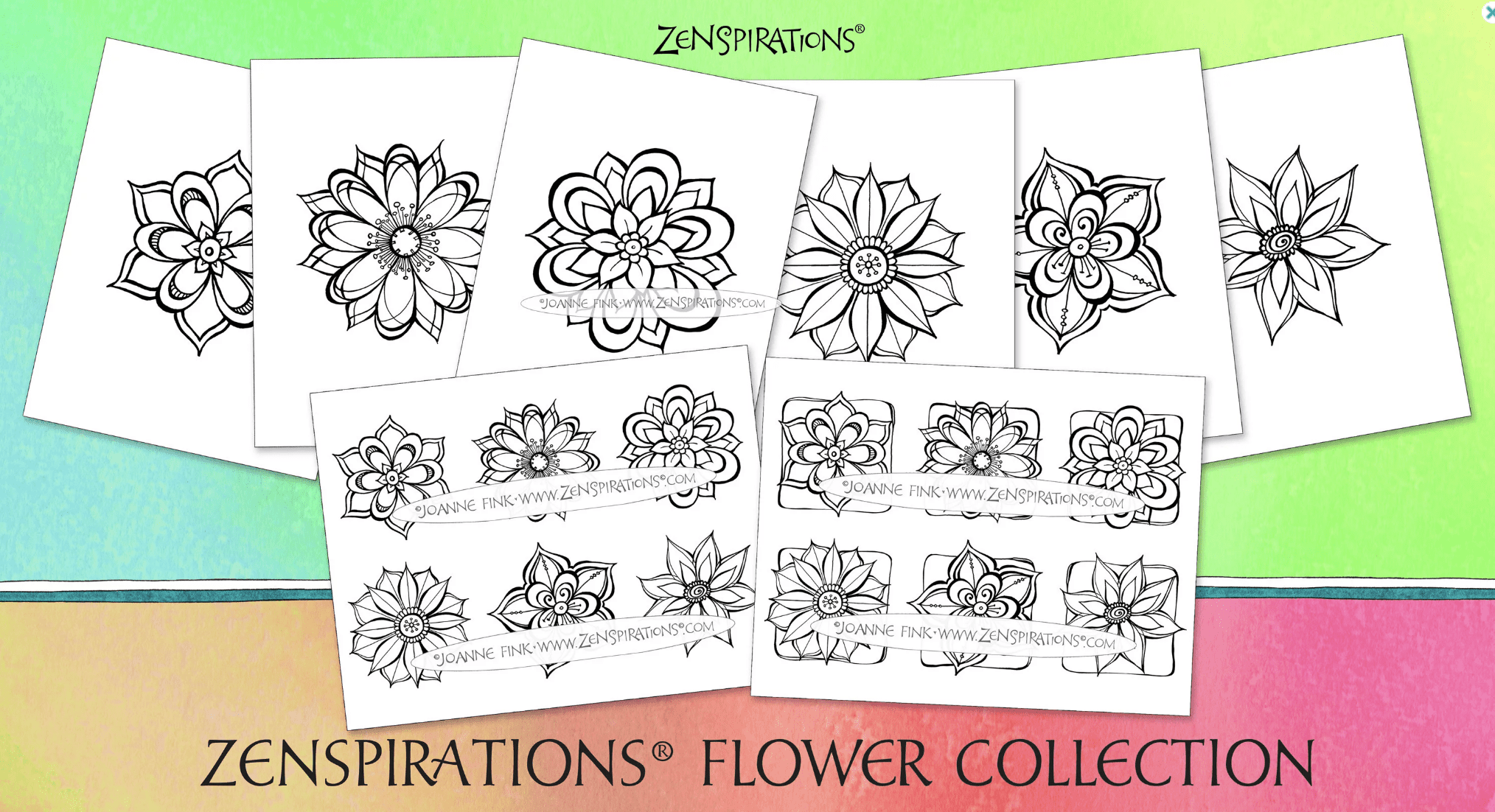 The other new product is an instant digital downloadable Zenspirations® Perpetual Coloring Calendar, which sells for $4.99.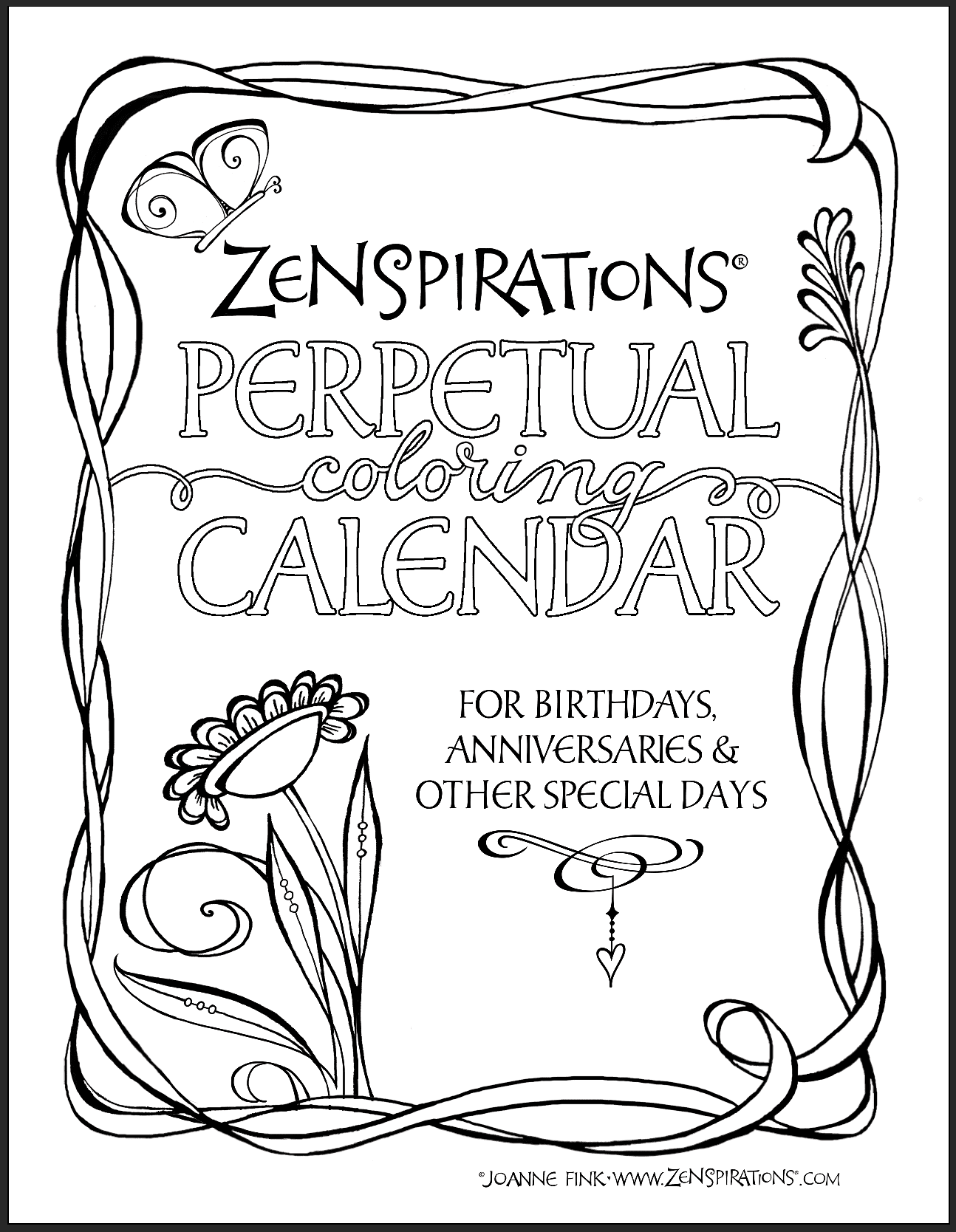 In addition to the 12 months of the year, the calendar includes a cover, a page for notes, and a page to record what you are grateful for.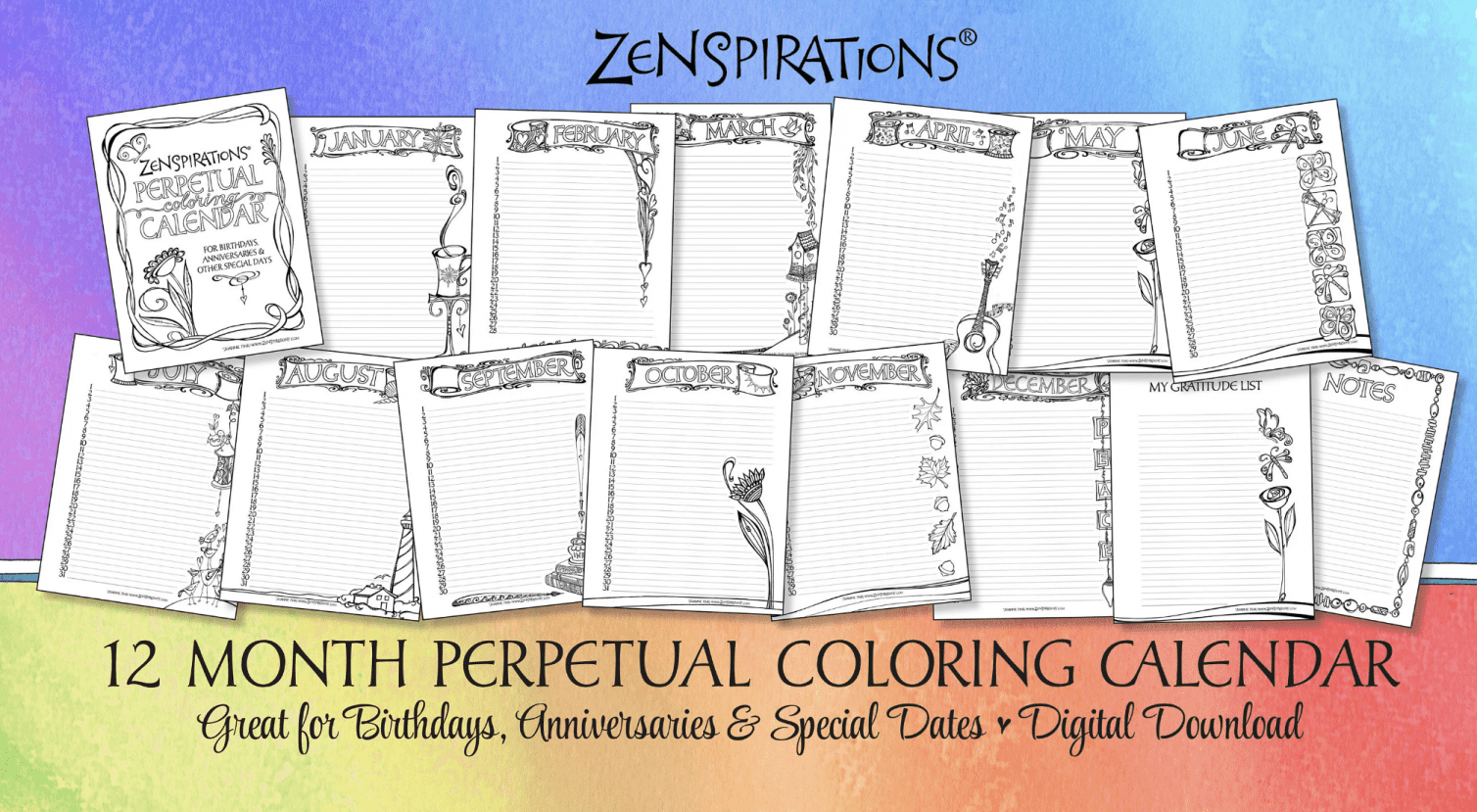 I'm still working on the frame collection, and am thinking of adding some Dangle Frames. Would you be interested in designs like the one I used to frame the full color Dangle Monogram A below?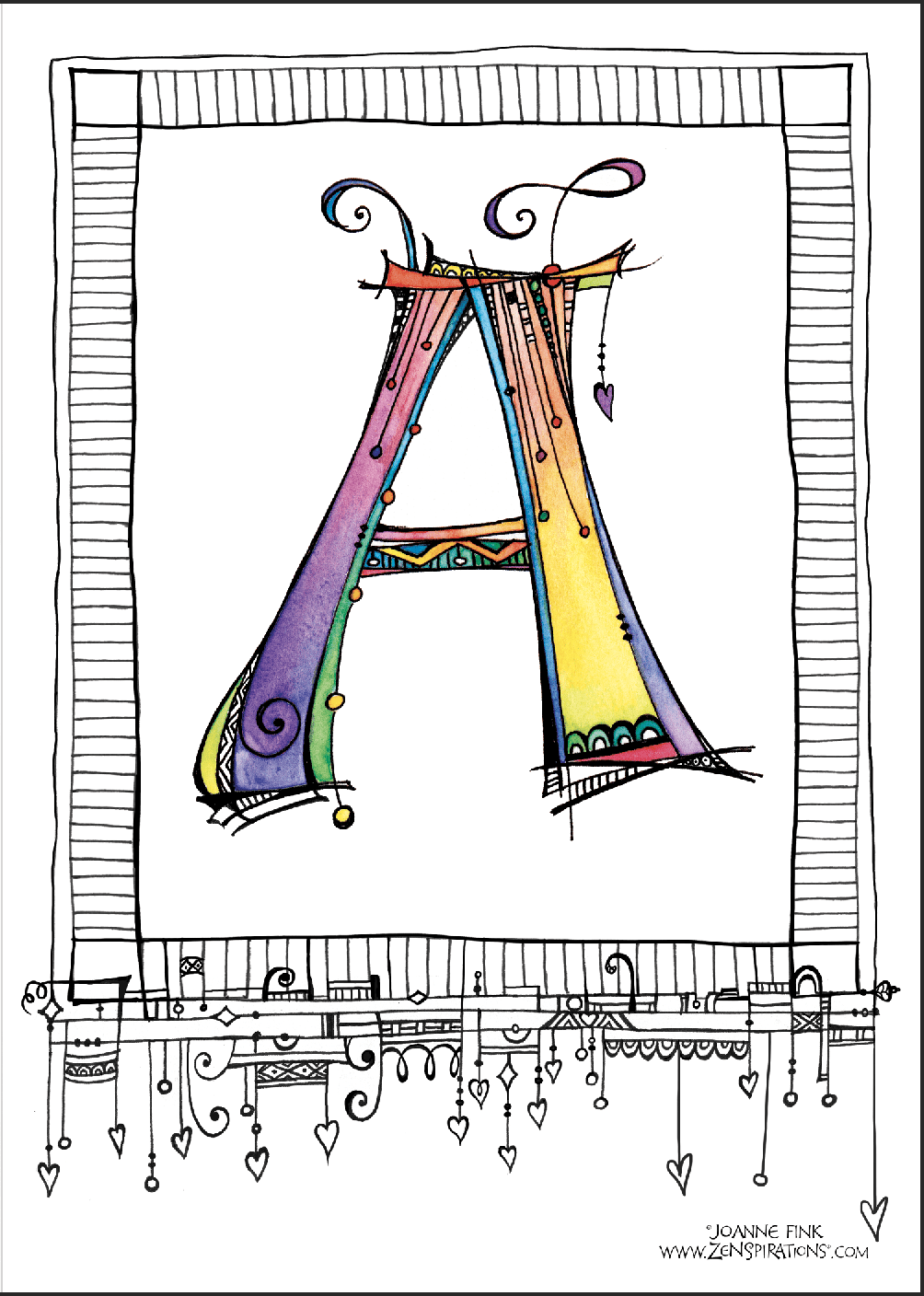 I look forward to your thoughts!
Stay Zenspired,
Joanne