Planning the 3rd Zenspirations® Blog-versary Celebration!
Tuesday, March 28, 2017
Hi Everyone,
I want to start with a colorful welcome to everyone who has recently discovered Zenspirations®.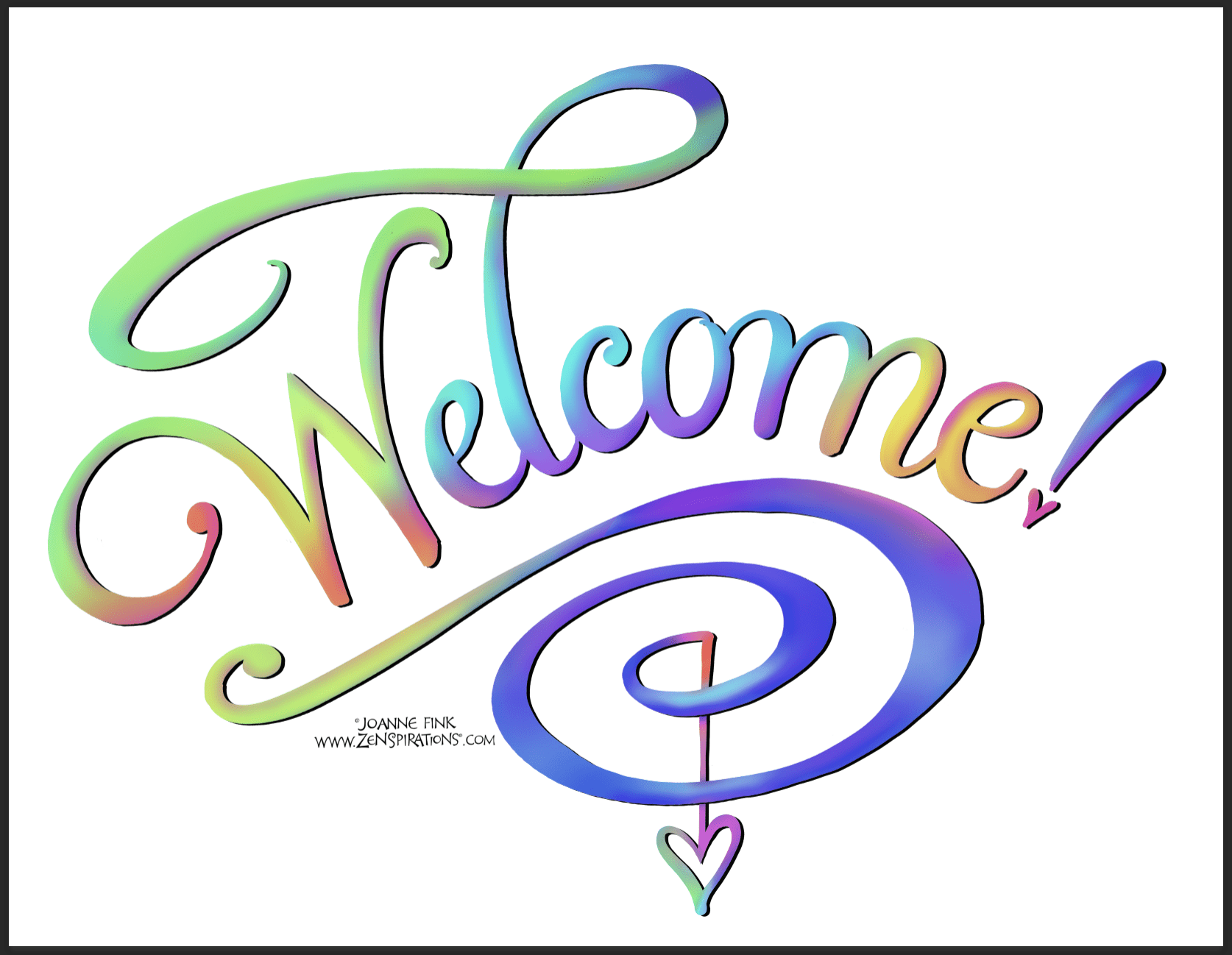 Our community is comprised of blog subscribers (click here if you'd like to subscribe) and members of the Zenspirations® Create, Color, Pattern, Play Facebook group, and together we have created a forum where people can share their work, their hearts, and where we support and encourage each other both artistically and personally. Over the last year our Facebook group has grown quite a bit; we now have over 4,300 members from 50+ countries!
I started blogging sporadically in 2012, but it wasn't until April 22, 2014 that I made a commitment to share my spiritual and creative journey on a weekly basis. Although blogging takes a non-trivial amount of time, I feel blessed to be part of this supportive, compassionate community which shares my desire to make a difference in the world, and that makes it all worthwhile!
In honor of the upcoming 'Blog-versary', I'd like to invite you to help me come up with things we can do throughout April to celebrate creativity and the special connection we share. Here are a few ideas:
A showcase featuring Zenspired art from some of our many talented members. This could include step-by-step instructions on how to create a particular design, as well as information about how each featured artist got started, and what they do to Stay Zenspired.
Scheduled FB Live events at different times throughout the month, so despite being in different parts of the world, everyone would have the opportunity to participate 'Live', and the recorded version would be available to those who couldn't attend 'real-time'.
A community collaboration– either of a piece of art, or perhaps a publication of some kind. For example, we could each print out an extra copy of April's calendar blank (see below), and use it to record simple things we've done to make a difference this month, and then share our favorites with the group. I'd be happy to try to illustrate some of the ideas, and if we get enough great content, put together a booklet for everyone to download, color and share.
Host a Zenspired Play-Day. I actually invited some creative friends to get together this weekend and share their art, as well as any new tools, tips & techniques. Here is the invitation I designed:
How would you celebrate Creativity, Connection & Community? Last year we did a 'raffle' give-away of some of my coloring products and favorite tools from Sakura of America. Would you like another raffle give-away this year? If so, prizes could include samples from two new Zenspirations product lines launching in April– rubber stamps for Spellbinders, and a series of designs for watercoloring for my favorite paper company, Strathmore. Please leave a comment letting me know if any of these ideas appeal to you– and what other celebratory suggestions you might have. As an incentive, I will randomly select two people from those who leave comments, and send them each a copy of the 64 page inspirational gift book I did for Harvest House, With God All Things Are Possible.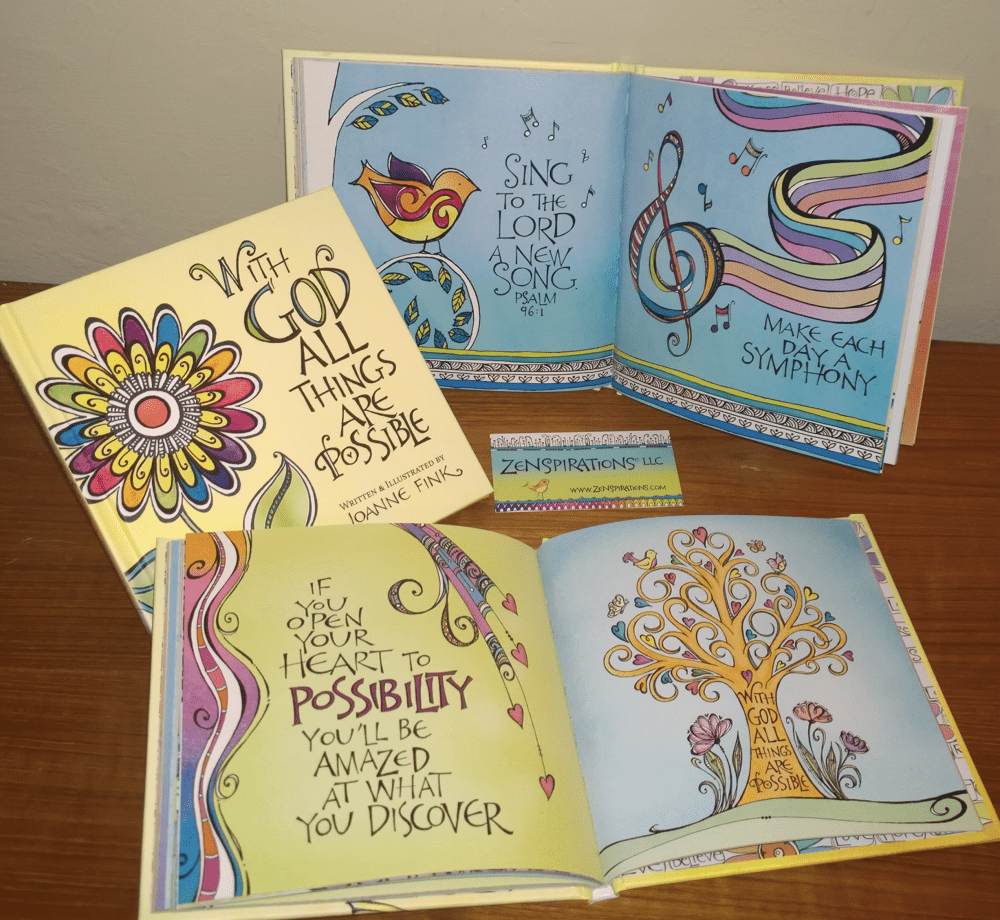 Before closing tonight I wanted to share the calendar page I made for April: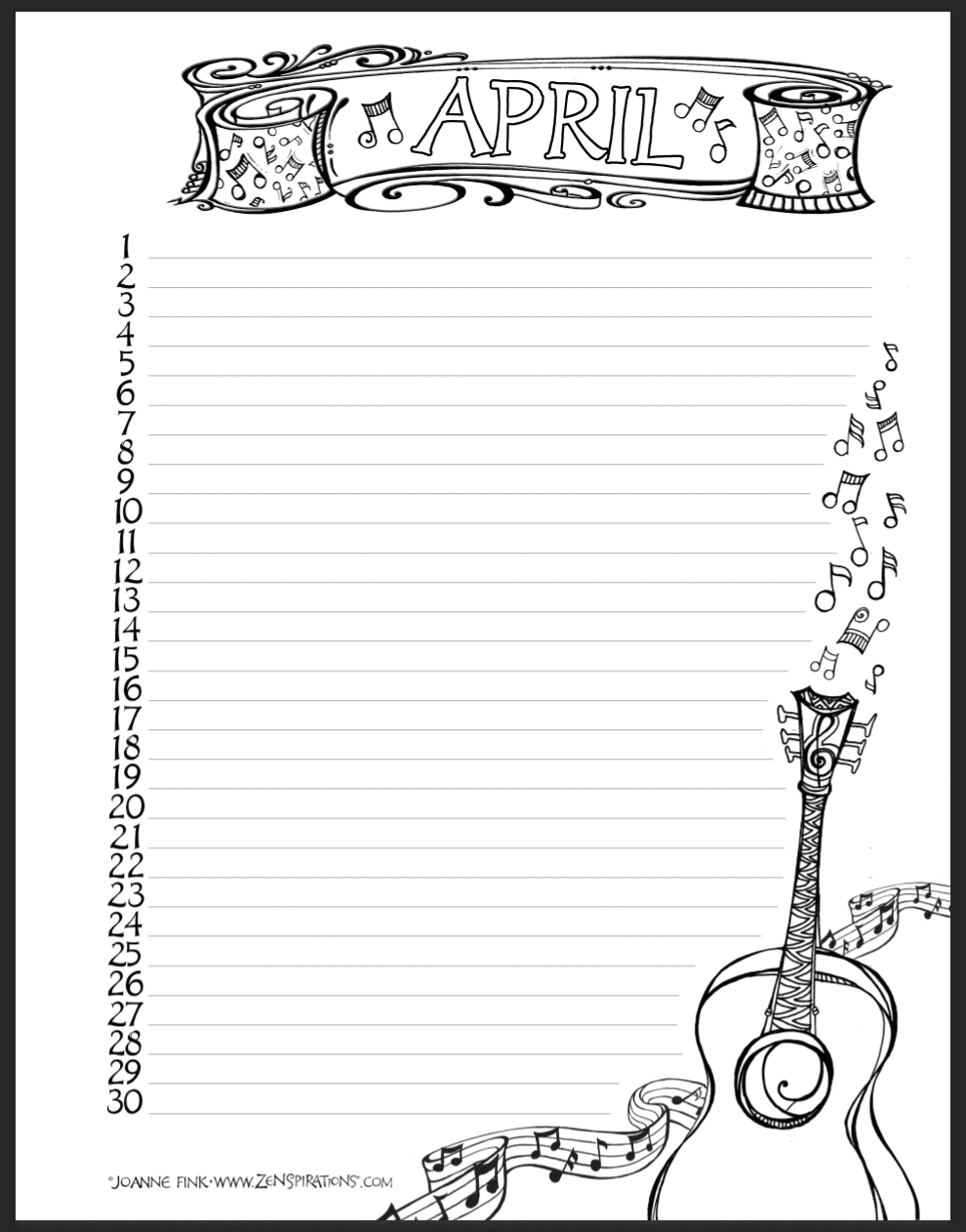 I switched to an 8.5 x 11 format so it will be easier for everyone to print out. There is room on the left to punch holes, in case you'd like to keep your pages in an album. Click the link below to DOWNLOAD YOUR FREE COPY of the April calendar page:
Zenspirations®_by_Joanne_Fink_April_Calendar_Page
I'm not aware of any birthdays in our community this week, but two of our members have had health challenges, so I made them get well cards. This first is for Terri Brown, who broke her foot this week.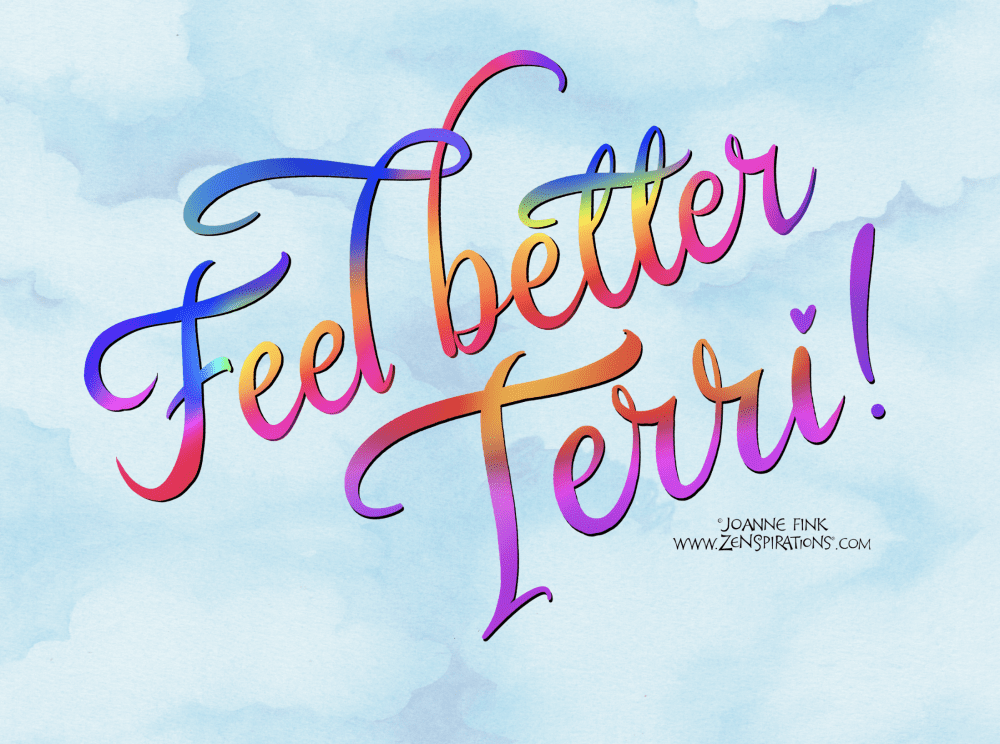 And this one is for Valencia Pernell, who had cervical spine surgery on Thursday.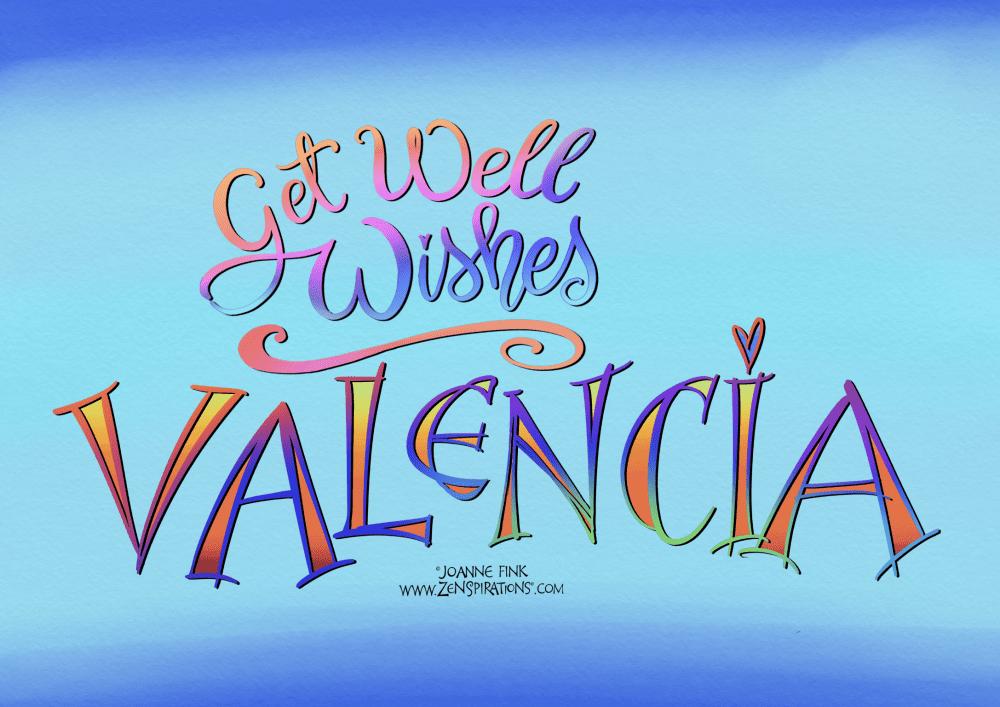 Hope you both have time to Color, Create, Pattern & Play during while you recuperate! May God bless you with speedy and complete recoveries!
Stay Zenspired,
Joanne