My Prayer Journal is Off to Press!
Tuesday, December 12, 2017
Hi Everyone,
At long last, I finished My Prayer Journal, and sent it off to press! This book is really close to my heart; I have based it on some of my personal prayers and journaling prompts. For example, I try to start each day with a prayer of thanksgiving, such as "Thank You, God, for the gift of this new day…" or "Thank You for blessing me with the gift of life…" and have shared those prayers in the book.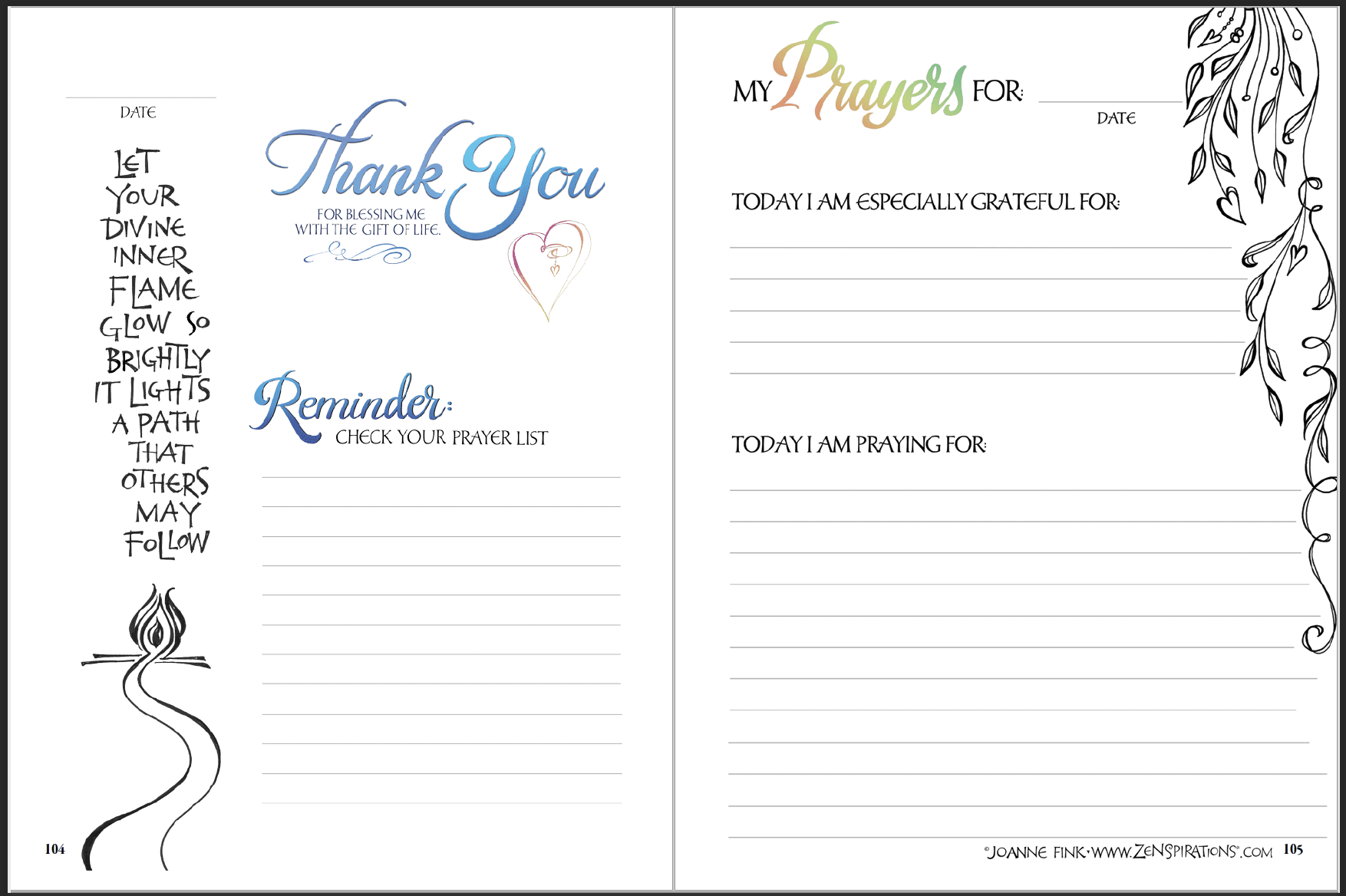 I tried to write and design My Prayer Journal so both experienced 'prayer warriors', as well as those who are embarking on a prayer practice for the first time, will be able to use their creative gifts to develop– and deepen– their connection to God.
This is the bookplate I designed for the front of the book: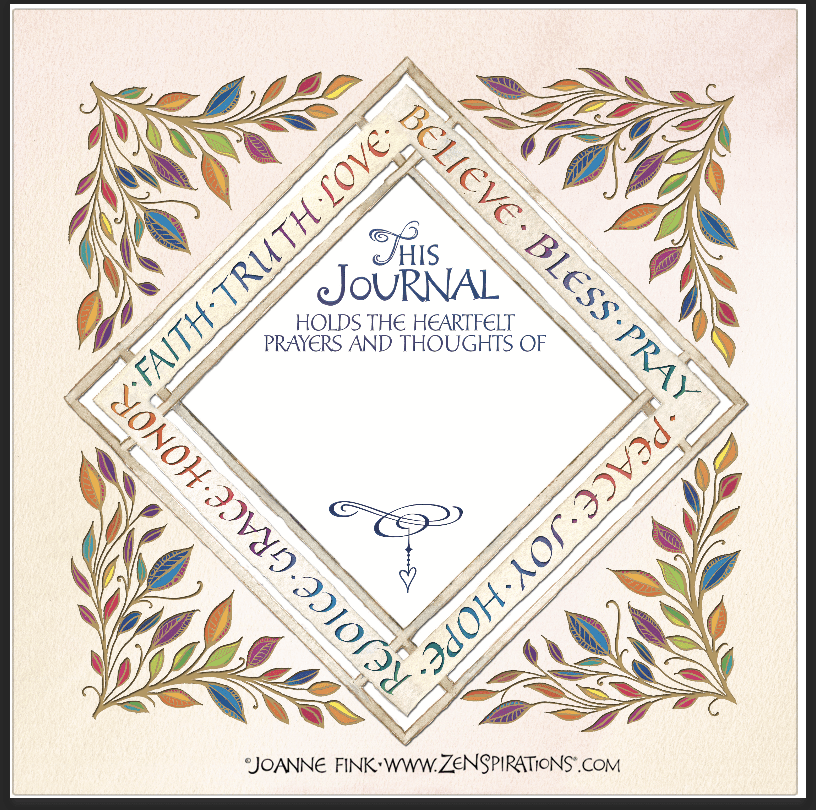 After the bookplate come several pages where you can write the names of the people you are praying for, and why they are in your prayers.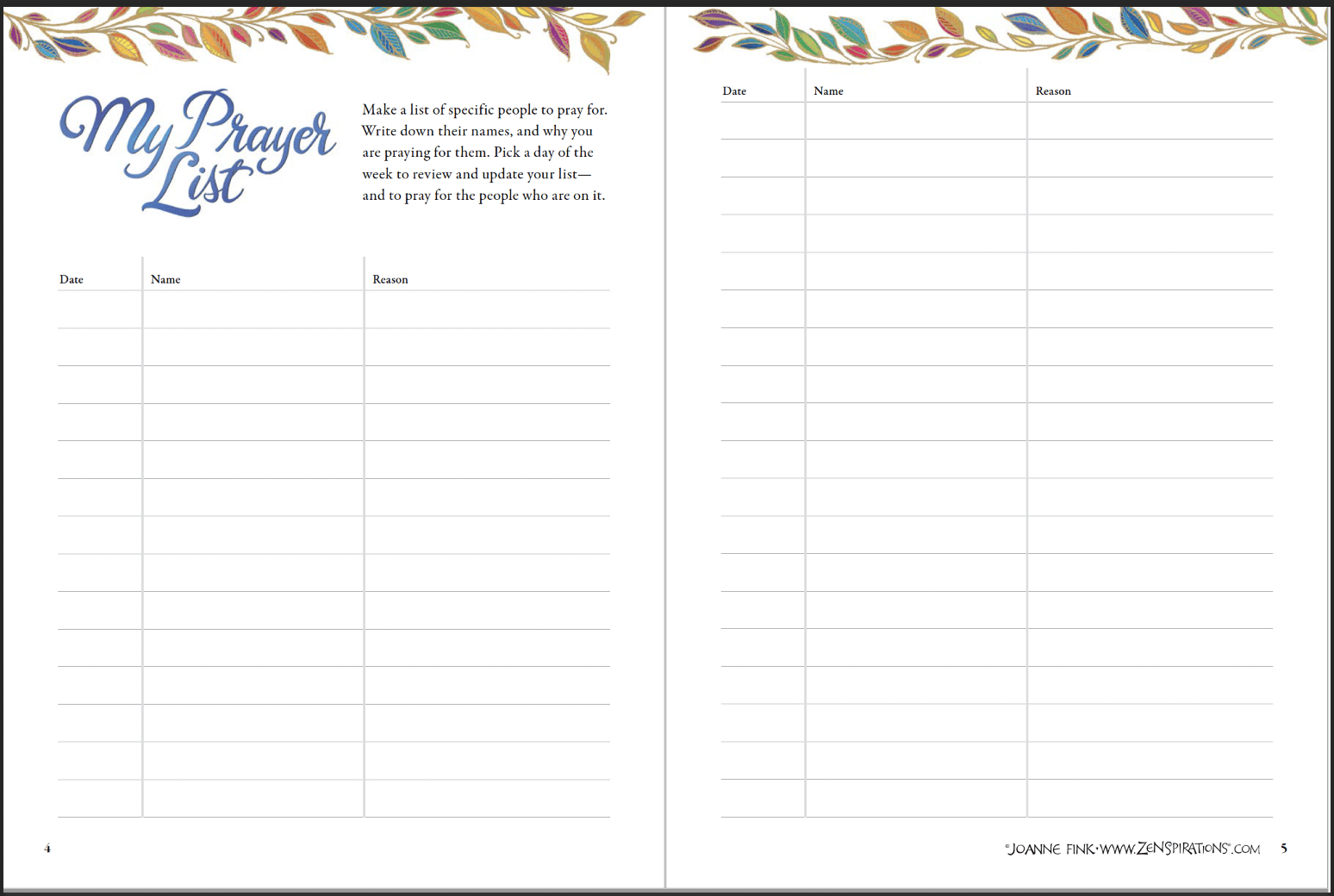 Currently I keep my personal prayer list in the computer, and I'm looking forward to getting a printed copy of My Prayer Journal so I will have a special place to record the names of the people I'm praying for. Since I don't have a great memory, I set my phone to remind me to check my prayer list each week. I've included occasional 'check your prayer list' reminders, figuring that if this is helpful to me, it will be helpful to others.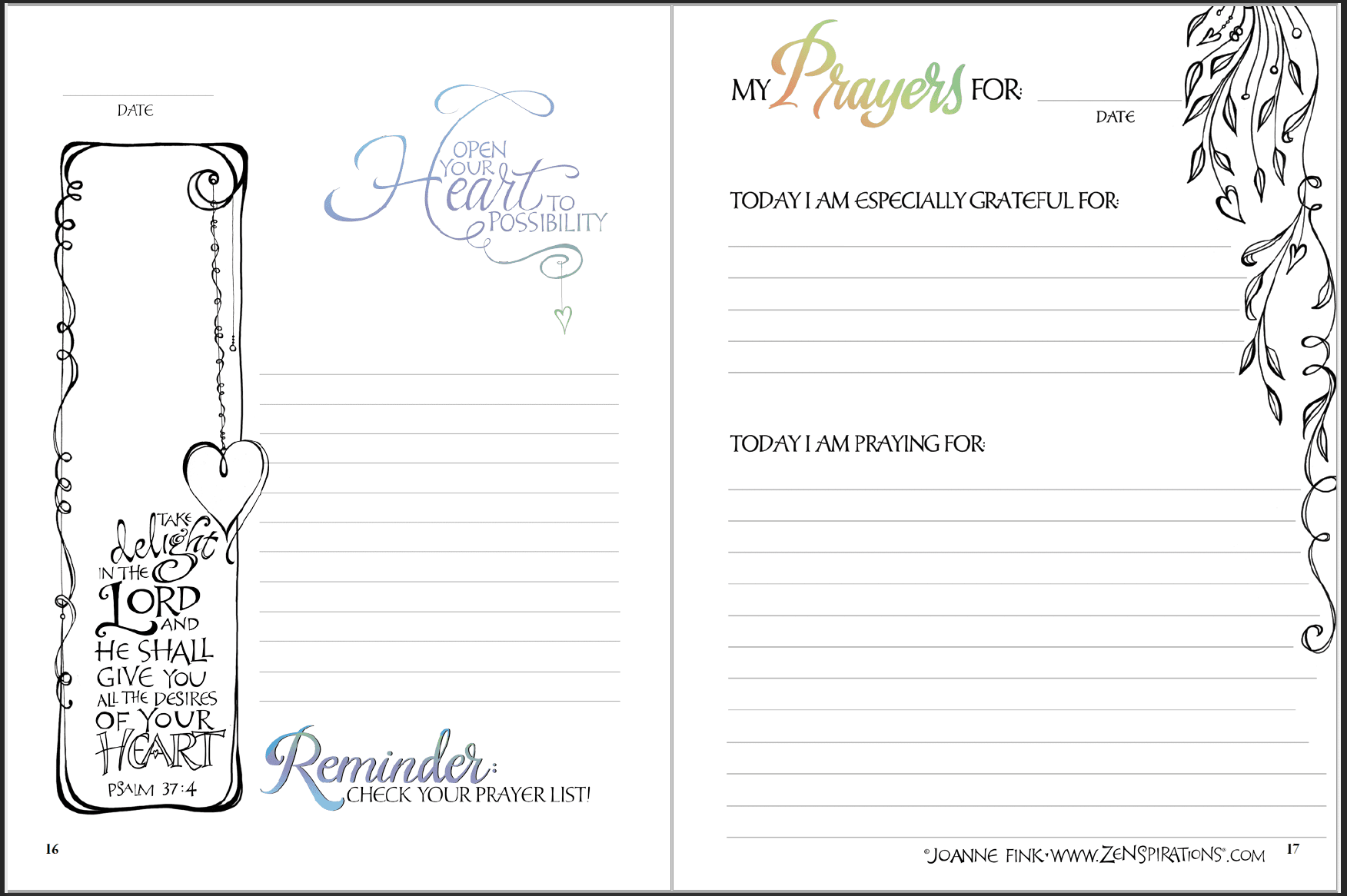 The right hand pages throughout the main part of the book have the same two prompts: Today I am especially grateful for, and Today I am praying for. In addition to the 'sidebar' panel page style shown above, there are four different types of left hand pages:
Full pages of art for you to color and enhance;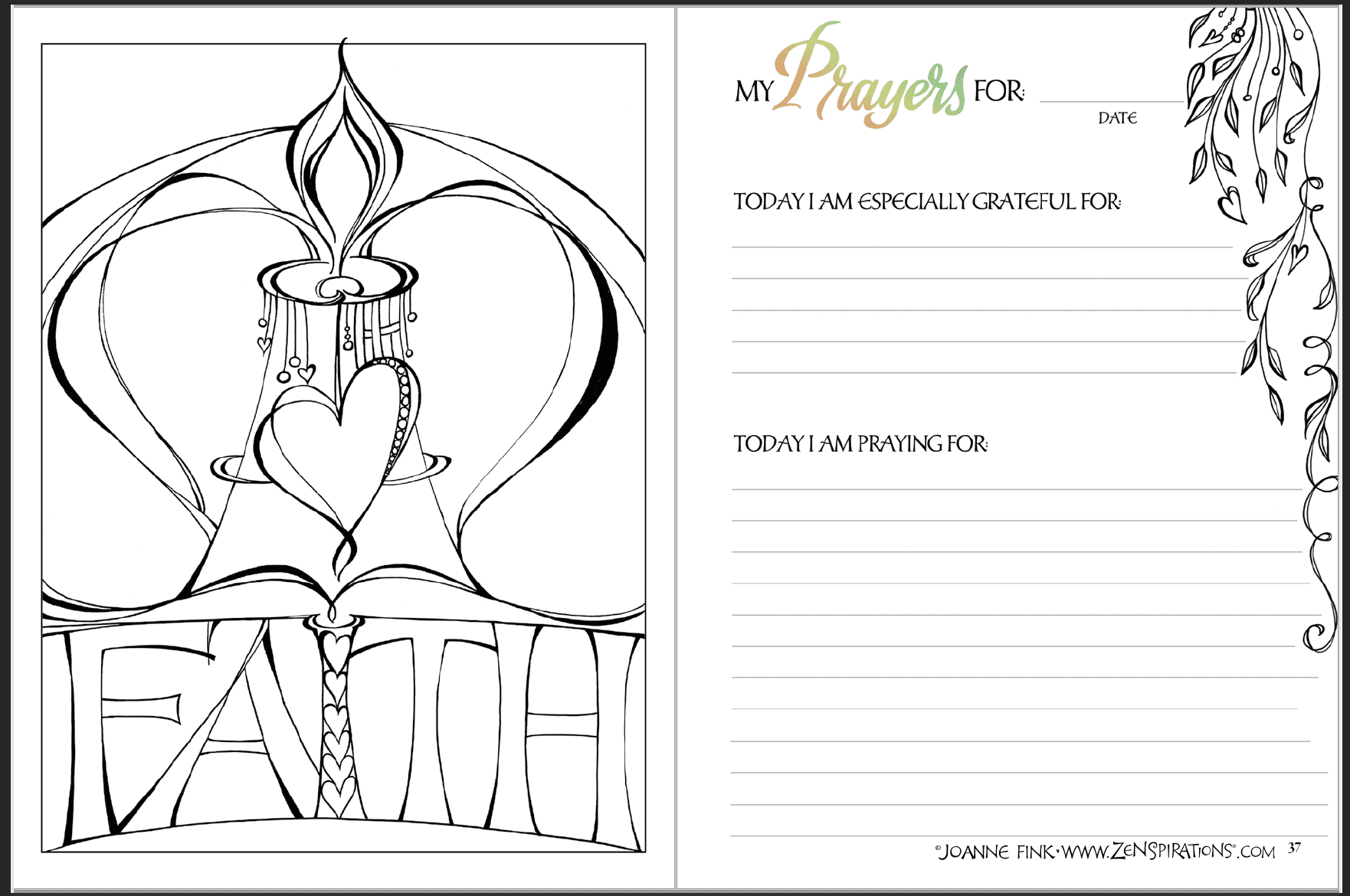 Full color pages of art and inspiration;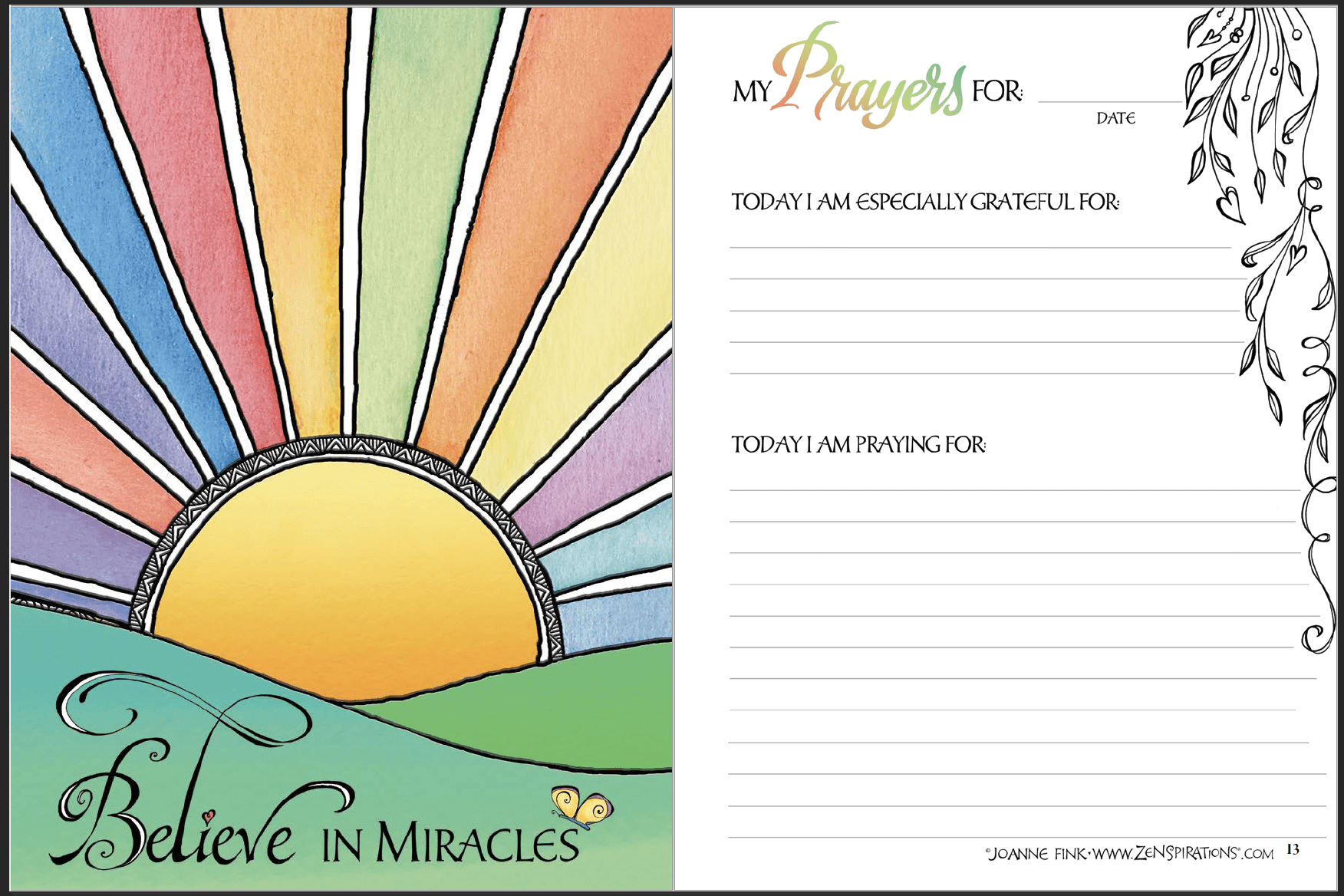 And two different page styles for when you want to add additional types of prayer. The prompts on these pages are: Today I pray (please); Today I am in awe of (wow); Today I regret (sorry); Today I am grateful for (thanks). I call this version the 'blue box spread';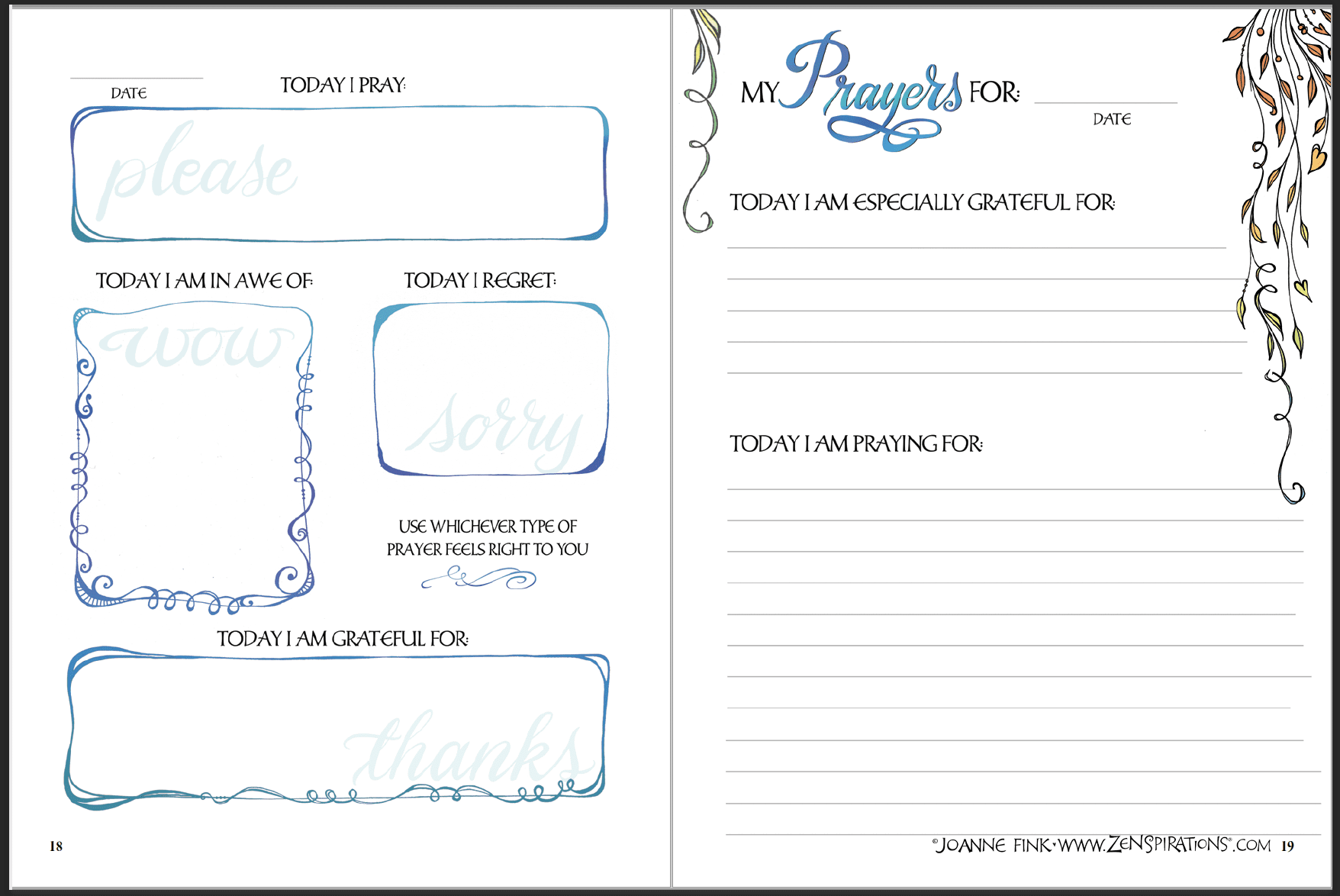 and this one the 'horizontal box spread'.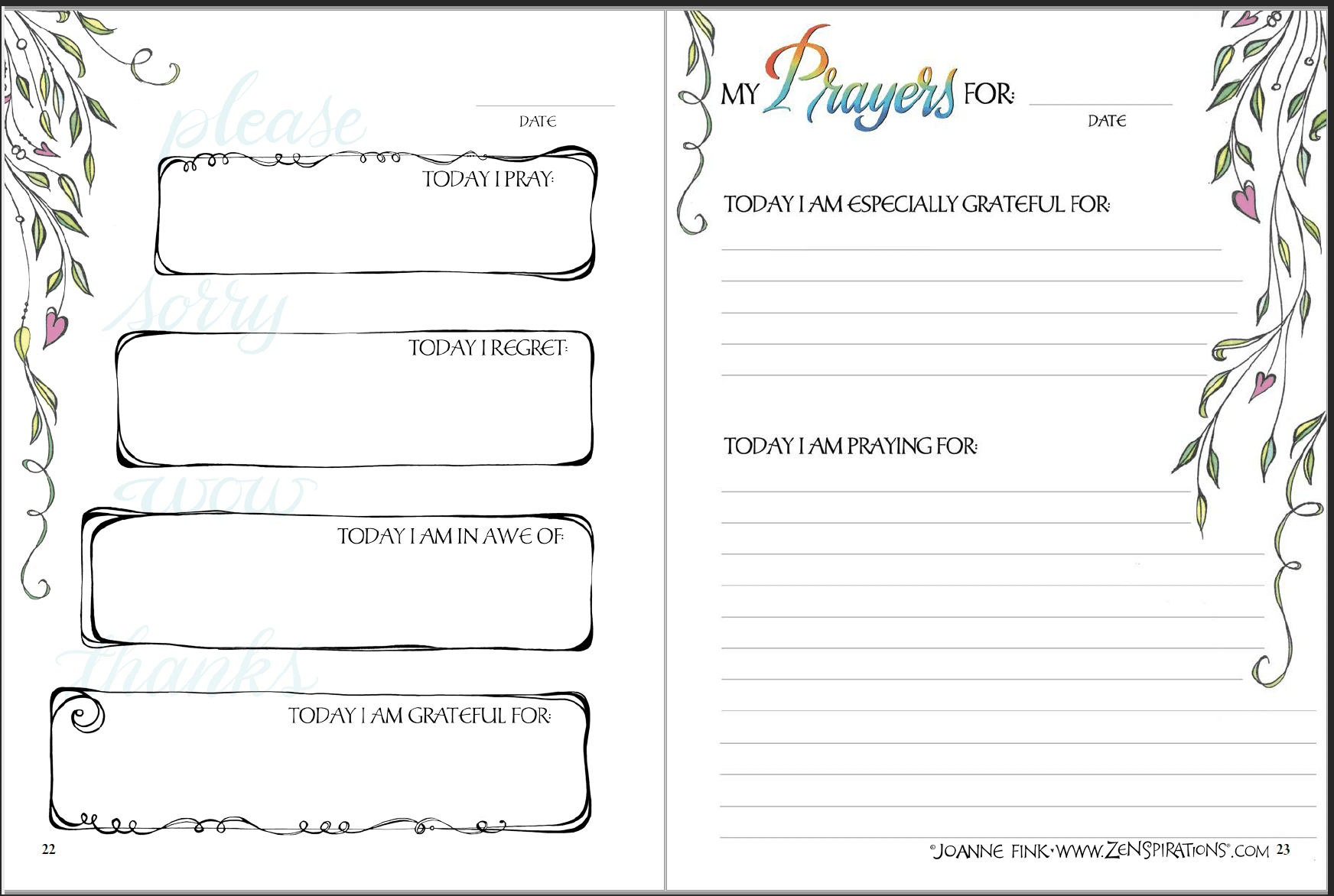 At the end of the book is a perpetual calendar where you can keep track of dates that are important to you or someone you care about. The book will be available in March, and I'll share the Amazon link as soon as I have it.
I also want to thank everyone who checked out the artists and artisans I featured in last week's blog. I am working on putting together all the images and website links I've received from other artists who sell on-line, but need more time to complete it. I'll post it in our Zenspirations Create, Color, Pattern, Play FB Group, and may do a rare mid-week blog post so you have time to check them out before the holidays.
Since Hanukah, the Festival of Lights, starts Tuesday evening December 12th, I wanted to share two Hanukah designs. The first is a Zenspirations Dangle Circle that I drew a couple of years ago: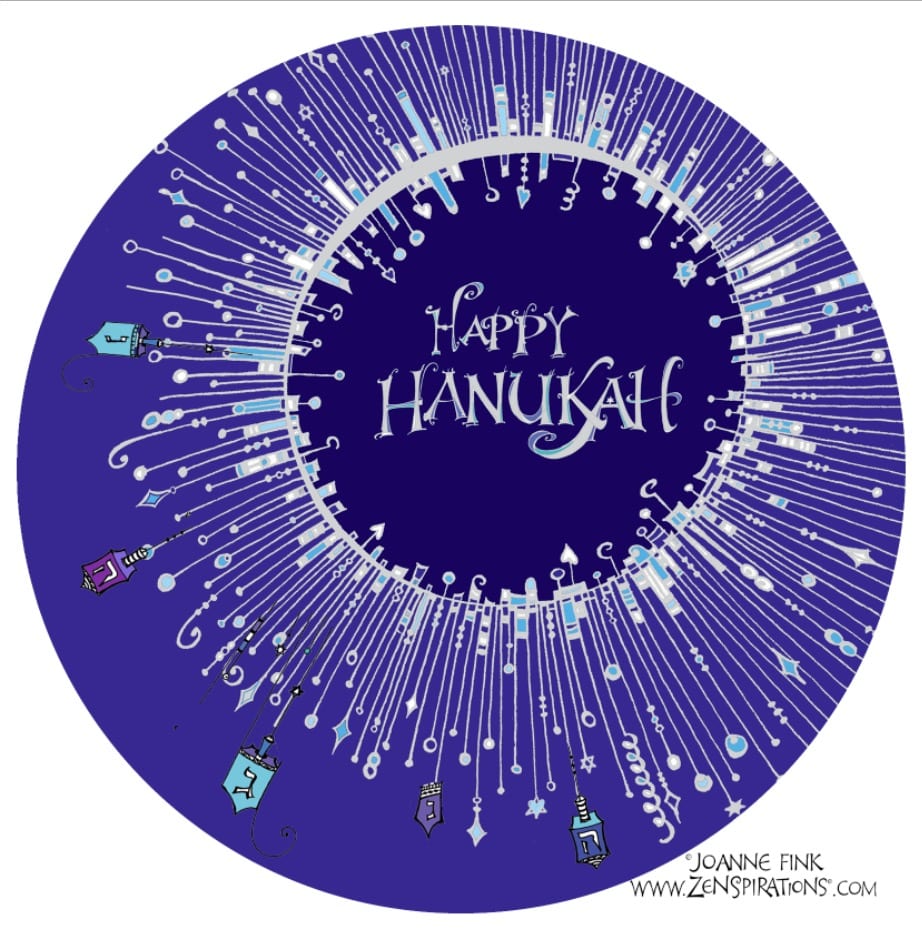 and the second is a new design I've been working on. It's not quite finished, but I am enjoying adding patterns.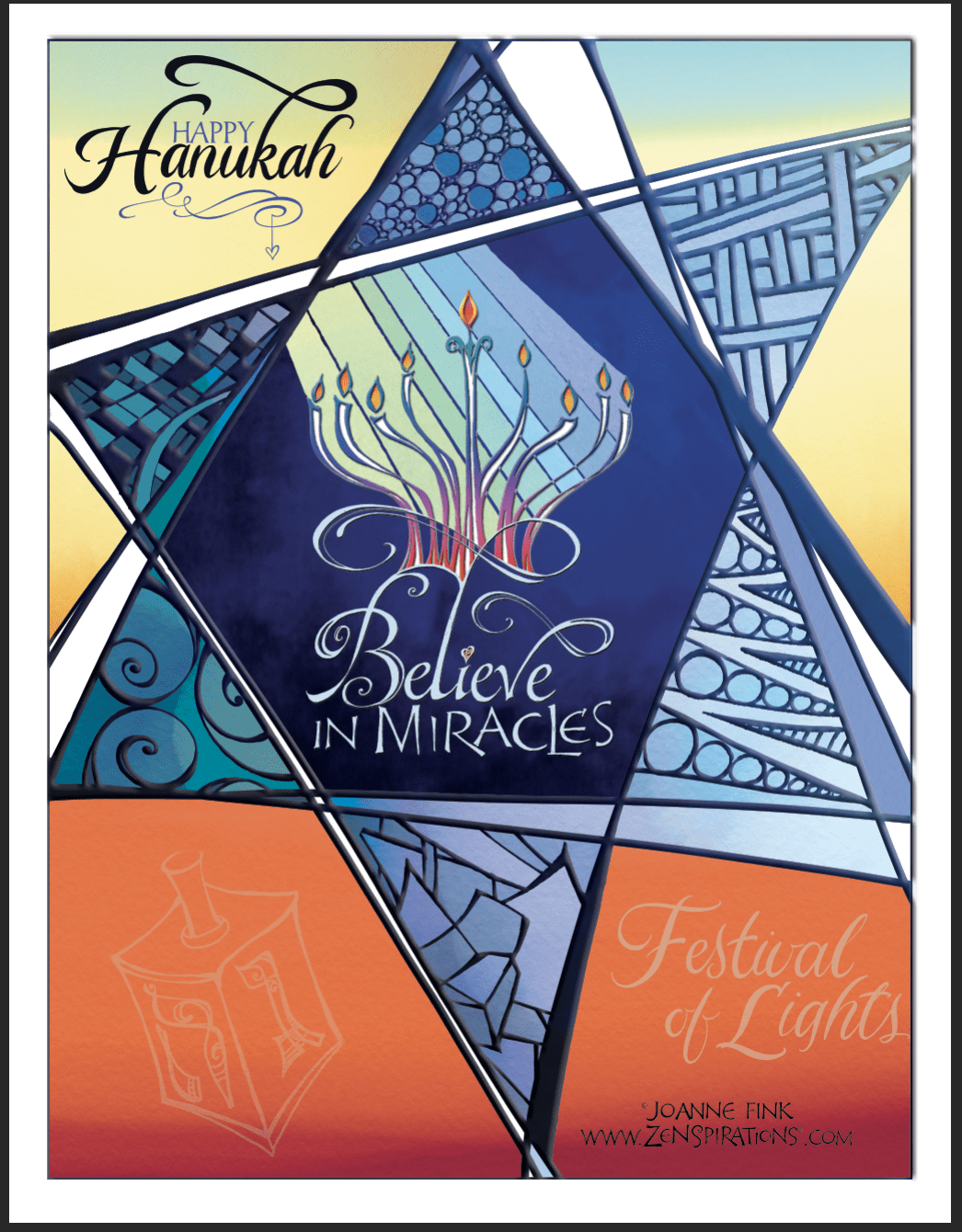 I also wanted to share another FREE DOWNLOADABLE design: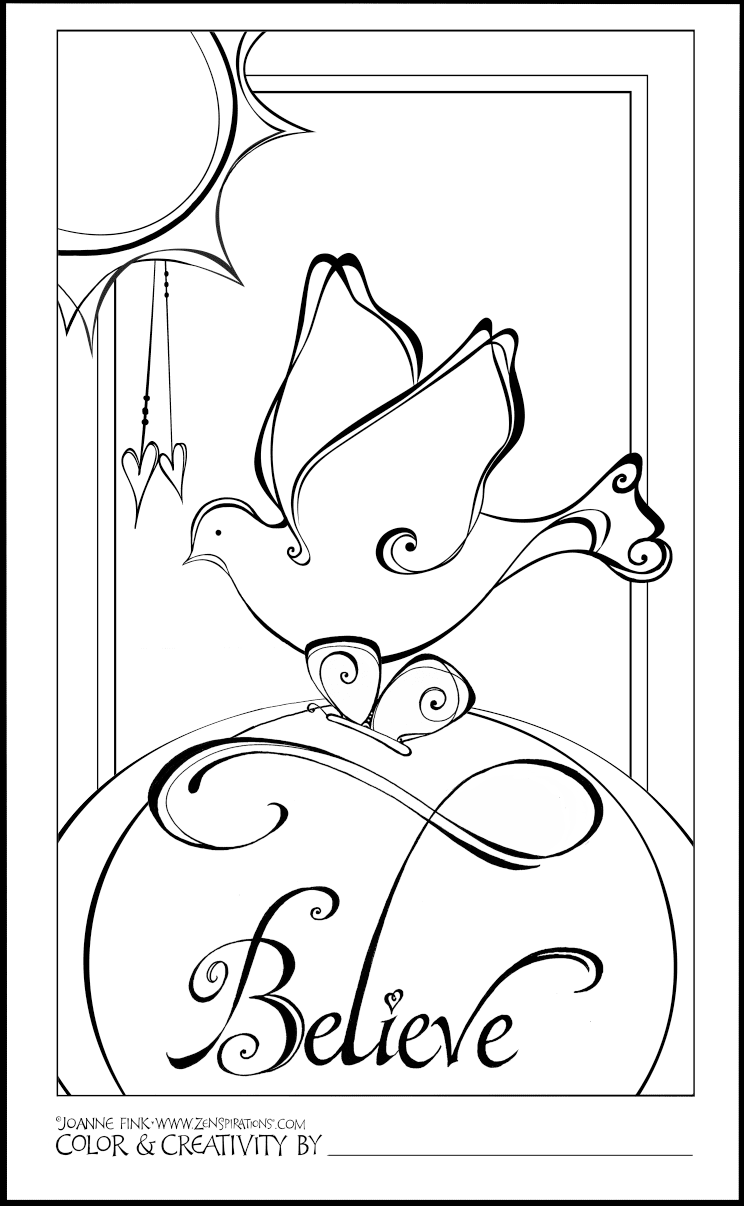 Click the link below to download your copy to color and decorate.
 Zenspirations_CCPP_Believe_Dove_PDF
This is a design I shared two years ago, and it seems really appropriate for this time of year. You can get inspiration by visiting the album in our FB group to see the many wonderful, totally different ways that members of the Zenspirations community have made this design their own. Click the blue FB icon below and you'll be able to see all the images which were shared the first time I posted this design.
Looking ahead to next year, I'm excited about picking both a word of the year, as well as monthly words and creative prompts. I'd like to open a dialogue about what sorts of things you would like to focus on in the year ahead, and have decided that it would be helpful to put together a Zenspirations® Design Team/Advisory Board for 2018. If you are interested in participating, please leave a comment to let me know. 
Stay Zenspired,
Joanne