Reflect on Your Journey
Tuesday, June 21, 2016
Hi Everyone,
As I reflect on my Zenspirations® journey, I realize that the past few years have been a time of great growth for me, both as an artist and writer, and as a spiritual seeker looking to make a difference in the world. But the part of my journey which has been the most meaningful to me isn't actually the art– it's the amazing people with whom I've connected. The opportunity to collaborate with artists all over the world has deeply enriched my life– and has had an influence on my art. I love that people use my work as a springboard for their own creative efforts, and strive to design images which stand on their own, but which have room for other artists to enhance by adding pattern, text, icons and color.
When someone asks me about my work, I often share this page: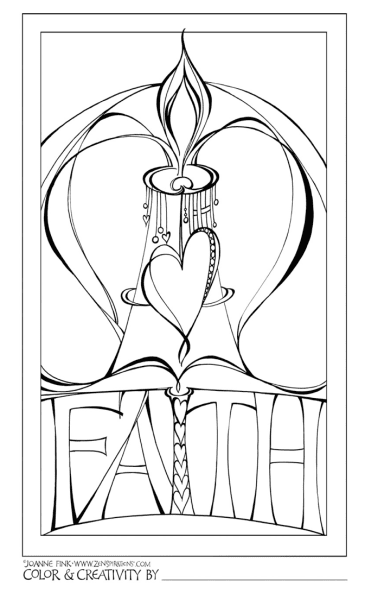 and then show the spread in the front of my Color Peace book which showcases the work of Color & Creativity Enthusiasts Sephra Travers, Cathy Pemberton, Kristen Zeitler and Karen Logeman (top row); Sue Rems, Wanda Smith Radler, Kathryn Leonard and Puneet Sekhon (bottom row).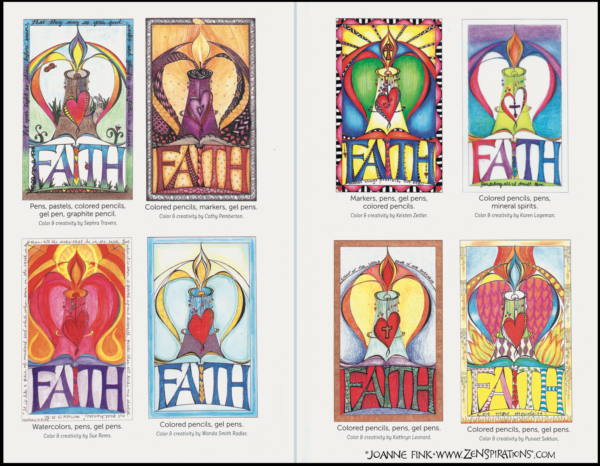 I love the way each artist brought the design to life in her own unique way. The diversity and creativity continually inspire me to come up with more 'vehicles' for our collaborative efforts. And so I'm delighted to share the great news that I finally have the Reflect on Your Journey Coloring Journals in the Zenspirations store! To give you an idea of what's inside the journal, I filmed a 1 1/2 minute video featuring the work of Color & Creativity Enthusiast Gail Beck.
Gail has a recognizable style that is all her own… as do many of the other artists I collaborate with. What really fascinates me is looking at the same design interpreted by different artists each of whom has developed a unique design aesthetic. Check out these photos of pages from Gail Beck's (top left), Terri Brown's (top right) and Leitha Hunt's (center) versions of the journal: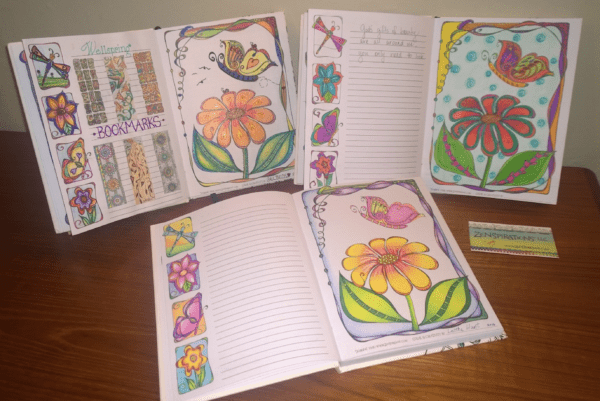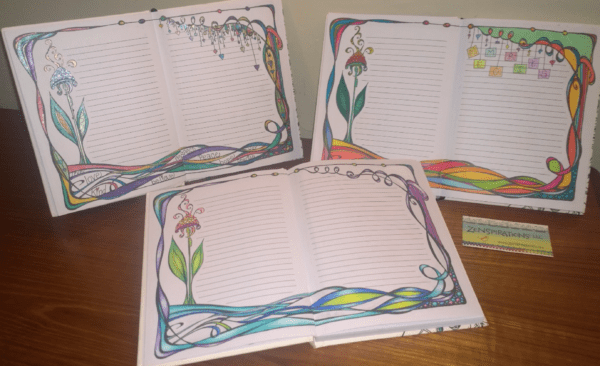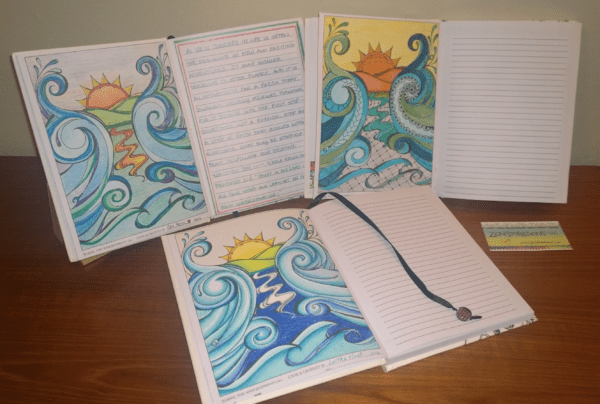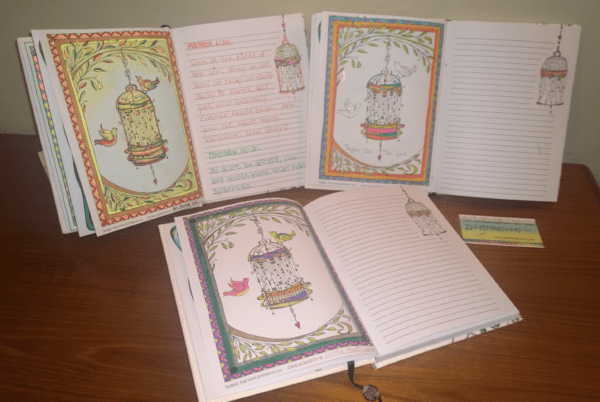 While I tend to do more drawing than coloring, one of the exciting things about hand-coloring is getting to test different tools… Here is a close up of Leitha's page, which has lovely metallic and glitter accents.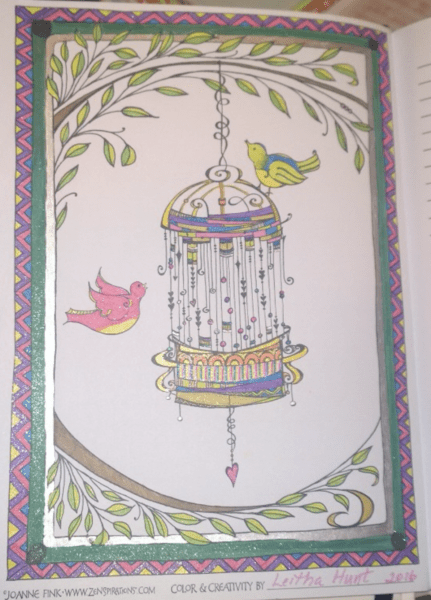 If you would like to order the journals, they cost $9.99 (plus shipping), and you can find them in the 'shop' section of my website. (There are also a couple of other new coloring products… which I'll share more about next week.)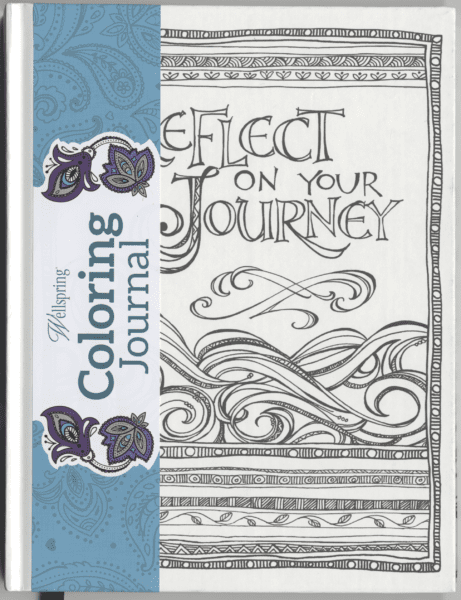 While most of my collaborative efforts are with other illustrators, I occasionally am 'zenspired' to add words to a photograph… and I was fortunate when my friend, CZT Dorian Eng, introduced me to her husband Doug. Doug's artistry is eclectic– ranging from huge, complicated public art installations to intimate, expressive photographs. I wanted to share this design that Doug and I did together in hopes of helping my Orlando community begin to heal from last week's terrorist attack.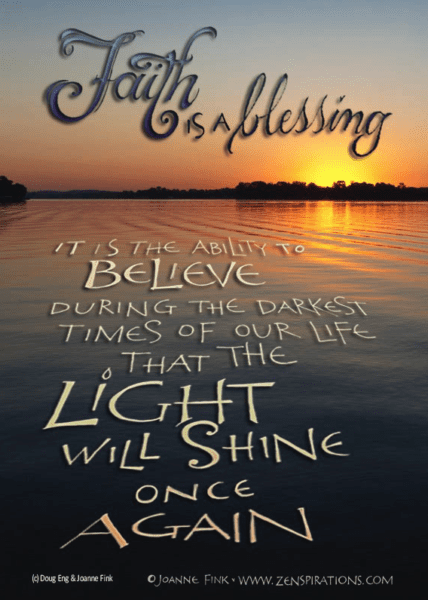 I was also moved to create a piece to commemorate the 49 lives lost, which I'm hoping to incorporate into the community memorial wall I'm working on. I'll share details when I have them.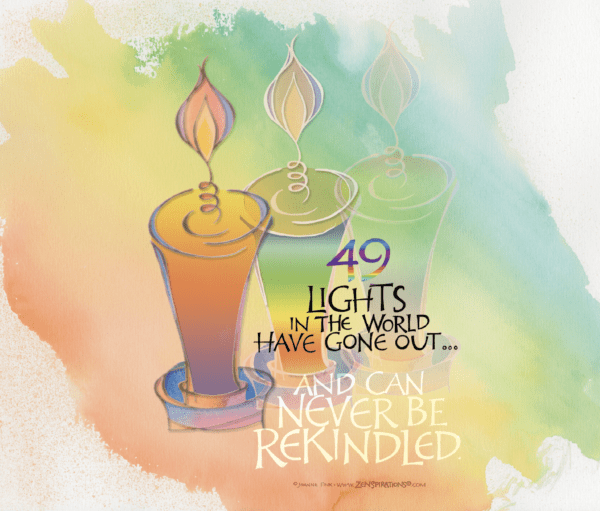 While the lights of these 49 souls may have been extinguished, there is a growing sense of resolve in the Orlando community that we MUST make their lives count by implementing gun control laws which prohibit ordinary citizens being able to buy automatic weapons. I would love to hear from our international blog followers– is gun control an issue in your country? What suggestions do you have for us?
Before closing tonight, I want to thank everyone who has expressed interest in The Lettering Club for their patience as we get things underway. Sign up here to get access to the free course with all the information. Still building the course right now, but the people on this list will be the first to know when it is open.
Sorry for the inconvenience of having to sign up again… but this is required by the on-line platform I plan to use to host the classes. Once you sign up you'll get the list of tools, followed by the first lesson.
To inspire you, here are a couple of lettering videos:
And here is the last video for tonight; this one shows two different styles of lettering; brush and broad-edge pen.
I'm heading out to Seattle this week to attend the Modern Widows Club Leadership retreat. If anyone from the Seattle area is interested in getting together, I'll be at Matthews Winery Friday night from 8-10, and I'm planning to be at Dan Smith Monday afternoon (time to be determined). Please let me know what I shouldn't miss while I'm in town!
Stay Zenspired,
Joanne