Remembering with Love
Tuesday, May 3, 2016
Hi Everyone,
I have a favor to ask– will you please help me bring comfort and hope to healing hearts? I've created a new coloring card, Remembering with Love, and I'd like to share it with as many people as possible. I'm asking you to download and print out several copies and send at least one to someone you know who has recently lost someone they love. And I'd like you to give the others to friends and family and ask them to do the same. Together we can touch a lot of hearts!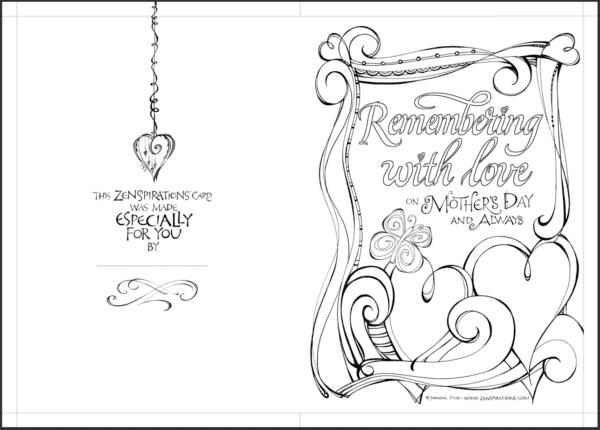 Click to download a pdf of the Zenspirations®Remembering_with_Love_card.
Mother's Day, which Americans celebrate on Sunday, is especially difficult for those who have lost a child, or who long for one of their own… as well as for those who have recently lost a parent or a spouse… or have a relative dealing with dementia, cancer or other life-threatening illness. This card is designed to send to anyone who has a hole in their heart… just to let them know someone cares. I know first-hand that nobody can grieve for you… but that it really helps to know that there is someone who cares about what you are going through. Many Zenspirations blog followers share my commitment to making a difference in the world, and what better way to make a difference than by helping to heal hearts? If you can't print and distribute the cards, please share this blog post and/or forward the link to the free download.
Since many people struggle to come up with something to say on the inside of a card, here are a few suggestions:
You are in my heart.
Hope it helps to know that somebody cares.
Thinking of you today and hoping that you will find moments of joy.
If you knew the person who died, consider mentioning them by name in your message. It's also nice if you can share a special memory. Most people who are grieving appreciate knowing that others remember their loved one.
Something like Thinking of you today, and remembering  ______ with love, or
I know that today won't be easy, but I hope you will take time to remember, and to celebrate _____'s legacy. May the memories of happy times you shared bring you peace.
Or even something like: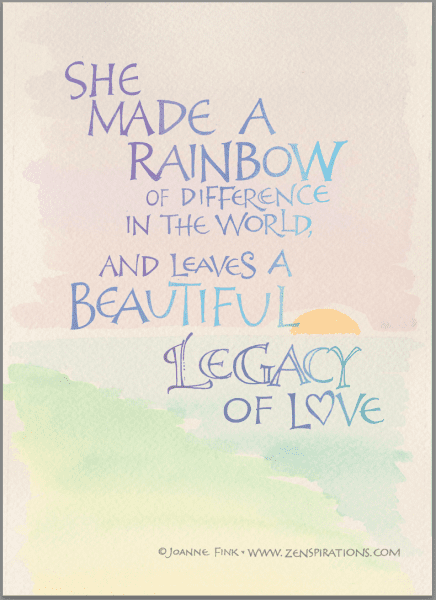 Reaching out to someone who is hurting is a great act of love– and I thank you in advance for helping me reach as many people as possible.
For those of you who will be celebrating your mom on Sunday, here is a springboard for a design I hope your Mom will love. I'd love to see what you do with the design, so I hope you'll post pictures in the Zenspirations® Create, Color, Pattern, Play Facebook Group.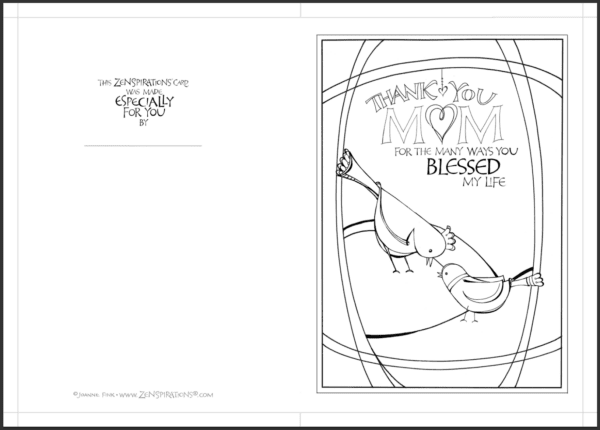 Click to download a pdf of the Zenspirations®_Thank_You_Mom_Coloring_Card.
The Sunday after Mother's Day has special meaning for those of us in the greeting card industry– it's the day that the National Stationery Show (NSS) opens! I've been attending the show for more than 30 years, and am continually delighted and inspired by this incredibly creative industry. And this year, I am super excited, because NSS (http://www.nationalstationeryshow.com) is embracing coloring, and invited me to design a spread for the 2016 directory, an 8′ x 10′ wall for the community to color, and to give seminars on coloring tools and hosting coloring events– and I'm inviting you to join me!
Here is the spread that will be in the show's directory: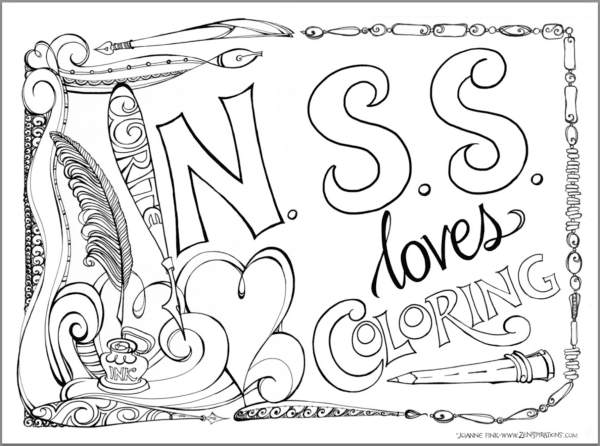 And here is what I designed for the big coloring wall.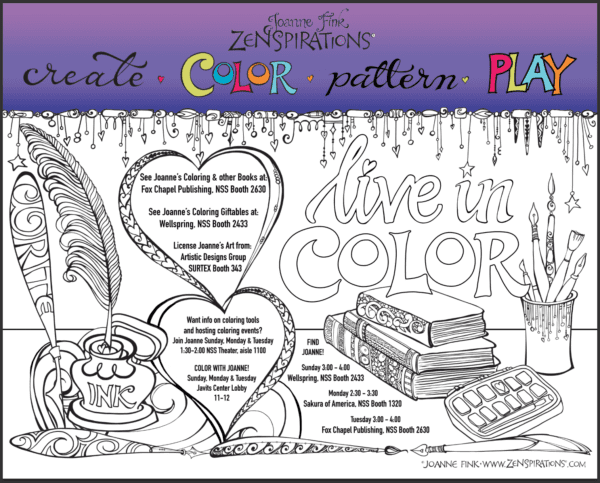 I figured that no one will want to color higher than six feet, so I colored the top two feet digitally. Even without needing to color the top two feet, I'm going to need a LOT of help– so I'm hoping that all Color & Creativity Enthusiasts in the NY area will stop by to help color the wall Sunday, May 15th, Monday May 16th and/or Tuesday, May 17th. The wall will be in the lobby of the Javits Center, and I'll be there coloring from 11- 12 each day. Jamie Torres, our FB group moderator, will be at coloring the wall while I'm doing signings and seminars. We are planning a Zenspirations dinner Sunday night (May 15th) at 6:30, and I would love for you to come. I'd appreciate affordable restaurant suggestions near the Javits Center; preferably someplace where we can make a reservation. I don't know how many Zenspirations Enthusiasts live near NY city– but I'm thinking we'll have somewhere between 5 and 25 people. Please leave a comment to let me know if you plan to come… and either Jamie or I will be in touch with details. For those of you who won't be in NY, I'll take lots of pictures, and try to get someone to film the wall in progress.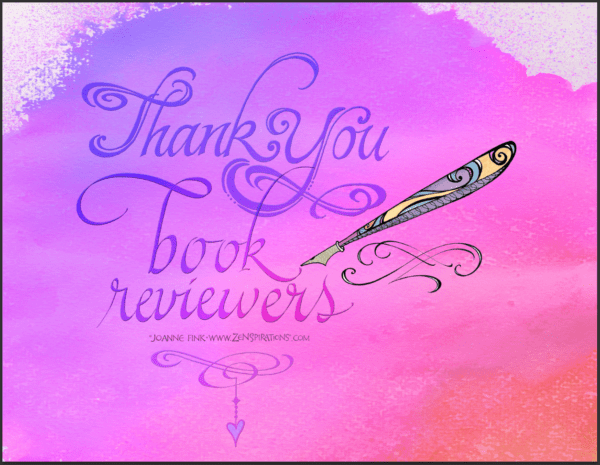 I started tonight's blog by asking a favor– and I want to end by thanking Barbara Studebaker, Toni Popkin, Sandie Brosnan, Genna Wangsness, Janice Terpak, Kerrie Stark, Suzanne Freeman and Mary Ann Fellows for reviewing some of my books. Ladies I REALLY appreciate your taking the time to write the reviews. It means a lot to me. If you let me know your favorite color I will make you a personalized Thank You sign (I'll put your name instead of the words 'book reviewers').
As I mentioned last month, I recently learned that the more reviews a book has the more often Amazon shows it; which helps the books sell. So if you have any of my books– (especially if you ordered them from Amazon and can be listed as an 'Amazon verified purchase) I would greatly appreciate your taking a few minutes to write a book review. For those of you who haven't seen my books, here is a photo so you'll know what they look like: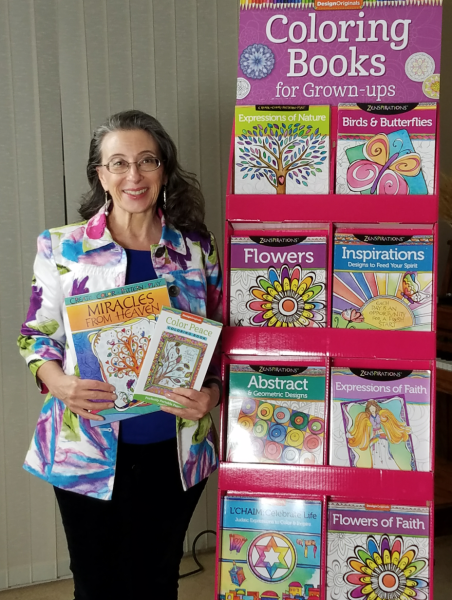 I'd especially appreciate reviews on Birds & Butterflies, Color Peace and Expressions of Faith, as well as the two newest books, Expressions of Nature and Flowers of Faith. Thanks in advance for your help!
Stay Zenspired,
Joanne