Rhythm, Rhyme, Scripture & Song
Tuesday, March 29, 2016
Hi Everyone,
I come from a musical family; my Dad is a cellist, my brother plays jazz violin, two of my cousins are professional musicians, and my uber talented daughter is a worship leader and songwriter. For me, music and prayer are inexorably intertwined and I often incorporate musical themes into my work. This is a page from one of my daily journals… it's one of the few pieces that I've written in rhyme.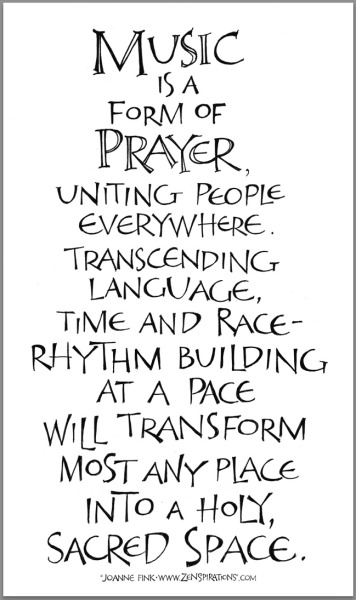 Like many calligraphers, I often strive for my work to enhance the meaning and beauty of the text, especially when I am lettering Scripture. Psalm 96:1 is one of my favorite scriptures, and I have lettered it numerous ways over the last two decades. Before I started Zenspirations® in 2008, I enjoyed painting large canvases. Here are three different paintings, all inspired by Psalm 96:1, which I painted a decade or so ago. The center image is the smallest one, and measures 24 x 30.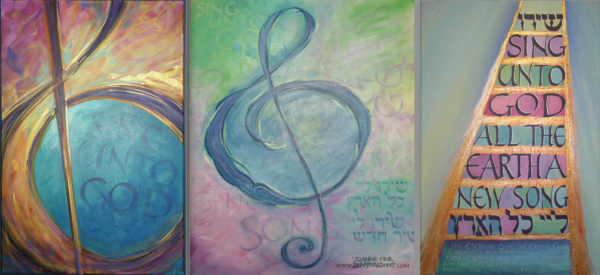 Here is a close up of the painting on the right, next to a pen and ink version of the Psalm. The original lettering of the pen & ink version was done with a Pigma® Micron®, and is approximately 12 inches high.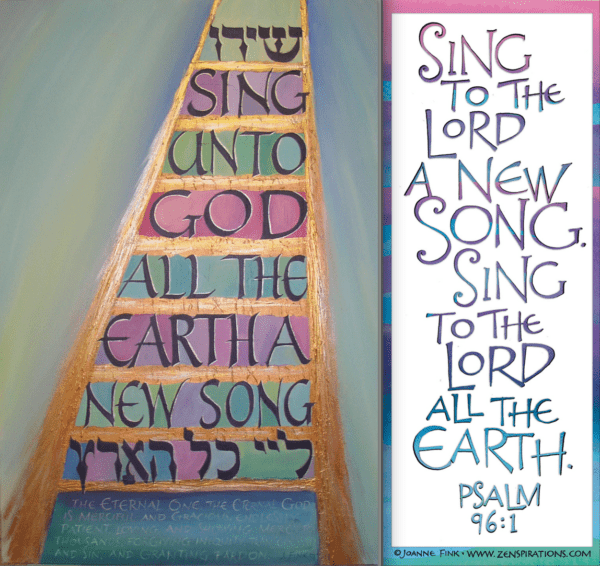 I've included Psalm 96:1 in several of my books. This is the version I used in Expressions of Faith, which is part of the Create, Color, Pattern, Play! series.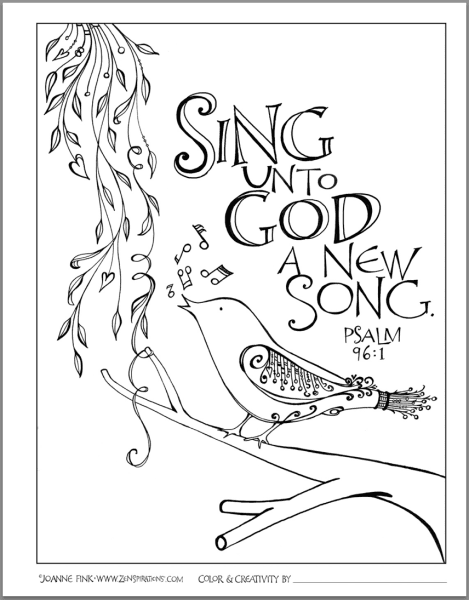 And here is a version I did as a greeting card.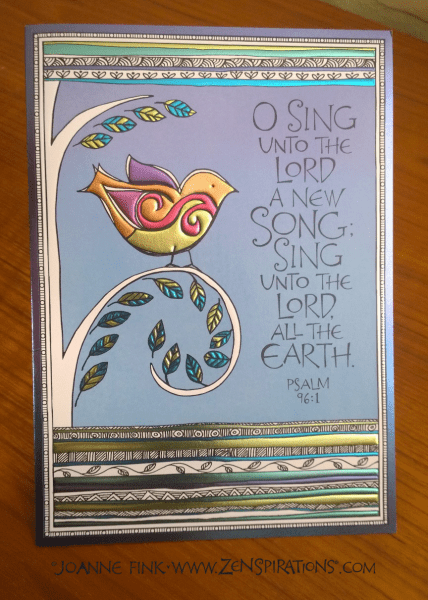 As many of you know, I started my career as a greeting card designer, and still design lots of cards today. I thought you might enjoy seeing how I design cards, and since Easter was this past weekend, I thought I'd share an Easter card as an example. Generally, when a company asks me to design a card for a specific occasion, I like to provide more than one option. In this case, I came up with three different concepts. The first sketch was a patterned cross design: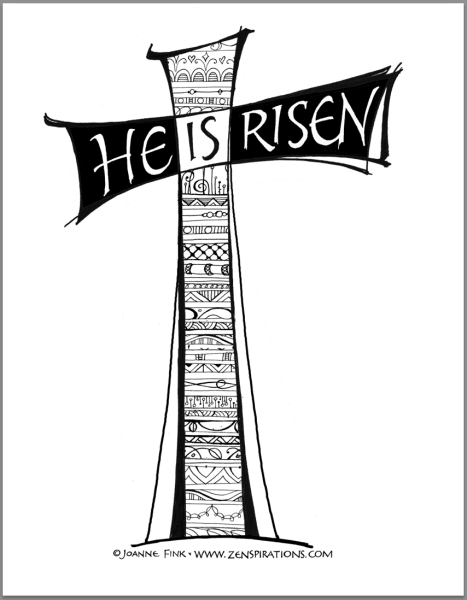 The second concept, which is my favorite, was a Dangle cross design: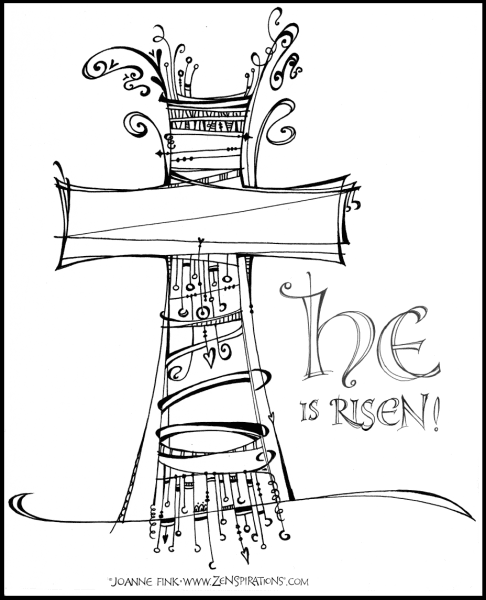 And the third concept was a floral oval: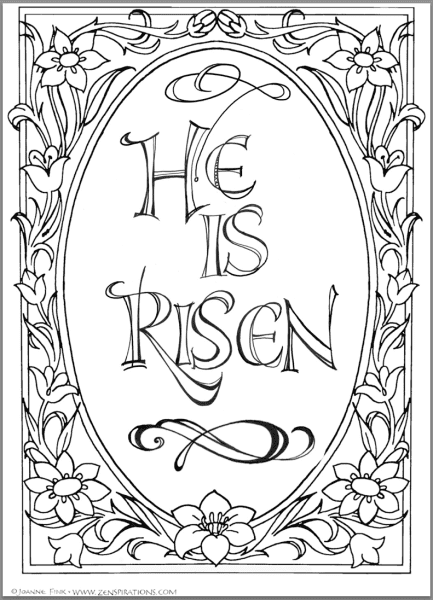 My card licensee selected the third concept, and the next step was to paint the design: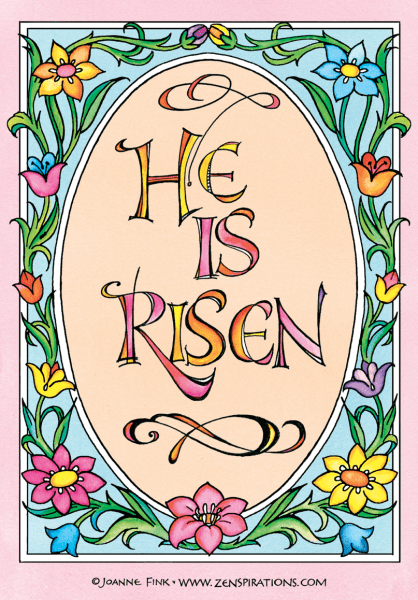 After it was painted, I specified which parts of the design I wanted to be embossed, and which parts I wanted to be foiled. Sometimes, as in this instance, I emboss and foil the same parts of the design; in this case I wanted the flowers and letters to 'pop-out' from the background. We used holographic foil to achieve the shimmery effect. The photo doesn't really do justice to the special processes, but I hope you can see some of the shimmer and embossing.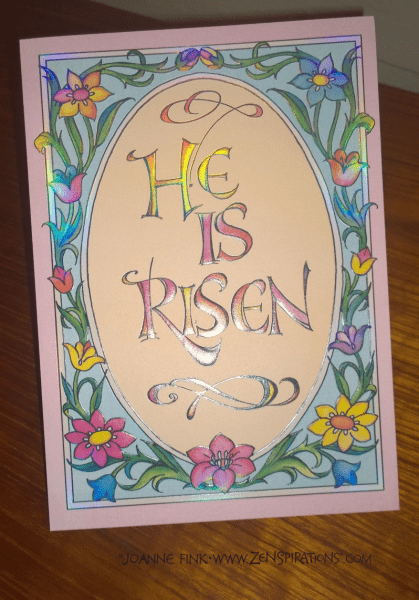 And while we are on the subject of cards, I wanted to share a dual-purpose card I made for my friend Jane, who retired last week, and will be celebrating her birthday on Friday. Because Jane is embarking on a new, exciting part of her life's journey, I wanted to create a design which would underscore the meaning of this special time in her life. Since I'm not sure where Jane's journey is about to take her, I have the rainbow wash going in different directions. I incorporated a path to symbolize the journey ahead, a world at the center of a sunflower to symbolize that the world is open to her, and a dragonfly to symbolize the flight she is about to take. Happy birthday Jane! I look forward to watching you soar!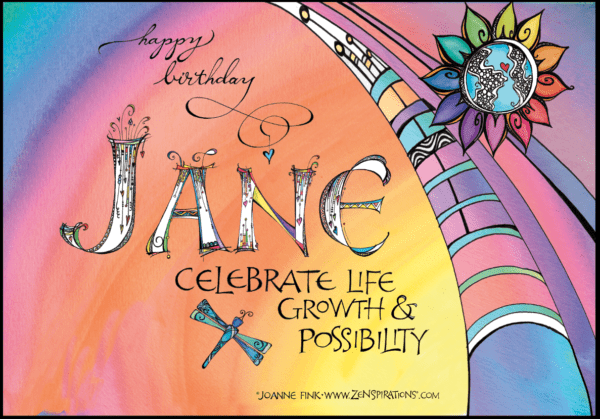 Stay Zenspired,
Joanne
PS The Miracles from Heaven Coloring Contest ends March 31st. Don't forget to post your designs before then if you want to participate.