Ribbons & Remembrance Rituals
Tuesday, October 17, 2017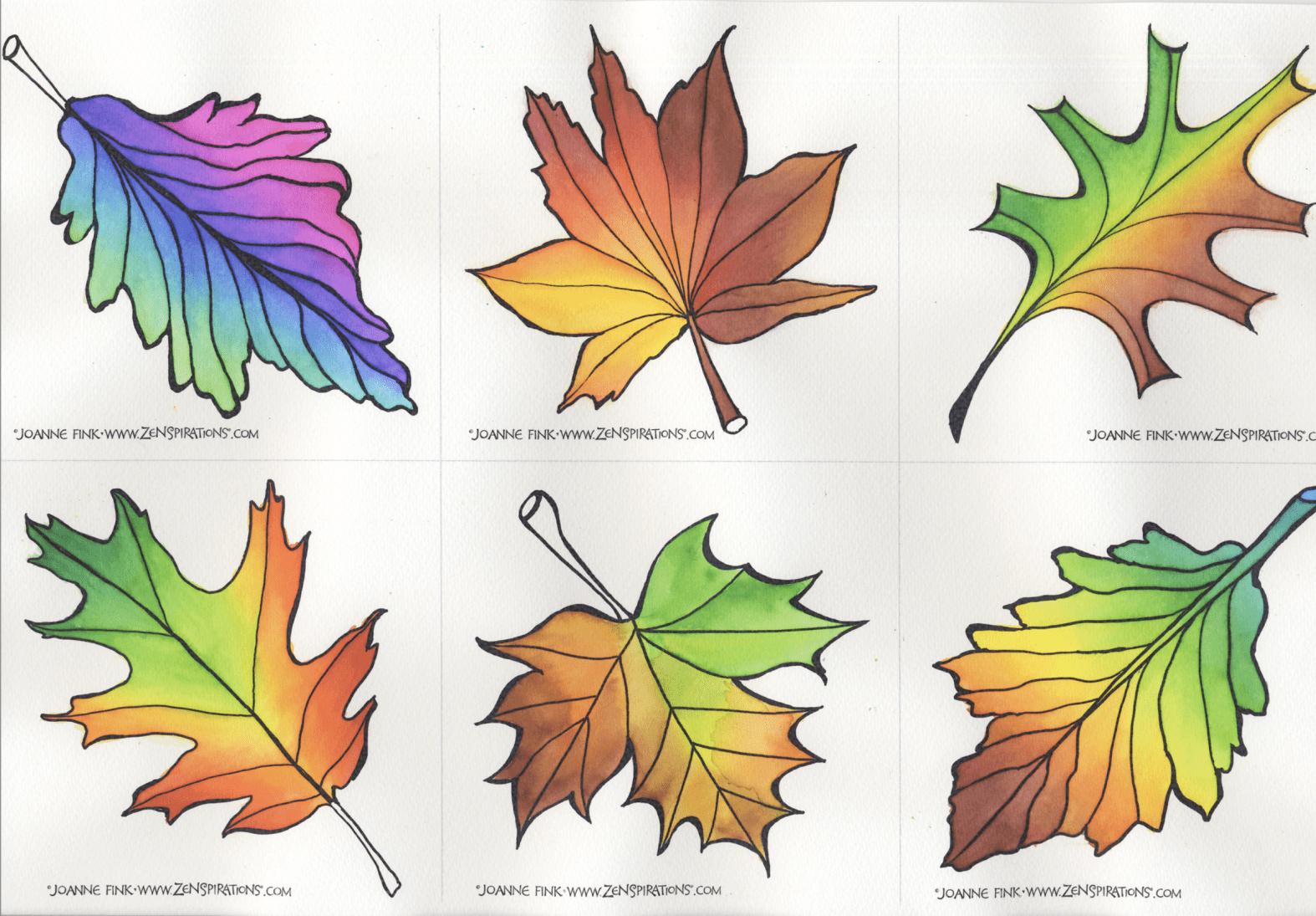 Hi Everyone,
In addition to being prime time for fall foliage, October is Breast Cancer Awareness month. Everyone knows someone who's life has been impacted by this disease. Breast Cancer is the diagnosis received by almost 250,000 of the 850,000 women who learn they have cancer each year. Part of raising awareness about Breast Cancer is encouraging our loved ones to get regular check-ups; another part is reaching out to those who are coping with cancer and letting them know they are not alone.
Whether it is a scary diagnosis, a car accident, or the loss of a loved one, it's during life's challenges that knowing someone cares really matters. I like my work to be used to make a difference for others, and so I invite you to print and share the free downloadable designs I've created for this week's Zenspirations® blog, and to forward this post to your friends and family and invite them to do the same. Do this for your loved ones who are currently fighting cancer; to celebrate with a survivor in remission, or to honor the memory of someone who's legacy continues to inspire you.
For those who like to color, I've created a strength & courage ribbon: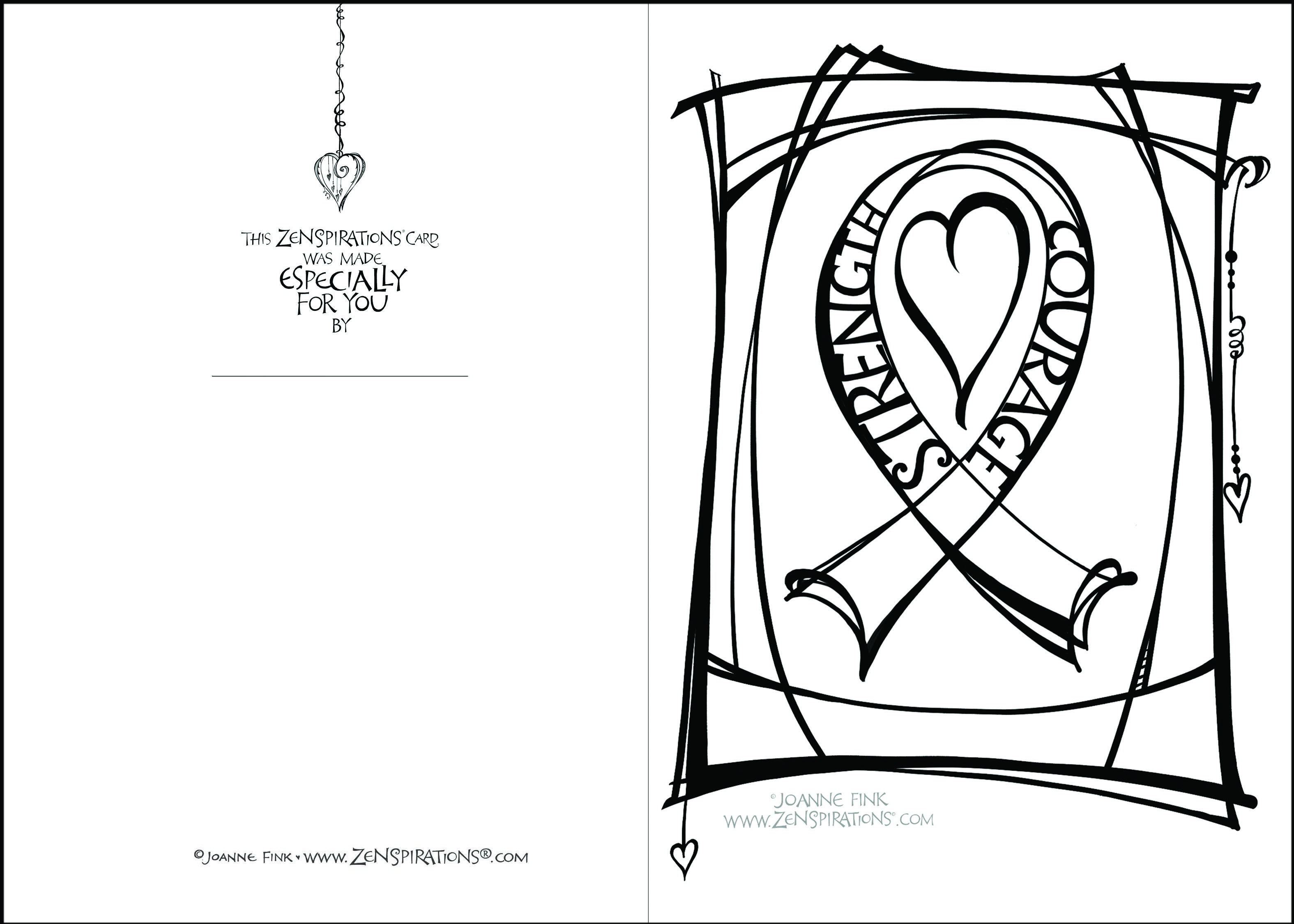 Color the ribbon pink for Breast Cancer, Teal for Ovarian Cancer, Peach for Uterine Cancer, Purple for All Gynecological Cancers. Click below for your FREE DOWNLOADABLE Strength & Courage coloring card.
Zenspirations®_by_Joanne_Fink_BLOG_10_16_2017_Pink_Ribbon_Card_to_Color
I've created full color 'Holding You in my Heart' card for those who would prefer to have a finished design. You can send this card however you like– e-mail, snail mail, text message– or even post it on Facebook.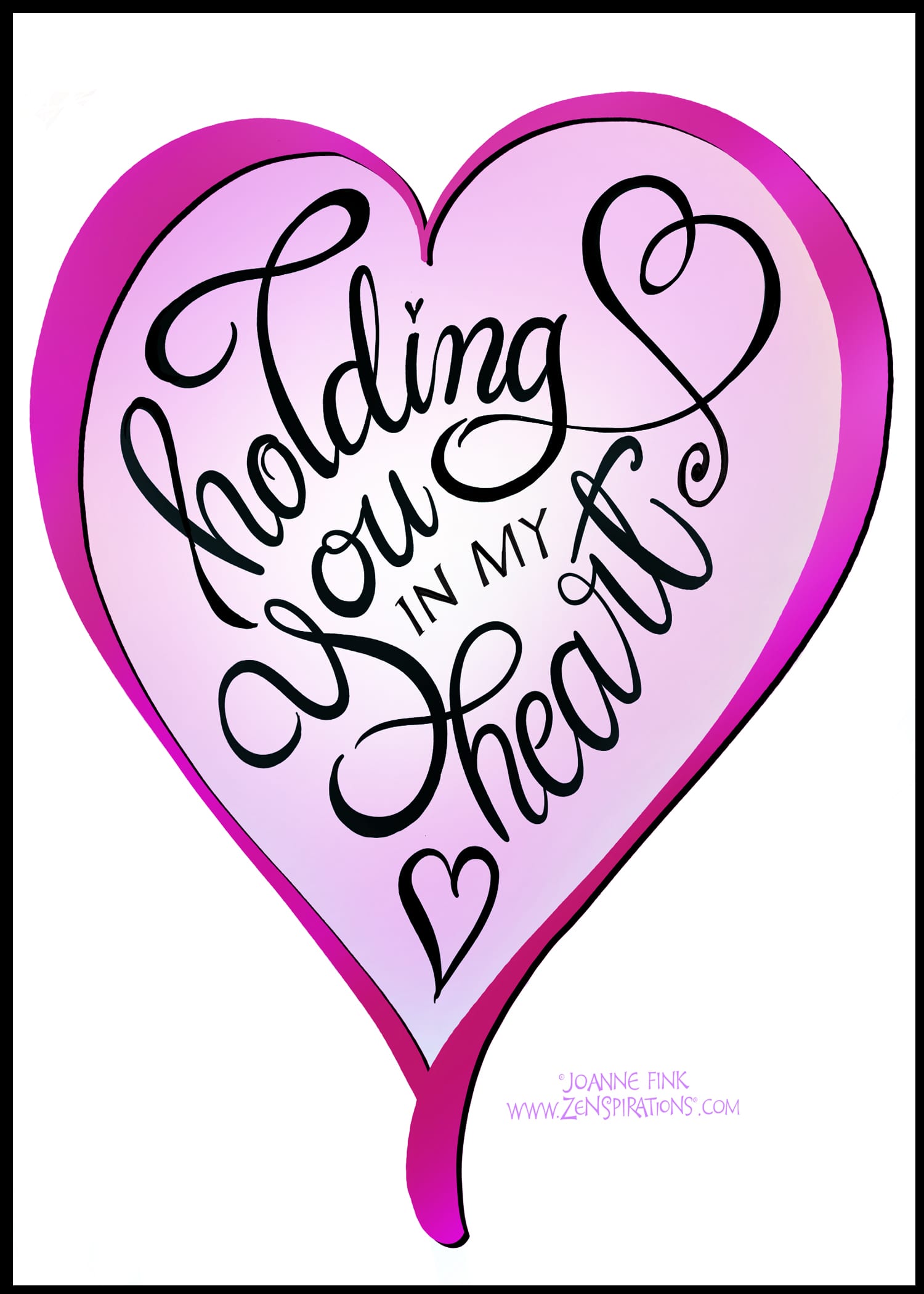 Click below for your FREE DOWNLOADABLE Holding You in My Heart card:
Zenspirations®_by_Joanne_Fink_BLOG_10_16_2017_Holding_You_In_My_Heart
I also created a pink ribbon/ heart flower design: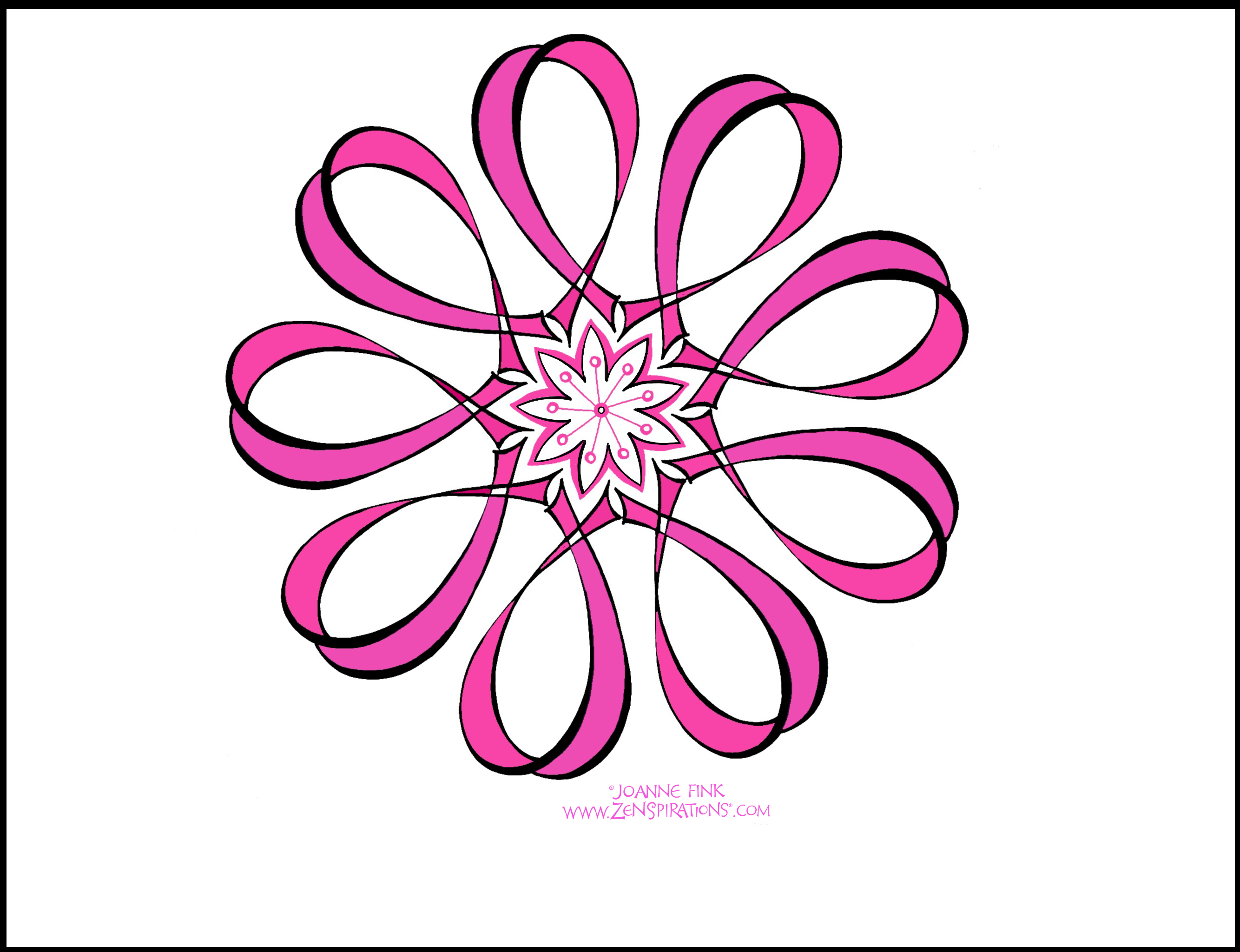 Before closing this week I wanted to thank everyone who shared a Remembrance Ritual on last week's blog, Love Lives On: https://zenspirations.com/blog/love-lives-on/. So many of them touched my heart… I was inspired to design a cover for the book: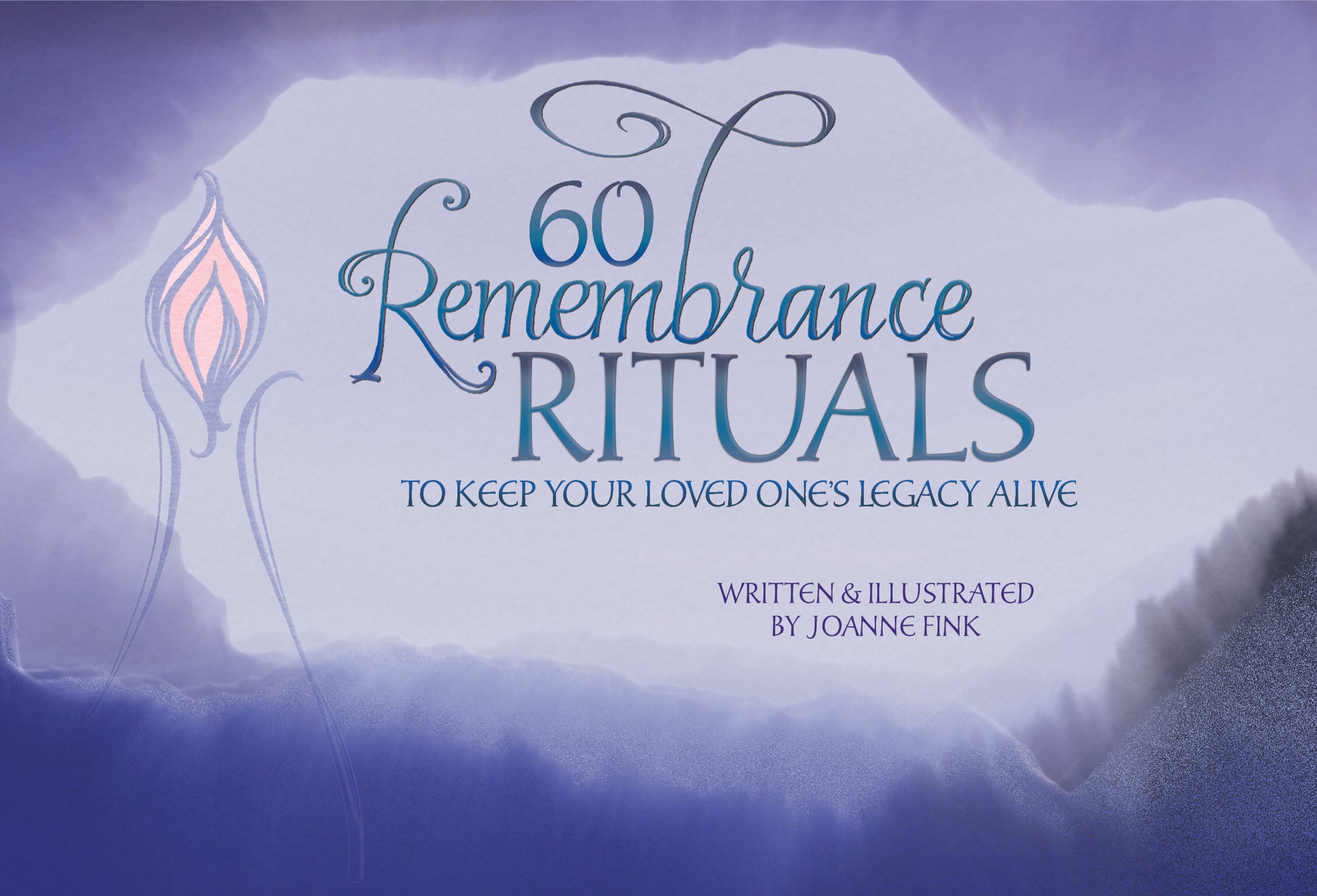 For those who missed last week's blog, I'm putting together this book in honor of what would have been my husband's 60th birthday on October 21st. I'm going to pick a name at random from those who leave a comment sharing the ways they commemorate their loved one, and that person will receive a copy  the newly printed When You Lose Someone You Love. Please make sure you post your comment by midnight on Saturday if you'd like to have a chance at winning a copy of the book.
Stay Zenspired,
Joanne