Sacred Questions
Tuesday, October 2, 2018
Hi Everyone,
I've been asking myself a lot of unanswerable questions lately. Sacred questions. Soul stretching questions.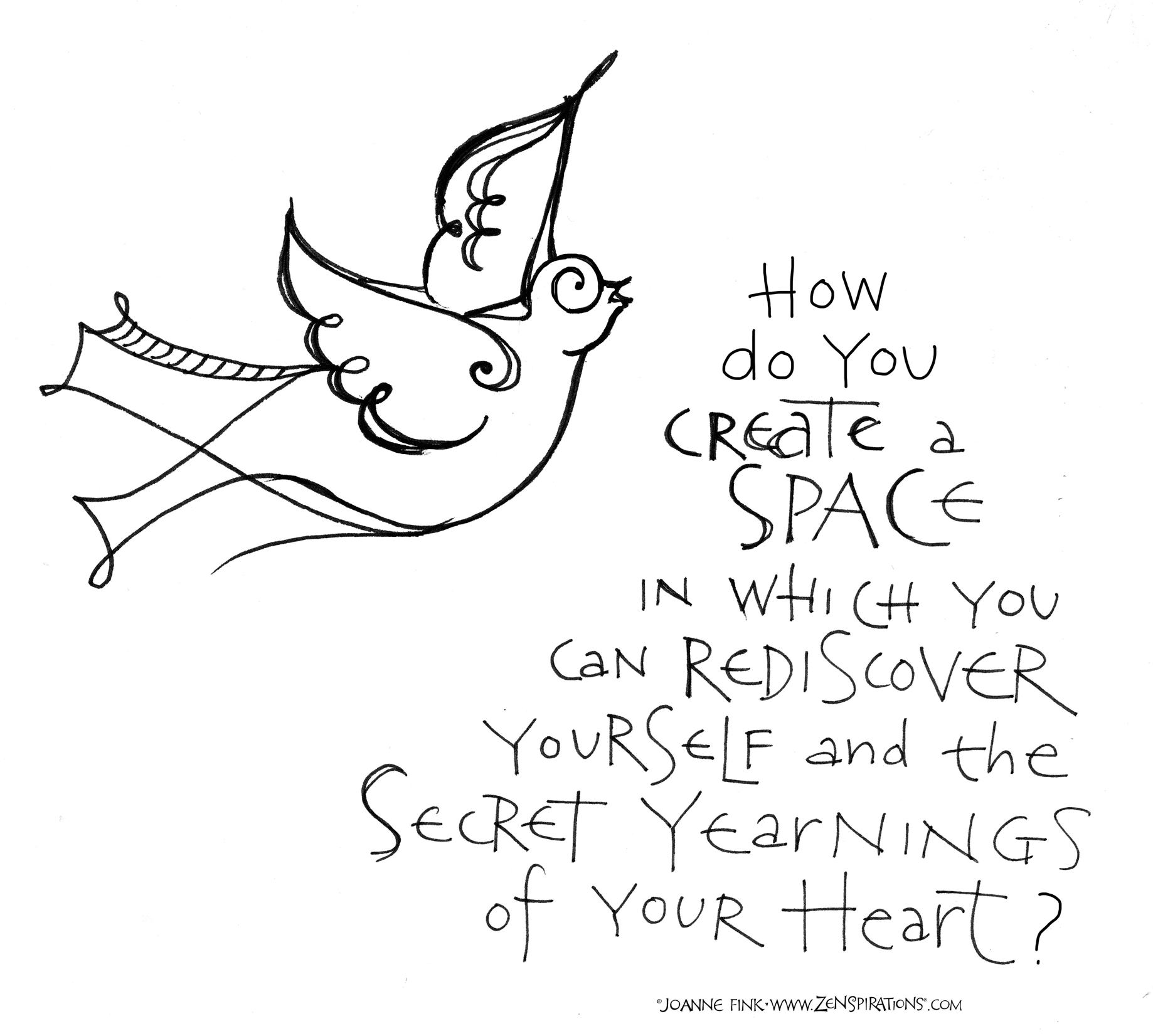 I've come to realize that in some way the question itself IS the answer. For example, while I may not know HOW to create a space in which I can rediscover myself and the secret yearnings of my heart, the fact that this question appeared on one of my recent morning journaling pages tells me I need to carve out some time for reflection. Allowing myself time to be still, to listen, to ask more questions will hopefully help me discover the direction my heart wants to go.  What does your heart yearn for? If you know, who have you told?
This week the Bible Journaling Jumpstart Facebook Group, the younger sister of the Zenspirations® Create, Color, Pattern, Play Facebook Group, is celebrating its first anniversary, and I wanted to invite both communities to participate in a special 1st Anniversary Give Away!
The prizes include:
A signed copy of my Expressions of Faith Coloring Book, my new 2019 Expressions of Faith Mini Calendar, The Beloved Word journal, a set of my Spellbinders rubber stamps featuring the scripture "As for me and my house, we will serve the Lord", a signed copy of my gift book, With God All Things Are Possible, one of my Inspired Journaling stencils, a coloring notepad and set of coloring note cards.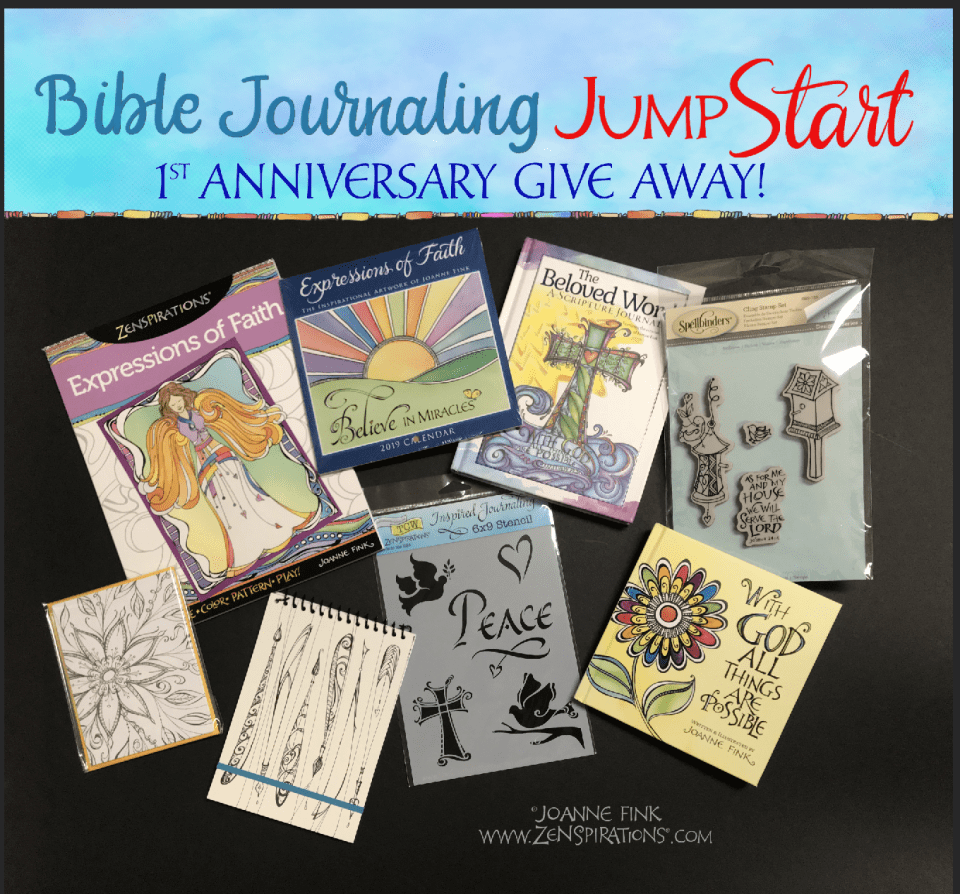 The winner will be selected at random from those who post their rendition of the "This is the day the Lord has made, let us rejoice and be glad in it" coloring or Bible Journaling page, into the albums in the Zenspirations and/or Bible Journaling Jumpstart Facebook groups by midnight Friday, October 19th. To earn additional chances to win the $60 prize, you may follow the Bible Journaling Jumpstart Instagram Page,  follow Zenspirations on Instagram, join the Bible Journaling Jumpstart Facebook Group, join the Zenspirations Create, Color, Pattern, Play Facebook Group,  subscribe to the Zenspirations® Blog and/or leave a comment on this post. Due to postal regulations the prize can only be shipped to an address in the continental United States.
You may color the entire page, or cut it into pieces and paste into your Bibles or onto your prayer cards.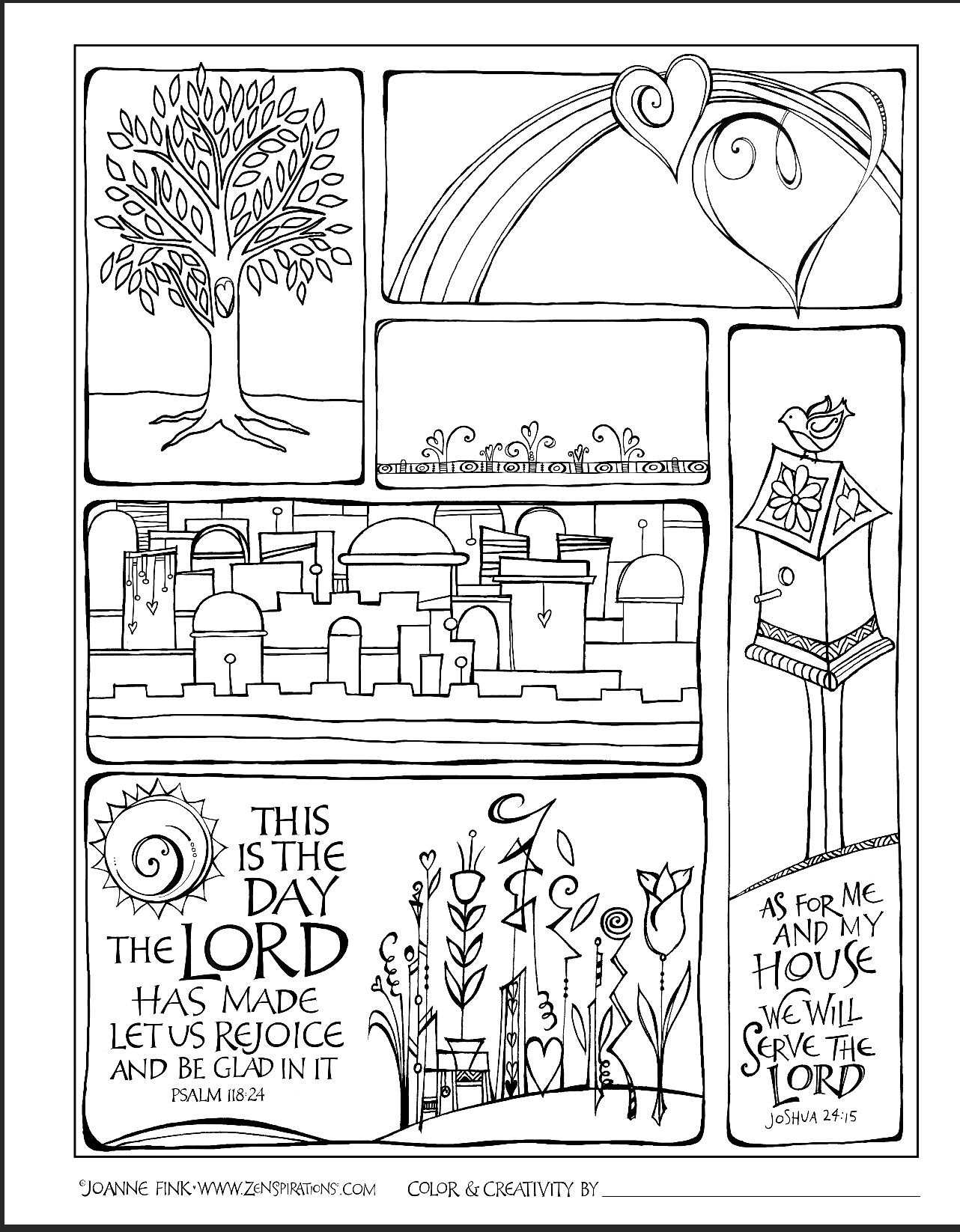 Click below to download your FREE COPY.
Zenspirations®_by_Joanne_Fink_Bible_Journaling_Coloring_Page  
I look forward to seeing all the creative ways this page will be used.
Stay Zenspired,
Joanne