Season of Miracles
Tuesday, April 11, 2017
Hi Everyone,
This week, during the sacred season of rebirth and renewal, Christians & Jews the world over are observing Passover, Easter and Greek Orthodox Easter. For those who walk in faith, it is a time for remembrance, reverence and reflection; an opportunity to allow our hearts to become open to possibility and to invite awe and wonder to take root in the deepest recesses of our souls. A time for Miracles to be acknowledged and appreciated.
Miracles is the theme of my 2018 wall calendar. I think they've selected this design as the calendar cover: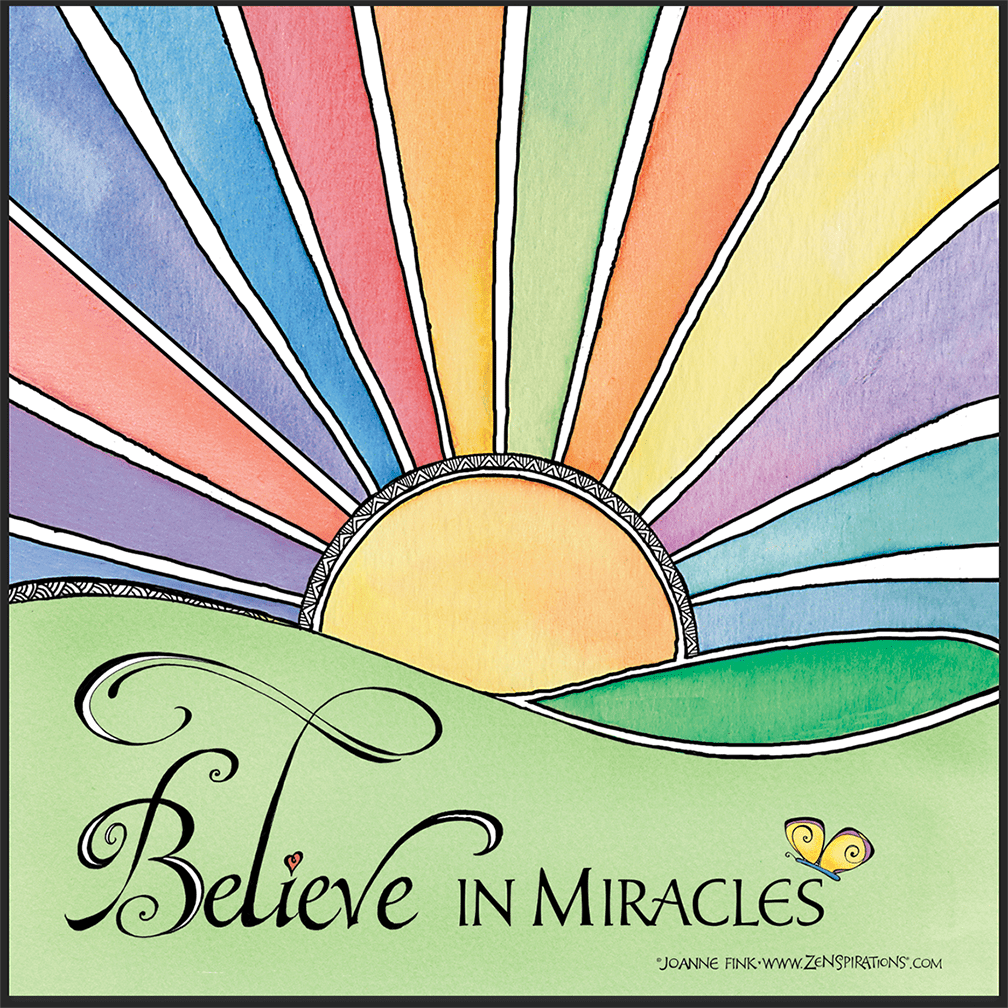 Passover began tonight (Monday) at sundown. I wanted to share a prayer I wrote for someone who led a Passover Seder for the first time. I hope it helped put the participants in an appropriate frame of mind. You are welcome use and/or share this prayer. I know the print is tiny, so I'm including the words below the visual.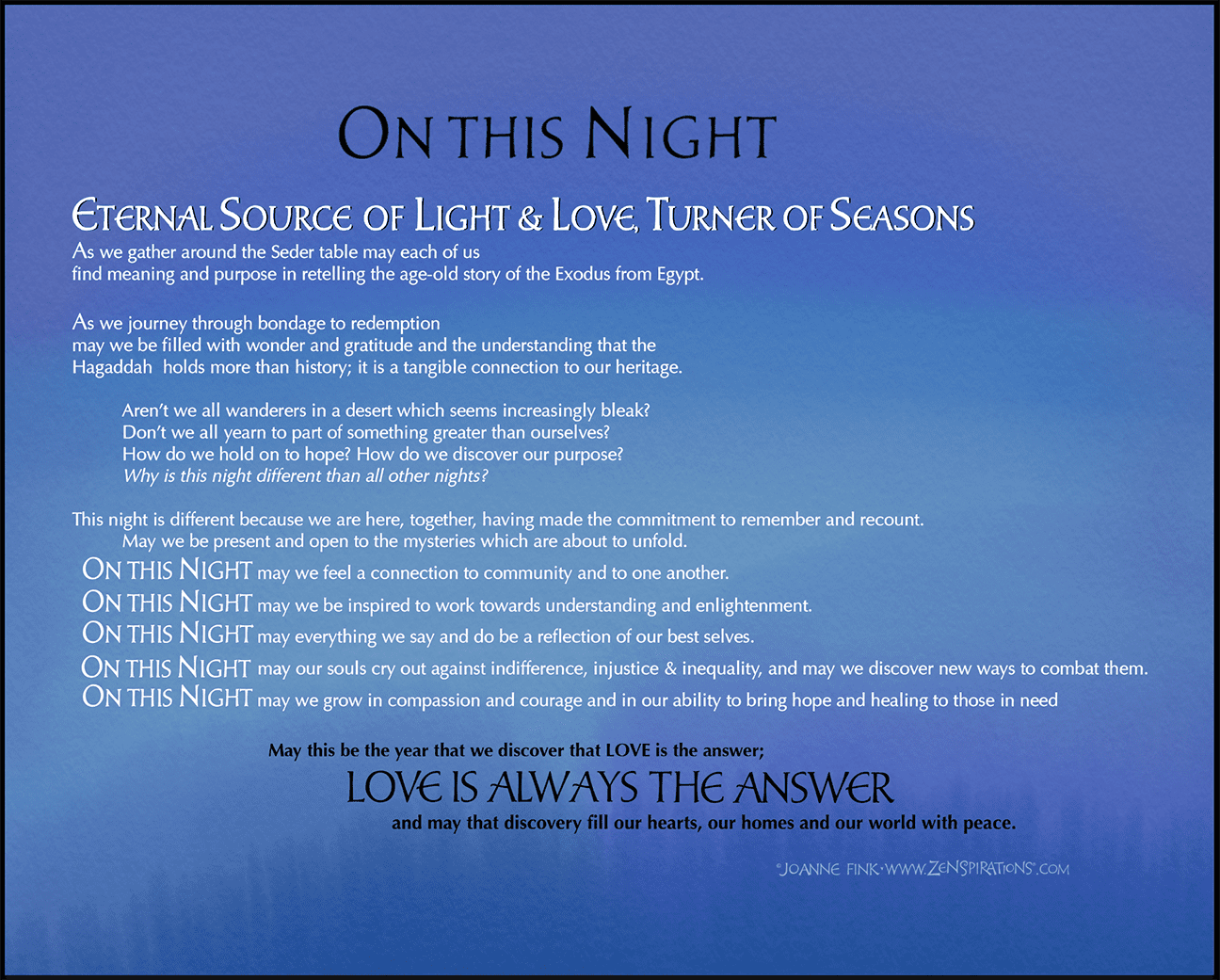 ON THIS NIGHT
---
Eternal Source of Light and Love, Turner of Seasons,
As we gather around the Seder table, may each of us find meaning and purpose in retelling the age-old story of the Exodus from Egypt.
As we journey through bondage to redemption, may we be filled with wonder and gratitude, and the understanding that the Hagaddah (Passover prayer book) holds more than history; it is a tangible connection to our heritage.
Aren't we all wanderers in a desert which seems increasingly bleak? Don't we all yearn to part of something greater than ourselves? How do we hold on to hope? How do we discover our purpose? Why is THIS night different than all other nights?
This night is different because we are here, together, having made the commitment to remember and recount. May we be present and open to the mysteries which are about to unfold.
ON THIS NIGHT may we feel a connection to community and to one another.
ON THIS NIGHT may we be inspired to work towards understanding and enlightenment.
ON THIS NIGHT may everything we say and do be a reflection of our best selves.
ON THIS NIGHT may our souls cry out against indifference, injustice & inequality, and may we discover new ways to combat them.
ON THIS NIGHT may we grow in compassion and courage and in our ability to bring hope and healing to those in need.
May this be the year that we discover that LOVE is the answer; Love is always the answer; and may that discovery fill our hearts, our homes and our world with peace.
The Passover story concludes with the words "Next Year in Jerusalem", and I incorporated those words into a card design featuring the holy city.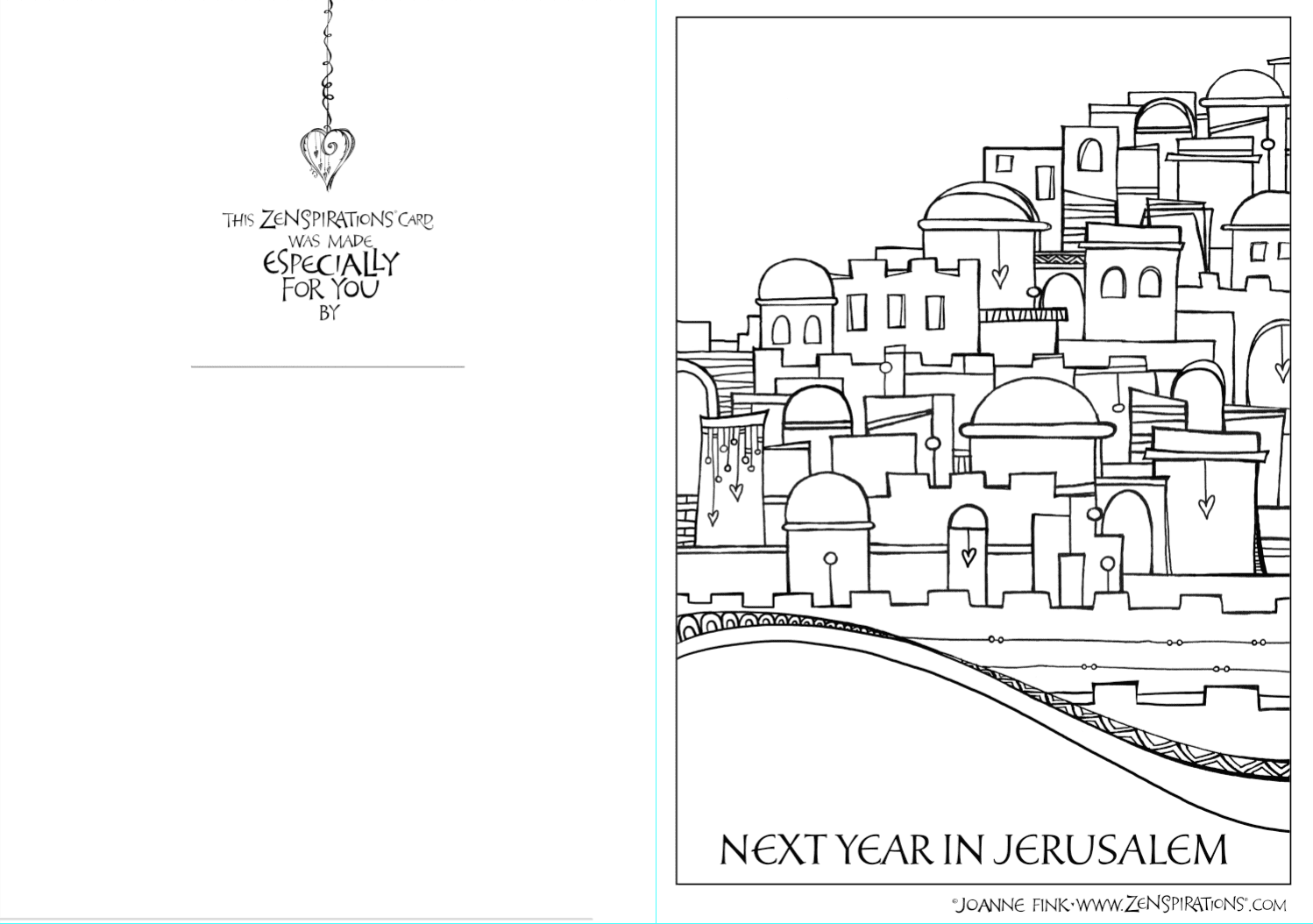 Click the link below to download a FREE PDF of the Next Year in Jerusalem card. CC_Next_Year_in_Jerusalem
And, for those of you who love Zenspirations® Dangle Designs, here is a Dangle Cross card I hope you'll enjoy: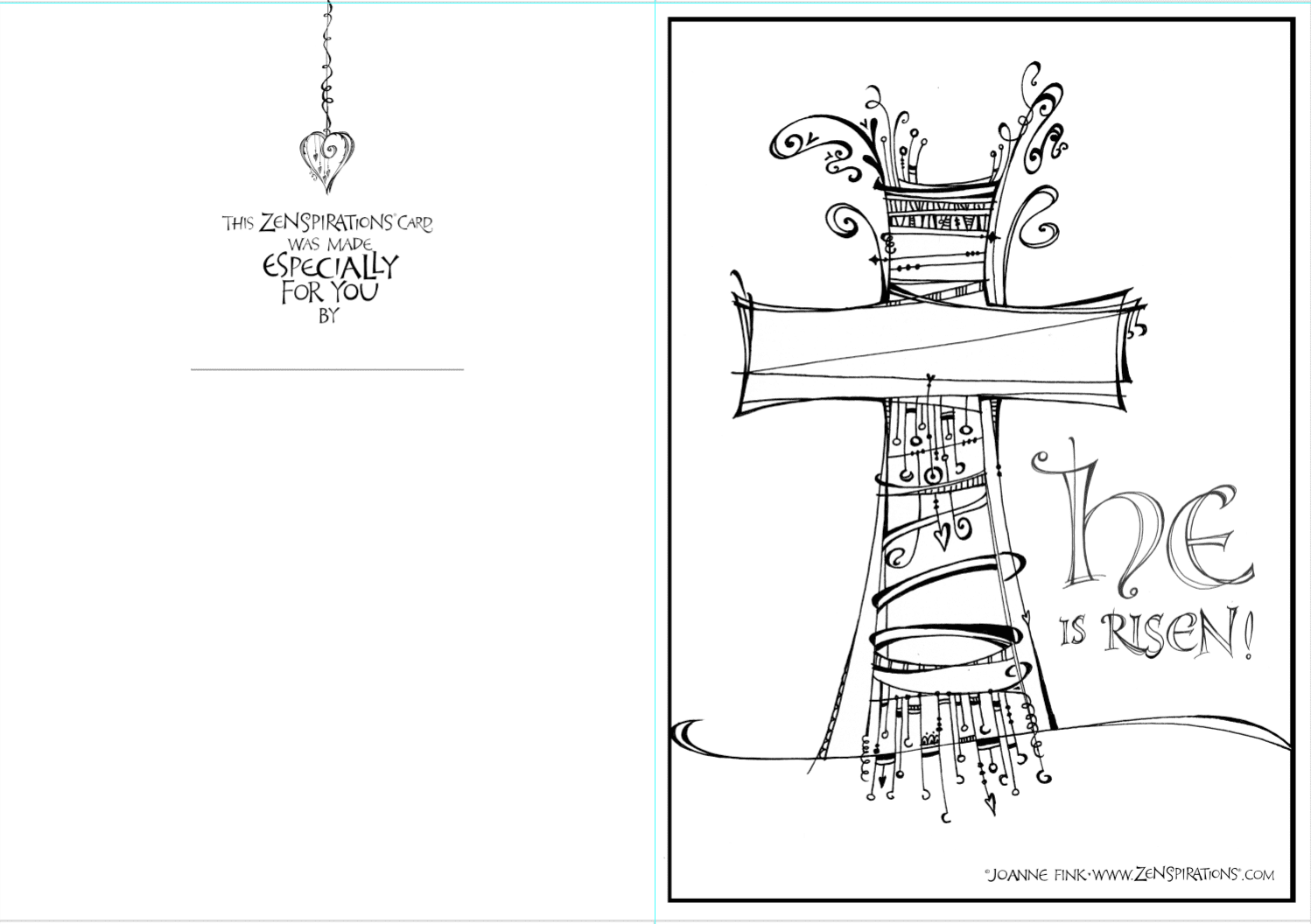 Click the link below for your FREE DOWNLOADABLE PDF of the He is Risen Cross design.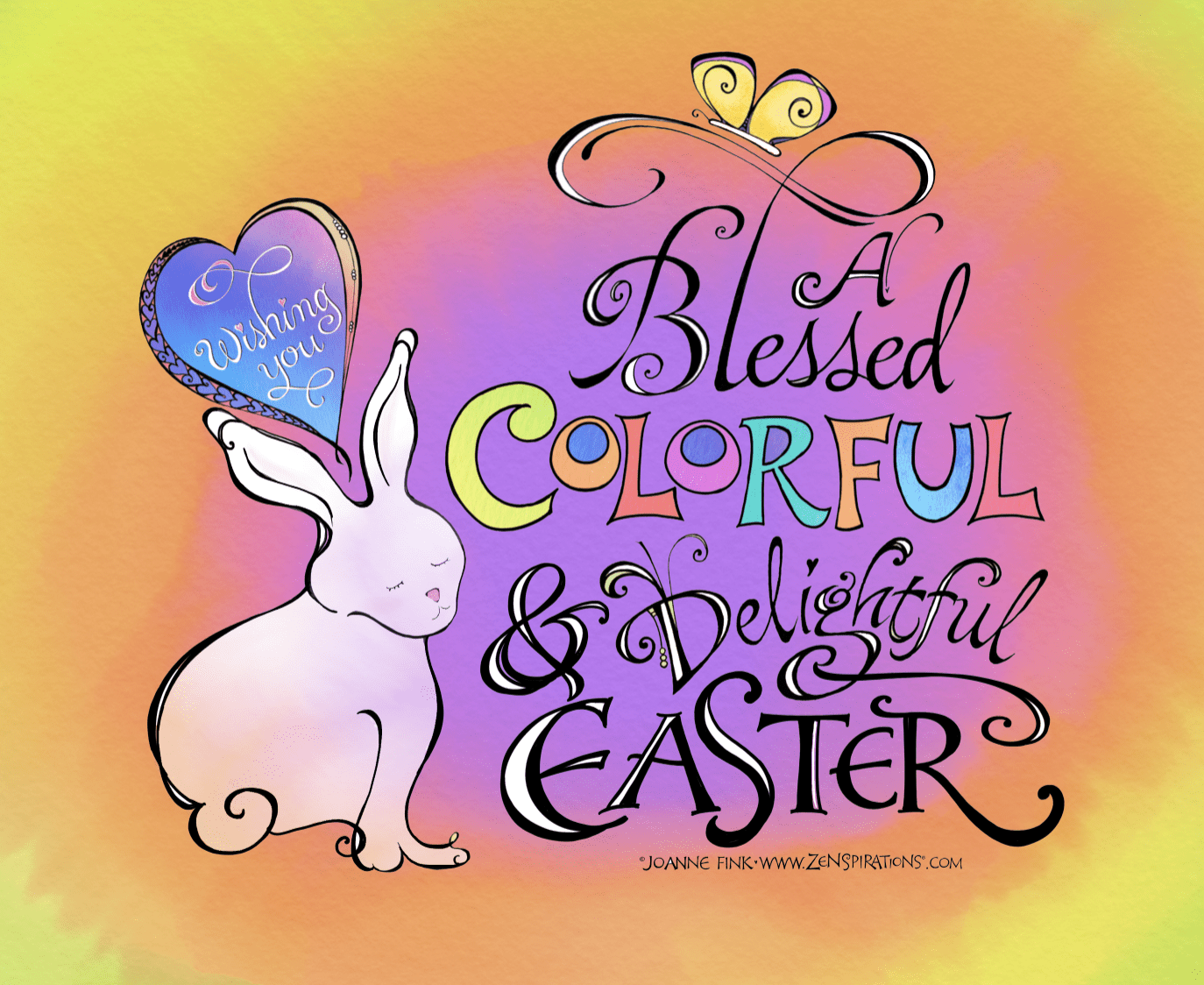 As we move towards our 3 year 'Blog-versary' later this month, I'm still trying to decide how best to celebrate. A number of people expressed interest in a FB Live, and during the Creativity Weekend I hosted last week I asked a few people to help me test a virtual meeting platform called www.join.me. Using this platform we can have 50 people participating in a group conversation. 10 of us can share the screen in these little 'bubbles', I think the rest would be able to watch what they do and type messages to one another, but not having tried it yet, I'm not sure. Here is a screen shot of the conversation that Mary Anne Fellows, Gail Beck and I had with Jill Suzanne Hatcher, Toni Popkin and Leitha Hunt.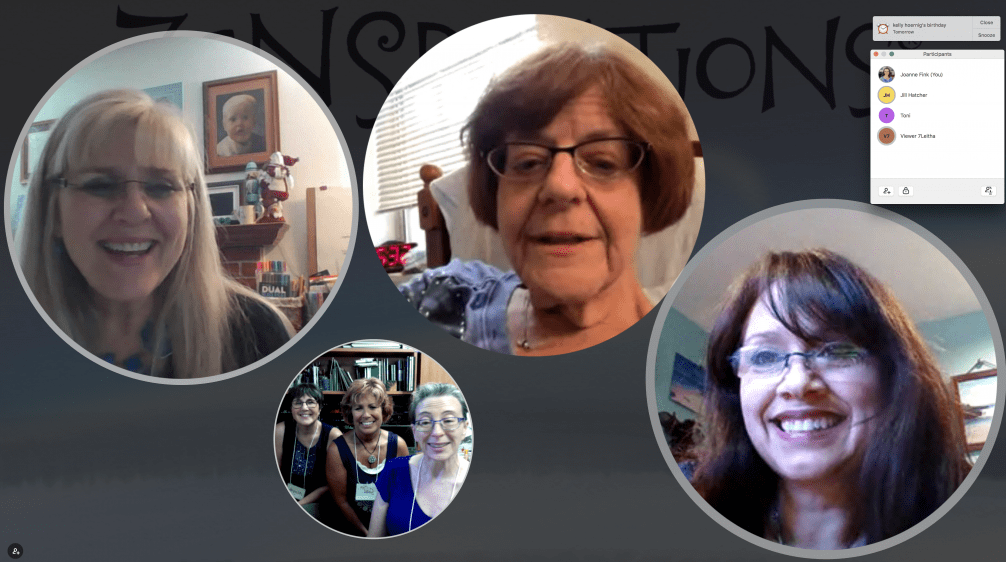 To use this program you'll need to have access to Google Chrome, along with a reasonably fast internet connection; otherwise you may not be able to hear and see everyone.To be able to include as many people as possible, I'm thinking about scheduling get togethers on different days and times. If you are interested in participating, please leave a comment letting me know whether you would be interested in an afternoon or evening session, and whether you'd prefer a weekend or weekday. Also please let me know if you are willing to be a Guinea Pig and help test the software to make sure it works.
Before closing tonight, I wanted to share a 'rainbow tree' design I've been working on.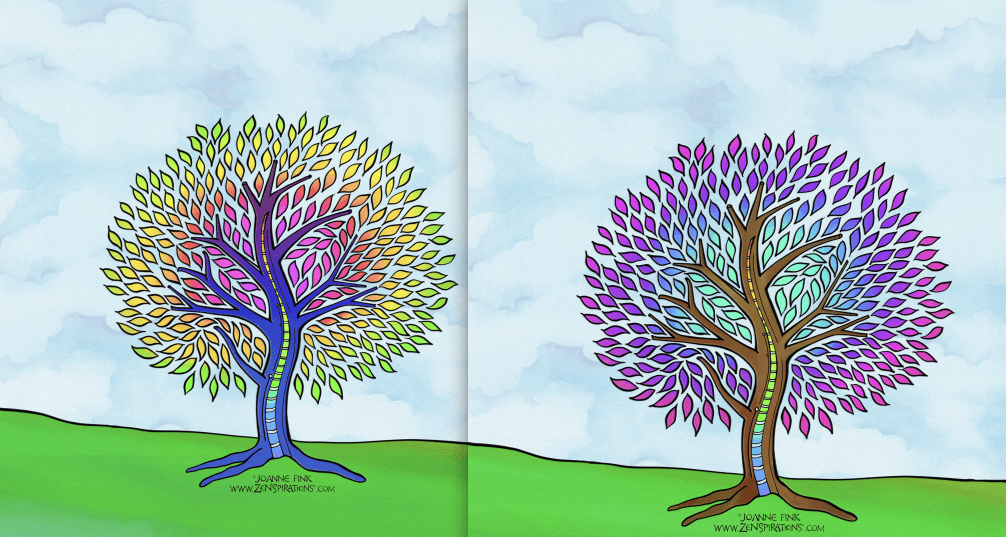 Isn't this sacred season a wonderful time to Celebrate Life?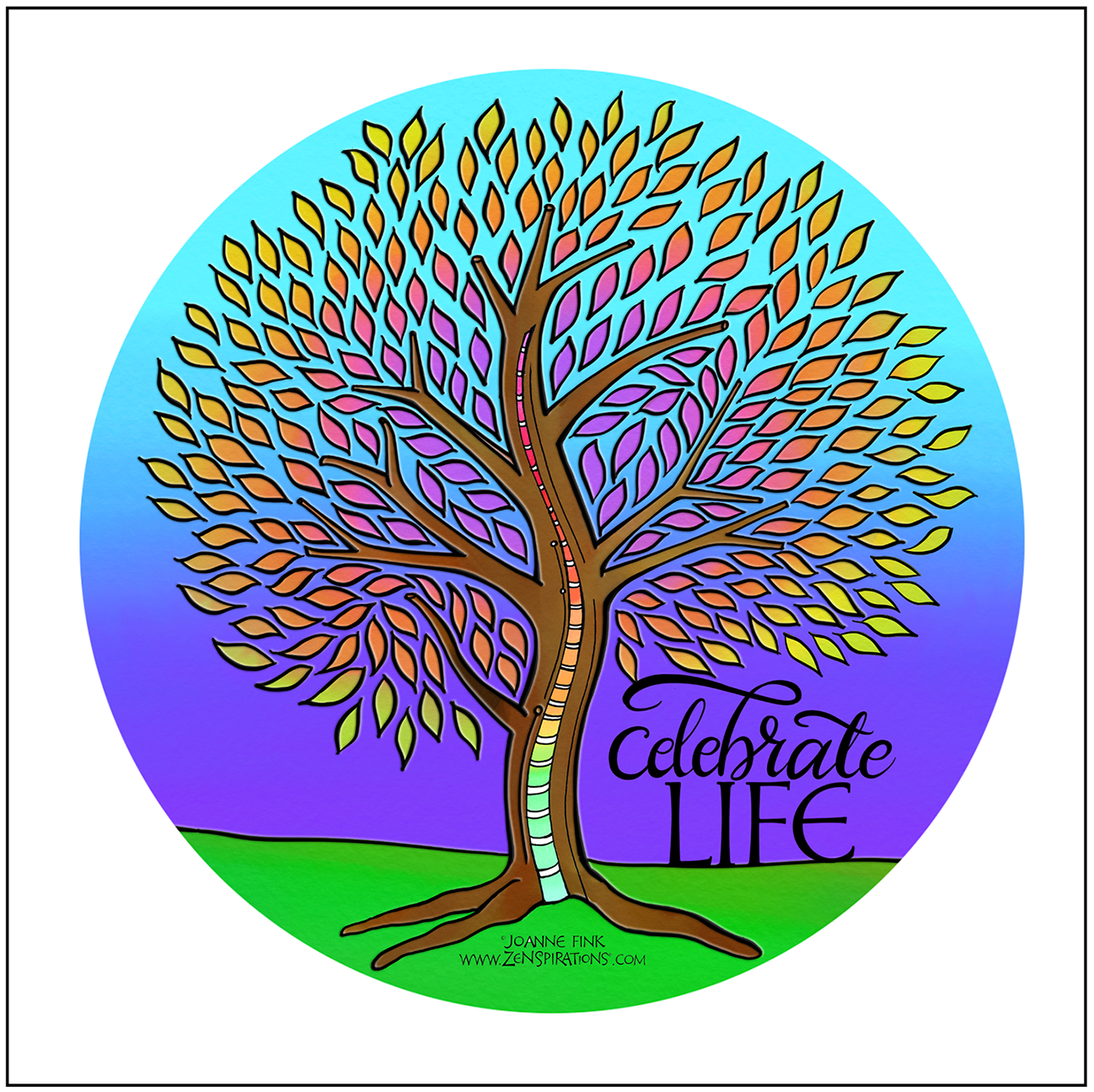 Stay Zenspired,
Joanne