Share the Love!
Tuesday, February 7, 2017
Hi Everyone,
Valentine's Day, a holiday which focuses on L*O*V*E, is fast approaching, and I invite you to join me on a quest to Share the Love… by sharing our creativity.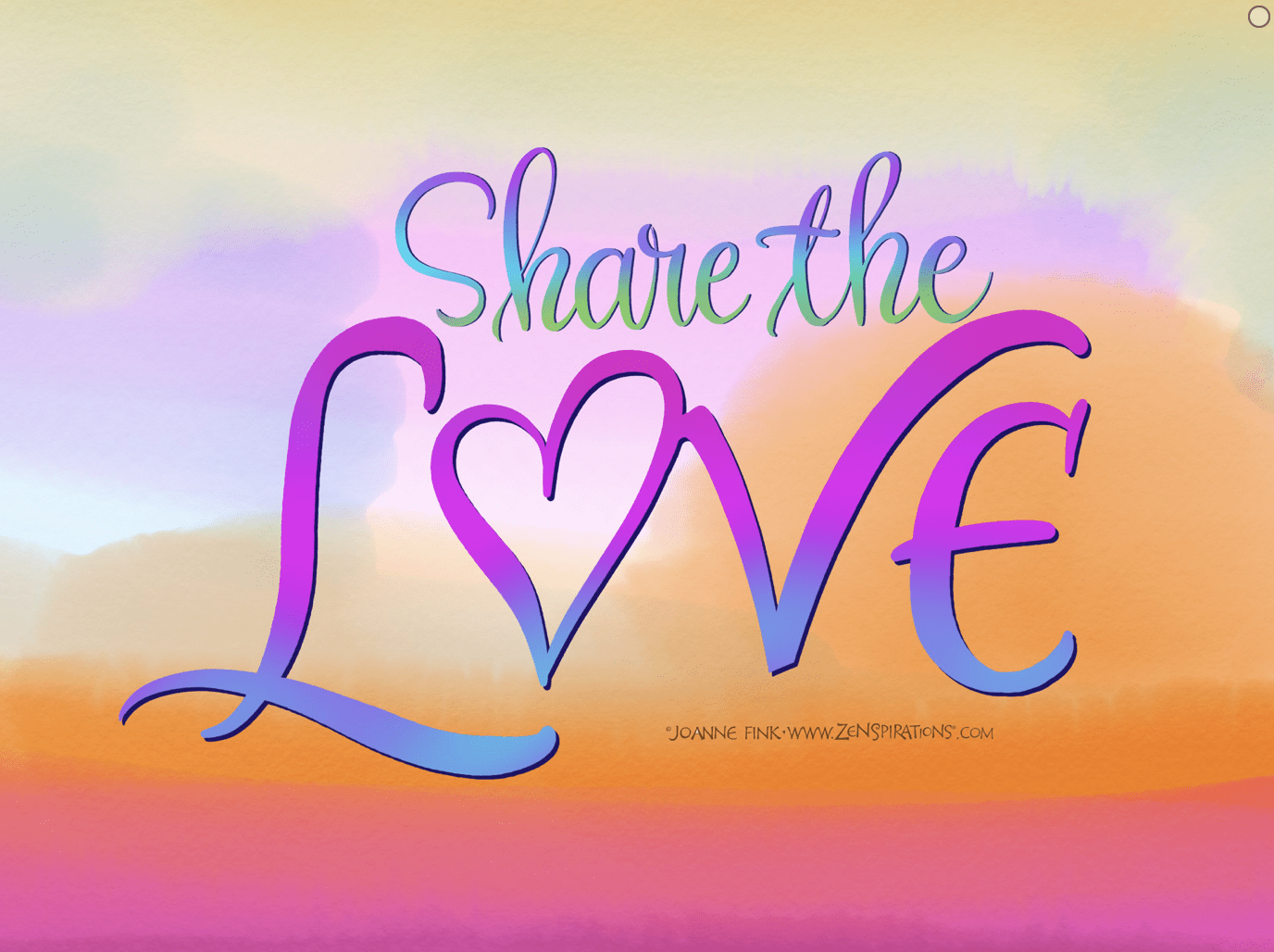 Love is the most powerful force in the universe. There is a light inside each of us; when we are able to reach out to others in love, that light shines more brightly. Using the talents we've been blessed with to make the world a better place is a special form of love. Let love envelop you… Let love flow through you… Let love connect you…Today, let the love in your heart shine forth in all the brilliant colors of the rainbow. 
I want to encourage everyone who is part of the Zenspirations® community to add someone (or several someones!) to your Valentine's Day list. It could be a family member you haven't seen in a while; a friend you really enjoy talking to; a colleague who is dealing with health issues, or a neighbor who recently lost a loved one. It could even be someone in the Zenspirations community you've always wanted to get to know. The idea is to take a moment and let this person know you are thinking about them. Whether your preferred form of communication is visiting, texting, calling, Skyping, messaging, snap-chatting, e-mailing, or old-fashioned letter writing, reaching out in love is an gift you'll be glad you gave.
Although a phone call or text will 'Share the Love'; I'm encouraging each of us to go the extra mile and share our creative gifts, and I've made three different cards for everyone to download, print, customize and share. The first says "Valentine's Day", and has room for you to draw some dangles or write a message (i.e. Thinking of You, Karen, with love on…) at the top.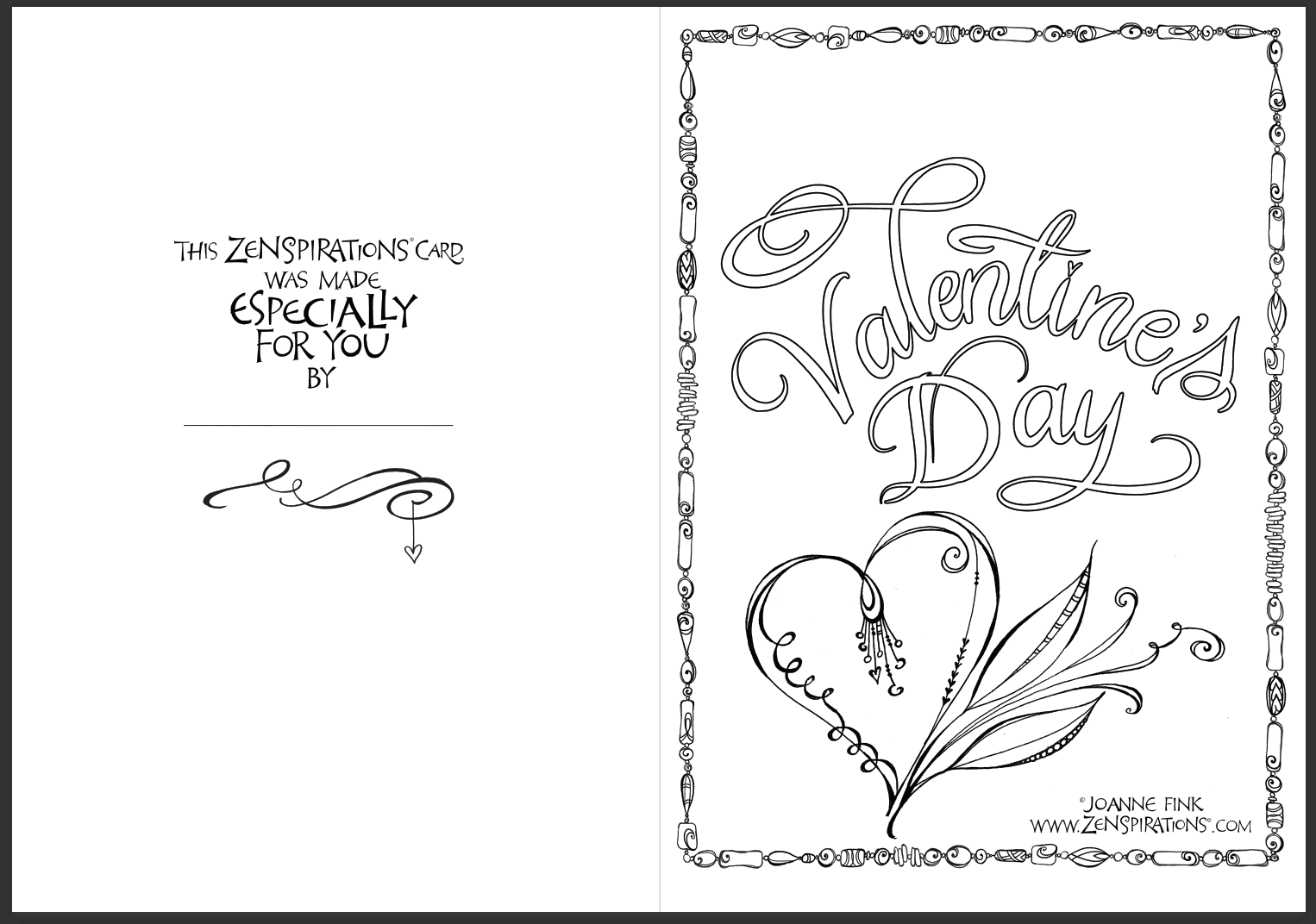 The second design has a big open heart which is perfect for decorating, or for writing a message to the person on your "Share the Love" list.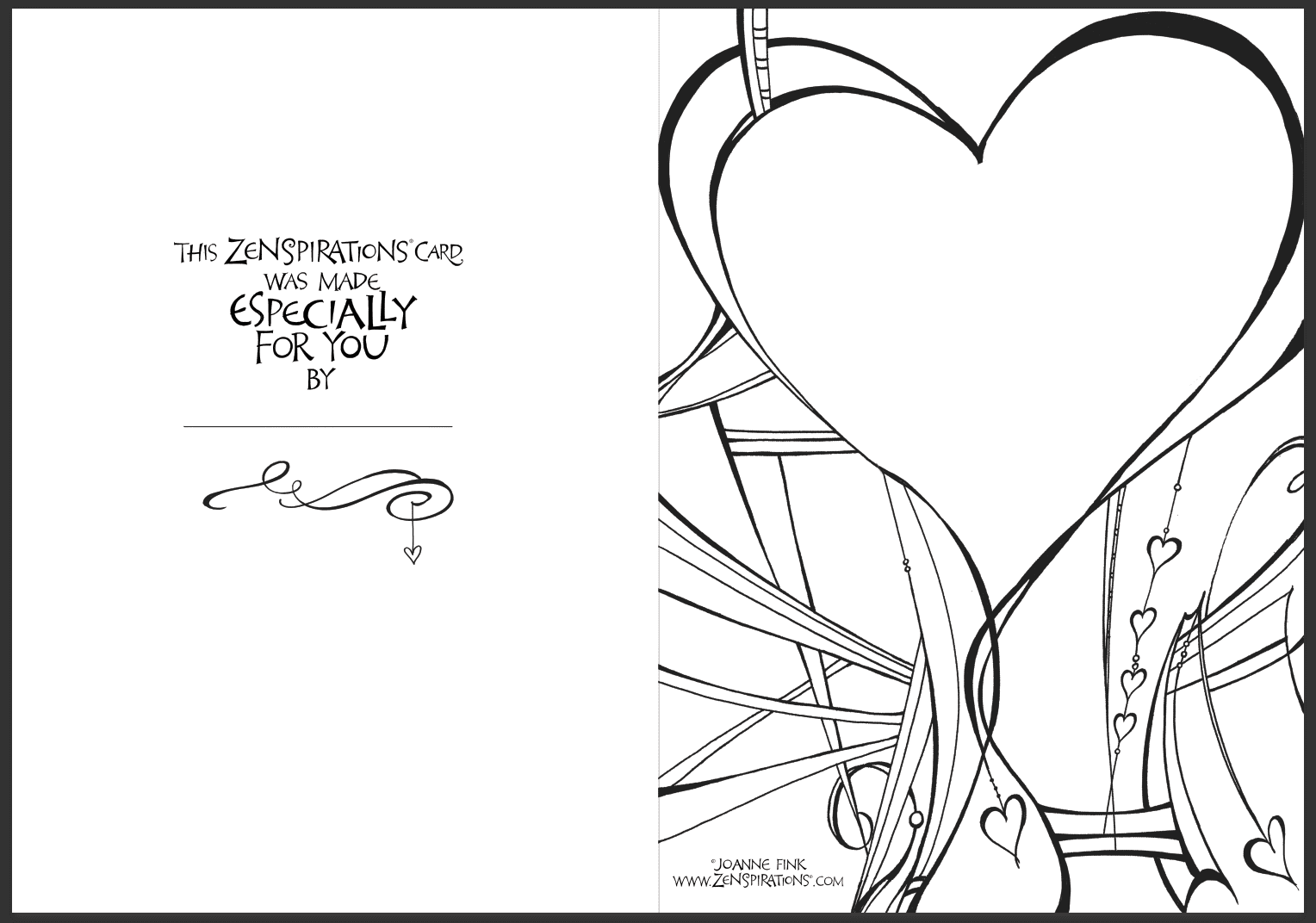 The last design is simply a Dangle frame to inscribe and decorate in whatever way you choose.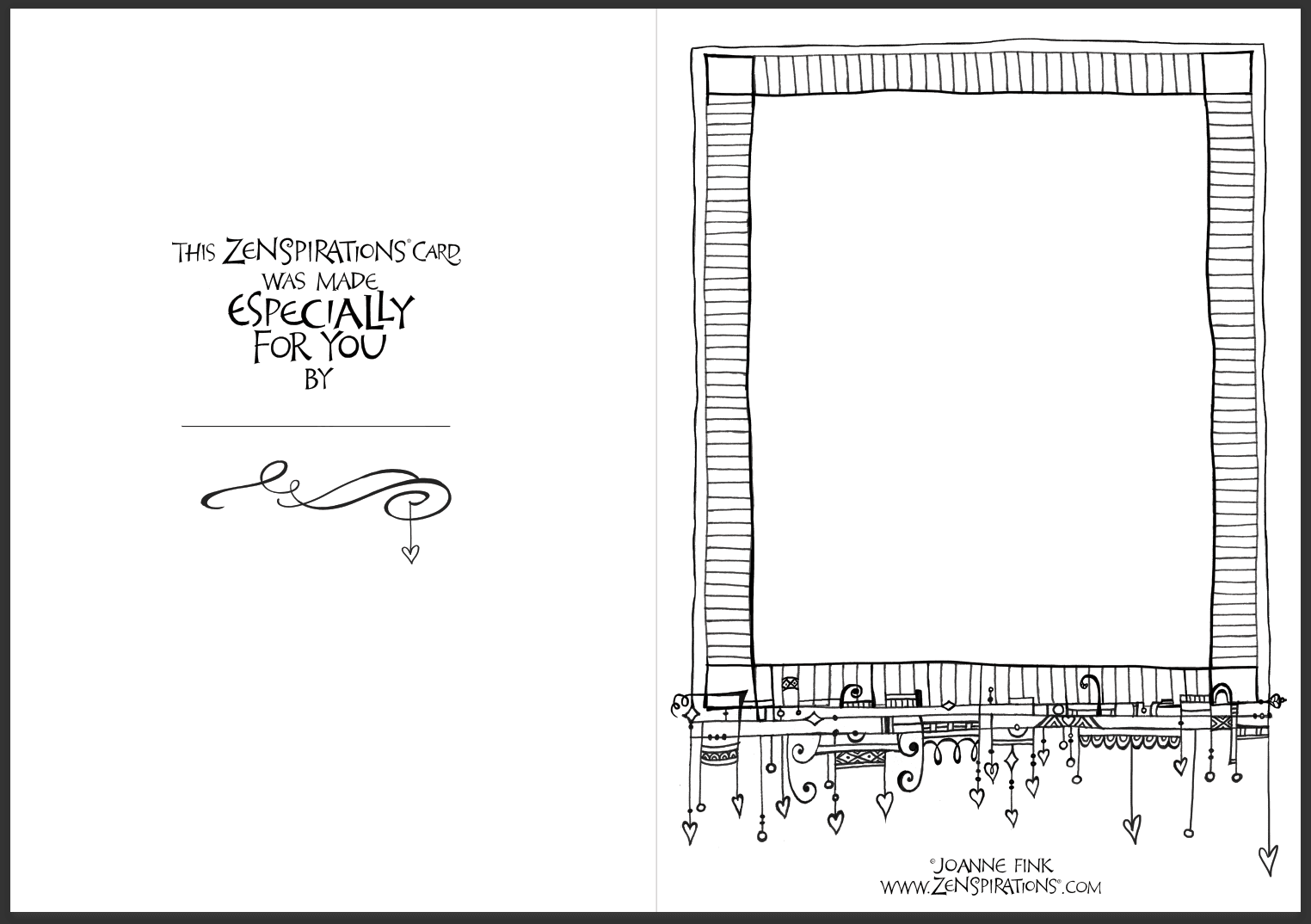 Given how busy every is, I thought I'd encourage you to make the time to reach out to others– especially those who may be going through a challenging time– by offering an incentive– a selection of the Zenspirations coloring products which are now in Michaels! I was fortunate to find a store near the airport which had ALL 48 items! As you can see from the photo below, I bought some of each.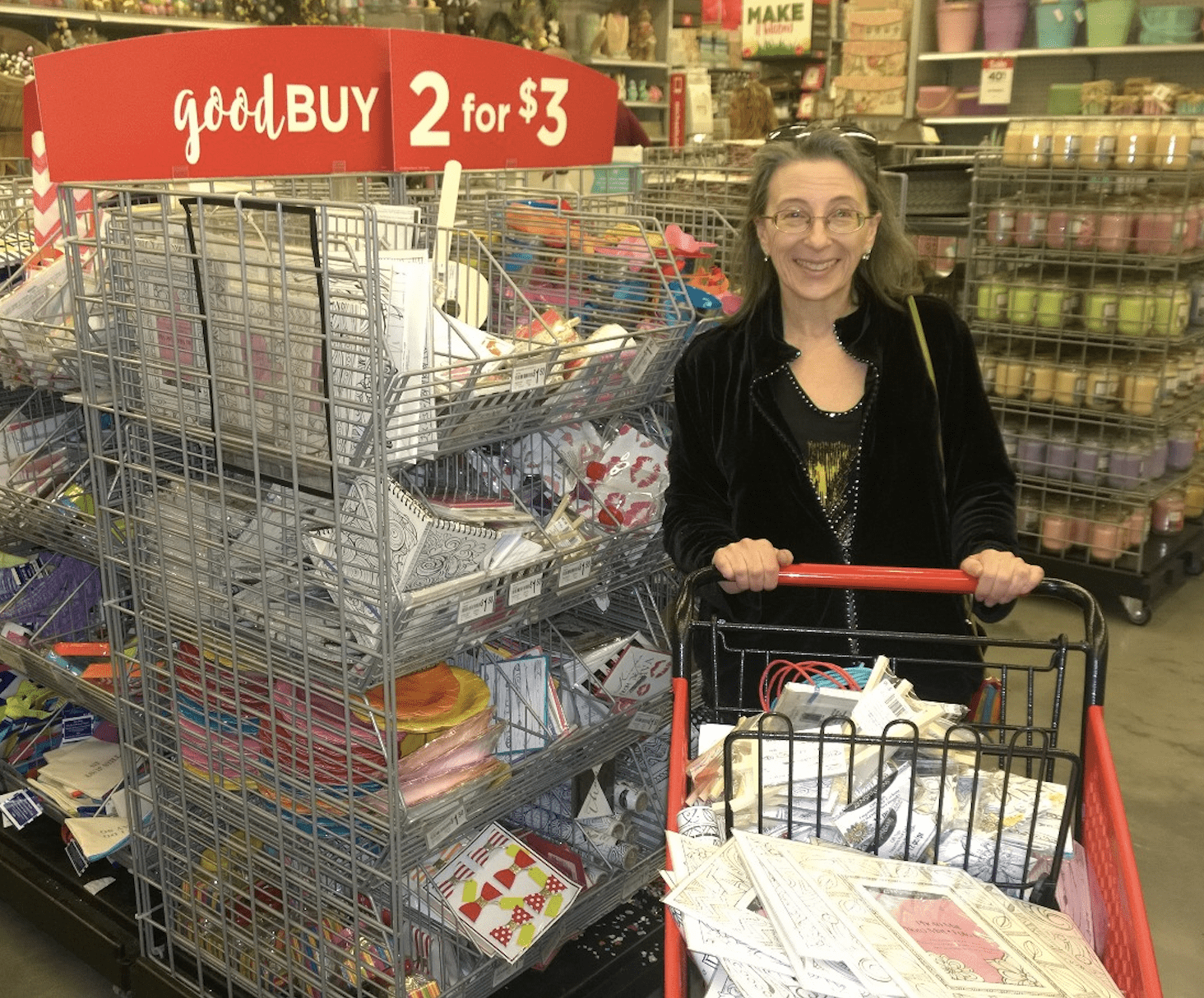 So here's how the contest will work. I will set up a "Share the Love" folder in our Zenspirations Create, Color, Pattern, Play FB group, and you can upload whatever designs you create for someone to whom you wouldn't normally send a Valentine's Day greeting. You can create your own design, use one or more of the designs I'm sharing tonight, or even use a page from one of my coloring books. This lovely example from my Color Peace book was created by Kristen Zeitler.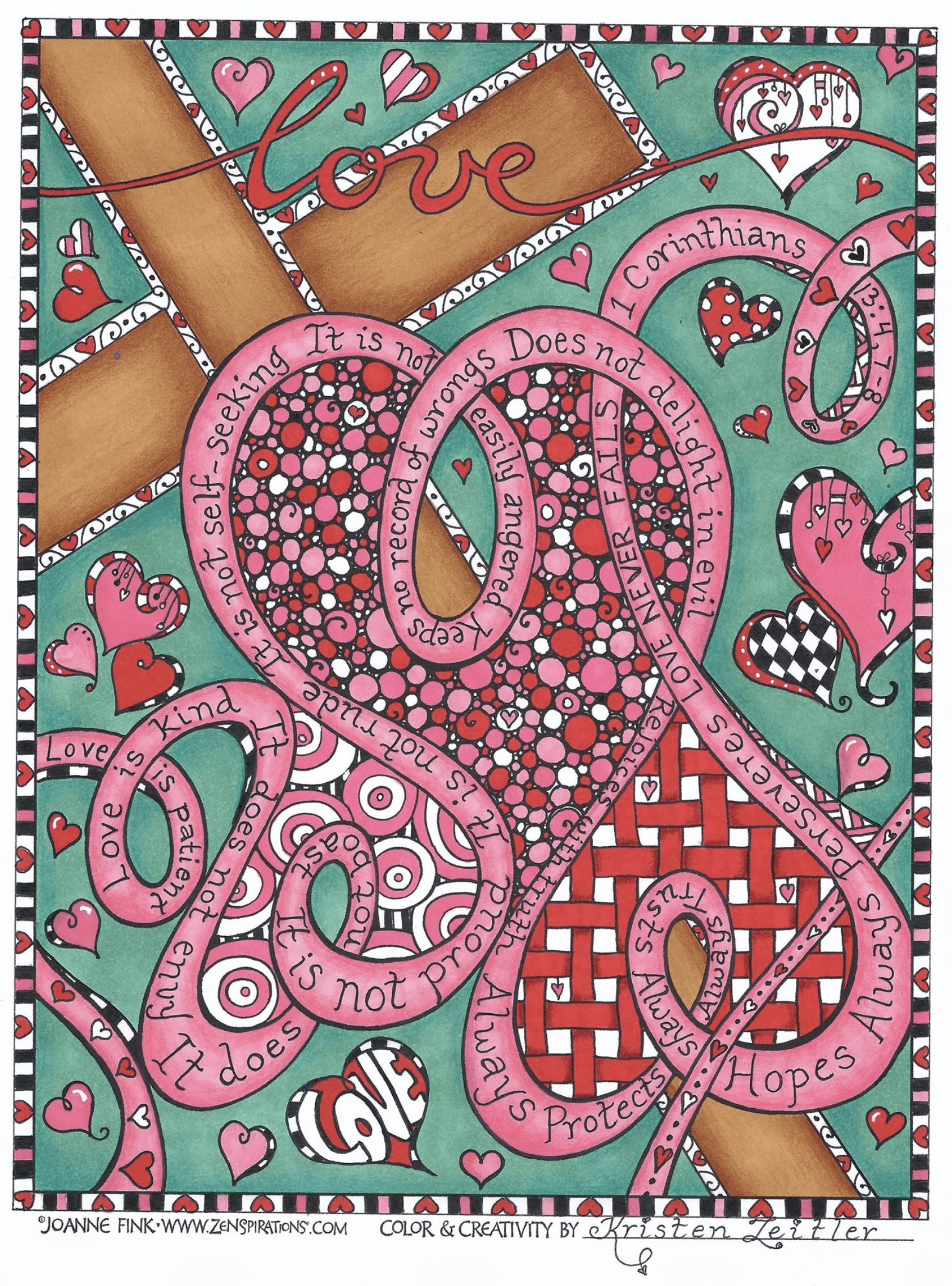 The idea is to "Share the Love" by reaching out to someone who has not been on your Valentine's Day list in previous years. You can enter more than once… if you post three Valentine's, your name will be entered three times. Next Monday night, February 13th, at midnight Eastern Standard Time, one name will be randomly drawn from among those who have entered. That person will have their choice of 24 of the coloring products. (There are eight different products: gift wrap, gift bags, gift tags, note cards, note books, cups, picture frames, and mini easels, and there are six different designs for each product, for a total of 48 different options.) International entrees are welcome, although I am not sure if I will be able to ship the rolls of wrapping paper overseas because they are quite long– but there are plenty of other products to choose from.
Click below to download:
Zenspirations®_by_Joanne_Fink_Dangle_Frame_Coloring_Card
Zenspirations®_by_Joanne_Fink_Open_Heart_Coloring_Card
Zenspirations®_by_Joanne_Fink_Valentines_Day_Heart_Dangle
I can't wait to see what you create– and I'd love for you to leave a comment letting me know who you plan to put on your "Share the Love" list.
And now I have a favor to ask. I have two calendars coming out in 2018; the first is a 16 month, 12 x 12 calendar, which will retail for $14.95.
The second will be a 12 month, 7 x 7″ calendar, and will retail for $7.99.
I've been given the opportunity to place an order for these before they go to press, and I'd like to know how many people would be interested in buying a 2018 Expressions of Faith calendar, so I can decide how many to order. I'm not taking pre-orders, and I'm not asking for a commitment, but if you think you would buy one of these calendars, I'd appreciate your leaving a comment saying which one you'd prefer.
Speaking of pre-ordering things, I want to thank everyone who pre-ordered the Complete Guide to Bible Journaling: Creative Techniques to Express Your Faith. I've been enjoying all of your comments and positive feedback. It helps to have reviews, and I'd be grateful if you would take a few minutes to write a review on Amazon, especially if you purchased the book from Amazon. For those who pre-ordered from me, I just got more books, so I'll be signing them tomorrow and sending them out over the next few days.
I'd also like to thank the people who have let me know that the website listed in the book, www.biblejournalingjumpstart.com, doesn't work. That's because the book somehow got 'fast-tracked', and wound up coming out ahead of schedule… and now I have to get the website up. Please check back later this month.
Before closing tonight, I want to wish my uber-talented friend Gail Beck a very happy birthday. Since Gail is a florist, I made her a card with flowers.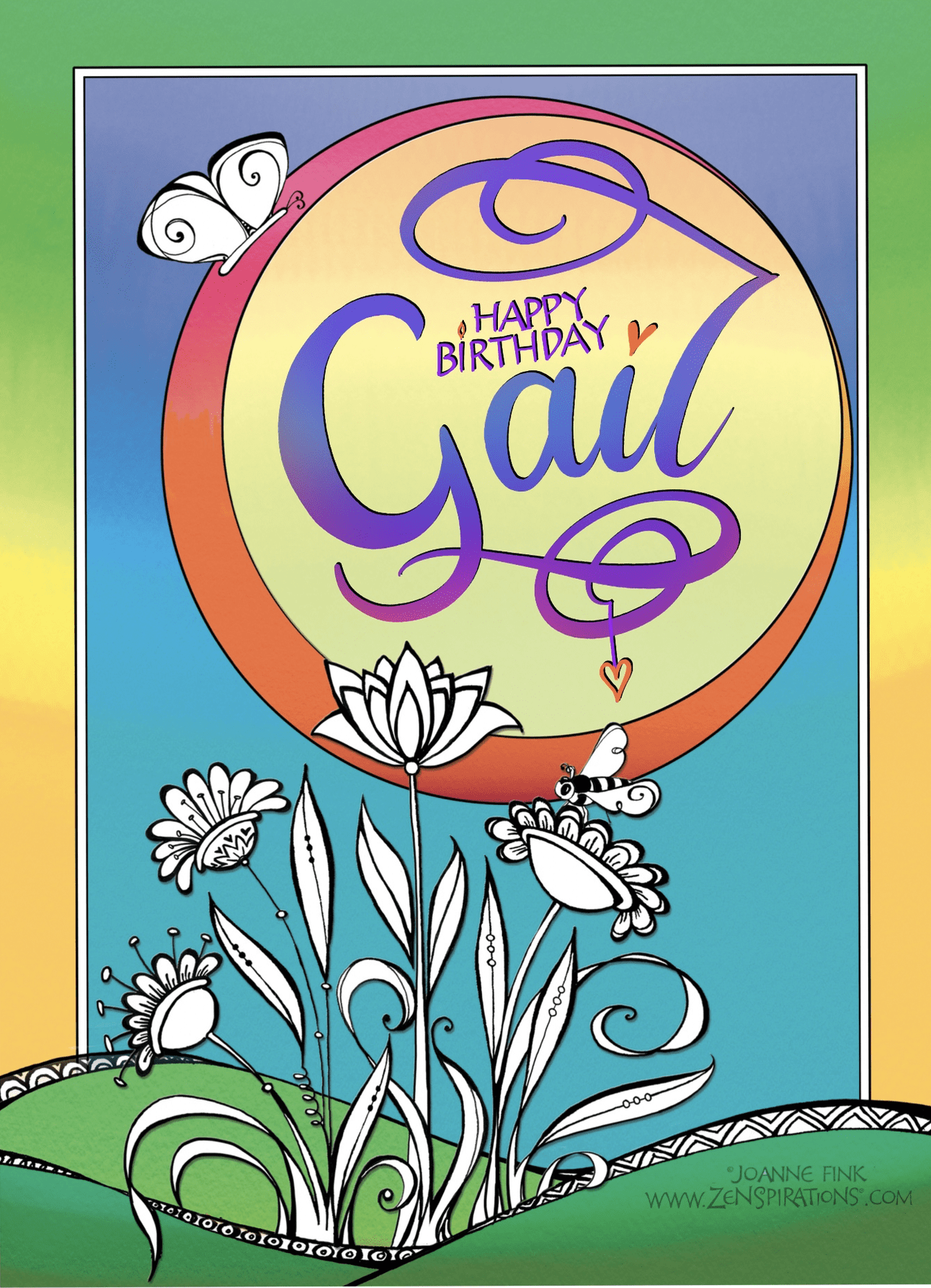 I 'met' Gail when she shared some of the awesome pieces she created using my coloring book pages as a starting place, and like her work so much that I have included it in every book I've done since. But what I like best about Gail is her giving heart… she is one of the most supportive, caring people I know. Last year Gail came to Florida, and we finally got to meet in person. I'm looking forward to seeing her again when she comes back to Florida next month. Let me know if you'll be in Central Florida in March and would like to join Gail and me for a Zenspirations 'play day'. It would be great to get together! Hope you have a wonderful birthday Gail!
We have two other community birthdays to celebrate this week; on Monday, February 13th, Ardis Ferdig & Connie Denninger will both be celebrating their birthdays. Ardis is one of the original members of our FB group, and Connie, who has been teaching creative ways to express your faith for many years, is a welcome newcomer to our community. Check out Connie's beautiful work in the gallery section of the new Bible Journaling book.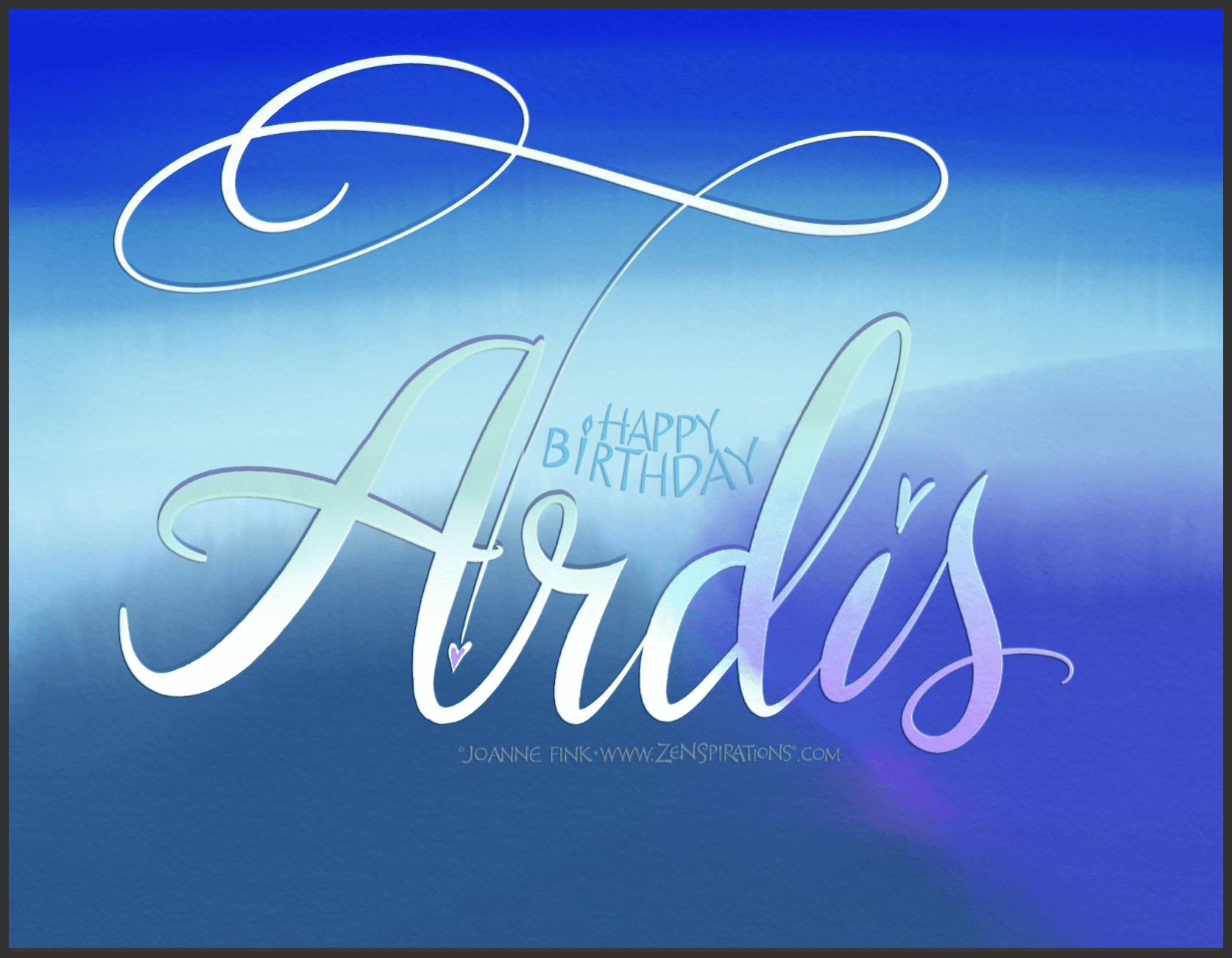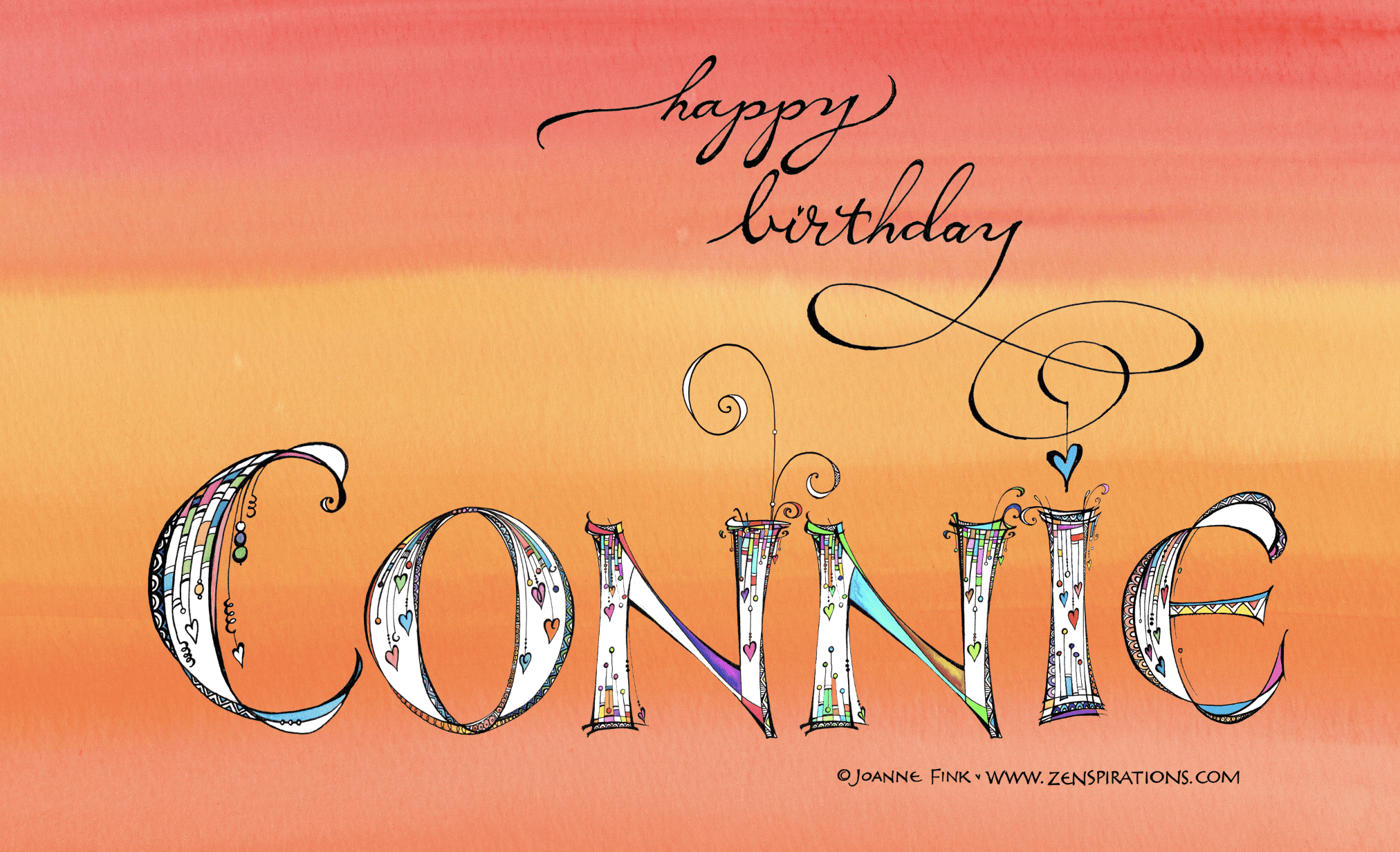 Happy birthday ladies!
Stay Zenspired,
Joanne