Complete Guide to Bible Journaling Available for Pre-Order!
Tuesday, December 27, 2016
Hi Everyone,
This week I was blessed to rediscover the importance of doing what calls to your soul; of making time for the things which bring creative and spiritual satisfaction. After several months of focusing on the new book, it was a true pleasure to be able to create some art this week just because I wanted to! I didn't have time to design and mail holiday cards, but I did make one that I posted on Facebook & Instagram: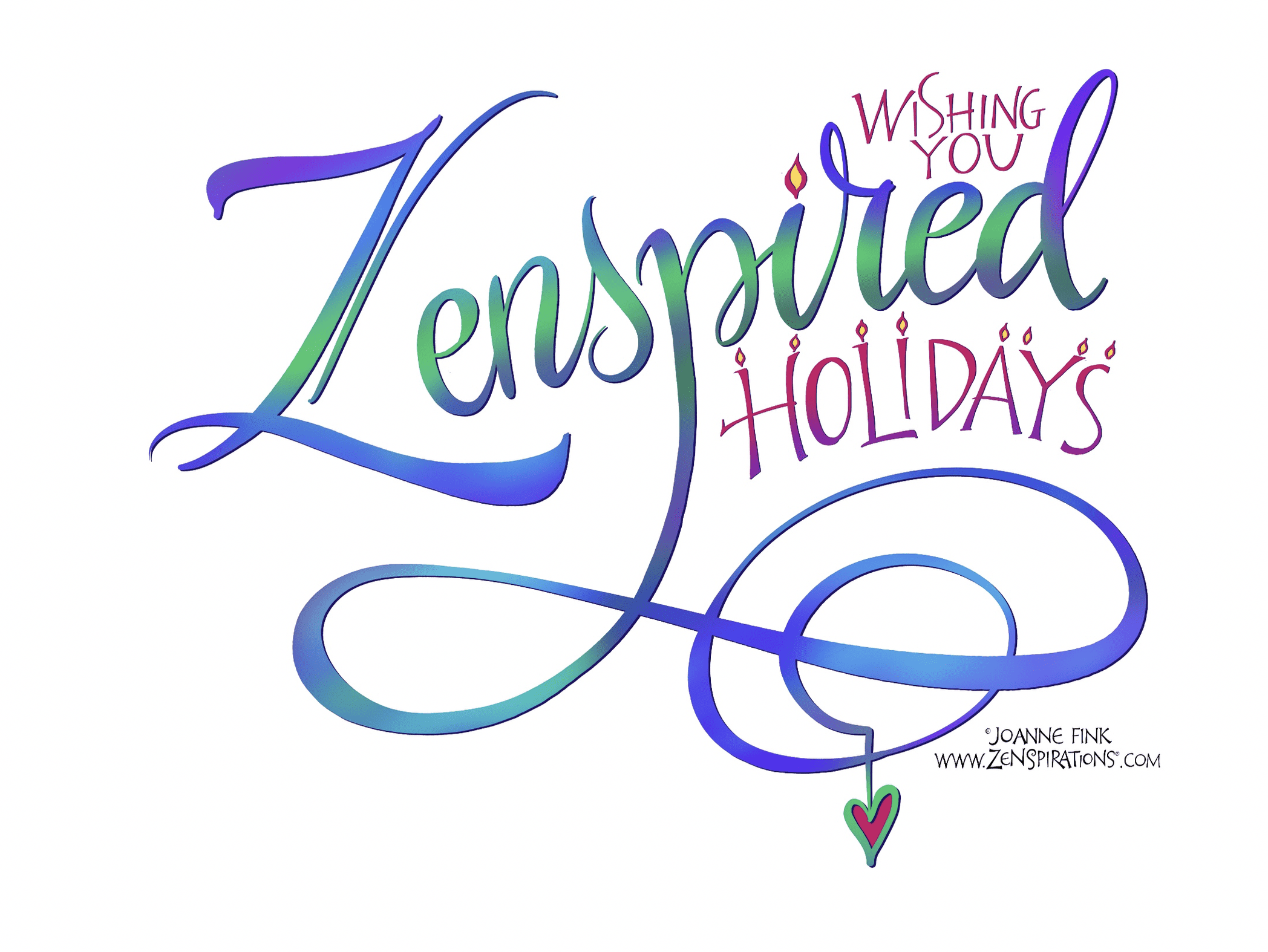 While I was on Facebook, I noticed Kristen Zeitler's post: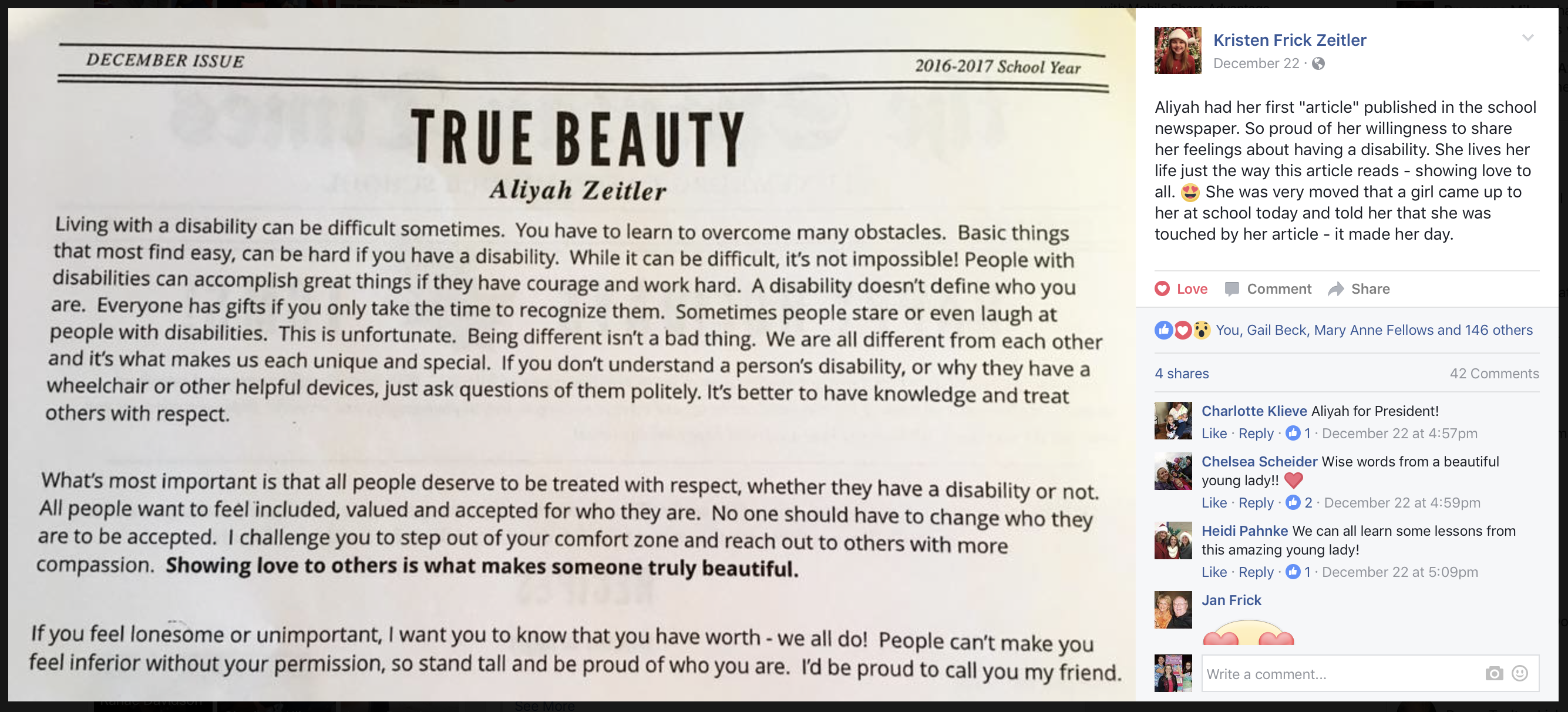 11 year old Aliyah has been a continual source of inspiration to me all year… and I was so moved by what she wrote that (despite my preference for only lettering scripture or words I've written myself) I felt called to bring Aliyah's meaningful message to life: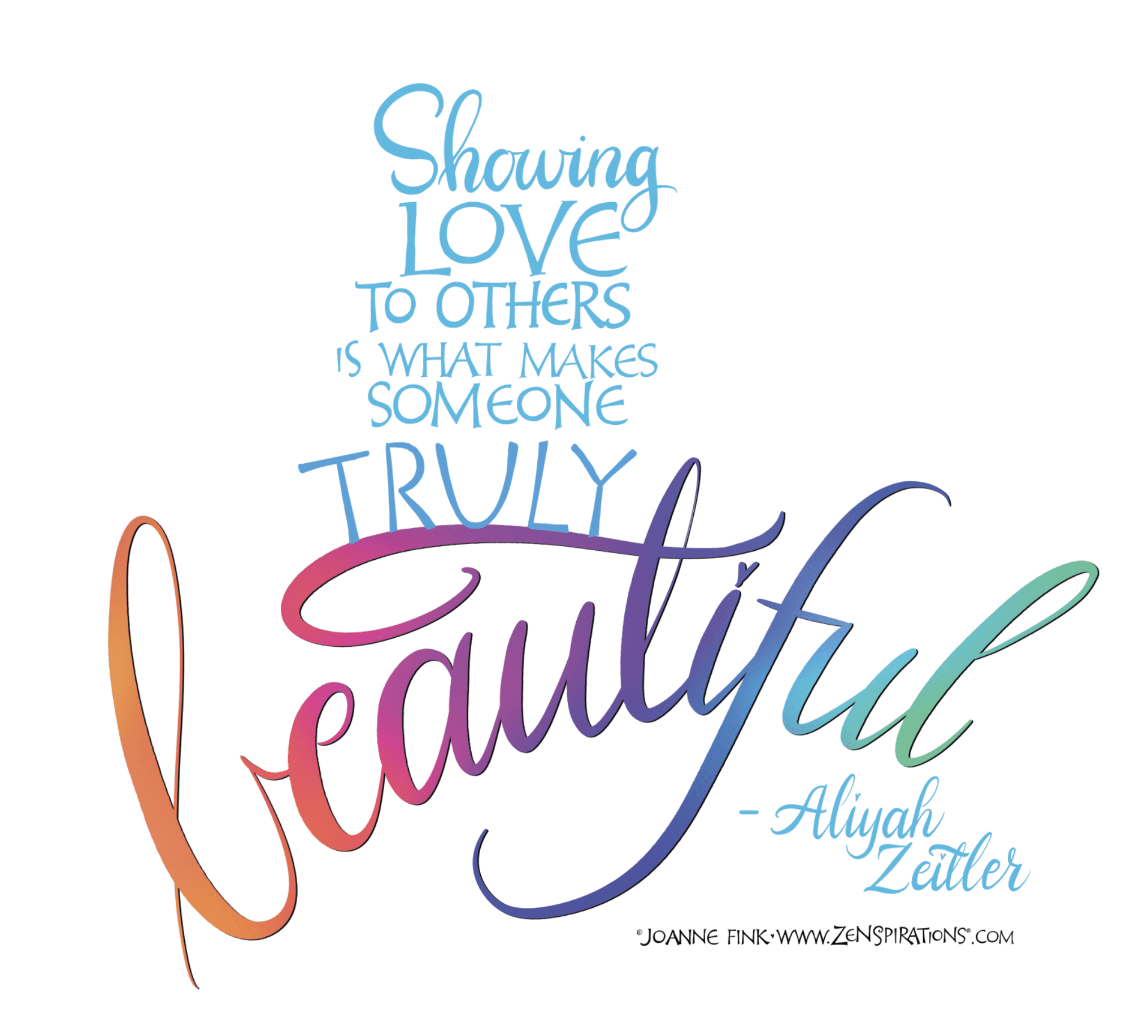 Thank you, Aliyah, for your wisdom and kind heart. You are a light in the world!
My main design project for this week was our 2017 Word of the Year: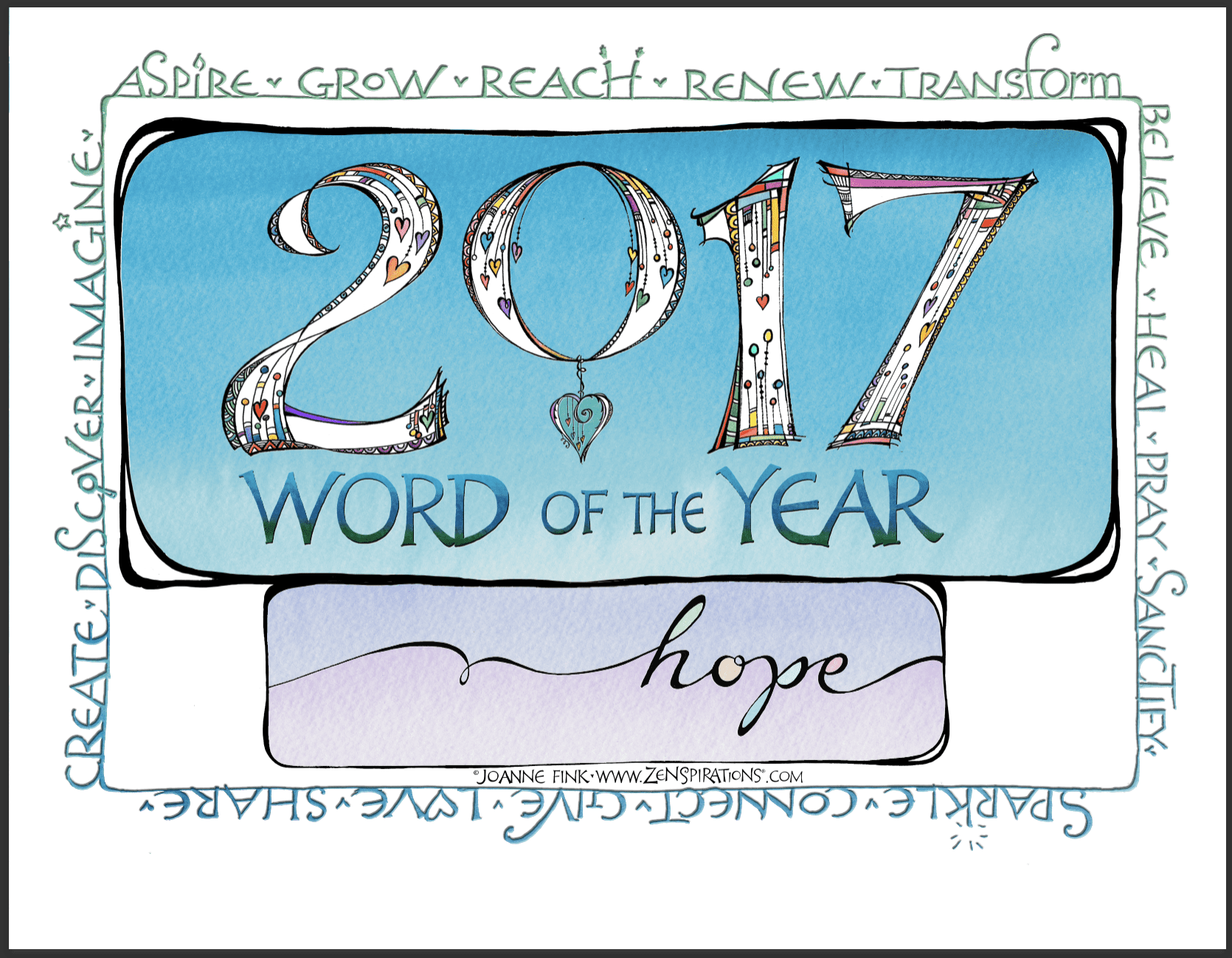 I wanted to include as many techniques as I could, in hopes that you'll incorporate them into your personal Word of the Year design. Although the group voted on HOPE as our Zenspirations® Community word for 2017, there were so many other inspiring suggestions that I thought it would be cool to incorporate them into a frame design. The frame words, as well as the script 'hope', were originally lettered with a Pigma® Micron® 01. Knowing how popular Zenspirations Dangle Designs are, I decided to use Dangle Numerals for 2017. I wanted the year to stand out, and made it pop by placing the white numerals on top of an ombre wash I painted with Sakura's Koi® Coloring Brushes. The letters in 'Word of the Year' were originally written with a broad-edge pen (Pigma® Calligrapher), and then I assembled the design in PhotoShop. Click here to download a FREE PDF to print: zenspirations_by_joanne_fink_blog_2017_word_of_the_year_full_color.
Here is a version you can use to create a design featuring your personal word for 2017: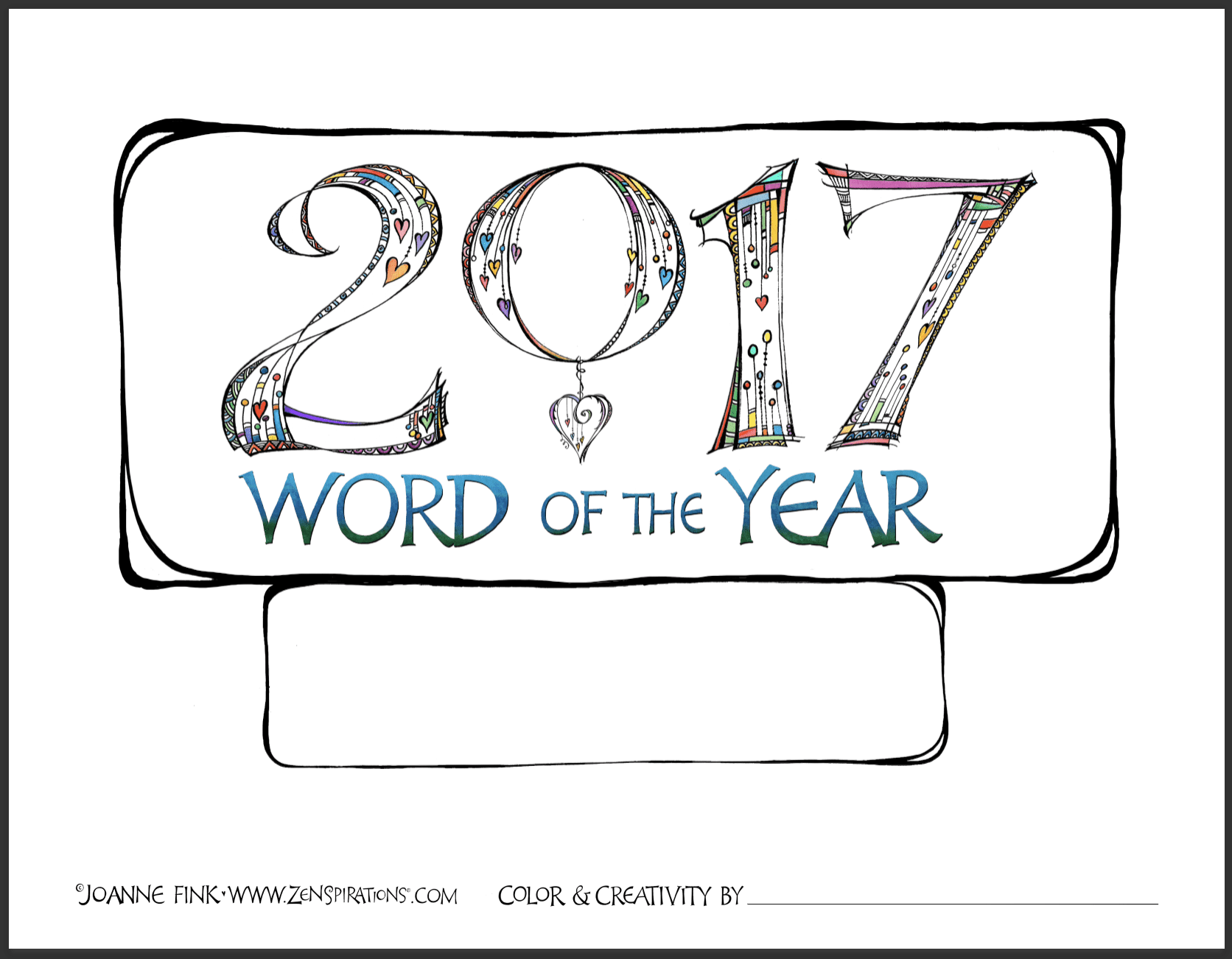 Click here to download a FREE PDF to print: zenspirations_by_joanne_fink_blog_2017_word_of_the_year_fill_in.
Remember last week when I said "if you leave a comment with your word for 2017 I may surprise you and include it in next week's blog!"? I think I was the one surprised because only a few people shared their word. (Of course, this may be because most of you, like me, haven't finalized your word yet… so I'm repeating the offer). Of the words which were shared, I was inspired by Elizabeth Motyka's choice, and had a totally delightful evening making this piece: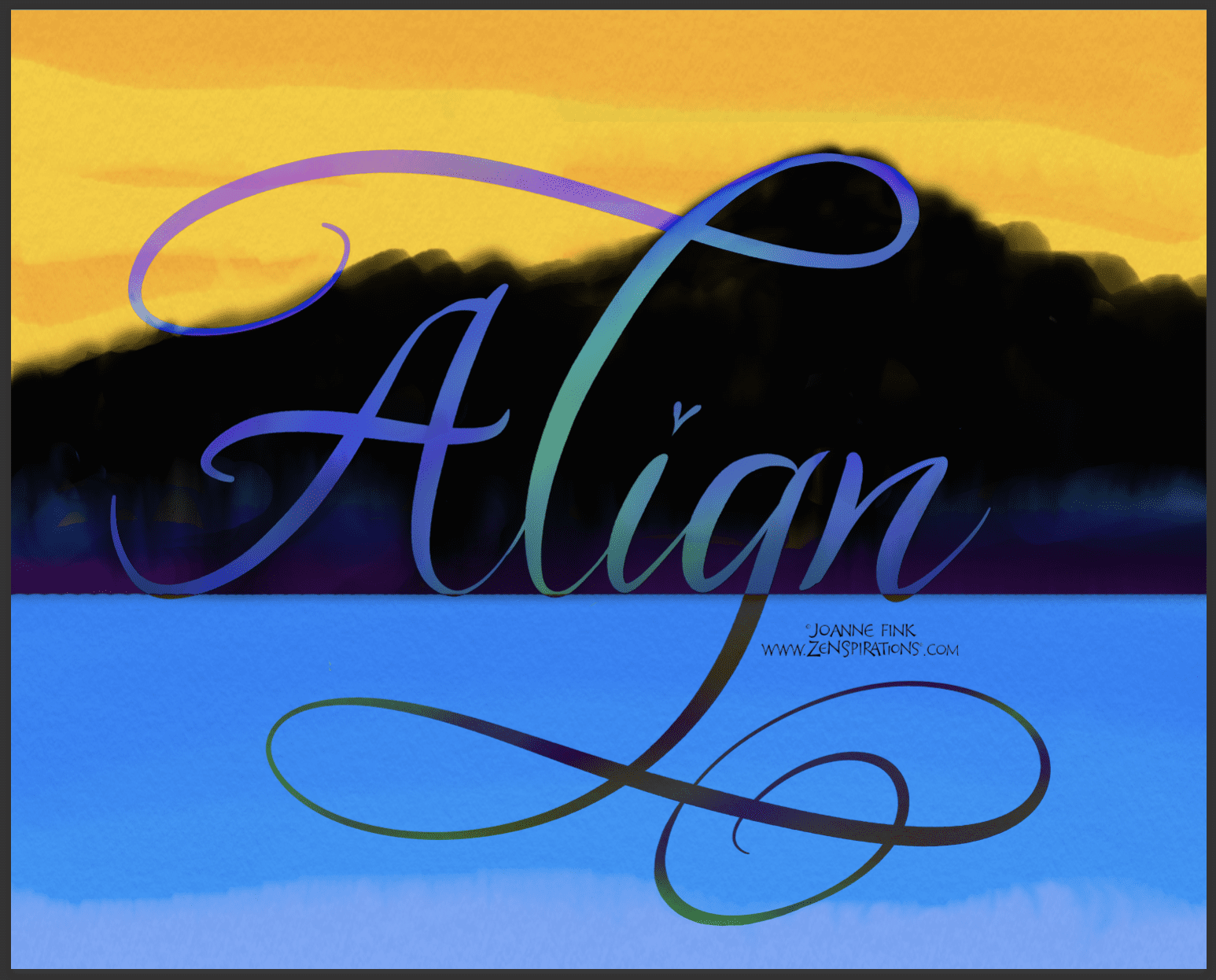 I also loved the comment Elizabeth left: "When one aligns oneself with ones soul's intention creativity flows and healing can happen." 
Before closing tonight, I'm excited to let you know that I will have copies of
Complete Guide to Bible Journaling: Creative Techniques to Express Your Faith, by the end of January! Amazon won't be shipping the book until March 7th, but if you'd like to get a copy sooner, you can pre-order it in my website store. I will sign copies for the first 100 people who order the book. If you want it inscribed, please use the note section to let me know what name you'd like me to write, and what color you'd like me to use. The books should ship out the first week in February. Here is a sneak peek at the table of contents: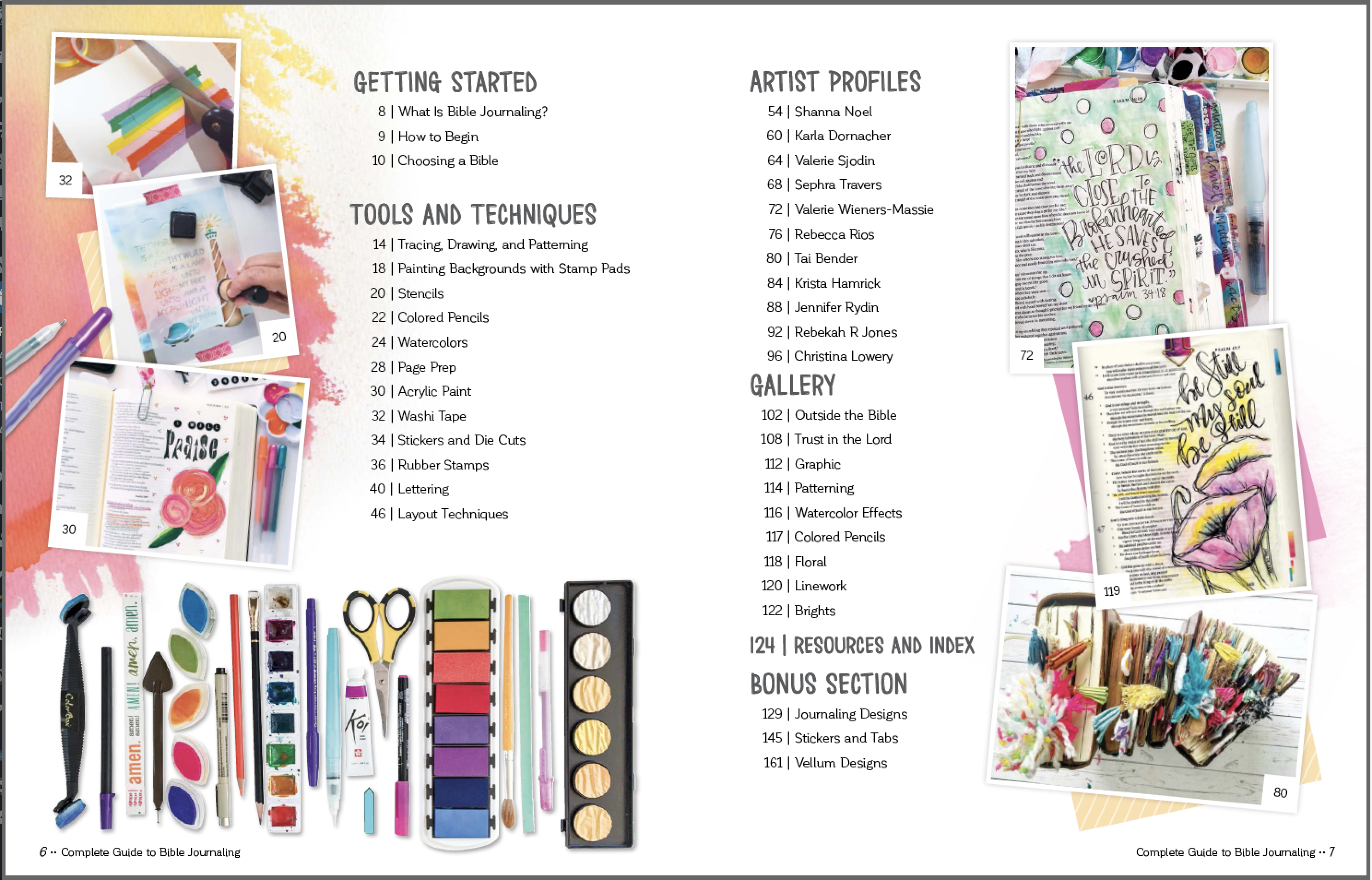 Below is a sample spread from the Tools & Techniques section, which I chose because it features the awesome work of Gail Beck, Milagros Rivera, Samantha Trattner, and my co-author Regina Yoder, who each created images using my Inspired Journaling Stencils from The Crafter's Workshop.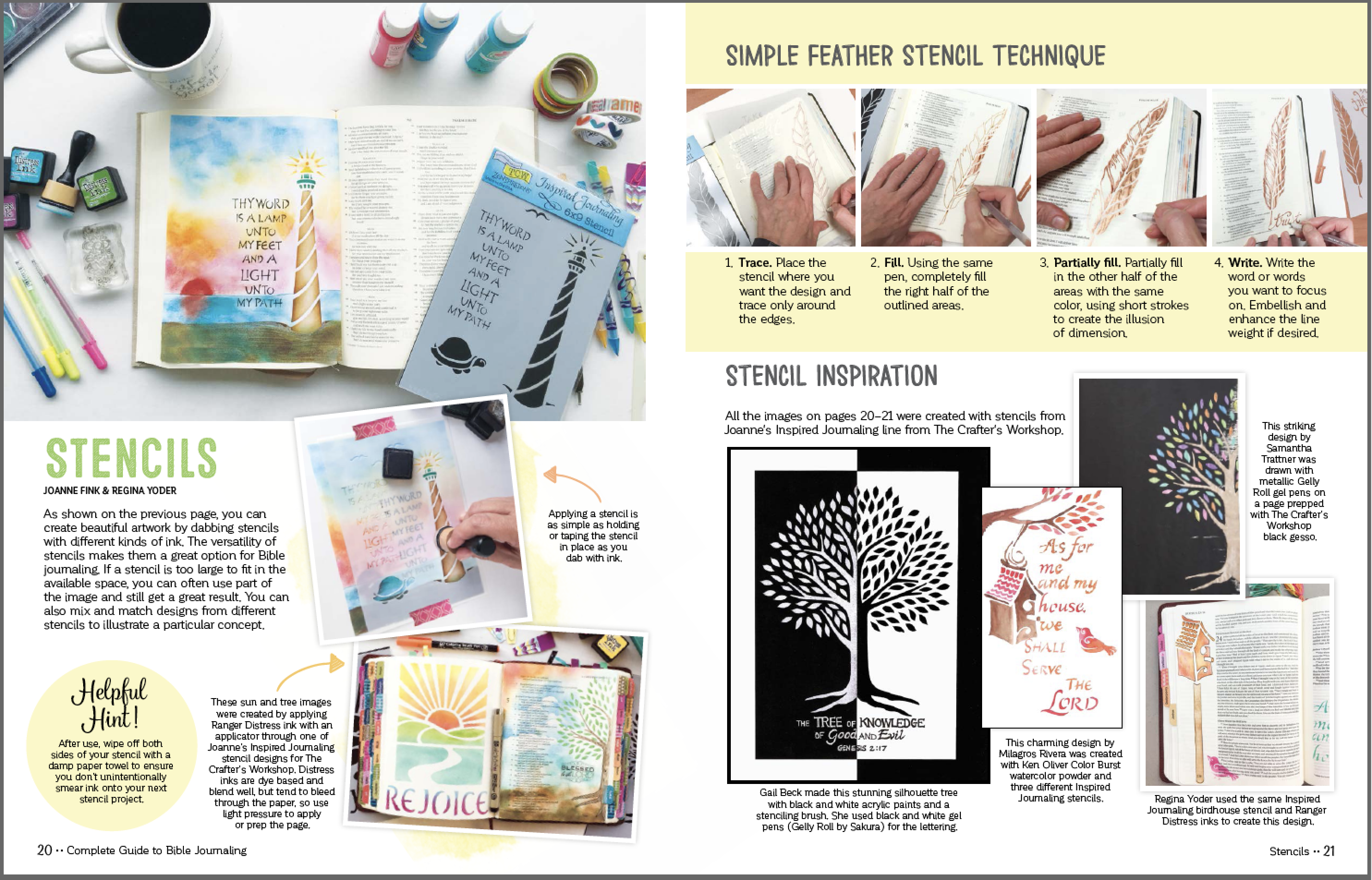 Each of the eleven artists in the Artist Profile section have at least four pages showcasing their work. Here is Krista Hamrick's opening spread: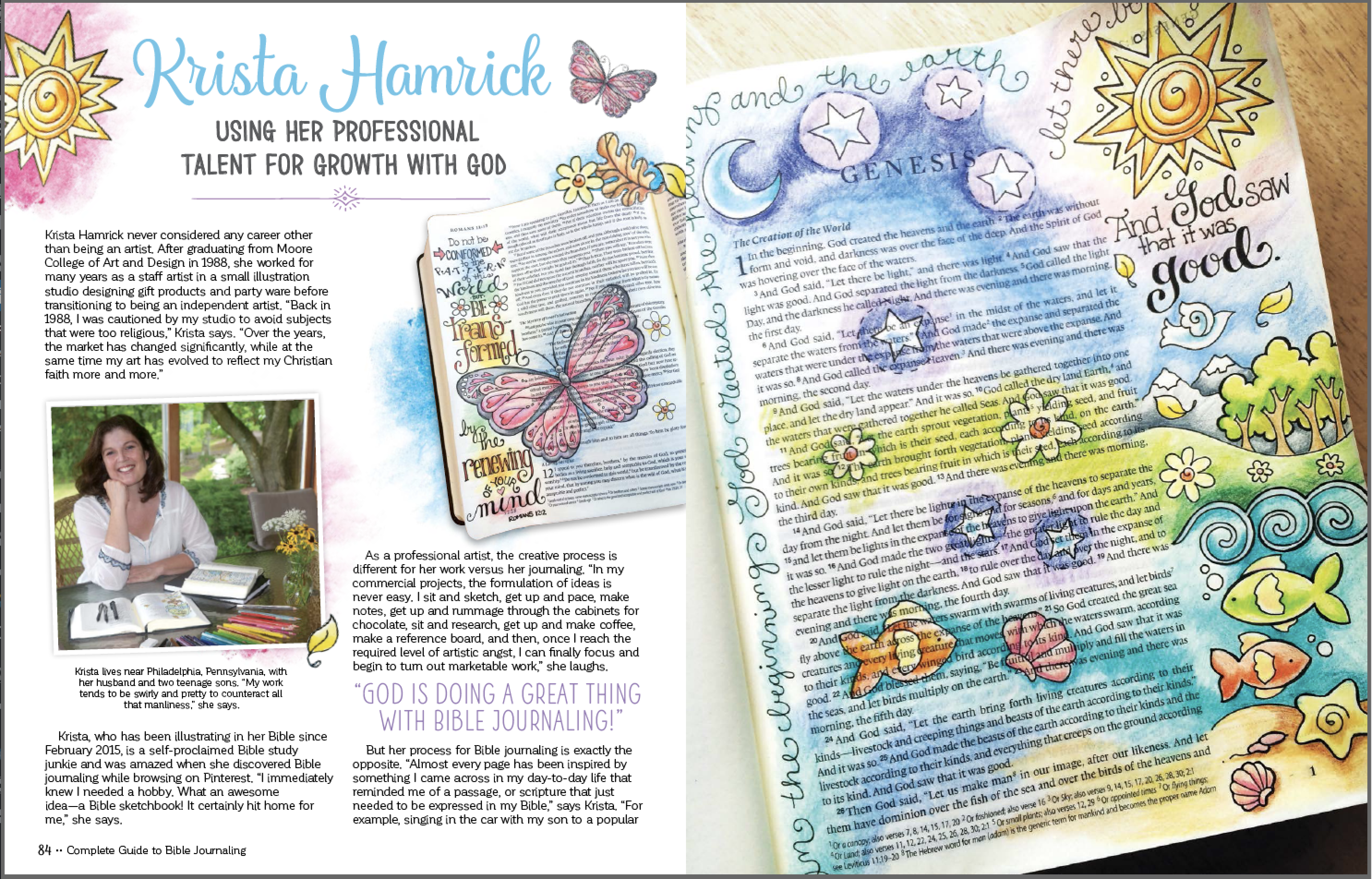 The bonus section has 8 pages of vellum illustrations, 8 pages of stickers, and 8 pages on paper. Here is a sneak peek at the first spread in the Bonus Section: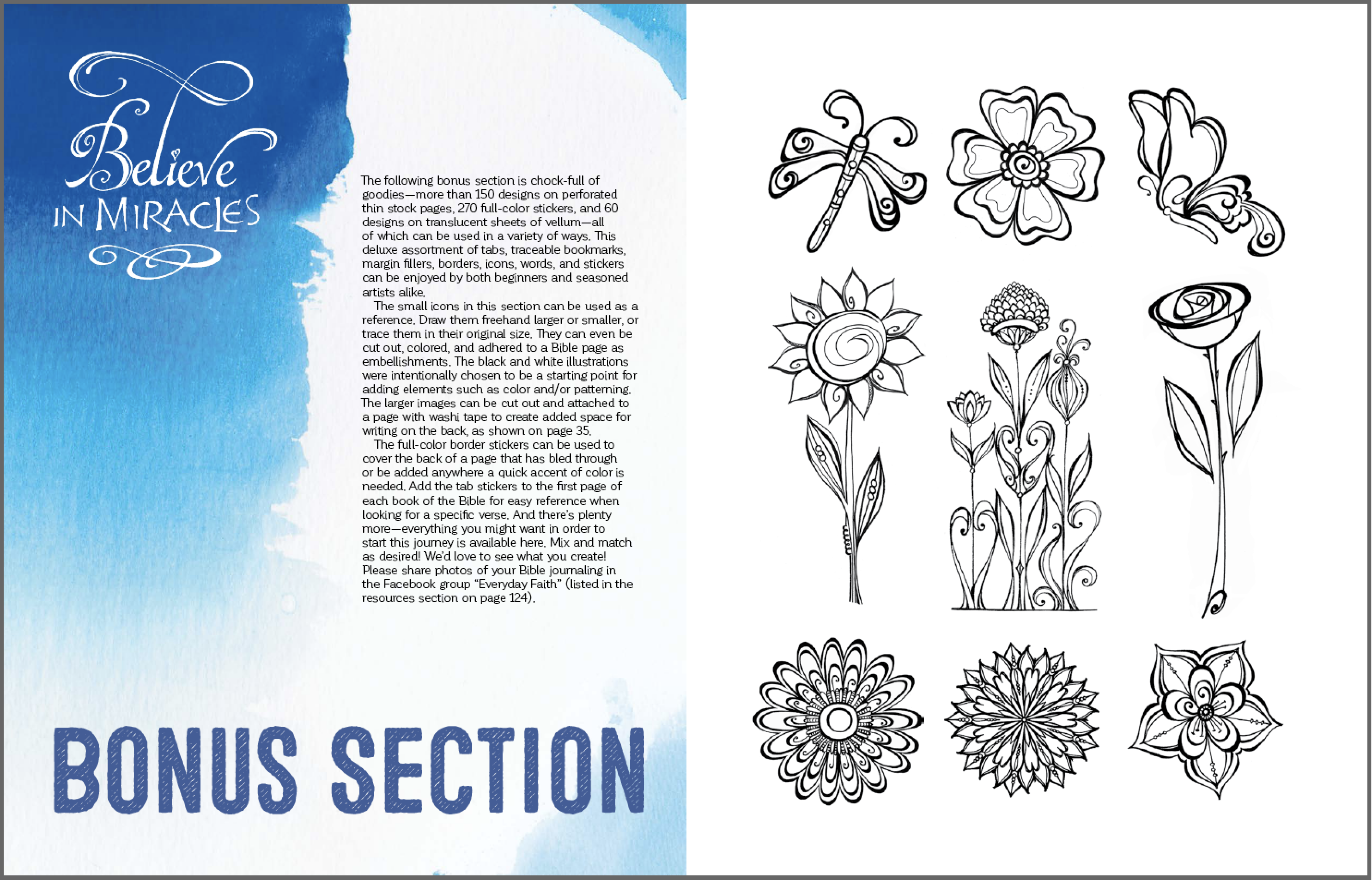 I did the washes for the section openers and cover designs with the Koi Coloring Brushes. Here's what will be on the back cover: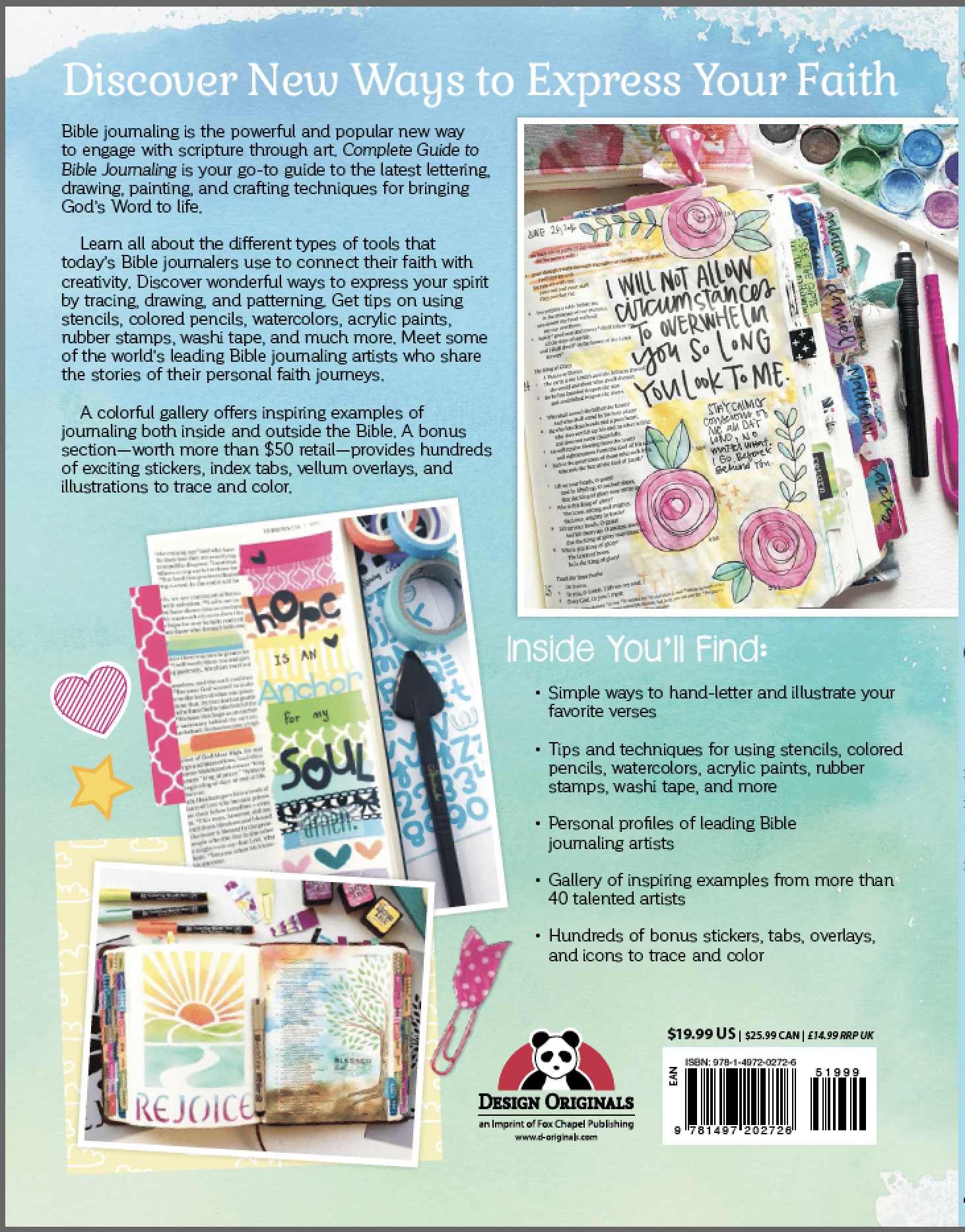 And in case you haven't seen the front cover, here it is: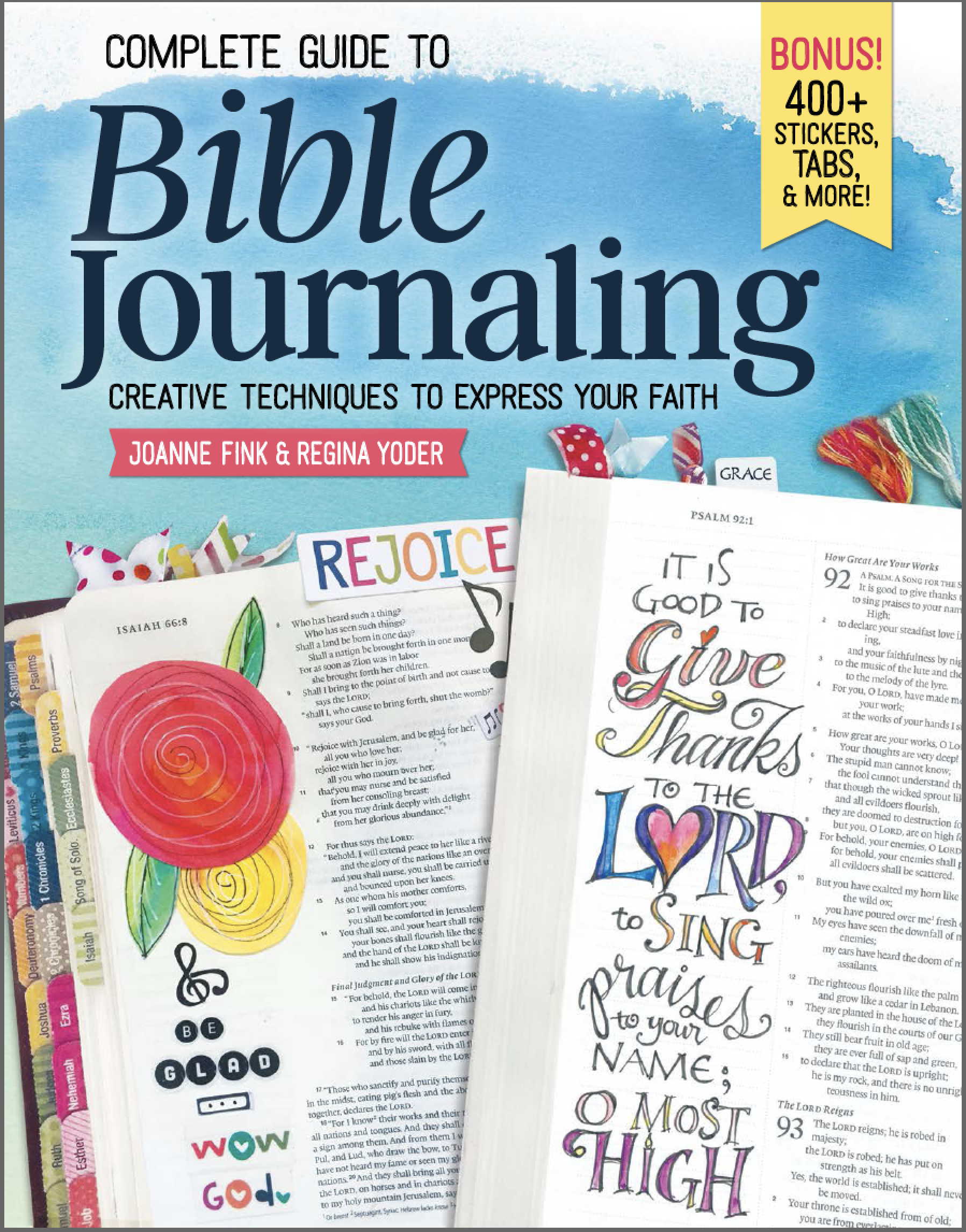 I used a Pigma Micron 01 to letter Psalm 92, and then added color with Sakura's Koi water color field sketch set. I am SO HAPPY that the book is at the printer, and I can't wait to hear what you think!
I love sharing information about the tools I use to create my art, so let me know if you have any questions. Other than my INSPIRED JOURNALING STENCILS, I don't sell supplies, but I have put together links to my favorite tools on Amazon, which you can find in the SHOP section of my website under Bible Journaling Tools. (I use the same tools on most of my projects, so even if you aren't interested in Bible Journaling, that's where you'll find links to the supplies I recommend.) Full disclosure: I am an Amazon Affiliate, and Amazon gives me a small percentage of whatever you buy if you get to Amazon via my website. This doesn't cost you anything extra, and helps pay for the art supplies I use to create the designs I share in the blog. If you are an Amazon shopper, I'd consider it a personal favor if you would hit the Amazon button on the home page of my website to get to Amazon when you are planning to make a purchase, especially a major purchase, because I will get a percentage of anything you buy (not just a percentage of the tools I share links to in the shop section).
As always, I welcome your comments, and look forward to finding out everyone's word of the year. Please post your designs in the Zenspirations Create, Color, Pattern, Play Facebook Group. 
Make your last week of 2016 sensational– take time to create!
Stay Zenspired,
Joanne