The Aftermath of the Storm
Tuesday, August 29, 2017
Hi Everyone,
Houston, the fourth largest city in America, is being deluged with the torrential of Hurricane Harvey… My heart goes out to everyone who is dealing with the devastation. Many people have lost everything; more than 56,000 people have called 911.
The Zenspirations® community is one of the most compassionate, caring groups of people I've ever encountered. I know that we can come up with practical and creative ways to make a difference for the victims of Hurricane Harvey. Below are some of my ideas– please share yours by leaving a comment. If you, or someone you know, lives in the Houston area, please let us know what specifically we can do to help.
How we can help:
PRAY:
If you share my belief in the power of prayer, please join me in praying for those whose lives have been uprooted by the storm, and encouraging others to do the same. You are welcome to share this image I created (as well as this post!).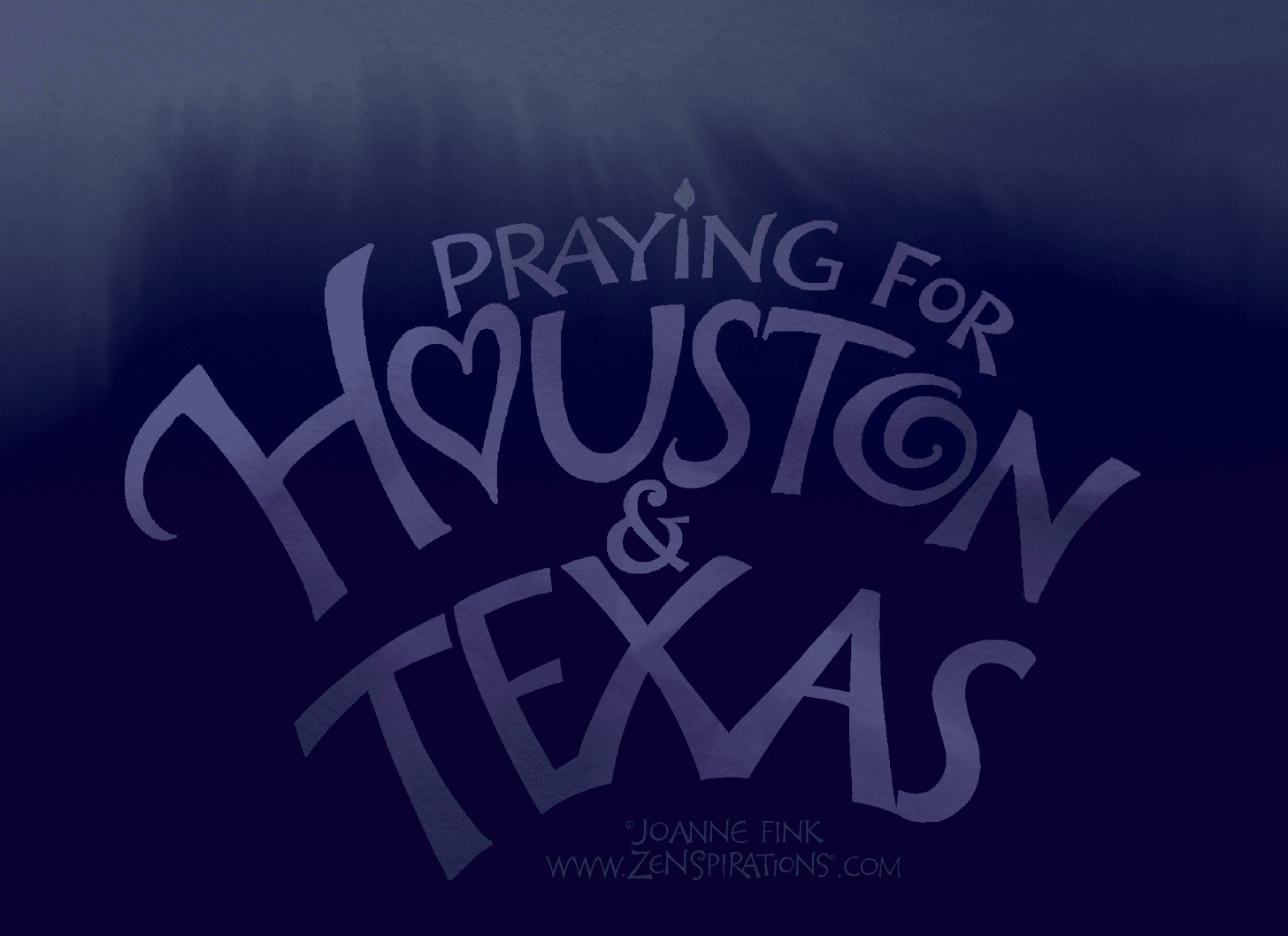 The image below is a hybrid I created in PhotoShop by merging the hand-lettered text from one of my morning journal pages with a colorful focal point, GOD, which I lettered in Procreate on my iPad.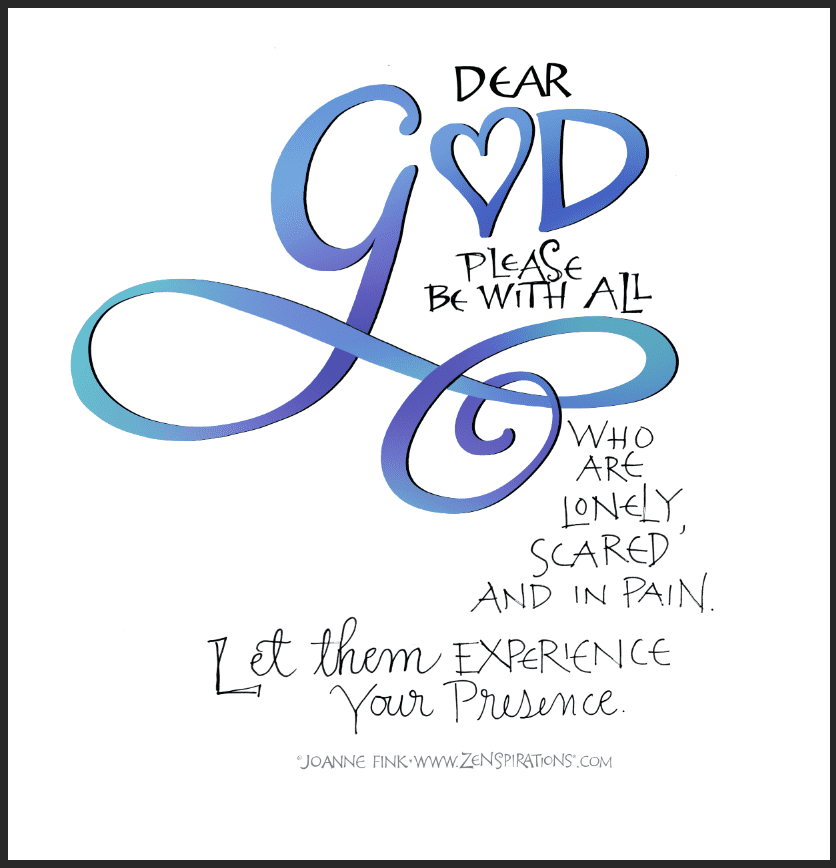 DONATE FUNDS:
Make a donation to one of the charities providing assistance in the wake of Hurricane Harvey. I've supported some charities just by texting a number they provide. To ensure your donation will actually go to benefit the flood victims, I highly recommend Charity Navigator, an independent charity watchdog organization which evaluates charitable organizations in the United States. You can check out your favorite organizations, pick one from Charity Navigator's list of recommended charities for the relief effort.
The New York Times published a similar list, and included information on how to tell whether a charity is a scam.
DONATE SUPPLIES:
I remember 13 years ago, when three different hurricanes– Charley, Ivan & Jeanne– ravaged Central Florida within a six week period. Charley was the worst, in part because the hurricane unexpectedly shifted paths a few hours before it hit, leaving little time to prepare. We lived on a little dirt road, and got water from our well, which required electricity to run. Charley did so much damage that we were without power — and therefore without water– for five days. We were really cut off from the outside world because there was no cell service, no television, no internet. There were no traffic lights, and many of the roads weren't passable. The whole experience was totally surreal.
As devastating as this was for Central Florida, the catastrophic flooding our Texas friends must deal with is so much worse. There will be a need for basic necessities like clothes, food, medication and medical supplies. I reached out to my friend Becky Schultea, who lives in Magnolia, a little town just NW of Houston, to make sure she was okay, and to find out what I could do to help. Becky said that her church was going to take evacuees, and was looking to purchase or lease a mobile shower trailer. I remember that building supplies, batteries, lanterns and portable generators were all in great demand in the aftermath of the hurricanes. If you have access to any of these things, please consider donating them. It's a little too soon to know where to take them– please read the comments, because I'll post additional information as it becomes available. In the meantime, you can check with your place of worship, or a national relief organization to find out what is needed and where to bring supplies.
VOLUNTEER:
The relief effort will most likely be going on for months; consider joining an organization which will be traveling to Texas to help them rebuild.
PROVIDE SHELTER:
Adjacent communities will be struggling to find places to live– and schools that aren't already overcrowded– for the many families who have lost everything. If you have the room, consider opening your home to a family in need.
REACH OUT IN LOVE: 
Before closing tonight I wanted to share September's calendar page. Since September is the month that school really gets underway, I used some of my favorite motifs– books, a pen, a brush and an inkwell– for the art. I'd love to see some of the pages you've done. Please share them in our Zenspirations Create, Color, Pattern, Play FB Group.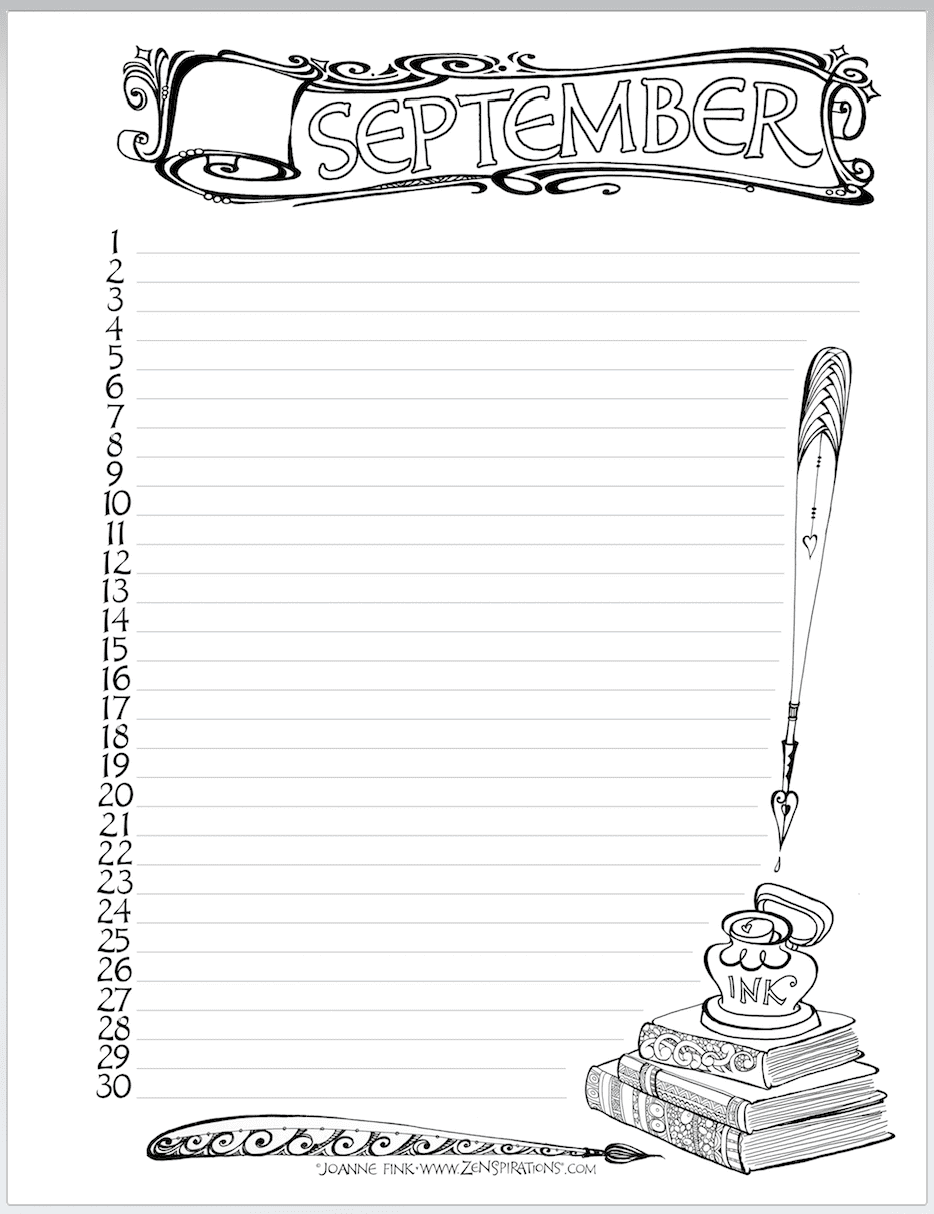 Click below for your FREE DOWNLOAD:
Zenspirations®_by_Joanne_Fink_09_September_Calendar_Page
Don't forget to share your ideas for what we can do to help the hurricane victims… thank you for helping make a difference.
Stay Zenspired,
Joanne