The Art of Remembrance
Tuesday, May 10, 2016
Hi Everyone,
Rarely does a day go by that I don't have a pen or brush in my hand… creating Zenspirations® designs is a form of meditative prayer for me. Most days I write and doodle whatever is in my heart… and this week much of the art I created was about Remembrance. I have two close friends who's mothers died recently, eight days apart, and I knew that Mother's Day would be a very difficult day for each of them. Neither lives near me, so I couldn't go over and give them a hug… instead I made this card, added their name at the top, and e-mailed it along with a short note.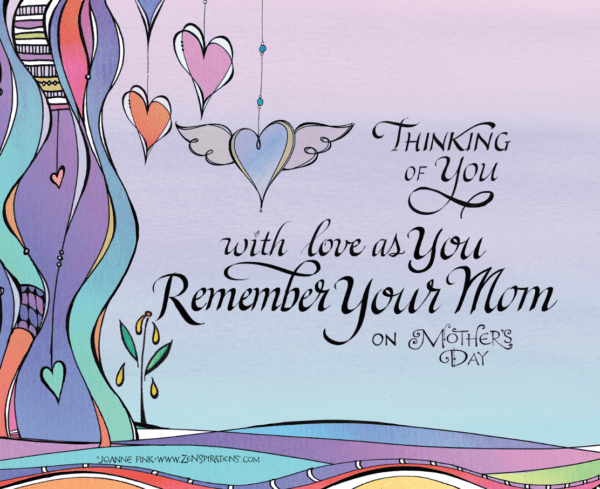 For those of you who downloaded and shared the Remembrance design I posted last week, I'd appreciate your leaving a comment to let me know how our collaborative effort was received. I'd also love to see how you colored and embellished it– as always, you can post a photo in the Zenspirations® Create, Color, Pattern, Play FB Group.
Wednesday was Yom HaShoah, Holocaust Remembrance Day, and I wanted to create a piece which will help us all keep the flames of justice and memory alive in our hearts. I decided to use a page from my L'Chaim: Celebrate Life, Judaic Expressions to Color & Inspire, and to share the design on Instagram.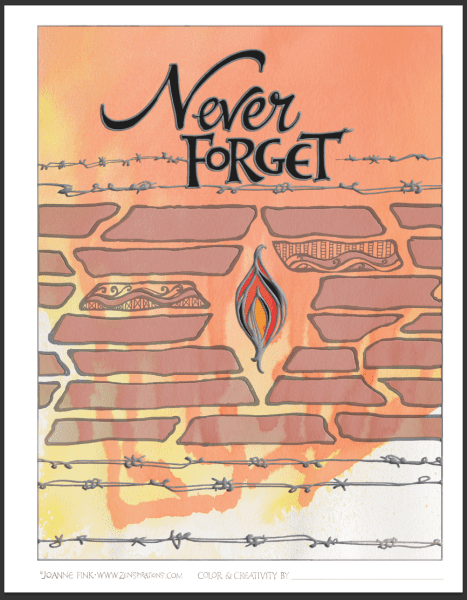 If you are on Instagram and would like to connect, my Instagram name is Zenspirations.
Most of the rest of this week was spent working on new lines of stencils and greeting cards, both of which will be available early summer (yes, I'll let you know when!), and getting ready for the National Stationery Show. I'm REALLY excited about the big coloring wall which everyone– especially my blog followers– is invited to help color. It will be in the lobby of the Javits Center during the show.
Today I got a 2 1/2 x 10 foot strip so I could test different coloring tools: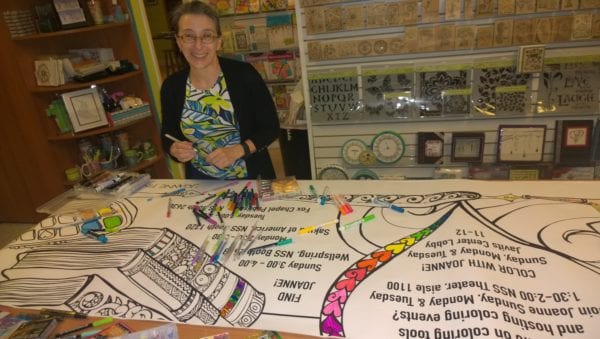 It's a BIG project, and I was pleased when my son volunteered to help color.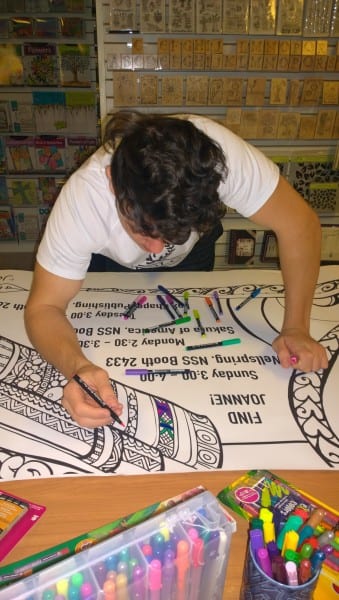 So far I've tested all my favorite Sakura supplies, as well as crayons, markers, and colored pencils. Most work fine on the paper.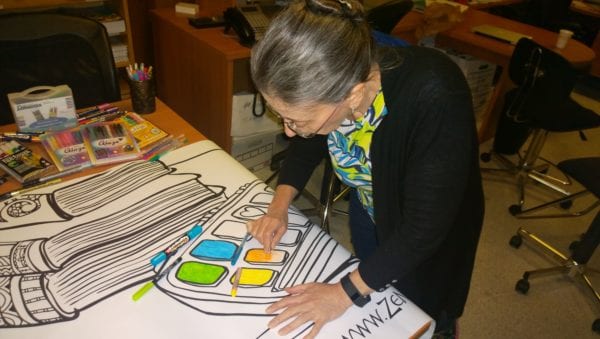 Here is a close up of the section I'm working on in the photo above: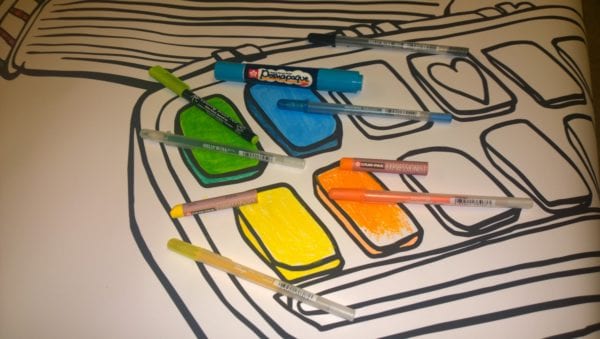 If you'll be in the NY city area this coming Sunday, Monday and/or Tuesday, please come add your creative touch to the wall. Coloring tools will be provided! Several Color & Creativity Enthusiasts are planning to come to the show on Sunday, and we are all going out to dinner Sunday night. If you'll need a badge to get in to the show I'd be happy to arrange that for you.  And also let me know if you plan to join everyone for dinner so we can make reservations. Hope to see you in New York!
Last week I offered to make a thank you note in their favorite color for the people who were nice enough to write reviews of my books on Amazon. Mary Anne Fellows and Toni Popkin both let me know their favorite color, so in closing tonight I wanted to share the designs I made for them. Thank you ladies– I appreciate you!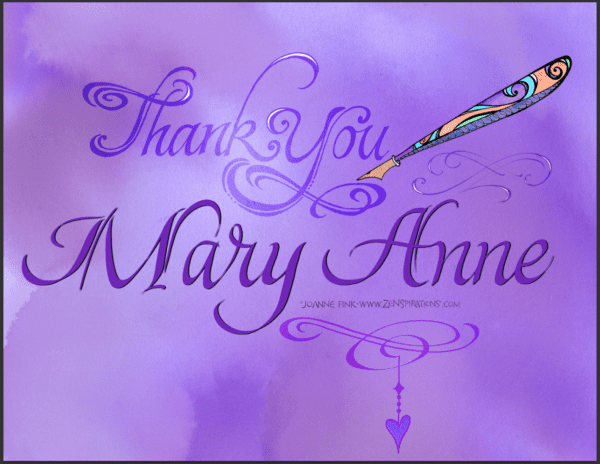 I used most of the same elements, differently arranged.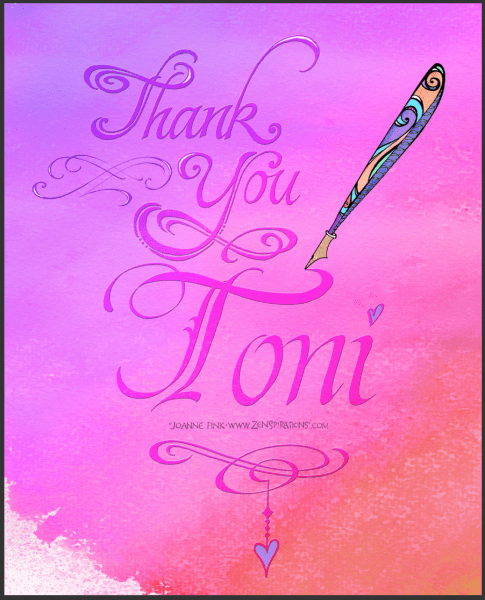 Several people asked how to write a review, and it is REALLY easy. Here's what you need to do:
Go to www.amazon.com, and type Joanne Fink or Zenspirations into the search bar, and a list of all my books will appear.
Click on the book you want to review, and then scroll all the way down until you get to the "Customer Reviews" section.
Click on the button which says "Write a Review". This will bring up a screen showing five blank stars.
Click on the number of stars you want, and you'll see a box which says "Write Your Review Here". Your review can be as long as you like, or as simple as "Great book!".
The more reviews a book has, the more Amazon promotes it, and you don't have to have purchased the book on Amazon to write a review. Thank you in advance for taking the time to review which ever of my books you've enjoyed; I'd especially appreciate reviews on Birds & Butterflies, Expressions of Nature, Expressions of Faith and Color Peace.
Next week I'll be writing the blog from New York! Until then…
Stay Zenspired,
Joanne