The Celebration Continues!
Tuesday, July 26, 2016
Hi Everyone,
It's been a VERY busy week here at the studio! The Lettering Club finally launched on Friday, and the Zenspirations® Create, Color, Pattern, Play Facebook Group's 1st Anniversary Celebration is in full swing! I did the piece below in a Strathmore® ArtAgain journal with Sakura's Moonlight Gelly Roll pens.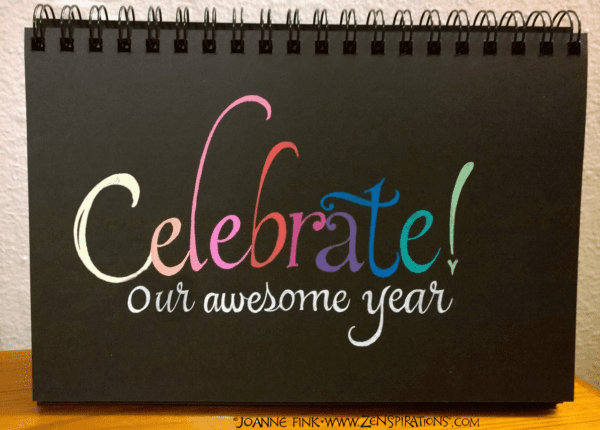 There are lots of exciting things going on, so in case you haven't had a chance to check out the festivities, I thought I'd share some highlights.
First, there are some GREAT GIVEAWAYS: a Trim-a-Rim & Sakura Giveaway, a Facebook Banner Giveaway, a DO Magazine Giveaway and two Grand Prize Giveaways! One lucky Grand Prize Winner will be chosen at random from all of the entries posted in the Anniversary Album by midnight July 27th, and a second Grand Prize winner will be randomly selected from the entries in the "Live with Intention" album. A photo of the Grand Prize is below; details on how to win can be found by visiting the group.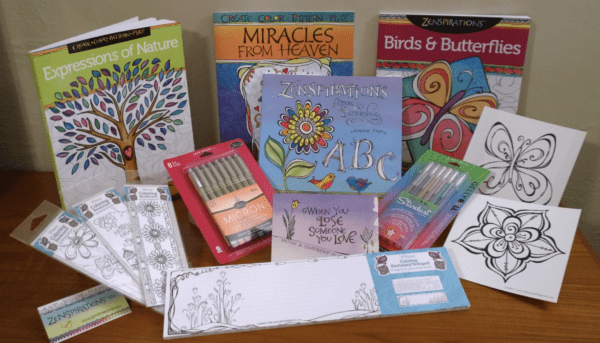 THANK YOU to our Anniversary Giveaway Grand Prize sponsors:
Fox Chapel Publishing for the books.
Sakura of America for the Microns & Stardust pens.
Wellspring Gift for the Coloring Giftables.
Plus, the Grand Prize includes signed copies of my book, When You Lose Someone You Love, and the Sony Coloring Book, Miracles from Heaven.
Heartfelt thanks to Philip Fleet, president of Trim-a-Rim, for the Trim-a-Rim prizes– and for playing the hero by offering to ship the prize to any member, no matter where in the world they live. There are now more than 3,500 members in our group, and I'm wondering where everyone lives. I'm especially interested in knowing how many countries are represented in the group… but also in knowing if we have members in all 50 states. Earlier this evening I posed the question, and  in the past six hours more than 160 people have shared where they live. On a quick look we have at least 20 countries represented.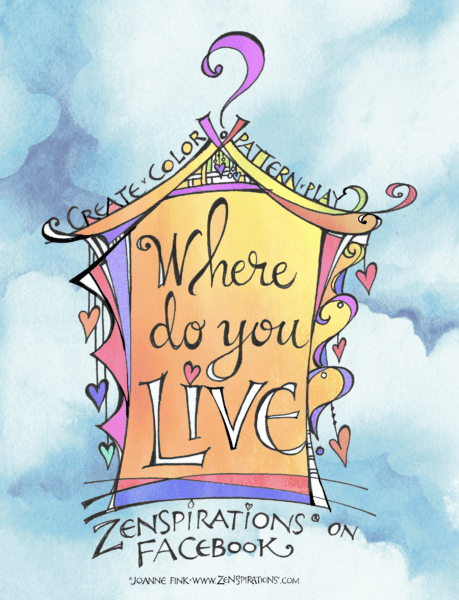 Next time you visit the group, please take a moment to add your information to this post. As an incentive, I will pick one name at random from everyone who leaves a comment saying where they are from (city, state & country please!) by midnight eastern time Wednesday, July 27th. That person will receive THEIR CHOICE OF ONE OF MY BOOKS, plus their choice of THREE DANGLE MONOGRAMS to color!
I am inspired by all of the awesome art that people have been sharing this week… the regular 'gang' (by which I mean the Color & Creativity Enthusiasts who's work is included as inspiration samples in one or more of my books) has outdone themselves, but I've been especially delighted by designs posted by some of our newer group members. I'm still finding treasures every time I visit the group, and there are a few which I just love:
Debi Scott Brinsfield shared a wonderful page from her Dangle Design Workbook.
Jo Ann Danchik used my 'root word' style to hand-lettered the word 'hope' inside the word 'love', and used Sakura's Koi coloring brushes to add the exquisite, vibrant color.
Deena Disraelly combined 'Congratulations' with 'Zenspirations' to invent a cool new word: 'Conzenspirlations', which she hand-lettered.
Keely Forrer Langdon shared a photo of the magnificent and meaningful garden she is creating in memory of her mom, Faith. Keely used a projector to enlarge pages from one of my books so she could paint the designs on the garden's fence. 
Sue Jacobs drew, patterned and painted a brilliantly colored, totally glorious butterfly.
Rose Versace created a wonderful 'FRIENDS' design on the insert for a cup, featuring charming dangle monograms– and shared her work for the first time. 
Bonnie Wesley shared an absolutely dynamite Dangle design that she drew.
I hope you will have a chance to check out our community's amazing creativity. Thanks to my 16 year old son who came up with the idea, we are having our first-ever sales as part of the Anniversary Celebration. Use the code "Zeniversary" and take 20% off any order placed before midnight (eastern time) on Wednesday, July 27th.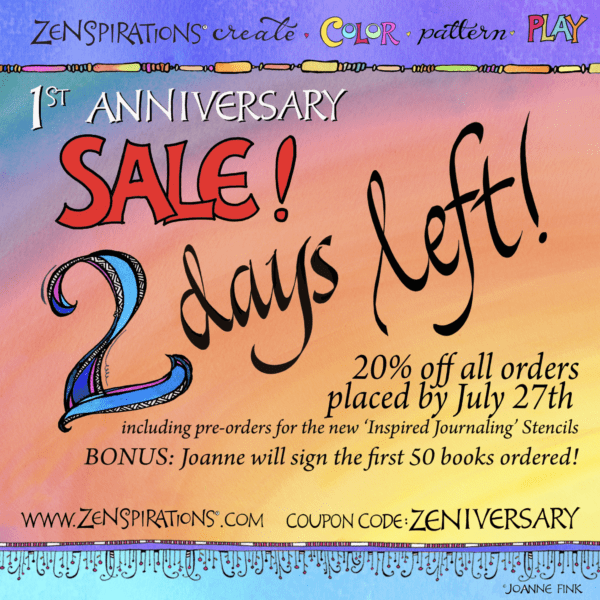 The Anniversary Celebration and the Anniversary Sale both end at midnight on Wednesday, July 27th, but if you would like a signed book please order ASAP, because by the end of the day I don't think there will be any left.
In closing tonight, I wanted to share a couple of pages from my morning journal (as in THIS morning!):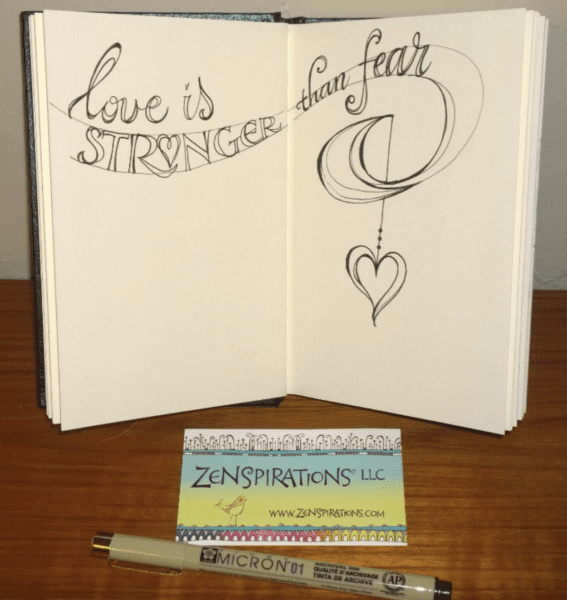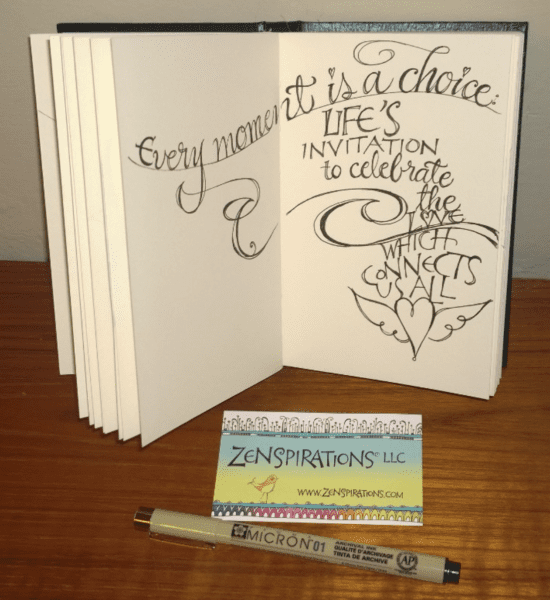 May you always choose love and celebrate connection.
Stay Zenspired,
Joanne